Are you looking for an unbiased Alidropship review? Don't look further, you have reached the right page.
If you are planning to create a new dropshipping store from scratch or want to launch a new AliExpress product in your store, Alidropship can be your one-way ticket. It is one of the top 10 dropshippers in the market as of now.
In this post, I am going to share an in-depth Alidropship review, including all the major features and products that the platform offers. At the end of the post, you will be able to decide whether this is the right platform for your dropshipping business or not.
Let's get started.
Alidropship Review: An Overview (2023)
Alidropship is an all-in-one dropshipping plugin for WordPress that offers all the essential tools you need to set up a dropshipping store. With Alidropship, you can import dropshipping products directly from AliExpress and sell them in your eCommerce store. Apart from that, Alidropship offers a range of packages, services, add-ons, and themes that you can use to customize your dropshipping store.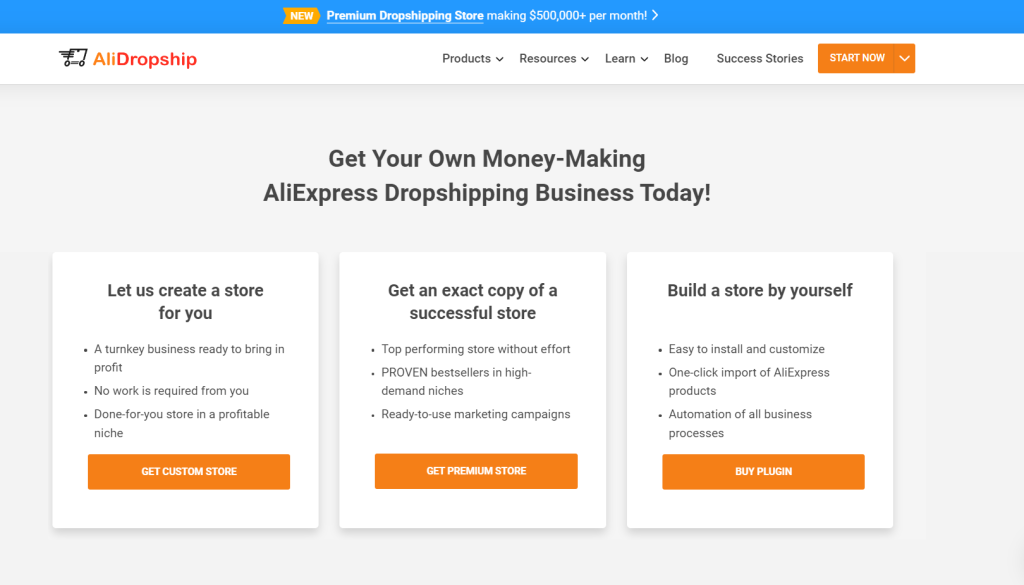 Though it offers tools that help you create a dropshipping store from scratch, if you want, you can purchase custom-built stores tailored according to your needs. Moreover, Alidropship also offers established dropshipping stores for sale. These stores are stable businesses and already making thousands of dollars in monthly revenue. You can directly talk to the owners and settle a deal to buy an established store.
Key Features of Alidropship
Alidropship is full of amazing features. Whether you are just starting out or want to grow your running business, you can always find something useful for everyone.
Auto Updates and Automation Tools
Alidropship tools are packed with automated tools such as product search, importing, and variations. Once you enable auto-updates in your store, you don't have to worry about your product inventory, stocks, and prices.
Supplier Options
When you run a dropshipping business, you might face out-of-stock situations that can affect your running business. So Alidropship offers a Change Supplier option, from where you can find a new supplier that dropships the same products. The plugin will automatically reset your Product URL and Product ID according to the new supplier.
In-built SEO
If you don't want to use a third-party plugin for SEO on your website, you can use in-built SEO tools with the Alidropship plugin. All you have to do is activate the robot.txt and sitemap.xml option to generate files. It is crucial to create a sitemap so your content gets crawled by the search engine crawl bots.
Site Customization
Alidropship offers a range of professional-looking themes that comes with a lot of customization options. You don't need coding knowledge in order to customize the theme for your website. If you own a WooCommerce website, you will also get access to an in-built image editor, product variation, and support.
Marketing
If you compare to other drop shipping service providers, you won't find marketing options in most of them. Luckily, Alidropship comes with a lot of marketing options, such as email marketing, social media marketing, content marketing, and many others.
Discount Coupons
To run an effective marketing campaign, you can offer coupons and discounts to encourage your visitors and customers. With Alidropship, you can attach discount coupons and exclusive deals with your marketing campaigns.
Abandoned Cart Recovery
Cart abandonment is one of the biggest reasons merchants get low sales. According to the stats, merchants lost 75% of sales due to cart abandonment. Alidropship offers abandoned cart recovery for merchants, which helps approach customers through follow-up emails.
AliExpress Cash Back Program
AliExpress's Cash Back Program can get you an additional 7% to 15% discount on various purchases. It works as an affiliate program. You can generate the cash-back URL and purchase dropshipping products using that link. Once the product is delivered to your customer, you will receive the commission in your account.
Products Offered by Alidropship
On Alidropship, you can find all the essential products and services you need to run and scale your dropshipping business. So let's have a closer look at the Alidropship products so you can understand what you will need for your business.
Custom Stores
You can get started with the Alidropship custom store if you are a beginner. By purchasing a custom store, you will get assistance from a support manager that will help you set up your store from scratch. However, before purchasing a custom store, you can mention your preferences and needs so the team can provide a store tailored according to your requirements.
The support manager not only helps you set up your store but helps you find a profitable niche and best-selling products for your store.
Established Stores for Sale
If you want to purchase an established dropshipping store that is already making a decent profit, you can also get it from Alidropship. It offers a range of stable businesses that are put on sale by other merchants.
The benefit of purchasing an established store is that you don't have to put a lot of effort into making profits. The store comes with a stable income source, established customers, and a social media presence, so it is a win-win situation for you.
Premium Dropshipping Stores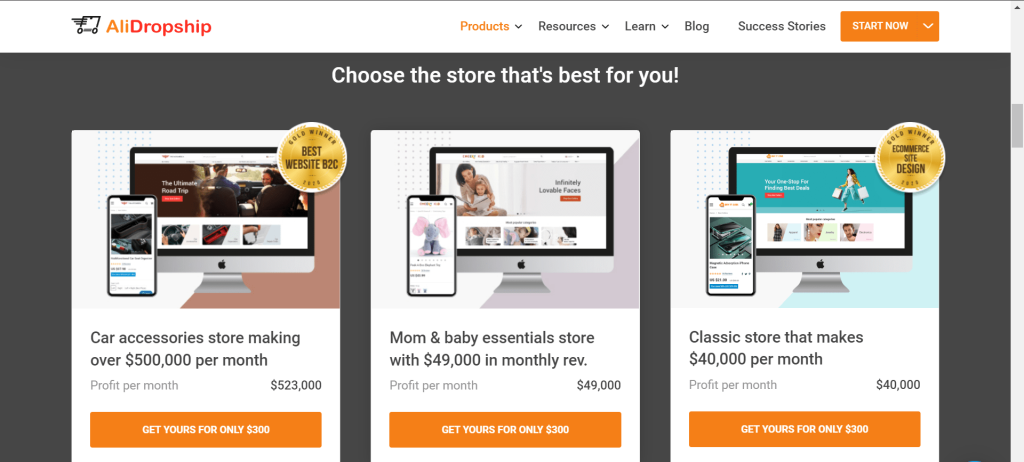 If you want to build or replicate an already running business, you can order a premium dropshipping store and add details about the website you like. The Alidropship team will build a replica of that storefront which will be tailored according to your needs. You can also look for a pre-built store on the Alidropship website and order premium stores at just $300.
Alidropship Plugin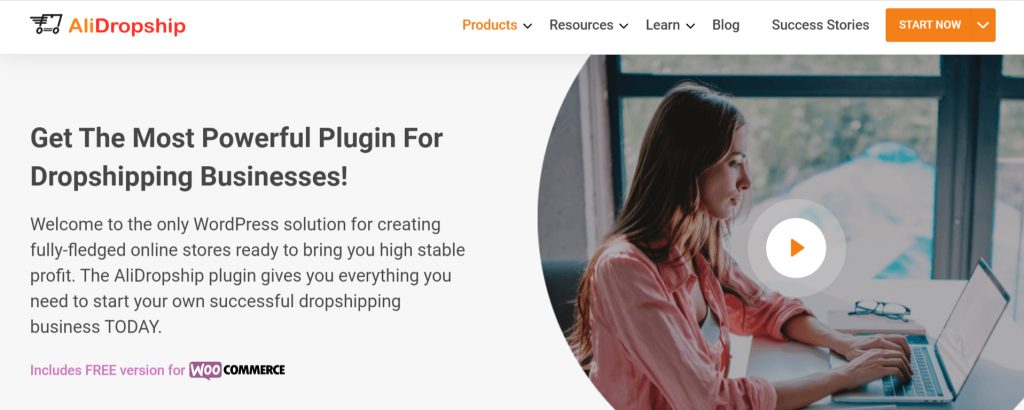 Alidropship offers a powerful plugin for WordPress-based eCommerce stores. It includes many automation features that will help you build a business with stable profit. With a one-time payment of $89, you will get free and lifetime updates & support, access to unlimited AliExpress products, and eCommerce-centric features. The plugin is fully compatible with WooCommerce, and you can import products to your store with just one click. Additionally, you can manage all your products, pricing, traffic, profit, and other stats under one control panel.
Alidropship Woo Plugin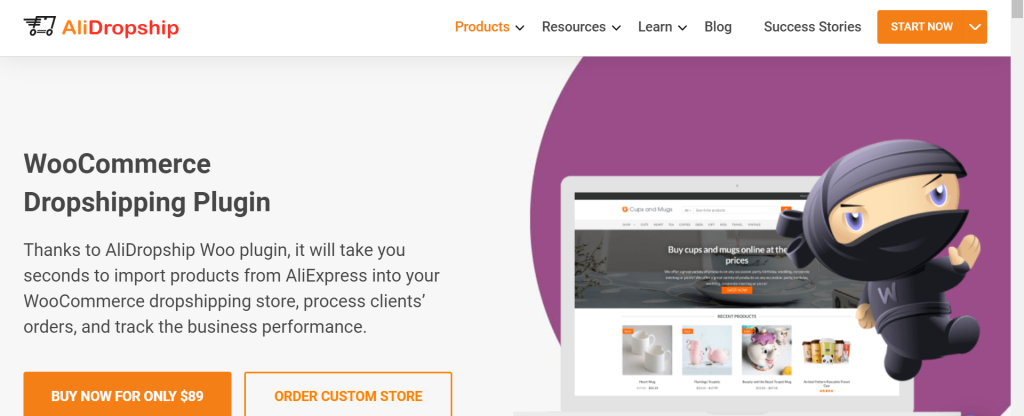 Alidropship's Woo Plugin is specially designed for WooCommerce store owners. The Woo plugin offers all the features that the Alidropship plugin has, but you will get additional access to Woo themes and plugins. You can use this plugin to run your store on complete autopilot.
With Woo Plugin, you will be able to unlock the Cash-back system, which gives you an additional 8% commission on each purchase.
Hosting Services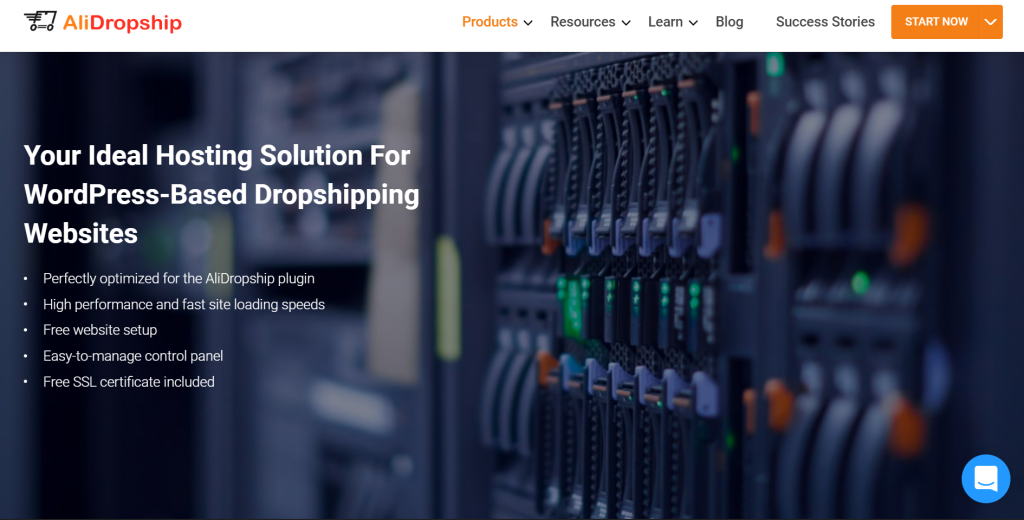 Alidropship also offers hosting solutions for WordPress users. It is optimized for the Alidropship plugin and gives you lightning-fast website speed, and improves performance.
There are several tiers available that you can choose according to how many websites you want to manage and how much disk space you need. Apart from that, you will also get a free website setup, a user-friendly control panel, a free SSL certificate, and unlimited bandwidth.
Add-ons
Alidropship offers over 28 powerful and easy-to-install add-ons. You can install these budget-friendly add-ons to elevate your sales if you want to boost your site's performance. This section includes add-ons for dropshipping, sales, social media promotion, workflow, etc. The pricing of add-ons starts at $19, and all of them are compatible with Alidropship, WooCommerce, and WordPress stores.
Themes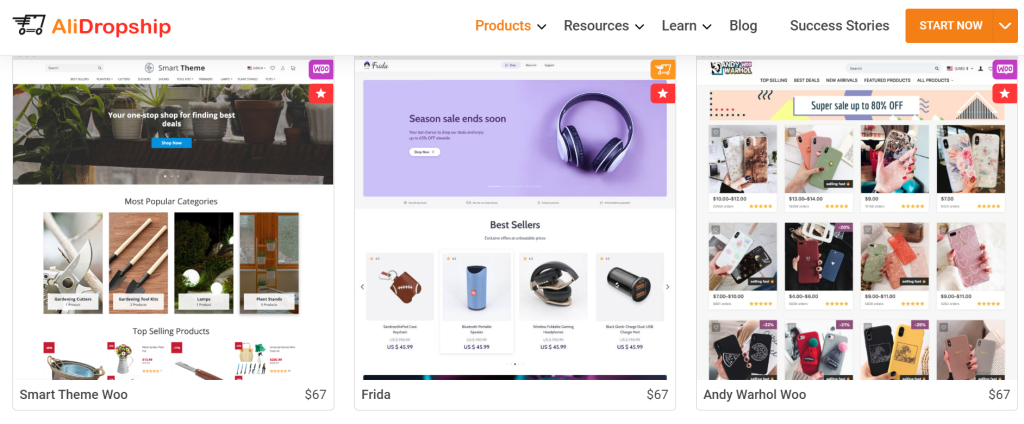 Alidropship offers more than 21 professional-looking themes that you can choose to design your website. Out of all themes, 12 are compatible with Alidropship dropshipping stores, while 9 are compatible with WooCommerce stores. You can select a theme that matches your niche the most and customizes it according to your needs.
Alidropship Chrome Extension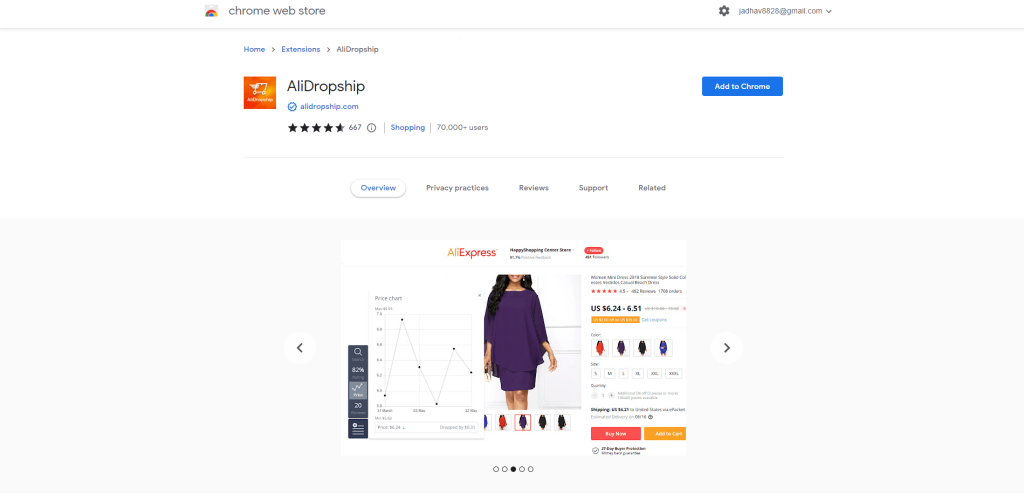 The Chrome extension of Alidropship is built to work with the Alidropship plugin. You can use this extension to use all the features more efficiently and in real-time. With the Chrome extension, you can import products, compare prices, and add product images. If you love to do things manually, the Alidropship Chrome extension is the best option for you.
You can also browse the AliExpress product catalogue to find best-selling products and compare search volumes and prices.
Sellika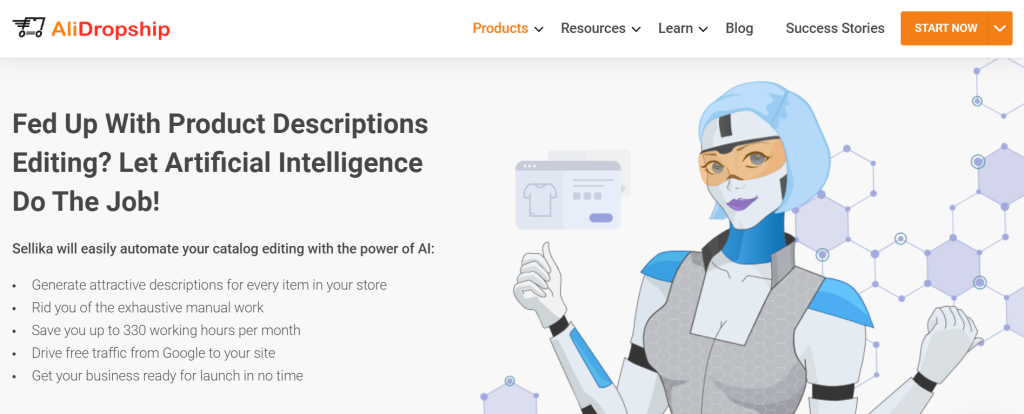 Sellika is a powerful AI editor of Alidropship that generates hundreds of product descriptions in one click. You can set it in autopilot mode, and it will create a product catalogue and description for the listed products. It can save you hundreds of working hours per month.
Sellika generates descriptions with keyword-rich titles and SEO-friendly meta descriptions that help you improve your website's rankings and get enough traffic to attract new visitors.
How Does Alidropship Work?
Using Alidropship is simple and almost effortless. It starts with your basic requirements. Let's see how it works.
Set up your Dropshipping Store
If you are a WordPress user and want to create a dropshipping website from scratch, you just need the Alidropship plugin. You can install the plugin and start with a professional Alidropship theme. Once your store is up and ready, you can start importing products directly from AliExpress with the help of the Alidropship plugin.
On the other hand, if you are a total beginner and don't have the knowledge or time to create a website, you can order a custom build that will be tailored according to your requirements. They will also provide a personal assistant manager that will help you throughout your selling journey.
Regardless of what Alidropship store you purchase, you will have 100% ownership, and you don't have to pay any additional charges in order to process the customers' orders.
Fulfillment & Order Placement
After setting up your store, you will soon start getting orders, and you will need to process them further with AliExpress. First of all, you don't have to worry about shipping, storage, and order processing, as it will all be handled by the supplier you choose. But you do need to transfer the details of the orders so the supplier can start the fulfillment process. You can deal with this situation with two methods.
Automatically: If you want to process orders to AliExpress dropshipping supplier, you can use the Alidropship plugin. All you have to do is select items and necessary product variations in your shopping cart. And then, fill in your customer's details to complete orders.
Manually: Handling orders manually is a hectic process but a safer option. Once you receive an order, you can click on the Place Order Manually on the order details, and the system will redirect you to the AliExpress product page. You can log in to your account and place the order with the supplier by paying the initial price.
Once the order is transferred to your supplier, you can sit back and track the order.
Shipping Options
You can customize shipping options directly from your WordPress user panel. You can find plenty of shipping options such as free shipping, standard shipping, super savings, etc.
If the AliExpress supplier offers free shipping on your product, you can set up free or low-cost shipping for your customers. There are four shipping options available that you can customize with your shipping costs. It will appear on the customer's checkout page.
Payment Gateways
There are three options for payment gateways: COD (cash on delivery), credit card, and PayPal. You can offer all three of them to your customers to maintain a variation. However, you can customize it directly from your Alidropship plugin.
Alidropship Review: Pricing Plans
The pricing of Alidropship depends on the product or the service you choose. Let's have a look at the pricing of featured products.
Alidropship Plugin & Woo Plugin: Both plugins cost you a one-time fee of $89.
Custom Stores: $299
Premium Dropshipping Stores: $300
Hosting Services: Starts at $48/year
Add-ons: Starts at $19 per add-on (free options available)
Themes: Starts at $57
Marketing: Starts at $10 (prices depend on your marketing needs)
Sellika: Starts at $37/month
Chrome Extension: Free
Alidropship also offers a 30-day money-back guarantee on the Alidropship and Woo plugins.
If you are a beginner and looking forward to buying the Alidropship plugin and dropshipping store for the first time, you can use a discount to save bucks. Check out the Alidropship Coupons to get up to 25% discount on available deals.
Pros & Cons of Alidropship Review
Each platform has its own benefits and drawbacks, and so does Alidropship. Let's have a look at them.
Pros
Fully-fledged Alidropship plugin that comes with advanced eCommerce and automation features
You can import thousands of profitable dropshipping products from AliExpress
Free themes and add-ons are available
Shipping automation features
Special cash back for WooCommerce store owners
Built-in SEO tools
Offers premium and established dropshipping stores
Free shipping options are available
Trusted by 100,000 suppliers
Cons
No free trials with the Alidropship plugin
The one-click import option is only available with the Chrome extension.
No phone call support
A steep learning curve for non-technical users
Why Choose Alidropship?
Alidropship can be a smart option if you are thinking about starting a dropshipping business. There are options for both beginners and those who are already running a dropshipping store. Alidropship comes in handy if:
You use WordPress. You can create a whole new dropshipping store using the Alidropship plugin.
You own a dropshipping store and want to import products from AliExpress.
You want dropshipping products for WooCommerce stores.
You don't have coding experience. You can purchase custom-built and turnkey dropshipping stores specially tailored for you.
You want an established dropshipping store with a stable income source, recurring customer base, and decent monthly traffic.
With the Alidropship, you will be able to discover millions of AliExpress dropshipping products and vetted global suppliers. The profit margin on Alidropship is comparatively higher than other platforms. 
Take Your Dropshipping Business to the Next Level with AliExpress
AliDropship is a part of AliExpress. While AliDropship provides you with a fully-fledged platform to run a dropshipping business, AliExpress allows you to import dropshipping products from a catalog of millions of products for your store.
However, you can start a dropshipping business with AliExpress too, but you won't get premade stores tailored according to your business needs. And it can be too risky to pick any supplier and start dropshipping, as there any many reports of receiving counterfeit products and fraudulent orders.
With AliDropship, you can eliminate the risks of picking the wrong product or supplier. The AliDropship team will help you discover hundreds of unique dropshipping products from top reliable suppliers. Moreover, your store will be tailored with AliDropship according to business needs and niches. It saves business owners save hours of manual work.
Conclusion: AliDropship Review (2023)
So finally, you have come to the conclusion of this review. In my opinion, Alidropship is a one-stop hub for all dropshipping needs. Whether you are just starting out or running a dropshipping business for a while, Alidropship provides solutions for everyone. You can also purchase custom and premium stores at a fixed price that you customize according to your need.
You get access to the Alidropship plugin at a one-time fee that helps you manage all the selling and shipping-related activities under one control panel. On top of that, you get a free SSL certificate and free updates & support for a lifetime. If you are a beginner and want to try Alidropship for the first time, you can try the exclusive Alidropship coupon that you won't get anywhere else. So, is it worth giving it a try? Let me know in the comments.