Are you looking for the best AliExpress alternatives? Don't worry, I have got a few suggestions for your business.
Dropshipping has become one of the most compelling ways to generate five to six figures monthly in a very short period. You don't have to worry about order fulfillment or managing inventory in a dropshipping business. AliExpress has been catering to millions of dropshipping sellers for over ten years. It offers a huge range of premium and high-quality products.
Despite being the leading online supplier and wholesaler, product prices and shipping charges are extremely high. There are other dropshipping suppliers available that offer a much cheaper range for similar products, and that too with fast shipping options.
In this post, I am going to list the nine best AliExpress alternatives that you can choose to source your products.
Top 10 AliExpress Alternatives: In A Nutshell (2023)
| | | |
| --- | --- | --- |
| S. No. | AliExpress Alternatives | Best Feature |
| 1. | DHGate | Best for low-priced items with great profit margins |
| 2. | Alibaba | Thousands of dropshipping suppliers across the world |
| 3. | Taobao | Offers a high-quality product selection |
| 4. | SaleHoo | Offers a directory of selected and pre-vetted suppliers |
| 5. | Banggood | In-built marketplace with direct-to-customer products |
| 6. | Gearbest | Best for electronic accessories |
| 7. | LightInTheBox | Best place to source cheap jewelry, clothing, and other accessories |
| 8. | DealeXtreme | Caters to offline and online dropshipping business owners |
| 9. | Doba | Source high-profit margin products |
| 10. | Worldwide Brands | Offers an extensive directory of vetted suppliers, dropshippers, and wholesalers |
Here are the best AliExpress alternatives for dropshipping sellers and store owners.
1. DHGate
DHGate, headquartered in Beijing, is a self-reliant marketplace for dropshipping and wholesaling with tons of digital trading hubs around the globe. Its directory features 2 million verified suppliers from 78 countries and regions. Setting up your eCommerce store on DHGate is much easier than on Amazon, eBay, and other AliExpress alternatives. Also, there are over 30 million dropshipping products to choose from – at a competitive pricing range. Whether you sell pet supplies or electronics, this is the best option available for dropshipping sellers.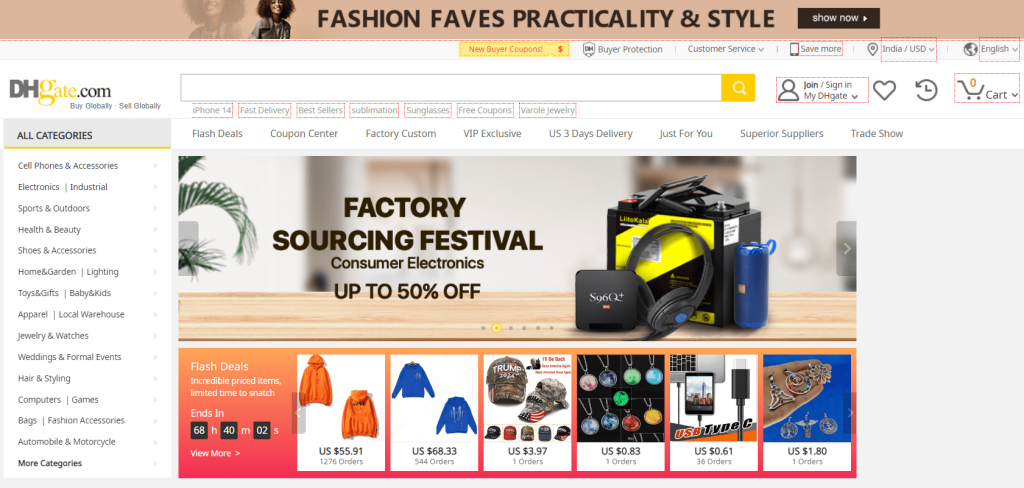 DHGate users might find similar issues they face on AliExpress, such as longer shipping times. Due to a large number of suppliers, you can't put each supplier on the same page. So make sure to review suppliers' ratings and reviews before starting a business with them. The delivery time of DHGate can take around 3 to 15 days.
Key Features of DHGate
Detailed seller information
Mediation services for wrong orders, damaged goods, and returns
Advanced shipment tracking options
Multiple payment methods are available
7 to 14 days return policy
No order minimums
2. Alibaba
Headquartered in Hangzhou, China, Alibaba is one of the largest eCommerce companies that operate globally. Actually, Alibaba is the parent company of AliExpress. So with Alibaba, you will get professional experience and incredible services. This global trading giant offers buyers to purchase individual and wholesale products at competitive prices. If you purchase a large number of items, you will get a flat discount on the final price.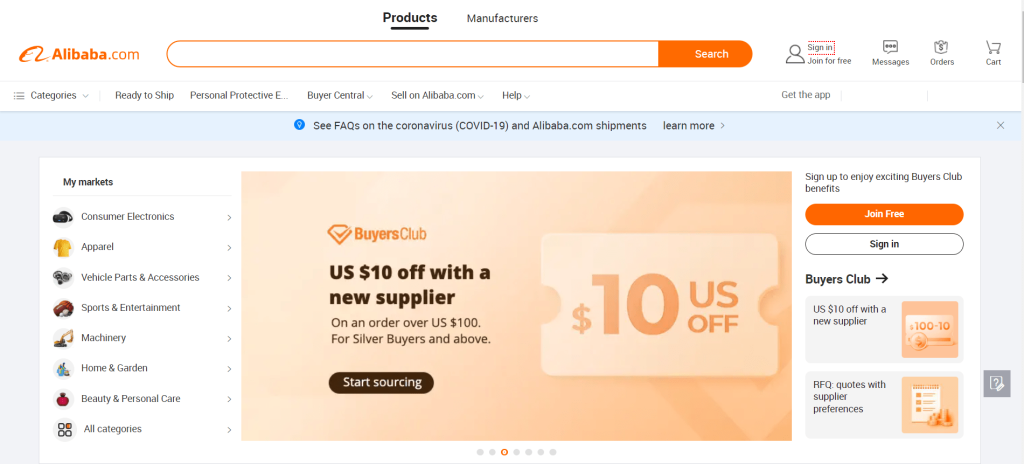 Alibaba offers millions of dropshipping products along with a directory of thousands of verified suppliers and wholesalers. However, finding a reliable dropshipping supplier can be tricky. So it is better to look for a local supplier you can easily contact and negotiate with. Most suppliers on Alibaba believe in selling products in bulk which is why there are no order limitations. Due to the high demand for the platform, sourcing products can be challenging and time-consuming.
Key Features of Alibaba
Easy to find a variety of items in hundreds of product categories
Thousands of suppliers across the globe
3 to 5 days shipping time for local orders (15 to 20 days for global shipping)
Free to browse products
Private label solutions
No order minimums
3. Taobao
Taobao is a part of the Alibaba Group and is headquartered in Hangzhou, just like AliExpress. AliExpress is a B2B (business to business) platform, while Taobao runs its business on a B2C (business to consumer) model. This is why suppliers, manufacturers, wholesalers, and companies on Taobao can sell directly to customers.

If you want to start a dropshipping business in clothing, Taobao is by far the best among other Chinese suppliers. Here, you can find a vast selection of clothing products from known brands. Apart from that, you can also find other products in various categories such as electronics, accessories, homewares, furniture, and many more. You can find many other ways to make money on Taobao. However, you may find difficulty browsing the website since most of the products are listed in the Chinese language.
Key Features of Taobao
Wide range of high-quality products selection
Reliable and trusted suppliers
Tons of categories to explore
Free access to the product page for dropshippers
Rich marketing opportunities
Real-time order tracking
4. SaleHoo
If AliExpress isn't the right dropshipping platform for you, there are plenty of other options to explore. Salehoo is a great choice for people who are tired of worrying about the reliability of their suppliers. While some suppliers on AliExpress are reliable, others can be extremely frustrating, leaving you with unhappy customers. SaleHoo offers over 25 million dropshipping products with more than 8,000 verified suppliers around the globe.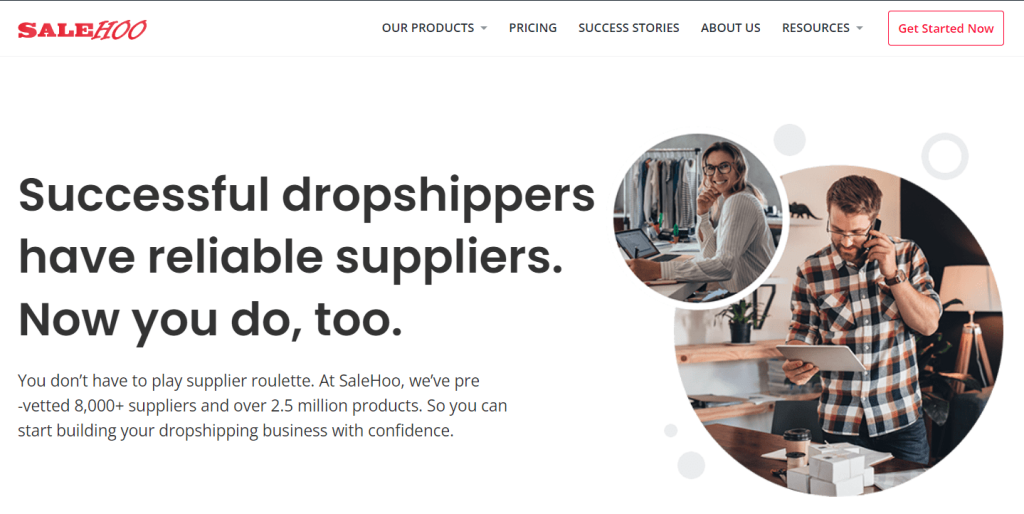 When you purchase your dropshipping products via Salehoo, you receive a much more dependable shopping experience. Salehoo only works with reputable suppliers and wholesalers, so you know that all of its products are vetted before they arrive. It also offers fast shipping, great customer service, and a huge selection of items at low prices. This is the reason why it has been featured on popular sites such as Forbes and HuffPost.
Key Features of SaleHoo
High-quality and branded product options
High-profit margins
No order limitations
Onboarding assistant for beginners
Directory of thousands of verified suppliers
60-day money-back guarantee
5. Banggood
Banggood is a well-known eCommerce marketplace that offers a range of high-quality dropshipping products at a low price range which makes it a powerful AliExpress alternative. The platform specializes in sourcing electronics, automobiles, gadgets, and other accessories. Banggood mainly focuses on cross-border sales and is committed to bringing the best Chinese goods to every corner of the world.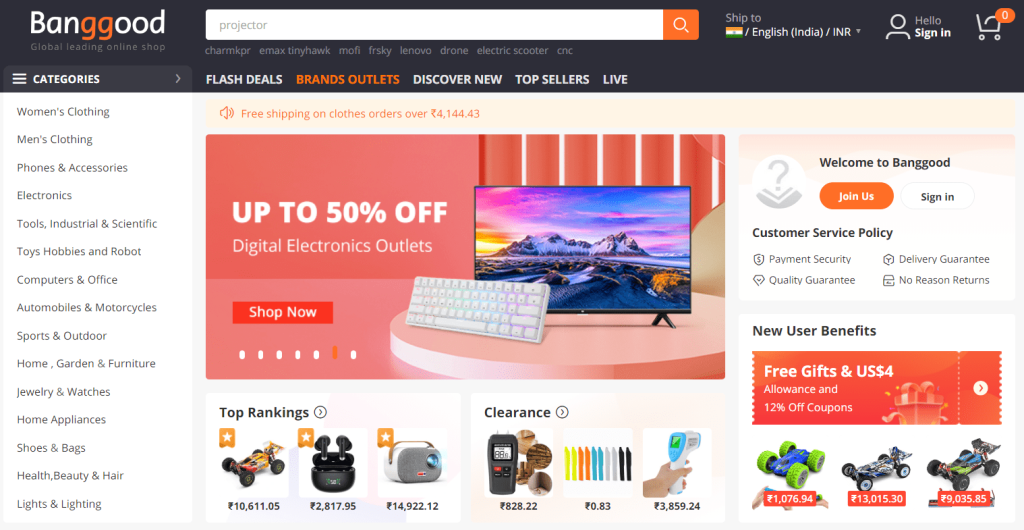 Banggood owns 37 warehouses across the world where they store their products sourced from China. That's why they offer the fastest shipping times. More than 5,000 verified suppliers are working with the company, and each of their products goes through strict quality checks. You can also get free options on a few products, and other products are available with low-cost shipping options.
Key Features of Banngood
High-quality products
No minimum order quantity
Free and fast shipping options
VIP club with premium and unique products
Fully functional mobile application
Professional customer service
6. Gearbest
As the name says, Gearbest is a wholesale website that features electronics products. Here you can discover the best electronics accessories such as smartphones, speakers, smart watches, home gadgets, and many others. The best part of choosing this platform for sourcing products is its quality inspection and lowest shipping times.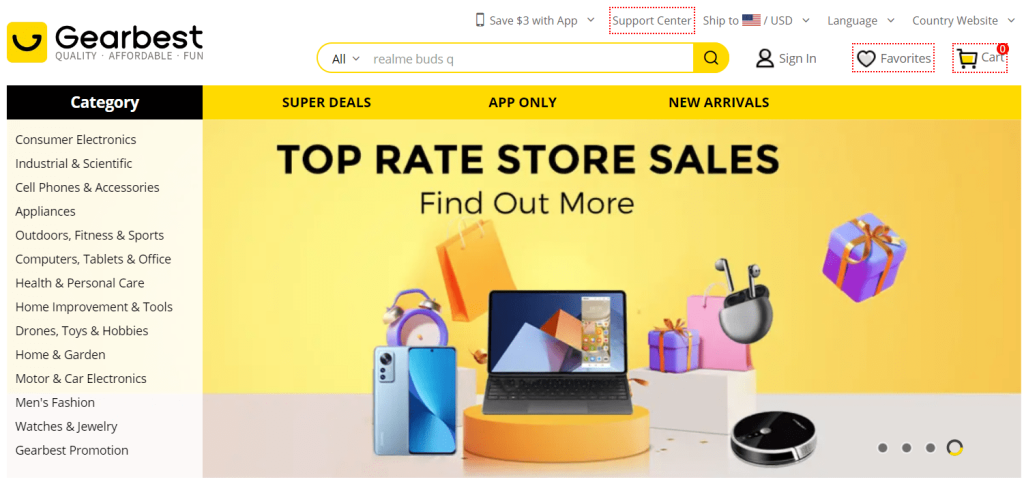 Gearbest owns hundreds of local warehouses in the US, Germany, France, Belgium, Australia, Italy, Poland, Russia, the UK, etc. You can choose your local region from where suppliers can easily dropship products to your customers. It offers a Deals section from where you can find the best discounts on various products.
Key Features of Gearbest
High-quality products selection
Affordable Express shipping options
Deals and discounts on various occasions
45-day money-back guarantee
Priority customer support
Local warehouses in different regions
7. LightInTheBox
If you are looking to source cheap accessories, clothing, and jewelry, LightInTheBox is the best option available. It is a China-based wholesale supplier that features a marketplace with a huge range of trending products. In terms of pricing of the listed products, AliExpress and LightInTheBox are almost similar. That means sourcing products from this platform can be a bit pricey compared to other platforms.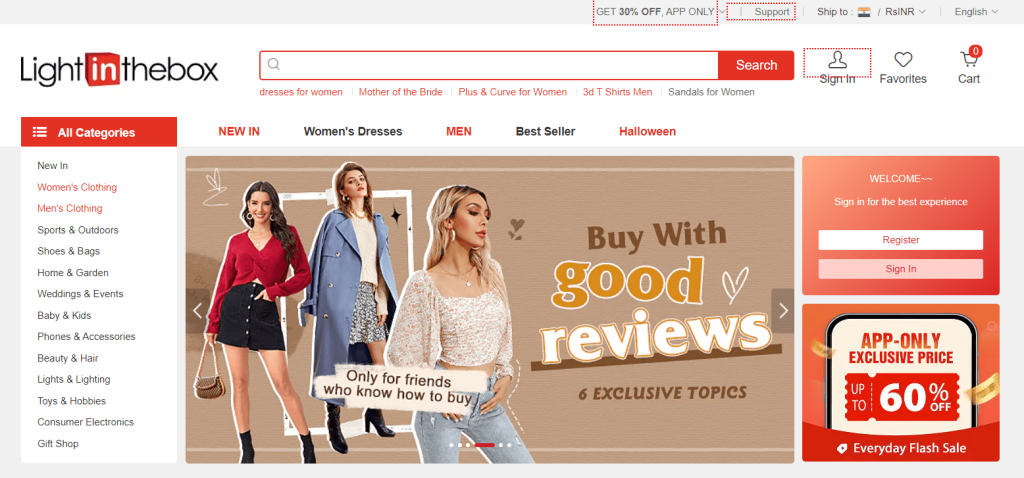 Most of the products on the platform are listed by the company itself, so they have control over the products' quality. For this very particular reason, it is worth paying a little extra. Shipping time, on the other hand, is uncertain. It can take a minimum of 24 hours, and sometimes, you might have to wait several days before orders are shipped. However, they have set priority lines for US-based buyers. So US-based dropshippers can take advantage of these perks.
Key Features of LightInTheBox
Best place to source boutique, clothing, and jewelry products
Millions of varieties to choose from
Fast shipping options for US-based buyers
Seasonal discounts and flash sales
No order minimums
Holiday-themed apparels
8. DealeXtreme
Based in Hongkong, DealeXtreme is an eCommerce and online retail store for dropshippers and physical store owners. The company runs on a B2C business model, so they directly deal with the consumers. It offers a range of local and premium products in electronics, gadgets, toys, bags, apparel, and many other categories. Despite being a Chinese supplier, the majority of DealeXtreme's customers are from Europe and the US.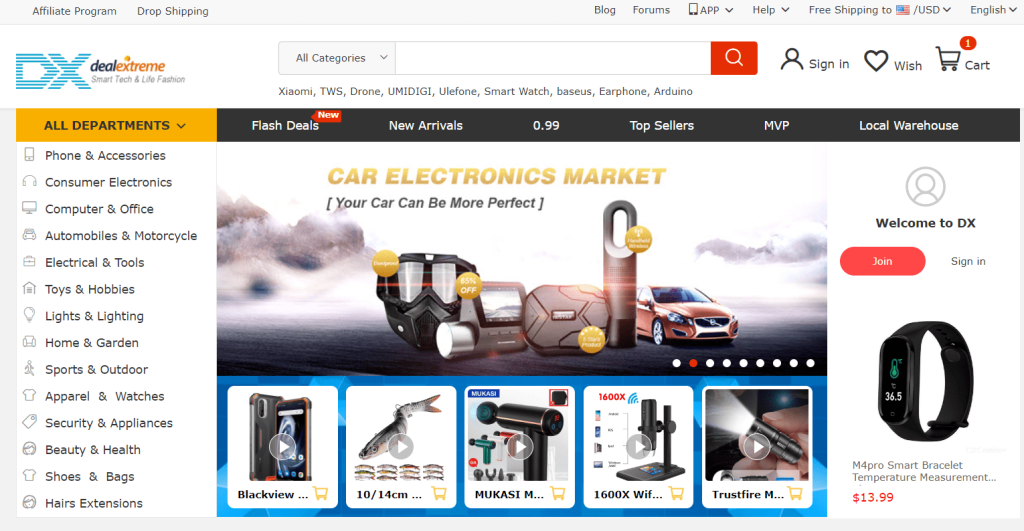 Compared to AliExpress, the prices of similar products are a little bit higher. Since they offer better quality, the prices are worth paying. However, the company features seasonal discounts and flash sales where you can get up to 50% discount on purchasing products in bulk. Local shipping takes one or two days and sometimes delivers on the same day. For global shipments, it often takes around 7 to 18 days.
Key Features of DealeXtreme
Caters to both online and offline store owners
Wide range of product selection
Fast shipping options
Free shipping on a certain threshold
Flash deals and discounts on various occasions
Accepts payment with Visa, MasterCard, PayPal, American Express, and others
9. Doba
Doba is a renowned dropshipping supplier that has been in the market for over 20 years. It is a US-based supplier that offers a detailed directory of manufacturers and wholesalers. Doba similarly operates like Amazon, so the prices of the 90% products are almost the same. The remaining 10%, manufactured in its own warehouses, are relatively cheaper. 

Apart from product sourcing, Doba offers top-notch inventory management solutions, price change alerts, and curated product lists. It also offers advanced search options which allow you to filter on your priorities. With Doba, you don't necessarily have to contact lots of suppliers to source products. Instead, you can pick a product, list it in your store and leave everything else on the platform. 
Key Features of Doba
Automates and manages your workflow
High-profit margins
Bulk export options
Updates via email on ongoing discounts and deals.
Advanced filtering feature
Seamless order integrations and product listing 
10. Worldwide Brands
Worldwide Brands is a WBI-certified directory of dropshippers and wholesalers that works with top retailers and sellers around the globe. If you are running a dropshipping business, you will find renowned and vetted suppliers and dropshippers to source products and fulfillment. It makes it one of the best alternatives to AliExpress, which offers solutions to small, medium, and large businesses regardless of their MOQs (minimum order quantities).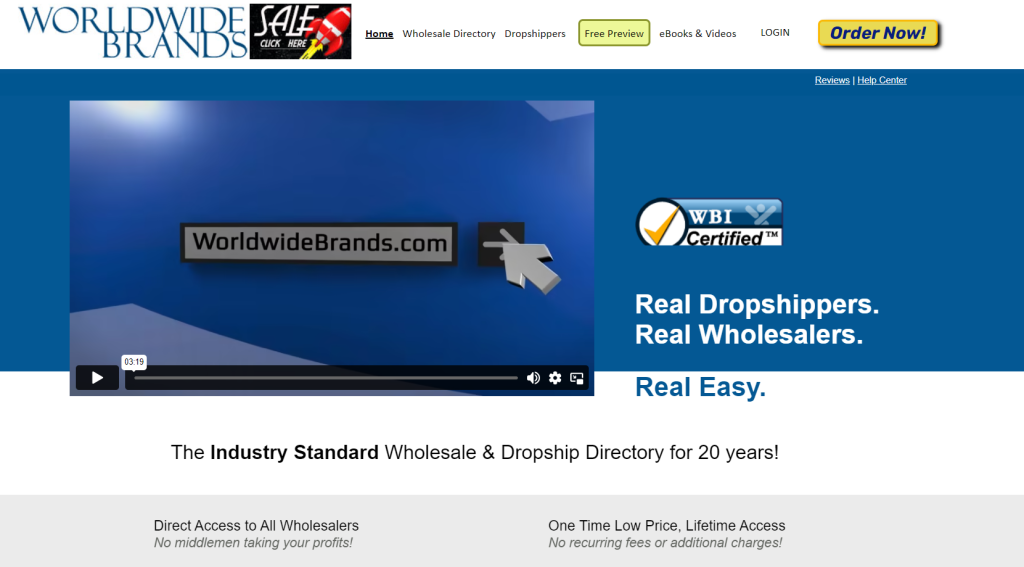 Worldwide Brands works with top eCommerce platforms and marketplaces such as Amazon, eBay, and Shopify. When you run a dropshipping business on these platforms, finding a supplier with high-quality and low-cost items seems very difficult for sellers. But integrating Worldwide Brands allows you to find your ideal supplier within your preferred marketplace. You can find a supplier for almost every product and category, whether you are dropshipping or wholesaling. By choosing from Worldwide Brands, you mitigate the risks of fraud and over-priced items as all the suppliers are vetted and verified.
Key Features of Worldwide Brands
Offers an extensive directory of dropshippers, suppliers, and wholesalers
All the listed suppliers are verified and vetted
Each supplier offers a huge range of dropshipping products at cut-rate prices
Offers a lifetime membership at a one-time fee
Almost all the suppliers offer fast global shipping options
A helpful support team for any seller queries
Conclusion: Best AliExpress Alternatives (2023)
This is my handpicked list of the best AliExpress alternatives. You can find many other options as well but finding a trustworthy and reliable supplier can be hard. Picking a supplier that ships both locally and globally at an affordable shipping rate can be profitable for your business. But if you are also concerned about product quality, you can consider picking one of these from the list.
Choosing a dropshipping supplier depends on many factors, such as ease of use, flexible payment options, global shipping solutions, and product categories. So make sure to take a look at these factors before partnering with one for your business.