It is quite obvious that Amazon is the world's leading and most competitive online marketplace. There are thousands of small, medium, and big brands selling on the platform, often competing to come out as the best seller in a particular niche. But it isn't as easy as it may seem. While selling on Amazon might seem easy, getting your product listed on Amazon pages and then selling big on the platform can get complicated if not done the right way.
Several sellers are searching for the finest technique to list their items on Amazon's pages these days. If you are an Amazon seller or planning to start your journey in that line, and are confused about which Amazon seller tool to use, then this AmazeOwl vs Jungle Scout comparison can assist you in deciding which of these top Amazon research tools will suit your needs.
AmazeOwl vs Jungle Scout – Comparison
Both AmazeOwl and Jungle Scout will assist you in determining which items are the most profitable and in entering that niche market at the appropriate time. Jungle Scout and AmazeOwl are both meant to assist you to succeed as a retailer. You will be easily able to do the following with these tools:
Find profitable products
Track trends and activities of competitors
Validate ideas for a product
Filter and organize all data
I'll compare AmazeOwl and JungleScout to help you determine which tool is best for you.
About AmazeOwl
AmazeOwl is an Amazon product research tool that provides Amazon sellers with the knowledge they need to find the best products on the market. It searches Amazon for listings that meet the specified price, best seller rank, amount of reviews, and other criteria using a dedicated program for PC and Mac users.
It searches Amazon for listings that meet the specified price, BSR, amount of reviews, etc. using a dedicated desktop program for Mac and PC. There's also an Amazon Chrome extension utility included.
About Jungle Scout
Jungle Scout is a dependable web-based seller program developed to help brands enhance their selling game on Amazon. It offers a pack of powerful marketing features and tools like a research product tool, a product tracker, a supplier database, and much more. It's a one-stop shop for getting started, running, and expanding an Amazon selling business.
It has simple methods for filtering products based on sales, reviews, product size, and other factors. You can also look at the pricing, inventory, and profit margins of your competitors. In addition to the web-based capabilities, Jungle Scout, like AmazeOwl, includes a Google Chrome plugin for added convenience.
If you don't know anything about Jungle Scout, then check our in-depth Jungle Scout Review here.
Comparison of Features & Functions
Let us have a quick look at the most important and powerful features offered by AmazeOwl and Jungle Scout.
| | | |
| --- | --- | --- |
| Features | AmazeOwl | Jungle Scout |
| Data Accuracy | Yes | No |
| Single Click Review Request | Yes | No |
| On-Demand Video Guide | Yes | No |
| Step By Step Case Study | Yes | No |
| Opportunity Finder | Yes | No |
| Opportunity Score | Yes | No |
| Global Suppliers Database | Yes | No |
| Inventory Manager | Yes | No |
| 20+ Customer Support Reps | Yes | No |
| 8 Figure Amazon Seller Founder | Yes | No |
| Product Launch Service | Yes | No |
| Freelancer Marketplace | Yes | No |
| Unlimited Email Follow up Campaigns | Yes | No |
| Amazon Product Research | Yes | Yes |
| Product Tracking | Yes | Yes |
| Keyword Research | Yes | Yes |
| Keyword Rank Tracker | Yes | Yes |
| Profit & Sales Tracking | Yes | Yes |
If we observe the comparison table carefully, then it is clear that Jungle Scout is far ahead of AmazeOwl when it comes to features offering a more complete set of features.
Ease of Use & Interface
When you consider employing a premium tool for your Amazon business, the first thing apart from the price you need to consider is how easy to use the program is for you or your team. Let us discuss in brief the user interface and ease of use of both AmazeOwl and Jungle Scout.
AmazeOwl: Ease of Use & Interface
I'm going to use The AmazeOwl Product Database to compare AmazeOwl's ease of use. In comparison to Jungle Scout, AmazeOwl has a distinct product database. The user interface is adequate, allowing you to select from various categories, apply filters, and so on. When you click on a product, you'll be sent to a page where you can learn more about it.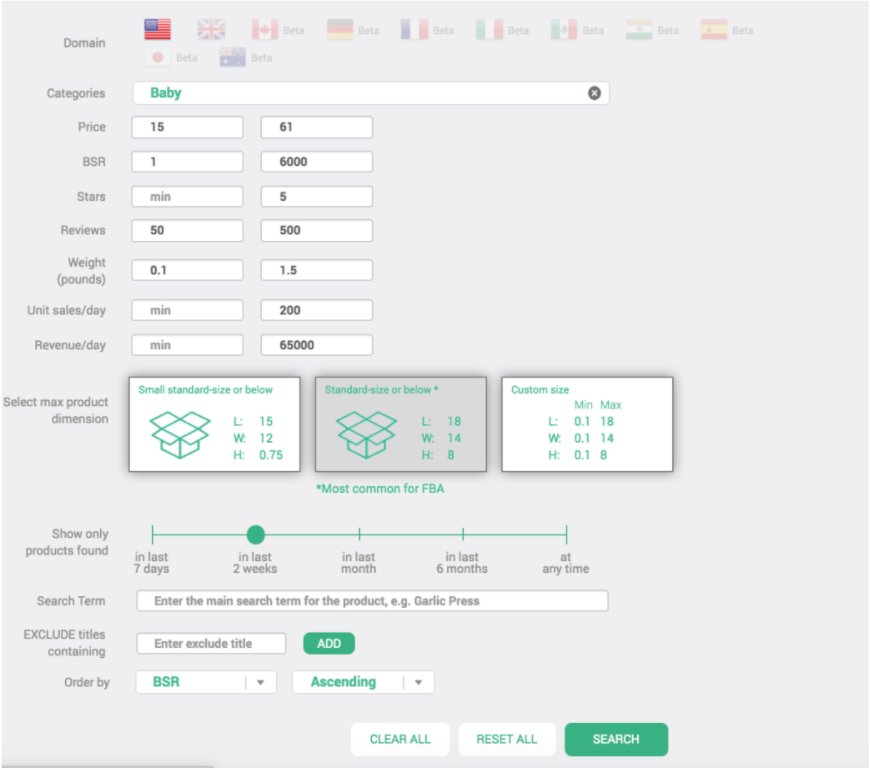 AmazeOwl's filters and other choices are a little nested, to be honest. Jungle Scout's product database, I can say, has a clear and intuitive interface, making it more user-friendly.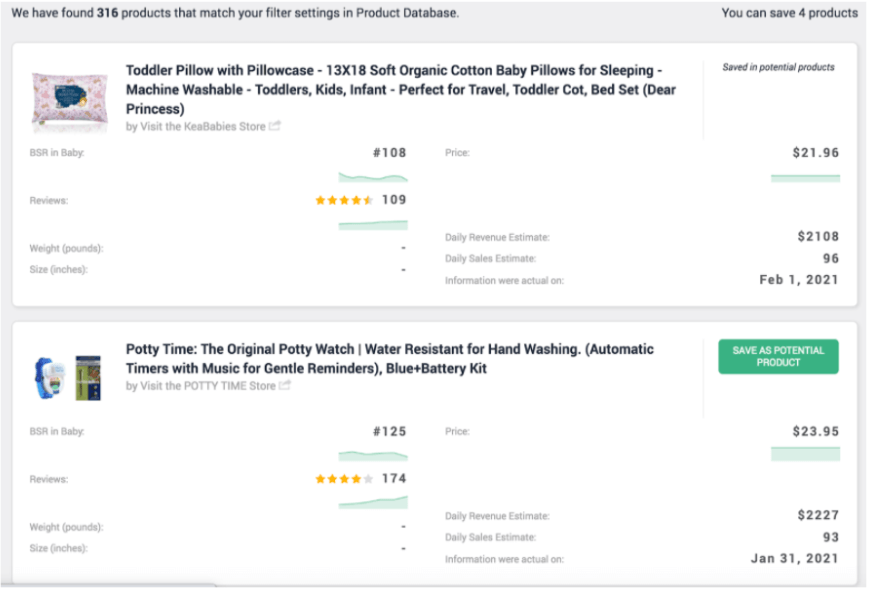 Jungle Scout: Ease of Use & Interface
I'll go over Jungle Scout's Product Database functionality to demonstrate how simple it is to use. You may simply conduct product research on the go with the Jungle Scout product database. Furthermore, you can use multiple filters to look for potential products in various categories and filter options. You can select from a variety of parameters, including categories, fulfillment methods, review count, price, and rank.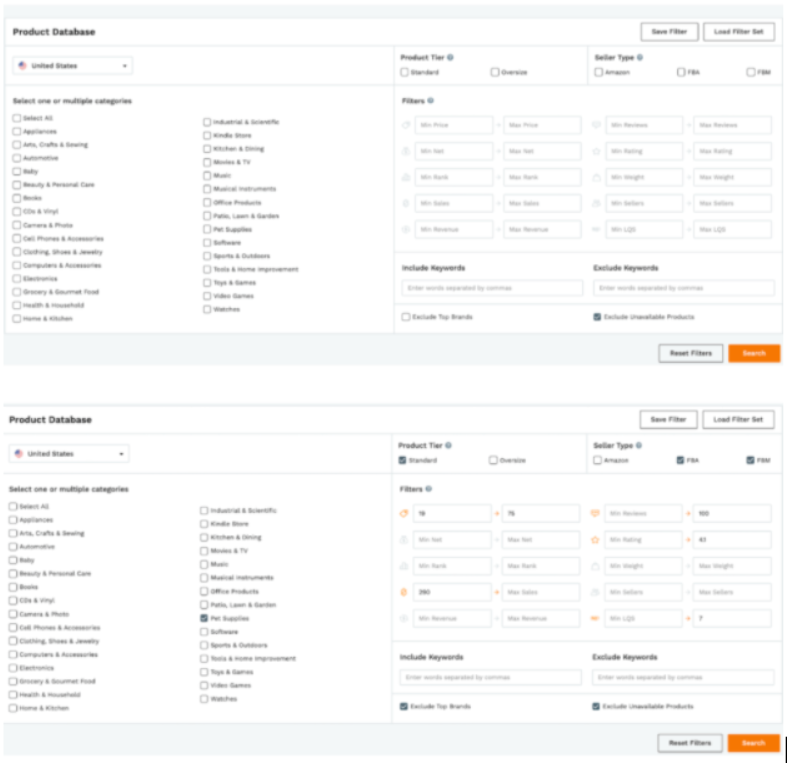 AmazeOwl vs Jungle Scout – Data Accuracy Comparison
When you are selling on a competitive platform like Amazon and want to go big in your niche, then apart from just fetching data about the market, your products, keyword, and competitor analysis, it is also equally crucial that the data you obtain is accurate. Data accuracy plays a major role because your entire planning and selling strategies depend on it.
With that being said, let us now have a quick comparison between the data accuracy for both Amaze Owl and Jungle Scout.
AmazeOwl: Data Accuracy
When compared to Jungle Scout, the data reliability of AmazeOwl is substantially poorer, and the margin of error is much higher. According to a case study and research conducted by Jungle Scout, AmazeOwl's data accuracy is 61.2%.
Jungle Scout: Data Accuracy
Jungle Scout has recently invested a lot in data and statistics. It has a reputation for data aggregation and analysis among competing Amazon seller tools. The accuracy of their data is 84.1%, which is considered to be the most reliable figure among all the other competing Amazon seller tools.
But what does it mean?
An 84.1% accuracy in data means that there is an 84% chance that their sales estimation is correct and you can rely on Jungle Scout more than AmazeOwl. Overall, Jungle Scout is a safer choice when it comes to data accuracy, as you can rely on the facts and statistics supplied.
Support & Resources
Customer support is important, be it through online resources or through the support team. If ever a customer runs into any issue while using the program, one must be easily able to get in touch with the technical support team and have the issue resolved at the earliest to continue using the program seamlessly.
Let's see what AmazeOwl and Jungle Scout have to offer in terms of customer support and resources.
AmazeOwl: Support & Resources
The page for FAQs on AmazeOwl is where you may seek help. The best approach is to use LiveChat, which will get you a response within 3 hours. AmazeOwl offers both free as well as paid course content. The lessons are straightforward and contain videos that demonstrate how to use the company's products. They also offer two paid courses on finding and selling things on Amazon.
Furthermore, they have a paid academy called AmazeOwl. According to my own experience, the premium AmazeOwl program is well worth the money – but only for novices. They also provide free courses and resources, although they aren't that useful. Only Amazon merchants get access to their resources section.
Jungle Scout: Support & Resources
Customer service is provided 24 hours a day, seven days a week at Jungle Scout. They also include built-in training modules as well as a large collection of free instructional materials. Jungle Scout also offers a well-reviewed customer service staff led by Amazon professionals who are eager to answer your questions. You'll also get step-by-step instructions on how to use its unique mix of tools and capabilities.

You may also make the most of the Jungle Scout tool thanks to a large library of training resources. You'll also have access to a library of in-depth videos for Amazon sellers, as well as tried/tested Amazon seller tips, case studies, live onboarding training, tooltips, and frequent webinars.
Pricing Comparison
In comparison to Jungle Scout, AmazeOwl is cheaper. The main lesson is that Jungle Scout provides a one-stop shop for selling on Amazon. AmazeOwl, on the other hand, is limited to product research and finding things to sell on Amazon.
Let's compare AmazeOwl with Jungle Scout's price plans.
AmazeOwl: Pricing
In addition to the paid choices, AmazeOwl offers a free version. However, if you are a serious store, the free plan will quickly show its limitations, and you will need to upgrade. The details of all of the planned payment plans are listed below.
Starter
Price: Free
More of a demo than a real product tracking tool.
Salient Features:
1 Tracked niche
3 monitored keywords
No product database
Top 2 keyword research
Slow loading speed
No onboarding or customer support
Growth
Price: $12.99 per month (Annual)
This strategy is best for those who are just getting started. Product tracker, ten niches, track 10 keywords, research 10 keywords, discount on AmazeOwl academy, basic support, and more are included in the package.
Salient Features:
10 Tracked niches
10 monitored keywords
Database of 50 products per month
Top 10 keyword research
Fast loading speed
10% discount for the AmazOwl academy
Regular customer support
Established
Price: $19.99 (Annual)
This plan is best for Amazon sellers who have some prior expertise. This plan allows you to track up to 300 niches, 50 keywords, a product database with 200 searches, keyword research of about 100 keywords per product, a 30% discount on AmazeOwl academy, and priority customer assistance.
Salient Features:
300 Tracked niches
50 monitored keywords
Database of 200 products per month
Top 100 keyword research
Very fast loading speed
30% discount for the AmazOwl academy
Priority customer support
Jungle Scout: Pricing
There is no free plan offered by Jungle Scout. You can, however, try out any of the plans for 14 days risk-free thanks to the money-back guarantee. This way, you'll know if you're comfortable with the software before you commit. The following are the plans and the features that they include:
Basic
Price: $19 per month (Annual)
The basic plan comes with a number of useful features that should satisfy new eCommerce site owners. The plan only gives you restricted access to Jungle Scout's features. Product tracker for 3 ASINs, historical product/keyword tracking (one month), trustworthy assistance, and unrestricted access to review requests are all included in this package.
Salient Features:
3 products tracked
1-month historical data tracking
1-month historical keyword data
Manual review requests
Sales analytics
Academy Training
Customer support
Suite
Price: $49 per month (Annual)
All of the features of the basic plan are included. You'll also get a product tracker for about 150 ASINs, historical product/keyword tracking (3 times each month), sophisticated Amazon seller tools, priority support, and more.
Salient Features:
100 products tracked
Opportunity Finder
Product Database
Keyword Scout
Supplier Database
Inventory Manager
Promotions
Supplier Tracker
Professional
Price: $84 per month (Annual)
All of the features of the Suite plan are included in this plan. You'll also have access to things like a product tracker for 1000 ASINs, historical product monitoring for 6 months, historical keyword tracking for two years, sophisticated sales tools, and a rank tracker for 5000 keywords, among other things.
If you think Jungle Scout is very costly. Well, check our working Jungle Scout Discount Code get 40% Off here.
Differences Between AmazeOwl and Jungle Scout
AmazeOwl is ideal for locating profitable Amazon products to sell. Jungle Scout, on the other hand, provides Amazon sellers with a one-stop-shop of tools.
AmazeOwl offers desktop software as well as browser extensions. Jungle Scout, on the other hand, provides web-based tools and browser extensions. Jungle Scout also offers a mobile app.
For beginners, the AmazeOwl interface is a little complex and confusing. Jungle Scout, on the other hand, features a user-friendly interface for beginners, intermediates, and advanced Amazon sellers.
Although AmazeOwl offers a free plan, Jungle Scout does not.
When compared to Jungle Scout, AmazeOwl is less expensive. Jungle Scout, on the other hand, is more than just a product research tool.
AmazeOwl offers customer service, but it isn't as good as Jungle Scout's. No matter the plan you choose, Jungle Scout's customer service is dependable and attentive.
More Comparison:
Final Verdict – AmazeOwl Vs Jungle Scout
Honestly, both AmazeOwl and Jungle Scout are two of the most dependable tools used by businesses for improving the selling game on Amazon. Both the tools are equally matched in terms of features and performance. But which one should you go for? Let's break it down step-wise.
Features & performance:
There's no doubt that both AmazeOwl and Jungle Scout are loaded with powerful features that have proven to be helpful for businesses selling on Amazon. While AmazeOwl offers better product research tools, allowing you to search by keywords, best sellers, and product database, Jungle Scout has a slight edge with a better competitor research module that allows you to sort your search with more filter options.
Technical Support & Resources:
Both the platforms have sound and balanced customer support, division. Both offer online training modules and courses which are great for instant solutions to trivial issues. If you need any technical assistance, then you may also contact the support team. While the AmazeOwl support team can be contacted via live chat with an expected response time of 2-3 hours, Jungle Scout is more responsive thanks to their responsive support team who are available 24*7.
Price:
If we talk about the costs indicated for both the tools, AmazeOwl is more suitable for customers who opt to be billed yearly. Consider adding another 55% to these rates if you prefer to pay on a monthly basis. In the pricing comparison of AmazeOwl and Jungle Scout, we can see that AmazeOwl offers more affordable plans. Jungle Scout, on the other hand, proposes additional features and tools in their service.