Looking forward to purchasing the Amazing Selling Machine for your FBA business? If so, you need to know some unknown facts about this course before investing in it.
Amazing Selling Machine (ASM) is a high-quality FBA (Fulfillment by Amazon) course cum training program that helps Amazon FBA sellers start and improve their Amazon business. The course not only helps sellers run their businesses on Amazon but also assists them with resources so they can grow and expand their businesses to other marketplaces.
But is it a legit course or a scam? This is one of the most asked questions by the sellers due to its expensive price tag.
Don't worry! The following Amazing Selling Machine review will answer your questions. By the end of this article, you will also realize whether the course is good for your Amazon business or not.
Let's get started.
About Amazing Selling Machine Review
Matt Clark and Jason Katzenback created the Amazing Selling Machine course in 2013 with an aim to help new and professional FBA sellers to reach their full selling potential. This is an exclusive FBA training program that claims to offer exceptional business strategies to FBA sellers, which gives an 'unfair advantage' over their competitors.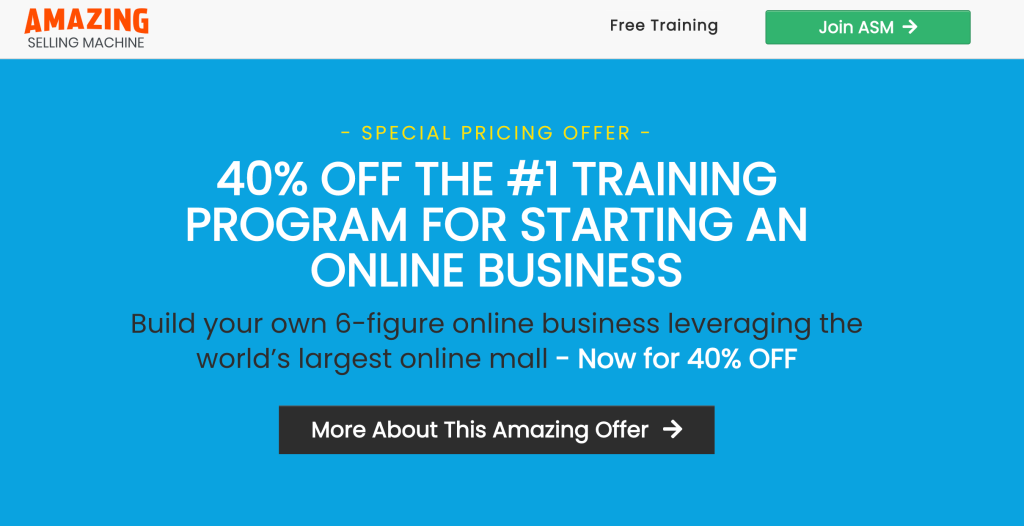 With the ASM course, new sellers can kick-start their business in no time, while experienced sellers can drive more sales and unlock new earning opportunities on Amazon. The best part about this course is that it strategically follows Amazon's algorithm so sellers can easily overcome their competitors in terms of ranking and sales. As soon as Amazon make changes in its algorithm, the ASM experts update and modify their courses so the enrolled sellers can stay on trend.
What's in the Amazing Selling Machine Course?
The ASM course includes comprehensive eCommerce training that follows eight step-by-step modules. All the modules cover all aspects from basics to advanced. The modules are divided into two parts. The first four modules teach basics about selling on Amazon. And in the next four weeks, sellers learn advanced strategies that help them scale their business to the next level.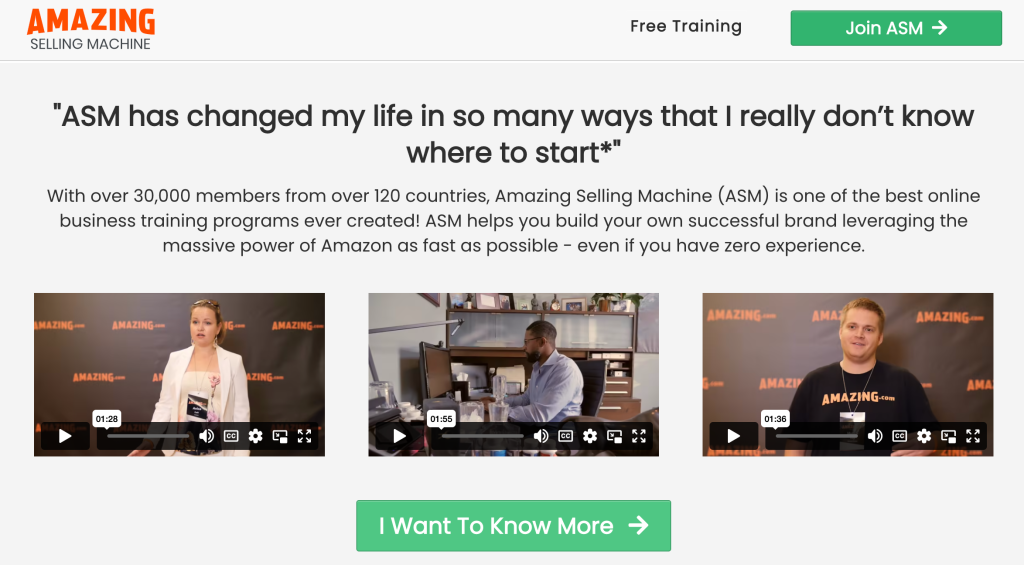 The course starts from very basic so that new sellers can also understand the fundamentals of selling on Amazon. From picking the best products to driving traffic to Amazon stores, sellers will learn everything about how Amazon FBA works and how you can run an Amazon store efficiently. All the lectures in the course are divided into bite-sized so you can learn at your pace.
How Does Amazing Selling Machine Work?
The Amazing Selling Machine course contains video and text-based lessons. Once you enroll in the course, here's what you can expect.
Your main goal is to sell on Amazon and make money online. So the course starts with niche and product selection which is one of the steps to becoming an Amazon seller.
Once you find the right product for your Amazon store, you will learn about how to create an eye-catching listing that will attract customers to your product page.
You will also learn how you can optimize your listing and make your store SEO-friendly. You will learn about the keywords game and how you can use them to connect with your audience.
If you want to set up marketing campaigns or expand your business, this course will also teach you to do that too.
Once you have completed the course, you get access to ASM's private community and forum, where new sellers can connect with top Amazon sellers and get answers to their queries. You can also join a private Facebook group to get help from the ASM support team.
Amazing Selling Machine Review: A Sneak Peek Inside The Course
This is the 13th edition of Amazing Selling Machine, which is the newest and updated version. Rich Henderson, Dan Ashburn, and Mike McClary, one of the top industry experts, will host the new version. As you know, the course is divided into 8 modules, and sellers can complete all modules within 8 weeks. However, you can learn at your pace.
If you are a new seller, consider going through the Welcome Module before you start the main course. The Welcome module contains crucial information about Seller Central and Amazon marketplace. Apart from that, every module is filled with quizzes, tutorials, and videos that will show how things work and how you can improvise to overcome your competitors. So let's break down the course.
Welcome Module: The Basic Principles of Success
The Amazing Selling Machine Dashboard
The Seven-figure Principles
ASM Mentor Program
Choosing the Best Marketplace for your Amazon Store
Success Principles
Earning Progress Badges
About Seller Central
Seller Central Set Up and Guidelines
Module 1. How to Find Your First Product?
Building Your own Real Brand
7 Elements of Finding the Perfect Profitable Product
Choosing the Best Suitable Category for Maximum Result
What Products and Categories to Avoid
How ASM helps you with Product and Category Selection
Recommended Tools to Find the Perfect Product Opportunity
Alternative Search Methods
Speeding Up the Selection Process
Patent Search
Module 2. How to Set Up your Business on Amazon?
Know About Amazon FBA and Selling Fees
Product Tuning
Creating an Online Professional Presence
Simple Product Sourcing
Using ASM Templates to Finding Suppliers
Contacting and Dealing with Suppliers
How to Calculate the True Price of A Product
How to Calculate Profit for Selected Products
Ordering Samples from Different Suppliers
Module 3. Source Products and Create an Inventory
Inspecting and Comparing All the Samples
Finalizing the Best Low-cost and High-quality Product
Determining the First Inventory Numbers
Ordering the First Inventory Batch
Designing Brand Logo
Using Amazing Selling Machine to Setting Up the Brand Name
Designing Packaging for Your Product
Know About Product Identifiers
Setting Up A Product Identifier
Module 4. Register Your Brand
Creating A Brand Website
Building A Success Foundation
How to Create Social Pages
Adding Content to Social Pages
Create A Customer Base
How to ManyChat to Manage Social Messages in One Place
Amazon Brand Registry
Wrapping Up Modules 1 to 4
Module 5. Product Listing Creation
About Product Listing Optimization
Importance of Keyword Research
How to Find Keywords for Your Product
Creating A Product Listing
Using Keywords to Edit Product Listing
Creating a Compelling Title and Description
Adding HQ product images
Setting Up Competitive Product Prices
Crafting Customer Emails for Customer Engagement and Reviews
Module 6. Launch Your Product
Preparing to Launch Your Product
Planning for Success
Tracking Crucial Data Points
Know About Sponsored Product Advertising
Creating Promotional Discounts and Coupons
Using Samurai Seller
Creating PPC Campaigns for Marketing
Sustaining Rank Profitably
How to Replenish Inventory when Your Store Runs Out of Inventory
Module 7. Using Marketing Tools to Drive Traffic
Amazon Ads Optimization
Using Raving Fans for Consumer Services
Building Performance Checklist
Relaunching After Losing Rank due to Running out of Inventory
Using Split Testing Method for Maximum Conversion
Product Variations
Using Amazon Brand Registry's Features
Preparations to Expand Your Business
Module 8. Expand Your Business
Expanding Your Business to Social Platforms
Using Social Platforms to Generate Sales and Traffic
Using ManyChat for Creating Promotion Campaigns and Email Lists
The Power of Influencer Marketing
Using YouTube Ads
ManyChat Campaign Automation
How to Manage Cash Flow
After purchasing the course, you will get access to Amazing Selling Machine's complete course. For better results, consider going through every chapter. It will also ensure you don't miss anything essential.
Pricing Of Amazing Selling Machine
Pricing is one of the main deciding factors for the ASM training program. The course comes with an expensive tag. The reason is that it is an advanced course for FBA sellers. So not everyone can afford this course. 
Usually, the ASM course costs $4,997 (one-time fee) for the whole course and tools access. Fortunately, the company is offering an exclusive deal which gives a straight 40% discount. That means the course will cost you $2,997 (one-time fee) with the deal.
If sellers don't want to purchase the course with a one-time payment, they can choose the installment option. Sellers can purchase the course at $997/month for six months. But, it will cost an additional $985 compared to the original price.
The ASM Course Offers You,
8 Training Modules
20 Hours of FBA-related Content
120+ Training Lessons
Platinum Zoof Access for 6 months
Exclusive ASM tools
Monthly Coaching Calls
Premium Membership of the Private Amazing Selling Machine Community
Bonuses Worth $3,500
One-on-one interaction with Successful Amazon Mentors and Experts
Premium Customer Support
Free Lifetime Upgrades
The ASM training program offers a 30-day money-back guarantee to its customers. If the sellers don't feel like they are getting results from this course, they can cancel their membership within thirty days of purchase. The company will give you a 100% refund without any questions asked.
Can You Make Money With the Amazing Selling Machine Course?
Courses like Amazing Selling Machine definitely create a little bit of hype among new and struggling sellers as they offer promising results after joining their programs or courses. In the case of ASM, the company claims that its course will help sellers to generate a convincing revenue stream within 3-6 months. For example, you can see the potential profit calculator on their website.
On the internet, you will find mixed reviews about the Amazing Selling Machine course. Some members said that they started earning within 2-3 months of joining the course, while other sellers are struggling for 9-10 months due to its steep learning curve.
However, your success with the course can depend on which phase you are joining the program. If you are a newbie seller and joined the course with ambition, it is natural to make mistakes. But that doesn't mean you can't improvise. The course is structured to help sellers from scratch. So, the course will provide all types of assistance you need to overcome your mistakes and open doors to success in the Amazon marketplace.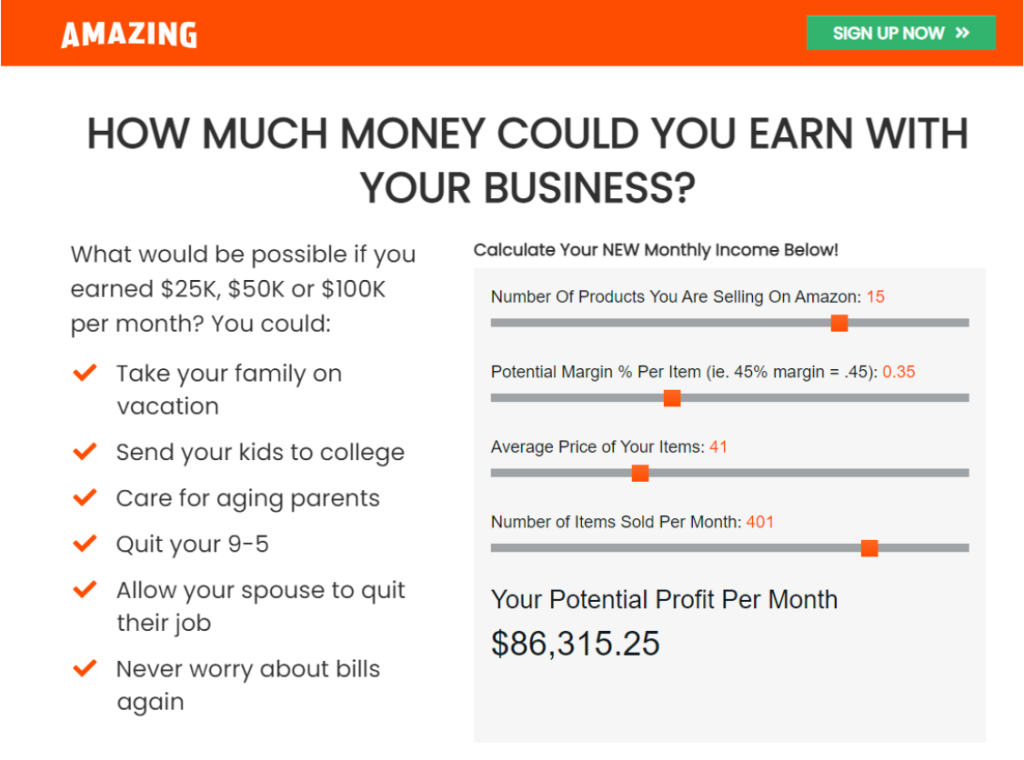 On the other hand, the course will look a lot easier if you have already been on the Amazon platform for a certain time. As an existing member of Amazon Seller Central, you know how things work on Amazon and what type of hurdles you are facing to make a profit on Amazon.
Whether you are a newbie or an existing seller, you can take help from the ASM mentors. The course offers one-on-one assistance with the mentors every month. You can tell mentors about your issues related to the course or selling on Amazon. They will cooperate with you and give you satisfactory suggestions and answers that will help you with your business. This is something you won't get with any other courses or tools very often.
Are Sellers Getting Results with the Amazing Selling Machine Course?
The Amazing Selling Machine has been in the industry for over nine years. And it is trusted by 35,000+ Amazon sellers, who have generated over $9.2 billion in sales. You can see a lot of positive reviews and success stories on its website.
Here are a few examples of it.
The company has worked with top Amazon sellers and entrepreneurs like Sir Richard Branson, Daymond John, Robert Kiyosaki, and many others. The course and mentors have been featured in top business magazines and channels such as Forbes, CNBC, Business Insider, MSN, etc.
People believe in social proof more than anything. And you will find more proofs like these on their platform and social platforms. So, there's no denying that sellers are getting results after enrolling in the course.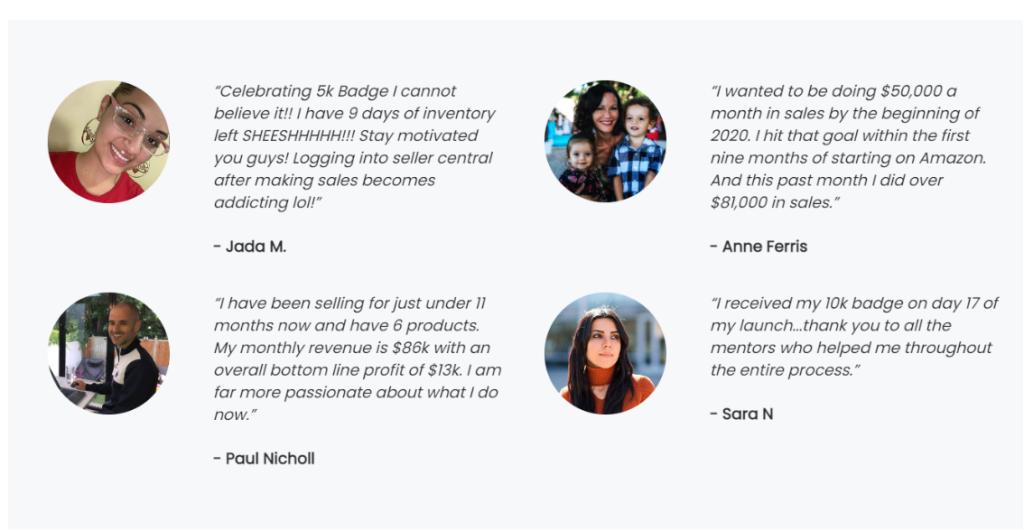 That doesn't mean it will also work for you the same as others. Don't forget this is much more expensive than any other FBA tool or course in the market. What will you do if you invest this much money but still don't get the results?
But you can't just assume anything without trying it. Thanks to its 30-day money-back guarantee. You can try the course for 30 days and imply the course strategies to your FBA business. If you think the course is affecting your business in a positive way, you can carry on and keep learning more. Or, if you think it is not influencing your FBA business at all, cancel the membership and get a full refund.
You will also get a 6-month ASM Success Promise guarantee. If you actually take the course and launch a product using its strategies, and you still don't get satisfactory results, the company will give you a full refund according to this guarantee. You can also get upto $7,500 for your unsold inventory.
It is a win-win situation for you!
Pros And Cons Of Amazing Selling Machine Review
Like other courses and tools, Amazing Selling Machine also has its benefits and drawbacks. Let's evaluate all of them.
Pros Of ASM
Eight training modules filled with FBA business strategies and lessons
Suitable for both beginners and existing Amazon sellers
The lessons come with bite-sized videos and learning materials
The course offers lifetime access so you can learn at your own pace
30-day risk-free money-back guarantee
The course is backed by an exclusive 6-month ASM Success Promise guarantee
Lifetime upgrades and access to new lessons
In-built Amazon Seller Tools
Cons Of ASM
A very pricey option for beginners
The Success Promise Guarantee has many strict terms and conditions
You need to give a certain time in order to get results
Related Read:
Final Verdict: Amazing Selling Machine Review (2023)
Amazing Selling Machine is a well-structured program for both beginners and professionals. With this course, beginners can jump-start their business in a very short time. If you keep implying the strategies to your Amazon business, you will take your business to the next level. The course will help you find your first product, and it will also teach you how you can find your audience in your preferred marketplace, as well as keep them engaged.
On the other hand, the existing sellers can launch multiple products with the help of the course. And they can also expand their business to other marketplaces.
The ASM course contains the knowledge and strategies of the top 1% of Amazon sellers. So subscribing to the course will give you access to the private resource vault, which is filled with a lot of secrets and tools. The company itself is running a multi-million dollar business, and the reason is none other than the ASM's valuable assets and knowledge. So the success rate of this course is higher than many other courses. The course is also backed by exclusive guarantees, so there are no risks in giving it a try.
Latest posts by Shally Rose
(see all)