Want to stand out from the competition on Amazon? Amazon SEO will help you.
When shoppers arrive on Amazon, their only goal is to find their favorite products so they can place an order. You must be wondering how they will catch up with their product. It's nothing but SEO (Search Engine Optimization).
Like Google, Amazon also runs on a specific algorithm known as A9. Whether you are an existing seller or about to start a business on Amazon, you need to understand how Amazon SEO works on Amazon. It is a necessary practice that you need to perform so your target audience can easily find your product on Amazon.
In this post, I will share a comprehensive guide on how Amazon SEO works and how you can optimize your product listing. I have also included a few Amazon SEO tools that will help you with your SEO practices.
Key Takeaway: Amazon SEO is a sales-driven practice to master the A9 algorithm on Amazon. If you want to stand out from thousands of sellers on Amazon, you need to optimize your listings for search results. It will not just help you increase your conversion and sales but also helps you rank higher organically.
What Is Amazon SEO?
Amazon SEO (Search Engine Optimization) is a process of optimizing product listings so the products can rank higher and get organic traffic in the product search results on Amazon.com. With a few steps of Amazon SEO, you can organically enhance your product listings for product search. It will not just help shoppers find your product but also boost your sale—no to spend on advertisement.
However, you need to understand Amazon's A9 algorithm in order to do Amazon SEO. A9 is a similar algorithm that Google uses for search results. Keywords play the most crucial factor in both instances. Still, there is a significant difference between A9 and Google's algorithm, which is sales. Amazon's business is all about conversions and sales. That's why A9 mainly focuses on sales conversions while Amazon's algorithm focuses on many factors such as sales, clicks, search index, page ranking, etc.
How Does Amazon's Search Engine Optimization Work?
Amazon SEO is a process of sequence that goes through all terms and metrics on Amazon. Here's a short description of how it works.
1. Amazon Search Box
When you visit Amazon.com, you see a search box which is located at the top of the page. Here shoppers use keywords, terms, or phrases to search for their favorite products on Amazon. Shoppers can also use the drop-down menu of all departments to look for a specific product in a category. Amazon retrieves relevant search results based on used keywords or phrases so shoppers can quickly narrow down their results to find their products.
2. Search Filters
Apart from Department filters, there are other filters that shoppers can use to find a specific product. Here is the list of those filters:
Best Sellers
New releases or new arrivals
Customer reviews
Featured Items
Price Range (High to low and low to high)
Deals and discounts
Movers and shakers (items with the most sales within 24 hours)
Program and features
Digital content
3. Search Results Page
Whenever you open a specific product from the search results page, you will find many headings and sections. Here are those sections that are deciding factors in Amazon SEO.
Product Title
Product Description
Bullet Points
Product Features
Product Images
Competitive Pricing
You can use Amazon SEO to improve each element on a product page. It helps you boost product ranking on the results page.
4. Sponsored Products
Sometimes, you see some sponsored products at the top of the search results. These products are CPC (cost per click) ads that sellers set to promote individual products in a subcategory. Only Professional sellers can use the internal advertising option for product promotion. However, your account should be enrolled in Brand Registry on Amazon to use this feature.
Amazon usually retrieves sponsored products based on search queries, mostly keywords, and phrases. Basically, sellers use high-volume keywords to bid, so the product only appears in their target audiences' search results.
5. Sales Rank
Sellers on Amazon get a rating based on their selling performance. The performance includes reviews, account health, competitive price, sales, and other factors. High-ranked sellers usually have more selling potential than low-ranked sellers.
What Is Listing Optimization On Amazon?
Listing Optimization is a process of including high-demand keywords, descriptive product images, and a sales-driven description to tailor Amazon product listing. Basically, listing optimization is the heart of Amazon SEO. Without that, your product won't stand a chance in the competition.
The goal of listing optimization is to master the A9 algorithm so your product appears in the search results after matching the search intent of the shoppers. The more keywords Amazon recognizes related to your listing, the higher your listing will rank in the search results. So listing optimization is one of the crucial factors that decide your success on Amazon.
How To Optimize Product Listing On Amazon?
SEO on Amazon is a gradual process that constantly helps your product engage with the audience. And listing optimization is an integral part of it. Listing optimization basically depends on seven elements: keywords, product title, description, images, key features, pricing, and backend search keywords. Optimizing all these elements will help you create powerful product content. It will attract customers to your product without sponsoring or advertising. Let's see how you can optimize product listing in the proper order.
Step 1: Conduct Keyword Research
Keyword research is one of the crucial factors that determine your product's appearance on search result pages. For keyword research, you need to compile a list of keywords and phrases that people might use to find your product. To do that, think as a visitor by putting yourself in the visitor's shoes. What keywords or phrases will you use to find your Amazon product?
Use this perspective to create your SEO strategy. Here's how you can conduct keyword research.
Use a few related keywords and phrases to your product in the search box. Check the drop-down suggestions to understand what keywords are working for similar products. Compile a list of keywords that might work for your products.
Take notes from competitors' listings from the search results. Experiment with multiple keywords to check similar products to your competitors. It will help you compare and make strategies to overcome your competitors.
Conduct keyword research in multiple subcategories related to your product. It will give what exact product subcategories will work for you.
Use both short-tail and long-tail keywords for search terms. Short-tail keywords are the main keywords containing 2-3 words, and they typically have more search volumes. Long-tail keywords are usually more specified, and they have a low-search volume. But the conversion rate for long-tail keywords is higher than short-tail as customers are very clear with their buying intent.
Use Amazon's autocomplete feature to find high-converting keywords.
Both short-tail and long-tail keywords play different roles in SEO strategy. Shoppers usually use short-tail keywords just to browse products on Amazon, while long-tail keywords are more precise. The auto-complete feature usually shows long-tail keywords in the suggestion. It shows what type of long-tail keywords people use to find a specific product in a specific category.
Step 2: Optimize your Product's Title
Now that you have understood the value of keywords, it is time to use them in your product listing, which starts with the product title. Product title is one of the first things shoppers notice while browsing products in the search results. Product titles (or product names) are usually referred to search queries made by shoppers. Take your time before deciding on a title for your product, as it is the first thing that grabs the customer's attention. Let's have a look at a few points that will help you with title optimization:
Pay attention to your title length. It would be better if you use a total of 60 to 80 characters. Creating titles of more than 80 characters is harder to read, and shoppers prefer short titles. And you don't want your potential customers to ignore your products just because of your titles.
Make sure to use the same product title that you would be using on your physical product packaging.
Don't use all capital letters to write product titles. Write in a proper way by capitalizing the first letter of every word except for the articles, prepositions, and conjunctions.
Put the brand name first while writing your product title. It will make sure that your product will appear at the top when a shopper searches using your brand name.
Use numerals instead of numeric words (i.e., use "5" instead of "five")
Don't use characters like ®, ©, Æ, etc., as they are considered redundant.
Don't put a lot of information with the product title. Keep it short and minimal.
Don't use subjective or sensitive words such as bestseller or hot item.
You can use abbreviated measurements like "kg," "oz," "cm," and "in."
You can also use necessary punctuation like periods, hyphens, commas, etc.
You can check out Amazon's requirement for product titles to optimize your titles within the guidelines.
Step 3. Optimize the Product Description
The product description is the main part of the product page. In this section, you can add important details about your product. A product description describes your product's features within a few words. It can include brand name, color, size, material, quantity, compatibility, special features, etc.
To create a quality product listing, check the product description guidelines on Amazon. Make sure to evaluate your product specification before pointing it out in the product description.
Note: Remember to write your brand name in the brand field even if you have written the brand name on your product title. If you leave that section, customers may not be able to find your listing in the search results.
Prefer to Use A+ Content: A+ Content (previously known as Enhanced Brand Creation) is Amazon's in-built content creation tool that helps you create beautiful product content to attract customers. However, not everyone can use A+ Content on Amazon. You must have an active brand registry on Amazon in order to use this tool. Check our Amazon A+ Content guide to know everything about this tool.
Step 4: Optimize the Product's Key Features (Bullet Points)
The key feature is the section where you showcase all the features of your products. You can stuff the keywords that you have compiled before in the keyword research. But your main objective should be demonstrating all the features and how they can provide value to your life. The key feature section is the one section that helps customers make a buying decision so ensure to showcase all the features and benefits to approach your customers.
Here are some tips you can follow to craft your key features.
At least include five key features for each product.
Make sure to list all the features within 1000 characters. Make every bullet points crisp and straight to the point so customers can easily understand all the features within a short sentence.
Make sure to organize your keywords in proper order. Display the main features first that provide value to your customer.
Each bullet must start with a capital letter.
Try to avoid ending a bullet point with punctuation. Instead, try to write sentence fragments.
Do not add promotional deals, coupons, or pricing with the bullet points.
You can follow Amazon's guidelines to create a productive set of key features. You can also use Amazon's A+ Content tool to optimize your key features.
Step 5: Optimize Product Images
People believe in visuals more than anything. So whatever you are going to display with images is going to influence your customers. This is why adding proper images is of the essence.
Here's how you can optimize your product images.
Let's start with the main image. The main image should be high-quality and must have a white background. The main product capture 85% of the space.
Add at least six images and a short video related to your product.
All images must be clear, attractive, and informative.
Your product appearance and features must match the description and bullet points.
Add product images with different angles.
Add clean and simple backgrounds in other images.
If you have a hard time optimizing product images, you can take help from the Amazon Product Photography guide to optimize your product images on Amazon.
Step 6: Optimize Search Terms for your Product
You can create readable and engaging content using backend keywords to improve the search terms for your product. However, you need to make sure that Amazon indexes all the backend keywords you use. Shoppers won't be able to see these keywords, but it secretly enhances your product's discoverability.
Here are some key points you can follow to optimize your search terms:
Include backend keywords using your product's synonyms, alternative names, and abbreviations.
Use only generic keywords. You can use lowercase letters to write all the keywords.
You will get only 250 characters, so stay within your limit and add only the necessary keywords.
Add long-tail phrases if necessary. Make sure to write it in a logical order.
You can also include spelling variations if it is necessary but don't add misspellings intentionally.
Don't use hyphens, punctuation, articles, or prepositions while writing.
You can use the space button to separate the words.
Don't repeat the words. Write in the same pattern as in singular or plural.
You can add the Search Terms directly from your Seller Central. Here's how you can add search terms.
Open your Seller Central dashboard on Amazon.
Go to Inventory > Manage Inventory
Find your product listing and click Edit
Select the Keywords option
Enter all the keywords for Search Terms and click Save.
Step 7: Optimize Your Product's Pricing
Apart from the product's value, customers prioritize the pricing of a product. Pricing is the trump card that sellers use to influence their sales growth and conversion rate. You need to set competitive pricing in order to stay ahead of the competition. For that, you need to research your competitors' products to set a competitive price without compromising your profits.
Repricing products is a necessary act that you need to do very often. When you get high sales, you can raise your product's prices. But if your products are slowly moving or getting low sales, you need to lower the prices of your products in order to save your seller's rank. Luckily, there are tons of repricer tools available in the market that you can use to automate your product's repricing. An ideal repricing tool analyzes your competitor's offer for similar products and comes up with a competitive price that you can set up to stay one step ahead of the competition.
Here are some proven tips to optimize your product's price.
Offer Free Shipping: Shoppers love free shipping. It can also help you increase your sales. Nobody wants to pay a $4 shipping charge for $5-8 worth of merchandise. It can make your customer look for an alternative. So try to offer free shipping for inexpensive items.
Run A/B Tests: You can run A/B tests (split tests) to check out the prices of similar products on Amazon. It will give an idea of what pricing is making a difference in the search results.
Go for the Buy Box: The Buy Box is a reward to the Amazon seller who offers the best value to the customers for a specific product. You can also try to offer a competitive price to win the Buy Box.
Track your Review: You can track your product reviews from your dashboard. The more positive reviews you get, the higher your product will rank in the search results.
After optimizing all these points, you can effortlessly optimize your product listing. Be ensure to make a strategic and informed decision while optimizing your listing. Now, let's have a look at the best Amazon SEO tools you can try for listing optimization.
5 General Practices for Amazon SEO
Here are some proven tips that you can include in your Amazon SEO strategies to improve your product's visibility on Amazon.
1. Don't Repeat Keywords
Too much keyword stuffing can negatively impact your product rankings. At one time, stuffing the same keywords was acceptable. But now, Amazon's algorithms are changed, and it can create a poor user experience. It can also incur penalties, and you can lose potential customers.
So instead of repeating the same keywords in your listing, focus on incorporating a variety of relevant keywords. You can also stuff a few phrases or long tail keywords that accurately portray your listed product. It will also help customers find your product without hassle.
2. Improve Your Rankings
Amazon offers a few built-in ways that sellers can use to improve their rankings on the search results page. A+ Content and EBC (Enhanced Brand Content) are the best ways to improve product ranking. These are free tools that you can access by registering to Amazon Brand Registry.
Enrolling in Brand Registry also gives you the visibility and exposure that your brand deserves. And also, use Amazon's FBA service if you want your product to qualify for the Prime badge. The badge is a sign of trust for shoppers that ensure fast and reliable shipping. Eventually, it helps your products rank faster on the search results page.
3. Focus on Customer Satisfaction
For Amazon, customer satisfaction is the top priority above all. So, make sure you do the same. You can provide excellent customer service and respond to their queries as soon as possible. Positive reviews boost your product rankings. So, encourage your customers to leave reviews and feedback for your product and services.
4. Add Accurate Information to Your Product Listings
Many sellers add misleading information to their listings to increase their sales. But it can lead to negative feedback and poor ratings. And ultimately, your product will lose its ranking on the search results page. So it is important to add the honest and right information to your listings.
There's no restriction on adding details. So you can be as descriptive as possible. But remember, the information you provide will play an important role in making customers purchase your product.
5. Take Tips from Amazon Quick Start Seller Guide
Amazon offers a quick start guide for sellers that they can download for free. The guide includes excellent information to improve your Amazon SEO. It includes content formatting guidelines for the title, brand, bullet points, description, and product images. This is helpful for sellers who need to take quick notes while creating a product listing on Amazon.
Top 5+ Tools for Amazon SEO
Amazon is not just an eCommerce platform. It is a whole marketplace with its own A9 search engine. Mastering the A9 algorithm on your own is a difficult task as it regularly changes to offer convenience to Amazon customers. That's why there are so many Amazon SEO tools available on the internet. The best part about these tools is that it updates their software as soon as A9 makes changes to offer the best solutions to their customers. Here are my top 5 recommendations for Amazon SEO.
1. Helium 10
Helium 10 is an all-in-one tool suite for Amazon sellers. Whether you need to find a profitable product on Amazon or looking for keywords for PPC campaigns, Helium 10 offers you everything related to Amazon. With its tools, you can narrow down your research for keywords for Amazon SEO.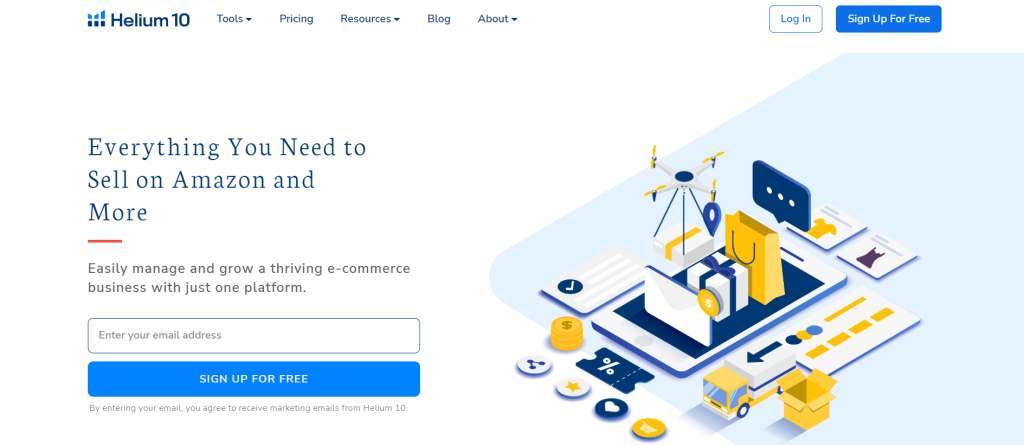 For beginners, Helium 10 offers a free trial. You can sign up for free and test out all the features by yourself. After all, it is one of the most recommended tools by Amazon experts. Read our complete Helium 10 review to know more about it. You can also check available discount offer on Helium 10 here.
2. Jungle Scout
Like Helium 10, Jungle Scout is also an all-in-one Amazon seller tool. It offers everything you need to start your journey as an Amazon seller. Compared to all other Amazon SEO tools on the internet, Jungle Scout offers the most accurate results in terms of data and metrics with almost 84% accuracy.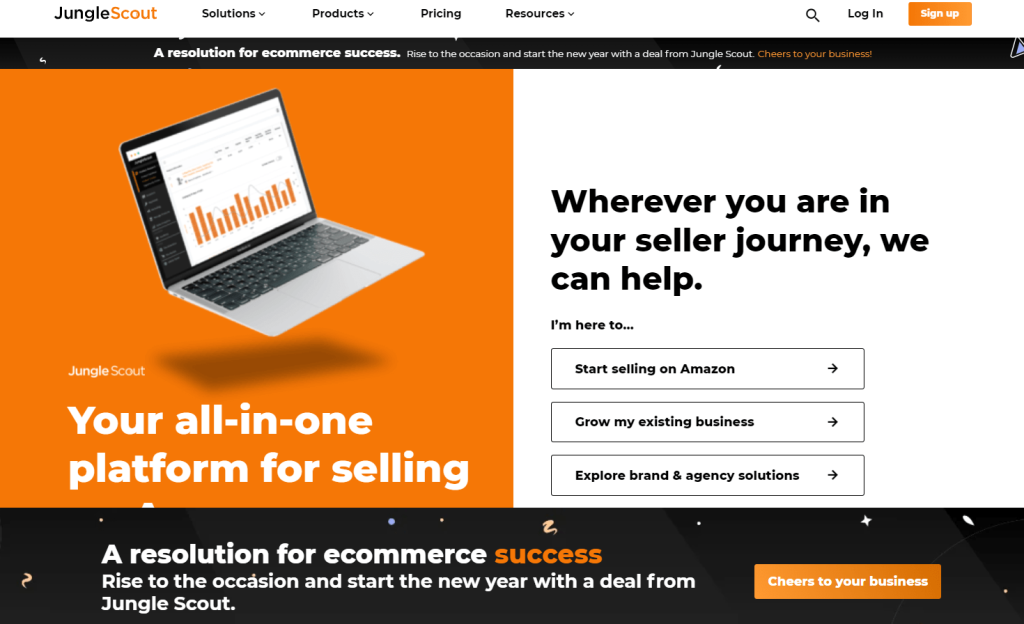 Jungle Scout offers some advanced tools, such as product research, supplier module, seller module, and keyword module, that helps you optimize your listings without much effort. Check out our Jungle Scout review to know more about this amazing tool.
3. Viral Launch
Viral Launch is a unique Amazon seller tool specially designed to help sellers scale their businesses. It offers tools such as keyword research, competitor analysis, keyword tracking, Amazon PPC, and so on.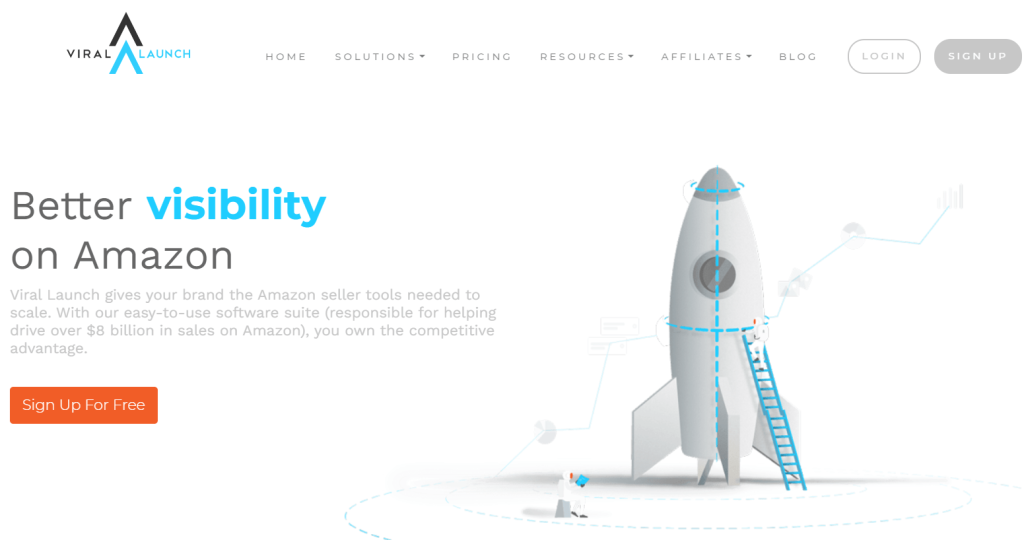 Viral Launch helps you extract sales-driven keywords from Amazon so you can use optimize your product listing or sponsor your products. You can also find backend keywords for search terms. Check out our Viral Launch review to explore more.
4. AMZScout
AMZScout offers a variety of product and keyword research tools for Amazon. With their Seller's Bundle offer, you will get everything you need to grow on Amazon. Their competitor analysis tool is pretty accurate with its data and key points.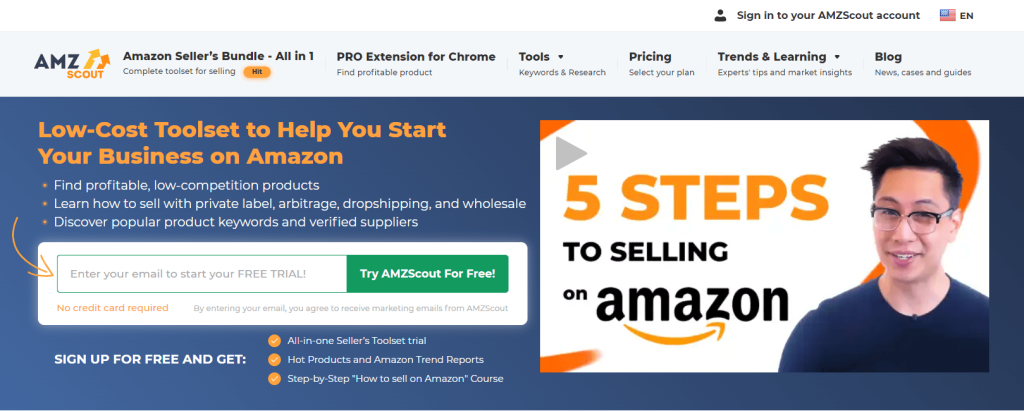 In terms of accessibility, affordability, and ease of use, AMZScout outperforms top Amazon SEO tools. You can also find lifetime deals o its website, which is something that not every tool offers.
5. MerchantsWords
MerchantsWords is another Amazon SEO tool that offers a range of tools to help Amazon sellers. It offers a tier-wise offer that caters to small, medium-sized, and larger businesses according to their needs and affordability.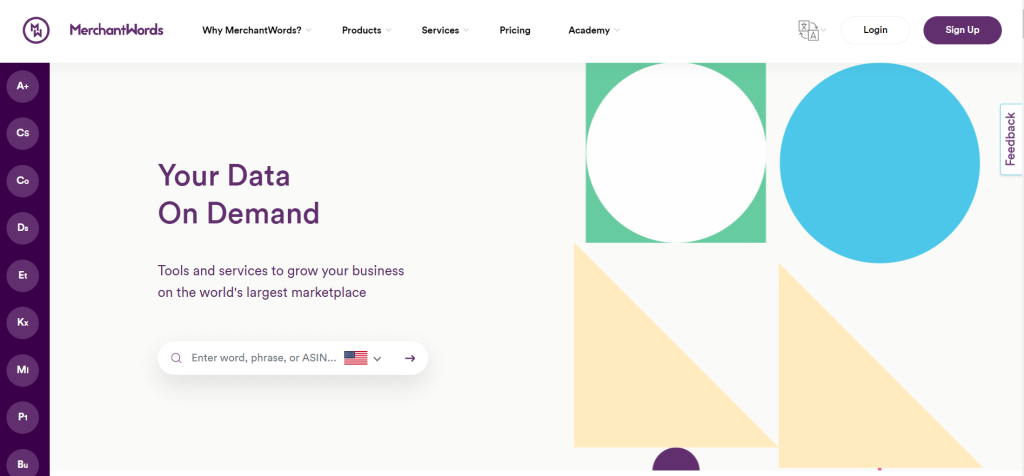 The best part of MerchantsWords is that it retrieves data directly from Amazon autocomplete. This way, you can find trending products on Amazon in an instant.
Why Is Amazon SEO Important?
In a nutshell, Amazon SEO helps you rank higher on Amazon. Whether it is your products' rank or the seller's rank, Amazon SEO makes a great impact on almost every aspect. Search engine optimization can be the deciding factor in your competition between sellers.
With the power of Amazon SEO, you can master Amazon's A9 algorithm, and you can easily optimize your product listing. A well-optimized listing organically helps your products appear to your target audiences in the search results. And you don't have to set up expensive PPC campaigns in order to grow your sales. Amazon SEO also helps you increase conversions by attracting the buying-intended audience to your product page.
Related Read:
Conclusion: What Is Amazon SEO (2023)
With Amazon SEO and listing optimization, you can increase your product's discoverability by 80%. Obviously, this is not a one-time process, as the A9 algorithm updates often. So, you need to keep up with trends in order to optimize your listings. Stuff necessary keywords from time to time and keep your prices competitive to stand out from your competitors. The above mentioned-guide will help you do things right.
Keep in mind that Amazon SEO is not a magic trick that you perform to get success overnight. It is a significant step you take towards success and growth. So you just need to do things right, and your Amazon business will see exponential growth—not immediately, but definitely.
I hope this guide helped with your purpose well. If you have any queries regarding this post, leave a comment in the comments section.
Latest posts by Shally Rose
(see all)