Understanding the Amazon selling game is very crucial if you want to build and run a profitable Amazon business. However, many businesses that are trying to sell their products on Amazon often face several difficulties in making decisions regarding sales and marketing that are vital for sustaining against rival brands in such a competitive environment.
To provide FBA (Fulfillment by Amazon) sellers a competitive edge, there are several product research tools specifically intended for them. Jungle Scout and AMZ Tracker are two popular and most trusted product research tools on the market right now.
Both of these tools can help you increase your Amazon ranking while also allowing you to spy on your competitors' marketing strategies. The kind of software you require to research will be determined by your level of experience selling on Amazon.
Let's compare AMZ Tracker and Jungle Scout to see which one suits you best.
Main Differences Between AMZ Tracker And Jungle Scout
Here are the main differences between AMZ Tracker and Jungle Scout:
If you are looking for a supplier, then you can find the best supplier on Jungle Scout's global supplier database, whereas AMZ Tracker does not offer any database.
If you want to run a PPC campaign, then AMZ Tracker offers you the best PPC tools, whereas Jungle Scout does not have a PPC tool.
The listing reviewer downloader tool can be found on AMZ Tracker but not on Jungle Scout.
Jungle Scout offers discounts and promotions occasionally, whereas AMZ Tracker does not.
You can contact Jungle Scout's customer service 24*7, whereas AMZ Tracker does not offer 24*7 customer support.
About AMZ Tracker
AMZ Tracker as you might be knowing is an all-in-one tool for increasing your Amazon sales. The software is solely dedicated to increasing and maintaining rankings. There are two modules in AMZ Tracker: Defensive Strategy and Offensive Strategy.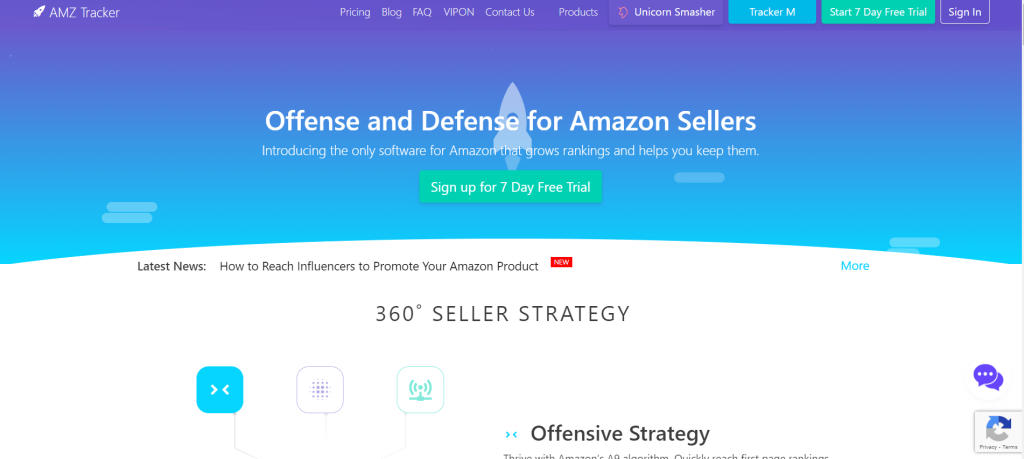 AMZ Tracker's Offensive Strategy provides capabilities like keyword tracking, super URLs, and increased conversion rates. On the other hand, AMZ Tracker's Defensive Strategy includes modules like Hijack Alerts and Negative Review Alerts.
What can you do with AMZ Tracker?
AMZ Tracker's seller strategy includes offensive and defensive elements that enable FBA sellers to effectively boost their product and page rankings, allowing them to ultimately boost their sales and profits. The aggressive features will actively target new consumers by guiding them towards making the best decisions for their pages that will optimize them.
Keyword Ranker, Conversion Rate Assessor, and DeepWords are just a few of the features that will help users choose the proper keywords and track the aspects that influence the conversion rates. AMZTracker uses Super URL, which sends users from social media platforms to a user's Amazon products, to increase traffic to users' pages.
AMZ Tracker users can access Vipon Deals Community. This allows them to access a larger market and, as a result, can help them improve their Amazon rankings. Even if there is a lot of traffic coming to a page, if there aren't any steps to keep and safeguard these clients, they won't convert. AMZ Tracker's defensive strategy is employed in this case.
Negative Review Notifications is one of the features of its defensive strategy, that immediately informs users when they receive any negative review on the product, which allows them to reply quickly to that review and fix the issues that may have caused it.
About Jungle Scout
Note: If you want to know more about Jungle Scout then check our detailed Jungle Scout review here.
Jungle Scout is another dependable one-stop-shop for Amazon merchants with a variety of tools. The software has both basic and advanced capabilities to assist you in getting started, growing, and scaling as a seller on Amazon.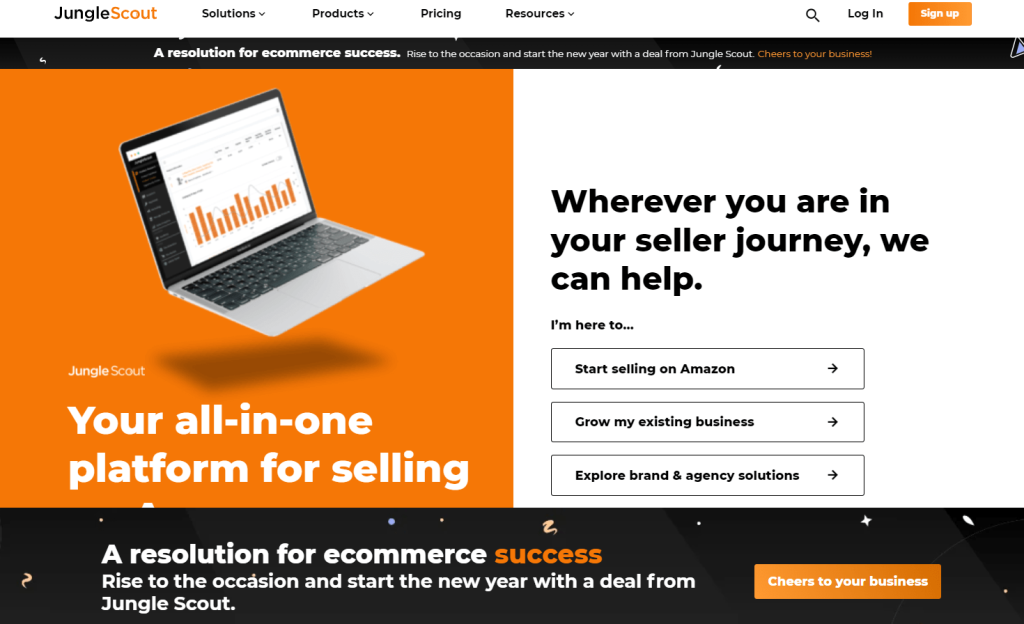 From product researching to launching the product, Jungle Scout can help you establish and scale your Amazon brand smoothly and quickly. The nice thing about the platform is that its features function smoothly, from product discovery to keyword research.
What can you do with Jungle Scout?
Jungle Scout enables a seller to gain a better understanding of the product and niche into which they are entering. Jungle Scout offers a product library for merchants, leading them through the best-selling products based on precise, pre-compiled sales data.
Users will be guided by features such as the Niche Hunter to the niches and keywords with the least competition in terms of search volumes. Users can explore the history of their products along with the product history of other brands competing in that niche in great detail, including price and sales history, using the Product History Feature.
By filtering through numerous data, users can examine the popularity as well as the competition of the niche, product, and keywords they have chosen. They can narrow down their options based on sales, views, ratings, price, demographics, location, and other factors. These criteria can also be used to evaluate the products and services of a competitor.
Jungle Scout vs AMZ Tracker: Features Comparison
Let's examine and contrast the features of both AMZ Tracker and Jungle Scout so that you will have a good idea of what both platforms will provide in terms of tools and features. 
| | | |
| --- | --- | --- |
| Features✔Features | Jungle Scout | AMZ Tracker |
| Training & Education | | |
| On-demand and Unrestricted video guides | ✔ | Partial |
| Free case studies | ✔ | Partial |
| Resources & Blog posts | ✔ | ✔ |
| Product Research & Validation | | |
| Data-accuracy | ✔ | ❌ |
| Product discovery | ✔ | ✔ |
| Opportunity score | ✔ | ✔ |
| Historical insights & data analysis | ✔ | ✔ |
| Product Tracker | ✔ | Partial |
| Database of Global suppliers | ✔ | ❌ |
| Listing review downloader | ❌ | ✔ |
| Amazon Product Launching | | |
| Keywords discovery | ✔ | ✔ |
| Search Reverse ASIN | ✔ | ✔ |
| Tracking Keyword ranks | ✔ | ✔ |
| Keyword index checker | ❌ | ✔ |
| PPC pricing & reporting tools | ✔ | ✔ |
| PPC automation | ❌ | ✔ |
| Listing builder | ✔ | ✔ |
| Listing optimization score | ✔ | Partial |
| Sync listings – Seller Central | ✔ | ❌ |
| Product review requests – Seller Central | ✔ | ❌ |
| Request Automation Review | ✔ | ❌ |
| Discounts & Product promotions | ✔ | ❌ |
| Shopper marketplace – 250,000+ products | ✔ | ❌ |
| Customizable alerts | ✔ | Partial |
| Business Management Tools | | |
| Sales analytics | ✔ | ✔ |
| Profitability dashboard | ✔ | ✔ |
| Expense management | ✔ | Partial |
| Inbound FBA shipments Tracking | ✔ | ❌ |
| Reports – Email performance | ✔ | ❌ |
| Mobile app – Business management | ❌ | ✔ |
| Forecasting Inventory demand | ✔ | Partial |
| Reimbursements of Refunds | ❌ | ✔ |
| Customizable external landing pages | ❌ | ✔ |
| Discounts & Product promotions | ✔ | ❌ |
| Analyze Market segment | Partial | ✔ |
Jungle Scout boasts of a more comprehensive set of features and functionalities that give users more comprehensive study data at a reduced cost. Jungle Scout even pays greater attention to the competitors of a user and provides more detailed advice on what will sell for them.
As a result, Jungle Scout takes the upper hand here because it has more functionality and offers considerable long-term advantages at a lesser cost.
The Data Accuracy Battle
One of the most important factors that you should consider is data accuracy. The majority of Amazon seller tools lack consistent data accuracy. As a result, the vast majority of sellers make decisions based on erroneous data.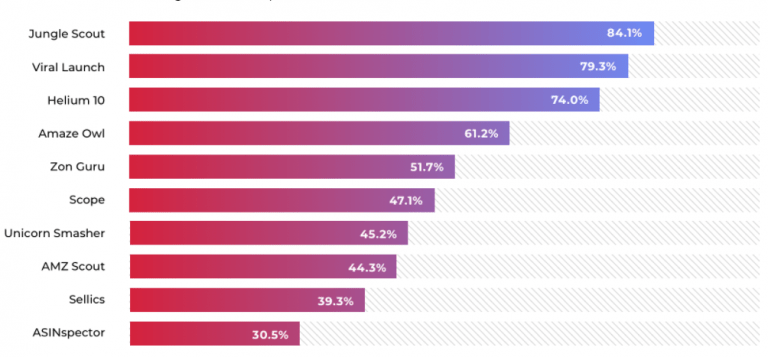 Jungle Scout conducted a comparison research study with various other competing Amazon seller tools and discovered that their tool is 84.1 percent more accurate than the competition.
That means you can absolutely trust Jungle Scout's data and statistics. With Jungle Scout, you'll have only a little risk of making a mistake; in fact, the error margin is merely 15%.
While AMZ Tracker, even though pretty reliable. However, its data accuracy is not really at par with Jungle Scout, giving the letter a clear edge in this aspect.
Support & Resources
Jungle Scout and AMZTracker are accessible in a variety of countries and for country-specific versions of Amazon, such as the United States, Canada, the United Kingdom, Brazil, France, Germany, Japan, India, Spain, and Italy.
Despite the fact that AMZ Tracker has a blog with useful articles as well as a user manual to guide users with issues, queries are often left unanswered on their website concerning their products. Many consumers are dissatisfied with AMZ Tracker's customer support, with some stating it is non-existent.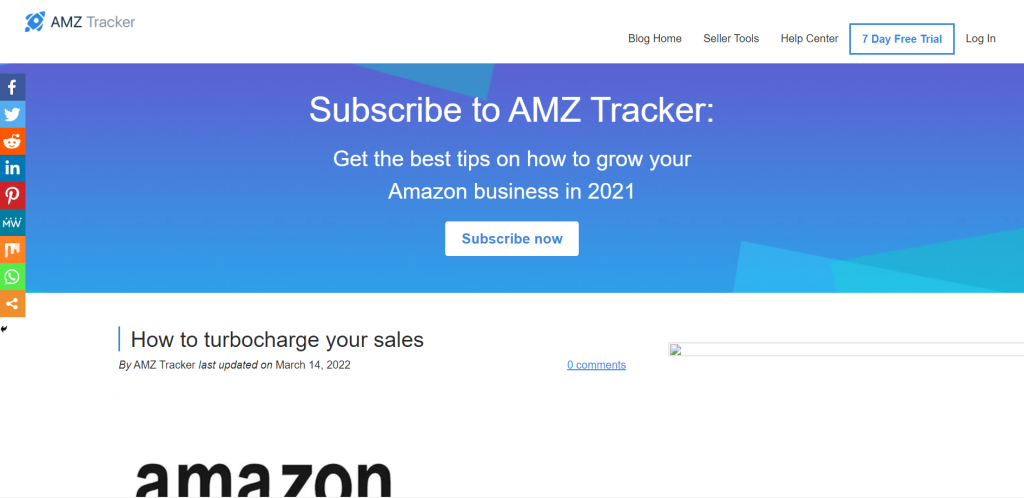 While Jungle Scout provides a variety of free and paid resources to help budding Amazon FBA sellers. Their support desk appears to be a little more responsive and efficient as compared to AMZ Tracker. Jungle Scout can also be smoothly used on mobile devices. Its web application can be used in mobile mode for both smartphones and PC, however, it performs better on a PC as compared to a smartphone or tablet.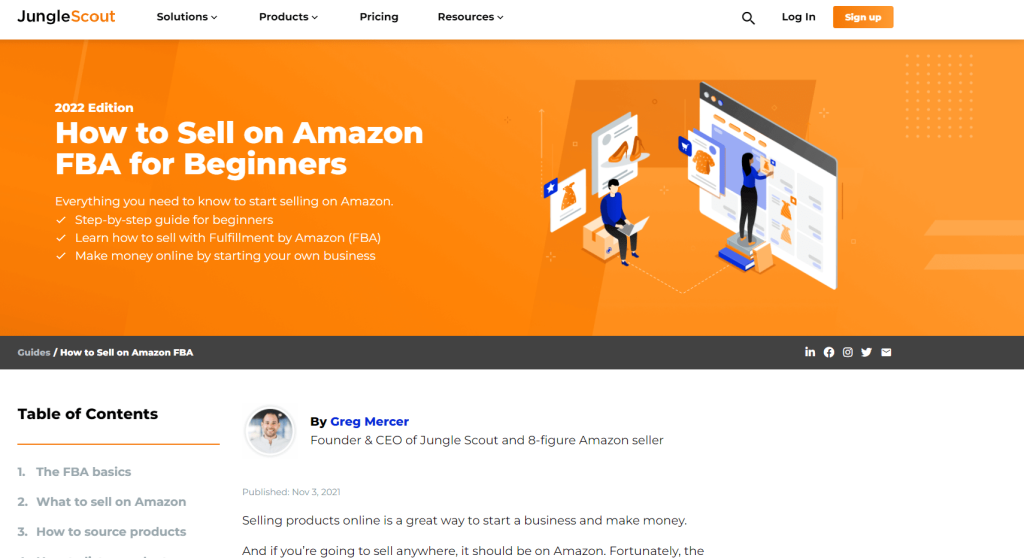 Jungle Scout's chrome extension, however, doesn't work on mobile devices since Google Chrome extensions are not supported on smartphones and mobile devices. Whereas, AMZ Tracker makes sure that all of its functions are compatible with both Kindle Books and Android apps.
Pricing Comparison
Let us now have a quick look at the pricing comparison between AMZ Tracker and Jungle Scout.
AMZ Tracker Pricing
AMZ Tracker has four subscription tiers, ranging from $50 per month for the Basic plan to $400 per month for the Legend plan. Each subscription will have the same features and tools, with the lesser ones having lesser product searches and keyword research limits, as well as fewer promos and sales monitoring tools. All tiers of the platform come with a 14-day free trial.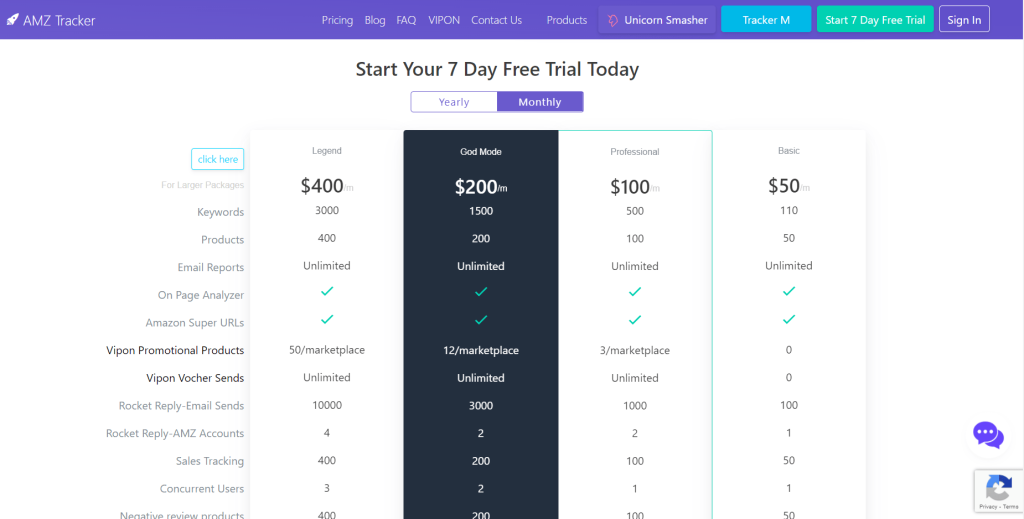 Basic Price: $50/month
Professional Price: $100/month
God Mode Price: $200/month
Legend Price: $400/month
Jungle Scout Pricing
Basic, Suite, and Professional are the three tiers offered by Jungle Scout plans. Jungle Scout is also available for a 7-day free trial with a money-back guarantee of up to 7 days.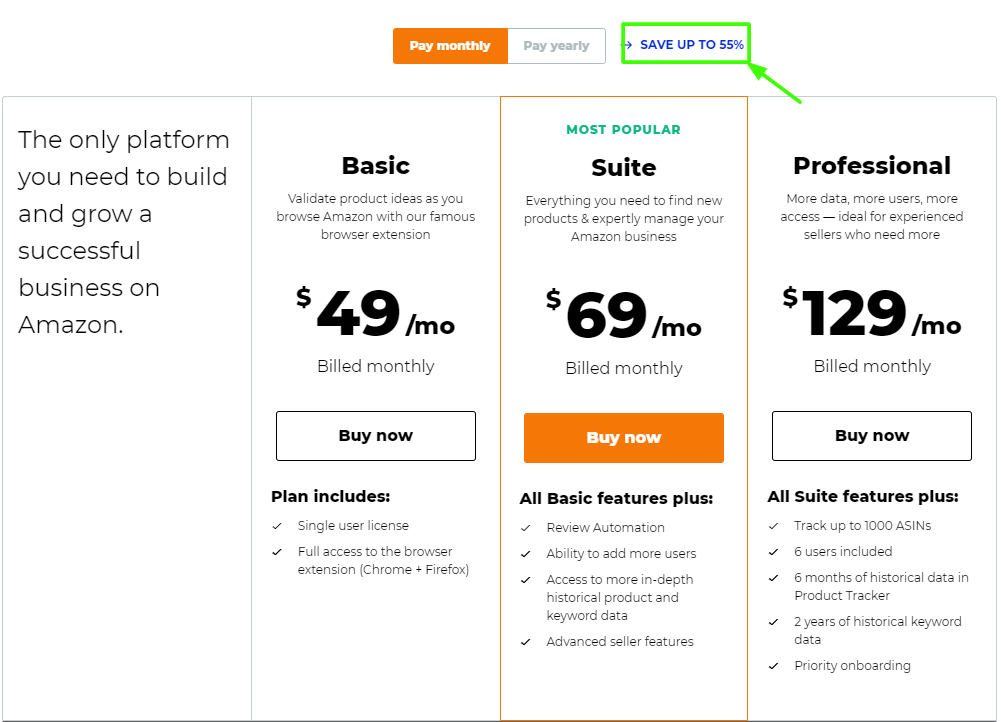 Basic Price: $49/month ($39/month – Annual)
Suite Price: $69/month ($49/month – Annual)
Professional Price: $129/month ($84/month – Annual)
If we compare the pricing options head-on, it is quite evident that Jungle Scout takes the edge over AMZ Tracker as it offers more features at a lesser price. You can also save up to 40% with our exclusive Jungle Scout discount codes.
Pros and Cons
Now we are going to compare these two tools on the basis of their pros & cons.
AMZ Tracker Pros & Cons
Here are the pros & cons of AMZ Tracker.
Pros
Data tracking in real-time
Pricing, reviews, ranking, best selling, and potential sales are all included in powerful reporting.
Provides advice on how to improve your ranking if your sales fall.
Exceptional URLs (increase search rank)
Saves time by displaying all sales data on a single dashboard.
Cons
The dashboard can be a source of information overload (learning curve)
Customer service is inadequate.
Pricing is relatively high.
Jungle Scout Pros & Cons
Here are the pros & cons of Jungle Scout.
Pros
Customer service is available 24*7 for all plans
Simple to use
Predicting sales with high accuracy
Well-crafted documentation
Send screenshots for approval.
Cons
More expensive than rival plans
Users and historical data are limited in the Basic and Suite plans.
When combined with the web version, the Chrome extension can be buggy.
Jungle Scout Vs AMZ Tracker: Quick Overview
Now that we have almost reached the end of this Jungle Scout Vs AMZ Tracker comparison review let us go through a quick overview of the two platforms.
AMZ Tracker offers a listing review downloader, which is not available on Jungle Scout.
Jungle Scout doesn't offer PPC automation features. However, AMZ Tracker does.
Jungle Scout does not include a keyword index checker. The same is, however, available on AMZ Tracker.
Jungle Scout offers a global supplier database. However, AMZ Tracker does not.
Product promos and discounts are not available on AMZ Tracker; however, they are available on Jungle Scout.
Jungle Scout provides email performance reports. However, AMZ Tracker does not.
Jungle Scout provides 24/7 customer assistance. However, AMZ Tracker does not.
Related Read:
Final Verdict – Jungle Scout Vs AMZ Tracker (2023) 
As it might have become quite clear to you from the overall comparison that both Jungle Scout and AMZ Tracker are extremely competitive Amazon seller tools you can try. Both tools offer good product research and keyword searching functions that can be beneficial for your brand if used the right way. However, After closer comparison, we have noticed a few key aspects on which we believe that Jungle Scout is slightly better.
The main point that gives Jungle Scout the edge in the head-to-head battle is the features offered. Features like global supplier database, email performance reports, promos, and discounts, are crucial features offered by Jungle Scout that are absent in AMZ Tracker. Furthermore, the Jungle Scout plans are cheaper as compared to AMZ Tracker and you get more features for the price you are paying.
So, overall, Jungle Scout is a more feature-rich and value-for-money Amazon Seller tool that you should go for!
FAQs
Do Jungle Scout and AMZ Tracker offer free trials?
AMZ Tracker does offer a 7-day free trial, whereas there is no free trial offer available on Jungle Scout. But you can take advantage of Jungle Scout's 7-day money-back guarantee.
Can I use Jungle Scout on mobile devices?
Jungle Scout does not offer a mobile app, but you can use Jungle Scout's web app on your browser on your mobile devices. But all the icons will not appear properly because the website is not properly optimized for mobile devices.
How often do the rankings get updated on AMZ Tracker?
The rankings of your keywords get updated daily on AMZ Tracker, and the same goes for the Best Sellers Rank. You can see the improvements or downfall in your keywords' rankings on AMZ Tracker's keyword tracker.
Which one is affordable: AMZ Tracker or Jungle Scout?
The basic plan of Jungle Scout starts at $49/mo, and AMZ Tracker's basic plan starts at $50/mo. So it is pretty clear that Jungle Scout is affordable compared to AMZ Tracker.
Are there any free alternatives to AMZ Tracker and Jungle Scout?
Yes, there are a few free alternatives to AMZ Tracker and Jungle Scout, and they are Unicorn Smasher and Helium 10's free plan.