If you are wondering How to become an Amazon affiliate and monetize a product through your website, then keep reading.
The Amazon Affiliate Program, also known as Amazon Associates, offers individuals and businesses the opportunity to earn commissions. This works by referring customers to Amazon and earning a percentage of their purchases.
In this article, we will walk you through:
the process of becoming an Amazon Affiliate, 
creating affiliate links,
understanding the program requirements,
potential earnings,
and guidelines to ensure a successful partnership with Amazon.
So, let's get started with understanding what exactly is the Amazon affiliate program.
What Is The Amazon Affiliate Program?
The Amazon affiliate program supports bloggers and site owners by paying commissions for the products they promote through Amazon. Let me tell you how it is earned. It all begins by creating a unique affiliate link on your website/channel of the product that you are about to promote.
How Does It Work?
The process is straightforward. As an Amazon Affiliate, you will receive a unique affiliate ID that you can use to create special links for the products you want to promote.
Suppose a user who wants to buy your product, clicks on one of these generated affiliate links to make a purchase. Amazon then keeps track of the referral and assigns you a commission based on the sale value. The commission rates vary depending on the product category or certain products. The more purchases made through your affiliate links, the higher your potential earnings.
It's a win-win situation where you can monetize your content while helping Amazon drive sales.
Amazon Affiliate Program Requirements
Before you dive into becoming an Amazon Affiliate, it's essential to understand the program's requirements. Amazon has set specific eligibility criteria to maintain the quality of its affiliate network. Here are the key requirements:
Website or Blog: To become an Amazon Affiliate, you need to have a functioning website or blog. This will be the platform where you promote Amazon products and generate affiliate links.
Content: Your website or blog should have original and high-quality content. Amazon prefers sites that provide value to users and are relevant to the products being promoted.
Traffic: While there is no limitations to traffic requirement, having an exceptional number of regular visitors to your website can increase your chances of being approved as an Amazon Affiliate.
Geographic Location: The Amazon Affiliate Program is available in many countries. However, some countries may have specific restrictions or separate affiliate programs. Check if your country is eligible for the program.
Age: You must be at least 18 years old or of legal age in your jurisdiction to participate in the Amazon Affiliate Program.
Ensure that you meet these requirements before proceeding with the application process.
Also Read: Key statistics about Amazon, Check here Amazon statistics.
How To Become An Amazon Affiliate?
Becoming an Amazon Affiliate involves a step-by-step process. Here's a thorough guide to help you get started:
Step 1. Start A Website Or Blog
To begin your journey as an Amazon Affiliate, you need to have a website or blog. This platform will serve as the foundation for promoting Amazon products and generating traffic. Choose a niche or topic that aligns with your interests and target audience.
Step 2. Visit Amazon Associates Homepage
Visit the Amazon Associates homepage, and click on the "Sign Up" button to start the registration process.

You will be prompted to enter your account details and create an Amazon Associates account.
Step 3. Complete Registration
Provide your account information, including your name, address, and contact details. Make sure to provide accurate information to avoid any issues later on.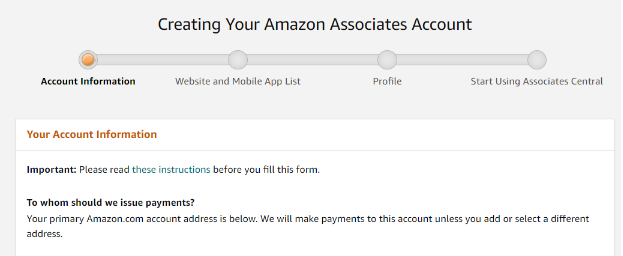 During the registration process, you will be asked to provide the URL of your website or blog. This step verifies that you have an existing platform to promote Amazon products.
Step 4. Add Your Websites And Blogs
Next, add your website or mobile apps where you plan to promote Amazon products. You will need to add at least one website or mobile app to proceed further. Moreover, you can add up to 50 websites or apps for affiliate marketing.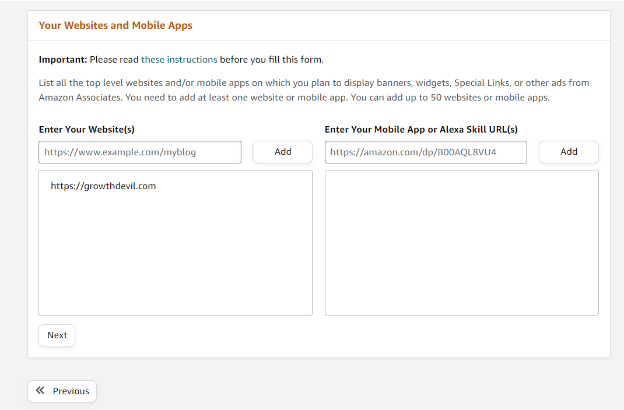 Note: Amazon Associates' ads cannot be shown on websites targeting children under 13. Such websites are ineligible to display banners, special links, widgets, or any other Amazon Associates' ads.
Step 5. Enter Your Preferred Store ID
Choose a unique store ID that will be associated with your affiliate account. This ID helps identify your referral traffic and track your commissions accurately.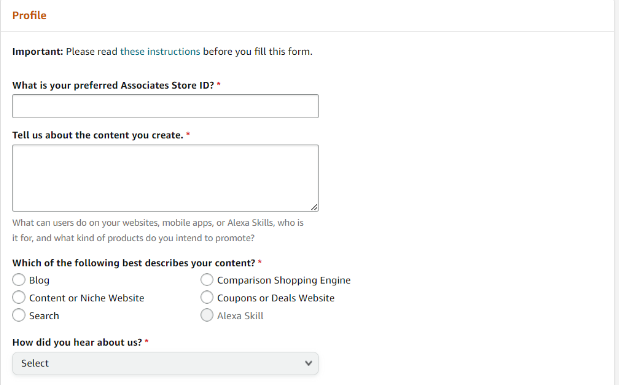 Also, Clearly explain your methods for driving traffic to your website. Amazon wants to ensure that you have a plan in place to attract visitors. Whether it's through organic search, social media, or paid advertising, provide a detailed description of your traffic generation strategies.
Step 6. Select Your Preferred Payment Method
Choose how you want to receive your affiliate commissions. Amazon offers various payment options, including direct deposit, Amazon gift cards, and more. Select the method that suits your preferences and requirements.
Step 7. Generate Amazon Affiliate Links
After completing the application process, you will gain access to your Amazon Associate account. Explore the various options for generating affiliate links, such as individual product links, banner ads, or widgets.
How To Create Amazon Affiliate Links?
Creating Amazon Affiliate links is a crucial step in promoting products and earning commissions. Let's explore the process of generating affiliate links.
1. Access Your Amazon Associate Account
Log in to your Amazon Associate account using your registered email address and password. This will take you to the dashboard, where you can access all the tools and resources.
2. Select "Product Links" From The Top Banner
In the dashboard, navigate to the Product Links section, usually located in the top banner. This is where you can generate specific affiliate links for products you want to promote.
3. Use The Amazon Associates SiteStripe
Amazon provides a convenient tool called SiteStripe that allows you to create affiliate links directly while browsing Amazon's website. Enable the SiteStripe from your account settings, and whenever you find a product you want to promote, click on the "Text" or "Image" option on the SiteStripe to generate your affiliate link.
4. Explore Other Options
In addition to SiteStripe, Amazon offers other linking options, such as native shopping ads, mobile popovers, and custom displays. Experiment with these options to find the most effective ones for your website or blog.
5. Apply The Generated Link To Your Site Or Promotions
Once you have generated the affiliate link, you can place it on your website or blog. Make sure to follow Amazon's guidelines regarding the placement of affiliate links and disclosures to comply with their terms of service.
How Much Can You Earn As An Amazon Affiliate?
The potential earnings as an Amazon Affiliate can vary widely depending on several factors. The commission rates range from 1% to 10% or higher, depending on the product category. The higher-priced products generally offer higher commission rates.
To estimate your potential earnings, consider factors such as the volume of traffic to your website, the relevance of the products you promote, and the purchasing behavior of your audience. While some affiliates earn a few hundred dollars per month, others can generate thousands of dollars or more.
Keep in mind that success as an Amazon Affiliate requires consistent effort, quality content, and effective marketing strategies.
Amazon Associates Guidelines
As an Amazon Affiliate, it's crucial to adhere to Amazon's guidelines to maintain a successful partnership and avoid any violations that could lead to account suspension. Here are a few key guidelines to keep in mind:
Disclosure: Always disclose your affiliate relationship with Amazon by including a clear statement on your website or blog. This helps visitors understand that you may earn a commission from the products you recommend.
Link Placement: Place your affiliate links strategically within your content to enhance user experience. Avoid excessive linking, misleading users, or using deceptive techniques.
Product Images: When using product images on your website or blog, make sure to comply with Amazon's image usage guidelines and terms of service.
Product Reviews: If you write product reviews, ensure they are honest and unbiased. Disclose any relationships or free products received for review purposes.
Paid Advertising: If you plan to promote Amazon products through paid advertising channels such as Google Ads or social media ads, be aware of Amazon's specific policies regarding these practices.
Stay Updated: Regularly review Amazon's Operating Agreement and Program Policies to stay up to date with any changes or updates.
Related Read:
Final Verdict: How To Become An Amazon Affiliate (2023)
Becoming an Amazon Affiliate can be a lucrative opportunity to monetize your website or blog. By following the steps outlined in this comprehensive guide, you can kickstart your journey and start earning commissions by promoting products from the Amazon marketplace.
Remember to focus on creating valuable content, driving targeted traffic, and complying with Amazon's guidelines for a successful and sustainable affiliate business.
So, what are you waiting for? Start your journey as an Amazon Affiliate today and unlock the potential to earn passive income through the power of affiliate marketing.
FAQs
Can I become an Amazon Affiliate without a website?
Yes, having a website is not a strict requirement. However, having a website or blog allows you to showcase the products effectively and generate organic traffic.
Is there a cost to join the Amazon Affiliate Program?
No, joining the Amazon Affiliate Program is free of charge. You only need to meet the program requirements and abide by their guidelines.
How long does it take to get approved as an Amazon Affiliate?
The approval process usually takes 24 to 48 hours. Once approved, you can start creating affiliate links and promoting products immediately.
Can I use social media to promote Amazon products as an affiliate?
Yes, you can use social media platforms like Instagram, Facebook, or YouTube to promote Amazon products. Make sure to comply with Amazon's guidelines and disclose your affiliate relationship.
Can I promote products from multiple Amazon stores?
Yes, you can promote products from various Amazon stores, including their international stores. However, you may need to customize links depending on the store, as each store has its own affiliate program. It's important to read up on the rules and regulations of each store before promoting products from them.
Latest posts by Shally Rose
(see all)