Are you looking for the best eCommerce platform for your business? Don't worry, I have got a few best options for you.
There are a lot of eCommerce platforms available on the internet, but only a few offer solutions to every type of merchant and business. If you're looking for a platform that provides solutions to small businesses, it must be feature-rich and beginner-friendly, as you might not have much experience running a business.
After a lot of research and testing countless platforms, I have found the nine best eCommerce platforms for small businesses. I have listed them all in one place highlighting all the key features, drawbacks, and pricing.
Without further ado, let's get started.
Top 5+ Recommended Ecommerce Platforms (2023)
Shopify: The best overall solution for all types of businesses.
Square Online: The best free platform with online and in-person selling features.
Ecwid: Offers affordable plans with all eCommerce features.
Big Cartel: The best platform for artists and creative sellers.
Zyro: The best option for website speed and performance.
10+ Best Ecommerce Platforms for Small Businesses 
Here's my handpicked list of the best eCommerce platforms for small-business owners and merchants.
1. Shopify
Shopify is undoubtedly the world's #1 eCommerce platform. It provides all the eCommerce features you need to start your first online store regardless of your business size. If you are running a small business, Shopify is the best option to give it the boost it needs.
The SaaS-based platform features multi-channel selling, so there is no need to open another store if you want to sell on multiple platforms. And suppose you want to do dropshipping business. In that case, you can also integrate your online store with a print-on-demand platform to promote your designed products to earn a handsome income without maintaining inventory or paying upfront charges.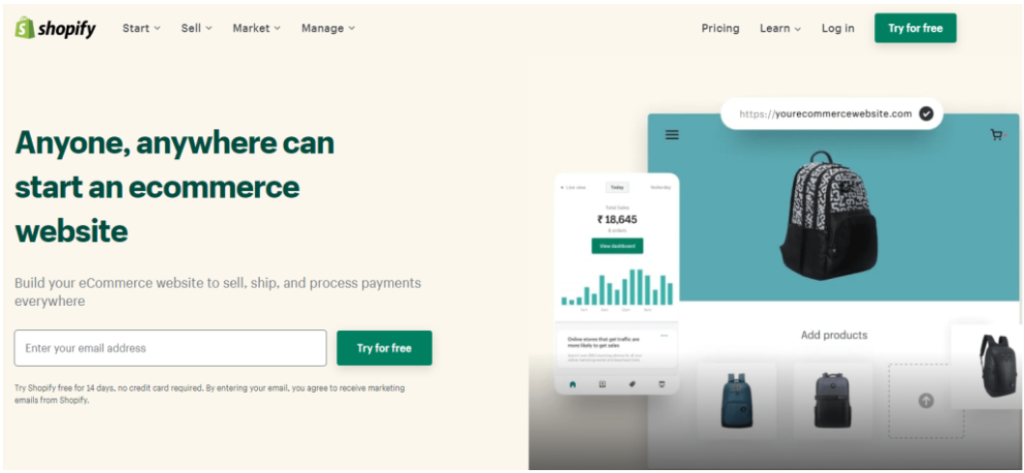 Shopify also offers aesthetic templates to give your proper business design. With Shopify, you will also get access to its App Store, where you can find thousands of apps and plugins that will help you with marketing, conversion, management, shipping, fulfillment, etc.
Key Features
Sell unlimited products with a single plan
Offers 1500 free and premium themes and templates
Get access to a massive library of more than 7600 apps
14-day free trial
Multi-channel selling
In-built dropshipping features
Drawbacks
Hefty transaction fees unless you use its in-built payment gateway
Fewer SEO options
Starting Price: $29/month
2. Wix
Wix is another excellent eCommerce platform for small businesses. If you are technically competent and have just started a small business, Wix is undoubtedly the best option. It offers an advanced website builder and features along with value for money.
With Wix, you can create a professional-looking website for absolutely free. You can choose from 500 design themes and templates. Customize your website according to your niche with its built-in drag-and-drop editor.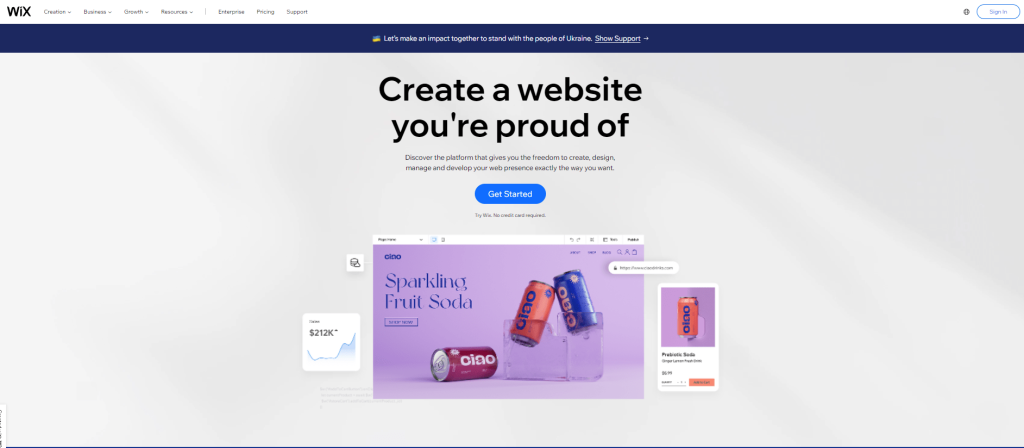 Wix offers an affordable range of premium plans that includes advanced features such as subscription products, multilingual sites, currency conversion, custom shipping rates, digital downloads, etc. Premium plans contain exceptional inventory management features like low stock alerts making them best for business.
Key Features
500+ customizable website templates
User-friendly interface
Free SSL certificate
Unlimited bandwidth
Priority customer support
14-day money-back guarantee
Drawbacks
No site migration features
The free plan doesn't include eCommerce features
Starting Price: $27/month
3. BigCommerce
BigCommerce is the ultimate eCommerce platform for any business size. It also offers the most sales features making it the best competitor of Shopify. Unlike Shopify, it doesn't rely on apps, and you don't have to pay for every second application for your store.
BigCommerce is one of the first choices for merchants who want to sell on multiple platforms. There are over 290 professional themes available, covering almost every niche. If you are a beginner, you can also start with free themes, which are available in every category.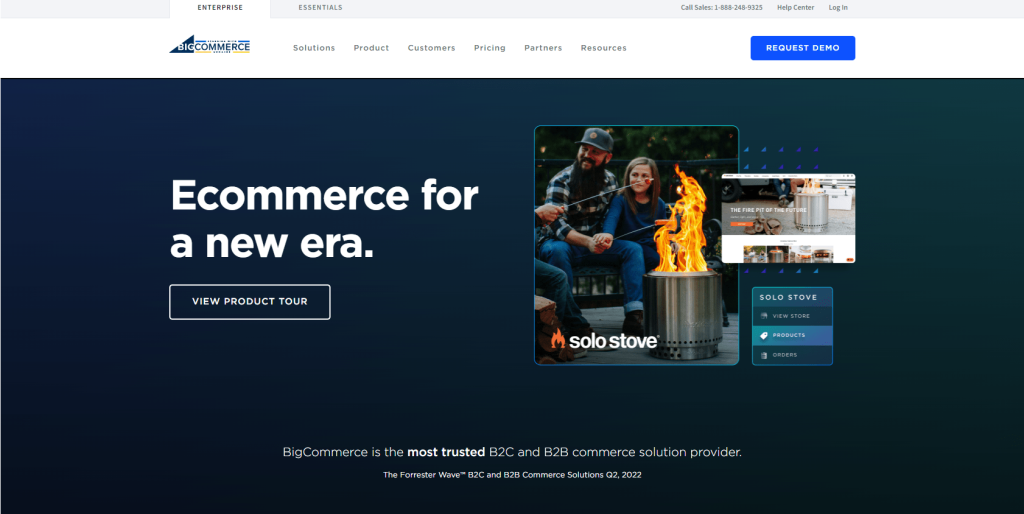 The platform doesn't offer a domain, so if you need to purchase a domain name before porting your existing website. Unfortunately, they have fewer integrations which makes it hard to expand your store's limit once you start getting overgrowing sales.
Key Features
Provides almost all eCommerce features
290+ professional themes to choose from
In-built POS integration
Fully responsive mobile app
Single-page checkout option
15-day free trial
Drawbacks
The themes are a bit expensive
The platform is not beginner-friendly
Starting Price: $29.95/month
4. Squarespace
If you want an easy UI and less-coding solution for small businesses, there is no better option than Squarespace. You can sign-up for Squarespace for free. However, you need to upgrade your account at least with the Business plan in order to unlock eCommerce and selling features.
Squarespace offers a set of world-class eCommerce templates. You can use these templates to showcase your products with the best images and rich product descriptions. You can also organize and manage your inventory with categories, tags, and sorting tools.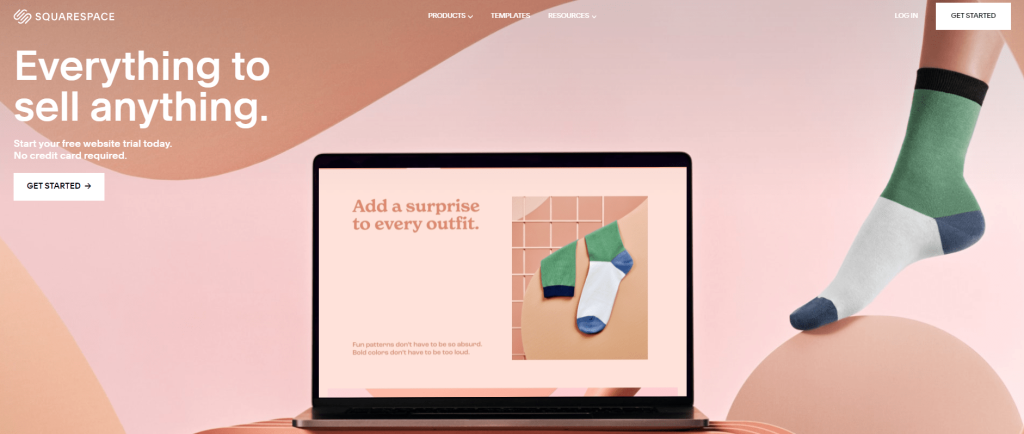 Squarespace automatically puts your products in the catalog, so you can easily manage email campaigns and share them to blog posts. It also creates a limited availability label when a product is low in stock, so potential customers take no time to consider buying it. 
Key Features
Multi-channel selling
Social media integration
Express checkout option for fast checkout
Access to Chrome extensions and add-ons
Mobile POS
14-day free trial
Drawbacks
Limited payment gateways
Hefty transaction fees
Starting Price: $23/month
5. Square Online
Square Online is probably one of the few eCommerce platforms that allow you to sell both online and in-person. That means you can manage orders from both online and physical stores simultaneously. This is the reason why it is a scalable option for small and large businesses.
Square offers a free plan that allows you to sell online products providing you with almost all the necessary eCommerce features. Square's website builder is powered by Weebly, which requires no technical knowledge to customize your website. As your website is already integrated with Square's POS system, you will get access to its advanced inventory management.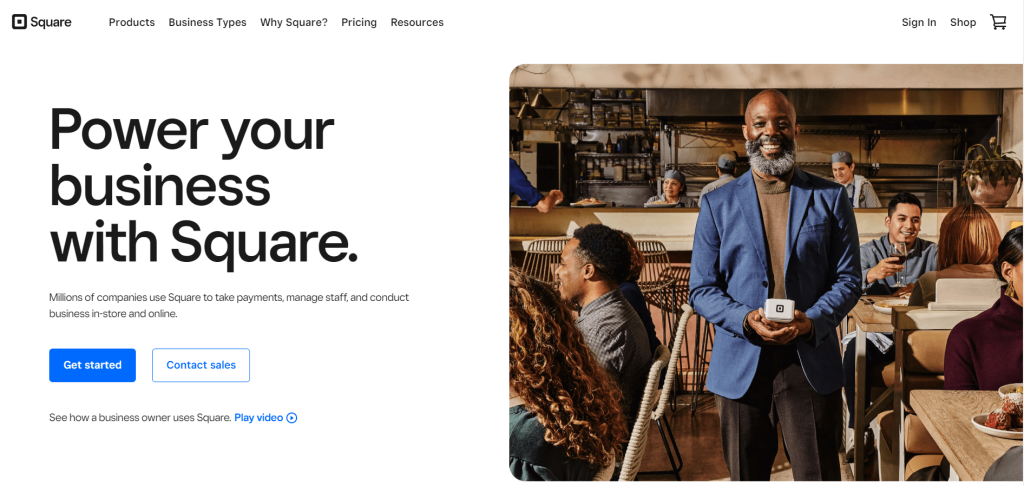 Square Online offers a unique in-store pickup option that allows local customers to pick up their online orders right from your physical store without paying any shipping charges. You can also integrate social platforms like Facebook and Instagram to increase the store's online presence.
Key Features
Free-to-use eCommerce with a lot of SEO options
Beginner-friendly user interface
Advanced inventory management tools
Sell online and in-person
Mobile POS
Customer behavior tracker
Drawbacks
Limited customization options
Fewer payment options
Starting Price: $12/month
6. Weebly
Weebly is currently acquired by none other than Square, one of the biggest payment processing giants. It is one of the best eCommerce platforms and website builders for small businesses. If you want the best results and conversions, combine Weebly's website-building features with Square's eCommerce features.
Each website you create with Weebly is integrated with Square's point-of-sale system, so it unlocks the ability to sell products both online and in person. If you don't want to use its website-building features, you can simply connect with a custom domain to get started with your online store.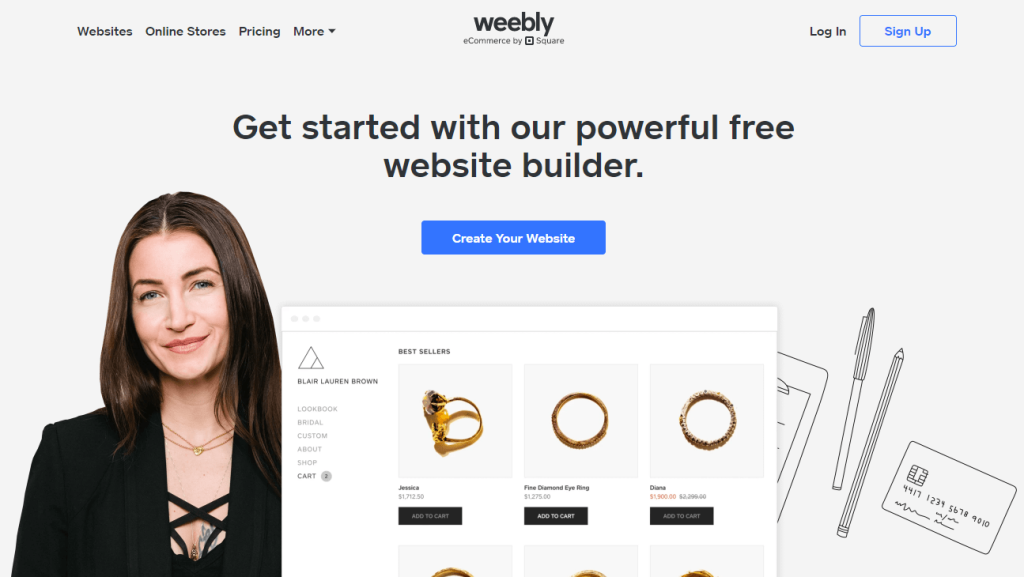 If you create your store using Weebly's website builder, you will get access to advanced eCommerce features such as abandoned cart recovery, customizable email templates, gift cards, etc. However, Weebly lacks a few features and integrations, which makes it less popular than Square Online.
Key Features
Customizable email templates
Free SSL certificate
Unlimited storage
Free domain and Google Ads credits with each premium plan
Advanced customer support
Mobile POS
Drawbacks
Limited design options
Lacks a few crucial eCommerce features
Starting Price: $12/month
7. Ecwid
Ecwid is a robust platform for selling products online. The platform is designed to support businesses regardless of their sizes. With Ecwid, you can create an online store for free and keep using free tools until you need to upgrade for scaling and growth. It allows integration with existing websites, business pages, and social networks without any additional charges. You will get all the platforms synced and managed right from one control panel.
Basically, Ecwid is a cloud-based platform which means there is no installation required as it is hosted for you. Ecwid features include a responsive design, multiple language support, automatic language detection, multisite capabilities, blogs, etc. Even though it offers a free plan, there are no transaction fees, and you can choose from multiple payment gateways.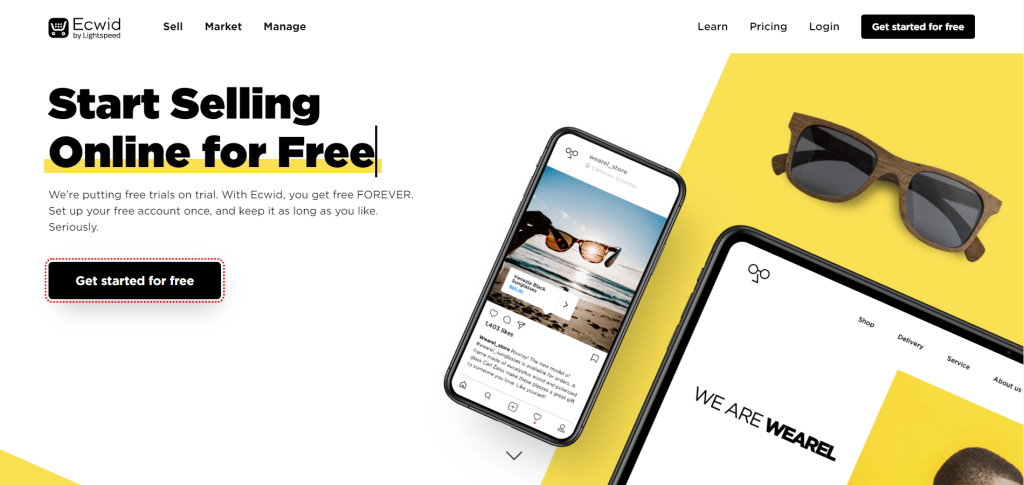 Apart from other features, Ecwid offers the best marketing features for product promotions. Whether email marketing or social marketing, Ecwid has it all — like MailChimp, Facebook Ads, Google Ads, Snapchat, TikTok, Pinterest, etc. It also features a fully functional mobile application allowing you to manage yours from anywhere.
Key Features
A free forever plan is available
Affordable premium plans
Integrate existing websites, social networks, etc.
Automatic language detection
Mobile point of sale and application
Unlimited bandwidth and storage
Drawbacks
Limited design and customization options
Integration fees are costly
Starting Price: $12.50/month
8. Big Cartel
If you are an artist or creative merchant, Big Cartel is the platform you are looking for. With Big Cartel, you can sell individual or handcrafted products without any upfront charges. It offers a free plan that lets you create your eCommerce store and sell products.
Big Cartel is definitely for small businesses in a true sense as it offers only limited products to sell. Even with its biggest plan, you are only limited to selling 500 products each month. However, you get access to industry-leading analytics tools that provides you with statistics in real time.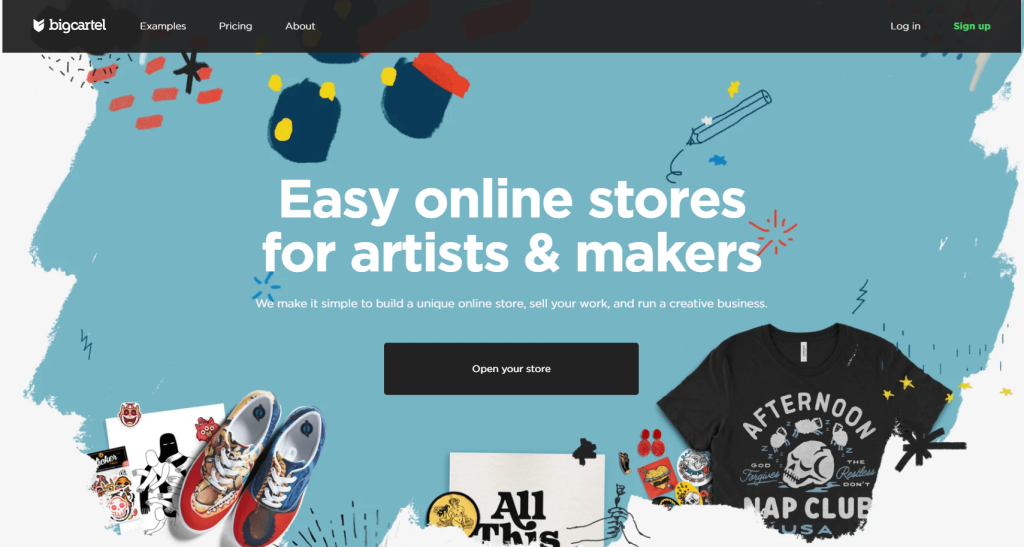 In order to create and operating an eCommerce store on Big Cartel, it requires a lot of knowledge of JavaScript and CSS HTML, so this platform is not recommended for novices. Still, it is worth trying as it offers an entirely free plan.
Key Features
Best platform for artists and small businesses
Offers a free plan with all eCommerce features
Free customizable themes
Sales tax autopilot
Affordable premium plans
Sell online and in-person
Drawbacks
No PCI compliance, blogging, or advanced support
Requires steep learning
Starting Price: $9.99/month
9. Zyro
If you want to build a lite store without the need for any coding, Zyro can be your best go-to option. Zyro is structured for business hobbyists and UX design enthusiasts. It initially started as a Hostinger product before turning into a fully-fledged eCommerce platform.
Zyro is quite popular for lightning-fast website speed and performance so that you can give your audience a fantastic experience. That's why the platform has the lowest bounce rate. However, there is no rocket science needed to create content for your store. If you still face difficulties, you can use its advanced AI content creation tool to get things done as soon as possible.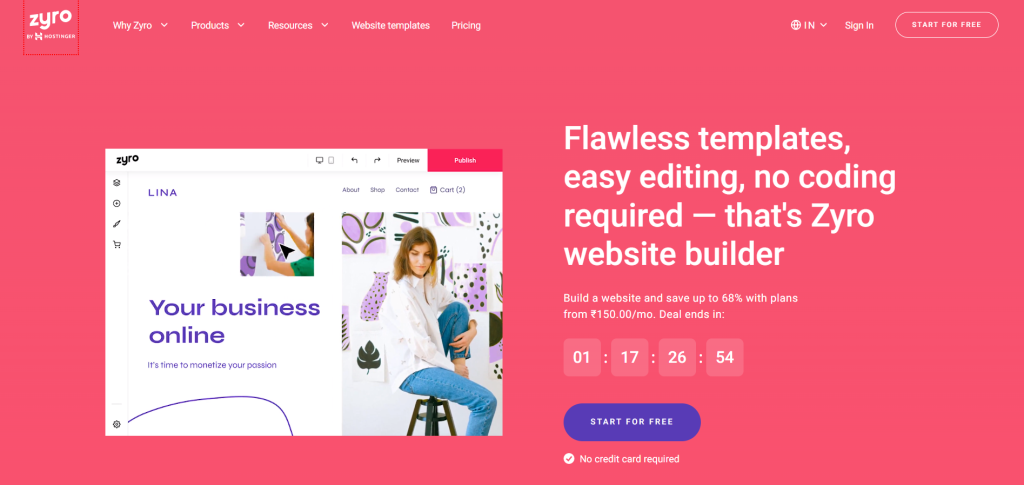 If you want an omnichannel design for your site, you can customize it with advanced in-built tools to get more traffic and sales. The reason for putting it last is that it lacks many essential eCommerce features compared to other platforms.
Key Features
Responsive and easy-to-use drag and drop editor
Lightning fast website speed
Free SSL certificate
AI content creation tool
Free domain for a year with premium plans
Unlimited bandwidth and storage
Drawbacks
Lacks blogging features
Limited design and customization options
Starting Price: $8.90/month
10. WooCommerce
If you already have a WordPress website and want to start selling your products from it directly, then WooCommerce is the best option for you. The best part of it is that you can use this tool completely free. You can install the WooCommerce plugin to your WordPress website and sell any product you want from there directly.
Being an open-source platform, WooCommerce is highly customizable, and you can customize your online store with any custom code you want. It is also SEO-friendly, so you can store can get better visibility on search engines. Being on WordPress, you can enhance the capability of your website with WordPress plugins.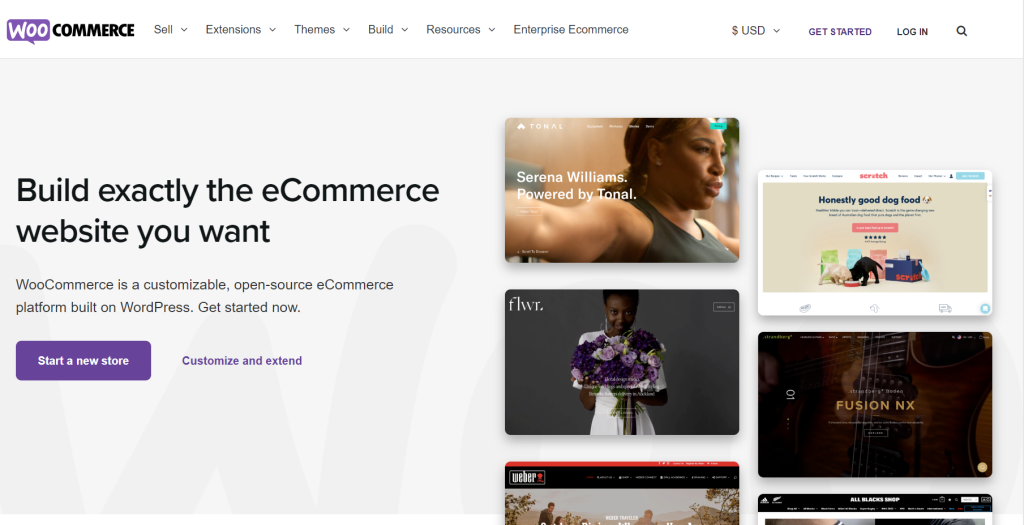 Whether you are running a small business or a large business, WooCommerce is capable of providing you with the tools to manage everything. You can add features like product tracking, email tracking, one-click upsell, and real-time shipping.
Key Features
Multiple integrated sales channels
It comes with a mobile app to manage your store
Best for creating an SEO-optimized online store
Native Point of Sale (POS) is available
Only pay for the tools you purchase
In-built blogging capabilities
Drawbacks
Technical support is not available
You need extensions to increase the functionality of your online store
Starting Price: Free
How to Choose the Best eCommerce Platform for Your Business?
If you're running a small business, it is not an easy task to find a reliable eCommerce platform. Regardless of the size, you need to consider a few crucial factors while choosing an eCommerce platform.
Hosting and platform ownership
Store functionality and user interface
Platform speed and scalability
Reasonable pricing plans
Themes and templates
Website security and technical support
Integrations
Even if you do find all the features in your ideal eCommerce platform, make sure to start with the free trial, so you understand what the platform has to offer for your business.
Related Read:
Conclusion: Best eCommerce Platforms For Small Business (2023) 
These are my top picks of the best eCommerce platforms for small businesses. You can't just pick a platform and get started with it right away. Before choosing a platform, you need to do some research about your business and find out specific goals and priorities because there is always an option for any type of requirement.
Shopify is one of those platforms that offers the best and most personalized solutions for any type of business. It also provides a 14-day free trial, so you can test all the features before investing in the platform. However, there are also other impressive platforms on the list that offer exceptional features. Pick one that suits your business and budget.