Are you a business owner looking to establish a successful online store? One of the most critical aspects to consider is the pricing structure of the e-commerce platform you choose.
BigCommerce is one of the popular eCommerce platforms that businesses choose to create their online stores. But does it offer competitive pricing compared to other platforms?
In this article, we'll dive into the world of BigCommerce pricing and help you understand the various plans available. Whether you're just starting or running a thriving enterprise, finding the right pricing plan for your needs is key to maximizing your online success.
So, let's explore the ins and outs of BigCommerce pricing and discover the perfect plan for your business.
Pricing Plans Of BigCommerce
BigCommerce offers different pricing plans to cater to the varying needs of businesses. Let's take a closer look at each of these plans: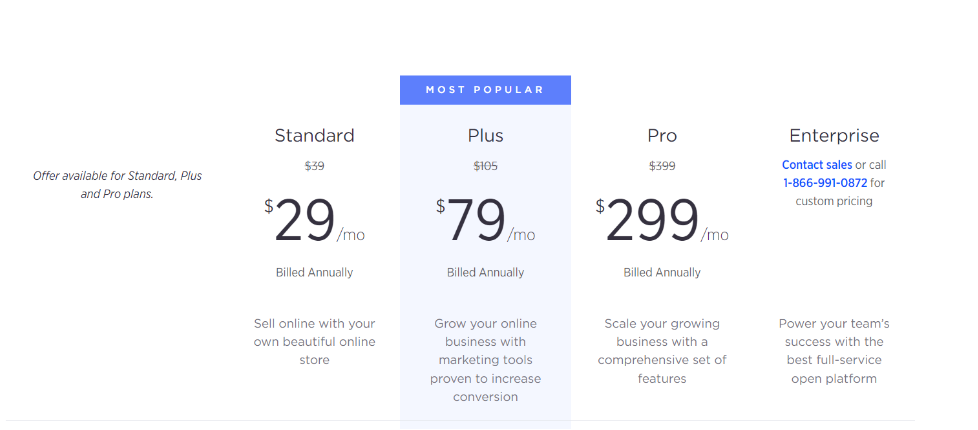 1. Standard – $29/month
The Standard plan is ideal for small businesses or startups looking to establish their online presence. It provides essential features such as unlimited products, storage, and bandwidth. The Standard plan also includes a built-in blog and advanced SEO features to help improve your website's visibility in search engine results.
Unlimited Products
Unlimited Bandwidth
Unlimited Storage
Built-in Blog
Advanced SEO features
Single-page checkout
Coupons, discounts, and gift cards
Professional reporting tools
Responsive website design
2. Plus – $79/month
The Plus plan is designed for growing businesses that require additional features and tools to expand their online operations. In addition to all the features offered in the Standard plan, the Plus plan provides options like customer segmentation, abandoned cart recovery, and a persistent cart to enhance customer experience and increase conversions.
All Standard Features
Customer segmentation
Abandoned cart recovery
Persistent cart
Stored credit cards
Faceted search (product filtering)
Google customer reviews
3. Pro – $299/month
The Pro plan is suitable for established businesses that require advanced features and scalability. It includes all the features provided in the Plus plan, along with advanced analytics, custom SSL, and Google customer reviews integration. The Pro plan empowers businesses to optimize their online store's performance and drive growth.
All Plus features
Advanced product filtering
Custom SSL certificate
Custom faceted search
Google Trusted Stores
Product filtering by price and weight
Custom product filtering
Advanced customer segmentation
API support
Google Analytics Pro
4. Enterprise – Custom Pricing
The Enterprise plan is tailored for high-volume businesses and enterprise-level operations. This plan offers a fully customized solution with advanced functionality, dedicated account management, and priority support. The Enterprise plan provides a scalable platform capable of handling large product catalogs, complex integrations, and high traffic volumes.
All Pro features
Dedicated account management
Advanced customizations
Priority support
Advanced API support
Optimized for high volume
Custom integrations
Customizable checkout
Customizable products
Advanced security features
Unlimited API calls
Custom reporting
Additional Costs Of BigCommerce
While BigCommerce provides comprehensive pricing plans, it's essential to consider any additional costs that may arise. Here are some potential expenses to keep in mind:
1. Domain
If you don't have a domain name, you'll need to purchase one. BigCommerce offers domain registration services, or you can use your existing domain by following the simple setup process. Purchasing a domain on BigCommerce will cost you about $12.27/year.
2. Hosting
BigCommerce includes hosting as part of its pricing plans, ensuring that your online store remains accessible and performs optimally. You won't need to invest in separate hosting services.
3. SSL
To secure your customers' data and build trust, having an SSL certificate is crucial. BigCommerce provides free SSL certificates, so you don't have to worry about additional costs to ensure secure transactions.
4. Themes
While BigCommerce offers a range of free themes, you may opt for a premium theme to give your online store a unique and professional look. Premium themes come with a one-time cost, which varies depending on the theme you choose. The cost of premium themes ranges from $120 to $300 each.
5. Credit Card Transactions
Credit card transactions involve processing fees, which are standard across e-commerce platforms. Like other eCommerce platforms, BigCommerce also charges a standard processing fee of 2.9% + 30 ¢ per order. However, BigCommerce doesn't take any commission fees.
6. Apps
BigCommerce has an extensive app marketplace where you can find additional tools and extensions to enhance your online store's functionality. Some apps are free, while others require a subscription which can cost from $9 to $50 per month.
BigCommerce Pricing vs Competitor Pricing
To understand how BigCommerce pricing stacks up against its competitors, let's compare it with Shopify, Wix, and Squarespace. The following table provides an overview of the pricing plans offered by these platforms:
| | | | |
| --- | --- | --- | --- |
| Platform | Basic Plan Price | Mid-level Plan Price | Advanced Plan Price |
| BigCommerce | $29/month | $79/month | $299/month |
| Shopify | $29/month | $79/month | $299/month |
| Wix | $23/month | $27/month | $49/month |
| Squarespace | $33/month | $36/month | $65/month |
It's important to note that while these prices provide a general comparison, each platform offers different features and functionalities. It's crucial to assess your specific business requirements before making a decision.
Key Features Of BigCommerce
BigCommerce offers a wide range of features that make it a compelling choice for businesses of all sizes. Some of the key features include:
Mobile Optimization: BigCommerce provides responsive themes and mobile-friendly design to ensure a seamless shopping experience for mobile users.
Flexible Design Options: With BigCommerce, you can customize your online store's design and layout to align with your brand identity. The platform offers a wide selection of themes and the flexibility to modify them to suit your preferences.
Product Management: BigCommerce simplifies product management by allowing you to efficiently organize and categorize your products. You can easily add product variants, set pricing rules, and manage inventory.
Payment Gateways: The platform integrates with various payment gateways, including PayPal, Stripe, and Authorize.Net, to facilitate smooth and secure transactions.
SEO-Friendly: BigCommerce is equipped with built-in SEO features that help optimize your store for search engines. You can easily customize meta tags, URLs, and alt tags to improve your website's visibility and attract organic traffic.
Multi-Channel Integration: BigCommerce allows you to sell products across multiple channels, including Amazon, eBay, and Facebook, enabling you to reach more customers and increase sales.
Abandoned Cart Saver: The platform automatically sends emails to remind customers of items they left in their cart, reducing cart abandonment rates and increasing conversions.
Product Filtering and Search: BigCommerce offers advanced product filtering and search capabilities, allowing customers to find the products they are looking for easily.
Real-Time Shipping Quotes: The platform provides real-time shipping quotes from leading carriers, such as UPS and FedEx, helping you to calculate shipping costs and improve customer satisfaction accurately.
Can You Upgrade To BigCommerce?
Yes! BigCommerce allows you to upgrade your plan as your business grows. If you start with the Standard plan and find that you require additional features, you can easily upgrade to the Plus, Pro, or Enterprise plans to access more advanced functionality and support.
Upgrading your plan provides you with the flexibility to scale your online store and take advantage of features that align with your evolving business needs.
Conclusion: BigCommerce Pricing (2023)
Choosing the right pricing plan for your e-commerce business is crucial for long-term success. BigCommerce offers a range of plans catering to different business sizes and requirements. By carefully assessing your needs and comparing BigCommerce with its competitors, you can make an informed decision.
With its robust features, flexibility, and scalability, BigCommerce provides a solid foundation for building and growing your online store. By understanding the pricing structure and associated costs, you can ensure that you have a clear roadmap for your e-commerce journey.
FAQs On BigCommerce
What is Express Routing?
Express Routing is a feature provided by BigCommerce that enables you to create customized shipping rules based on various criteria. This allows you to define specific shipping methods, rates, and conditions for different regions, products, or customer segments.
Can I integrate into Bigcommerce's API?
Yes, BigCommerce offers a comprehensive API that allows you to integrate with third-party applications, develop custom solutions, and extend the platform's functionality. The API documentation and developer resources provided by BigCommerce make it easy to leverage the power of integration.
Do I need my own SSL certificate?
No, you don't need to purchase an SSL certificate separately. BigCommerce provides free SSL certificates for all online stores hosted on its platform. This ensures that your customers' data is encrypted and transactions are secure.
I'm looking to switch to BigCommerce. How do I get my data over?
BigCommerce provides seamless data migration services to help you transfer your product catalogs, customer information, and order history from your existing e-commerce platform. The migration process is streamlined and guided, ensuring a smooth transition to BigCommerce.
Can I use my own domain name?
Yes, you can use your existing domain name with BigCommerce. The platform offers straightforward domain setup instructions, allowing you to maintain your brand identity and online presence.
Latest posts by Shally Rose
(see all)