Are you looking for an unbiased Drop Ship Lifestyle review? If so, then you are at the right place.
Drop Ship Lifestyle is considered one of the best-paid courses if you want to start a successful dropshipping business. The course includes video training and one-on-one mentorship that will help you start from scratch. But it is also one of the most expensive training programs in the dropshipping industry.
So is it worth investing in? In this article, I will share a comprehensive Drop Ship Lifestyle (DSL) review that includes its overview, how it works, what's in the course, and its pricing. By the end of the article, you will surely find the answer to this question.
Let's get started.
What Is Drop Ship Lifestyle?
The Drop Ship Lifestyle is a highly-rated dropshipping course that was created by Anton Kraly in late 2012. The course teaches a 7-step blueprint to students for starting a successful dropshipping business and scaling to its maximum potential.
The course is designed to provide the necessary education, strategies, and tools so that students can sell profitable products on various selling channels without lifting a finger. The DSL course includes everything related to dropshipping, including product selection, website setup, finding suppliers, running ads, generating traffic, and eventually selling your dropshipping store.
Unlike other dropshipping courses that leave you with DIY course materials, DSL provides one-on-one assistance, invaluable resources, Done-for-you services, and many more. The course itself is neatly designed and has easy-to-follow learning modules. So you can start and learn the course at your pace.
About The Author: Anton Kraly
Anton Kraly is the man behind the Drop Ship Lifestyle course. After graduating from college, Anton started selling cookies to various grocery stores, but his ambitions were big. So, one year later, he started his own online store, which quickly started generating more money than his cookie store.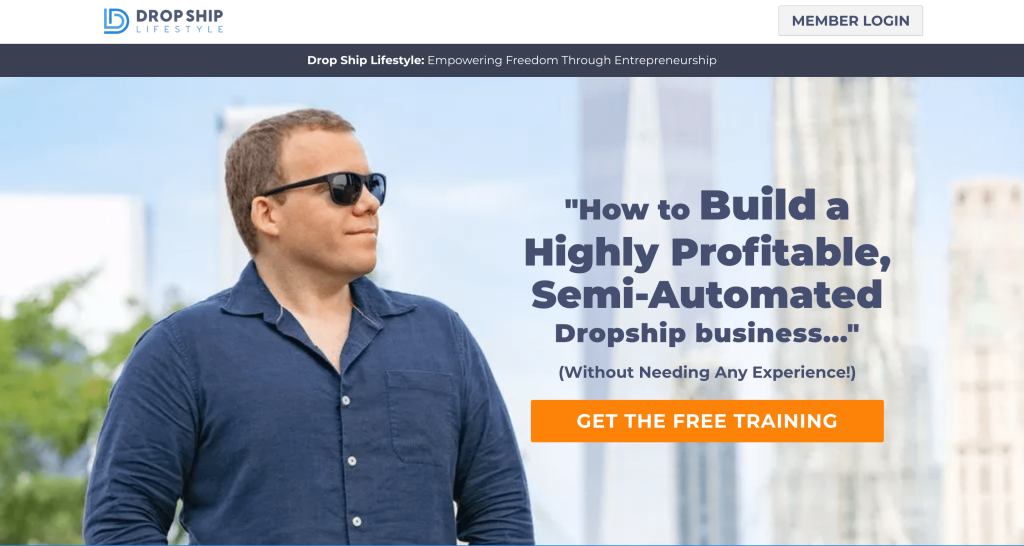 After years of making easy money, Anton and his partner sold their online business for a whopping $1.8 million. After that, he started working on a project with the aim of helping entrepreneurs with his strategies. Then, in 2012, he launched the Drop Ship Lifestyle course, which came out to be a huge success in the dropshipping market.
Apart from this course, Anton helps students through his YouTube channel and live one-on-one videos. But his course is the real deal if you want to start a fully-fledged dropshipping store from scratch.
What Is Dropshipping? What Are The Benefits Of This Business Model?
Dropshipping is an eCommerce business model in which you set up an online store and find a supplier that fulfills your orders for you. Basically, you, as a retailer, promote your supplier's product in your store and wait for orders to be placed. When a customer places an order, it redirects to your supplier, and they pack and ship the product to the customer's doorstep.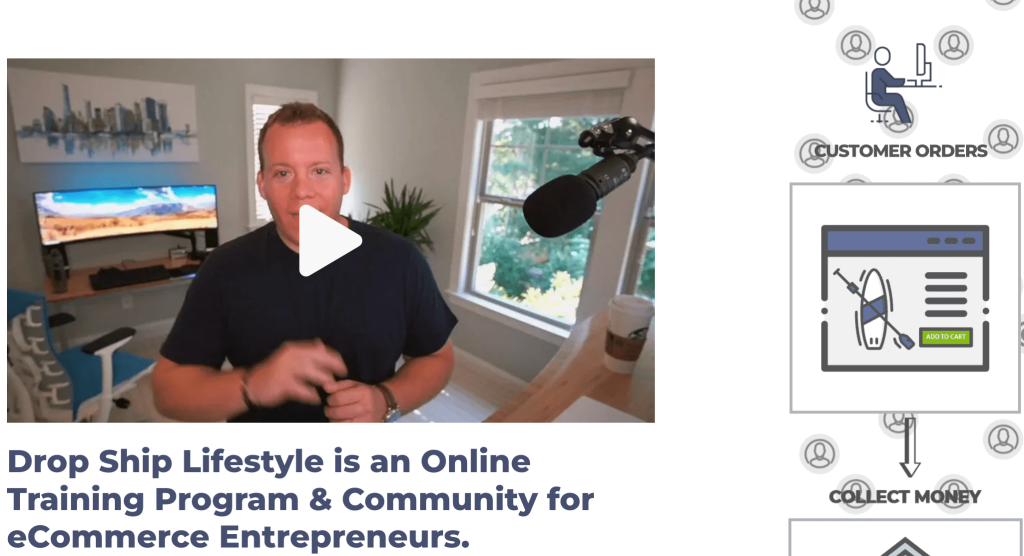 Suppose the supplier's rate of the product is $5, and the order fulfillment price is $2. But you promote the same product for $10. You make a $3 profit for every successful sale without stepping outside your home. That's why dropshipping business is considered the best option for making passive income online.
Here are the benefits of running a dropshipping business:
Easy to Start: Almost every eCommerce platform offers in-built dropshipping features and automation, so starting a dropshipping business is quite effortless and hassle-free.
Truly Passive: Once you have set up your business and found a supplier, you don't always need to keep an eye on your business. The supplier will take care of all the aspects.
No Need to Manage Inventory: The best part of the dropshipping business is that you don't have to own or manage an inventory to run your online store.
Low Capital Investment: You can start a dropshipping business with a $100 or less capital investment. Once your business starts, you will only make profits, and there are few chances of investing more money in your business.
Highly Scalable: Since you don't have to manage any stock or inventory, you will have enough time to make the necessary decisions to grow your business.
This is just a glimpse of dropshipping business's benefits. Luckily, the course will help you take all the benefits of dropshipping business by guiding you to the right path.
How Does Drop Ship Lifestyle Work?
After purchasing the Drop Ship Lifestyle training program, you will follow this stepwise module before starting a profitable dropshipping business: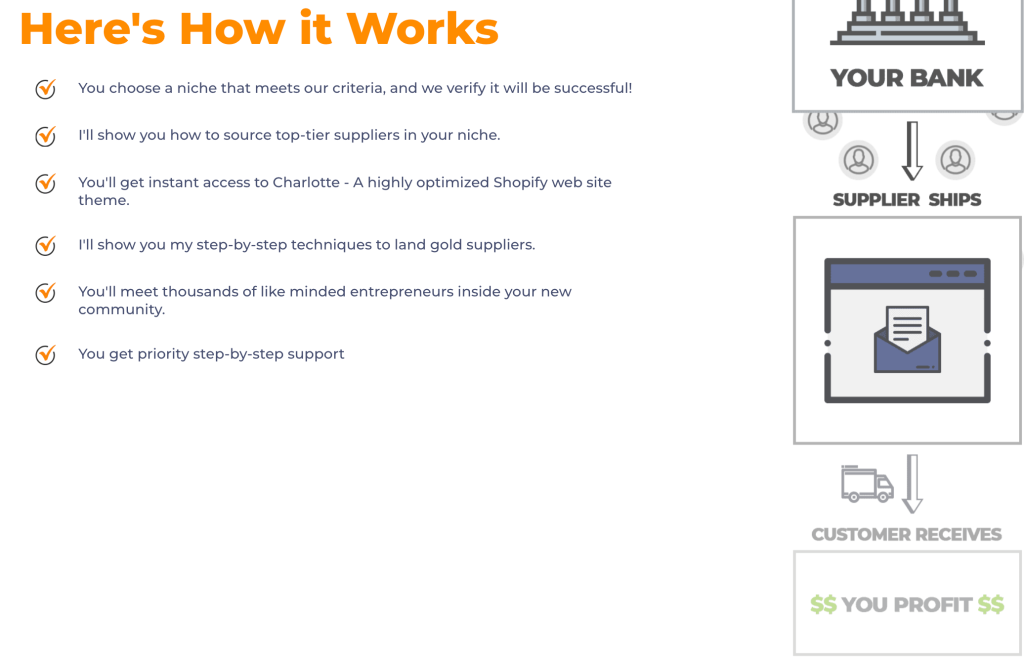 You will pick a niche that matches your style and interest. And the DSL team will help you choose.
They will show you how to find the best and most reliable suppliers within your niche.
You will get access to Shopify's Charlotte theme, which is highly optimized for dropshipping stores.
The team will help you create a brand while selling dropshipping products.
You will get access to a private and active community where you can find like-minded sellers. Here you can interact with thousands of DSL members for Q&As.
You will get support throughout your selling process.
What's Included In Drop Ship Lifestyle Course?
Now that you know about dropshipping and how DSL works, let's know what's inside the course. The course has mainly four sections:
Section 1: Drop Ship Blueprint
This is the longest and the main section of the course. It has seven modules and over 77 videos covering almost every aspect of starting a dropshipping business. Let's know about all seven modules:
Niche Selection: In this module, you will learn how to pick a niche that will suit your business the best. Anton teaches you why you shouldn't go for a trendy or random niche for dropshipping.
Market Research: This module teaches you the importance of Product Listing Ads (PLAs) on Google. You won't get this valuable information anywhere else. This CPC ad model will help you promote your product in front of millions of audiences besides your eCommerce platform.
Web Design: This module is instructed by Laura, Anton's sister. She teaches you how to create a beautiful Shopify website for your dropshipping store using the Charlotte theme. The module is well organized and tailored according to beginners, so you can start even if you have no experience.
Supplier Approvals: Anton teaches you how to find a verified and reliable supplier for your dropshipping business in this module. The module also covers quality checks, negotiations, and MOQs.
Optimization for Conversions: In this module, Anton teaches smart ways to convince buyers to purchase your product. The module is all about increasing the conversion rate. He also teaches you organic ways to boost conversion.
Traffic Generation: Driving traffic to your website is the only way to increase sales on your website. There are six videos in this module that teaches you the ultimate ways to increase website traffic.
Store Automation: When you run a dropshipping website, automation is the crucial part if you want to enjoy passive income. This is a short module that teaches you what setup you can do to make your store fully automated.
Section 2: Google AdWords
The second section of the DSL course is taught by Michael Erickson, who is a certified partner of Google. Michael shows you strategies using Google Ads to generate maximum traffic and sales. Here is the breakdown of this section:
Using Google AdWords: When it comes to advertising with control, no software or service can beat Google AdWords. It helps you set up PPC (pay-per-click) ad campaigns for a targeted audience with a budget. So, you can take advantage of Google advertisements without spending too much money. The module will teach you how to create a sales funnel using Google AdWords.
Product Listing Ads: If you want to promote a product listing on Google specifically, you can use Product Listing Ads. With this tool, you can filter out uninterested audiences and run a successful ad campaign. This module will teach you all about PLAs and product feeds.
Display Ads and Search Text: In this module, Michael teaches you the ins and outs of ad optimization and how to find keywords to bid on for your ad campaigns.
Section 3: Social Media Traffic
This part of the course is also taught by Michael Erickson. This section covers all about generating traffic to your store through social media. He teaches you both organic and paid advertising methods on popular social media platforms.
The first module of this section is the Basics, in which Michael explains various methods to find a relevant audience for your product promotion. You will also get a sturdy introduction to how to drop shippers use social advertising campaigns to tap into an established audience of various social platforms.
In the next part, Michael teaches using different social media platforms to generate traffic to dropshipping stores. Since every platform has different popularity and viewing styles, the course displays different strategies for running advertising campaigns on respective social media platforms.
Section 4: Events
The last section of the DSL course contains live seminars and one-on-one talks with famous DSL members. Most of them are recordings of the DSL Retreat event, which was held in 2017.
DSL helped thousands of dropshipping entrepreneurs over the years. So, one of the successful DSL members shares their strategies and success stories every week with the platform and enrolled students. This is why this section updates with new seminars and one-on-one talks every week.
What Makes The Drop Ship Lifestyle Course Stand Out?
You can find many similar courses in the market, but why does DSL have the highest success rate? There are dozens of reasons that make the Drop Ship Lifestyle unique from other courses. Here are a few of them:
The course doesn't teach you to sell any random product or stock.
The course does not just provide tutorials on finding the best products to promote but also verifies whether the product matches your niche or not.
Unlike other courses, DSL doesn't teach you to rely on Chinese suppliers or products to make a profit.
The course only requires 30 minutes of your day, which is enough to learn new strategies and essentials to run a dropshipping store.
The course doesn't suggest faulty or counterfeit products for listings.
You will only find reliable suppliers from renowned brands.
The one-on-one assistance and coaching are second to none.
The instructors, Anton and Michael, are dropshipping and Google experts. So their coachings are an unfair advantage for you over your competitors.
The course regularly updates with a newer version as soon as Google updates its algorithm so the students don't miss anything.
Most of the course materials teach you dropshipping strategies using the Shopify platform, which is the preferred option for dropshippers.
The Ultimate plan covers almost all the store and marketing aspects for you and offers bonuses worth $16K.
Pricing Plans Of Drop Ship Lifestyle
First of all, the DSL course is not cheap. If you are short on budget or looking for a cheaper option, this course might not be the one you are looking for.
Currently, Drop Ship Lifestyle offers two plans for its training program:
Premium – $3,997
The Premium package of DSL costs a one-time fee of almost $4K. It includes the complete training program along with the Drop Ship blueprint and access to the private community.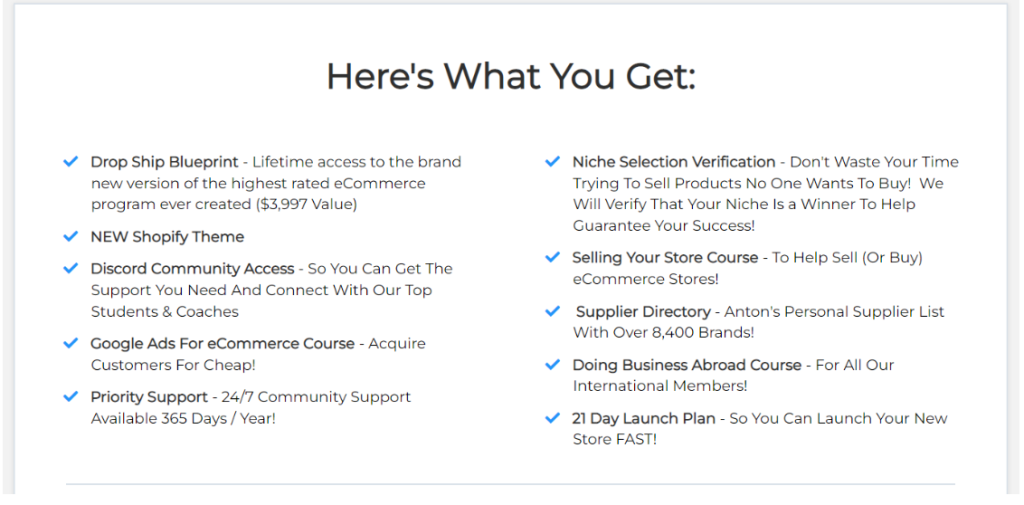 Here's what you get with the Premium package:
Ultimate – $10,497
As the name says, the Ultimate plan is the truly ultimate training package for the dropshipping business. This training package includes premium perks like done-for-you web design, content, and marketing. You will also get private mentoring and priority support. For $10.5K cost, you will get bonuses and private mentorship worth $16K.
Here's what you get in this training package:
No matter which training package you pick, you will get a 30-day risk-free money-back guarantee. So, you can purchase and set up a dropshipping store using the course strategies. At least try their "21-day Launch Plan" and see if this works for your business well. If this doesn't work for your business, you can cancel your subscription within 30 days of purchase and get a 100% refund with no questions asked.
Is It Worth Choosing The Drop Ship Lifestyle Course?
Now, you might be wondering if the DSL training program is worth your time and money. After all, there are tons of cheaper options available in the market. So why choose DSL over others?
The answer to this question mainly depends on your individual goals, budget, and business needs. You can choose this training program if you are looking for a step-by-step, comprehensive guide to starting a dropshipping business. The course covers everything from niche selection, website set-up, supplier database, and product selection from renowned brands.
It is also important to note that the DSL course comes with a pricey tag, so it may not be a suitable option for everyone. If you are low on budget, consider gathering free resources and taking free trials of popular courses. Luckily, Anton Kraly himself offers tons of free resources on his website and YouTube channel, where you learn the basics and crucial aspects of running a dropshipping store.
Related Read:
Final Verdict: Drop Ship Lifestyle Review (2023)
Overall, Drop Ship Lifestyle is one of the best eCommerce training programs that teach you how to start a successful dropshipping business from scratch. The dropshipping business model eliminates the hassle of keeping an inventory and managing order fulfillment on your own. With step-by-step practical modules and Anton's guidance, the course can be a valuable asset for newcomers and businesses that want to create an online presence in a very short period.
However, its pricey tag is something that concerns the most. But if you look at the bright side, you will get resources and bonuses more than its worth. So, if you have the budget and the will to create a successful dropshipping store, don't hesitate to invest in this course. After all, you will get a 30-day money-back guarantee as your assurance.