Are you about to start an online business but don't know which one to choose, Dropshipping or Amazon FBA? Well, check out this comprehensive comparison between Dropshipping vs Amazon FBA to know which one will be best for you.
Both Amazon FBA and Dropshipping business models were game-changing because, back then, doing business in the e-commerce industry was not easy at all. These businesses were simple start-ups that turned into billion-dollar industries today. But you still don't know which one will be best for you?
To make things easy for you, I've compared both of them closely in this comparison of Dropshipping vs Amazon FBA. Read it till the end to find out the perfect choice for you in the eCommerce industry.
Let's get started.
Dropshipping vs Amazon FBA: Key Differences
In this section, I am going to tell you a few key differences between Dropshipping and Amazon FBA.
A drop shipper is like a middle man who handles all your products, and their job is to store your products, pack them, and ship to your customers while you handle all the payment and order-related tasks. In Amazon FBA, you just need to ship your products to Amazon's warehouse, and they will handle all the customer's related tasks.
Amazon FBA is a really profitable business because it has a vast user base; while Dropshipping is also a profitable business, it is not as successful as Amazon FBA.
In Amazon FBA, you don't have to deal with your customers because Amazon will do that for you, but in Dropshipping, you need to handle all your customers.
The profit margin with Dropshipping is low in comparison to Amazon FBA.
Dropshipping vs Amazon FBA: Overview
Check out what Dropshipping and Amazon FBA are all about in this section.
Dropshipping: Overview
In the Dropshipping business model, whenever a customer places an order on your eCommerce store, you give an order to your vendors, and they will dispatch the order for you and ship it to your customers. Your products will be with your suppliers, making it easy for them to ship the products to customers. Your customers will think that your products came directly from you.
It is one of the trending retail businesses, and retailers from the USA, UK, Europe, Canada, and Australia have been using this business model for many years. The best part about it is that you can start selling your products via dropshipping with a small investment. It is a much more convenient and cost-effective business. This business model has been helping small retail & business owners for a long time now.
Amazon FBA: Overview
Amazon is a famous eCommerce platform that allows you to sell your products all over the world. You can dispatch the products yourself, or you can use the Amazon FBA (Fulfillment By Amazon) service to do this for you. In this program, you get access to Amazon warehouses as well as shipping service.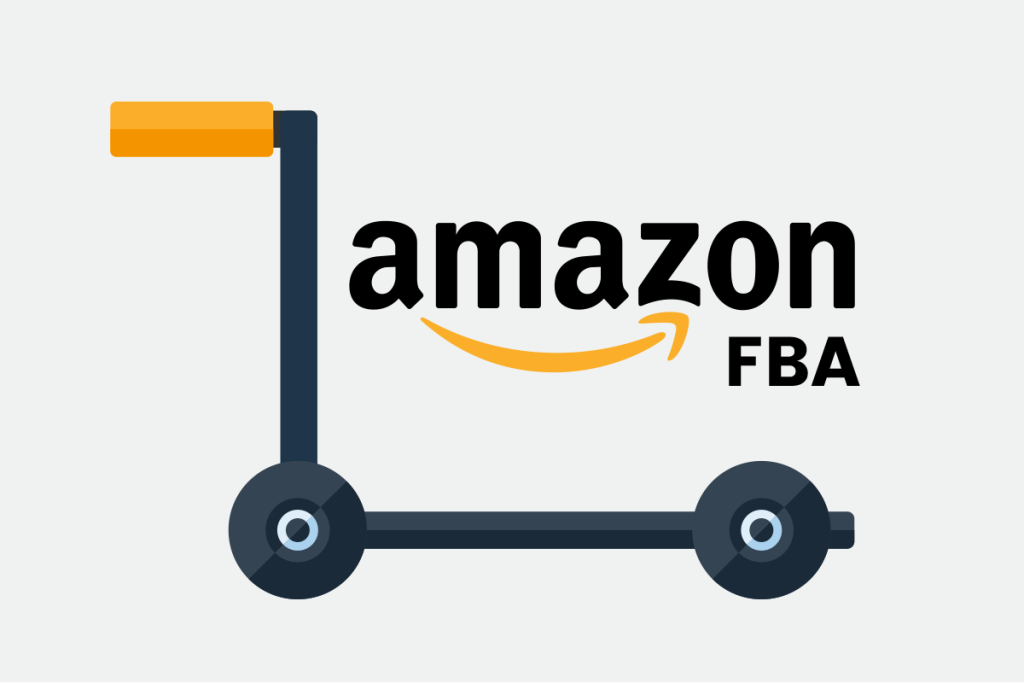 Being a seller, you just need to send your products to one of the storage facilities of Amazon. List the products you've sent on the Amazon website and then wait for sales. Whenever a customer purchases your products on Amazon, the products will be sent by Amazon directly. There is no role for you in customer service. You just need to send the stock to Amazon and then wait for sales.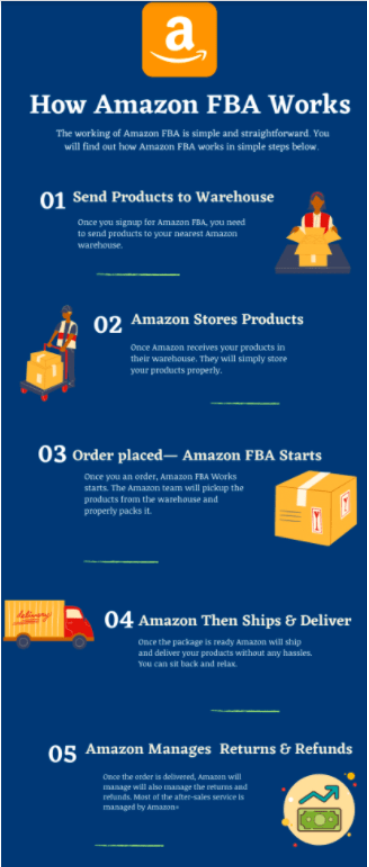 Dropshipping vs Amazon FBA: Pros & Cons
The pros & cons of both of these business models will clarify which one is right for you.
Dropshipping Pros
1. Low Risks: If you are a dropshipping owner, then you know that it is not necessary for you to maintain big stocks in your inventory. If any of your transactions don't work out for you, then you won't have to bear a huge loss. With Dropshipping, the only expense you have to manage is starting your online store.
2. Low Investment: In Dropshipping, you don't need to invest big or maintain a huge inventory. It is very affordable, and it does not put you in debt of any kind. You don't need to become like those businessmen who have to invest big to start your business.
3. Multiplicity: If you diversify your business, then it will definitely be fruitful for you. You can start your online business by just buying a small stock of products for your inventory. You can start selling them and then start investing big if you want.
4. Low Responsibility: Your responsibility is low in the dropshipping business because you only need to take of your customers. Whenever your customers order something, you need to place the same order with your suppliers, and they will dispatch that order to your customers.
5. No Need For Permanent Location: The best part about running an online store with dropshipping business is that you are not bound to one location. You don't need to be in the city or area to send those products to your customers.
6. Time-Saver: This is the part I love most about Dropshipping business. You don't need to spend a lot of time packing or dispatching your products to the customers. Your suppliers will do that for you while you only have to handle your customers and their order-related issues.
Dropshipping Cons
1. Less Information: If your suppliers don't give you all the info about their products, then you won't be able to solve all the queries of your customers. This is the part I don't like about dropshipping where you are kept in the dark by your own suppliers.
2. Low-Profit Margin: The only part I don't love about Dropshipping is that it doesn't offer you big profits. It means that you can not sell something on a huge profit margin. Let's take an example of a product which costs you $15. You can not sell it for more than $20 because your customers will turn to your competitors who are selling the same product for less than the price you are selling.
3. Can't Offer A Lot Of Offers: You can not offer many discount offers on your products because you haven't purchased them in huge quantities. But you can offer deals when someone buys a lot of products from your store.
4. Fierce Competition: In Dropshipping, you have to face fierce competition because a lot of eCommerce stores are selling the same products. There might be some people who are selling those same items at lower prices than yours.
Amazon FBA Pros
1. Profit From Amazon's Brand Image: If you are selling your products via Amazon FBA, then you don't need to create your own brand image. Amazon is very popular all over the world. All the products are sold under the brand image of Amazon.
2. Grow Your Business: With Amazon FBA, you don't need to worry about customer services, packaging, or dispatching your products because Amazon will do that for you. The only thing is left for you to focus more on your business and figure out how you can boost your revenue.
3. Refund & Replacement Policies: You don't need to worry about refunding or replacing your products because Amazon will perform all these tasks for you. If someone does not like your products after purchasing and they ask for a refund, then it is Amazon's headache, not yours.
4. Huge Customer Base: The customer base of Amazon is massive. You can take advantage of that and sell your products aggressively. You don't have to wait longer for the first sale after listing your products on Amazon.
5. Higher Profit Margin: You may not sell your products at a huge profit margin on your website, but you can surely sell them at a high-profit margin on Amazon. People will buy it happily all because of Amazon's brand image.
Amazon FBA Cons
1. Can't Track Inventory: You will be able to send the massive stock of your products to Amazon's warehouse, but not all of them will be sold. This will create chaos, and you won't be able to keep track of them after some time.
2. High Competition: If you are new and selling the same products as other experienced entrepreneurs are selling on Amazon FBA, then you have to face tough competition. You will have a hard time competing against those who are in this business longer than you.
3. No Guaranteed Profit: You must do a lot of research before preparing a product mix for Amazon because not every product gets sold on Amazon. So observe it before listing the products on the website.
4. Dependent On Amazon: Your entire business will depend on Amazon. If they decide to change their rules, regulation or they simply decide to eliminate your store from their website, then there's nothing you can do. If your products face any shipping issues, then you will have to bear losses because of Amazon's faults.
5. No Brand Recognition: If you sell your products on Amazon, then your brand will not get recognized at all. It will always be known as an Amazon product, and it won't have any identity of its own.
Final Verdict: Which One Is Right For You?
This is my comparison of Dropshipping and Amazon FBA. Now one question still remains: Which One Is Right For You?
Both of these business models have their pros and cons. It won't be easy to use anyone to any of these business models. You'll have to work hard to generate revenue. But if you choose Amazon FBA, then you can get the advantage of the huge user base of Amazon, but your products will have no brand image.
You can generate huge revenues via dropshipping and create a brand image of your own, but you have to work really hard for it. I prefer establishing my own online store using dropshipping business model because it helped me create a brand image for my products. If you can do the same, then you should choose this one.
I hope with this Dropshipping vs Amazon FBA comparison, you can decide between these two. Let me know your thoughts on Dropshipping and Amazon FBA in the comments below.
FAQs
Which one is better: Amazon FBA or Dropshipping?
If you are a complete beginner and planning to start an online business, then you should start a dropshipping business because it provides much more flexibility and perks compared to Amazon FBA. But if you are already selling online, then it would be best to choose Amazon FBA.
What is the major difference between Amazon FBA and Dropshipping?
The biggest difference between Amazon FBA and Dropshipping is having inventory. If you are using the dropshipping business model, then you don't own any inventory; you just connect the customer to the supplier as a middleman. In Amazon FBA, you need to invest in inventory and send that inventory to Amazon's warehouse, and after that, Amazon will manage the shipping and delivery of your products.
Can I start a dropshipping business with Amazon FBA?
Starting a dropshipping business with Amazon FBA is a bit tricky. You need to fulfill some requirements to start it. You need to be the seller of the products you are selling, your name should be there on the product's packaging, and you should be responsible for handling returns.
Should I use FBA or FBM to lower my costs?
If you think that selling and shipping the products on your own will lower your cost, then you're in a surprise. Because FBM will cost you more compared to FBA. In FBM, you need to pay for the shipping and delivery cost, whereas in FBA, you only have to pay a monthly fee, and Amazon will manage everything for you.
How Much Does It Cost To Start Amazon Dropshipping?
To start Amazon dropshipping, you need to sign up for an Amazon seller account on Amazon first. You need to choose between two plans: the individual plan has a pricing of $0.99 per unit sold, and the professional plan has a pricing of $39.99 per month only, and it doesn't matter how many units you sell.