Looking for the best eBay dropshipping suppliers? Look no further, I have got your back.
When it comes to dropshipping, eBay is easily the best option for beginners as it offers a variety of reliable dropshipping and wholesale suppliers to team up with. But finding the one for your business can be a bit tricky.
That's why I have listed the nine best eBay dropshipping suppliers who offer high-quality products and are verified suppliers. The listed suppliers will handle product sourcing, packing, packaging, brand building, and shipping.
Let's get along with the list.
eBay's Dropshipping Policy
Like Shopify, eBay also has set laws and regulations for dropshipping business owners. As of now, you can only run dropshipping business by purchasing from eBay wholesale suppliers.
If you are running a dropshipping business by purchasing from online retailers like sellers do on Walmart and Amazon, you won't get approved for eBay. You will get penalized for policy violations if you breach the terms and conditions. And the penalty for violations will include:
Suspension of your eBay account
Cancelation of product listing
Decreased seller ratings
Getting banned from selling
Your listings will be concealed from the search results
Is Dropshipping Legal On eBay?
With so many restrictions and policies, you might be thinking, is dropshipping even legal on eBay?
The answer is yes, of course, eBay allows dropshipping sellers to run their business on its platform as long as they go by the rules. That means you need to purchase items in bulk from eBay wholesale suppliers. Good thing wholesale manufacturers and distributors have lowered their minimum order quantity due to the rising popularity of the dropshipping business model.
In the following list, I have also listed eBay dropshipping suppliers that accept order fulfillment of small amounts of items or even individual products.
10+ Best eBay Dropshipping Suppliers (2023)
Here are the top eBay dropshipping suppliers for eBay sellers.
1. CJ Dropshipping
CJ Dropshipping is one of the established eBay dropshipping suppliers. It is a China-based wholesale supplier and product sourcer that sources only high-quality products for eBay dropshipping stores. Here you can choose from 400K products in various categories, including unique ones like sports, home decor, outdoors, etc.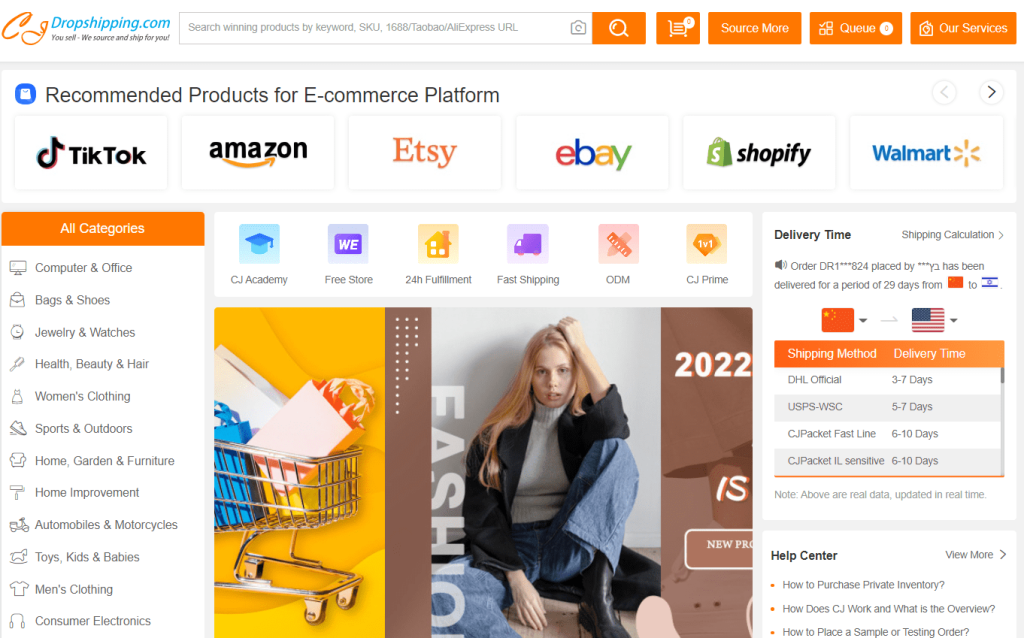 CJ Dropshipping owns eight warehouses across the globe, which allows you to ship products all over the world. There are numerous shipment partners, such as USPS, DHL, CJPacket, ePacket, JewelShipping, etc., are working with the company. Local shipment usually takes around 2 to 14 days. However, shipping from local warehouses to the US can take several days longer.
Key Features
Extensive product and dropshipper directory
Eight global warehouses
Product sourcing and branding services
Fast shipping times (including CJPacket, an in-house shipment option offered by the company)
White-label and print-on-demand options
14-day return policy
2. Walmart
Headquartered in Bentonville, Walmart is a multinational retail corporation operating a chain of supercenters, hypermarkets, grocery stores, and discount department stores across the US. It is also a giant online marketplace with an exceptional reach to the international eCommerce market. Walmart also provides over 46 million product selections, so dropshipping business owners can take advantage of its "Walmart to eBay Dropshipping" to source products from Walmart to sell on eBay.

Walmart offers various shipping options, and same-day shipping is the most popular. It also offers free shipping on orders above $50, but the timeframe for shipping will be 6-9 days. You can also choose Standard and Expedited shipping options for fast delivery at additional costs. Walmart operates 28 wholesale warehouses and three fulfillment centers across the globe, which makes it easier to choose your nearest manufacturing facility to run dropshipping on eBay.
Key Features
46.1 million products to choose from
Various shipping options
Discount on bulk orders
Competitive prices
90-day return policy for dropshippers (terms and conditions applied)
Excellent customer support
3. Banggood
Banggood is another legitimate Chinese online shopping site that features a wide range of quality products at a discounted rate. It also offers the cheapest items in eBay's top categories. The company owns multiple warehouses in the US, UK, and Europe, which makes it possible to reach buyers from all around the world. The special dropshipping program of Banggood offers discounts on bulk purchases which makes it a great platform for eBay sellers.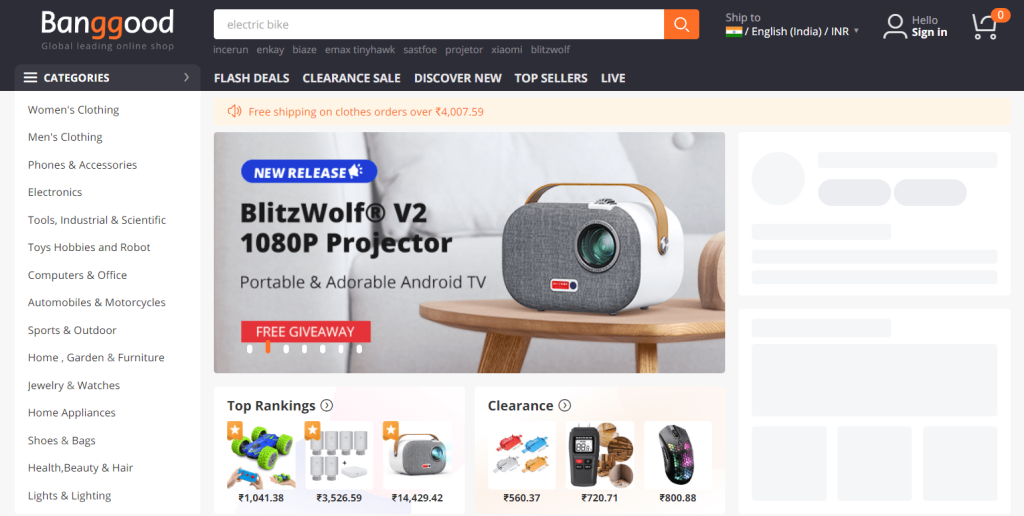 Banggood offers more than 250,000 items in various categories, giving dropshippers a good deal of options. Unlike other marketplaces, Banggood checks the quality of its products and lists only proven products on its product page. Having multiple warehouses in different regions allows dropshipping suppliers to provide the fastest shipping times. Usually, local shipping takes around two days to deliver packages. However, products sourced from China's center can take up to eight days. You can also get free shipping on orders above $49.99. 
Key Features
Domestic warehouses in different regions
250K quality dropshipping products
Exclusive membership perks
Integration for order fulfillment and inventory management
Discounts and cashback
14-30 days return policy depending on the product
4. GoGo Mall
GoGo Mall is a leading online marketplace based in Singapore and Indonesia. The company seeks to facilitate its services across Asia and trade between global buyers and Chinese suppliers. GoGo Mall can be a pretty interesting source for products if you choose it as an eBay dropshipping supplier for your business. eBay offers a variety of services on GoGo Mall, such as marketing, advertising, promotion, consultation, etc.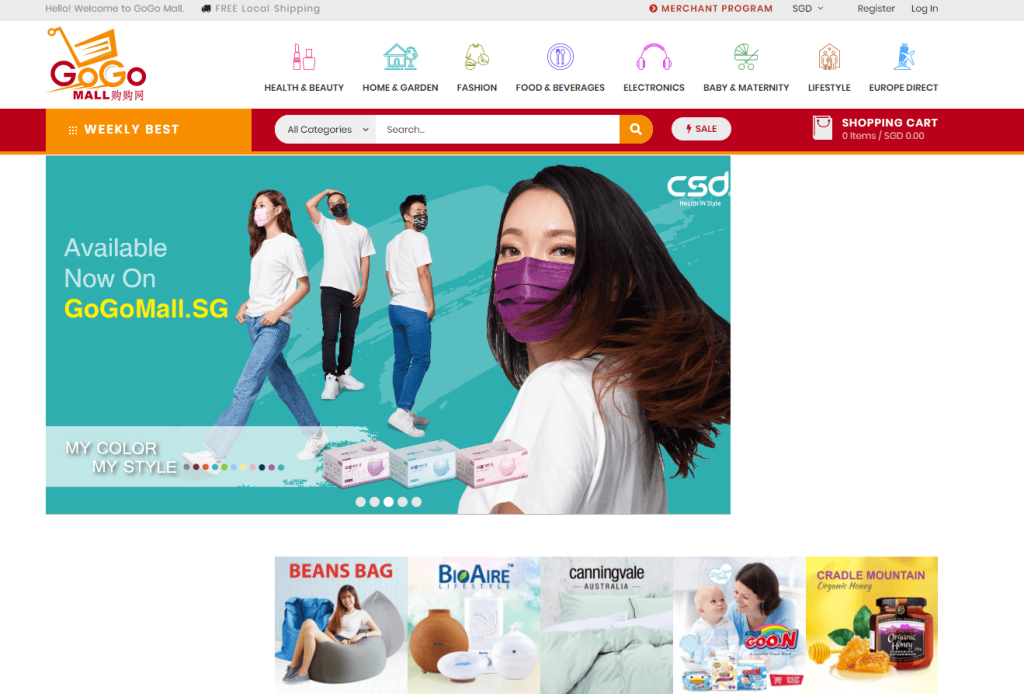 Furthermore, GoGo Mall has a directory of more than 1000 premium products in fashion, electronics, toys, housewares, accessories, and many others. It also offers product sourcing features so you can source products from thousands of verified manufacturers associated with the company. You can also order personalized items for your business and check the product quality before launching it on your online store.
Key Features
10,000 verified suppliers
Over 1000 premium products directory
Free shipping for orders worth $50 or above
4-11 days global shipping time
7-day money-back guarantee
Flash deals on various occasions
5. Costway
Costway is a US-certified wholesale supplier and one of the top online retailers in Europe and North America. Compared to other websites, Costway believes in offering self-made branded products. That is why it offers over 8,000 branded items from 10 different product categories. Still, Costway provides competitive prices after offering high-quality products.

The best part of Costway is that it offers standard free shipping on all featured items. Product handling takes around 24 hours, then shipping takes 3-5 days on average, depending on the customer's location and courier service. Return policies are a bit strict as you need to return the product with the original packaging, or if it is damaged or no longer in use, the customers will need to pay an additional $45 for the repackaging. They also offer special prices, bundled discounts, and flash deals occasionally.
Key Features
High-profit margins
8,000+ premium products
Free standard shipping
3-5 days shipping time
Hot deals and discounts
Flexible and personalized shipping arrangements
6. Costco
Costco is an international retail company that offers solutions to online retailers as an eBay dropshipping supplier. It works on a membership module that offers excellent saving options on high-quality products. You get access to Costco's vast library of products with low competition but high-profit margins in exchange for a subscription. The company mainly focuses on grocery items, but they also offer a good range of clothing, electronics, accessories, homewares, furniture, etc.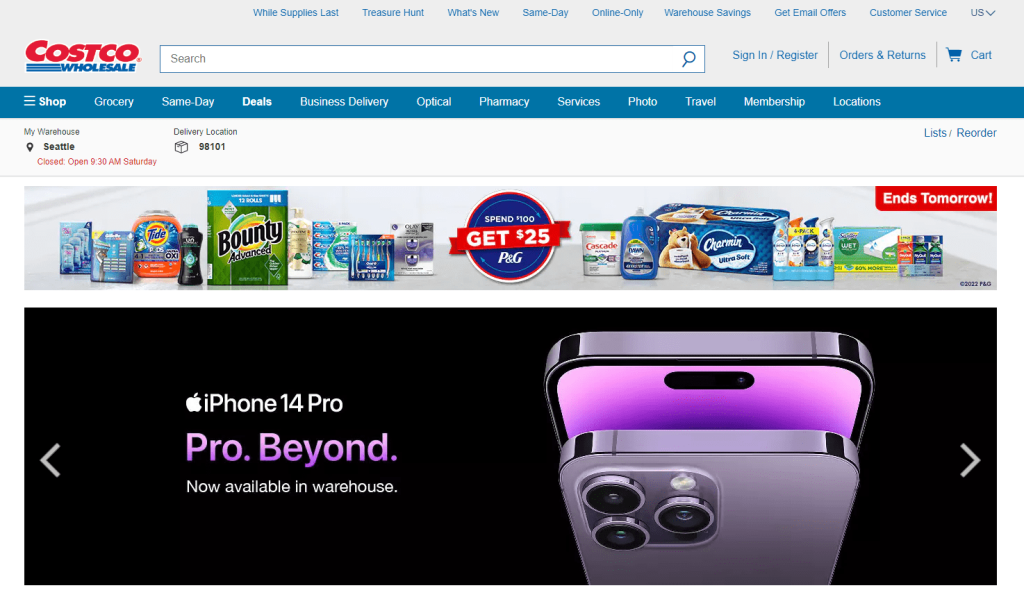 Costco provides efficient shipment options, which include Express and Standard delivery. It usually takes 3-5 days using carriers such as FedEx, UPS, USPS, DHL, etc. Using Express delivery costs an additional handling and shipping cost while checkout. Good thing they offer a 90-day return policy to the customers. However, there are limitations on return, like a few products that can not be returned, such as HVAC systems, water heaters, generators, etc.
Key Features
Unique subscription model
Premium and trending products
Special deals on wholesale products
Fast shipping times
90-day return policy
Various shipping options
7. Etsy
Etsy is an American eCommerce platform that offers white-label and handmade products in various categories. It is also a complete marketplace for buyers looking for all sorts of wholesale products, which makes it one of the best eBay dropshipping suppliers. Here you can discover unique, traditional, and nontraditional products in categories like jewelry, home decor, bags, notebooks, toys, and many more. The special item category contains products that are difficult to find elsewhere. And you can source these products to sell on eBay.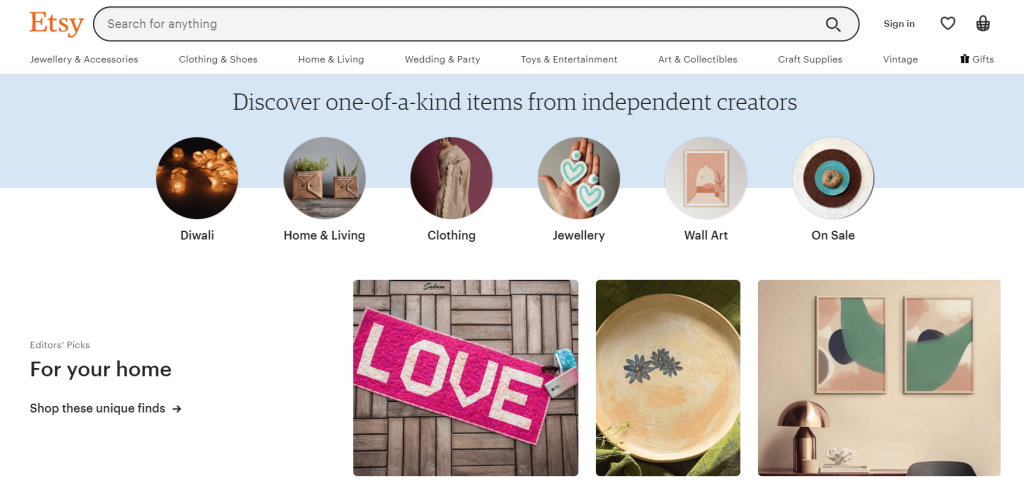 Etsy also integrates with various print-on-demand companies, which open options for side ventures. The company offers fast shipping solutions using various shipment carriers. Though it charges shipping costs depending on the customer's location and order type. But you can also get free shipping options on selected items. However, the return policies depend on the supplier that you buy from.
Key Features
Eco-friendly fabrics and materials are used in handmade products
Unique product categories
High-profit margins
Fast shipping services
Local industry support
Discounts on bulk orders
8. The Home Depot
The Home Depot is another American multinational retail corporation that sells products in appliances, decoration, kitchen tools, furniture, etc. In other words, it specializes in home supplies and construction tools. Furthermore, the company provides competitive prices for value-oriented and innovative products.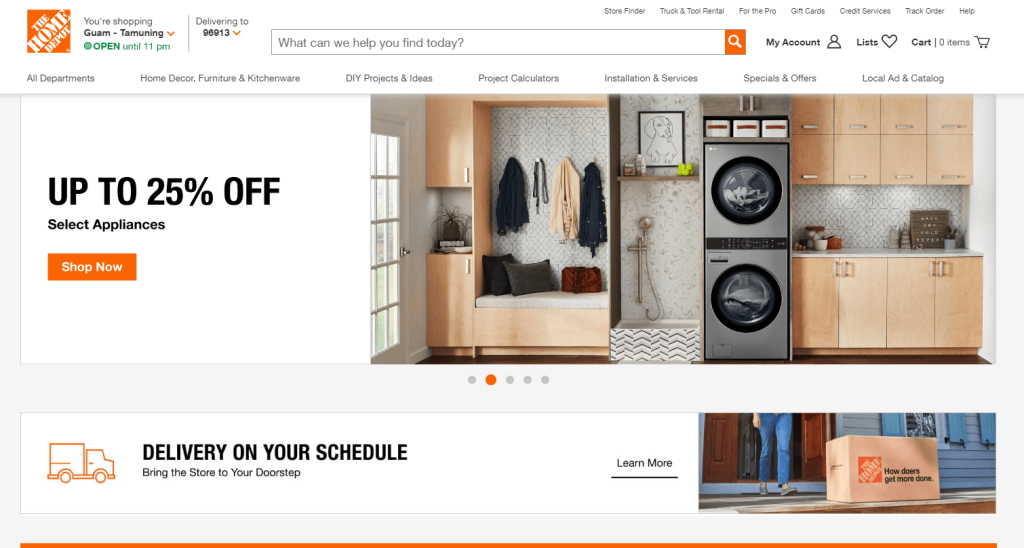 The Home Depot manages 90 distribution centers across the US and caters to 2000+ physical stores. It creates a great opportunity for eBay dropshippers who want to source products for their eBay stores in the US. The company takes around two days for deliveries inside the US. Orders above $45 are applicable for free shipping. They also offer a flexible 90-day return policy on most of the orders.
Key Features
90+ distribution centers
2000+ wholesale stores
High-quality and premium products
Flexible shipping options
90-day return policy
Remarkable customer support
9. EPROLO
EPROLO is a certified eBay dropshipping supplier that offers exceptional automated solutions for retailers and buyers. It is a free dropshipping platform for eBay that provides fulfillment, sourcing, branding, and print-on-demand services. The platform is trusted by over 300K users and provides services to eCommerce store owners in Shopify, ShopLazza, WooCommerce, etc.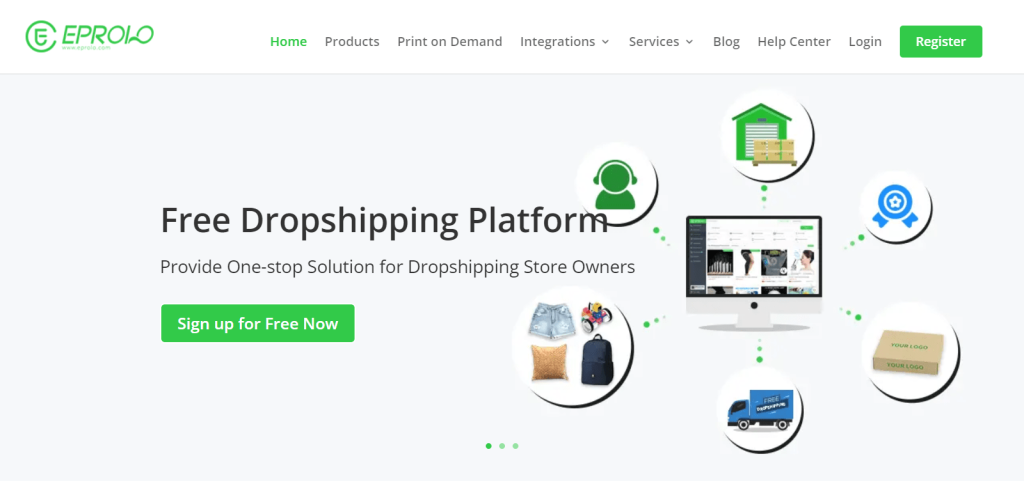 EPROLO owns enormous warehouses in both the US and China, from where you can source products in various categories. The product handling takes upto 20-30 hours, while shipping can take around 5-15 days. It also offers flexible branding solutions like putting your label or logo on the packaging. It allows you to stand out from your competitors by offering branded products to your customers.
Key Features
Sourcing, importing, and fulfillment services
Simple and automated eBay dropshipping
Competitive prices
Branding solutions
Discount on wholesale products
No handling fees for eBay dropshipping 
10. AliExpress
AliExpress isn't technically a dropshipping supplier, but it is a huge marketplace with thousands of products and suppliers. Most of the suppliers on AliExpress are based in China, and they offer very competitive and affordable pricing so it is easy for you to find the best dropshipping supplier to sell products on eBay. This marketplace is accessible to the general public as well, meaning they can also buy products from here with ease.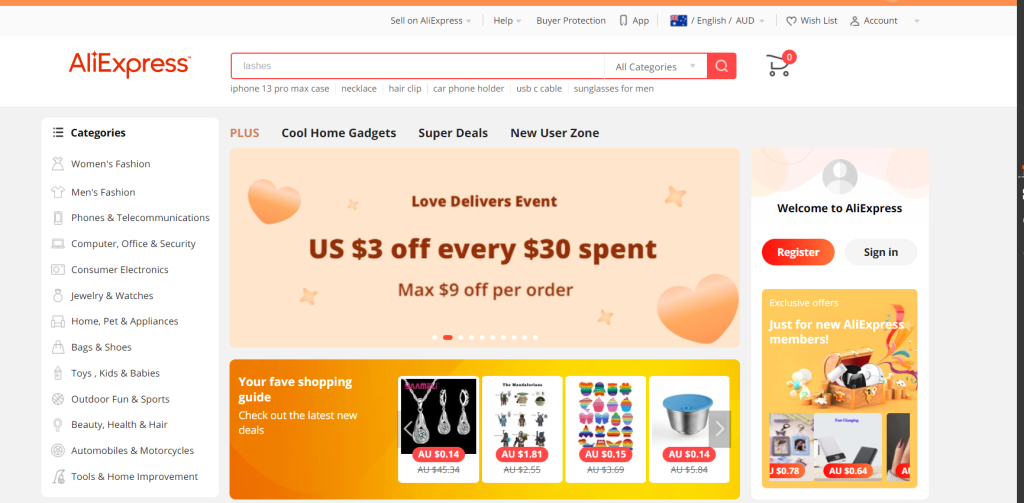 But the only issue with AliExpress' suppliers is that sometimes they do not send you the product as shown in the image on the website. This issue is not very common, but it can happen to anyone at any time; that's why it is best to check out the supplier's reviews before you order anything from it. When a customer orders from your eBay store, you just have to place the same order on AliExpress and enter your customer's address.
Key Features:
Competitive pricing on products
Thousands of products from different categories
Quality descriptions with high-quality images
Worldwide dropshipping
15-day return policy on products
Suppliers will take care of shipping & delivery of the product for you
Related Read:
Conclusion: Best eBay Dropshipping Suppliers (2023)
eBay is undoubtedly the best option for dropshipping as it offers thousands of verified suppliers and millions of global buyers purchase products for their homes, offices, and physical stores.
If you want to start your first eBay dropshipping business, you need to understand its policies and terms and conditions to avoid facing any difficult circumstances. And while choosing an eBay dropshipping supplier, you need to evaluate the shipping times, prices, and return policies so you can increase your profit margins without compromising the product quality.