Are you looking for an unbiased Ecwid review? Don't look further because you have just landed on the right page.
Finding a perfect platform to start an eCommerce business has never been easy for beginners. Even if you have resources and a product ready to sell, you need to do a lot of research to find the right place to begin. The existence of tons of eCommerce platforms is the main reason beginners find difficulty when choosing an affordable yet powerful platform. Luckily, Ecwid is just the platform beginners are looking for.
In this post, I am going to share a detailed Ecwid review. I have also included all the main and eCommerce features you will get with this tool. By the end of this article, you will know how it can help you create your own eCommerce store without much effort.
Let's get started.
Ecwid Review: In A Nutshell
Ecwid is an eCommerce platform and website-building tool (more like an eCommerce widget) that helps you create a fully-functional online store. Basically, it is SaaS-based (Sofware as a Service). That means you create online websites without any technical knowledge.
Ecwid started in 2009 as a few lines of code that small businesses used to add eCommerce stores to their existing websites. Now, it has become an eCommerce giant over the years, catering to over 950,000 eCommerce stores in 175 countries. Recently, Ecwid is acquired by an eCommerce company Lightspeed, which is a cloud-based POS system for both online and offline sellers.
How Does Ecwid Work?
Ecwid typically works like any other eCommerce platform like Shopify or Wix. You can create an online store and simply add products to sell. Apart from that, you can add catalogs, product images, pricing, descriptions, etc., for every product. Then, you can set up shipping options, defining what payment methods you accept. And all of this customization is done within a web browser–-no need to install an app or software.
If you compare Ecwid with other eCommerce websites like Shopify or BigCommerce, it doesn't really let you create a standalone website under hosting and all. It would be better if you just use it as a plugin and create an online store under an existing website or social media profile. That's why Ecwid is entitled as an "eCommerce Widget" rather than a website builder. You can find an HTML code that you can copy and paste into your existing social profile or website. As I already mentioned that it started as a few lines of code.
Key Features of Ecwid
Here is an overview of all the key features of Ecwid.
Ease of Use
Ecwid's interface is straightforward and doesn't have a steep learning curve compared to other eCommerce platforms. After creating an online store using its tools, you get a vertical menu for all the functionalities, such as a dashboard, catalog, sales, reports, etc. You can access all the eCommerce options from the menu to run your online store smoothly. You can also find store customization options to tailor your online store according to your niche.
However, you might need some time to adapt to the process of setting up product variants, catalog creation, and shipping rates. Luckily, Ecwid offers an onboarding assistant at the start of your eCommerce journey. If you are running a WordPress website, you can easily use the Ecwid plugin to unlock all the eCommerce features.
Inventory Management
Ecwid's inventory management system is clear and concise as it seems. You can simply open the Catalog option from the menu and manage your whole inventory. You can add new products, descriptions, and images and change categories, prices, and attributes from this section. You can also set tax, SEO, and shipping options for each product in your inventory.
Sales Channels
Unfortunately, Ecwid doesn't offer multichannel options. However, you can sell on various social media platforms, such as Facebook, Instagram, and TikTok. So if you have a significant list of followers list and you are pretty active on a social media platform, you can connect your online store to your social media profile(s) and turn your followers into customers. Thousands of micro and macro influencers are already using Ecwid to sell products to their subscribers.
Payment Gateways
Shoppers always feel insecure when it comes to online payments. That's why they look for the safest payment option to complete their orders. Following this, Ecwid offers up to 85 different payment gateways, including PayPal, Stripe, 2Checkout, Sagepay, and so on. Furthermore, the new owner of Ecwid, Lightspeed, offers an in-house payment gateway known as "Lightspeed Payments." However, this option is restricted to US-based users.
Finding an eCommerce platform that doesn't charge a transaction fee for using their payment processors has never been easy. Fortunately, Ecwid is one of those few platforms. They don't charge a single penny for using any of their payment gateways, no matter what plan you are subscribed to.
Integrations
Compared to other eCommerce platforms, Ecwid offers its users an adequate amount of integrations and plugins. It has an "App Market" where you can find up to 260 apps and plugins for different purposes such as marketing, store design, payment, product research, etc.
On the other hand, if you install the Ecwid plugin on an existing WordPress, Wix, or Drupal website, you get tons of different integration options for your store.
POS (Point of Sale)
Ecwid offers a POS feature to its users that allows them to sell in physical locations such as market stalls, in-stores, and concerts. With this functionality, your online and physical stores stay in sync no matter where customers purchases. Ecwid's POS functionality offers two ways to its users: mobile POS and full POS integration.
Smartphone (currently available for iPhone users) users can download Ecwid's POS app (Sell On the Go)from the App Store and manage both online and physical stores right from this mobile application. On the other hand, full POS integration offers you more comprehensive features. You can also find third-party integrations such as Square, Clover, Alice POS, etc.
Marketing
Despite being a third-party solution to existing websites, Ecwid offers top-class in-built marketing features to its users. Once you set up your online store, you get access to built-in SEO tools that will help your store rank higher in the search results. You can define your product page using the meta description. Unfortunately, you don't get advanced SEO customization by default. You need to integrate a marketing tool for additional SEO editing.
Now, Google started to index AJAX sites, and Ecwid is a 100% AJAX widget. So Googe will index all the Ecwid stores automatically. And if you are using a WordPress website, you can increase your default search functionality using SEO plugins. For sales promotion, Ecwid offers an abandoned cart recovery tool along with promotional pricing and discount code features. Still, you need to get Venture or Business subscriptions in order to access these tools.
Language Support
Ecwid supports more than 51 different languages from around the world. It automatically detects the country and translates your website-related language. This way, you can reach out to international customers worldwide without any language barrier.
Customer Support
Ecwid offers tier-based customer service to existing users. If you are using the free plan, you can access the live chat support feature for only the first 30 days. After that, you have to rely on documentation and forums to solve your queries. With the Venture plan, you will get live chat and email support, while the Business plan offers an additional phone support option.
With Ecwid's most expensive plan (Unlimited), you get priority support, including all the customer support you're expecting with other plans. You can expect customer support in seven languages which are English, German, French, Dutch, Spanish, Russian, and Italian.
eCommerce Features of Ecwid
Let's explore some eCommerce-centric features of Ecwid.
Dropshipping
Dropshipping is one of the best business models for selling products without inventory. With this model, you don't have to worry about manufacturing and shipping as well. Just find a reliable supplier and order a significant quantity to deliver to your customer's doorstep. With Ecwid, you can opt for this feature by subscribing to one of its paid plans. You can create your website dropshipping-friendly and integrate dropshipping suppliers such as Spocket, Printful, Wholesale2B, Syncee, Alibaba, and so on.
Multi-Currency Selling
Ecwid offers a multi-language feature but doesn't offer a built-in multi-currency feature. You can integrate a currency converter app into your store if you want to expand your business to different countries. The Currency Converter app offer over 130 currencies that you can convert into your preferred currency.
Abandoned Cart Recovery
Shoppers usually add products to their cart but don't proceed to checkout, which causes sellers a major loss in revenue. Luckily, Ecwid offers an abandoned cart recovery feature that helps sellers turn almost 40% of abandoned carts into successful sales. However, you need to purchase Business or the above plans in order to access this feature.
Shipping Options
Deciding on the right shipping option is as necessary as selling products. New sellers can offer free shipping to their users to increase conversions. You can find various shipping methods to set up for your store. FedEx, USPS, and UPS are some of the popular shipping services that you can choose from. Since Ecwid doesn't charge any transaction fee, you can simply set original shipping prices to avoid setting a higher price.
Importing and Exporting
Importing and exporting on Ecwid typically works like any other eCommerce platform. When you import files on Ecwid, it converts into products on your store. You can use the CSV file to upload these files to your website. This way, you don't have to upload every single file for a specific product.
How To Create An Online Store With Ecwid?
Creating an eCommerce store on Ecwid doesn't take much effort. It is a matter of a few minutes, and you will make your store up and running. And best of all, creating an online store on Ecwid is absolutely FREE. Let's see how you can get started with Ecwid.
Step 1. Visit Ecwid's official website and click on the Get Started for Free option from the homepage.
Step 2. Create a free account using your name and email address. Then click Set up your Store. You can also sign up for a new account using your Google or Apple ID.
Step 3. Complete your registration by following all the necessary steps the system shows on your screen. You will need to fill in options like country, city, and zip/postal code. You will also be asked to tell about yourself so the system can assist you with necessary customizations.
Step 4. Next, you will be asked to set a domain name. Here you will have two options to set the website URL. If you have an existing WordPress website and want to create an online store within your website, you can enter your website's URL. Or, if you are a new seller with no website in possession, you can create a custom URL for your Ecwid shop.
Step 5. After that, the pricing plans will appear on your screen. You can select the Free plan, for instance. However, you can upgrade your account from your Ecwid dashboard—whenever you want.
Step 6. As soon as you select the free plan, you will be redirected to your account's dashboard as you have successfully registered. On the homepage, you will see an onboarding assistant. You can follow every step to set up your store to sell products online.
Once your store is all set up, you can always change settings or add more products. And if you want to give your website a professional look, go to Website Settings, where you can select a theme and add cover images, your story, the company's mission, the about section, your location, and many more. The system will suggest appropriate customization options according to your chosen options during your registration.
Pricing Plans of Ecwid
Currently, Ecwid offers four plans to their users, of which one is free, and three are paid subscriptions. Paid plans are available monthly and annually, so you can choose your preferred option. Let's know more about Ecwid pricing.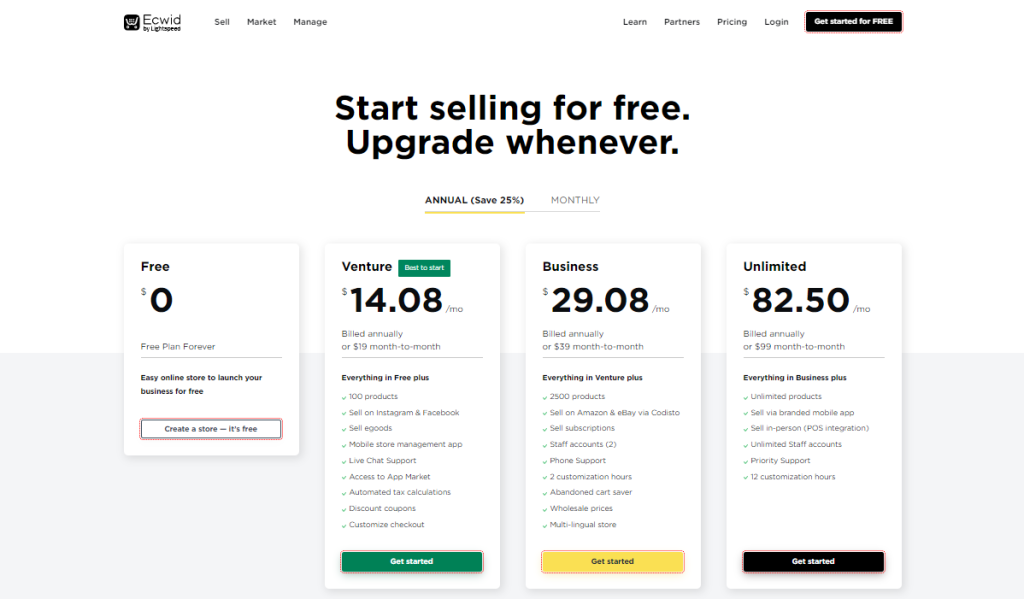 1. Free – $0
Ecwid offers a free plan that is a lifetime offer. If you are a beginner or want to test its feature, you can choose this plan. With this plan, you can create a fully functional online store, and you will also get access to essential eCommerce tools to run your store. However, you can only sell a limited number of products per month, and the offered features won't help you grow your business.
With this plan, you will get the following:
Ten products per month
An online store
Social media advertising option (except TikTok)
Tax invoices
Mobile responsive shopping cart
No Transaction Fees
Basic eCommerce features
Email support
2. Venture – $19/month or $14.08/month (Billed Annually)
When you think your business is starting to take off a little bit and you will need advanced tools to manage your online store, you can upgrade your plan to Venture. With this plan, you can sell 100 products per month, and you can also set up your store on social media marketplaces.
All the Free plan features
100 products per month
Social media advertising (including TikTok)
Sell on Facebook and Instagram
Discount Coupons
Email and live chat support
Automated tax calculations
3. Business – $39/month or $29.08/month (Billed Annually)
Upgrade to the Business plan when your business starts growing, and you have made a decent customer base. With this plan, you get two staff account access and many other advanced tools to sell branded products. You can also expand your business to other marketplaces such as Amazon and eBay. You can also order to develop a fully functional mobile app for your store (charges included).
All the Venture plan features
2,500 products per month
Sell subscriptions
Sell on Amazon & eBay
Email, live chat, and phone support
Abandoned cart recovery
Sell wholesale
Multilingual store
A fully responsive mobile app for your store (At $590)
4. Unlimited – $99/month or $82.50/month (Billed Annually)
The Unlimited plan is the ultimate plan among all plans. The plan comes with no restrictions, and you can use all the features without limitations. Ultimately, this plan suits best for larger businesses and companies because you get unlimited account access and you can sell unlimited products per month. With its annual subscription, you get a mobile application for your store for absolutely free.
All the Business plan features
Unlimited products per month
POS Integration
Unlimited staff accounts
A fully responsive mobile app for your store (free with the annual plan)
12 customization hours
Priority support
Whatever plan you subscribe to, Ecwid doesn't charge any transaction fee at all. You can also get a flat 25% discount if you go for annual plans.
Final Verdict: Ecwid Review (2023)
Overall, Ecwid is a robust, cost-effective, and feature-rich eCommerce tool. It also offers a free plan that offers enough eCommerce features to run an online store to its full potential. Beginners can take advantage of this offer and create their own websites to sell independently. Whether you want to sell on Google or a social marketplace like Facebook or Instagram, you can use Ecwid to start with affordable plans.
Still, nothing is perfect in the eCommerce industry. So does Ecwid. Ecwid is best suited for existing websites. You can add the Ecwid plugin to open an online store on a running WordPress or Drupal website. But if you want to create a standalone eCommerce store, consider other eCommerce tools like Shopify or BigCommerce.
So if you have a running website in your possession, try Ecwid for free to create your own online store and get access to its amazing features.
FAQs
What is Ecwid?
Ecwid is a powerful and easy-to-use cloud-based e-commerce platform that enables businesses of any size to start selling online in minutes. You can easily create an online store or add a shopping cart to your existing website with just a few clicks.
Is there a cost to using Ecwid?
Yes, there are two different plans available. The Basic plan is free, and the Pro plan starts at $15 per month.
Does Ecwid integrate with other apps?
Yes! Ecwid integrates with several popular online services such as PayPal, Google Ads, ShipStation, QuickBooks, MailChimp, and more.
What payment options are available with Ecwid?
Ecwid supports all major credit cards as well as popular payment gateways like PayPal, Stripe, ApplePay, and Amazon Payments.
Does Ecwid provide customer support?
Yes! The Ecwid team is available 24/7 to answer questions via phone, email, or live chat. They also have a vast knowledge base of helpful articles and videos.
Latest posts by Shally Rose
(see all)