Creating a Shopify store to start an online business is the first step toward success. There are hundreds of eCommerce platforms on the internet, but Shopify offers user-friendly solutions to all business sizes and types. However, your success depends on how you showcase your products to your audience. That's why it is important to add products to your Shopify store in a proper way.
Adding products to a Shopify store is not rocket science. Anyone can simply add a title, short description, and pricing to a product listing and publish a product for sale. But there's no guarantee that your product will make a sale. And what is the guarantee that it will show on SERPs (Search Engine Results Pages) or not?
To ensure that doesn't happen with your products or store, you need to create a well-optimized product listing for your Shopify store. An SEO-optimized product listing will not just help you showcase products in the SERPs but also increases traffic and conversion.
In this post, I will share a step-by-step guide that will help you add products to your Shopify store with a professional touch. I have also included a few proven tips at the end that will help you optimize your product listings like a Pro.
So without further ado, let's get started.
How To Add Products On Shopify? (Step By Step)
It is not difficult to add products to your online store. All you need is specific details and a little help, and you will create an eye-catching product listing in no time. Here's a step-by-step guide for new sellers who wants to add products to their Shopify stores.
Step 1. Log in to Your Shopify Admin Dashboard
To add products to your Shopify store, first, log in to your account and click on the Products option from the dashboard.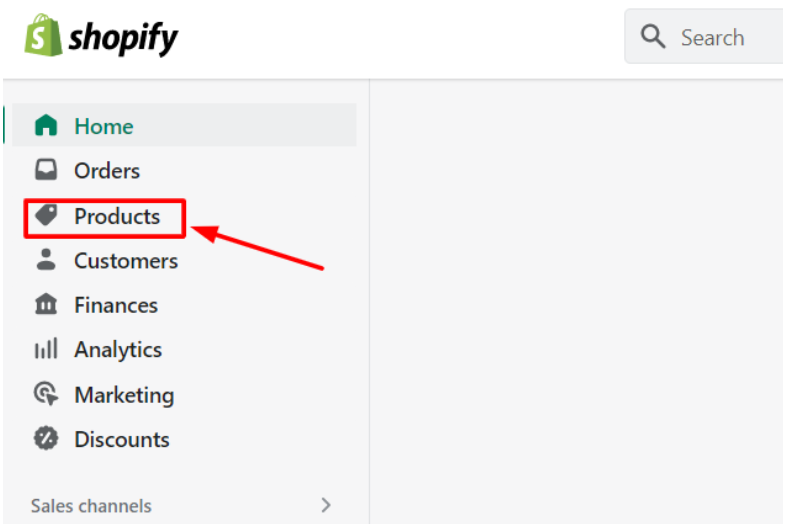 From the Products menu, click on Add Your Products to begin the process of creating a product listing.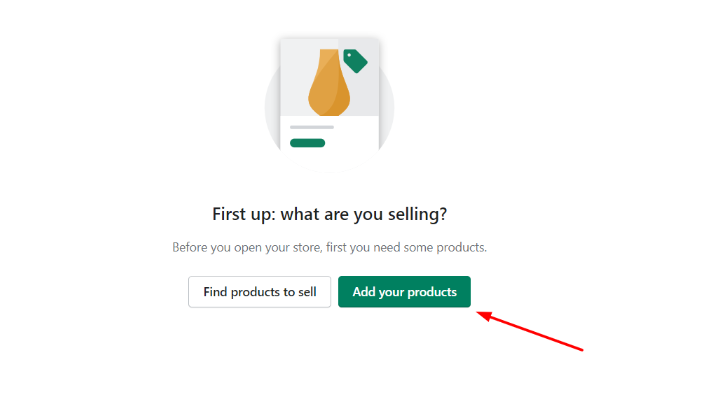 Soon after clicking, a detailed product page with a lot of options and empty boxes will appear on your screen.
Step 2. Add Title And Description
Start creating your product listing by adding the product title and its description.
Your product title should be crisp, clear, and easy to remember. In this box, just write what you are selling. Consider keeping the title length within 20-70 characters if you want to make your product SEO-friendly.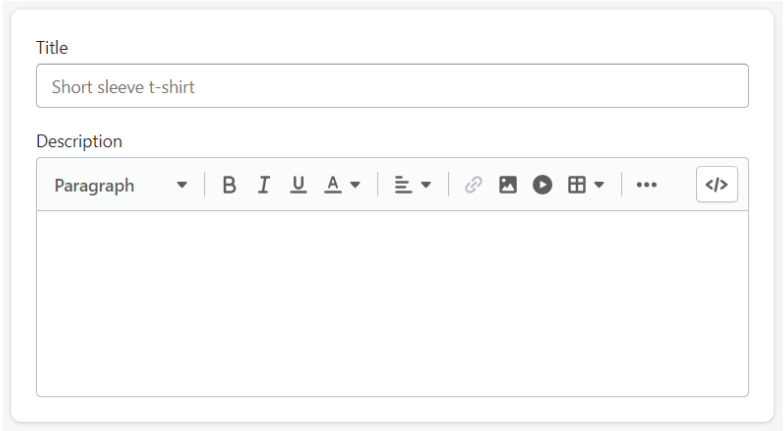 For description, you can add a brief overview of your product within 50-200 words. You can add important details such as product features, benefits, and compatibility. For a better description, address your target audience directly through your words.
Step 3. Add Product Images & Videos
Next, you will add your product's images. Product image is the major deciding factor for a customer, so do not compromise on its quality. High-quality product images will help customers understand how it will look after they purchase it from you.
Shopify allows you to add up to 250 images in JPG, PNG, and GIF formats. So add as many images as you can to showcase to your audience. You can directly add images by browsing from your system files. Or you can add a custom URL to extract an image file or video.

On Shopify, you can upload images of 4472×4472 pixels with file sizes of upto 20 MB. For best results, keep your main product image on a white background so customers can easily view your product. Then, you can add multiple images from different angles. You can also add videos and 3D models to show how customers can use the product properly.
Step 4. List Your Product's Price
The next section is pricing. You need to be very careful with your pricing. It shouldn't be too high or too low. Keep it competitive by offering better value for money compared to your competitors. You can also offer discounts to attract customers.
There are two main sub-sections in this option. First, put the discounted price that you want to sell your products at. Then in the "Compare at Price" section, you can add the original price in the market. Suppose the market price of your product is $20, but you are selling at $15 with a $5 discount. Take a reference from the image below.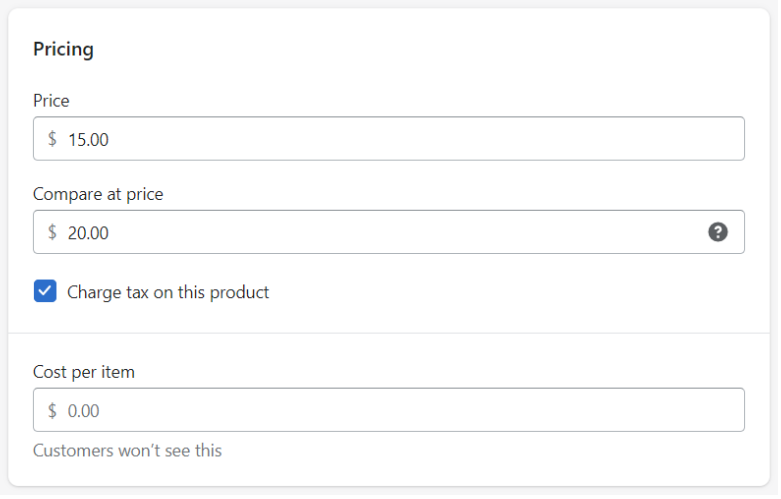 It will convince the shoppers that your product's price is comparatively cheaper than other stores. You can also add the cost per item for your calculation concern–it will not be shown to your customers.
Step 5. Add Inventory Details
In the next section, you will add information about your inventory. With these details, you can track your inventory once in a while. This way, you will understand when stock replenishment is needed.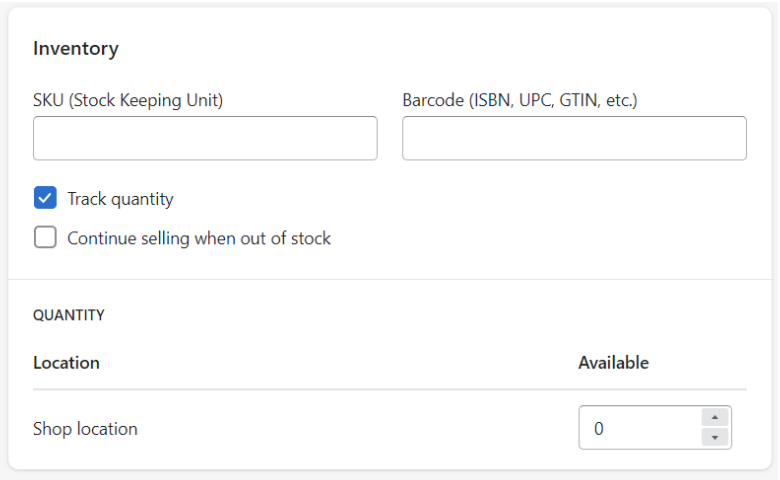 There are multiple options that you need to fill in.
SKU (Stock Keeping Unit): It is a unique product identification number that retailers use to track inventory levels and differentiate products.
Barcodes: In this section, you can add UPC, GTIN, or ISBN. These are global identifiers that help sellers track items internationally. You can generate global identifiers using reliable platforms like GS1.
Product Quantity: You can fill in how many products you have in your inventory.
Step 6. Add Shipping Details
If the product that you are adding is physical, you can add shipping details.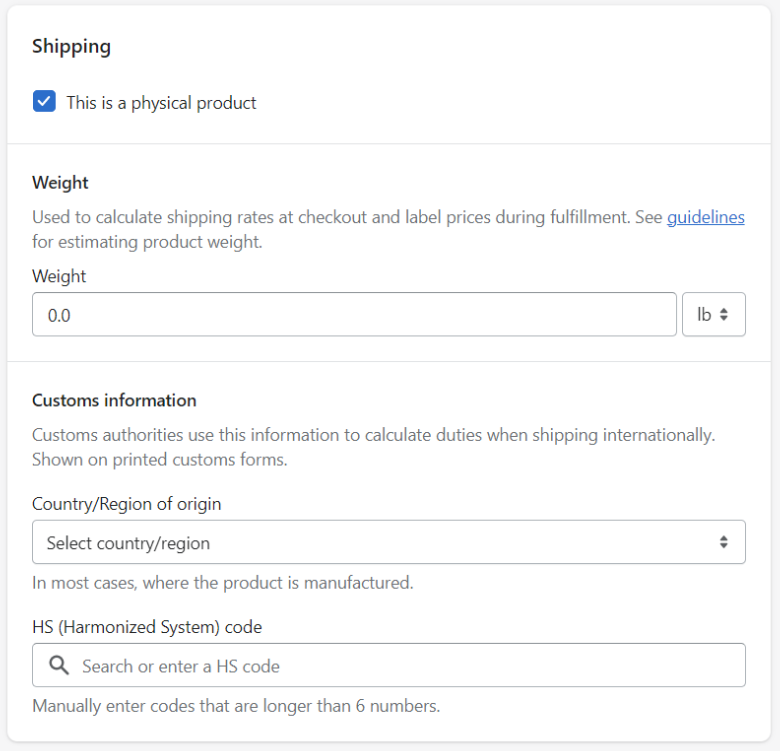 Here's what you will need to fill in.
Weight: You can add the product's weight in kilograms, pounds, or ounces accordingly.
Country of Origin: Add where your product is being manufactured in this section.
HS Code: HS (Harmonized System) code is a specific product code that you can apply if you want to sell products overseas.
Fulfillment Service: If you are using a third-party fulfillment service, you can add it in this section.
Step 7. Add Product Variants
You can create a collection if you want to sell multiple varieties of the same product. Shopify allows you to add two types of collections: manual and automated. Shopify store owners usually prefer automated type as it automatically adds inventory to an existing collection.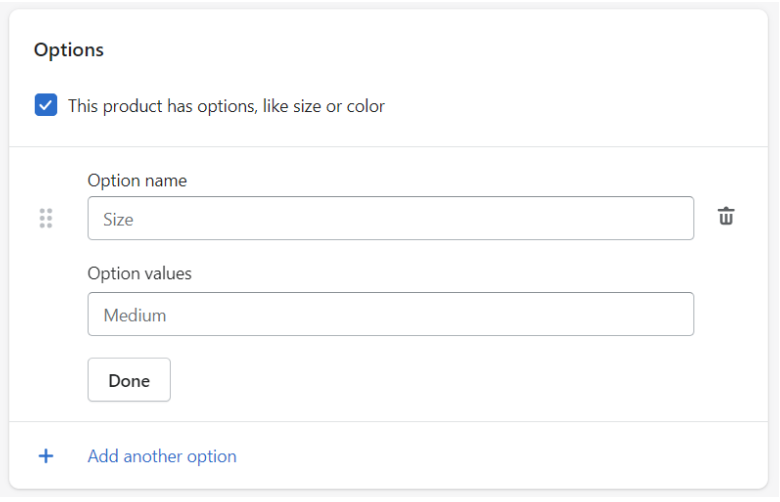 You can add size, color, and material to create a collection. You can add detailed information in each section.
Step 8. Edit Search Engine Listing
This is the most important section for an online merchant. The SEO section helps you increase your product's visibility in the search results without setting up a paid PPC campaign.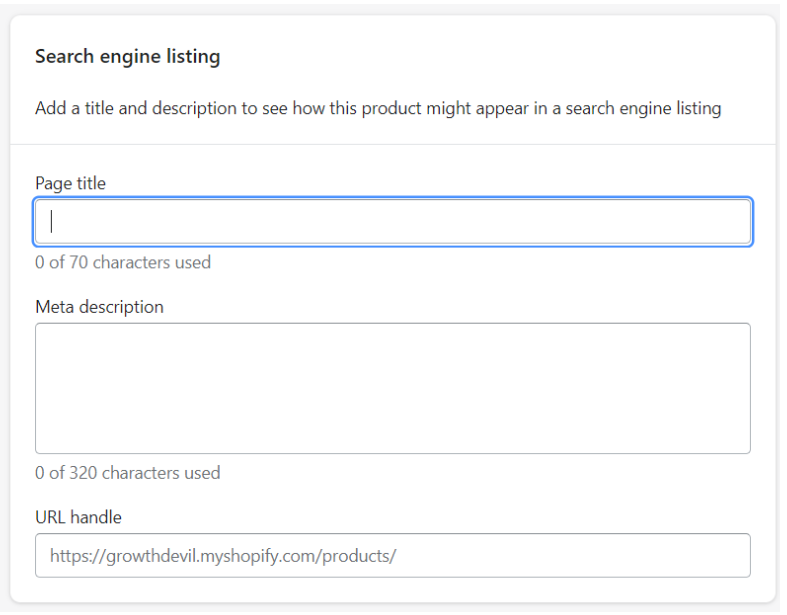 For The SEO section, You can Fill in These Sections:
Page Title: It is also known as the title tag. It is a short description of a specific website that appears on the search engine results page. Use your product-defining keywords to add to the page title, as it will appear in the search results accordingly.
Meta Description: The meta description usually defines the customer's intent and interest in short. You can add relevant information about your product in this section. Do not forget to stuff keywords while writing a meta description.
URL Handle: The system automatically fills this section. The URL redirects users to a specific page of your product. You can change it if you want to showcase another page.
Step 9. Add Your Product's Availability
You can select multiple channels from the Product Status menu if you want to feature your product on other sales channels or platforms. With this section, you can sell on social media stores such as Facebook, Instagram, TikTok, etc.
After that, you can add product categories, product types, and collections. You can also add vendor details. In the vendor section, you can add who manufactures your product. If you source product from a third-party manufacturer, add their name or details. However, you can leave it blank.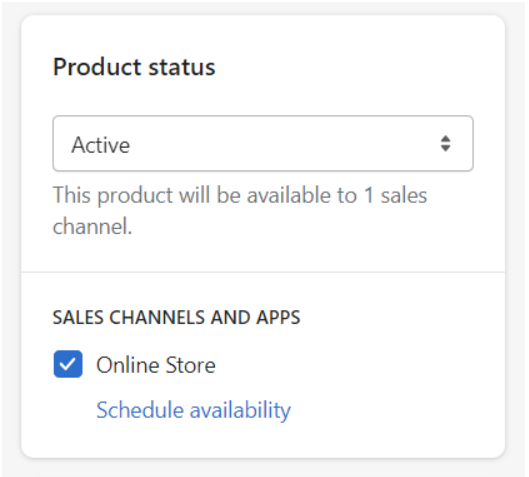 Make sure to add tags at the end of this section. It will help your customers find your store and specific product. In this section, you can add multiple keywords that your customers are supposed to use to find your product.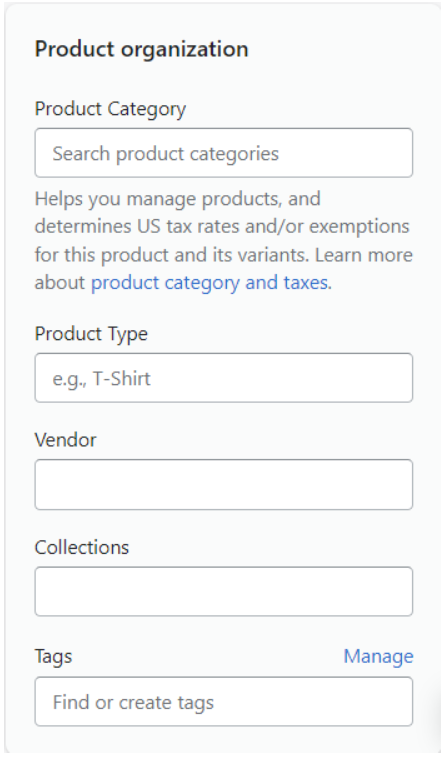 Step 10. Save Your Product Listing
This is the final step of adding a product to a Shopify store. Once you have added all the details about the product, click on the Save button, and your product listing will be ready to publish on your store.
If you are selling multiple types of products in your store, you can also follow the same steps to create other listings.
Tips To Optimize Your Product Listing on Shopify
Here are a few proven tips you can follow to optimize your product listing on Shopify.
Add Clear CTA (Call to Action): Your only goal is to get sales. And you can get it only when a customer hits your Buy button. So your CTA button should be the center of attraction. So try placing your Buy and Add to Cart buttons at the center stage.
Consider Adding HQ Products: Your customers need to know how your products will look when they buy. That's why they rely on the images added to your product's listing. So make sure to add high-quality pictures of your products. Cheap picture quality can badly affect your sales even if you are selling a top-notch product.
Add Images for Product Variants: If you are listing multiple variants of your product, then make sure to add images of the variants too. Nobody believes in what is written in store. If it is available in your shop, show them proof.
Add a Detailed Price: Don't just add dull and dour pricing in a single line. When shoppers see the discounted prices on a product page, they instantly go for a buy as they are getting the same product at a lower price. So do competitor research to evaluate the best product's price.
Add Right Amount of Detail: A product listing must contain enough information about a specific product. You can also add how your product is different from other products in the market. It will influence your customers differently and convince them to buy your product.
Showcase Your Brand: If you manufacture your own product or use a print-on-demand service to sell products on Shopify, you will not find a better chance to increase your awareness. You can add your brand's touch to your products and eCommerce store. A well-branded product page makes your customers come to your shop to purchase again.
Talk to the Customers Through Your Words: Don't make your descriptions and bullet points bland with boring & uninspired paragraphs. Instead, write something actionable, like you are talking to your customers. So take your time and invest your energy in writing about the products that encourage your customers to purchase.
Add Social Proof: Don't forget to add a review section with every product page. When you get positive reviews from your customers, you will also get a positive response from your visitors. This way, you will get more conversions.
Update Content Regularly: Make sure to check your product's inventory regularly. If your business is thriving and you are getting enough sales, you need to ensure that your inventory never goes out of stock. If you are not able to fill in your inventory in time, you can show your customers how many units are left in stock.
Related Read:
Conclusion: How To Add Products On Shopify (2023)
Now you know that adding products to a Shopify store is not hard as it seems. However, if you are selling your own brand, you need to optimize your product listing accordingly. You might have to give extra effort, but it will impact your customers differently. In the end, you will get fruitful results.
If you want to sell multiple products, consider downloading CSV files from your manufacturing source. It will save you hours of time and effort you make creating separate product listings. And if you are selling dropshipping or print-on-demand products, you can integrate those apps or platforms with your Shopify account and directly import products' information from respective websites.
I hope this article helped with your purpose well. If you have any queries regarding this post or selling on Shopify, you can leave a comment in the comments section.
FAQs
How can I add products to my Shopify store?
There are various methods you can use to add products to your Shopify store. Three main methods are: importing products to your store manually, importing your products using CSV files, and using a migration service to add products to your store.
How to add products to collections on Shopify?
To add products to collections, go to your Shopify dashboard and click on the collections option under the products option. Choose the collection you want to add products to and browse the products you want to add, and click on the add button.
Can I add digital products to Shopify?
You can add digital products to Shopify using the free Shopify app called Digital Downloads.
How can I delete a product on Shopify?
If you want to remove a product or an entire collection that is no longer available in your inventory, then you can do it from the products section. However, once you remove the products from your store, you can't restore them again. So it would be best just to hide the product when the stock runs out, and when it is available again, just unhide it.
How many products can I add to Shopify?
In a Shopify collection, you are limited to just 50 products. But there is no restriction on how many collections you can add to your Shopify store.
Latest posts by Shally Rose
(see all)