Setting up a store name is one of the first things you do when you create a storefront with Shopify. Sometimes, sellers set it in a hurry or meet with certain situations that force them to change their shop name.
Regardless of the reason, having a proper store name is of the essence. If your current store name doesn't seem convincing to your customers, or you want to make it SEO-friendly, you should definitely change your store's name. And the following article will help you change your Shopify store name with a step-by-step guide. 
Let's get started.
How To Change Shopify Store Name?
When you create a store with a Shopify plan, you need to set a store name. This way, Shopify creates a URL according to your shop's name. Using the URL, your shoppers can reach your website. However, you can change your store name and domain name whenever you want. Or you can connect to an existing domain or buy a custom domain from Shopify.
Changing a Shopify store name is not as hard as sellers think. All you need to do is follow a couple of steps, and your shop name will be changed in seconds. There are two simple methods you can try to change your store name.
Method 1. Via Shopify Admin Dashboard
This is the most common method sellers use to change their store name. If you operate and manage your store with a PC or laptop, you can try this method.
Step 1. Log in to your Shopify account.
Step 2. From the admin dashboard, click on Settings.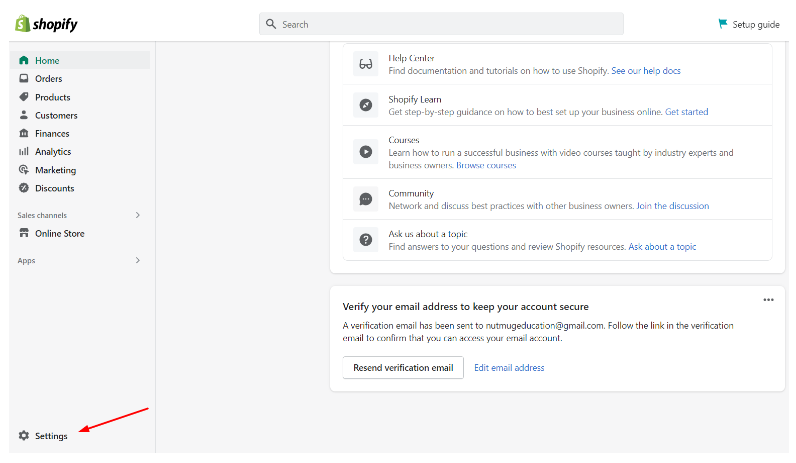 Step 3. From settings, select the General option.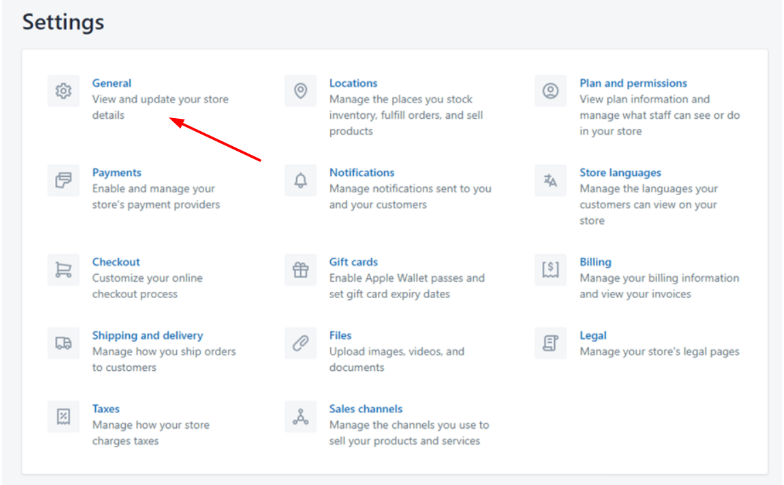 Step 4. In the General option, you will find your existing store name under Store Details.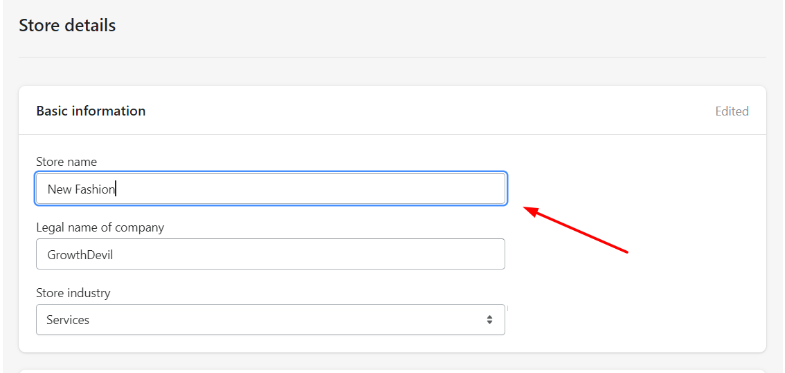 Remove your old store name and replace it with a new one.
Step 5. After making changes, click Save.

After saving changes, your new store name will appear on your store's website and homepage.
Method 2. Using Shopify Mobile App
Shopify's mobile app is one of the most convenient ways to manage an online store remotely. You can install it from the Play Store or App Store for free. Let's see how you can change your store name from the Shopify app.
Step 1. Open the Shopify app and log in to your account.
Step 2. Click on the Store icon from the bottom right corner.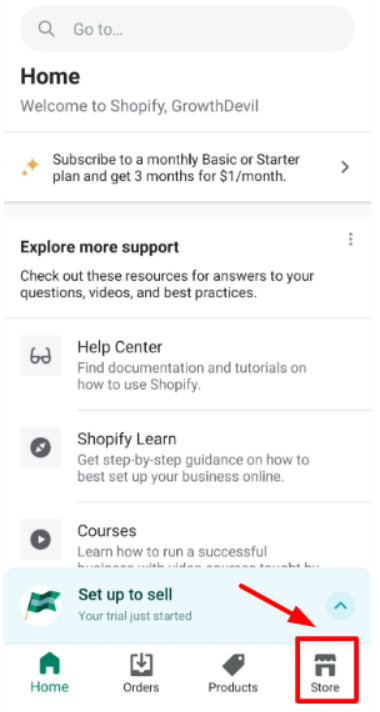 Step 3. From the drop-down menu, click Settings.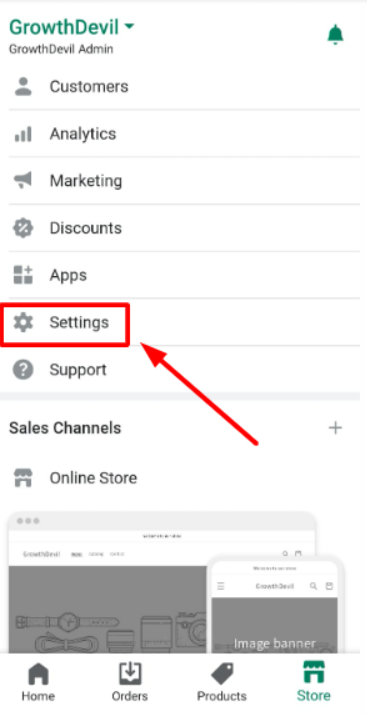 Step 4. From the Store Settings, click on the General option. In this section, you will see multiple options. At the top of the page, you will find the Store Details option, where you can see your current store name and account email.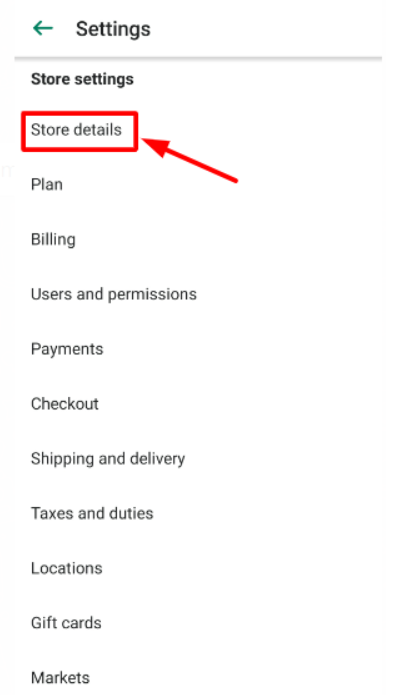 Step 5. In the store name section, delete your existing store name and type in a new name.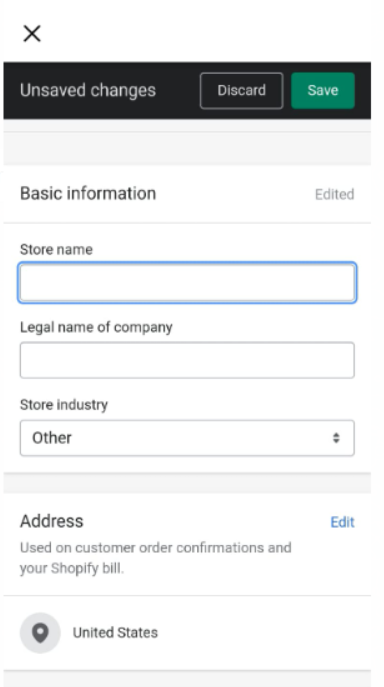 Step 6. Once you have made the changes, click the Save button from the top.
The store name will be changed as soon as you save the changes.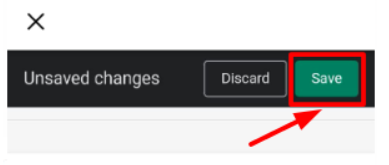 When To Change Your Shopify Store Name?
Apart from creating an attractive and professional-looking Shopify storefront, having a solid store name is also crucial. Your store's name represents your brand, so you must find a unique name that makes you stand out.
It would be best if you find a name that defines the products you sell in your Shopify. It needs to be short and easy to remember so customers can easily find your store. However, sometimes there are situations occur that make sellers change their shop name. Here are some situations that signal you to change your Shopify store name.
1. If Your Store Name is Unclear
Few sellers set a difficult or puzzling store name that shoppers simply can't pronounce or remember. Sometimes, they find it difficult to search your store due to odd spelling. It can affect your brand recognition badly, especially in the international market.
If your business is facing such situations, you need to change your store name immediately. If you have a logo in your store, make sure it is visible and easy to read. This way, your customers will effortlessly find your Shopify store.
2. If Your Store Name Matches With Competitors
You need to immediately change your Shopify store name if it somehow matches your competitors'. If you use the same name or a similar concept as your competitors, it will create confusion among your competitors. Furthermore, you will have problems registering a domain name for the same business name. It will also influence your SEO score in the SERPs. So you need to make sure you have a unique store name that sets you apart from others.
3. If You are Following A Seasonal Trend
Sometimes, sellers change their store name according to the current market trends. It may be a smart strategy to increase your sales in a short period, but it won't last long forever. Once the trend you are following starts to fade away, customers will no longer take an interest in searching the trend-related terms. Before this situation affects your business, you need to switch your shop's name back to the original. Otherwise, the monthly traffic you have gained during this period will drop drastically.
4. If Your Store Name Doesn't Matches With Your Niche
Shopify doesn't force you to set a store name according to your business perspective or the products you sell. It can be related to your name or emotionally connected to someone. But if you are using some random name that directly opposes whatever you are selling, it can make your customers feel mentally uncomfortable. Suppose your store name is Coffee Times, but your store contains completely different products. It can confuse your customers, and you will also not get the traffic you expected. In such cases, consider changing your store's name with something else appropriate.
Related Read:
Conclusion: How To Change Shopify Store Name (2023)
Changing your Shopify store name can be a major factor in your online business's growth and success. With a changed store name, you can start creating your brand awareness. However, if you have been running a Shopify store for a long time, changing the store can be a bold decision. Your established audience might get confused, or they mistake your business with other similar names. I will recommend those well-established businesses not to change their store name unless it is absolutely necessary.
I hope this article helped with your purpose well. If you have any other queries regarding this post, let me know in the comments section.