Whether you're launching your first product or expanding your brand globally, making an Amazon storefront is a fantastic way to connect with a huge base of customers worldwide.
With over 2.3 billion visits per month, Amazon is the largest marketplace on the planet. Over the years, Amazon has been catering to a wider audience, from individuals to businesses. It makes the best platform for anyone who is looking to start their business online.
Setting up an Amazon storefront is an easy task, but you might need a hand setting up the account. In this article, I will provide you with a comprehensive guide on how to make an Amazon storefront that will help you leverage the power of one of the world's largest e-commerce platforms.
So, let's dive in and explore the step-by-step process of setting up your own Amazon storefront.
Why Create A Storefront On Amazon?
There are several compelling reasons why creating a storefront on Amazon is beneficial:
Vast Customer Base: Amazon has a massive customer base, which means instant access to millions of potential customers for your products.
Brand Visibility: By having an online store on Amazon, your brand and products become more visible to a wider audience.
Trusted Platform: Amazon is a trusted and reputable e-commerce platform that implants confidence in customers and boosts sales.
Fulfillment Services: Amazon offers efficient shipping and fulfillment services, allowing you to focus more on your core business while they handle logistics.
Global Reach: With Amazon's international marketplaces, you can expand your business globally and reach customers around the world.
Marketing Tools: Amazon provides various marketing tools and advertising options to promote your products and increase visibility.
Who Can Sell On Amazon?
The good news is that anyone can start selling on Amazon. Whether you're an individual with a few products or a large corporation, Amazon provides a level playing field for sellers. 
However, to ensure a long-lasting business and access additional benefits, it is recommended to register your brand with Amazon. The brand registry allows you to protect your intellectual property, access enhanced marketing features, and gain more control over your listings.
Brand registry also provides various benefits to Amazon sellers. Like, they can leverage premium tools for free, such as Amazon A+ Content (previously known as Enhanced Brand Content), listing management, brand analytics, and intellectual property protection. 
Also Read: I have already completed an Amazon Statistics. These stats will help you to figure out the latest trends
Requirements To Open An Online Storefront On Amazon
Before you start your hustle creating your Amazon storefront, it's important to understand the requirements set forth by Amazon and the US policies (policies may differ in other regions). These requirements ensure a secure and reliable shopping experience for customers. Here are some key requirements you need to meet:
Business Entity: Firstly, you need to have a legal business entity such as a sole proprietorship, partnership, LLC, or corporation.
Product Availability: Next, you should have products available for sale that comply with Amazon's policies, including condition, authenticity, and eligibility criteria.
Seller Account: Then, create a seller account of yours on Amazon. This involves providing business information and bank account details and verifying your identity.
Tax Information: You must provide accurate tax information and comply with all tax laws and regulations.
Product Data: You should have accurate and complete product data, including titles, descriptions, images, and categorization.
Shipping and Fulfillment: You need to decide on your shipping methods and choose whether to handle fulfillment yourself or use Amazon's FBA (Fulfillment by Amazon) service.
How To Make An Amazon Storefront?
Now that we have covered the essentials let's dive into the step-by-step process of creating your own Amazon storefront:
Step 1: Choose a Selling Plan
The first step is to select a selling plan to suit your business needs. Amazon offers two main plans: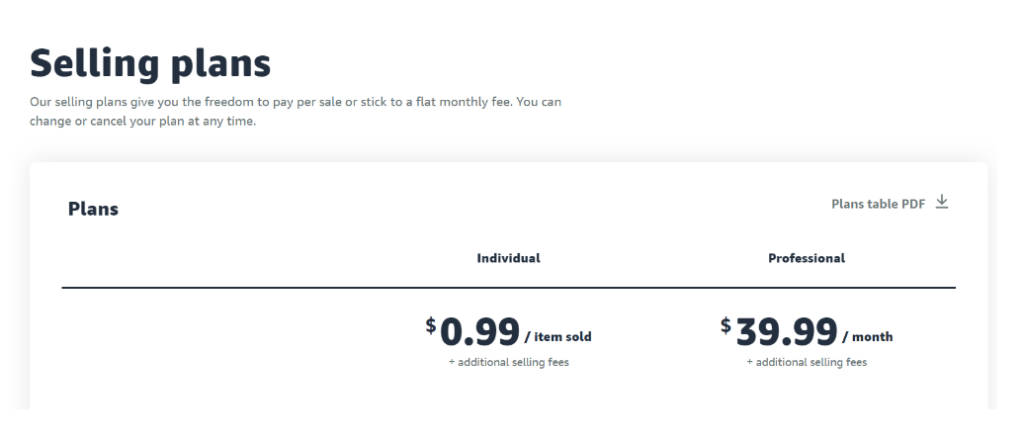 Individual Plan: This plan is suitable for sellers with fewer than 40 sales per month. If you are a beginner, you can start with this plan as it doesn't require any upfront fee. However, when you sell a product on Amazon successfully, it will cost you $0.99/sale (plus the selling fee according to the product category).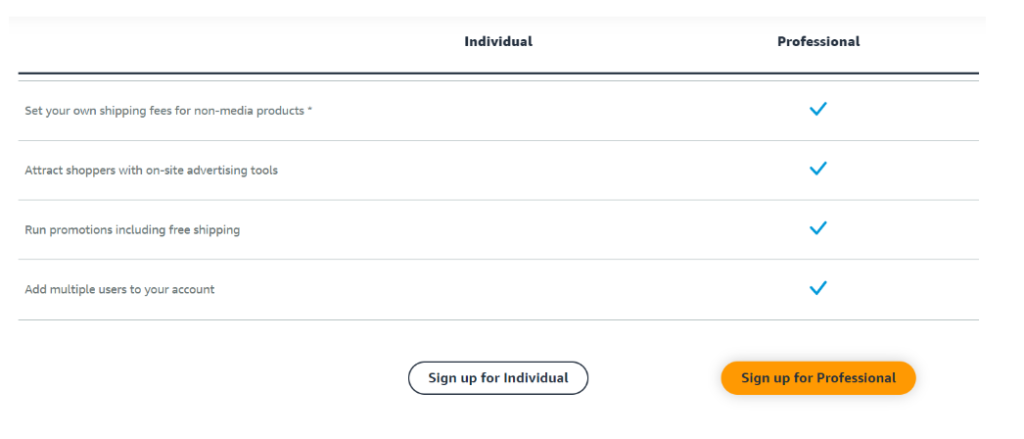 Professional Plan: This plan is ideal for higher-volume sellers. It includes additional features such as bulk listing tools, advertising options, and access to detailed sales reports. There are no limits on sales, but it will cost you $39.99/month (plus the selling fee).
Once you have made up your mind, sign up for a certain plan to proceed further.
Step 2: Register Your Seller Account
To create an Amazon storefront, you need to register as a seller on Amazon. You will need to fill in your name, email address, and password for registration.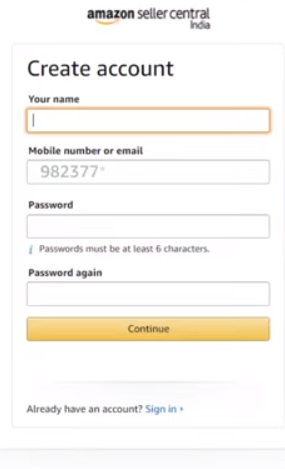 Following that, the system will ask for information about your business, including business name, address, contact details, and bank account information for receiving payments. Fill in all the details to complete registering on Amazon.
Step 3: Set Up Your Storefront
Once you have registered as a seller, it's time to set up your Amazon storefront. Customize your storefront's name, logo, and overall branding to align with your business identity. You can also add a compelling storefront description to showcase your products and engage customers.
Step 4: Source and List Your Products
To start selling on Amazon, you need to source products that align with your business niche. Research the market and identify products with high demand and potential profitability. Ensure that your products meet Amazon's policies and guidelines.
Next, create detailed product listings for each item you want to sell. Include clear and enticing product titles, informative descriptions, high-quality images, and accurate pricing information. Optimize your listings by incorporating relevant keywords to improve visibility in Amazon's search results.
Once your online Amazon store is set up and you have added your product listings, you can submit it for your approval. Then, the Amazon team will check all the details of your store and verify your identity before approval. This process can take up to a few days or weeks, so be patient and check your status approval. 
Step 5: Optimize Your Storefront for Discoverability
To maximize the visibility of your Amazon storefront and attract more customers, it's crucial to optimize it for discoverability. Here are some important steps to follow:
Utilize relevant keywords in your storefront's title, description, and product listings.
Categorize your products accurately to ensure they appear in the right search results.
Encourage customers to leave reviews and ratings, as positive feedback can significantly impact your storefront's reputation and sales.
Step 6: Promote Your Storefront
To drive more traffic and sales to your Amazon storefront, consider implementing various marketing strategies:
Amazon Advertising: Utilize sponsored product ads and sponsored brand ads to increase visibility and reach a wider audience.
Social Media Promotion: Use social media platforms to promote your products and drive traffic to your Amazon storefront. Engage with your target audience through captivating content and influencer collaborations.
External Marketing: Explore external marketing channels such as email marketing, content marketing, and influencer partnerships to generate awareness and direct customers to your Amazon storefront.
Best Tips To Manage Your Amazon Storefront
Once your Amazon storefront is up and running, it's essential to manage it effectively to maximize sales and grow your business. Here are some best tips to help you manage your Amazon storefront:
Monitor Your Performance: Regularly track key performance metrics such as sales, customer feedback, and seller ratings. Identify areas for improvement and address any issues promptly to ensure a positive customer experience.
Optimize Pricing: Continuously evaluate your pricing strategy and adjust prices accordingly to stay competitive. Monitor market trends and analyze competitor pricing to make informed pricing decisions.
Enhance Product Listings: Regularly review and update your product listings to ensure they are accurate, compelling, and optimized. Incorporate relevant keywords, update product images, and highlight unique selling points to attract customers.
Inventory Management: Efficiently manage your inventory to avoid stockouts and minimize storage costs. Use inventory management tools to track inventory levels, set reorder points, and streamline fulfillment processes.
Customer Service Excellence: Provide exceptional customer service by promptly addressing customer inquiries, resolving issues, and maintaining open communication. Positive customer experiences lead to higher customer satisfaction and positive reviews.
Related Read:
Final Verdict: How To Make An Amazon Storefront (2023)
Creating an Amazon storefront opens up a world of opportunities for your business. With its vast customer base, reliable infrastructure, and trusted platform, Amazon provides a solid foundation for your online business.
By following the step-by-step guide provided in this article, implement a strategy to manage your storefront through the useful tips available. You can establish a successful presence on Amazon and take your business to new heights.
But you need to have a clear understanding of the products that you will choose. You don't need to worry about the fulfillment services taken care of by Amazon. You can also choose to fulfill it yourself.
Make sure the product customers are looking for has the right quality and falls within the expected price range. A positive review may give you more customers and visibility, but a negative review could be a spoiler for you.
So get started with an Individual plan if you are new to this and gradually upgrade to a better plan later on.
FAQs
Can I sell on Amazon as an individual without a registered business?
Yes, you can sell on Amazon as an individual. However, registering your business and brand with Amazon provides additional benefits and protection.
What is the difference between the Individual Plan and the Professional Plan?
The Individual Plan is suitable for low-volume sellers, while the Professional Plan caters to higher-volume sellers and offers additional features such as bulk listing tools and advanced analytics.
Do I have to handle shipping and fulfillment myself?
You can choose to handle shipping and fulfillment yourself or opt for Amazon's FBA (Fulfillment by Amazon) service, where Amazon handles storage, packaging, and shipping on your behalf.
How important are customer reviews on Amazon?
Customer reviews play a significant role in building trust and influencing purchase decisions on Amazon. Positive reviews can boost your storefront's reputation and increase sales.
Is it possible to expand my product range on Amazon?
Yes, you can expand your product range on Amazon. Continuously evaluate market trends, conduct product research, and analyze customer demand to identify growth opportunities.
Latest posts by Shally Rose
(see all)