Are you looking for ways to sell on Amazon for free? Don't look further because you have just landed on the right page.
Amazon is one of the best platforms to start a new business to earn passive income. Here, you can find many potential opportunities that will help you boost your existing business. Anyone can create a seller account and list their products to sell on Amazon. However, not everyone knows how to start an Amazon business without risking their capital.
Practically, everyone can start selling on Amazon for free. But you need a helping hand to do that. In this post, I will share an extensive guide that will help you start your Amazon business from scratch without spending a penny. 
Let's get started.
Can you Sell for Free on Amazon?
The simple answer to this question is Yes. You can sell on Amazon for free, but there are some limitations. Selling for free depends on which selling plan you choose to sell on Amazon. And the platform offers two selling plans: Individual and Professional.
To sell for free on Amazon, you need to choose the individual plan. But this plan comes with a lot of restrictions as it is only suitable for small businesses and individuals. You can only sell less than 40 items per month, and there will be no access to the advanced features. Still, it is not completely free. Amazon will deduct the selling fee ($0.99 per item) and referral fee (8% to 15%, depending on the product category). But don't worry, these fees will not be charged upfront.
As per the Professional plan, you can sell unlimited products without any restrictions. You will also get access to advanced analytics and in-built marketing features that you won't get with the Individual plan. There is no per-item cost, but you have to pay the referral fees. However, all of these features are available at the cost of $39.99 per month, which you have to pay upfront. It is a pretty good offer, but it won't be a good fit for sellers who want to sell for free.
How To Sell On Amazon For Free In 2023
It will only take four simple steps to sell on Amazon for free. 
1. Find a Free Product(s) to Sell
If you are a new seller and want to sell on Amazon for the first time, you can start with a bunch of products lying around you—you don't need to outsource products from suppliers. These products can be books, unused accessories, mobiles, and laptops. You can also list used goods and items on Amazon for sale. As long as it is in good working condition, you are allowed to list it on Amazon. 
Note: If you're going to sell used items on Amazon, you need to specify whether it is new, used (but like new), refurbished, or acceptable. Do not sell counterfeit or replicas of the product. Your product condition must match the product image you have uploaded while listing it on Amazon.
2. Create a Seller Account
You need to create a seller account in order to sell your products on Amazon. If you want to sell products on Amazon for free, you need to select Individual Plan as your selling plan in your Seller Central. The plan will give you access to the necessary tools that you can use to run your Amazon store.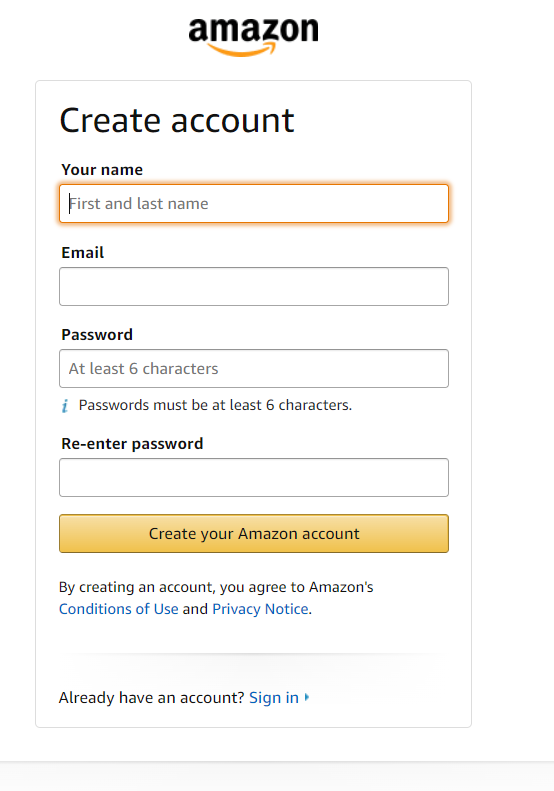 There is a reason you should choose an Individual plan. Because if you choose another plan, you have to pay upfront fees. But with an Individual plan, you don't have to pay upfront charges. It does charge a per-item cost of $0.99, but it will be deducted after your product is sold. However, you will be limited to selling only 40 products a month with an Individual plan.
3. List Your Products
The product database of Amazon has 300 million products. Thousands of similar products might be selling on the same listing. So there are high chances you can find an existing Amazon listing for your product.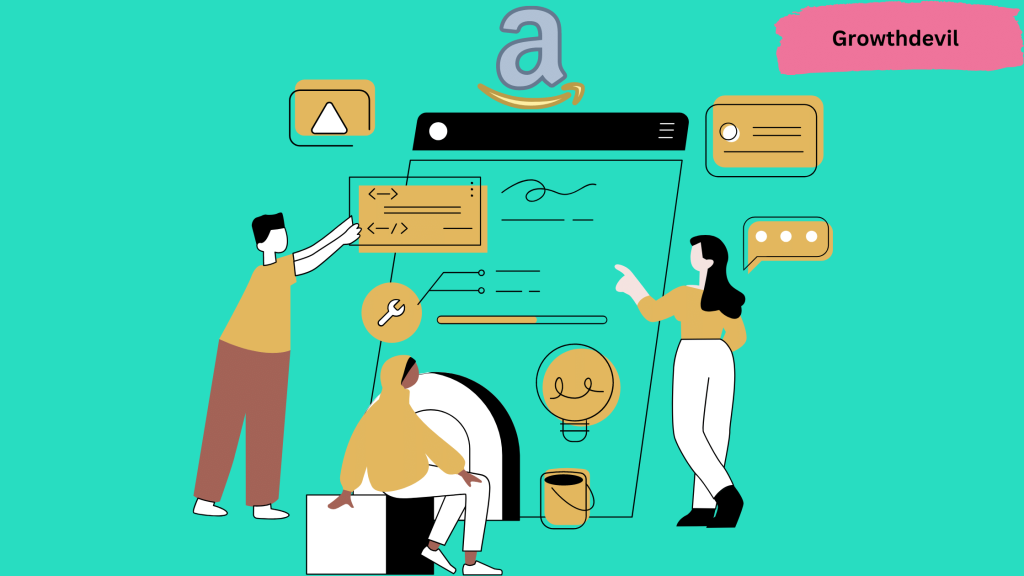 If you find an existing listing for your product, all you have to do is include your name within the list of sellers who are selling the same products. If you don't find any listing for any of your products, you need to create a new listing for each of your products.
4. Ship Your Product
Once your products are listed on Amazon, you will start receiving orders. Whenever you receive an order from your customer, you have to ship it to your customer's doorstep. Well, it totally depends on you how you ship your orders. You can either choose Amazon's services (FBA) or find yourself a third-party shipping service. If it is a local order, you can ship it yourself.
You know how you can sell on Amazon for free. Now, I will elaborate on every section comprehensively so you can easily set up your Amazon store and truly start selling for free.
How to Find Products to Sell on Amazon
Finding products to sell on Amazon is relatively easy. You can just source products from a verified supplier or manufacturing facility and start selling instantly. But remember, your goal is to start a business for free or at a minimal cost. So you need to find products that will generate profit without hurting your financial situation.
Choose Free Items in Your Possession
The best way to select a product for selling is by finding the ones that are lying around you. You can look for items within your possession. It could be anything like unopened gifts, unused or barely used items, electronics, accessories, kitchen equipment, and so on. It makes sense to collect these items and sell them for good instead of leaving them just to gather dust. Before listing those items on Amazon, make sure it is operable and in an acceptable condition.
Sell Handmade Products
If you are an artisan or love to create things, selling handmade products would be a smart option. You don't need expensive tools or accessories to create handmade items. You can craft and design products using simple and cheap items. And handmade items are considered more high-quality than those items mass-produced by machines. Handmade products can be anything like jewelry, wall art, pottery items, wooden items, sewing supplies, and many others.
Merch on Demand
If you are still confused about what products to sell on Amazon, you can start your selling journey with Merch on Demand (Previously known as Merch by Amazon). Basically, Merch on Demand is a print-on-demand service offered by Amazon for graphic designers and creators. In this method, you can upload your designs, thoughts, or one-liners, and they will be printed on white-label products such as t-shirts, mugs, hoodies, phone cases, etc. You can also select different colors and sizes.
You can register for this program for free. And you don't need any investment or upfront cost to start your business. All you have to do is upload your designs, set a price, and promote the specific product you have chosen for printing. Whenever an order is placed from your store, Amazon will print the design on the product and ship the product to the customer's doorstep. In return, you will earn royalties without spending a dime.
How to Create a Free Seller Account on Amazon
Creating a seller account on Amazon for free is a piece of cake. Just follow these steps, and you are ready to go.
Step 1. Click sell.amazon.com to open the official website of Amazon on your web browser.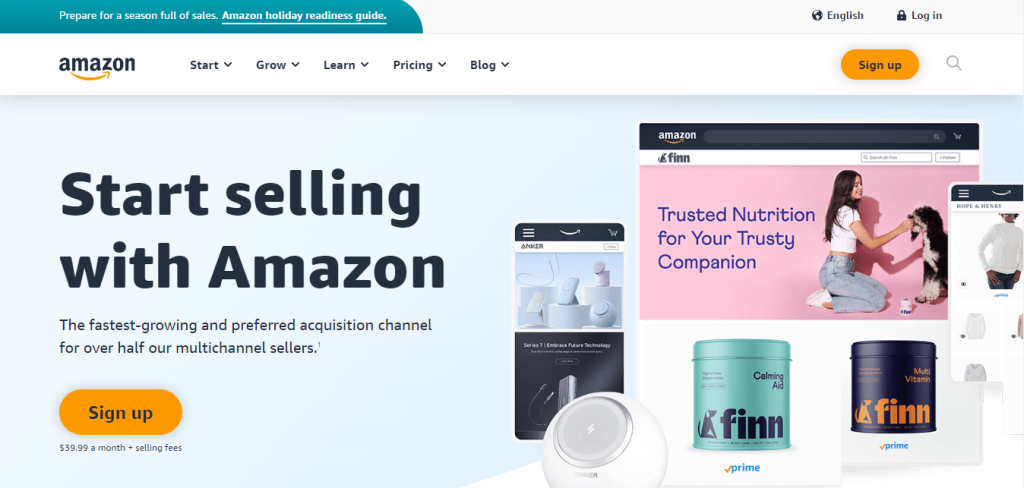 Step 2. Go to the Pricing option from the top menu. You will find the "Cost of Selling on Amazon" option in the Pricing section. Click on it.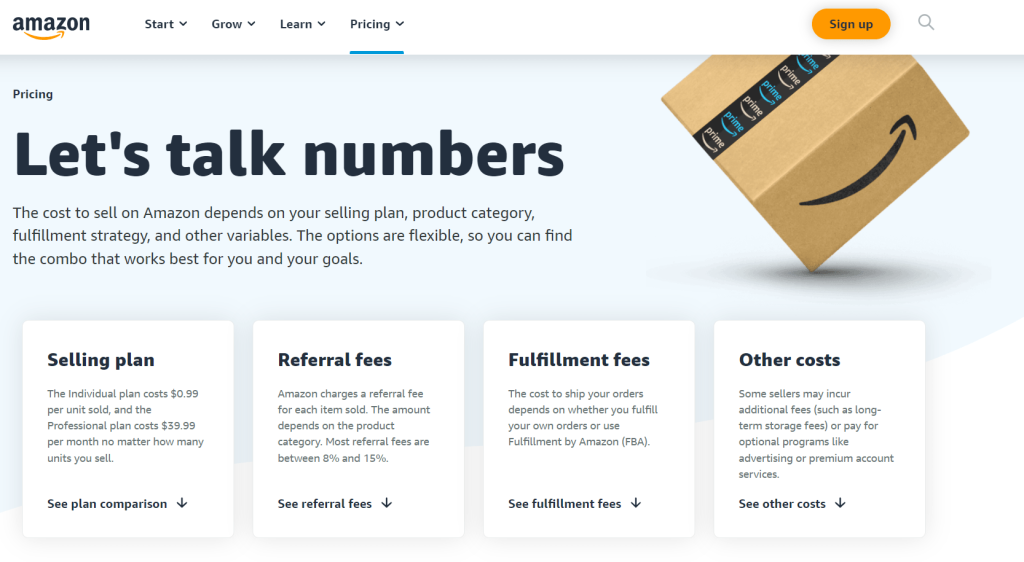 Step 3. Scroll down on this page until you find the Selling Plans. You will see two selling options for Amazon sellers. But if you want to sell on Amazon for free, you must choose the Individual plan. For that, click on the "Sign up for Individual" option. (On this page, you can also see all the possible fees Amazon might charge for selling on Amazon.)
Step 4. Now, sign up with your email and fill in all the necessary details to complete the registration.
How to Add Product Listings
Your goal is to sell on Amazon for free, so you don't want to create a new listing that requires a unique UPC (Universal Product Code) and ASIN (Amazon Standard Identification Number). For new ASINs and UPCs, you need to spend some money as it has to be purchased from authorized websites like GS1.
However, you can avoid paying for these identifiers if you find an existing listing for your product on Amazon. If your product is not a handmade or private label, you can find an existing listing from your Seller Central. Search by your product name to find a listing. When you find a listing, copy the ASIN. Now click the drop-down menu and tap on the "Add a Product" option. Paste the ASIN and select "New" for the product condition. Finally, click "Sell this Product," and your product will be added to an existing listing.
On the Offer Page, you need to fill in some crucial details. Here are the required fields that should be filled with specific details.
Price: The price of the product you want to set. Consider setting it as low as possible to be competitive.
Quantity: The number of products you have in your inventory.
Condition: Mention the product's condition as New, Used, Like-New, or Acceptable.
Fulfillment Channel: Select the fulfillment method you are going to use to complete order fulfillment.
After filling in all the necessary details, click on the "Save and Finish" option. Your listing will be added within 15 minutes on Amazon.
How to Handle Order Fulfillment on Amazon
If you're going to sell on Amazon for free, you need to know about handling order fulfillment. Once you list your products on Amazon, you will start getting orders soon, but how are you going to ship your items to your customers? Luckily, Amazon offers two order fulfillment methods: FBA (Fulfillment by Amazon) and FBM (Fulfillment by Merchant). Let's see how these order fulfillments work.
Fulfillment by Amazon
FBA is a fulfillment service offered by Amazon. In this fulfillment method, Amazon handles storage, packing, shipping, and other customer services on behalf of sellers. But Amazon charges a reasonable fee for FBA service. If you are a new seller and don't have the resources to ship orders, FBA is the best option for order fulfillment.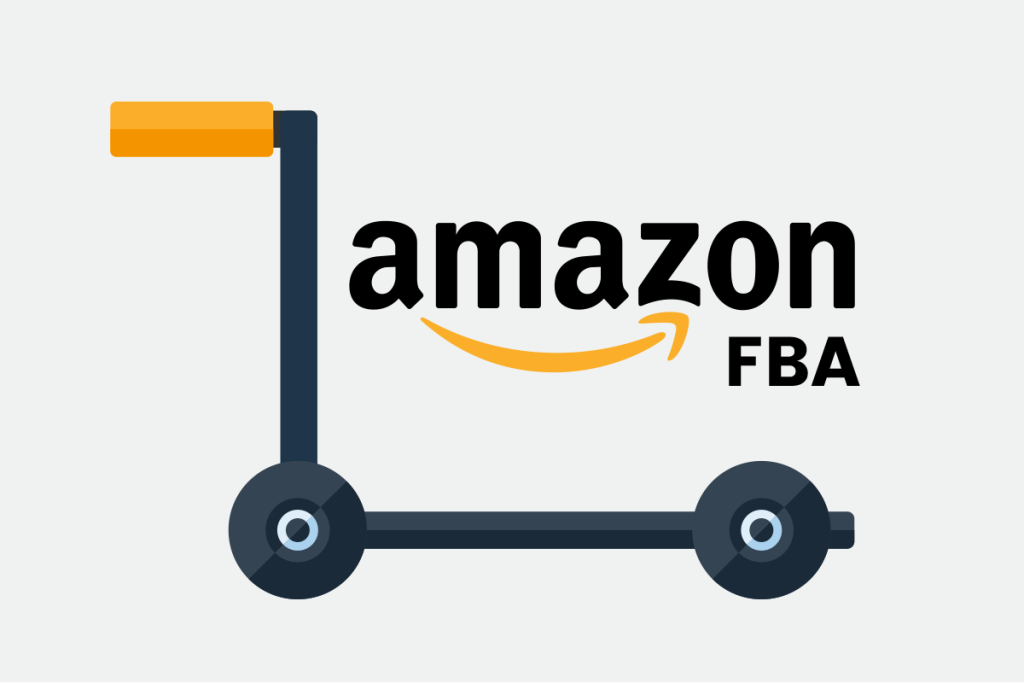 Fulfillment By Merchant
The FBM method is for merchants who want to outsource their order fulfillment without any interference from Amazon. In this fulfillment method, sellers are completely responsible for storage, packing, shipping, and customer service. But you don't have to pay any storage or fulfillment fees for this method.
If you don't want to use any of the fulfillment services, you can use your own packing materials (such as old Amazon boxes) to pack your products and ship them by yourself to your customer's doorstep. Don't forget to remove old labeling from the boxes if you're packing items in old packages.
Selling Cost on Amazon
You might be able to sell on Amazon for free as a beginner. But as your business grows and you start sourcing inventory from suppliers or manufacturing facilities, you need to pay certain charges, which include selling fees, referral fees, storage fees, fulfillment fees, etc. Here is the breakdown of all fees/charges you might need to pay for selling on Amazon.
1. Referral Fees
Amazon charges a fixed referral fee on every successful sale. It charges referral fees for providing a sales relationship between seller and buyer. Depending on the category, referral fees can vary from 8% to 15%.
2. Selling Plans
Amazon offers two selling plans to their users: Individual and Professional plans. The Professional plan is a monthly subscription that costs $39.99 per month. It is an upfront cost that you need to pay before listing your products for sale.
On the other hand, the Individual plan charges $0.99 per item sale. With this plan, you will also get the standard eCommerce features you need to run your Amazon store. 
3. Storage Fees
The storage fee is charged by Amazon for storing your inventory in Amazon warehouses or fulfillment centers. Amazon can charge on the basis of per unit or per cubic foot. The per unit charge is $0.15, while the per cubic foot charge is $6.90. These charges are imposed for a limited period. If your inventory is moving for a long time, you will get penalized with Aged Inventory Surcharge.
4. Fulfillment Fees
Amazon's fulfillment fees are imposed on FBA sellers for packing, shipping, handling returns, and providing customer service. Fulfillment fees depend on the product's weight, size, and dimensions.
Basically, storage and order fulfillment facilities are provided only for FBA sellers. FBM (Fulfillment by Merchant) sellers are responsible for their own storage and order fulfillment since they don't have to pay monthly FBA fees.
The best part about referral and Individual plan fees is that they are deducted after you sell the products. You don't have to pay them upfront like the Professional plan.
Related Read:
Conclusion: How To Sell On Amazon For Free (2023) 
Amazon is undoubtedly one of the biggest marketplaces in the world. It comes with many earning opportunities, which is why starting a business on Amazon makes sense. You can also create your eCommerce store on Amazon and start selling without spending a penny. All you have to do is follow the guide mentioned above. By following each step carefully, you will start selling on Amazon for free.
However, selling on Amazon will only be free for a while. As your business grows and you start receiving multiple orders at once, you need to upgrade your account to the Professional, and you might have to take help from Amazon as well. In that case, you can choose FBA as your fulfillment method, and Amazon will handle your inventory, shipping, and customer service at a reasonable fee.