Amazon is by far the biggest online marketplace in the world. Having a strong foothold in the world's all major markets, It has created a loyal customer base over the years. One of these markets is Amazon UK which may not seem as huge as the markets in the US or India but in terms of profitability and selling experience, it's definitely amongst the top 3.
Also, Amazon UK works as a unified marketplace for nearly the entire of Europe, meaning when you register yourself as a seller on Amazon UK, your products will be sold to many other countries in Europe.
But, the question is – How to become an Amazon UK seller? Is it worth it? What are the chances of making a profit? Selling on a marketplace as huge as Amazon is always going to be tricky as you will be competing against the bestseller and brands. 
This guide will tell you the steps you need to take to start selling on Amazon. I will also talk about some quick tips you can use to become a successful Amazon selling partner. Let's get going.
How To Sell On Amazon UK
Amazon UK is the third largest online marketplace after the US and India. By listing your products on Amazon, you get a chance to showcase your products to millions of people on a daily basis. Also, due to the reputation Amazon carries, you will be identified as a genuine online merchant and there are more chances to make a sale than on any other platform.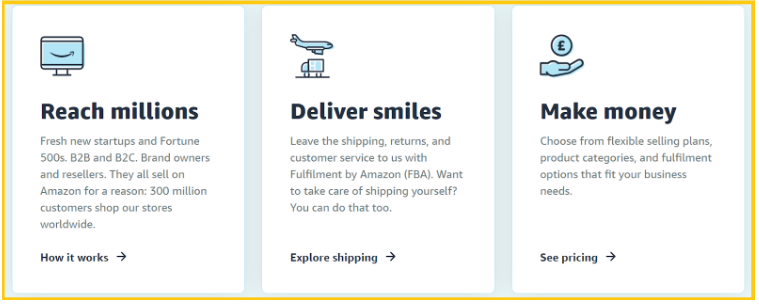 But selling on Amazon UK requires a lot of planning and market understanding. But before that, let's see what you need to do to register as an Amazon UK seller and start selling your products.
1. Find the Products to Sell
The first and most important thing is what are you going to sell. The truth is, it's not so easy to sell anything without proper market research. If you choose top-selling items, you will face extremely tough competition since there are popular sellers already selling those products. If you are a brand owner, you can sell products under private labeling. 
But as a beginner, you should look for low-competition white-label products from third-party manufacturers. You will need to do product research to find the most profitable and easy-to-sell products.
2. Register for an Amazon Seller Account
The next step is to register yourself as an Amazon UK seller. But before that, you need to decide on the seller's plan. Amazon offers two seller plans in the UK – Individual and Professional. 
With the Individual plan, there is no monthly fee, but you will be paying £0.75 to Amazon on each successful sale. 
The professional plan will cost you £25/month. It also comes with some additional sales and inventory tools.
By the calculation, if you think you will be able to sell more than 35 products in a month, it's better to go with the professional plan, where you don't have to pay a commission on each sale. It's simple math. 
This is how you register for an Amazon UK seller account:
Step #1: Visit Amazon UK seller central page and click on Sign up.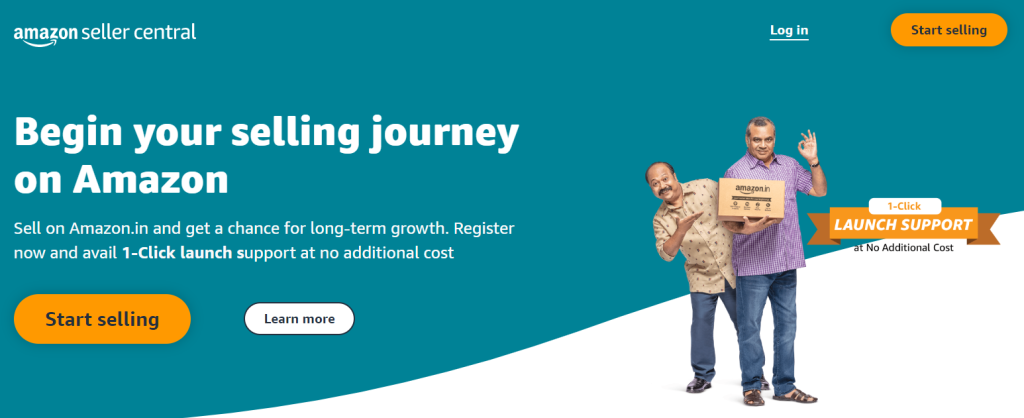 Step #2: Create a new account using your mobile number or email address.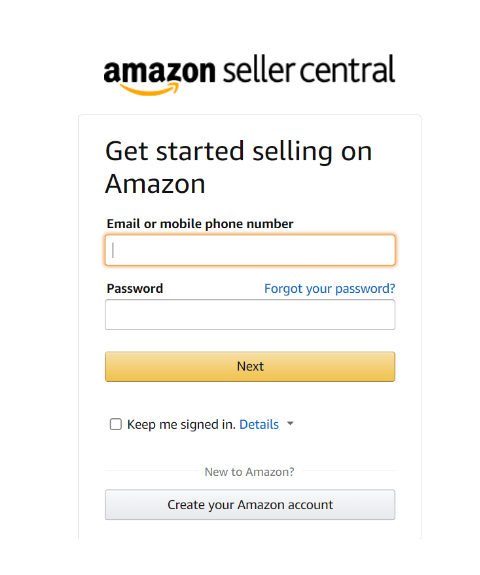 Step #3: You will need to provide your business information, company details, credit card/bank account details, ID proof, and registered phone number, to complete the registration process.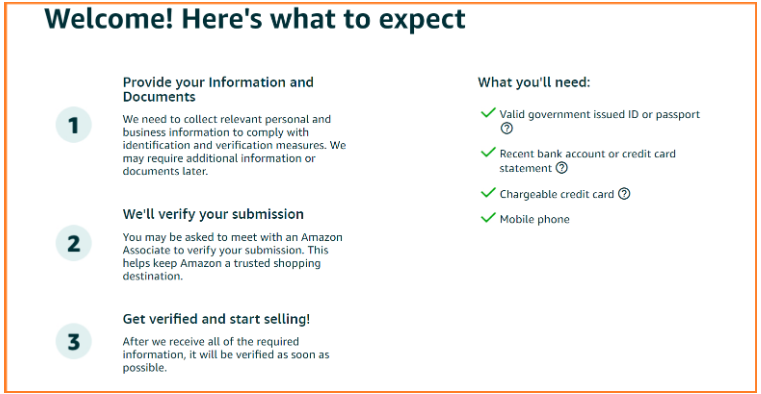 Step #4: After you finish registration, wait for the Amazon team to verify your details. Once it's done, you can start listing your products. 
3. Pick a Fulfillment Method
Next, you need to choose a fulfillment method to process your orders. Amazon UK offers two types of seller agreements – FBA and FBM
With FBA, you need to shop your inventory at the Amazon warehouse and the company will take care of processing your orders including packaging, labeling, and shipping. You will have to pay a monthly FBA cost to avail of this service. With FBA, your products will be listed under the prime category.
FBM agreement gives you a little more freedom as you are responsible for storing, packaging, and shipping the products. You can determine the delivery time, return/refund policy, etc.
If you own a fulfillment center and have a trained staff to process the orders, you can opt for FBM otherwise you are better off with FBA.
4. Create Product Listing and Pricing
The next step is to create product listings. This will take a little more research. You need to check what the Amazon product page looks like, what information you need to provide, and Amazon's rules and regulations.
Use a keyword research tool to find the top-trending keywords for your products and use them on your page. This will increase the chances of your product appearing higher in the Amazon search result.
5. Advertise Your Products
Once you have listed your products, you need to advertise them. You can use the Amazon affiliate program to spread the word about your products. Also, there are multiple social media platforms where you can tell people about your products. The latest trend is to hire a social media influencer and pay them to create a buzz about your products.
Amazon also provides a bunch of advertising options, such as Amazon PPC, sponsored displays, etc. 
Cost of Selling on Amazon UK
Before you hit the market, it's a good idea to analyze the overhead cost of selling on Amazon so that you can plan a target accordingly. Here are the following expenses you will bear while selling on Amazon:
1. Monthly Subscription Fee
As we discussed above, If you opt for the Professional Plan, you will pay £25/month subscription fee to Amazon. With the Individual plan, there is no subscription fee but a commission of £0.75/sale.
2. Referral Fee
The referral fee is the money you need to pay for each item after a successful sale. The referral fee is a fraction of the selling price of the product and depends on the product category. Usually, the referral fee varies between 8% to 15%
3. FBA/FBM Cost
If you opt for FBA, a monthly FBA cost needs to be paid to Amazon. This fee includes storage fees and fulfillment fees.
The storage fee is determined by the area your inventory takes inside the Amazon warehouse. And based on your product category and size, Amazon will determine fulfillment cost. 
4. Return Order Fee
If a customer divides to return the items, a return order fee will be applicable on each successful return. This fee depends on the product which is the lesser of £5.00 or 20% of the total referral fee you paid for the product.
5. Closing Fee
You will also need to pay a Closing fee on the sale of media items such as books, music videos, video games, software, etc. The closing fee for books is £1.00 and £0.50 for the rest of the media items.
How Selling on Amazon UK Different from Other Amazon Marketplaces?
Selling on Amazon UK can be different and beneficial at the same time for a number of reasons. Firstly, Amazon UK has a large customer base, which means there is a high potential for sales. Moreover, you can potentially access customers from other countries, including Europe and the United States, by selling on Amazon UK. This feature can help you expand your business globally and reach a much wider audience.
Another benefit of selling products on Amazon UK is that the platform is trusted by established consumers. It can help you build credibility for your products and your brand, leading you to generate more sales. Like other marketplaces, Amazon UK also offers FBA service to Amazon sellers, which makes it easy to fulfill all orders fast and on time.
Additionally, Amazon UK is a unified European marketplace. If you want to sell on multiple marketplaces, you can create a unified seller account and manage all marketplaces under one seller account. This gives a great advantage to Amazon UK sellers over other marketplaces from other regions.
Related Read:
Amazon UK: A Good Opportunity Or Too Risky?
Amazon looks at the UK as one of the most luxurious and profitable markets. Due to the demographics, the chances of succeeding on Amazon UK are higher than in other big markets. 
All you need is a perfect product to sell, and the rest depends on your patience, business skills, and planning. As a beginner, your focus should be on surviving the initial period without any financial loss.
Consider using an Amazon seller toolkit to automate your business activities. There are several seller platforms available that will save you a lot of time and give you accurate market details such as the best products to sell, competitors' knowledge, high-volume keywords, and much more.
Latest posts by Shally Rose
(see all)