Wondering how to start selling on eBay? To help you out we have prepared a definitive guide on how to sell on eBay for beginners.
eBay is one of the most popular e-commerce selling sites on the internet. It is simple to open an account and begin selling online. The popular sellers and buyers site is a great way to make extra money on items lying around the house like clothes, tools, home appliances, handmade items, and many other items you can think of.
Should you sell on eBay?
eBay gives businesses and individuals of all sizes the opportunity to connect with international audiences, but the competition is fierce. To sell successfully on eBay, beginners must first understand the fundamentals and master skills such as listing optimization. If you're new to selling on eBay, we've compiled a list of helpful hints to get you started. 
It's also simple to get started as an eBay seller. You can instantly create an eBay account, list a product, and then sell it. If you have old items lying around the house, selling them on eBay can be a simple way to get rid of them while also making some money.
How to sell on eBay for Beginners?
eBay is a simple and neat marketplace with organized categories that lets shoppers find items with simple keyword searches. If you are planning to sell goods and sell big on eBay, then here is a step-by-step guide on how to sell on eBay for Beginners.
1. Create an eBay account
Signing up on eBay is a very simple process. You can easily create an eBay account, and eBay will assist you with the whole sign-up process and ask for some basic information.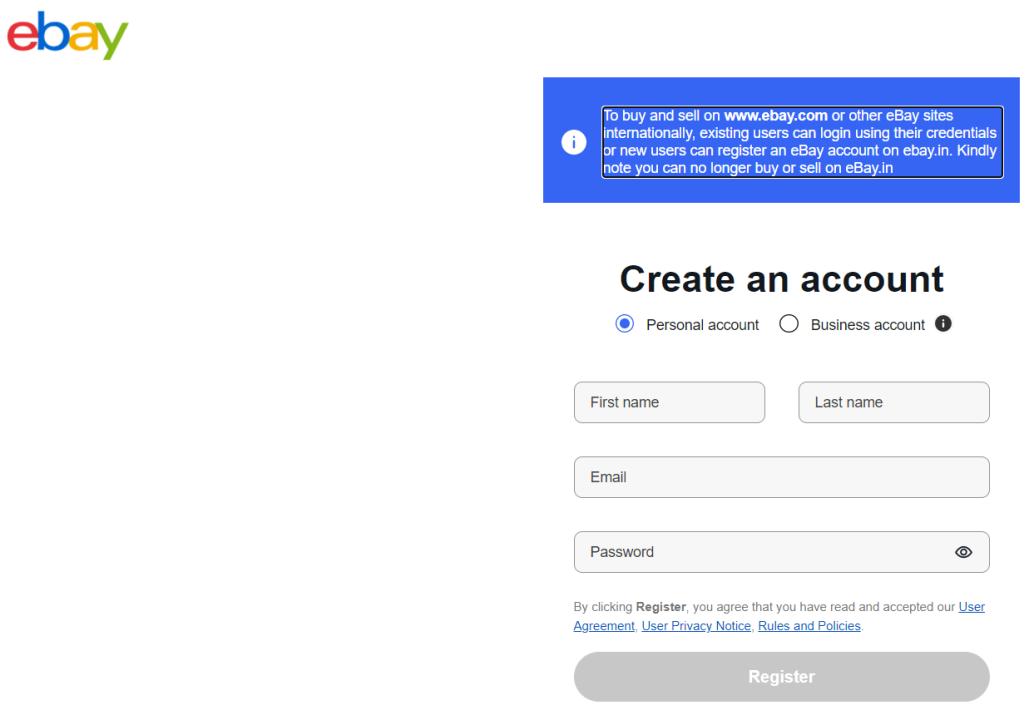 Just visit the Create an Account page and enter your credentials including name and email ID. You will then have to create a secure password for the account. After clicking "Create Account," you'll be taken to the eBay homepage, where you'll be signed in to your new account.
2. Add a Payment Method
By adding your checking account, you will be able to receive payment from customer purchases on your preferred payout schedule. Find the "My eBay" dropdown menu at the top right corner of the eBay home page and select "Selling."
Then, select "Account." You'll find "Payment options" under "Payments." Fill in the information for the bank account where you want to receive payments from eBay sales.
3. Product Research
On eBay, you can sell almost anything. However, keep in mind that product sourcing and pricing can be difficult. However, if you specialize in a niche that you are passionate about, it will be much easier. You'll become more adept at identifying great products and creating listings that are appealing to your target audience.

4. Click high-quality Pictures of Products
Your eBay store should feature high-quality, appealing photographs of the products you're attempting to sell. Keep in mind that you want to make a good impression on your customers. Make sure you have enough light and a good camera when photographing your items.

5. Product Listing into Categories
Log into your eBay account and navigate to the "Sell" category at the top of the page before listing your item. This will take you to the seller's page. Learn about all of the items on this page. Begin by deciding on a category. Putting your item in the category that best describes what it is will get you more views from people looking for that specific item.
6. Set the Right Prices
When selling on eBay, the goal should be to make a significant amount of money through multiple sales. You should try to keep your prices competitive with those of big-box retailers. People flock to eBay in search of a bargain and may be hesitant to pay the manufacturer's suggested retail price for whatever you're selling.
7. Set the Shipping Options
When you create a listing on eBay, you are given a number of shipping options. Domestic shipping (within your country) and international shipping (to anywhere in the world) are examples of these. USPS (United States Postal Service), UPS (United Parcel Service), and FedEx are the most popular options.
8. Preview Your listing Before it goes live
Before you click the button to start the auction, you'll be able to preview your listing. Examine every detail to ensure that your listing is accurate, provides all necessary information, is priced correctly with your shipping preferences, and that the photos you've included are sharp and clear.
How much does selling on eBay cost?
It's not always easy to figure out how much it costs to sell on eBay. If you're investing money in sourcing products to sell on eBay, you want to make sure you'll recoup your investment and then some. When crunching the numbers, don't forget to factor in eBay's seller fees.
There are numerous eBay fees, many of which are optional. However, there are two types of fees that every eBay seller should be aware of.
Insertion fees
When a seller first lists an item on eBay, an insertion fee is charged, as well as when the seller relists the item, duplicates the listing for auction-style bidding, or lists the item in a different product category. Even if the item does not sell, insertion fees are non-refundable; however, eBay provides each seller with up to 250 free listings per month (or more for sellers running eBay Stores). Most products will be charged $0.35 per listing if you list more than 250 products.
Final Value Fees
Once an item is sold, a percentage of the final sale price is charged. The percentage is determined by the product category in which your item was listed. Most of the time, it will be 12.35%. Following each sale, final value fees are levied. This fee is calculated as a percentage of the total amount paid by the buyer for the sale, including shipping, plus $0.30 per order.
eBay selling policies and Limitations
Following eBay's rules is crucial for sellers, as failure to do so can lead to reduced visibility and account suspension. The platform has a set of selling policies that sellers should read and adhere to. Some of the rules to keep in mind include avoiding the sale of banned items, using only original product images, and never trying to close sales outside of eBay. It's also essential to avoid canceling orders, delivering products late, ignoring buyer complaints, listing external links or contact information, or providing misleading information in listings.
eBay selling limits are put in place to restrict the number of listings a seller can have. They are particularly inhibiting for new sellers, who start with a limit of ten items per month and cannot use bulk listing tools until 90 days after their first sale. To increase this limit, sellers need to have at least ten positive eBay reviews and establish a positive selling history. These limits are aimed at protecting customers from fraud or substandard products.
Selling on eBay vs Selling on Amazon
Related Read: How To Sell on Amazon For Beginners
If you already sell on Amazon, you should be aware of a few key differences between Amazon and eBay. Rather than competing for the Buy Box on a single listing for a popular product, each eBay seller can create their own distinct listing. In addition, eBay provides sellers with more robust listing optimization than Amazon. According to a recent market study, approximately 28% of Amazon sellers currently sell on eBay.
eBay has recently streamlined its fees; the structure appears simple and straightforward. Amazon, on the other hand, can be difficult to navigate. To compare the two sites, sample calculations would be useful. Nonetheless, with multi-tiered pricing structures and closing fees that vary by item category, item weight, and buyer payment option, any examples could be interpreted as cherry-picking or biased toward one company or the other.
Winner: eBay
When comparing the market size of both eBay and Amazon, Amazon comes out on top, accounting for approximately 14% of the global eCommerce retail market as of 2021, which is significantly higher than eBay.
The majority portion of eBay's audience ranges between 35-49, accounting for about 32% of their total audience base. Comparatively, Amazon's average shopper age ranges between 45 to 54, which always helps you to target a customer group that is starting to mature and flex its purchasing power.
If you are targeting a niche category with your products and are aiming for a well-defined audience profile, eBay could be a good fit. However, in the vast majority of situations, Amazon's market share just cannot be matched.
Winner: Amazon
The competition between Amazon and eBay appears to go in favor of eBay, particularly when we're talking about sellers. Simply put, you have higher opportunities and chances to have your product is seen and a more likely audience to spend time understanding your product and brand.
Amazon is a brutally competitive marketplace, with several different sellers vying for a single spot: the Amazon Buy Box. This could, on the other hand, work for you. If you truly offer the best products in your niche for the best price, you have a good chance of winning the Amazon Buy Box and making a lot of money. However, in most scenarios, eBay offers a more reasonable and effective selling experience.
Winner: eBay
When compared to Amazon, eBay does not have as many restrictions. Amazon's 40 categories are divided into 23 that are unrestricted and 12 that require seller permission. These are referred to as 'gated categories.' The other five are subject to restrictions based on the type of product. In some cases, this is simply to prevent counterfeits. Other categories are seasonally restricted, such as toys and games during the Christmas season, primarily to avoid an influx of subpar products.
Instead of restricted categories, eBay has lists of restricted products. Before deciding which platform to sell on, ensure that your product or category is not restricted, prohibited, or gated, but there is a vast array of potential categories and products to choose from.
Winner: eBay
When it comes to listing your products, selling and receiving payments, eBay is faster and less complicated. You can list in minutes, choose your listing format, and then wait for your product to sell.
Amazon accepts payments for you as well but holds them for 14 days before transferring them to your bank account. It's a lengthy listing process, but it's still simple.
Winner: eBay. However, please note that the ease of sale will also depend on your product!
5 Additional tips for Beginners selling on eBay
Selling on eBay is always changing, and this guide only covers the basics. Once you've mastered the fundamentals of eBay selling, it's time to experiment in order to learn how to make your listings more competitive and discover new ways to reach customers and help your business thrive.
Find profitable deals online: You are not required to visit all of the product hunting stores. Do some online research at home first so you know what to look for in-store.
Analyze and track your data: Begin by analyzing your account data with this guide to tracking and applying metrics for better growth; it will assist you in identifying areas where you can test out new ideas.
Follow reselling groups: If you're new to selling on eBay or have little to no experience reselling products in general, joining an online reselling community is a great place to start.
Use the eBay App: Make sure you have the eBay app downloaded to your phone before going anywhere to look for products to sell. You can scan or photograph an item you want to sell, and eBay will display current listings for it.
Turn on international shipping: The great thing about eBay is that you can enable Worldwide shipping at no extra cost or hassle by using the Global Shipping Program.
Pros & Cons Of Selling On eBay
Here are the benefits & drawbacks of selling on eBay.
Pros
It is relatively easy to start selling on eBay in comparison to other marketplaces such as Walmart and Amazon.
The customer base of eBay is huge, which increases the possibility of you getting more sales.
You can also sell your products auction-style, where customers will place a bid on your product, and you can sell the product only to the highest bidder.
eBay offers a seller protection policy.
Cons
The cost of selling on eBay is way higher than on other marketplaces.
It is a highly competitive platform which makes it difficult for you to stand out from the crowd.
Conclusion: How to sell On eBay For Beginners (2023)
There's a lot to learn about selling on eBay, but if you take your time and consider all of these steps, you should be able to avoid major blunders. Once you've established yourself as a trustworthy seller, you can begin increasing your listings and driving sales with eBay promotions.
FAQs
How much does it cost to sell on eBay?
For every sale of your item via eBay, you will have to pay a 10-15% referral fee to eBay. You can list up to 250 items on eBay for free after that, you will have to pay $0.35/item to list more items.
What can I not sell on eBay?
You can not sell adult items, someone else's intellectual property, drugs, weapons of any kind, any government item, and any item that violates the law.
Is it worth selling on eBay?
Selling on eBay is definitely worth it, but it is best for small businesses to sell on eBay. This way, they don't have to list more than 250 items and pay any additional fee on items. This will increase their profit margin as well.
Are there any shipping supplies available on eBay?
Yes, there are plenty of shipping supplies available on eBay that you can buy and then use them to ship your items to customers under the name and label of eBay. This will help build trust between you and your customers.
What price should I set up on eBay for my listings?
If you can't decide what price you should list for your products on eBay, then they will recommend you the price based on similar items that are being sold on eBay. You can also choose between the options auction and buy it now. It would be best to set up the auction price as low as possible to see how high it can go.