Do you want to sell on Pinterest but at the same have no idea about where to start or how to start? Then welcome! You have landed on the right page. 
Over the last few years, Pinterest has been considered one of the most lucrative outlets for online stores. But if you are a beginner, you might need some time to get habituated to this platform. 
But don't worry; here in this article, we have covered all the knits and grits you need to run a successful business with Pinterest. Starting from setting up an account to connecting your stores to sell your products, we'll guide you from scratch. So, make sure to stick with us till the end. 
Why Should You Sell On Pinterest?
Pinterest has almost 480 million monthly active users, and it is the best place to get new product ideas or get inspiration for them. Pinterest is not the usual social media platform where people portray themself as they want the world to see them; instead of that, it is a platform where people share their ideas, sell their products, research for products to improve their lives, and so on.
According to recent Pinterest demographics, Pinterest is catching the attention of Gen Z & Millennials, who are the generation you can not influence with flashing advertising and shiny products. They buy products that are genuine and offer the best experience to their customers, and if you have all these things, then Pinterest is the best place for you to sell. According to a study, the average order value on Pinterest is $58.95, which is third in all the other social media platforms.
Pinterest Shopping Features
For a very long time, Pinterest was only used as a visual search engine for brainstorming ideas for various purposes. Now, it has developed into one of the favorite platforms for shoppers to purchase their favorite items. The company has also put a lot of effort into enhancing pinners' shopping experience over the years. To fulfill this very purpose, they have introduced a few shopping features that also helped retailers succeed on the platform. Let's have a look at them:
1. Upload Product Catalogs
With this amazing feature, online retailers can upload their entire product catalog to Pinterest. The best part about this feature is that it automatically creates Product Pins for every product in the retailer's catalog. This saves retailers a lot of time and effort in creating pins for every product separately. It also makes their products easily discoverable for Pinners.
2. Video Pins
Video Pins are a great way to showcase products in action. According to Pinterest statistics, 35% of Pinterest shoppers purchase from retailers who include Video Pins in their catalogs. Video Pins give users a better idea of how products can be used in real life. Merchants can also add a shopping tag along with their Video Pins so users can directly purchase the products from the video.
3. Rich Pins
Pinterest is a search engine that works exactly like Google or Amazon. You will need to insert specific keywords in order to find pins or tags. Rich Pins are one of the SEO-focused aspects of Pinterest that are structured to provide contexts to your posts. With this feature, you can also add detailed information about your product, such as pricing, availability, and where to purchase the product. You can add a CTA button to your Pins that will help you drive more traffic to your eCommerce website.
4. Promoted Pins
Promoted Pins allow retailers and advertisers to advertise their products or services on Pinterest. By creating these Pins, you can target a specific audience through your ads. And targeted audience means people who would actually like to purchase your products. Promoted Pins can be your ultimate weapon in expanding your brand among your Pinterest audience.
5. Try-on Pins
This must be the greatest invention of all time by Pinterest developers. Try-on Pin is an AI technology that creates an augmented reality for users to try products virtually. Shoppers can try products like makeup, goggles, and clothes virtually before making a purchasing decision. However, the Try-on Pins don't apply to every product. This feature is in-built within users' accessories.
6. Shop the Look Tags
Shop the Look is an innovative feature that allows retailers to tag multiple products with one Pin. It is a great way to showcase multiple variants of a product, such as sizes, designs, and colors, with one pin. You can add up to 25 products with one Pin, which is enough to showcase all variants at the same time.
7. Connect Your eCommerce Store
Pinterest allows retailers to connect their eCommerce stores with the platform. It makes it easy for Pinners to make purchases directly from their website. Once you add your eCommerce store to your Pinterest account, you can easily add catalogs, set up tags, and add shopping tabs to increase your products' visibility on the platform.
How To Sell on Pinterest (A Step-by-Step Guide)
Before you start directly selling on Pinterest, you need to have some basic setup that'll boost your sale gradually. So, keeping that in mind, we have mentioned a few must-followed steps from scratch, then we have entered the main guide. So, have a quick look at them.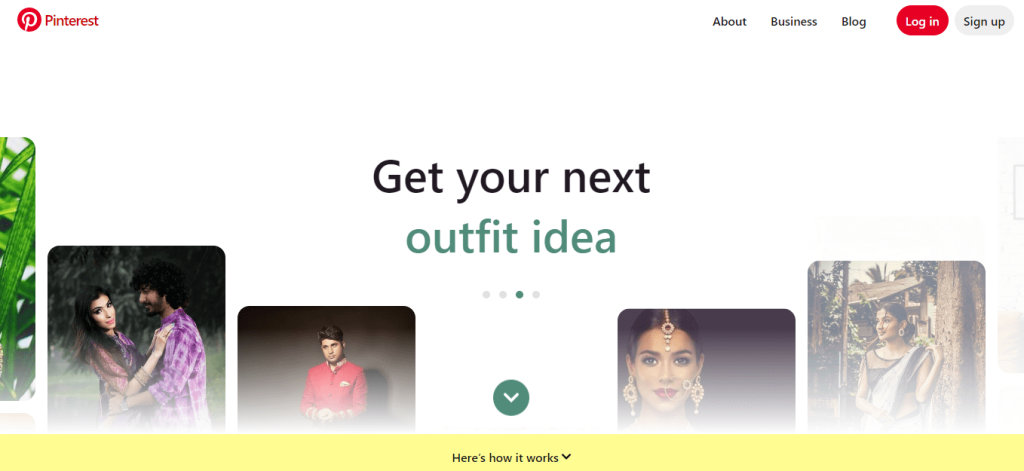 1. Determine Your Target Audience
Before starting any business, you need to have a clear-cut idea about who your target audience is. If you are targeting everyone, it means you are targeting no one. Having a clear idea about your potential customer gives you more sales within a short period of time.
So, do market research, analyze competitors, create personas, and then target your prospects. It'll save you from major drawbacks in the long run.
2. Create An Online Store
As you have decided to scale your business on social media platforms like Pinterest, you need to have your own online store where you'll keep your product inventory, information, and other necessary stuff.
So, creating an online store is a must for every e-commerce brand. But still, if you don't have one yet, then you may start with Shopify, Big-commerce, and Squarespace. Don't worry, you need not be tech-savvy to operate these platforms since they provide a smooth user-friendly interface with multiple efficient features.
So, make sure to have an online store/website first. After that, you may leverage any social media platforms.
3. Set Up A Business Pinterest Profile
Once you are done with creating an online store, it's time to set up a business account on Pinterest. Remember, Pinterest provides its users with two options – A personal account and a Business account. A personal account allows you to save pins, and buy products whereas a Business account enables you to run ads and offers additional features like analytics, top pins, etc. Here's a step-by-step guide to creating a business account on Pinterest.
Step #1: First things first, visit the Pinterest sign-up page.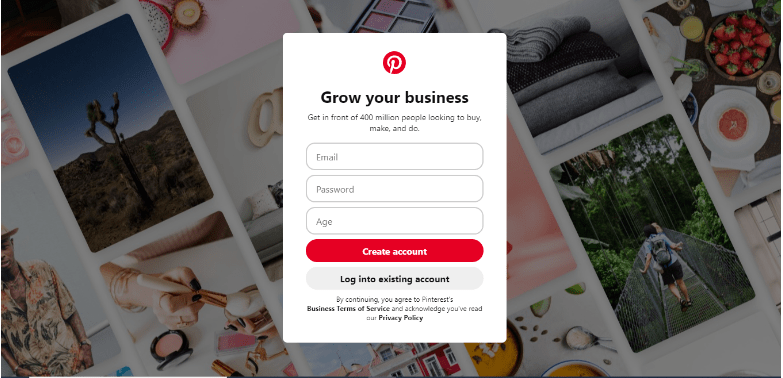 Step #2: Next, put all your credentials and hit the "create account" button.
Step #3: After that, you'll get redirected to a new page where you have to put other details in terms of a profile name, website, country/region, language, etc.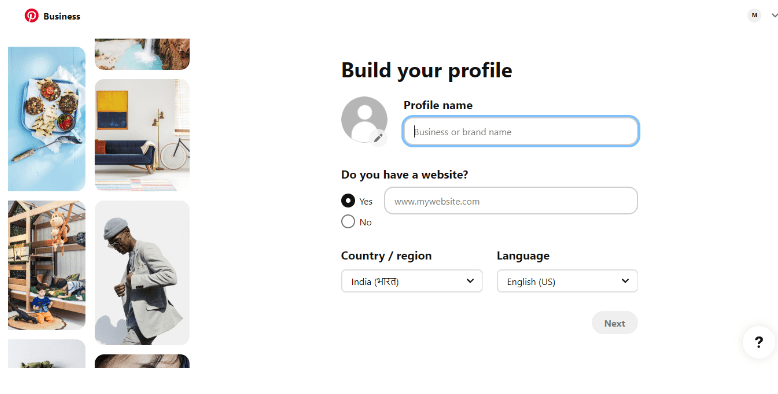 Step #4: Once you build your profile, now you've to describe your business in the next steps.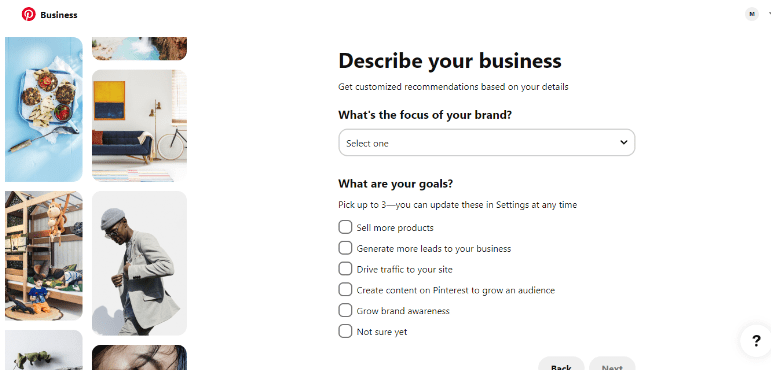 Step #5: Select Ad preferences.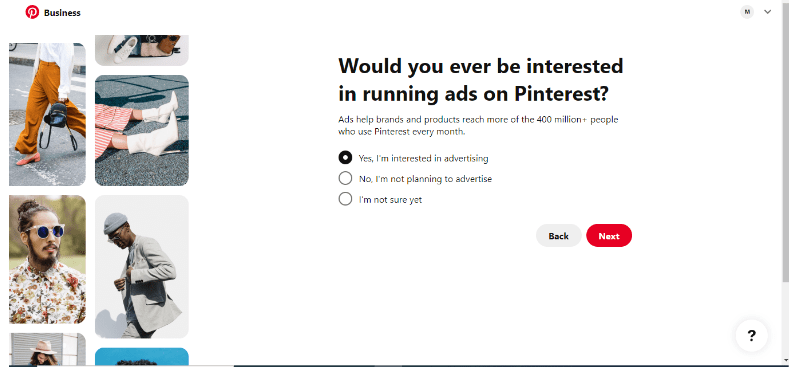 That's it. Your Pinterest business account is ready. Now, you are allowed to create your first pin.
But, if you already have a personal account and you want to switch it to a business account, then follow the below-mentioned steps to get the job done.
Step #1: Log in to your personal profile and tap the "Menu" bar (at the top right corner).
Step #2: Click on the "convert to business" option.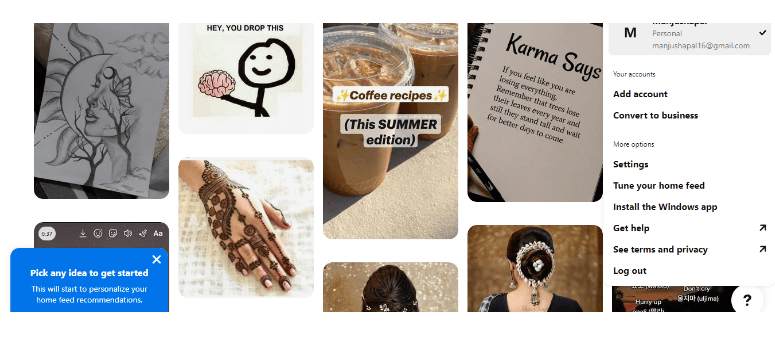 Step #3: Immediately, you'll get redirected to a new page. Now click on the " upgrade".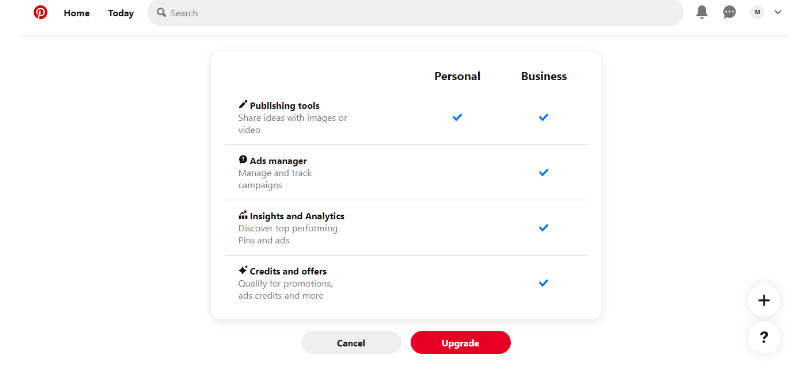 Congratulations! Your business profile is ready.
4. Brand Your Profile
It doesn't matter which social media platform you've chosen for your brand, you need to build a strong online presence by branding your profile.
Let's see how you can build a strong business account.
A Pinterest board is nothing but a collection of some of your specific pins. And, you can create multiple boards in your profile. Basically, each board is a compilation of its own theme and design. Suppose, you are an entrepreneur, You can create boards like starting a business, product shots, and designs related to your company. It'll raise your brand value. You may check "Melyssa Griffin's" profile to have a superficial idea about Pinterest boards.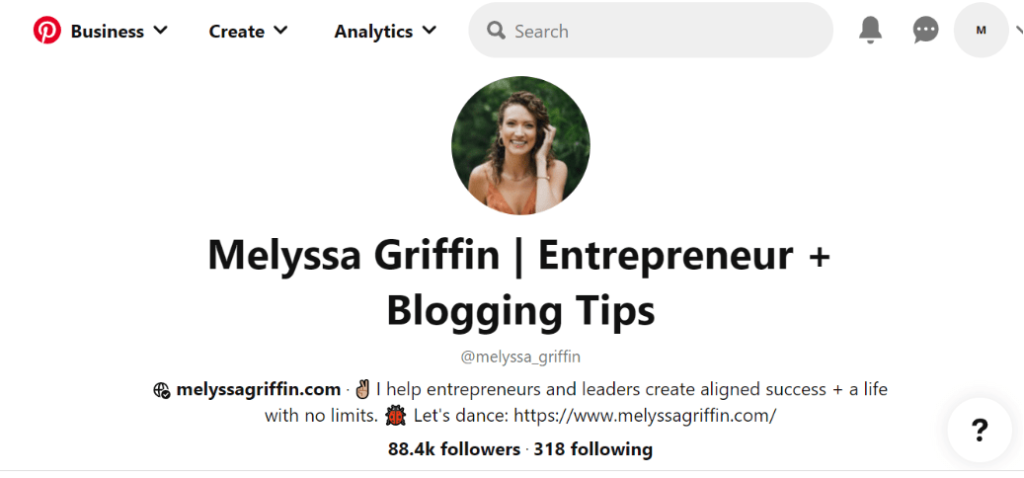 Profile Photo: Your profile photo would create the first impression among your visitors. So, make sure to use a professional photo/logo that'll precisely represents your brand identity.
Profile Bio: An enticing bio is very much necessary to hook the audience to your profile. So, you must create a captivating profile bio focusing on your business with a pinch of personal touch. You may take inspiration from other profiles on Pinterest. But make sure to use the same bio that you already have on your other social media platforms.
5. Link And Verify Your Website On Pinterest
Once your business profile is ready, now it's time to link your website. The moment you'll add your website link, Pinterest will provide you with an HTML tag. Add this tag and verify your website.
6. Use Impressive Visuals
Visually appealing things attract everyone, right? Then, how can you avoid using high-quality infographics and fonts on Pinterest? Well, let's see an example.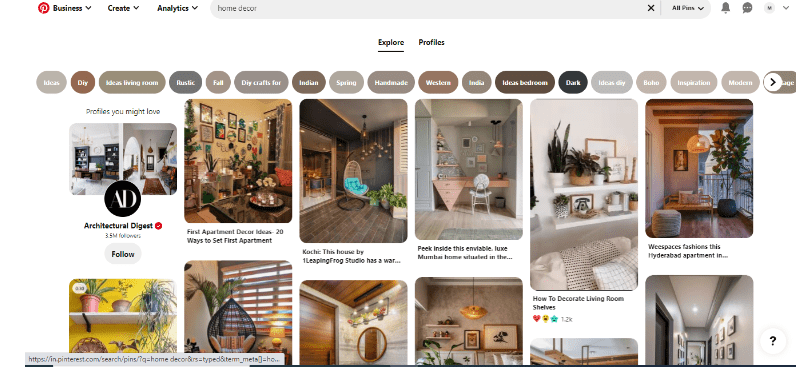 You can see this image and notice the quality of the photos. In one way, it'll attract customers, and on the other hand, it'll entice them to purchase the products. 
Moreover, you can experiment with different fonts, colors, and visuals to captivate your audience to your page.
7. Target Pinterest SEO
Each platform has its own Search Engine Optimization rules. So, Pinterest is no different. It has some basic SEO norms that you should consider including while reaching out to your potential customer. But how to do that? Well, we have given here a few Pinterest SEO tips that'll come in handy if you want to scale your business on this platform.
Do keyword research. Though it's not an easy process, it's mandatory. Find related keywords and use them in the description of the board and profile. 
Use one target keyword to the title of your pin.
Target keywords to your Destination website URL, image file, and ALT text.
Use keyword-optimized hashtags.
Create pins consistently and engage with your favorite pins.
8. Use Rich Pins
Rich Pins accords context to your posts. It's a type of organic pin that'll automatically concur information from your website to your pins. That's why It's one of the most efficient ways to build your authority on this platform.
Apart from that, rich pins create a smooth user experience by letting your customers know whether the product is in stock or not. So, don't forget to use this feature to scale your business on this platform.
Take a look at the below-given image to have a proper idea about rich pins.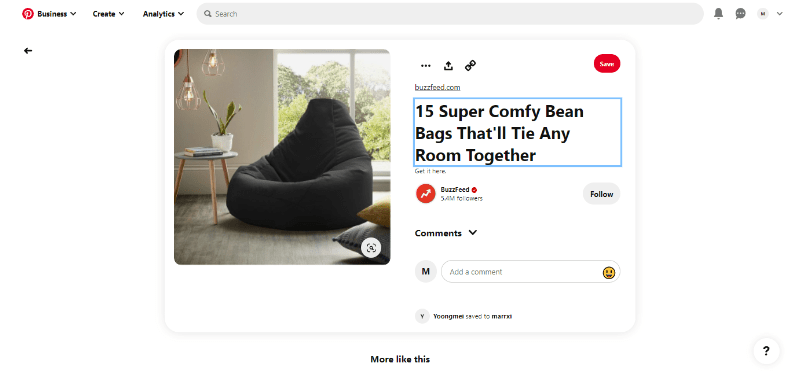 9. Invest In Promoted Pins
If you want to grow your business, you shouldn't solely rely upon Pinterest SEO. Because SEO is very much fluctuating on any platform. So, it's better to invest in promoted pins. These promoted pins will directly lead your customers to your website and compel them to buy products.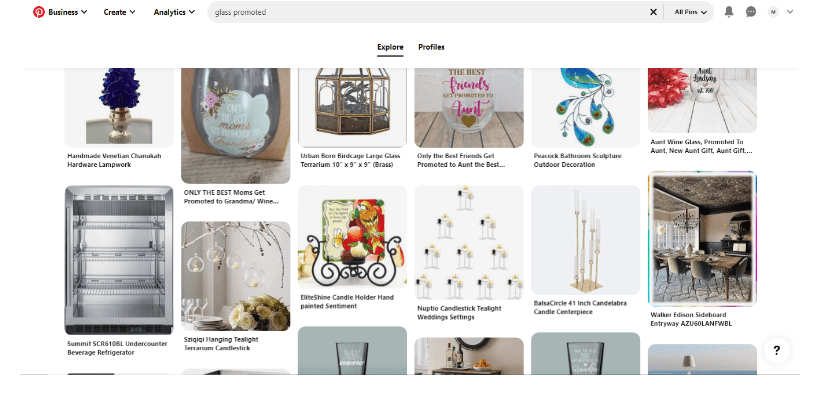 By using promoted pins, you'll be able to target certain locations, and demographics and reach your audience who needs your services/products.
10. Determine Your Content Marketing Strategy
Content marketing is an unavoidable way to promote your business. For generating clicks, attracting customers, and retaining them, blog posts are the most efficient way. So, make sure you use this strategy to skyrocket your sales.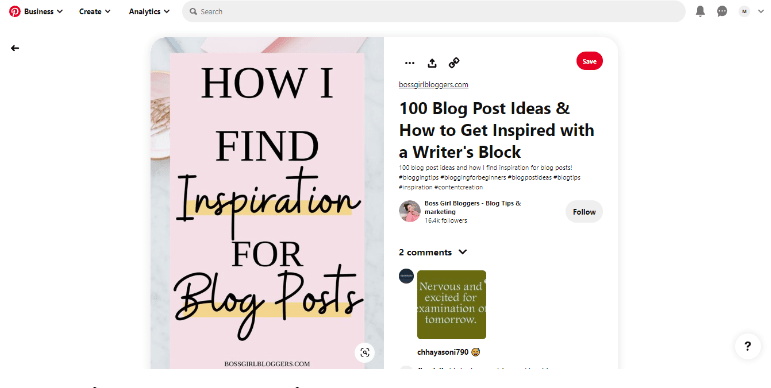 11. Use The Pinterest Catalog Option
It's an amazing feature added to the Pinterest business account. It'll allow you to sell your products on your websites. If you have the right data source and attributes of your products and once they get approved, your website will create pins by default, and later you can run paid ads on them.
12. Analyze Your Progress
One of the most underrated ways of growth is to keep track of it. Nobody is a born expert in the business field. Rather, they have learned from their mistakes and experiences. And, if you want to grow your business on Pinterest, you must keep an eye on your regular performance.
To ease this process, Pinterest provides you with a free analytics tool that might prove beneficial if you want to view the data of your content. So, keep on testing and experimenting. You'll surely get the feather in your cap.
Related Read:
Final Take
Pinterest has more than 478 million active monthly users and over 200 million pins are saved on this platform. And, out of them, two-thirds are pinned by marketeers/businesses/ entrepreneurs. Hope you can imagine the craze people have regarding Pinterest marketing. That's why Pinterest is considered one of the most popular social media sites in the world. And, if you still don't leverage this platform for your business growth, honestly you'll lag behind in the long term.
Well, to make your process (Pinterest Marketing) easy we have included all the necessary stuff in this article. Hope they'll come in handy for you to ace the Pinterest game.
So are you ready to skyrocket your sale with Pinterest?