Are you looking for ways to sell on Shopify? Your quest ends here because I have got your back.
Shopify is a one-stop solution for new sellers and struggling entrepreneurs. It offers a user-friendly interface and designs that suit both shop owners and customers. The global platform offers unlimited features and tailored solutions for any type of business or individual to establish their brands and increase revenue. That's why it holds 20% of shares in the eCommerce category.
In this post, I will share a step-by-step guide on how to sell on Shopify. I have included some marketing tips to increase your sales in a short time.
Let's get started. 
Preparations Before You Start
Starting an online business with Shopify isn't very complicated, but you need to have a solid strategy and business plan before you start. Here are some preparations you can consider before starting with Shopify:
Decide Your Business Model
You must have a solid business idea to make an online business successful. As for selling online, there are several business models available on the internet that you can start with. Here are some of the popular business models you can choose before starting with Shopify:
Manufacturing: If you are a manufacturer of a specific product, you can start an online business with Shopify. The chances of success are very high if you have already validated your product in the physical market. And if you are running a private label business, you can expand your brand internationally with the help of Shopify branding. 
Arbitrage: Arbitrage is an amazing business model which allows you to source products from other retailers or manufacturers and sell them in your online store. You can purchase a high-demand product from physical stores, online retailers, or wholesalers at a discounted price and sell it on Shopify at a profit margin. However, there are certain requirements (such as valid permission from the brands you are selling) and restrictions on some products (such as fireworks, tobacco, weapons, etc.), so make sure to do your homework before you start an arbitrage business.
Dropshipping: Dropshipping is one of the hottest business models in current times. In this model, you can find a dropshipping supplier that will source your product and deliver it to your customer. This business model is perfect for individuals who don't want to carry or manage inventory. 
Print on Demand: POD is the same business model as dropshipping, but you can upload your own design or artwork on the supplier's website, and they will print your design on white-label products and ship them to your customer's location. This model is much better than dropshipping, and most POD companies offer branding options. This is the best way to create a brand without handling the inventory and order fulfillment.
Wholesale: Wholesale is a good option if you want your online business up and running in a short time. You can partner with established brands and sell their products for profit. This business model has less risk, but the profit margin might not be huge as well.
Digital: Selling digital products is one of the convenient ways to earn money online. By selling digital products, you can generate a passive income source without holding any inventory or order fulfillment. You can sell online courses, eBooks, digital templates, mobile apps & software, etc.
Determine a Business Name and Logo
Once you have decided on a product to sell, it is time to consider selecting a compelling business name and logo. Your business name and logo appear at the top of your Shopify website, so make sure it is descriptive and attractive.
While choosing a name for your business, you need to make sure it is short and memorable. If you choose a complicated name, it will be hard for your customers to remember. You can hire a designer to create a business-defining logo for your Shopify store.
Register a Domain Name
A domain name is an easy-to-remember IP address that is unique for each website. It helps customers access your website. Without a domain, your website won't exist on Google or any social media apps. Shopify offers a complimentary domain name according to your business name. If you want to change it, you can purchase directly from Shopify. You can also add your existing domain to your Shopify store.
Assemble Photos and Videos of Your Products
While listing products on Shopify, you will need to add images and videos of your products so customers can easily identify how they will look in real life. In fact, photos and videos are the first things a customer sees when they visit a website for shopping. 60% of online shoppers make a buying decision based on images and videos, so product photography is crucial for sellers. Collect high-quality product images and videos before you start listing products on Shopify.
Organize Business Essentials
Starting an online business also requires you to have legal documentation and information in place. Let's see what you will require for the Shopify store:
Business Structure: Your business entity you are operating (such as a sole proprietorship or LLC)
Sales Tax Permit: If your state requires a sales tax permit for operating online business
Social Security Number: If you are running a business in the US
Business Bank Account: A separate bank account for income and state tax reporting
Create a Plan for Order Fulfillment
Finally, you need to have an operating plan for product sourcing and order fulfillment. If you are running a dropshipping or POD business, you don't have to worry about sourcing or shipping—your business partner will handle it on your behalf. The same goes for digital products. Once your digital product is uploaded, it will be accessible to your customers anywhere in the world.
On the other hand, if you are running a private label, wholesale, or arbitrage, you have to source your products and fulfill your orders on your own. The sourcing part is not complicated, but order fulfillment is. For that, you can tie up with third-party logistics companies like Shippo, ShipStation, AMS Fulfillment, Deliverr, etc.
How to Sell On Shopify?
Now you are wondering about how you can open a store on Shopify and sell on it. Here's a step-by-step guide you can follow to sell on Shopify.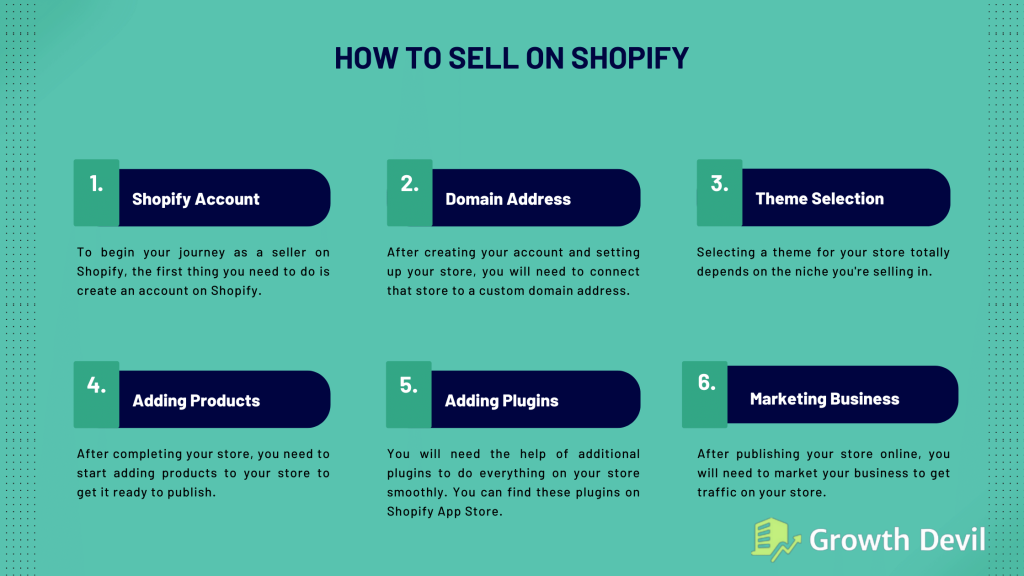 Step 1. Create a Shopify Account
To start your journey on Shopify as a seller, you need to create an account on Shopify. If you are going to use the platform for the first time, you can try the 3-day free trial to check all the premium features of Shopify. The free trial does not require credit card details. 
While creating your store, you need to put your email address, password, and store name. The shop name should be unique; otherwise, it will show an error message.
On the next page, the system will ask you a few questions about your business and revenue so they can help you with personalized recommendations. You can answer the questions or just skip to the next page.
You will need to fill in your business address details on the next page. After filling in all required fields, your online Shopify store will be ready to use. You will automatically be redirected to your store's homepage, where you will need to customize it.
Step 2. Add a Domain Address for Your Store
While opening an e-commerce store, it is crucial to add a domain name so it can exist on the internet and people can reach your store. For your Shopify store, you can add a new or existing domain with your account.
You can also customize your existing domain name. If you don't have any, you can purchase one from reliable websites like GoDaddy or Bluehost. Your domain should be short and easy to pronounce so people can easily find your website.
Step 3. Select a Theme for Your Store
The selection of a theme for your store is a crucial step, and you should be careful with that. While adding a theme to your online store, make sure it defines your brand's uniqueness.
Shopify offers over 1400 customizable themes and templates. So take your time and choose one that defines your online store best. If you want to give a more personalized experience to your audience, you can customize it and make it more eye-catching.
After setting up the theme, you can preview your store from both a PC and mobile perspective. You can contact Shopify support staff if you face any problems customizing your store.
Step 4. Add Products to Your Store
After creating your Shopify store, it is time to add products for selling. Adding products to your store is a time-consuming and essential process, so be patient in this section. 
On Shopify, you can add products in three methods.
Add Manually: If you have less than five products to sell, you can add the product details (such as title, description, and product images) manually.
Import via CSV file: If you have more than five products to sell or want to launch different products in bulk, you can import your products via CSV file. It will save you tons of time from adding all of them one by one manually.
Add with Oberlo: If you want to run a dropshipping business, you can connect your Shopify store to Oberlo so you can avoid stressing about order placement and shipping. You can also add POD (print on demand) partners such as Printify to promote products in your store.
Step 5. Add Plugins to your Store
You are about to start your Shopify store. But before that, you might want to add much-needed plugins to your store that will help you scale your business. You can find thousands of apps and software for different purposes (such as analytics, sales estimation, and competitor analysis) from the Shopify app store. You will find free and paid plugins that will surely help you boost conversion rates and streamline your revenue.
Step 6. Market Your Business
Having planned marketing makes a big difference for any type of business. If you don't advertise or promote your business, your other efforts to run an online store are much more likely to fail drastically. So here, I have listed a few marketing strategies you can try for your Shopify store.
Social Media Marketing: Social Media Marketing is an effective marketing strategy used by most e-commerce businesses. Since the majority of people like to hang out on multiple social media platforms, you can use these platforms to promote your products and business at a meager cost. You can run paid ads on different social channels or create your own business pages to find customers from all over the world.
Email Marketing: Email marketing is an effective and personalized technique to connect with your audience. In this marketing method, you collect data using cookies from your visitor's activities and follow their email to send personalized emails. You can find tons of email marketing plugins from the Shopify app store.
Content Marketing: For an eCommerce business, content marketing is considered one of the sustainable strategies for marketing. You can promote your products and turn visitors into customers with appropriate content. In content marketing, you can market your products through articles, blogs, newsletters, social media posts, etc.
Influencer Marketing: It is a part of social media marketing where you can collaborate with famous influencers and content creators to promote or advertise your products through their content. This is a solid strategy to gain customers from the influencer's loyal follower base.
Affiliate Marketing: This is one of the most productive ways to find a customer base in a short period. You can find affiliate marketers or bloggers and give them referral links to your products. When a customer finds your store through the links they have found on articles, posts, or blogs, you give a gorgeous commission to the affiliates, and you keep the rest of the total selling amount.
Benefits of Using Shopify
Here are some significant benefits of using Shopify.
1. User-friendly Interface
Shopify's user-friendly UI and UX is one of the biggest reasons for its enormous popularity. The hosting platform of Shopify is literally built for anyone. With its simple user interface and easy-to-use features, you can skyrocket your sales in a short time.
2. Cloud-based System
Shopify provides a cloud-based environment, so you don't have to worry about managing or upgrading websites. Due to cloud-based hosting, technical maintenance is automatically supervised on the platform.
3. Customizable Themes and Templates
Shopify offers a range of free and premium themes and templates to give a pleasing look to your store. Moreover, all of them are fully customizable so that you can tweak them according to your niche.
4. Free SSL Certificate
On Shopify, all the pages, transactions, payments, and contents are protected by a 256-bit SSL certificate, which is considered one of the safest platforms to work with.
5. Multiple Language Support
Shopify supports 20+ languages from all over the world, so people from different regions can also operate the platform with convenience.
6. Mobile Adaptability
Shopify offers a fully functional mobile app to make the platform more customer-friendly. With the app, you can operate your store from your smartphone from anywhere in the world.
7. Multi-Channel Option
Shopify allows its sellers to sell on other channels via their multi-channel option. It allows them to open multiple revenue streams and grow their businesses. According to in-depth statistics of Shopify, it was identified that the multi-channel option helps sellers in making the most of their revenue.
8. No Trading Fees
Shopify doesn't charge you any trading or referral fee to sell on the platform except for the subscription plans and payment processing fees. Other marketplaces charge around 15-40% of each sale as a referral and trading fee.
How Much Does it Cost to Sell on Shopify?
As I mentioned above, Shopify only charges a subscription fee and payment processing fee with no additional charges.
Talking about the subscriptions, Shopify offers three premium plans to their users.
| | | |
| --- | --- | --- |
| Basic ($29/month) | Shopify ($79/month) | Advanced ($299/month) |
| Best plan for beginners and new eCommerce businessesTwo user licenses Sell unlimited products 2.0% transaction fee24/7 support | Shopify's most popular plan—best for growing businesses All Basic plan features included Five user licenses Standard reports1% transaction fee | It is the most recommended plan for established businesses and professional sellers All Shopify plan features included 15 user licenses Advanced reportsEcommerce automations0.5% transaction fee |
Talking about the payment processing fee, it also varies according to the current subscription.
Basic: Starts at $0.30 + 2.9% for each transaction
Shopify: Starts at $0.30 + 2.6% for each transaction (variable)
Advanced: Starts at $0.30 + 2.4% for each transaction (variable)
Shopify Plus vs Shopify Lite
Shopify Lite ($9/month) is a standard business plan that allows sellers to sell on social channels and chat with potential customers.
Shopify Plus ($2,000/month) is a premium business specially tailored for high-end brands and higher-volume businesses. With this plan, you can get customized solutions that will help you increase your conversions by 18% and sales by 60%.
Related Read:
Conclusion: How To Sell On Shopify (2023) 
If you search the market, you will find a plethora of eCommerce platforms. But Shopify outranked them all and sat on the top for a good reason. Shopify's unlimited features and multiple earning opportunities attract sellers and customers. If you are still not sure about this platform, you can read customer reviews and testimonials to clear your doubts.
I hope this article helped you start your online store on Shopify and solve other queries. If you have anything to share with us, don't forget to leave a comment below.