Are you thinking about selling on TikTok? Say no more. I am here to help you complete your dream.
TikTok is one of the most popular social platforms that allows users to watch and share videos without any restrictions. You might think of it as a lip-syncing app for youths, but in reality, it comes with other money-making opportunities as well.
With over 1 billion MAUs (monthly active users) and a 95-minute average viewing time, TikTok can be an ideal place to promote your brand. Choosing the right products and actively promoting them with your videos can take off your eCommerce business out of nowhere. All you need is the right guidance so you can start selling your products on TikTok without any hurdles.
In this post, I will share a "how to sell on TikTok" guide with you that will help you start your business on TikTok from scratch. I have also shared marketing and promotion tips along with the guide that you can follow to increase your conversions within no time.
Let's get started.
What Is TikTok?
TikTok is a well-known social media application where people love to share short-form videos with the world. With TikTok, you can share stunts, pranks, jokes, tricks, dance, and many other short-form videos.
People used to share 15 to 60 seconds long videos, but in mid-2022, TikTok increased sharing length to 10 mins. Now, you can share full-length videos or content related to any niche. It also supports over 40 languages which makes it available in almost every country. However, it is banned in some countries like India, Indonesia, Russia, and Bangladesh due to some reasons.
How To Sell On TikTok?
Selling on TikTok is not that hard. Before selling on TikTok, it would be better if you had a running eCommerce store. Then, you can easily add your store link to your TikTok account, and your audience can easily buy products from your store. If you don't have an eCommerce store, you can create one on reliable platforms such as Amazon, Shopify, WooCommerce, Wix, etc. Once you have your store set up, you can follow these steps to sell on TikTok.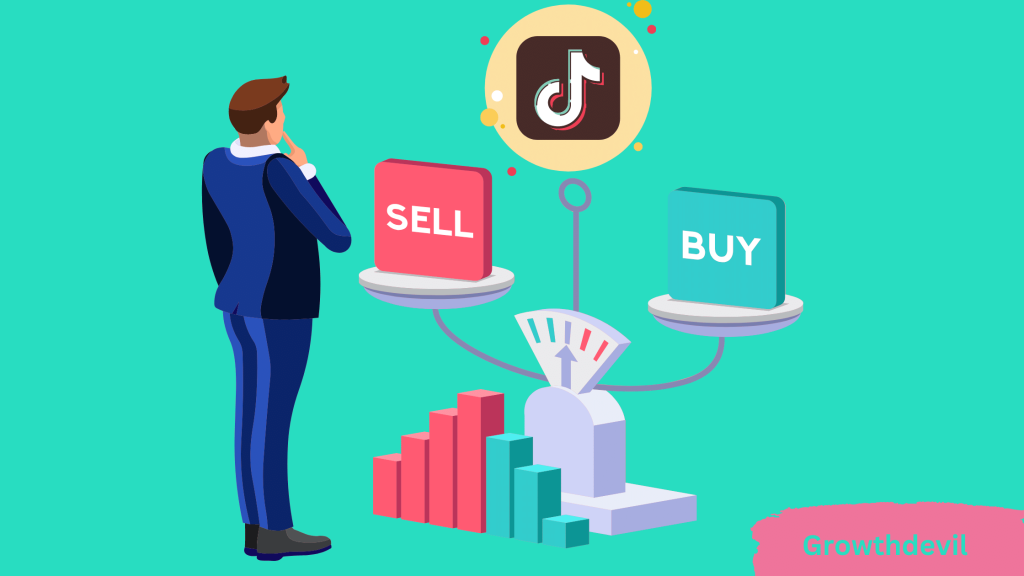 Step 1. Decide What to Sell
This is one of the most important decisions that you must take before starting your business on TikTok. Your content and product type decide what your target audience is going to be. If your target audience is Gen Z-ers and millennials, you will cover almost 69% of TikTok users. However, there are a significant number of users between 40 to 59 years old as well. It can also be your potential target with such a huge audience.
TikTok doesn't suggest to people what to sell, but you can find a list of what items are prohibited from selling on the platform. You can check out that list and make sure you are not promoting those products by any means. However, you can use hashtags to find what people are buying from TikTok. #TikTokMadeMeBuyIt is one of the most popular hashtags that users use to show what unique products they have bought from TikTok. You can also check out this option to get better product ideas. 
Step 2. Create a New TikTok Account
You can download TikTok from the Play Store and App Store. Once you have installed the app, there are three types of accounts you can choose to create an account.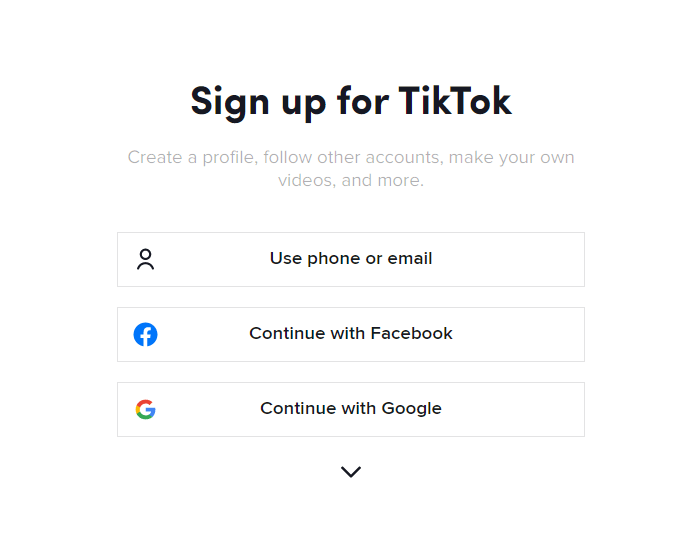 Personal: This is the standard account for users who just want to see other's TikTok videos.
Creator: This account is for creators who want to upload daily content to gain followers. With the Creator account, you can also get access to analytics tools where you see your views, fluctuations, and gained followers over time. Once you gain over 10K followers, you can join the Creator Fund, which monetizes your content according to your views.
Business: The TikTok Business account is just like the Creator account, but it is specifically made for business purposes. You can get access to analytics tools and create content like the Creator account, but you won't be able to join the Creator Fund. However, you are free to add links to your eCommerce account, product information, and business contact information. You will also get access to advanced performance tracking, engagement, and advertising solutions.
Once you have selected the product and your target audience, you must create a new account on TikTok. If you already have a TikTok account, consider making a new one for business purposes so you can easily sell products with the help of in-built tools.
Step 3. Switch to TikTok Business Account
When you create a new account on TikTok, it is automatically tagged as a personal account. You need to upgrade it to the Business account. You can upgrade your old personal account to business but if you are a part of Creator Fund, consider making a new business account because switching to business can demonetize your Creator's account.
This is how you can switch to a Business account.
Click on the three dots in the top right corner of the app.
Tap on the Manage Account button.
In this section, tap on Switch to Business.
Finally, select a category for your current business.
Here's what you will get with a TikTok Business account.
Analytics Tools: These tools will help you track performance and audience data
Video Showcase: A collection of popular content from top business content creators
Content Guide: An exclusive guide for business-related content
Music Library: Over 150K royalty-free sound library for commercial purpose
Business Suite: Here, you can download your analytics data and get access to business insights and Business Creative Hub for content-creation tips.
Step 4. Setup your Business Profile
Before starting the promotion of your products on TikTok, you must optimize your account for selling. In order to do that, you can add your eCommerce store link, email address, and other social media accounts.
While setting up the business account, you can add a short description of your business in your TikTok bio. Consider using emojis while writing descriptions about your products, as Gen Z-ers love this modern method. You can also add CTA with your posts to promote seasonal discounts or give them invitations for a new hashtag trend.
Whenever you upload content related to a product, make sure to add a proper product link that redirects directly to your store. This way, your audience can easily purchase that item without any hassle.
Step 5. Start Creating Content
Once your store and TikTok account is all set up, it is time to create content. If you just started a business on TikTok and you don't have an account before, you need to upload content very often, like 2-3 posts every day. If you already have a Creator account, you can encourage your audience to follow your business account.
Now let's talk about how your content should look from a consumer's perspective. If you are still having confusion creating content, you can check out the "For You" page. On this page, you can find viral videos regarding product promotion and TikTok Business.
Keep one thing in mind TikTok is a fun application, not an eCommerce platform so be creative while uploading your video content. Don't be too salesy in your videos because your audience will stop taking an interest in your videos. Instead, make engaging videos and smartly promote your products. You can also upload videos using your products, and it can benefit you and others as well. The main point is to keep your audience engaged, so they come back regularly to view your content. And once they find a product fitting for their lifestyle, they will definitely purchase from your store.
Here are some tips you can follow to promote your products on TikTok.
You can create your own hashtag challenge and encourage your audience to participate in it. Make sure to keep it simple and memorable.
Share a tutorial video in an easy-to-follow format.
Use trending sounds and BGMs to create your videos.
Announce giveaways
Run a contest
You can also follow someone's video method in your unique way to create content. Don't exactly copy the content; otherwise, it will become subject to copyright. Use trending business-related hashtags such as #smallbusiness, #supportsmall, #entrepreneur, etc.
Step 6. Stay Consistent with Your Content
You need to be very consistent with your content, even if you are getting low views. If you delay your uploads or stop uploading, your content will not get as many views as you expected. TikTok's algorithm works similarly to YouTube Shorts. When someone follows you and views your content, your content will appear on their screen whenever they scroll through videos.
Gaining followers on TikTok is much easier than on Instagram and YouTube. As long as you are consistent, you will keep gaining followers and views over time, and you will start getting sales soon.
Step 7. Collaborate With Influencers
The engagement rate of micro-influencers (with less than 15K followers) on TikTok is 18% which is way much higher than other platforms such as YouTube (1.7%) and Instagram (3.9%).
TikTok is a creator-centric platform, so partnering with Influencers can give your product and brand the exposure you need. TikTok's Creator Marketplace will help you find the right influencers that will comfortably align with your products and brand.
Partnering with influencers is the best advertising method for TikTok videos. Here's how you can get started with influencer marketing.
You can form an affiliate program or offer commissions in exchange for sales, or create content
Collaborate with influencers in the same video to get exposure
Generate sales by making discount coupons using the influencer's name
Step 8. Encourage UGC (User Generated Content)
If you're lucky enough, the use of your original hashtags and your work with micro-influencers could bring a lucky break to UGC. It can snowball your sales, and as a result, you can get unimaginable global reach.
UGC can take the form of a meme or TikTok challenge. It can also be the one video that goes viral worldwide. For example, an influencer creates a video using your product in a unique way, and it becomes an internet sensation overnight. Later, it could become a challenge or trend that everyone is following or copying. UGC is an organic opportunity that needs some luck and talent.
Step 9. Explore other Advertising Options on TikTok
Influencer Marketing is not the only option to promote your brand and product. There are a number of advertising options and ad services available on TikTok that you can use to promote your products on TikTok and other platforms as well.
There are mainly two options for an advertisement: self-service and TikTok ad manager.
Self-service includes in-feed video advertisements. This type of ad appears on the scrolling page and looks like a normal video. It simply blends in with other videos and doesn't look like the usual ads you see on social platforms.
With TikTok Ad Manager, you can set goal-based campaigns. These types of ads can include branded effects, hashtags, official takeovers, and TopView ads. It works just like Facebook Ads. You can choose your target audience using filters such as age, interests, gender, and location.
You can also promote your TikTok videos on other social platforms. Once you start getting enough engagement, you can use in-built analytics tools to track your conversions and sales on a weekly and monthly basis.
Benefits of Selling on TikTok
Here are some fruitful benefits of using TikTok to promote your brand.
TikTok has almost 1.7 billion users around the world, which is 7th largest according to the numbers
The engagement rate of influencers is higher than other top social platforms
TikTok videos increase conversion rates faster than other platforms
You don't need to be very professional to upload content
Easily find winning products to sell on TikTok
38% of TikTok users suggest their used products to their family and friends 
Tips on Creating Content for Selling on TikTok
When you are selling on a social platform like TikTok, the quality and relevancy of content are very important. Whether you are new on TitkTok or have been creating content for a significant period, your content must contain proper BGM (background music), captions, and effects that relate to your product. Here are some tips you can follow for your TikTok content to promote your products:
Keep it Short and Relevant
Tikok is all about short-form content. Today's generation doesn't want to spend too much time watching a single video. So you need to make sure your content videos are short and to the point. Focus on highlighting the key benefits and features of your product in a concise way.
Be Creative and Unique
TikTok's audience loves unique and creative content. So you need to think out of the box when creating your TikTok content for promotion. Try using humor, storytelling, or other creative approaches to capture your audience's attention. This will help you create scroll-stopping content for your product promotion.
Use Trending Songs and BGMs
Social platforms like TikTok and Instagram thrives on trends, whether it is popular music, meme, fashion, or sound effect. To add a trending turn to your content, you need to do some research on TikTok. You can scroll through the Discovery page, and you will find the latest trend going on TikTok. You can also add your own twist to make it more interesting and unique.
Use Attention-grabbing Visuals
TikTok is a highly visual platform, so your content videos must be attention-grabbing and visually appealing. You can use high-quality videos and images, animations, and other visual effects to make your product stand out.
Show Your Product in Action
Instead of simply showing or talking about your product, show it in live action. You can demonstrate how it works, its unique features, and how it can benefit your audience. Seeing a product in action affects the audience differently. You can check #TikTokMadeMeBuyIt to see the results of TikTok products.
Use Relevant Hashtags
To make your content more discoverable, you can use relevant hashtags. Research popular hashtags related to your product and use them in your video description to increase your reach. This way, the interested audience can use the hashtag to find your video content.
Engage with Your Audience
Engagement is a crucial aspect when you start selling on TikTok. To increase the engagement rate of your audience, make sure to respond to comments and messages from your audience. You can also encourage your followers to ask questions, provide feedback and share their thoughts on your product.
Related Read:
Conclusion: How To Sell On TikTok (2023) 
TikTok is one of the most loved social platforms, with billions of users worldwide. People use it not just to share jokes, pranks, funny, and dance videos but also use it for business purposes. Even TikTok made a separate section for entrepreneurs and eCommerce sellers. So if you have a running eCommerce store, you should be promoting your products on TikTok.
Whether you use self-promotion or collaborate with influencers, using TikTok can skyrocket your sales within a short time. The reason is the huge engagement rate and viewing algorithm. The more you share, the more followers and views you will get over time. So it is time to be creative and start getting sales in style by creating crazy TikTok videos.