Are you a dropshipper looking forward to starting a print-on-demand business? Well, Printful is one of the best print-on-demand (POD) companies that offers cost-effective solutions to dropshippers.
Print-on-demand business follows the same process as dropshipping—almost a kind of dropshipping. But, when it comes to quality, design control, and branding, dropshipping is nowhere near this business. With a POD, you get complete control over product type, design, and, most importantly, profit margins.
If you search for a POD on the internet, probably a list of the best, you will find thousands of results within the blink of an eye. But I bet that you will find Printful at the top of every list. And why not? Printful offers everything a POD dropshipping service can possibly offer. From product selections to high-quality prints, on-time delivery, and excellent customer service, Printful has everything. It is just a mere part of a film—there's much more than that you might unaware of.
In this following post, I will share an in-depth Printful review. I will go through each and every part of Printful and its services. By the end of the post, you will figure yourself why merchants choose Printful over other PODs.
So, without further ado, let's dive right into the post.
Printful Review: In A Nutshell
Founded in 2013, Printful is a renowned print-on-demand and fulfillment company that turns people's ideas into real products and even brands. Whether you want to start your own dropshipping business or want to give someone a personalized gift, Printful will help you get it done. Best of all, you can start your business with Printful without spending a dime. They do have subscriptions, but you don't have to necessarily subscribe to a plan in order to use its features or tools.
Printful offers a huge catalog of white-label products such as t-shirts, hoodies, phone cases, coffee mugs, pillows, hats, backpacks, etc. You will also get access to a user-friendly mockup generator (design maker) that lets you create custom designs on specific products you have selected. After that, you can promote your custom-designed product on your preferred eCommerce store. Luckily, it supports integration with 25+ eCommerce platforms and marketplaces, including Amazon, Shopify, Wix, Etsy, Squarespace, WooCommerce, etc.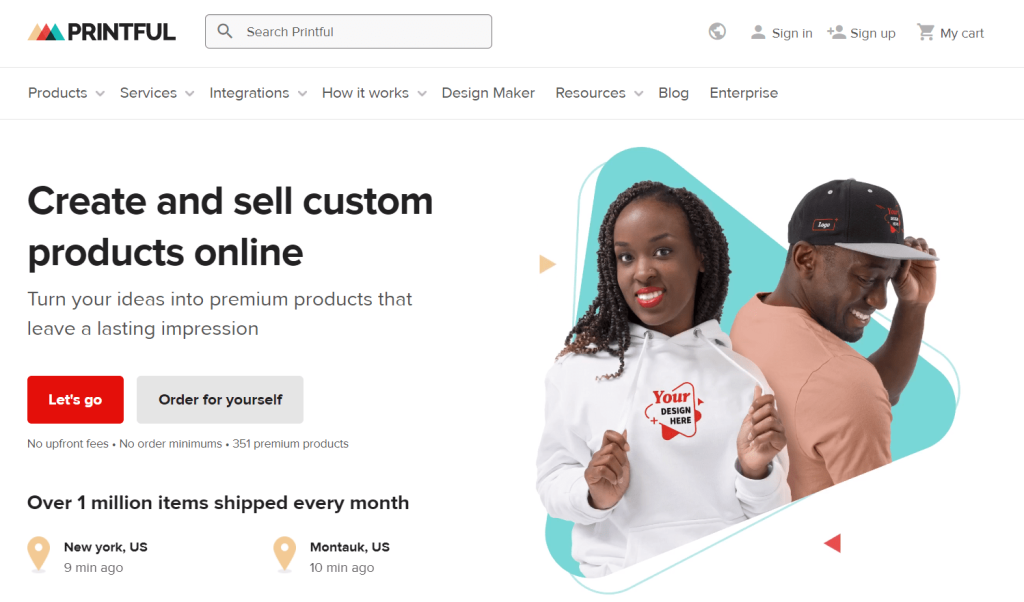 Printful has the biggest logistics network across the globe compared to other POD companies. It owns a number of manufacturing facilities and fulfillment centers around the world, allowing you to choose your nearest in-house fulfillment center so you can target global audiences with affordable shipping rates.
Let's have a look at Printful from a numbers perspective:
438+ different product options to choose from
13 fulfillment centers (with warehousing services) across the US, Europe, Mexico, Japan, Canada, and Australia
More than 1,600 in-house team members across North America and Europe
Caters to over 415K customers across the globe
Over 57.9 million items have been delivered to customers to date
Sellers generated more than $1.33 billion in profit through successful sales
Over 1 million items dispatch from fulfillment centers every month
Invested more than $83 million in printing equipment and advanced technology
Get access to over 79 million clipart, images, shapes, symbols, and illustrations
Compare these numbers with other POD companies, and you will find out that Printful excels in many aspects with a huge margin.
Things That Make Printful Stand Out
Why is Printful the world's #1 print-on-demand platform? Why do sellers choose Printful over other platforms? There are a number of reasons that makes it different from its competitors. Let's have a look at them.
No MOQ Requirement: Whether you use a free plan or subscribe to a membership, there is no minimum order rule—you can order as much as you want. That's why Printful caters to small, medium, and enterprise-level businesses.
On-demand Fulfillment: Printful avoids printing custom-designed products in advance as it can cause a leftover stock situation. It only starts production when a person places an order for a specific product.
Custom Branding Options: Printful offers a complete white-label solution, so they don't attach their name anywhere on the product. It gives the opportunity to create a brand from scratch. You can request an order to print labels and logos on the custom packaging of your product.
Technophile: It invests millions of dollars in the latest and most advanced printing equipment that reduces production time without compromising the product's quality.
Complete Automation: Printful's order process is completely automated. You don't have to involve in the sales process actively. Customers buy from your store, and Printful delivers them–this process repeats all over again.
Damage Recovery: During the shipment of the product, if the product gets damaged or lost, Printful will cover the cost with no questions asked.
Best Shipping Rates: Unlike other POD companies, Printful has fulfillment centers spread across the globe. So the company offers the lowest shipping rates possible.
Who Should Use Printful?
Fundamentally, there are no certain criteria required to join the platform, and you don't need to be very professional. Since it works just like dropshipping business, anyone with a business purpose can sign up for free. All you need to do is upload your designs and artwork on your selected product, and you are good to go. If you haven't done your homework designing your custom picture or graphic, you can use its powerful drag & drop design maker to create unique designs and artwork.
However, if you are totally dependent on ready-made products for your business, Printful won't be the best option for you. In that case, you need to find a dropshipping company with suppliers (such as Spocket and AliExpress) where you will find read-to-sell products and their dropshipping partners.
How Does Printful Work?
Printful just work like any typical print-on-demand company. But before you sign up for the platform, you must have an eCommerce store completely set up and ready to sell. Because Printful doesn't offer any hosting solutions or features to create a standalone eCommerce store. Now, let's see how things work on Printful.

Create an Online store: First, set up your own eCommerce store where you can sell products. Make sure to create your store on an eCommerce platform that supports Printful integration.
Create an Account on Printful: Sign up for a free account on Printful using your email address.
Connect Your Store: If your goal is to sell personalized products, you need to connect your eCommerce store to your Printful account. This way, Printful will automatically receive orders from your customers. (You will not need to connect a store if you just want to order a personalized product for yourself)
Select a Product: Once both your accounts are set up and connected to each other, you can choose a white-label product from Printful's catalog.
Upload Your Design: After that, you can upload a design that you have made before. Or, you can use its built-in design maker to create designs in real-time. You don't need to stuff too many details in your design. You can keep it simple as solid one-liners or simple images.
Set a Price: The white-label product you choose on the platform already has pricing. It is a base price that Printful charges for production and printing. Apart from that, it also charges a shipping fee per product. So you need to set your product's price keeping your profit in mind.
List the Product in Your Store: Now, you need to create a listing on your store for the product that you have created on Printful. You can download a CSV file and import the product details to your store within one click.
This is the basic set-up process that every merchant needs to go through in order to sell products. After that, you can sit back and let Printful handle the further process. Here's how it fulfills orders.
Your customers place orders on your storefront by paying the listed price.
Printful receives orders from your customers and cuts basic production and shipping costs from your listed price.
Printful's fulfillment center prints your custom-printed product (that your customers ordered) and packs it under your branding (if you have opted for it).
Within the given timeframe, Printful will deliver your product.
In this whole process, you just acted as a middleman and made a profit by promoting the product. Doing business with Printful is like selling digital products—you can sell without limitations and without managing any inventory.
Key Features Of Printful
Now that you know about Printful and how it works, let's know more about its features. Here is a summary of all its features.
A User-Friendly Platform
You already know how easy it is to use Printful and its features. It was specifically designed for graphic designers, artists, and creators. But not anymore. Now anyone with a creative mind can use its tools and free images to create unique designs.
Luckily, platforms like Printful handles the manufacturing and order fulfillment process. That means you get more time for your store customization or even designing new ideas.
High-Quality Products
Products that Printful offers are top-notch in terms of quality. They use fine fabrics and materials to manufacture their products. And best of all, they use first-party printing. That means Printful takes full responsibility for the product's quality.

Many PODs use third-party manufacturing facilities to produce and print products. Fortunately, Printful owns several manufacturing facilities across the globe. Apart from that, the company spends millions of dollars on the latest and environment-friendly equipment so your customers can purchase the best quality products. This is the reason why the company has an established customer base.
Self-Explanatory Mockup Generator
If you don't have designs to upload on Printful, you can create one with its built-in Design Maker tool. Using the tool is no rocket science. It has a drag & drop editor that helps you simply create unique artwork on your selected products. It supports multiple formats, so you can upload any type of image and start customizing. The tool lets you resize, crop, and rotate images so you can edit your image to the finest details.
Endless Designs and Customizations
Printful has a gallery of 16,500 clipart, images, logos, and illustrations that customize to create a new design. If it is not enough, you can browse more from Getty Images through API. It has a huge gallery of over 79 million free and HQ images. That means the platform has nearly endless options for its designing tool.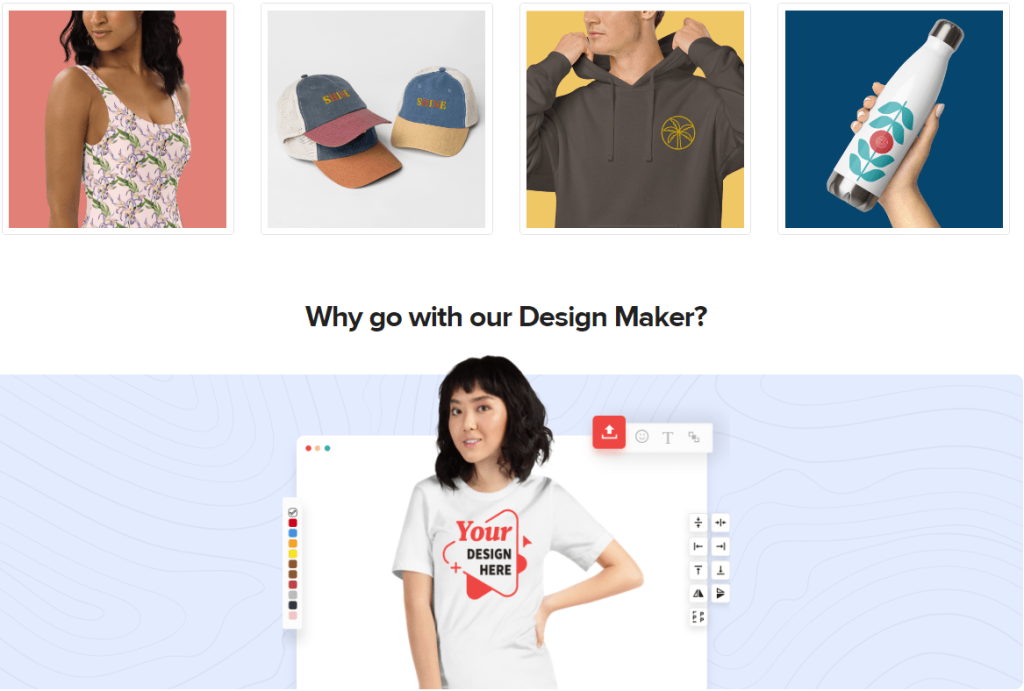 Test Samples of Products
This feature is probably the best among all other PODs. Printful allows you to order samples to check the quality of your final printed products. New sellers can order one sample each month at a flat 20% discount. Once you reach a certain threshold in monthly sales, the number of samples per month increases. It goes to a maximum of 15 items per month. With this feature, you can ensure that your customers are getting the same quality as the samples.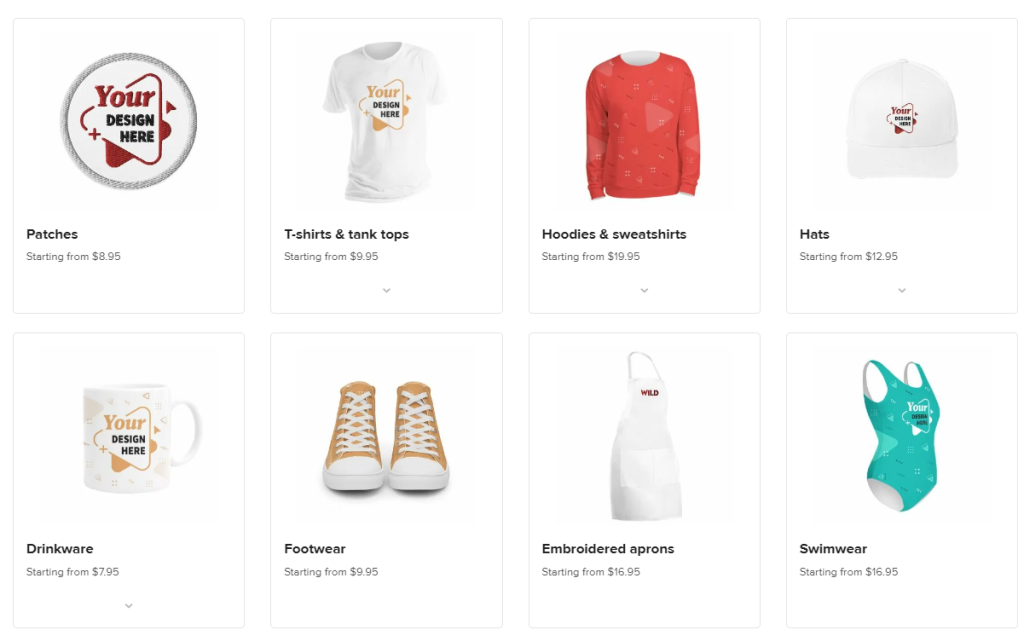 Flexible Integrations
Printful integrates with top eCommerce platforms and online marketplaces. It supports integration with 25+ platforms, including Shopify, Wix, Etsy, Squarespace, TikTok Shop, Magento, Amazon, etc. If you still can't find your eCommerce platform from the list, don't worry–Printful has solutions for everyone. It supports API integration that allows you to connect your store. The workflow will remain the same for API-integrated stores.
Multi-Channel Selling
Is selling on one platform isn't enough for you? No worries–Printful has a multi-channel selling feature to offer. With this feature, sellers can connect to more than one eCommerce platform with their Printful account. If you have multiple eCommerce stores, you can use this feature to increase your sales and expand your business to a much larger audience.
The Power of Social Media
No matter what eCommerce platform or online marketplace you choose, Printful allows you to sell on various social media. It is a great marketing strategy to build a customer base across multiple social platforms. If your eCommerce platform supports social channels, you will be to enable the "buy button" option. It will allow your customers to link directly to your store from where they can purchase whatever they like in your store.
Fully-Responsive Mobile App
Printful offers a fully-functional mobile app for both Android and iOS users. The app allows you to access your account directly from your phone. This way, Printful ensures you can remotely manage things when you are on the go.
Here's what you can do with the Printful mobile app:
Create manual orders
Confirm new orders from costumers
Hold or remove manual orders
Track order progress
Report problems
Talk to support (You can also send screenshots in live chat)
Fast & Reliable Global Shipping Solutions
There's no denying that faster shipping makes customers happy. Customers quickly start enquiring about their orders when the shipping time goes above their given timeframe. But that doesn't happen with Printful. The company owns a number of fulfillment centers that are spread across different continents.

When a customer places an order, Printful forwards the order to the nearest manufacturing facility according to the customer's location. This process reduces overall shipping time so your customers can quickly receive their orders.
Exclusive Discounts
If you want to sell your custom-designed Printful products in your physical stores, you can order in bulk, as there is no minimum order requirement. And guess what? You will also get up to 55% discount on all bulk orders.
You will be eligible for a discount if you order at least 25 units of the same product. The discount varies according to the number of products you order. The more you order, the more discount you will get. Additionally, members with a subscription can get take advantage of higher discounts for bulk orders.
Industry-Specific Customer Support
Printful has mixed reviews regarding its customer support. But most of them believe that it offers better support than other competitors. Regarding connecting your eCommerce store and using the mockup generator, you can find step-by-step guides from its help center. You can contact the customer support staff via email, live chat, and phone for other issues.
Phone support is only accessible on weekdays, while other supports are available 24/7. You can also join its active community to take help from fellow Printful sellers.
Pros and Cons of Printful
Here are some pros and cons of Printful:
Pros of Printful:
Easy-to-use interface
Wide range of products available
Quick turnaround times
Good quality printing
Customer support is responsive and helpful
No upfront costs or inventory requirements
Cons of Printful:
Shipping costs can be high for international orders
Some products may be out of stock or unavailable at times
Difficult to make changes to orders once placed
Printful Review: Pricing Plans
Though the free plan is enough to run an online store, Printful still offers two paid subscriptions t their users. These plans contain a few advanced features that make them accessible for teams and larger businesses.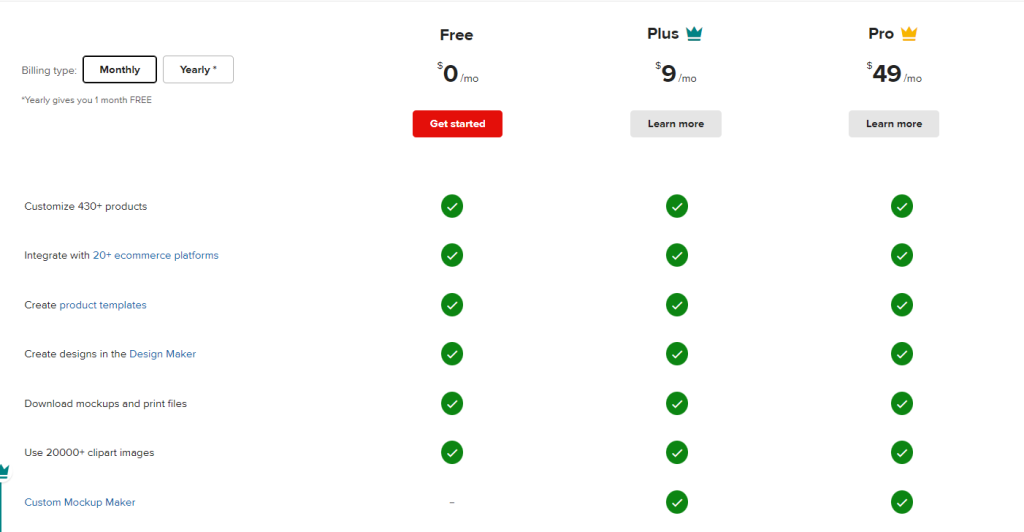 1. Free Plan – $0 (For Lifetime)
The free plan of Printful offers you all the essential features and tools-access that you need to operate a small business. You can create custom designs, order products, and download CSV files. Here's what you get with the free plan.
Access to all available products
Integrates with all eCommerce platforms and marketplaces
Access to the Design Maker tool
Access to 16,500 clipart images
Create product templates
Download mockups
2. Printful Plus – $9/month
This plan is for people who want to unlock advanced features in their mockup generator. The plan also offers a few marketing features that you can use to promote your product on various social platforms.
All the free plan features
Marketing promos
Background image remover
Custom product mockups
Create personalized social media ads and posts
3. Printful Pro – $49/month
The Pro plan is the ultimate tool that offers access to advanced tools. These tools help sellers scale their business to the next level. With this plan, you can also handle a team of 10-15 members.
All the Plus plan features
Access to 480+ exclusive clipart and illustrations
Custom API integration
Keyword Scout for Etsy
Custom promo and mockup maker
Browse directly from Getty Images for premium images
Carrier-based shipping solutions
Free digitization of embroidery files
Both paid plans come with a 14-day free trial. So new users, who are willing to go for the premium version of Printful, can take the free trial to test all the advanced features. After the free trial, you will have to pay regular subscription charges.
Printful Alternatives
Printful is undoubtedly one of the best POD companies that offer dropshipping and on-demand services, but it is not the only company that offers POD services. There are hundreds of other companies that offer the same services by following the same fulfillment process.
1. Printful vs Printify
Printify is the biggest competitor of Printful, which offers equally awesome tools and features. The product selection and logistic network are comparatively bigger than Printful. The only downside is that Printify outsources printing and order fulfillment. Read our complete Printful vs Printify guide to know more about it.
2. Printful vs Teespring
Teespring is free-to-use software that offers users a small but unique product selection. The process of printing and order fulfillment is almost the same. Compared to Printful, it offers higher profit margins and faster shipping solutions. Read our full comparison between Printful and Teespring for more information.
3. Printful vs Print Aura
Print Aura is commonly used for its white-label and branding solutions. The company goes one step ahead of Printful and allows you to attach your brand's logo to your product. Apart from that, you also get custom packaging and shipping options.
4. Printful vs Teelaunch
Teelaunch is a new player in the POD industry compared to all other competitors. It offers a premium range of clothing and sportswear for custom printing. The company goes above the box and offers a range of uncommon products, such as Bluetooth speakers, dog bowls, luggage tags, jewelry boxes, necklaces, and many other cool products.
Related Read:
Final Verdict: Printful Review (2023)
Finally, you have come to a conclusion after a long talk. Before the article, you must have been wondering why I was bragging about Printful so much. But after reading the article, you will realize that all the facts and rumors were true about the platform. If you are thinking about starting a dropshipping business with a print-on-demand, there's no better option than Printful. It offers a free plan that gives you access to all the tools that you can use to make thousands of dollars in profit.
The whole process on Printful is completely automated, so you don't have to worry about manually accepting or forwarding orders. So are you ready to start a business without managing an inventory? If yes, start with Printful for free.