Looking for an unbiased comparison between Printify vs Printful? Look no further because you have reached your destination.
Print-On-Demand dropshipping is one of the hottest business models in recent times. In this model, all you have to do is upload your design for a product, and the POD partner will take care of manufacturing and shipping. 
Printful and Printify are the two biggest names among POD manufacturers. Choosing between these two platforms is not an easy task as it offers almost the same services and a set of features. But there's always a difference.
In this post, I am going to compare two POD giants, Printful and Printify. I will include an in-depth summary and explain all the differences so you can choose which one suits your business the best.
Let's get started.
Printify vs Printful: Quick Comparison
Here is a quick comparison between Printify and Printful:
| | | |
| --- | --- | --- |
| Feature | Printify | Printful |
| Products | Offers a wider range of products, including clothing, home decor, accessories, etc. | Mainly focuses on clothing and accessories. |
| Integrations | Integrates with Etsy, Shopify, WooCommerce, etc. | Integrates with Shopify, WooCommerce, Squarespace, etc. |
| Fulfillment Time | The average fulfillment time is 1-7 business days. | The average fulfillment time is 1-3 business days. |
| Print Locations | Has print providers in the US, UK, Spain, Germany, and more. | Only has print providers in the US. |
| Order Minimums | No minimum orders on most products. | Some products have order minimums. |
| Shipping Costs | Provides free shipping over set order amounts that vary by product. | Provides free shipping over $50 in the US. |
| Product Customization | A high degree of customization, like print colors and sizes. | Moderate customization options. |
| Pricing | Premium pricing but offers volume discounts. | Competitively priced. |
| Support | Provides email support. | Provides email, chat, and phone support. |
Printify vs Printful: Key Differences
Here are the main differences between Printful and Printify:
Printify relies on third-party suppliers for the products & fulfillment, whereas Printful has everything in-house, so they don't need any third party to do the work for them.
You have to pay for Printify's subscription if you want to get started with all the premium features, whereas there is no subscription model available on Printful.
Printify has over 90 operational centers, which they use to fulfill your customers' orders, whereas Printful has only five operational centers.
You can choose a supplier who will manage your orders and the fulfillment on your behalf on Printify, whereas there is no such option available on Printful.
Printify vs Printful: In a Nutshell
Let's get to know about both print-on-demand platforms.
Printful Overview
Printful is one of the best POD manufacturers in the market. They offer a range of manufacturing and fulfillment services to their users. Printful offers tons of white-label products that you can select for designing with your artwork or taglines.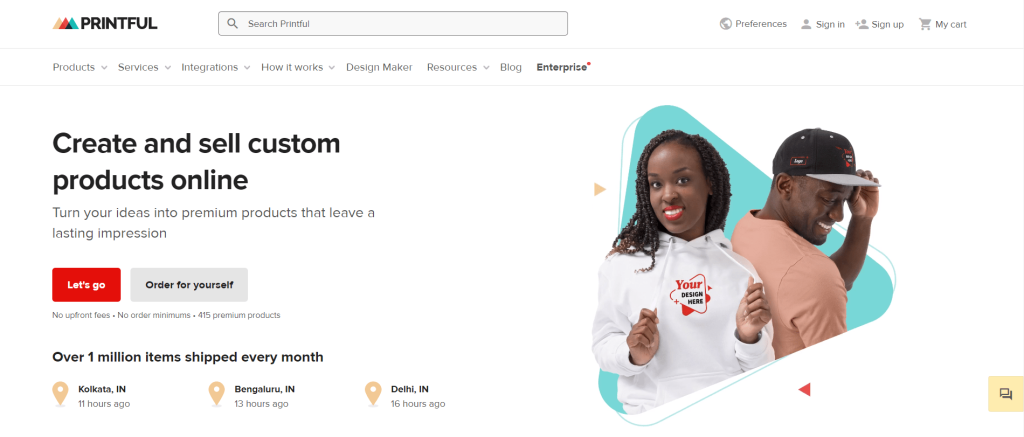 Printful works with various print providers and owns many manufacturing facilities, so customers receive high-quality products. It has the biggest logistics network across Australia, Japan, North America, and Europe because 80% of orders come from these regions. Still, it offers international shipping options. Till now, they have shipped over 50 million products.
Printify Overview
Like Printful, Printify also offers print-on-demand services across the globe. It has the biggest global reach — shipping products in over 100 regions. There's no shortage of products. You can find products in almost any category for design.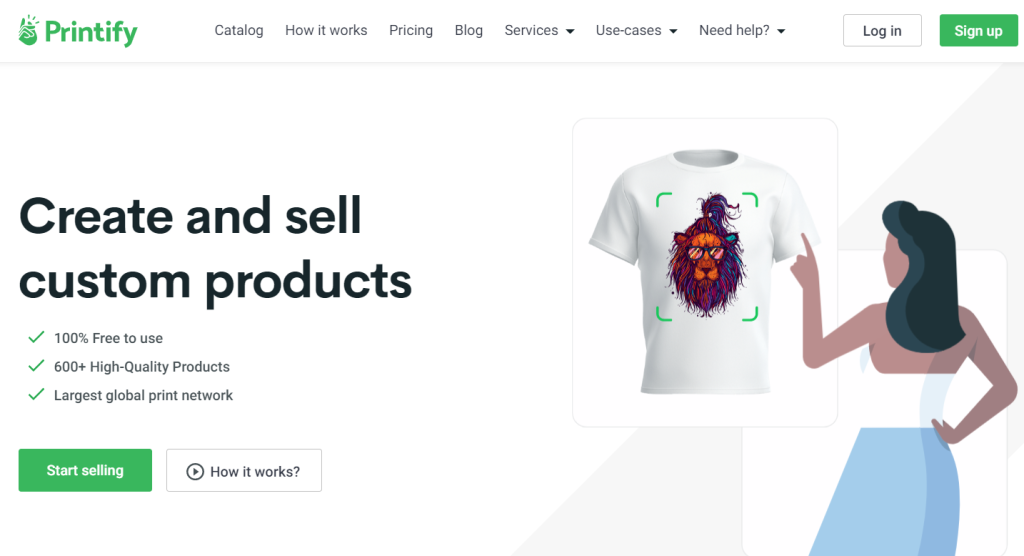 Printify partnered with 90 manufacturing and printing facilities in the US, Australia, China, Europe, etc. It is free to use, and there are no upfront charges. And there are no order limitations, so you can order as much as you want. You can also compare all the shipping rates and delivery times among all the available locations. It also offers an in-built design tool with tons of templates, images, and one-liners.
Printful vs Printify: How it Works?
Printful and Printify both offer almost the same procedure of sign-up and onboarding. Let's see how you can get started with both platforms.
Create an eCommerce store: In order to get in touch with a POD partner, you need to have a running online store. You can create one on Shopify, Etsy, Wix, etc.
Sign-up: Go through the sign-up process to create an account for free. You need a valid email to sign up.
Connect your store: After creating your account on your preferred platform, you need to connect your store so you can list/promote products.
Select a product: Select a product depending on your niche. You can choose from various categories.
Design the product: Now, it is time to give the product a unique design. You can upload custom designs or use in-built design tools to design your product.
Set your price: Set the price of a product after considering the production and shipping costs. Make sure to put a reasonable price.
Promote the product: Finally, you can list the product in your store for sale.
Whenever a customer places an order from your store, the POD partner manufactures the product and ships the product to your customer, and you receive the profit just for designing the product.
Printful and Printify: Detailed Comparison
Here's a comparison of both platforms' features. Let's find out who the winner is.
1. Ease of Use
Printful and Printify are both designed and neatly designed with minimalistic touch and layouts.
Printful
Printful offers a simple and easy-to-use user interface. And as I have mentioned above, the setup procedure is almost the same as Printify. After connecting your eCommerce store to Printful, selecting from a range of products for designing is pretty simple.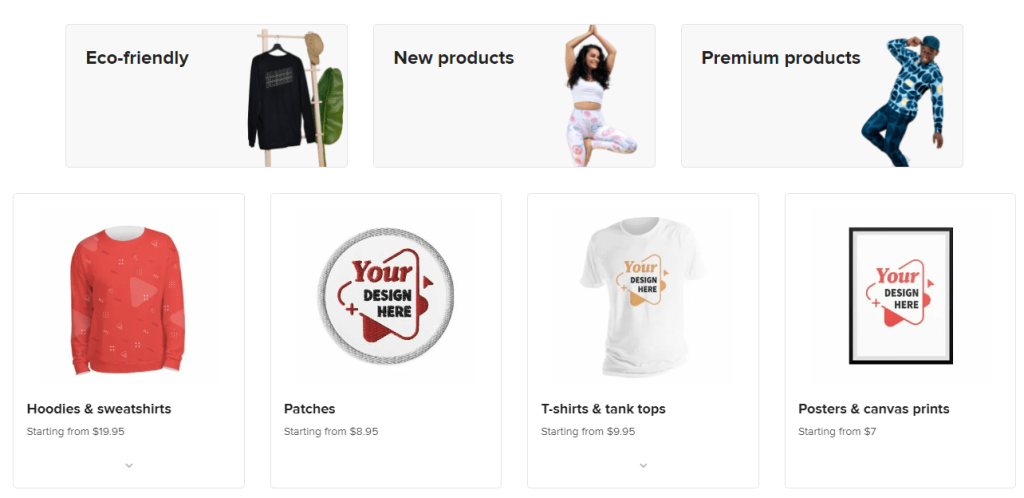 When it comes to giving your product design, Printful is pretty resourceful. You can upload your designs or use Printful's in-built Design Maker tool to create creative designs for your products. It is a simple drag & drop editor that comes with several customization options. You can also generate mockups to preview and download your creation.
Before launching your designed products to your online store, you can order the product to check the quality.
Printify
Printify is not so different in terms of the user interface. The only difference is that it offers a permanent entry-level package for free. You can use the service with its design maker tool in up to 3 stores. And there are no limitations on using product designs — you can use as many design templates as you want.

To start with Printify, you can simply add your store to your Printify account and create a design or add products to your store. If you face any difficulty regarding design, uploading, or adding products to your store, you can take help from Printify's Help Centre to solve your issues within minutes.
Like Printful, you can also order your designed product to test the quality to assure that your customers receive the same quality.
Winner: Tie
2. Product Catalog
Check out how many products you can select for your business on both platforms.
Printful
Printful offers a vast range of products that you can select for your business. You can customize more than 415 different products with your personalized designs and sell them across the globe.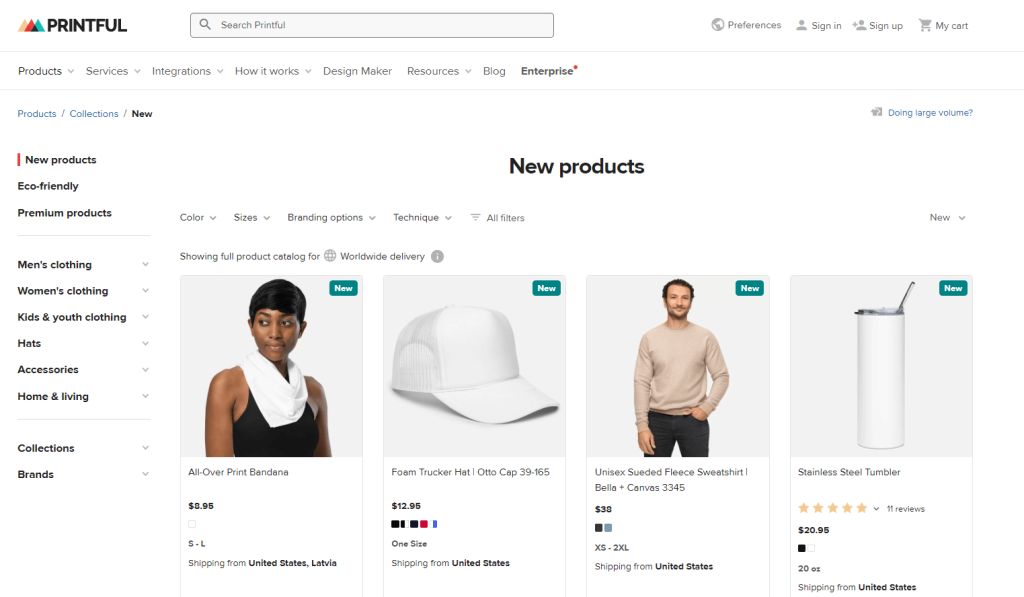 Printful's product catalog includes a variety of trending products for customization. Here are some of the popular products:
Clothing (like hoodies, t-shirts, leggings, etc.)
Sweatshirts
Backpacks
Pillow
Mug
Various accessories
Printify
Printify is two steps ahead with its product catalog. They offer 600+ high-quality products that you can design for your store. The best part is that they add about 5-6 products every week so that you can choose products according to your niche.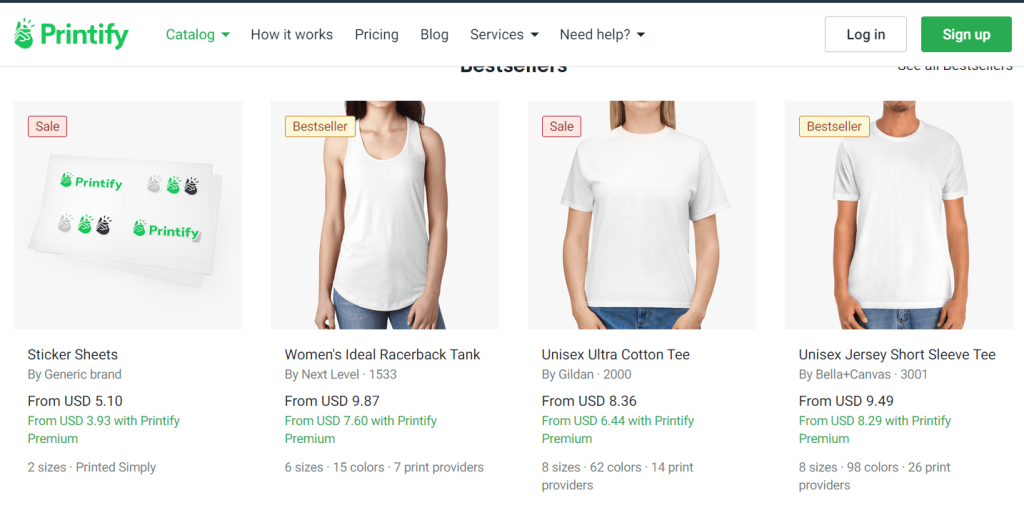 Merchants can find almost every type of product in various categories like accessories, clothing, home products, etc. Here are the most popular categories for product selection:
Clothing (t-shirts, socks, hoodies)
Sticker sheets
Speakers
Drawstring bags
Jackets
Watches
Phone back covers
Winner: Printify
3. Profit Margins
As a POD dropshipping business owner, you might want to make a decent profit without overpricing the products. To calculate profit margins, you can subtract the production and shipping costs from your product's total price.
Let's suppose the production cost of a product is $12, and the shipping cost is $5, then your product's subtotal is $17. If you set $22 as your final price, your profit margin will be $5. Printful offers a Profit Calculator that helps you with the most sensible profit margin suggestions.
The production cost is almost fixed for both platforms, while shipping costs can vary according to the location. Printify offers a cheaper production cost, whereas Printful's production cost is a little bit higher. With low production costs, you will have better profit margins without compromising the final cost.
The shipping rates for the USA are almost similar on both platforms. However, Printful's global shipping rates are better than Printify's. But if you are selling Printify products primarily in the USA, you will have better profit margins.
Winner: Tie
4. Print Quality
A product's quality determines customer satisfaction and ensures their return for more. Your product must be printed with high-quality and non-toxic inks so it can provide comfort to the customers. Let's see what both platforms have to offer.
Printful
Printful is pretty serious about its products' quality. That's why they manufacture their own products. They own a number of warehouses and in-house fulfillment centers in Europe, Mexico, the USA, and Canada.

Printful has invested more than 50 million in advanced printing equipment, so each product ensures high-quality and eye-catching designs. This might be the main reason why their product cost is higher than other print-on-demand platforms.
Printify
If we talk about Printify's print quality, there is a lot of uncertainty. The main reason is that they don't own any manufacturing facilities or workshops. They outsource ordered products from different manufacturing facilities. More likely, they act as a middleman between you and printing facilities.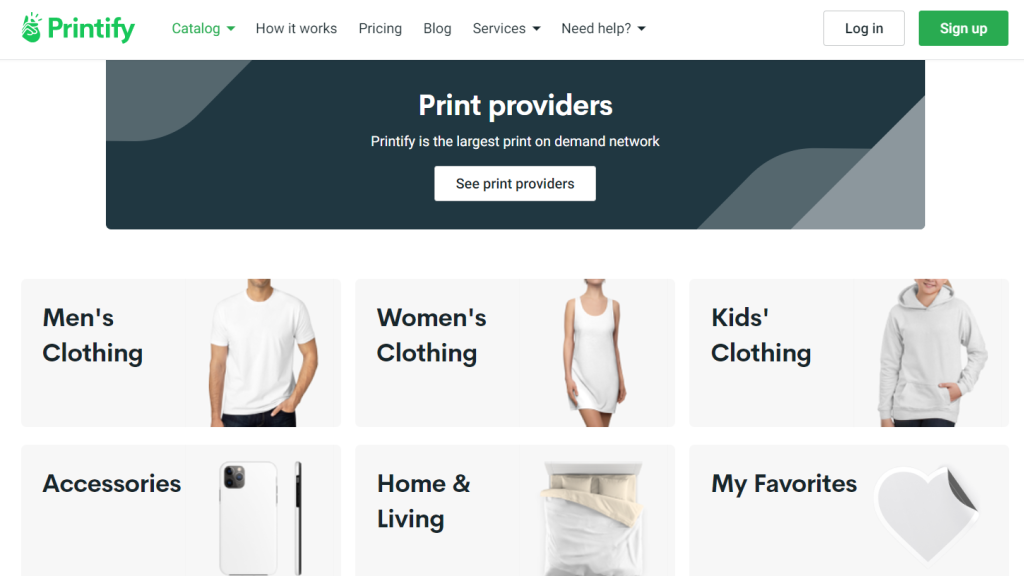 Since Printify has no printing equipment, you don't have control over the quality of the products. However, the orders go through many quality checks before they are shipped to your customers.
Winner: Printful
5. Branding
60% of shoppers prefer to purchase branded products from online stores as it ensures high-quality fabrics and better comfort.
Printful
Printful provides white-label service for merchants, so they are free to add their brands with their products. You can add your brand's logo and inside and outside labels on clothing and packaging. Adding labels and custom packaging to your products will require you to pay additional costs, which can decrease your profit margins.
Adding brand labels cost around $2.49 to $5.95 per product, whereas custom packaging costs $0.50 for each product. However, you can add a white-label tracking page on packaging without any cost.
Printify
On the other hand, Printify relies on other print providers for product branding. As of now, only four of their printing partners offer branding options – SameDayPOD, Merch Made Easy, OPT OnDemand, and Textildruck Europa. They offer branding options on the left and right sleeves and a few outside labels on t-shirts.
Printify also doesn't provide branding options for a few products like hats and accessories. However, you add your store and brand to the packaging. You can also add custom messages for your customers on packaging labels.
Winner: Printful
6. Order Fulfillment
For a print-on-demand company, order fulfillment refers to the time they take to manufacture, package, and ship the order to the customers.
Printful
Printful provides two different models for order fulfillment: POD dropshipping and warehousing & fulfillment service.
Printful's POD dropshipping service takes an average of 5-7 days for apparel products and 3-5 days for non-apparel products. On the other hand, the warehousing fulfillment service provides the same-day shipping option if the orders are placed before 12 PM.
If you store your products in a warehousing facility, you will need to pay a monthly storage fee, and this service is only available in the US, Canada, and Europe.
Printify
As mentioned above, Printify outsources products from different manufacturing facilities so that order fulfillment can vary.
Printify's production partners have different production and shipping time. It takes an average of 2-7 business days to manufacture your products. However, there are not any warehousing fulfillment services like Printful, so you need to rely only on their print-on-demand service.
Winner: Printful
7. Discount
If you want to stock products in your store or are planning to organize fundraising for charities, you can order customized products from Printful and Printify, and they will provide you with a handsome discount in return. Let's know more about discounts on bulk orders.
Printful
Printful offers an exclusive 30% discount on bulk orders. With Printful, you can order your custom-designed products in bulk. You can also add different colors, sizes, and designs to your bulk orders.
With Printful, you can also get a monthly discount after reaching a certain threshold of accumulated sales. The discount can vary between 5% to 10% based on your monthly accumulated sales.
Printify
Like Printful, Printify also offers a 30% discount on bulk orders. You can choose any product, color, and size to upload your designs before ordering them. If you purchase Printify's premium subscription, you will automatically get up to a 20% discount on all products.
However, Printify doesn't offer any monthly discount like Printful. But since its production cost is lower than Printful, they both sit on the same page.
Winner: Tie
8. Shipping
Shipping is the most crucial factor in this comparison. Both platforms offer global shipping options, but there are many differences. Let's find out what it is.
Printful
Printiful's shipping time depends on location, and their shipping averages 12 business days. However, it doesn't apply to all countries. Printful delivers products globally except in a few countries, such as North Korea, Cuba, Crimea, Syria, and Iran, due to carrier limitations and legal restrictions.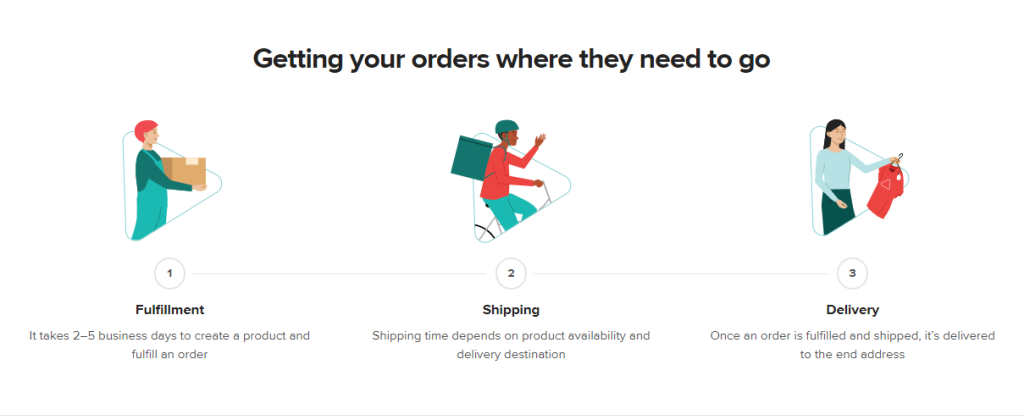 Shipping rates also differ according to consumers' location. If a customer places a t-shirt from India, the shipping rate will be $11.99 for a single product and $6/each for additional products, and it will be shipped within 6-14 business days.
You can check all the shipping time and rate details on Printful's shipping page for a better understanding.
Printify
Printify's shipping time, on the other hand, depends on the manufacturing facility you choose, as each manufacturer has different shipping times and rates. However, their global shipping time depends on the order destination.
Printify also offers global shipping options except for a few countries, such as Libya, Iran, North Korea, Cuba, Burundi, Syria, Belarus, Somalia, Sudan, and Zimbabwe. Printify takes an average of 15-20 days to ship products globally.
There are over 90 printing facilities partnered with Printify. You can see all the shipping rates and delivery times from Printify's shipping page.
Winner: Printful
9. Integrations
Integration is one of the most crucial factors for print-on-demand as it decides which eCommerce platform or marketplace you are going to integrate with. Let's see how many integrations both platforms offer.
Printful
With Printful, you get options for 21 eCommerce platforms and marketplaces for integration. It includes major platforms like Shopify, Wix, Etsy, WooCommerce, and Amazon, so you don't have to look for any other POD companies. Apart from eCommerce integration, it also allows you to set up custom APIs.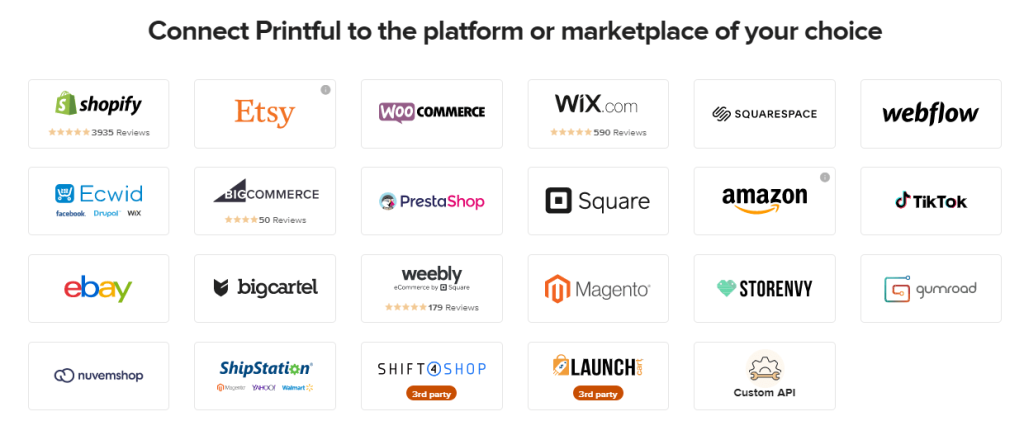 Printify
Printify doesn't offer many integrations like Printful. It offers integrations with seven major platforms: Shopify, WooCommerce, Etsy, Wix, eBay, PrestaShop, and BigCommerce. It also allows you to set up a custom API. But if you are running an online store apart from these platforms, Printify is not for you.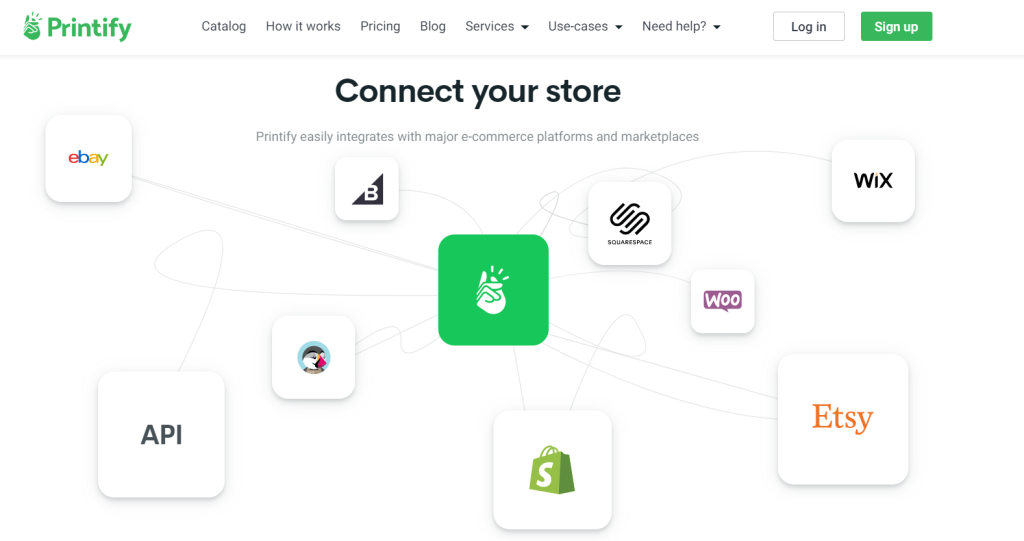 Winner: Printful
10. Customer Support
Any platform's customer support decides how fast users get their issues resolved which also increases engagement. Let's have a look at the customer service of both platforms.
Printful
Printful has a deep-rooted set of tactics to engage with its users. They provide customer support via email, live chat, and a contact form. You will also get access to a help center where you can find solutions to common queries through how-to guides, blogs, documentation, and video tutorials.
Printful also offers an onboarding session to new users without any cost. The blog section of the help center contains valuable insights and resources on how to run a POD business successfully.
Printify
Printify only offers two options as their customer support: blog and help center. The help center contains essential information on products, integrations, mockup designs, troubleshooting, etc. Their blog contains success stories, design trends, and tips on marketing.
Printify lacks a live chat feature, making it fall behind Printful by a considerable margin.
Winner: Printful
11. Pricing
Let's see how much it costs to design and set up your store on both platforms.
Printful
You can sign-up and use the Printful tools free of cost. There is no subscription fee or order minimums. However, there is a Pro plan for advanced designers, which costs $49/month. The plan includes additional access to premium images, free digitization, background removal, and more.
If you are starting as a beginner, the free plan is the best option for getting started. If you still want to go with the Pro plan, you can try the 14-day free trial to test the features of the premium plan before investing your money.
Printify
Printify also offers a free plan. You can sign up for free and start designing products for your online store right away. If you are a beginner or not getting enough sales, the free is the best option to go with. You can choose the Premium plan at $29/month if you want to upgrade your account.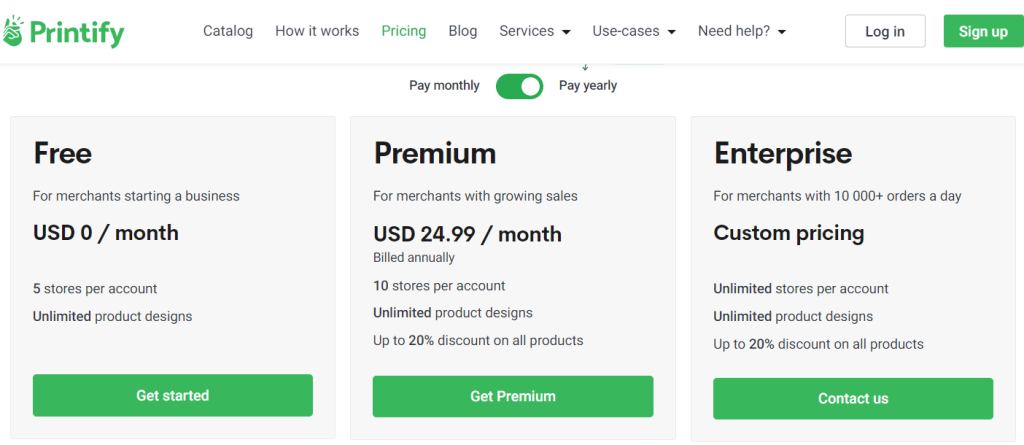 Printify's premium plan is best for you if you want to be a long-term partner or are getting tons of sales. You will also get a straight 20% discount on all products, with the premium plan saving you hundreds of dollars each month.
Winner: Printify
Printify vs Printful: Pros and Cons
Here are some advantages and drawbacks of both platforms that will help you pick the right print-on-demand partner for your eCommerce storefront.
Printify Pros
Low startup costs: As a print-on-demand service, Printify requires no initial investment and provides access to marketplaces like Etsy, Shopify, and WooCommerce with instant integration.
Easy setup process: All you have to do is create an account, choose a product template, and start selling.
Automated order fulfillment: Printify saves you time by automatically printing, packaging, and shipping your products to customers as orders come in.
A wide range of products and customization options: You can design and print T-shirts, mugs, bags, stickers, phone cases, hats, and more with Printify. And the platform has powerful customization tools to make your products stand out.
Access to multiple suppliers: With Printify, you can choose from a variety of suppliers and printing services to get the best results for your products.
Printify Cons
Poor customer service: Printify's customer service is slow when it comes to responding to queries. The platform needs to take strict actions in this section.
No in-house printing facilities: Printify relies on third-party printing facilities and fulfillment providers to complete orders from customers.
Printful Pros
Low setup costs: Like Printify, creating an account and setting up your store with Printful is free.
Quality products: Printful has access to reliable suppliers that create high-quality products, including apparel made from premium fabrics. In most regions, Printful has set up its own printing facilities and fulfillment warehouses, so you don't have to worry about products' quality.
Automated order fulfillment: Just like with Printify, you don't have to worry about printing and shipping orders manually—Printful takes care of it all for you.
A wide range of products: Printful offers a variety of products, including apparel, home décor, accessories, and more.
Easy customization tools: Printful has an easy-to-use design tool that allows you to quickly create unique designs for your products.
White labeling options: For an additional fee, you can have your products sent out with no Printful branding so that customers don't know where the product originated from. This is a great way to establish your own brand identity.
Printful Cons
Can't select a specific fulfillment center: Unlike Printify, you can't select your preferred fulfillment center to fulfill customers' orders.
Limited mock-up images: Printful offers a limited variety of mock-up graphics, clipart, and images.
Related Read:
Final Verdict: Who is the Winner?
Overall, Printful is the winner as it is better in many aspects. Printful offers excellent quality, more integrations, and tons of branding options. If you want more product options, Printify is the best platform. Printify offers great profit margins for US-based merchants.
After comparing all the aspects, Printful does get the edge over Printify but only with the slightest margin. However, it all depends on your choice and the product type you want to sell.
So which one do you choose for your online store? Let me know in the comments section.