Are you looking for a detailed Printify review? This article will help you decide whether this POD company is worth your time and money or if you should look elsewhere.
Print-on-demand, in general terms, is a printing business model in which the products are printed with custom designs only when a company receives an order.
For instance, if you take the example of a t-shirt business, traditionally, you will need to order them in bulk, find a printing company and get them printed. But with POD, you can find printing partners who can print and ship the t-shirts directly to your customer.
POD platforms have made it easy for small entrepreneurs to make it to the dropshipping business, where they don't need to buy and store huge amounts of inventory.
Printify is a similar print-on-demand company that is quite popular among dropshippers. Here, you can order numerous products and get them custom printed for your buyers.
In this article, I am going to talk about everything you need to know about Printify and its POD services. I will also talk about the design possibilities, pricing information, and third-party integrations of Printify.
In this article, we are going to talk about:
Introduction to Printify
Features & Tools
How to Begin with Printify
Printing Technology & Partners
Products available at Printify
Pricing Information
Printify Review: In A Nutshell
Printify is a popular platform for dropshippers where they can connect to numerous POD suppliers around the world and sell the products through their e-commerce platforms, such as Shopify, BigCommerce, eBay, and much more.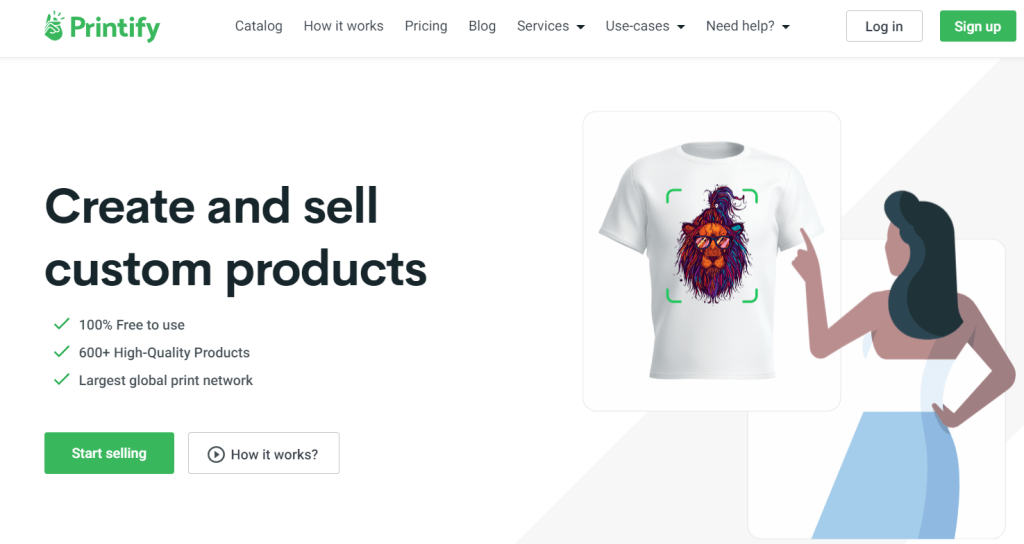 The platform has more than 600 customizable POD products along with 65+ printing partners supplying products from more than 90 printing facilities.


CLOTHING
ACCESSORIES
HOME & LIVING
OTHERS

✅Men's T-shirts, Sweatshirts, Hoodies, Sportswear, Flip-flops, etc
✅Women's Tops, T-shirts, Hoodies, Long-sleeves, Sweatshirts, Tank Tops, Skirts, Pants, Swimsuits, Shoes, heels, etc
✅Kids T-shirts, hoodies, sweatshirts

✅Baby bibs, bodysuits

✅Face Masks, underwear, Phone cases, socks, hats, etc.

✅Backpack, duffle bag, laptop sleeves, etc.

✅Watchbang, tags, Dog tags, scarf, etc.



✅Ceramic ornaments, Art Prints, Posters, Calendars, etc

✅Wall clocks, can holders, coffee mugs, cups, pen holders, Gallery wraps, lamps, bowls, water bottles, etc.
✅Pillow covers, Pet beds, shower curtains, Blankets, towels, etc.



✅Notebooks, Postcards, Mouse Pads, Journals, Greeting cards, magnets, etc

✅Stickers, Tumbler, Bath Mat, Apron, etc.
With Printify, you can:
Fulfill bulk POD orders right from your e-commerce store.

Buy customized products such as clothes, handbags, home decor, gift items, jewelry, and much more.

Connect your multiple online stores to Printify.
Who is Printify For?
Printify can be a great option for someone who is looking to start a business without carrying an inventory or going through the hassle of handling the fulfillment process. The platform gives an opportunity to make a passive income stream. Using Printify will be a piece of cake if you have some graphic design skills. Even if you don't, the user-friendly mock generator will help you create eye-pleasing designs for your product.
Printify is also perfect for anyone looking to create custom, on-demand products – whether you're a business owner seeking to expand your product offerings or an individual wanting to add some unique items to your wardrobe. With over 600+ products and 250+ global printing partners, Printify gives you the freedom to customize and personalize any product with your own designs, logos, and messages.
With Printify's automation features, you can save time by automating order fulfillment and shipping processes. Whether you're a beginner or an experienced professional, Printify has all the tools you need to turn your ideas into reality.
Printify: How Does It Work?
Printify is among the world's leading print-on-demand companies that connect third-party merchants/suppliers to worldwide printing providers. The company also provides a huge catalog of products along with custom design tools so you can create your own designs and get them printed.
The company was founded in 2015 in San Francisco and currently has millions of customers around the world. The company also provides fulfillment service, shipping, and delivery for orders.

Printify has more than 600 products from different categories and nearly 70 printing partners. All you have to do is sign up to Printify using your email account and connect your online store to Printify.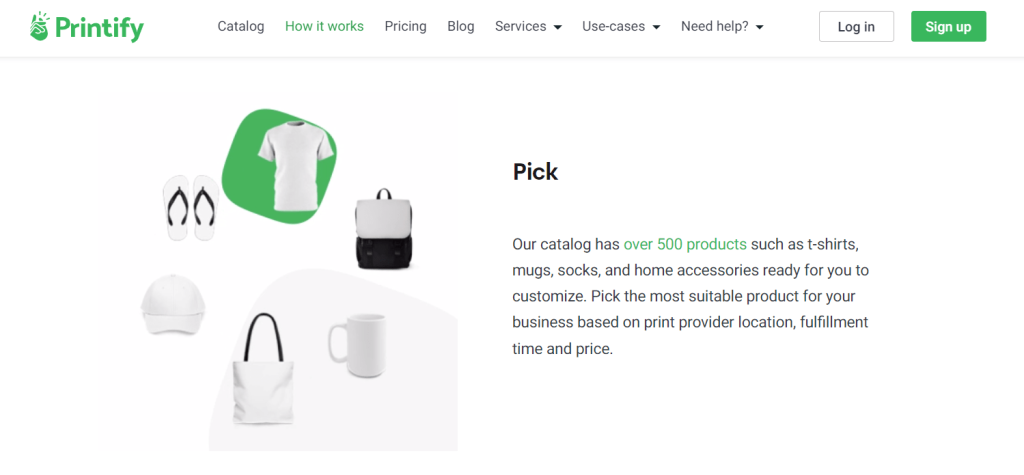 Most of the providers offer global delivery meaning if you handle international customers, Printify can be a good option for you.
Once you sign up, you get to choose the products you want to sell, such as T-shirts, coffee mugs, handbags, pillows, and much more. Depending on your target customers, you need to pick the supplier for the products. Here are some of the factors you need to consider while looking for a supplier:
Overall shipping and delivery time it takes.

What is the print quality? You can check customer reviews to find that out.

What are the limitations with product customization, delivery locations, and order quantity?

The locations it can deliver

Prices compared to similar providers.
Once you're set with products and providers, you can use the Printify design tools, templates, and mockups to customize the products. After you connect your online store with Printify, your printing provider will directly receive the information every time someone places an order on your store.
From there on, everything is handled at Printify, the order processing, packaging, labeling, and shipping. All you need to do is make the payment to the provider, and whatever the difference is between the amount that the customer paid you and what you paid to the printing partner will be your net profit.  
Features & Tools
Let's have a look at some of the key features and tools offered by Printify.
1. Design Tools (MockUp Generator)
Printify has a robust design tool where you can customize any product using your own designs. The tool is called a mockup generator that can create multiple design variations for you. All you need to do is upload your custom design images and check them on any product available.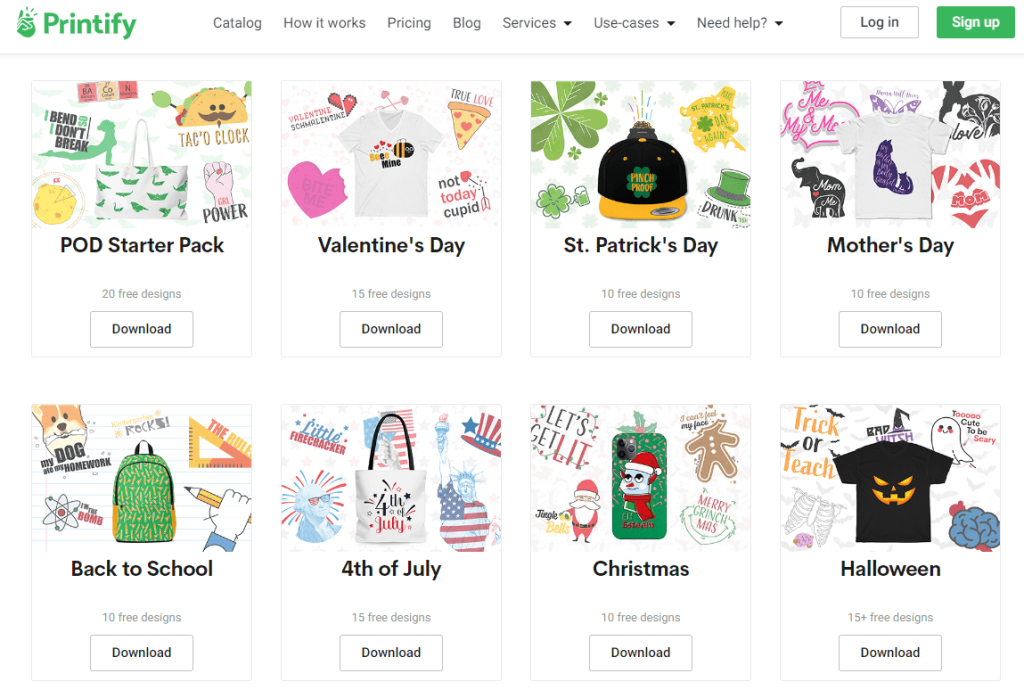 You can even use multiple designs on one product if you like, however, the mockup generated will detect if you overdo with designs or try to stretch the limit of an item. It will also notify you if you are using low-quality images which are not good enough to create high-quality prints.
As far as products are concerned, you can use various filters to find the product you want such as color, size, product category, and so on.
2. Product Migration
If you are integrating your e-commerce platform such as Shopify to Printify, you can use the product migration tool to bring all your existing products directly to Printify without losing any of the product ranking and SEO that you have done to market it.
To do so, take the following steps:
Go to My Store and choose the External Products option.

Click on the product that has been ordered and then click on Migrate Product.

Go to the Catalog tab and create a product that matches the description of the one that's listed on Shopify. These products will be listed in the External Products section for future use.
3. Shipping Estimator
If you have connected Printify to your Shopify store, you can use the Shipping calculator to estimate the shipping costs and add them to customers' shopping carts automatically. 
To activate the shipping calculator, take the following steps:
Go to Settings on the store dashboard.

Navigate to the Shipping Calculator and click on it.

Click on the box next to Enable Printify Shipping Calculation for Shopify Checkout.
However, one important thing to remember is that not all Shopify users are allowed to use the Printify Shipping Calculator. To use this service, you must have:
Annual Shopify payment plan

Advanced Shopify plan

Carrier-calculated shipping activated ($20/month extra for all Shopify users)
4. Order Routing
Printify allows merchants to integrate with multiple e-commerce stores through third-party integration. You can bring your product catalogs and orders to your Printify account. We will discuss the integration and third-party account linking later in this article.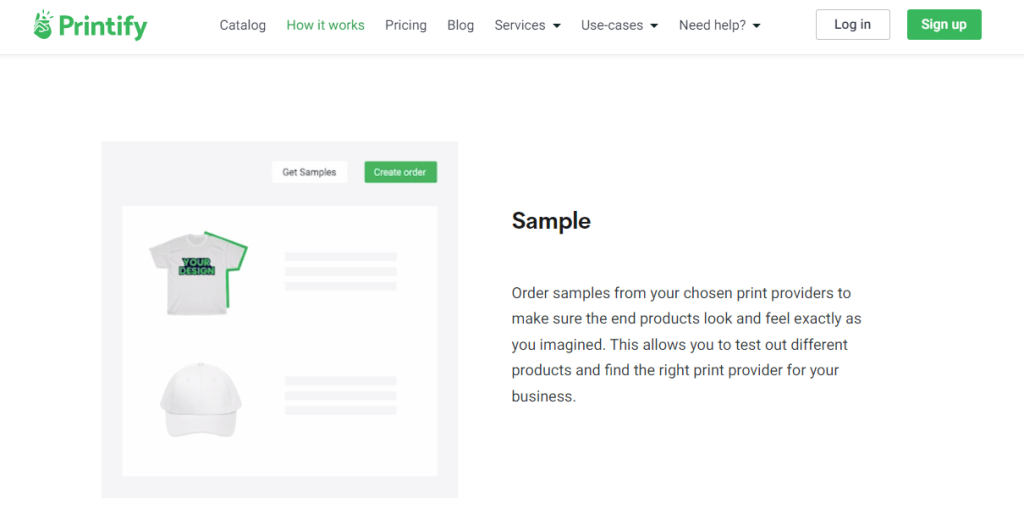 But with Custom Order Routing, you can bring the orders from online stores that don't have any Printify linked products. For example, if you are switching your POD platform, you can import all your orders and can access them right from the Other Orders tab on the Printify dashboard.
Take the following steps to use Printify Custom Order Routing:
Navigate to Other Orders. All the orders that don't have a linked Printify item are listed in this section.

Click on the order you want to import.

Click on Select Product.

Go to Catalog and search for the product you want to link with the one you have just chosen.

You can also go to My Products and link it to one of the products you have created there.
How Much Does Printify Cost?
Printify has 3 merchant plans – Free, Premium, and Enterprise. In terms of design tools, product categories, and third-party integrations, all plans offer similar services.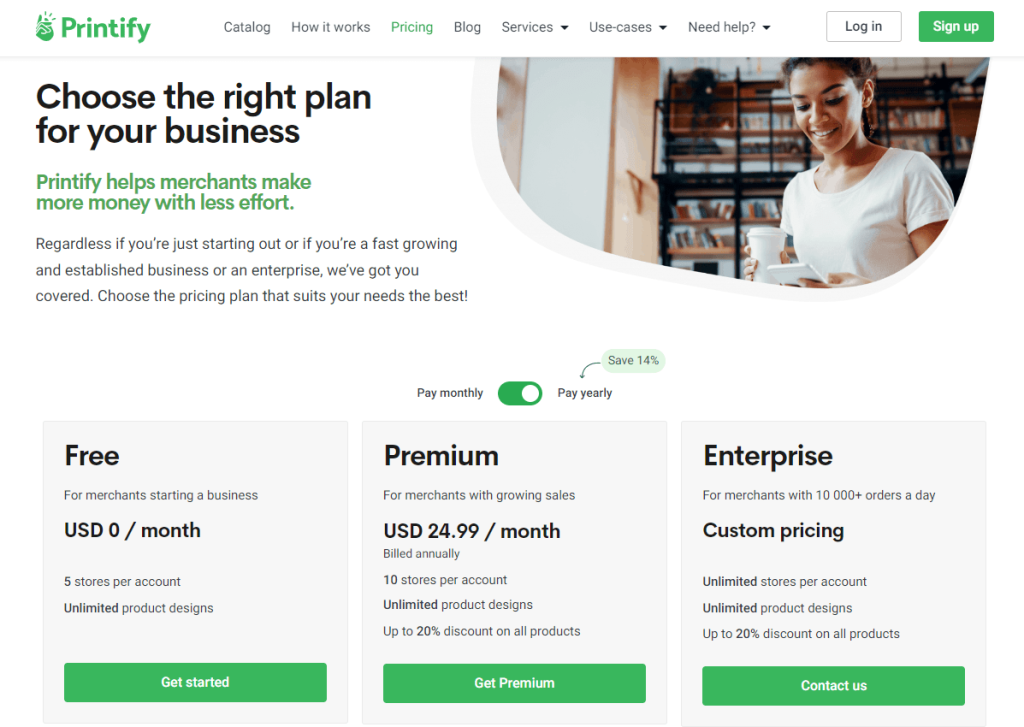 However, the premium and Enterprise plans offer a 20% discount on all products. Also, With the Enterprise plan, you get personalized support, a dedicated account manager, custom APIs, and early access to premium Printify features.
FREE$0.00/month
PREMIUM$29/month
ENTERPRISECustom Pricing
✅Mockup Generator
✅24/7 Customer Support
✅Unlimited Products
✅Custom Order Import
✅Manual Order Creation
✅Third-party Integration
✅$24.99 for yearly subscriptions
✅Everything from Free Plan
✅Up to 20% discount on all products
✅Everything from Free and Premium Plans
✅Dedicated Account Manager
✅Custom APIs Integrations
✅Exclusive Customer Support
✅Early Access to New Features
Printify: Everything You Need To Know About Printing
In this section, I am going to talk about Printing technology that is used at Printify, top printing providers, printing quality, etc.
Let's begin with printing technology:
Sublimation
If you know a bit about garment printing, you must have heard of Sublimation or All-over printing. In this technology, the custom design is first printed on paper and then applied to the garment using this paper with the application of heat.
The ink gets warm with the heat and gets imprinted onto the fabric strongly. This method is usually costlier than other printing technologies, but you are provided with the finest, most reliable, and long-lasting prints compared to others. 
The only disadvantage is that this technique can't be used to print white designs due to CYMP printing.
Sublimation technology can be used on polyester items with plastic (polymer coating), such as mugs, boxes, table pads, mouse pads, and so on. 
Embroidery
It's a popular approach to making designs on thick fabrics such as jackets, leather bags, and hats. Not every design can be used for embroidery due to the limitation of color threads. You can check out the Printify design guide to find out more about embroidery designs and their limitations.
Digital Painting
As the name implies, these are computer-generated prints, usually done pixel by pixel. That means each pixel will be colored using various inks to obtain the required design and print. This technology is perfect for paper-based products.
DTG
Direct To Garment is the fastest and easiest way to print clothes, handbags, etc. In this technology, the ink is sprayed directly on the fabric, which creates the designs. Compared to other technology, this one is more eco-friendly and limits the wastage of textiles. 
What about Printing Quality?
The company is known for its high-scale designs and prints. Although the quality is subjective but based on the customers' feedback, the company provides long-lasting prints with a high level of precision. On average, the products on Printify have nearly 70% positive feedback, which is not bad at all. 
The quality of prints can be judged by the following:
The printing technology you can use on certain products since not all types of fabrics can handle all kinds of printing.

The image quality, especially in the case of digital printing.

The quality of ink used for DTG.

The quality of material used for the products that the printing is being used on.

Printing Partners at Printify:
As I mentioned above, there are nearly 67 printing providers that provide services through Printify. Based on the quality, services, and reviews, here are the top ones:
Awkward Styles
Monster Digital
Personalized Luggage
Big Oven Tees
ArtsAdd
OPT OnDemand
AVMM
ColorWay
Ink Blot
Air Waves
Third-Party Integration & Customer Support
As mentioned above, you can connect your e-commerce stores from various platforms to Printify, and every time your customer orders any POD product, your printing partner will get notified and the order will be processed by Printify.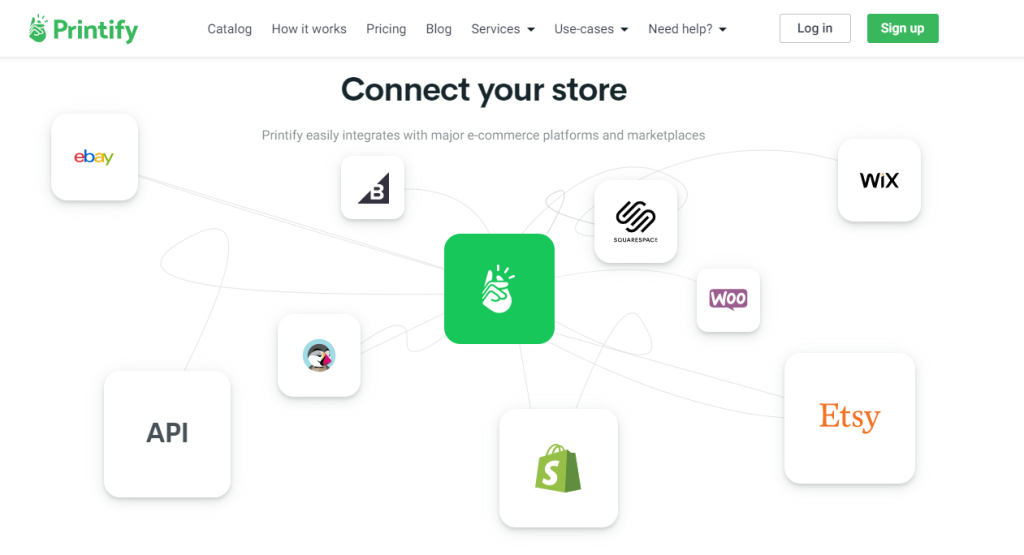 Here are some popular e-commerce platforms and marketplaces that you can integrate with Printify:
BigCommerce
Founded in 2009, BigCommerce is one of the leading e-commerce platforms and store builders for merchants. Linking your BigCommerce account to Printify takes only a few minutes. You can import all your product catalogs and orders in a few steps.
Every time you get an order on your BigCommerce store, it will be fulfilled by your supplier at Printify.
Shopify
The Canadian e-commerce giant is known for its huge online presence and customer base. The company has more than 1.6 million online stores and millions of monthly buyers. Also, in terms of global outreach, Shopify is probably the largest store builder in the world.
You can download the Printify application from your Shopify app store and import all your products in a few minutes. The setup process is fairly simple and all your incoming POD orders will be directly transferred to Printify and will be taken care of.
WooCommerce
The integration process for WooCommerce is very similar to the one on Shopify. Launched in 2011, WooCommerce is a popular WordPress e-commerce store builder platform that sees a good amount of monthly customers every month.
Simply connect your WooCommerce store to Printify and import all your products, offers, and orders within seconds. All your fulfillment, shipping, and delivery will be done at Printify.
Etsy
Etsy is a popular e-commerce platform that promotes handcraft items, and vintage products, such as handbags, jewelry boxes, apparel, home decor items, and much more. If you want to sell POD items online without worrying about storing them, Etsy is the perfect place to begin with.
With integration to Printify, it's simple to connect your Etsy store and import your inventory details and market them to your customers.
Wix
Listed in the US, Wix is an Israeli technology company that provides web development services to users. The company provides an easy store builder for small and medium-sized businesses across the world. The company also provides tools to create mobile websites and HTML5 websites for email marketing, contact forums, social media, and much more.
Simply connect the Printify to the Wix account and all your products along with descriptions, and prices can be imported in no time. Whenever you get an order on Wix, It will be redirected to Printify.
eBay
eBay is one of the oldest online marketplaces that provides business-to-consumer and consumer-to-consumer sales around the world. As of now, Integration with eBay is limited to only within the USA Printify.
You can connect to your eBay store right from the Printify dashboard and market all your POD items on the eBay store. There is no need to separately import your products, prices, and description. Printify takes care of everything from import to order handling and shipping.
When you set up a Printify account, you will get an option to connect your e-commerce store or marketplace accounts. You can also do it later on. All you need to do is provide your online store's link to Printify and the rest will be taken care of. You can also download the Printify app on your e-commerce stores and connect your Printify account to a payment processor in order to get your payments for the Printify orders.
Printify Support Service
Printify provides a separate support system for both sellers and customers.
As a seller, if you are finding it difficult to navigate through tools and product categories, you can reach out to the support staff through email, or contact forms. You can also connect to customer care using a 24/7 life chat program or simply through the company's social media account.
The response time is relatively quick and your concern will be addressed within the next 24 -48 hours.
If you are on the Enterprise plan, you get a dedicated support team to help you out with everything related to orders, payments, designing, and so on.
Unfortunately, there is no customer support for consumers at Printify. Since you are using Printify as a supplier, not a platform to sell your products. The platform where you are hosting your store is responsible for customer support for your buyers.
Printify also doesn't offer refunds for wrong orders, or orders placed by mistake. As long as there is no fault at the supplier's end, there is no refund applicable. So if you want to provide a better return/refund service to your customers, you should set up a custom return policy on your online store.
The Final Verdict: Printify Review (2023)
Print-on-demand is a tough business to break into. Yes, you don't have to worry about storing the inventory but it may take a while for you to start making some real profit.
With Printify, you get a wide range of products to offer to your customers along with high-quality printing partners. If are entering in POD business, Printify can be a good place, to begin with. The profit margins are slightly better than other major players. Also with no minimum order value, it's a perfect place for small individuals who want to try their hands in the print-on-demand dropshipping business.
However, there are often complaints regarding the product quality. So it's advisable to order a small amount for yourself and make a quality check first before you go for bulk orders.

Printful is another major player in the POD arena and probably is the biggest competitor to Printify. In a straight competition, Printful is better in terms of product quality, brand promotion, and design tools.
Although the profit margins can be significantly low with Printful, you get a cheaper starting plan, tools for custom designing, and a better store setup service. So if you are looking for a POD platform for complete brand promotion with customized packaging, and promotion assistance, Printful is definitely an option worth considering. The Starting price is $9/month for the Plus plan and $49/month for the Pro plan.
Gelato is another worthy opponent to Printify. It provides a wide range of products, but there is not as much veriest as it's on Printify.
However, on a positive note, Gelato integrates with Canva, which is a popular graphic designing platform. You can create custom designs and bring them directly into Gelato to customize the products.
The starting price is $14.99/month while the premium plan will cost you $999/year where you get VIP features such as a month of free international shipping, shipping discounts, automatic order fulfillment, and much more.
However, the company has stringent sign-up policies which may throw you off. The bottom line is – if you can find the products you want to sell, you can give Gelato a try.
FAQs On Printify Review
Can I use Printify for free?
Yes, you can use Pritintify for free with its free plan. You can add Printify to upto five different stores with the free plan. You will also get all the basic features of selling with this plan.
Does Printify offer a money-back guarantee?
No, Printify does not offer a money-back guarantee. If you are not sure about this platform, then you should get started with the free plan first before moving to a subscription plan.
Which is better: Printify or Printful?
Both Printify and Printful are amazing print-on-demand platforms. Printify relies on its suppliers for your order fulfillment, whereas Printful does everything on its own. It can take two to seven days to deliver items via Printify, whereas it takes only three days to fulfill orders via Printful. Now the choice is yours.
Can I make money on Printify?
Yes, you can definitely make money on Printify, but the revenue can vary depending on the strategies of marketers.
How many designs can I create on Printify?
You can create as many product designs as you want on Printify, even with the free plan, so you don't need to worry about design creation.