If you are a professional seller and haven't heard about Amazon or Walmart, you're probably from the past. However, these are two unicorns in the eCommerce ecosystem that have helped many businesses like yours to actualize their goals.
I have put together everything you need to know about these two e-commerce platforms and how you can choose which one to leverage to take your business to another level.
Selling On Amazon – Overview
As the world's number one e-commerce, Amazon accounts for about 40% of the entire e-commerce sales. Even during the Pandemic in 2020, despite the huge decline which resulted from delays in Prime deliveries, Amazon still experienced a 25% surge in sales.
With the largest customer base in the various categories of e-commerce, Amazon provides you with an opportunity to expand your business globally.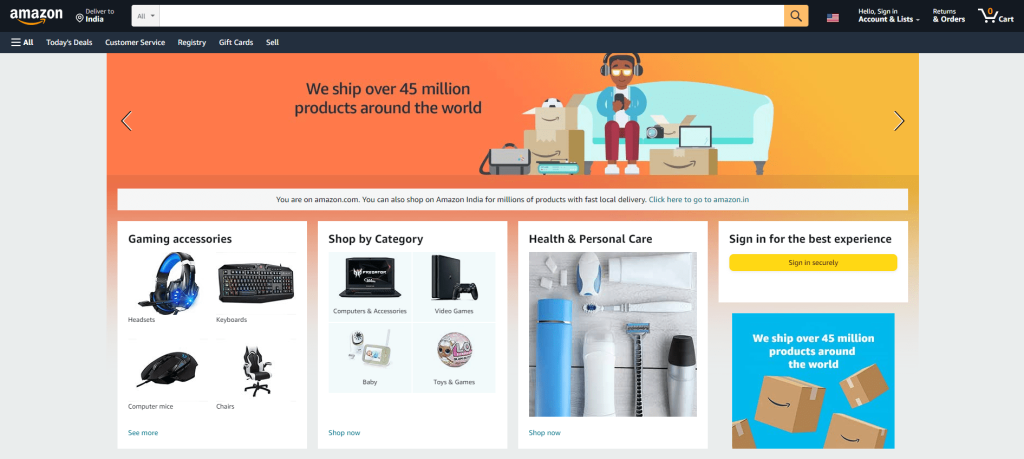 Moreover, the exciting thing about this e-commerce unicorn is that it is super-easy to get started. You have to sign up for a professional plan that usually costs around $40 per month. You do not have to be a sales guru or have years of experience in sales before you can take advantage of Amazon. It is entirely accessible to any seller – both experts and newbies.
When setting up an Amazon seller account, you have two options – the FBA and FBM, and you can also use both. 
Selling On Walmart – Overview
Walmart established itself in 2020 as the second-largest eCommerce after surpassing eBay to take the position closely behind Amazon. That same year, their sales rose by over 70%. This leap was ultimately driven by grocery sales and shot the brand into the limelight.
Walmart's dominance as a brick-and-mortar retail e-commerce was established in early April 2020 when its orders peaked at about 300% amidst Amazon's month-long prime orders delays. The company has over 5000 stores serving as fulfillment centers in the US.

So, how do you get started selling on Walmart? Unlike Amazon, selling on Walmart is entirely different from what is obtainable on other eCommerce, including Amazon. As a seller, you must be invited and approved to sell on the platform before proceeding.
Also, Walmart doesn't charge monthly seller account maintenance fees as Amazon does. Instead, all they charge is a referral fee per product.
Fees
Selling on either platform – Amazon and Walmart will incur some costs. 
Amazon Fees
There are four categories of fees that an Amazon seller has to pay: seller account fees, sale-related fees, Amazon FBA fees, and shipping costs.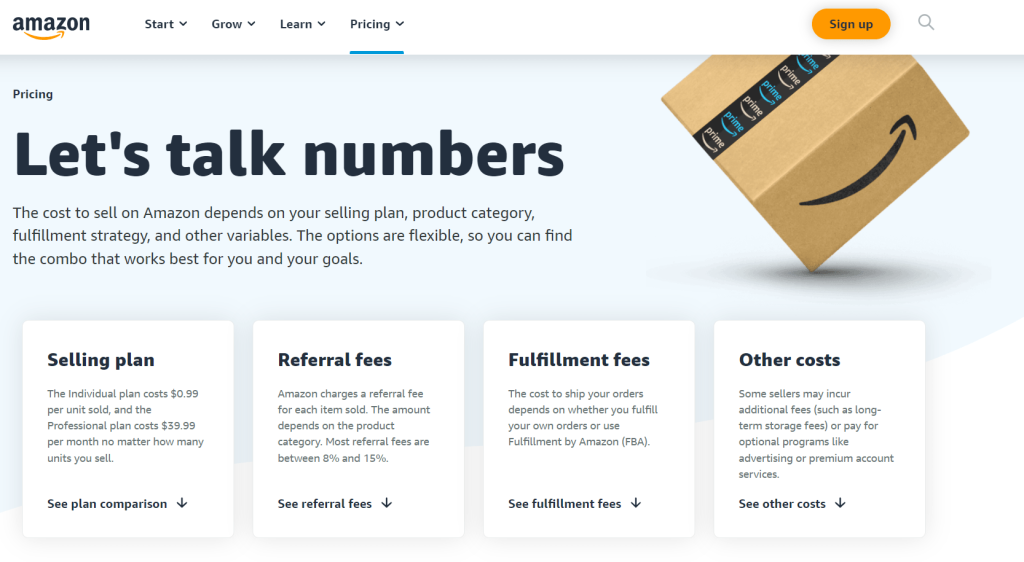 Seller Account Fees: As a new Amazon seller, you can create an Individual account or a Professional account. The Individual account costs you 0$ monthly, though it comes with several restrictions like a maximum of four product sales per month, manual listing set up, and limited access to some product categories.
While the Individual account is meant for low-volume sellers, the Professional account is designed to meet high-volume sales needs. And it costs $39.99 per month with unlimited access to all available features.
Sale-related Fees: The sale-related fees are usually between 6% and 45%, averaging 15%. The amount you pay in the category depends on your kind of product and the selling price. Under the sale-related fees, you have the Referral fees, the Minimum Referral fees, and the Variable Closing fees.
Amazon FBA Fees: This is the fee you have to pay for "Fulfillment By Amazon" services, including product stocking, packaging, and shipping. Both individual and professional sellers can use the Amazon FBA, and over 915 of all Amazon sellers use it. The fees are usually in different categories and depend on size, weight, and duration of stay in the Amazon fulfillment warehouse.
Shipping Fees: Normally, Amazon pays you shipping credits whenever you ship a product yourself. But most times, what you get as shipping credits is usually less than what you spent on shipping the product. So, you need to be very calculative on this one.
Walmart Fees
Unlike Amazon, you don't need to pay a dime to create a seller account or have unlimited access to the seller features. Walmart on charges Referral Fees, Fulfillment Fees, and Storage Fees.
Walmart Referral Fees: Walmart charges referral fees of 6% to 20% of the product sales price. This fee is also dependent on the category of the product.
Walmart Fulfillment Fees: This is the fee you pay to Walmart to help you handle your orders' fulfillment processes. The fee usually ranges from $17. 55 to $57.5. Note that this fee is also dependent on package dimension, unit weight, and additional product features. For instance, apparel attracts an additional $0.5 to the fulfillment fees.
Walmart Storage Fees: If you utilize the Walmart Deliverr service to fulfill your orders, you will be charged $0.75 per cubic square foot monthly.
Fulfillment
Fulfillment in e-commerce involves all the operations that follow after an order is placed by a customer, including packing, picking, shipping, and delivery.
Amazon Fulfillment
Amazon offers three fulfillment services: Fulfillment By Amazon (FBA), Fulfillment By Merchant (FBM), and Seller-Fulfilled Prime (SFM). Amazon designs these fulfillment methods to suit different selling positions and needs in the marketplace.
Fulfillment By Amazon (FBA): FBA is a service offered by Amazon that helps you with your products' storage, packaging, and shipping. With the Amazon FBA services, you can have more flexibility in your product sales, as you don't have to carry the extra post-order burdens.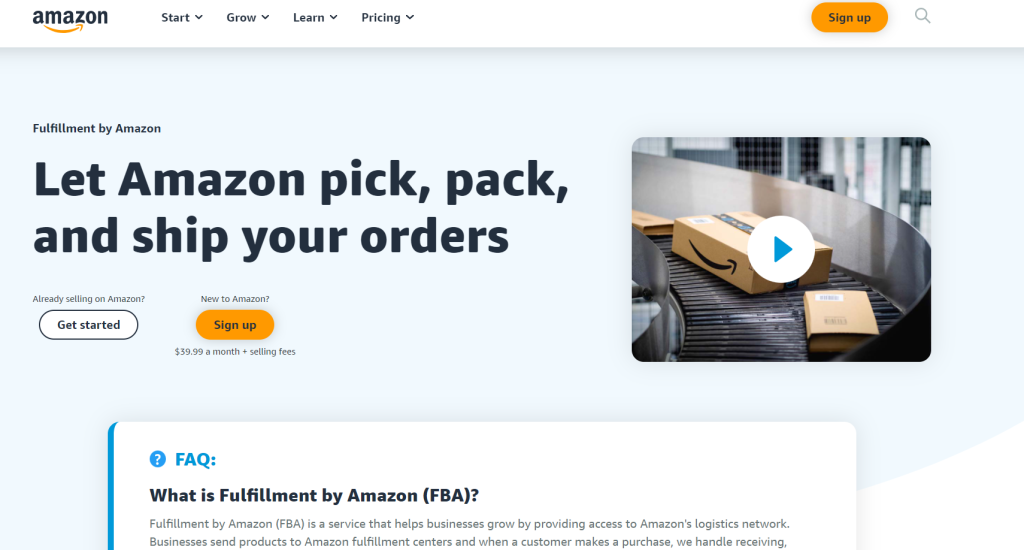 Fulfillment By Merchant (FBM): Under this fulfillment service by Amazon, the seller (merchant is responsible for every post-order process. The major benefit of FBM is that it helps you avoid some costs applied in the FBA. You will handle all the fulfillment processes. If done properly, you can reduce the cost of operation drastically.
Seller Fulfilled Prime (SFP): Seller Fulfilled Prime (SFP) allows you to operate directly from your warehouse and deliver to domestic Prime customers. The only challenge with the Prime badge is that you must be able to fulfill orders within two days and without extra cost to the buyer.
Walmart Fulfillment
Unlike Amazon, Walmart offers a single fulfillment service – the Walmart Fulfillment Service (WFS). This fulfillment service provides third-party Walmart sellers with end-to-end fulfillment services.
Once you set up a WFS account, the next step is to ship your products to the nearest inventory center. And whenever you receive an order, Walmart picks, packs, and ships your order to the customer. They also handle all forms of customer care and order return issues.
Customer Base
Amazon and Walmart boast many customers with big partners and huge marketing budgets. According to recent reports, these two e-commerce giants attract hundreds of millions of unique visitors monthly.
Amazon Customer Base
Amazon has an estimated customer base of more than 300 million, with over 100 million Prime members. With recent expansions, including the addition of more warehouses, Amazon is now one hour away from 77.3% of all Americans. And with over 150 million unique visitors monthly, it's safe to say that Amazon edges out every other e-commerce in this area.
Walmart Customer Base
Walmart has a significantly lower customer base compared to Amazon. However, with the addition of its physical stores" customers, Walmart has about 220 million customers globally and around 8.2 million Walmart+ members.
Tools
Selling on e-commerce is not easy. The competition is overwhelming. And there are lots of other obstacles that you need to surmount before you can be a successful seller on any e-commerce platform. So, to ease your burden as a new or existing seller on either Amazon or Walmart, there are dedicated tools. These tools will help you with product research, keyword research, and planning, competitor analysis, etc.
Below are some of the tools dedicated to selling on these two e-commerce heavyweights.
Amazon Tools
Being the largest e-commerce in the world, Amazon has a lot of elite sellers. To succeed, you need the right tools. There are tons of fantastic tools you can use on Amazon, but the best are Helium 10 and Jungle Scout. Other tools notabe Amazon seller tools are AMZScout, Teikametrics, Zonguru, and eComEngine.
Walmart Tools
Like Amazon, selling on Walmart requires some dedicated tools to get the best results. However, unlike Amazon, where a single suite like Helium 10 comprises all the tools you need, every Walmart selling tool helps achieve a specific goal, like product listing, keyword research, product research, advertisement, etc.
These are some of the most popular Walmart tools;
Deliverr (2-day shipping badge)
Zentail (product listing)
Sellbrite (product listing)
Helium 10 (product and keyword research)
ShippingEasy (shipping labels)
ShipStation (shipping labels)
Bazaarvoice (product review)
Best Product To Sell
Aside from every other factor, knowing the right product to sell on e-commerce will quicken your journey tremendously. For example, Amazon and Walmart are slightly distinguishable in terms of the kind of product that they favor more. Knowing this will help you know which platform to sell your product and get the best result.
Best Product To Sell On Amazon
Although this platform provides you with a huge opportunity to scale up your business, not knowing the right product to sell can easily hamper your progress.
So, how do you decide what to sell on Amazon to get the best outcome? After researching thousands of products, I have come up with some of the best products to sell on Amazon. I am won't give you a long boring list; I will mention some trending categories that you can look into.
Handmade products
Fitness items
Car care items
Hair and skin care products
Phone accessories
Yoga pants and mats
Pet supplies
Home security cameras
There are other cool and trending products that you can start selling on Amazon.
Best Products To Sell On Walmart
To make the most of selling on this platform, you know which products are in high demand. And here, I have listed the ten best products to sell on Walmart.
Fruit items
Fitness bikes and workout essentials
Art and Craft
Kids' toys and games
Animal essentials
Coffee makers
Storage containers
Personal care items
Electronic accessories
Home products
Customer Support
At one point in your selling career, you will need the help of the platform's customer service. Here, we will compare how effective Amazon and Walmart's customer services are.
Amazon Customer Service
Amazon didn't become the world's biggest e-commerce company by offering third-party sales services alone. But one of the key proponents of their success over the years is how they treat their customers. The company prioritizes advocating for customers, building trust, anticipating, and meeting customer needs, personalized delivery and experience, and helping customers navigate effortlessly.
Walmart Customer Service
Walmart takes customer relations very seriously. They have very responsive in-shop and online 24/7 customer support service.
My Expert Recommendation
Both Amazon and Walmart offer tremendous opportunities for you to start selling and making money online easily. But, knowing the right platform to use is a big step toward success as an online seller. So, my honest and expert recommendation is that you read this article thoroughly, as it has everything you need to decide which platform is best suited for your specific goals. 
Selling On Walmart vs Amazon: Benefits & Drawbacks
Here are the benefits & drawbacks of selling on Amazon and Walmart.
Benefits Of Selling On Walmart
Once you get approved for selling on Walmart, then it is really easy to set up.
Walmart does not charge you as much as Amazon does.
You won't have to pay any monthly fee to Walmart to sell your products.
Walmart charges you very less for storing your inventory compared to Amazon.
You will only be paying the referral fee on Walmart to sell your products.
Drawbacks Of Selling On Walmart
Getting approval on Walmart to sell your products is very difficult compared to Amazon.
The traffic on Walmart is very less compared to Amazon.
Benefits Of Selling On Amazon
If you are selling private-label products, then it is best to sell your products on Amazon for better exposure.
You can easily create an Amazon seller account, and you don't even need business experience to get started.
Starting a dropshipping business on Amazon is really easy, and you can dropship your products anywhere in the world with Amazon FBA.
You can choose to sell via Amazon FBA or manage shipping, warehousing, and delivery yourself.
You can set the pricing for your products on Amazon.
Drawbacks Of Selling On Amazon
You must pay a monthly recurring fee to use the Amazon seller account.
To use Amazon FBA's service, you need to pay a monthly fee.
Related Read:
Final Thoughts: Selling On Walmart vs Amazon (2023)
The world continues to go fully digital, and this presents you with unique opportunities to connect to the broader world with your products.
Amazon and Walmart take the maximum share of the entire e-commerce marketplace. They are both unique in their ways. But ultimately are helping businesses reach more customers and make more sales.