Having difficulty choosing between Shippo and ShipStation? It might look like an easy task, but there are always second thoughts about selecting one for the online store's order fulfillment.
Shippo and ShipStation are both prestigious shipping management and order fulfillment providers. Both platforms cater to thousands of online store owners across the globe. At first look, both platforms will look like similar service providers. But in reality, both platforms serve different merchants and business types. 
That's why a detailed comparison between Shippo and ShipStation is necessary, comparing all the significant aspects, pricing, advantages, and drawbacks. By the end of the article, you will have a better understanding of both shipping-management giants.
Without further ado, let's dive right into the post.
Shippo vs ShipStation: In a Nutshell
Shippo Overview
Shippo is a SaaS-based platform that simplifies your order fulfillment process. Founded in 2013, Shippo is catering to 35,000+ eCommerce merchants by providing them with reliable shipping management features.
Besides eCommerce retailers, Shippo also provides services to several fulfillment companies and marketplaces. Many eCommerce store owners also use its flexible API to integrate the platform with their stores so they can find ways to link with renowned global carriers for global shipping.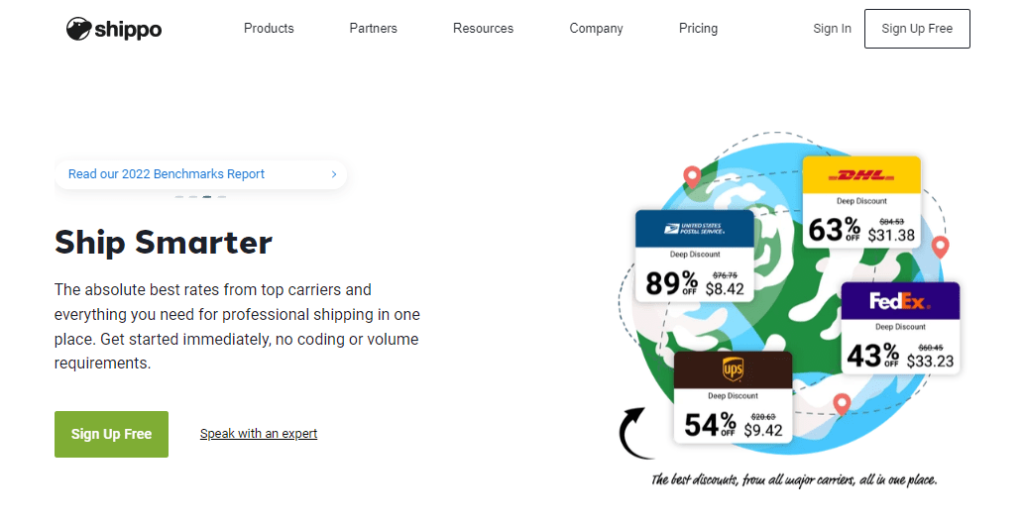 Shippo has strong connections with carriers like DHL, FedEx, USPS, UPS, and many others that help merchants streamline order fulfillment, track the shipping process, minimize shipping costs, and ensure fast delivery.
ShipStation Overview
ShipStation is a web-based order fulfillment platform that offers services to manage the entire shipping process. It was founded two years before Shippo and has the capability to integrate with eCommerce platforms, shipping carriers, shopping carts, sales channels, marketplaces, and many more.
Having enough integrations synced to ShipStation gives you privileges to import order data from various sources simultaneously. On the other hand, it also offers you the liberty to link multiple accounts with a single subscription and use its advanced features to work with various shipping carriers, organize order details, track shipments, and many more.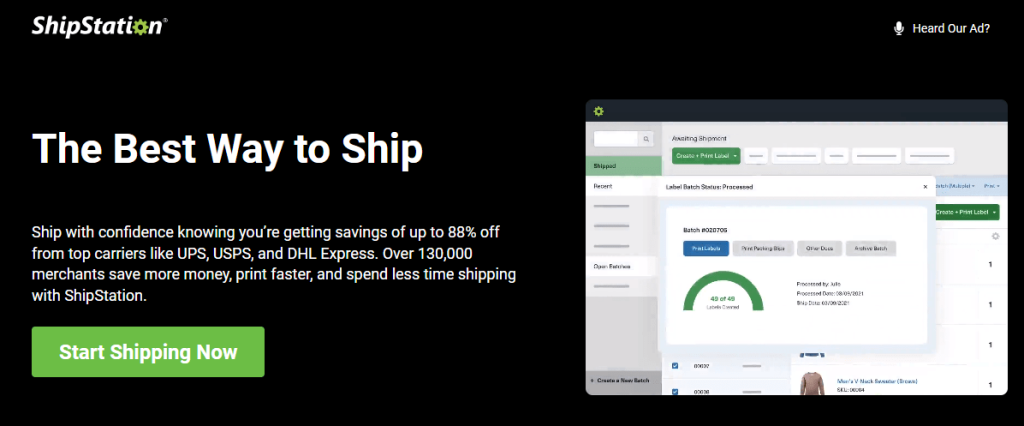 Overall, ShipStation is an all-in-one solution for order fulfillment with the capability to embed with numerous selling platforms. Plus, you can keep tabs on your product inventory, compare shipping rates from other carriers and facilitate customer service.
Main Differences between Shippo and ShipStation
Here are some major differences between both platforms.
Shippo offers a PAYG (pay-as-you-go) method for each shipment, while ShipStation only provides monthly plans.
Shippo believes in simplicity, while ShipStation offers much better integrations and advanced tools.
ShipStation comes with many automation features, while Shippo lags in this section.
ShipStation offers discount options for domestic and international shipping, while Shippo only offers a discount for US-based shipping services.
ShipStation offers much better customer service via email, web forms, live chat, and tickets. Shippo also offers many customer solutions, but they are only available according to their time zones.
Shippo vs ShipStation: Features Comparison
Let's compare all the standard order fulfillment features that Shippo and ShipStation offer.
Ease of use
Shippo
Shippo's interface is user-friendly and well organized. It comes with a minimalistic design that makes it super easy to use all of its features – even novices find this platform incredibly flexible to operate.
You can start order fulfillment with Shippo's 30-day free trial. Once the free trial ends, you will need to pay at least $10 per month in order to continue using its services. Or, you can proceed with its pay-as-you-go package, which costs around 5 cents per shipment, excluding the postage cost. For beginners and small businesses, it is quite a good deal.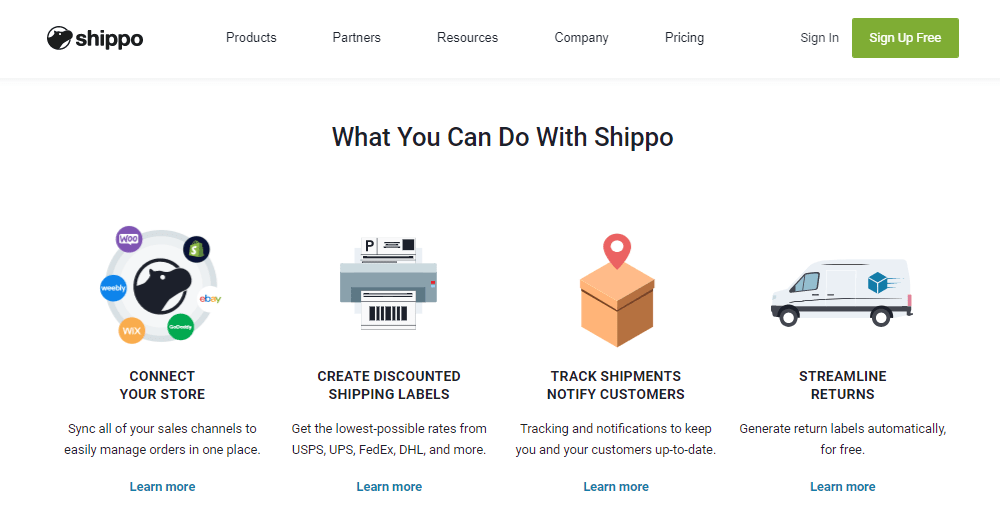 After creating an account on Shippo, first, you need to connect your online store with your account. Like if you own a Wix or Shopify store, you can simply copy your website's URL and paste it onto your Shippo account. Then, Shippo will redirect to your online store's interface, and you will be able to track orders and monitor your inventory.
ShipStation
ShipStation is undoubtedly more advanced than Shippo, but the very same reason makes it more complex as it has a steep learning curve. It also offers a 30-day free trial like Shippo, but there is no pay-as-you-go option for shipment. After the free trial, the minimum plan starts at $9.99.
You may find ShipStation's dashboard feature-rich, but it is a little bit complicated to navigate. However, you will find it extremely easy if you have little experience operating an order fulfillment platform. If you still have difficulty managing the platform, you will get access to an AI onboarding assistant right after signing up, which will help you get started quickly.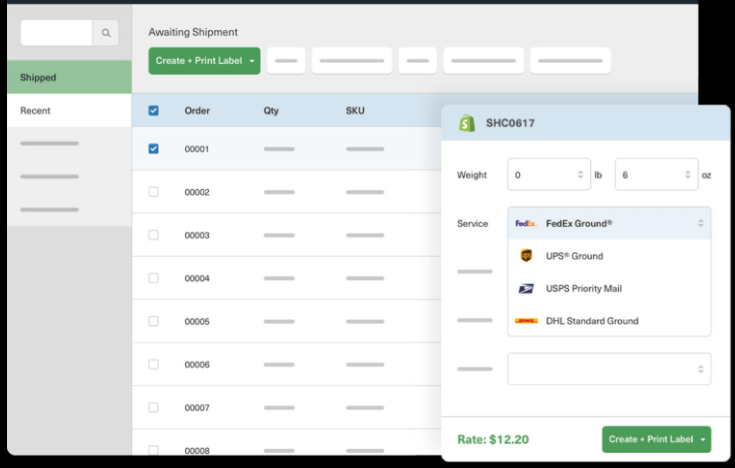 The user manual is pretty much the same as Shippo. You need to connect your online store to your ShipStation account in order to use its order fulfillment facilities. It comes with numerous automation features, which come in handy dealing with large orders.
Order Management
Shippo
Shippo comes with limitless opportunities when it comes to handling multiple selling channels. It works as a centralized platform that gives freedom to coordinate order fulfillment from all your channels. It makes it easier for an omnichannel seller who wants to manage all the orders and shipments under one platform.
Shippo offers a number of data points regarding order details such as shipping service information, carrier information, delivery address, and many more. You can also provide an estimated arrival time of delivery along with real-time delivery updates to your customers.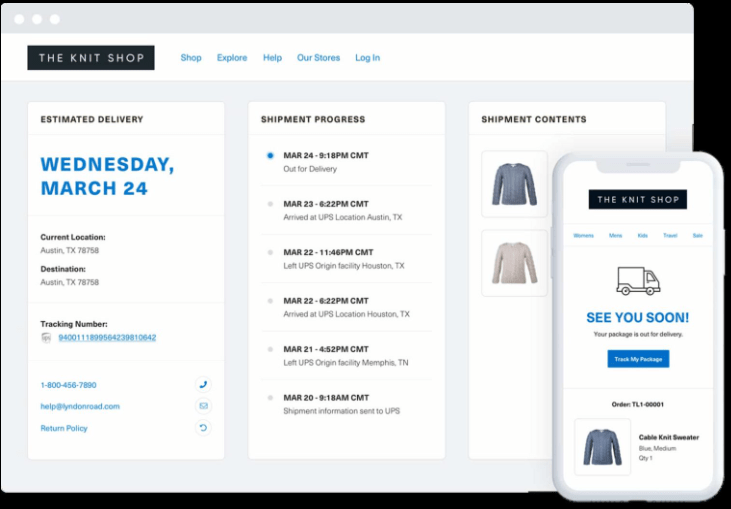 Shippo includes a batch printing facility with its services, so you will be able to print shipment details and package labels on high-volume orders. You can even generate more than 100 prints for packages at once. It also offers discounted shipping insurance, so you don't feel the risk of potential losses.
The tracking tool of Shippo connects with your specific shipping provider so you can get detailed updates on delivery status.
ShipStation
ShipStation, on the other hand, supports integration with more than 40 eCommerce platforms and marketplaces. The in-built automation features of ShipStation make it easy to manage order shipments. There are three types of automation inside the platform – Service Mapping, Product Automation, and Automation Rules.
Service Mappings work according to shipping preferences picked by the consumers during checkout. Product Automation is best for handling bulk orders for a product across multiple selling channels. Automation Rules is an advanced shipment automation feature that allows you to set your criteria by the rules for order fulfillment.
ShipStation also features standard system actions such as printing labels, sending alerts, adjusting weight, etc. Like Shippo, ShipStation also supports batch label printings, label customization, and order return management for large orders.
Carrier Management
Shippo
Though Shippo is a US-based order fulfillment service provider, it still provides shipping services to pretty much all the regions across the globe. It works with 50+ reputable shipping carriers, including USPS, FedEx, DHL, UPS, and many others. If any order is placed from a region where Shippo doesn't ship orders, you can integrate other providers to fulfill the order.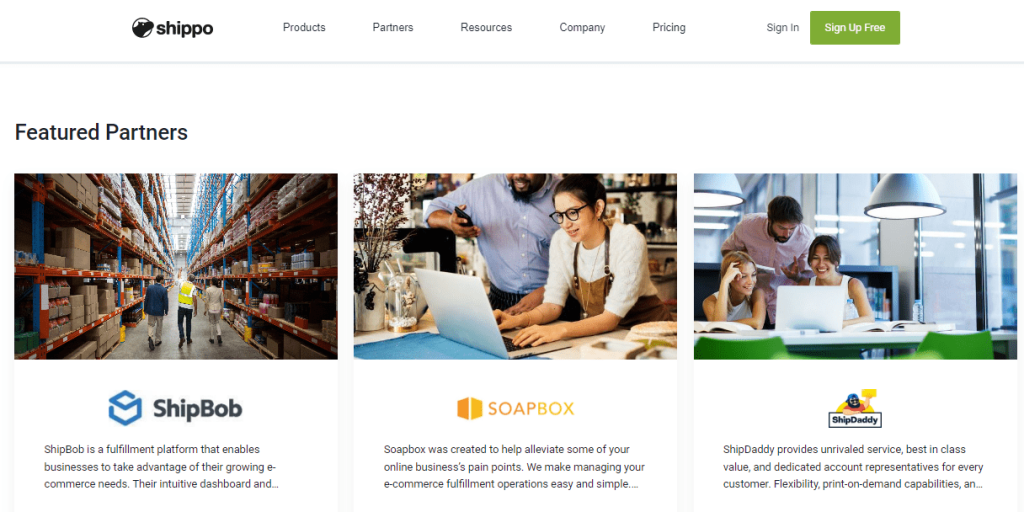 You can create the perfect set of carrier partners for your orders after considering the affordable shipping rates across all regions. That's why Shippo lets you compare all the shipping rates of all carriers in real-time so you can choose according to your budget.
US-based Shippo users can leverage discounts while shipping with USPS and DHL across the state. You can also schedule order package pickups with both carriers. Shippo also saves your time from manual work filling up shipping forms for carrier services.
ShipStation
ShipStation comes with fewer in-built shipping carriers, but you can integrate as many carriers as you want for global shipping. You will find almost all the major shipping carrier services and optimize your shipping experience by integrating affordable carriers.
You can also find some popular shipping carriers and supplying services such as FBA (Fulfillment by Amazon), Hermes, Canada Post, DHL, FedEx, Royal Mail, etc. Eventually, you will get access to multiple international and domestic shipping carrier services.
Like Shippo, ShipStation features a tool to compare shipping charges for various locations across all shipping carriers. You can see real-time rates so you can decide the best economical option for shipping orders. As a long-time partner of ShipStation, USPS offers special discount rates for US-outbound orders.
Integrations & Add-ons
Shippo
Shippo comes with a vast number of built-in and third-party integrations for shipping carriers, eCommerce platforms, and marketplaces. When it comes to eCommerce platforms, you will find big names such as Shopify, Wix, WooCommerce, BigCommerce, and Magento. And if you run a business under marketplaces like Amazon, Etsy, eBay, etc. Shippo can be your best go-to partner for order fulfillment.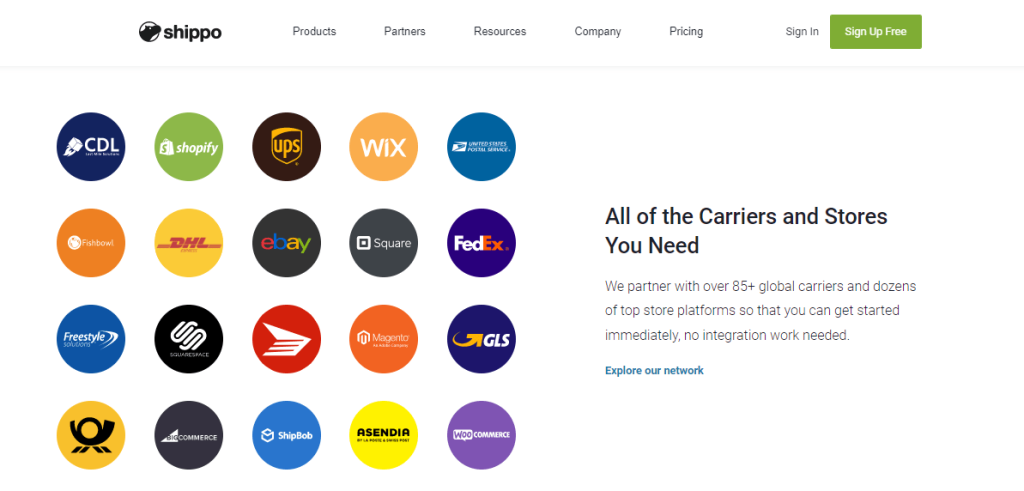 Apart from that, it also supports integration with over 50 popular shipping carriers. If somehow a specific eCommerce platform or the shipping carrier is not supported, you can use its custom API feature to integrate third-party applications.
ShipStation
In terms of app integration, ShipStation is truly a champion. It offers more than 270 app integrations, including all the apps that Shippo offer. It comes with a range of integrations, including payment services, inventory management, eCommerce platforms, marketplaces, marketing, CRM, shopping carts, etc. Eventually, it got integrations for literally all the fields you need for selling and order fulfillment.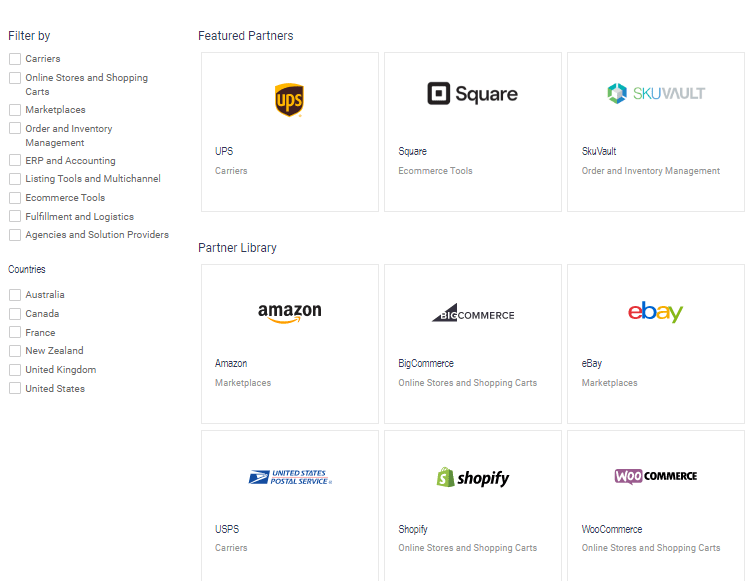 ShipStation is two steps ahead in integration with marketplaces and eCommerce platforms. It integrates with over 55 eCommerce platforms and marketplaces. And when it comes to shipping carriers, it integrates with all major services such as DHL Express, USPS, FBA, FedEx, OnTrac, Royal Mail, Canada Post, etc.
You also find some other crucial apps like Square, PayPal, DEAR Inventory, QuickBooks, ChannelAdvisor, and many more to integrate with the ShipStation account. Furthermore, you can also integrate third-party applications with its custom API feature.
Customer Support
Shippo
If you ever face any kind of technical or fundamental issues, there are multiple options available to connect with technical supervisors and experts on Shippo.
You can start with the support center for common queries regarding using the platform. Here you can find various resources such as articles, FAQs, and tutorials for onboarding and troubleshooting issues.
If the support center fails to find your answers to queries, you can contact the support staff via email, live chat, phone call, or write a ticket by attaching files regarding the issue. You can also get in touch with the Shippo team through social media platforms such as Facebook, Twitter, LinkedIn, etc.
The only downside of Shippo's customer support services is that it is not available 24/7. You can only contact them on business days during working hours. However, you can expect a response from the email support team within three hours.
ShipStation
ShipStation's customer support services are pretty much the same as Shippo. For essential solutions, you can go through a comprehensive knowledge base, which is available as video tutorials and detailed articles.
You can contact technical experts through email, live chat, phone, and web forms for technical and troubleshooting issues. Or you can try to solve your problems by contacting on social platforms.
Like Shippo, ShipStation also doesn't offer customer support services 24/7. You can only contact them during selected business hours. However, ShipStation came up with an intelligent approach. The site employs its technical staff in three different time zones so that you can reach out to them within your time zone.
Shippo vs ShipStation: Pricing Comparison
Let's have a look at the most critical aspect of this detailed comparison – the pricing.
Shippo's Pricing Plans
Shippo came up with three different pricing structures to support businesses at any scale and size.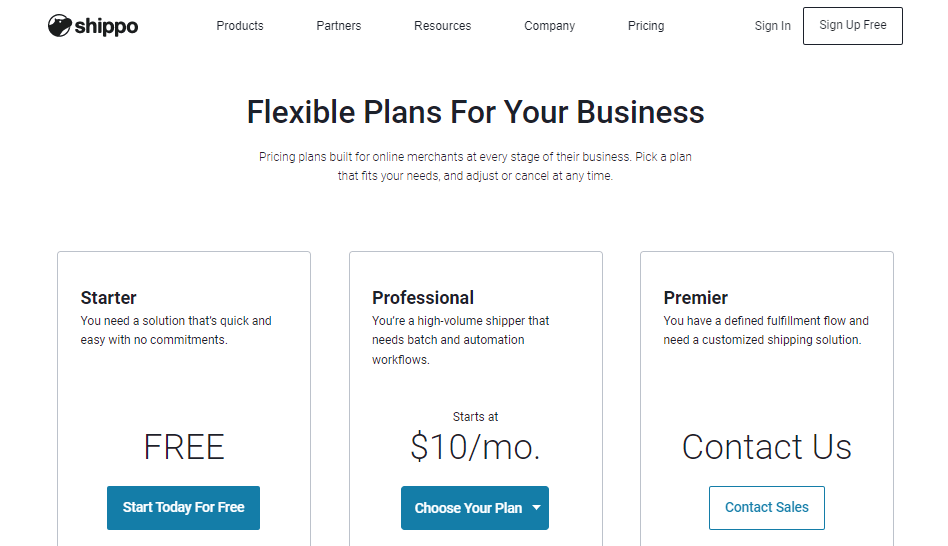 Pay As You Go: This is the first pricing option that only costs 5¢ per shipment + postage cost. But you will only have a single-user license who can use all its features, unlimited carrier shipments, and integrations.
Professional: This plan costs you only $10/month and gives you additional access to five users. The plan includes all the PAYG features and offers priority support, custom API access, and a global carrier discount.
Premier: The Premier plan is an advanced subscription suited for larger businesses. With this plan, you will get up to 15 user-access. Additionally, you will get dedicated customer support, custom branding, an onboarding assistant, and many more. You can contact Shippo to discuss the prices.
ShipStation's Pricing Plans
ShipStation doesn't have a particular pay-as-you-go plan; rather, it charges a fixed monthly price for a specific number of shipments. Currently, it offers six pricing plans to its users.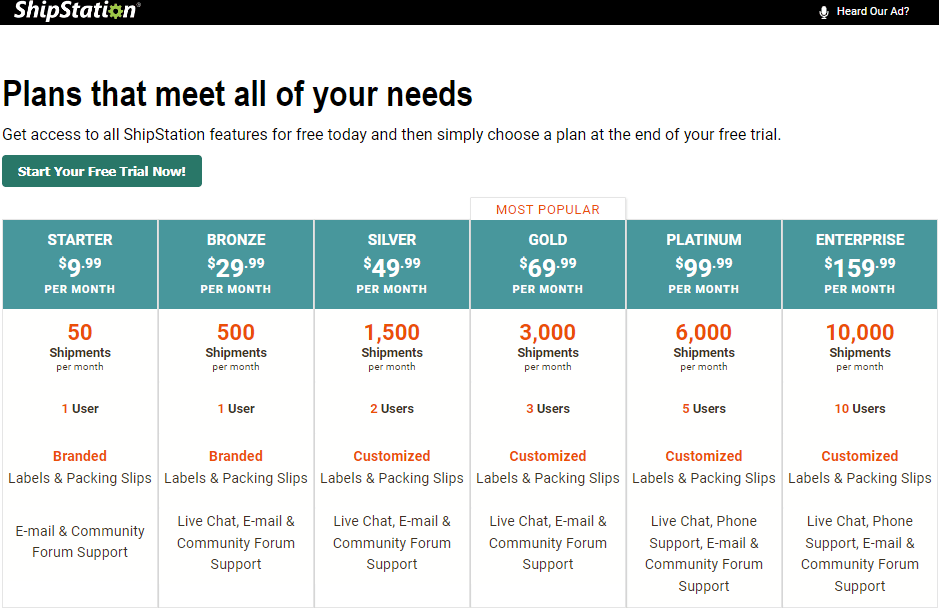 Starter – $9.99/month
Single user access
50 shipments
Branded Packaging slips
Standard customer support
Bronze – $29.99/month
Single user access
500 shipments
Branded Packaging slips
Premium customer support
Silver – $49.99/month
Two user access
1,500 shipments
Customized Packaging slips
Premium customer support
Gold – $69.99/month
Three user access
3,000 shipments
Customized Packaging slips
Premium customer support
Platinum – $99.99/month
Five user access
6,000 shipments
Customized Packaging slips
Priority customer support
Enterprise – $159.99/month
Ten user access
10,000 shipments
Customized Packaging slips
Priority customer support
Shippo vs ShipStation: Pros and Cons
Let's look at both platforms' benefits and drawbacks.
Shippo Pros
Simple user interface and flexible navigation
Convenient pricing model
Flexible integrations
Integrates with major shipping carriers, eCommerce platforms, and marketplaces
No technical knowledge required
Excellent back-end environment
Free trial available
Shippo Cons
Basic security measures
No built-in marketing apps for integration
Limited customer support options
ShipStation Pros
Automation features available
It offers a range of customization options
Plenty of marketplace integrations
Global shipping options
Onboarding Assistant
Better technical support than Shippo
Integrations for marketing purposes
ShipStation Cons
Steep learning curve
Packing slips are awful
A little bit expensive plans
Related Read:
Final Verdict: Shippo vs ShipStation (2022)
Finally, the comparison came to a conclusion.
Shippo is definitely a smart choice for beginners or who want a simple and user-friendly interface. On the other hand, ShipStation is more advanced and best for long-time merchants or tech-savvy persons.
Shippo offers a PAYG package that costs a fixed amount for each shipment, whereas ShipStation only comes with fixed monthly subscriptions and limited shipments.
Overall, you can go with Shippo if you want simplicity. But if you want automation features and unlock more advanced features, you better go with ShipStation. Both platforms offer a 30-day free trial, so you can give it a try to each platform and then decide which one to go with.