Are you looking for the best Shopify accounting software? Don't worry, I have got a few recommendations for you.
Shopify is one of the biggest eCommerce platforms that offer some exceptional in-built features to its users. However, when it comes to financial reporting, Shopify has some limitations. To unlock Shopify's advanced financing features, you need to subscribe to a high-tier plan which is something that everyone can't afford.
Luckily, there are many third-party accounting tools available on the internet that integrate with Shopify. Business owners on Shopify can integrate a reliable tool to get up-to-date financial reports of their linked bank account.
In this post, I have listed the 10 best Shopify accounting software that you integrate with your Shopify store to receive financial reports from time to time.
Let's get started.
Top 10 Shopify Accounting Software: In A Nutshell (2023)
| | | | |
| --- | --- | --- | --- |
| Sr. No. | Accounting Software | Price | Remarkable Feature |
| 1. | QuickBooks | $15/month | Best for small and mid-size businesses |
| 2. | Wave | Free | Best free tool for small businesses |
| 3. | FreshBooks | $4.50/month | Offers pre-built tax categories |
| 4. | Zoho Books | $15/month | Easy to set up and use |
| 5. | Xero | $13/month | Offer smart contract management |
| 6. | NetSuite | Custom Pricing | Best for large enterprises |
| 7. | Holded | €14.50/month | Best for automation |
| 8. | Bench.co | $349/month | Offer in-depth reporting and a dedicated account manager |
| 9. | Sage Accounting | $10/month | Offers best time-saving features |
| 10. | Botkeeper | $155/month | Best Automated Bookkeeping and Accounting software |
What To Look for In An Ideal Shopify Accounting Software?
There are some essential features that are of the essence for Shopify accounting software. Make sure to check out the following features before finalizing the accounting software for Shopify.
Flexible Integration: Your accounting software must integrate with Shopify and other payment and shipping-related apps.
Easily Accessible: The software should be compatible with web browsers and have a mobile application to access your account reports from anywhere.
Cloud-based: Cloud-based accounting software is more convenient than hosted solutions. Basically, cloud-based solutions offer up-to-date stats with a reduced margin of errors.
In-depth Reporting: Shopify's in-built features already offer basic reports to their users, so find an accounting tool that offers advanced and detailed reports related to your eCommerce business.
Sales Tax Configuration: Figuring out sales tax on your own can be frustrating, but an ideal accounting tool calculates, pays, and collects sales tax effortlessly.
Excellent Customer Support: Your selected software must offer 24/7 customer support so you can solve your queries at any time.
In this following list, you will get all these features with almost all the tools. Let's know more about all of them.
10 Best Shopify Accounting Software
Here is my handpicked list of the best accounting software for Shopify. Go through each accounting software and decide which one suits best for your Shopify store.
1. QuickBooks
QuickBooks is a renowned accounting software that keeps track of your economic functions such as income, expenses, sales tax, etc. It is one of the best accounting tools SMBs (Small and mid-size businesses). It easily integrates with top eCommerce platforms and apps such as Shopify, Wix, BigCommerce, WordPress, MailChimp, and many others.

With QuickBooks, you can not only just get reports of your financial functions but also pay your team, manage your business team, process payrolls, and compare historical expenses and profits under one centralized dashboard. QuickBooks also allows you to add/remove permission levels for each team member without any extra cost. All you have to do is connect your business account to QuickBooks, and you will start getting up-to-date data within no time. You can also download account activity reports to compare all the data manually.
Key Features of QuickBooks
The dashboard is pretty easy to navigate
Integrates with popular apps and eCommerce platforms, including Shopify
Works flexibly with all Shopify-supported payment processors
100% accurate and comprehensive financial reports
Tier-based solutions for all types of businesses
Fully-functional mobile app (For both Android and Apple users)
Drawbacks
A steep learning curve
Adds up additional charges for advanced reports
Starting Price: $15/month
2. Wave
If you are a beginner and don't have enough budget to afford a premium accounting tool, give Wave a try. Wave is a free Shopify accounting software that offers incredibly fast and accurate financial data. It offers access to a few advanced tools for free that you can use to manage a small business effortlessly. Everything on Wave is absolutely free, but if you want to use advanced features like payment processing, coaching, and payroll tool, you can pay as you go.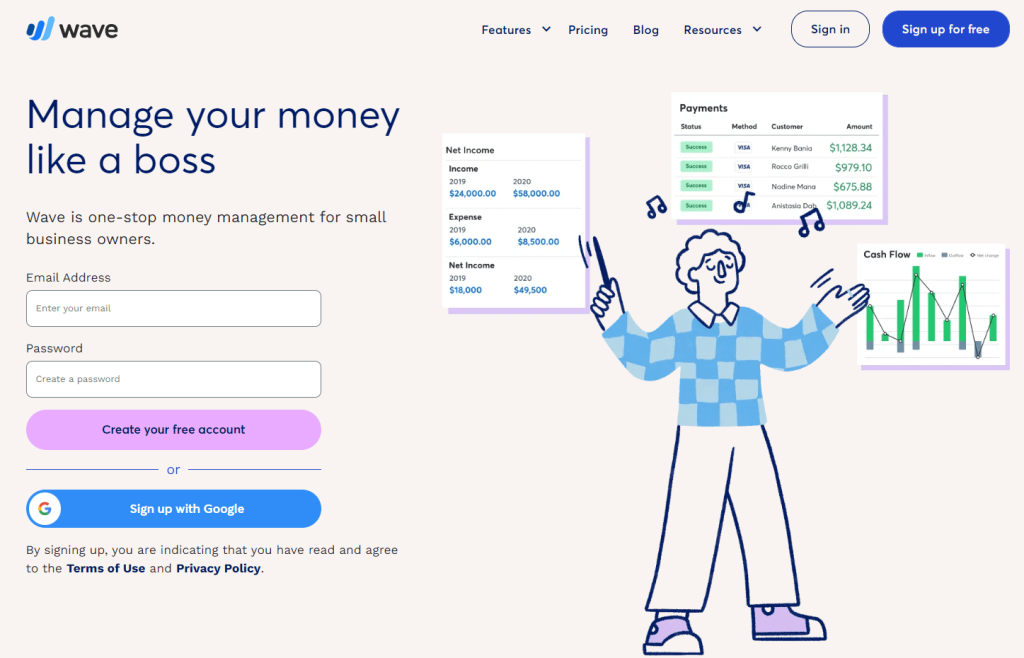 Setting up Wave is simple and fast. You can integrate the tool with multiple businesses at the same time. This feature comes in handy when you own multiple businesses, and Wave effortlessly manages your financial accounting with accuracy. The tool is available for both web browsers and mobile devices so that you can manage your Shopify account just with a good internet connection.
Key Features of Wave
Free-to-use software
User-friendly dashboard
Manage multiple business accounts simultaneously
30-day free trial for Payroll Software
Super convenient mobile and web application
Offers in-house accounting, payroll, and bookkeeping coaches
Drawbacks
Only supports PayPal integration
The mobile app has limited features
Price: Free (Pay as you go for additional features)
3. FreshBooks
FreshBooks is a cloud-based solution that is available on Android, iOS, and web browsers. The company claims that using their tool can save 192 hours you spend on accounting. The tool offers advanced features like time-tracking and built-in expense management. The tool offers solutions to all business types and sizes.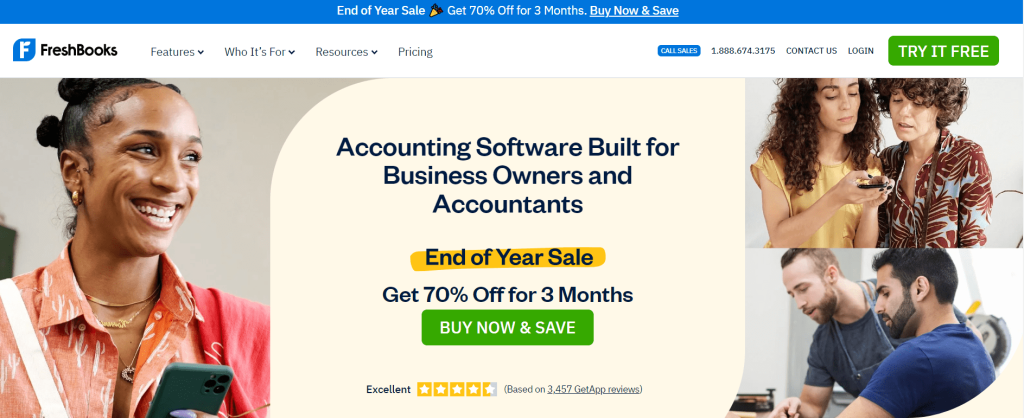 FreshBooks offers a wonderful project-tracking feature that helps you split the expenses of your projects. This feature helps you figure out what projects and products are feasible and what is not. The tool integrates with major eCommerce platforms and apps, including Shopify. It also supports 170+ currencies which makes it a great choice if you are managing international clients. Compared to other accounting tools, it offers a range of affordable plans. And if you are new, you can pick and try it for 30 days.
Key Features of FreshBooks
Simple and easy-to-use dashboard
Offers onboarding assistance to new users
Automation options available
In-built project management
Supports 170+ currencies
30-day free trial
Drawbacks
The mobile app doesn't have a free trial
Every plan offers only single-user access—you need to pay additional charges for multiple-user access
Starting Price: $4.50/month
4. Zoho Books
Zoho Books is an extensive cloud-based accounting tool that integrates with Shopify and many other apps and eCommerce platforms. It offers end-to-end accounting solutions through invoicing, stock tracking, project management, bookkeeping, etc. Zoho Books keeps your Shopify business GST-compliant by creating GST invoices and filing tax returns.

Zoho offers a free plan that contains standard accounting features. Beginners can start with this plan to test the necessary features. Apart from that, you will also get a 14-day free trial on paid plans. Unlike FreshBooks, Zoho Books offers multiple-user access with all paid plans. You can provide these user accesses to your team members based on custom roles. However, you won't get many integration options with Zoho as you get with other accounting tools.
Key Features of Zoho Books
Manage customers and suppliers in one place
Forward clear-cut estimates to your audience
Set reminders for payments and invoices
Offers a free-forever plan
Up to 5000 invoices with the free plan
Affordable paid plans with advanced features
Drawbacks
Limited integrations
No fixed asset management
Starting Price: $15/month/organization (free plan available)
5. Xero
Xero is one of the best Shopify accounting tools that you can find on the internet. This amazing accounting software caters to 2 million users from various eCommerce platforms and marketplaces. The tool integrates with 800 apps, including all the major eCommerce platforms and payment processors. From paperless expense management to bookkeeping and automatic conversions, Xero offers a wide range of accounting tools.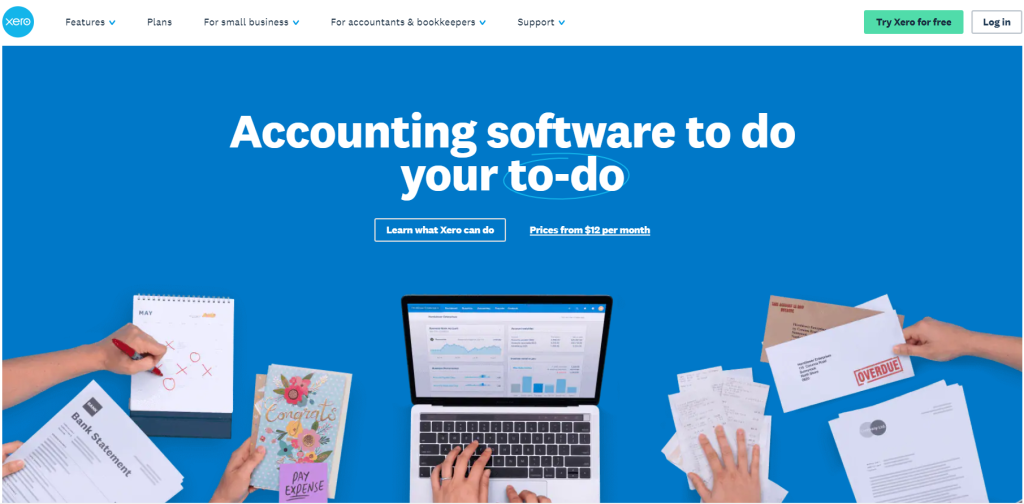 Xero includes 65+ powerful reporting features such as P&L, equity reports, and standard balance sheets. Like other popular accounting tools, it also offers tier-based solutions covering all types of businesses. It offers an Android and iOS app that helps you track your business's financial reports from anywhere.
Key Features of Xero
Easy to install and set up
Offers access to an advisor
Unlimited user access
AI automation features
Advanced analytics
Context-sensitive customer support
Drawbacks
Not well-optimized for larger businesses
You need to create invoices for a few payment processors manually
Starting Price: $13/month
6. NetSuite
NetSuite is a premium Shopify accounting tool that caters to bigger industries and businesses. With this tool, you can sync real-time customer information according to custom triggers. It offers automation features for inventory management, financial management, customer orders, and billing so you can run your business without worrying about your financial reports.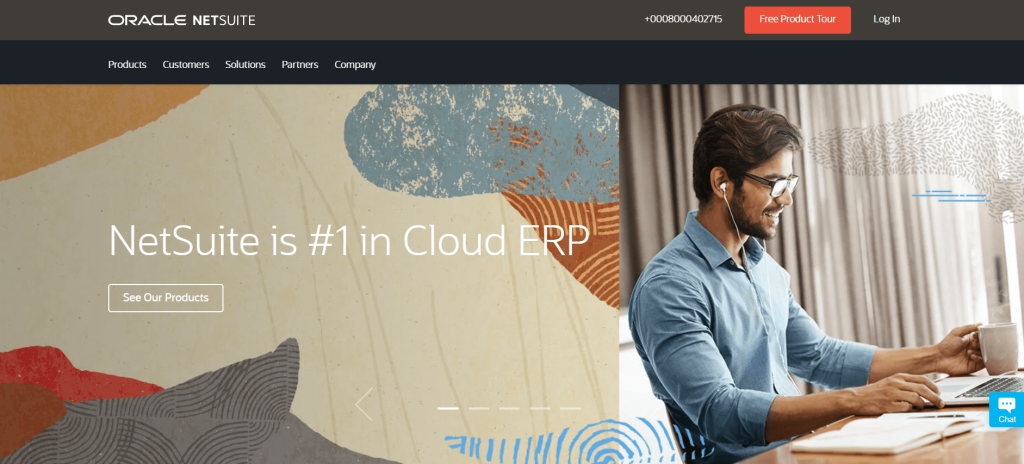 NetSuite runs on an ERP (Enterprise Resource Planning) system that helps organizations manage day-to-day business activities such as project management, accounting, procurement, supply chain operations, etc. NetSuite offers a free product tour for every solution they offer. You can schedule a free one-on-one consultation if you don't understand what solution is best for your business.
Key Features of NetSuite
Simple yet feature-rich accounting software
Offers solutions to larger businesses and companies
Hundreds of eCommerce platforms and app integrations
Excellent reporting and analytics tools with 100% accuracy
Offers the ability to create custom process workflows
Free product tour
Drawbacks
Pretty expensive for smaller
A steep learning curve
Price: Custom pricing
7. Holded
Holded is one of those few accounting tools that is recommended by Shopify itself. The reason is its unparalleled automation features which make it stand out from other accounting tools. It is available both as a mobile app and a web application. Holded is not as popular as other tools in this list, but it is growing rapidly. In fact, it caters to over 80,000 small and medium-sized businesses, including Shopify store owners.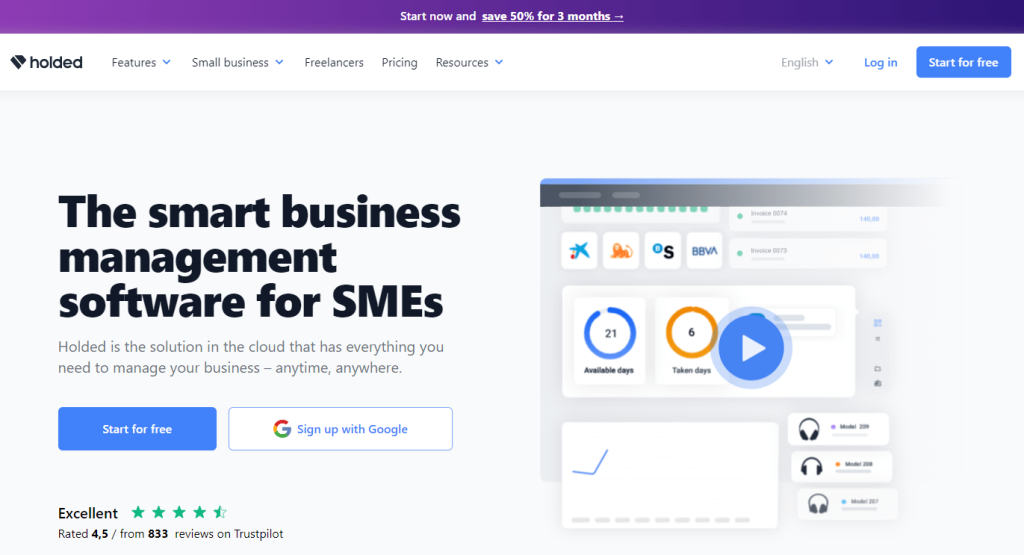 Holded has two major functions Shopify cherishes the most. Firstly, the tool syncs Shopify sales with the business accounts. Then secondly, it allows users to manage and receive Shopify orders so they can convert them into invoices. It also offers real-time and in-depth insights into your business financing. It also offers a variety of templates that you can customize according to your business needs.
Key Features of Holded
Excellent interface with tons of features
Offers 40+ customizable templates for invoices
Task automation features to streamline your accounting
Up-to-date reports and analytics
Seamlessly integrates with major eCommerce platforms and apps
Receipt scanning for remittance, cash flow reporting, and payroll management
Drawbacks
Receipt scanning additionally charges 0.20 euros per scan
The tax filing assistance feature is only available in Spain
Starting Price: €14.50/month (Free plan available)
8. Bench.co
Bench.co is a unique Shopify accounting tool powered by human-assisted AI technology. Unlike other tools, you get a dedicated account manager that manages all your financial activities. It comes in super handy if you don't have time to manage your business account. Even if you don't opt for a personal account manager, Bench.co offers managed accounting solutions for your business.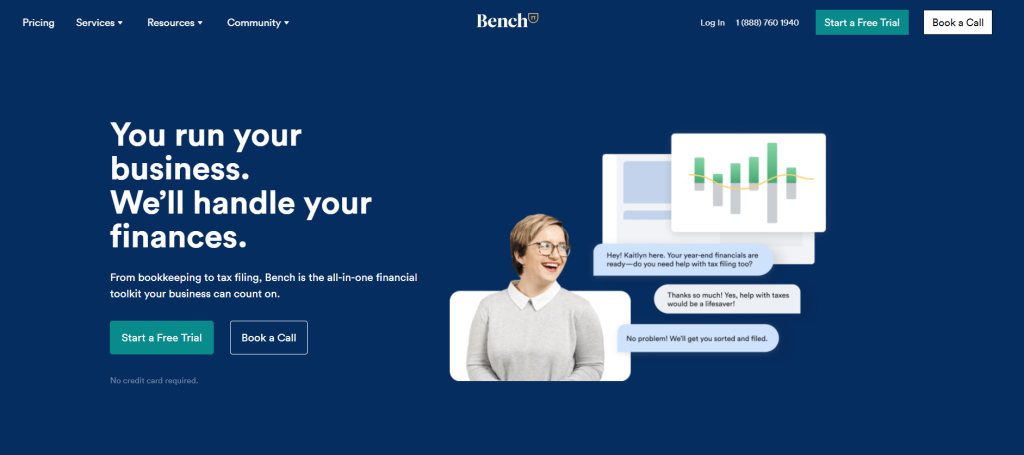 Apart from Shopify, Bench integrates with many big names, such as BigCommerce and Stripe. The company also got featured in Forbes, New York Times, and The Huffington Post, which shows its reliability. Your bookkeeper categorizes your expenses and reconciles transactions and bank accounts to prepare financial statements for your business on your behalf.
Key Features of Bench.co
Best suited for enterprises and growing businesses
Fast and easy-to-use interface
A dedicated account manager
30-day free trial on paid plans
Unlimited in-app calling and messaging options with your bookkeeper
Historical financial statements
Drawbacks
It doesn't offer all-in-one solution solutions such as ERP and CRM
Limited customizations
Pretty expensive for small businesses
Starting Price: $349/month
9. Sage Accounting
Sage is one of the most affordable accounting tools that Shopify users prefer to get their financial reports on track. It offers many time-saving features that help Shopify sellers with their invoices, payrolls, and project management. With its automatic transaction matching, you can connect your business account to its mobile app, and it will memorize your categorization choices using its AI technology.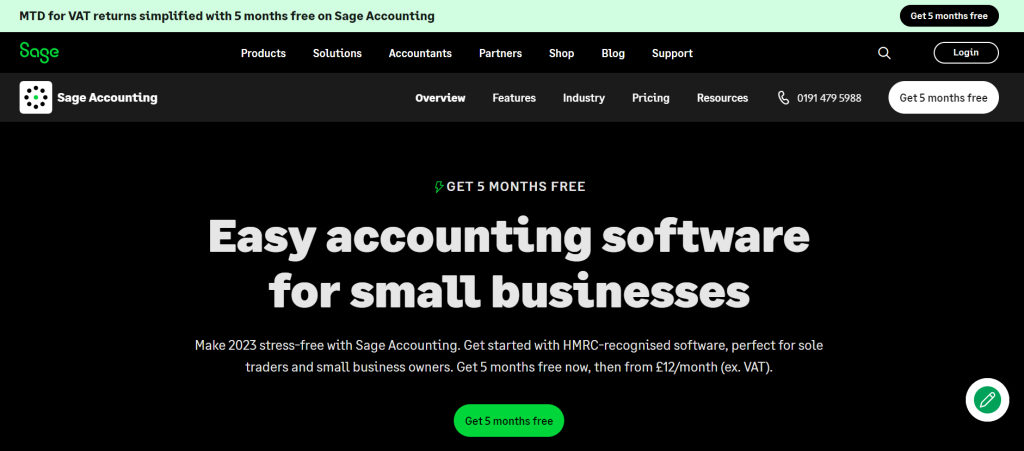 Unlike other accounting tools, Sage allows unlimited user access. And you can also allow custom roles to your team members. It supports multiple currencies so that you can deal with international customers. Apart from that, it is highly customizable and offers an in-depth analysis of the financial statements of your business.
Key Features of Sage
Multi-currency support
Affordable monthly subscriptions
Seamlessly integrates with tons of third-party apps
Fully-functional mobile application (for both Android and iOS devices)
Industry-specific features
In-depth reporting on a monthly, quarterly, and yearly basis
Drawbacks
Limited report customization
It doesn't offer a time-tracking feature
Starting Price: $10/month
10. Botkeeper
Botkeeper is a cloud-based Shopify accounting software that is specifically designed to help small to medium-sized businesses with their bookkeeping processes. The software uses artificial intelligence and machine learning to automate many bookkeeping tasks, including transaction categorization and bank reconciliation, which can save businesses a significant amount of time.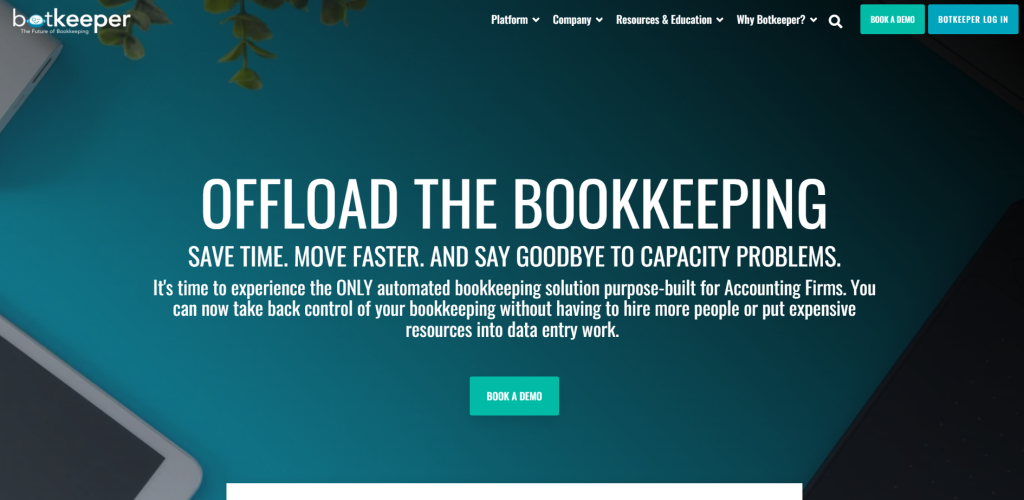 One of the main advantages of Botkeeper is its ability to provide real-time financial data. This means that businesses can access up-to-date information about their financial status at any time, allowing them to make informed decisions quickly. In addition, it offers customizable reports that can be tailored to a business's specific needs. This can provide valuable insights into a business's financial data, helping them to identify trends and make more informed decisions.
Key Features of Botkeeper
AI and machine learning technology automates bookkeeping processes
24/7 support from a dedicated team of accountants
Real-time data and reports, accessible from anywhere
Scalable for businesses of all sizes
Integrates with popular accounting software
Affordable pricing for small businesses
Drawbacks:
Limited customization options
AI technology may not be suited for all businesses
Starting Price: $155/month
Related Read:
Conclusion: Best Shopify Accounting Software (2023)
Finding reliable accounting software can be tricky, especially when it comes to accuracy and up-to-date reports. Luckily, with the list mentioned above, you don't have to worry about these aspects since all of them are up to the mark and Shopify-friendly. However, your business size and specific needs can be the major deciding factors. If you're a beginner, you can start with free tools like Wave and Holded. And almost all Shopify accounting tools offer a free trial on their major paid plans.
Whether it is Shopify or other eCommerce platforms, every seller needs to keep track of their expenses, profit, and other financial reports. With a reliable accounting tool, you can easily manage your online store's financial status without much effort. So you can compare this list and select the best for your business.
Latest posts by Shally Rose
(see all)