Are you looking for Shopify Black Friday deals? Congrats, you have reached your destination. 
Shopify is one of the biggest eCommerce platforms that empowers millions of businesses by giving them the necessary tools and access. On this platform, you get not only eCommerce-centric features but also a world-class support team available 24/7. 
Like other platforms, Shopify also offers discounts, free trials, and deals on various occasions, including Black Friday and Cyber Monday. Black Friday is one of the best occasions to claim heavy discounts on Shopify plans. 
In this post, we will go through the Shopify Black Friday deals and a guide that will help you claim the offer without a hassle.
Note: Black Friday and Cyber Monday deals are yet to come. We will update this post as soon as it goes live.
Shopify Black Friday Offers
Shopify's Black Friday and Cyber Monday sales will be live soon, and you must be eagerly waiting for this occasion to get discounts and amazing offers.
Last year, Shopify came up with two exciting offers on Black Friday sales. Luckily, you can still claim these offers today even after the sale is no longer active.
3 Months Trial for Basic Shopify plan at $1/month
If you are a beginner and want to try all Shopify features, you can get started with the exclusive 3-month trial of the Basic plan that will only cost you $1 per month.
With this plan, you will get two staff accounts and all features you need to create and jump-start your business. On top of that, you will also get up to 77% discount on shipping charges.
Flat 50% Off on Yearly Subscription
If you want a long-term subscription to Shopify plans, there is an offer for those fellas too. You can get up to 50% discount on all available Shopify plans.
You can get up to 25% discount on 2-year and 3-year plans as well.
How to Claim Shopify Black Friday Deals? (Step By Step)
In order to claim the deals mentioned above, follow these steps.
Step 1. Both Shopify deals are available on the pricing page. Click here to reach the Shopify pricing page directly.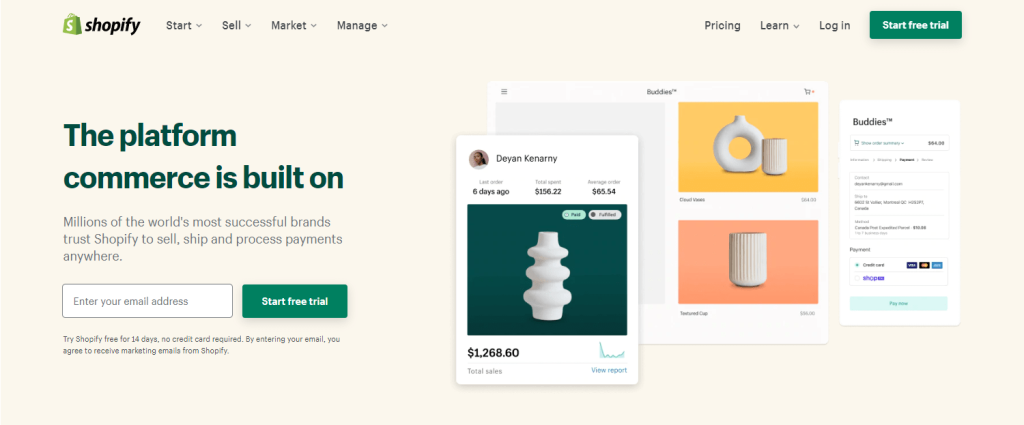 Step 2. On the top of the page, you will find the 3-month trial offer. Click on Sign Up Now to start your claiming process.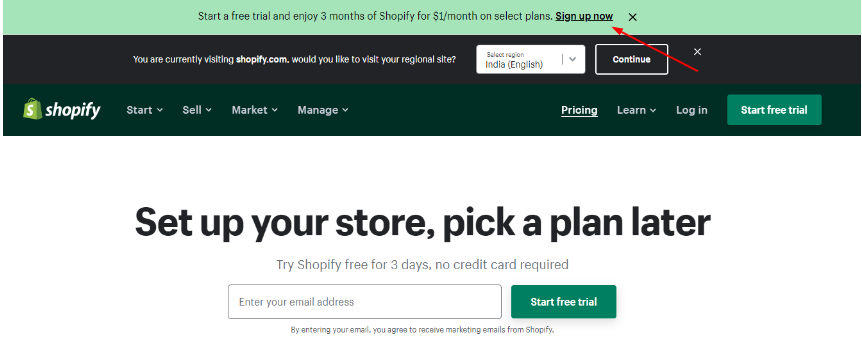 Step 3. On the next page, pick the option that describes your current business status. Then click on Next.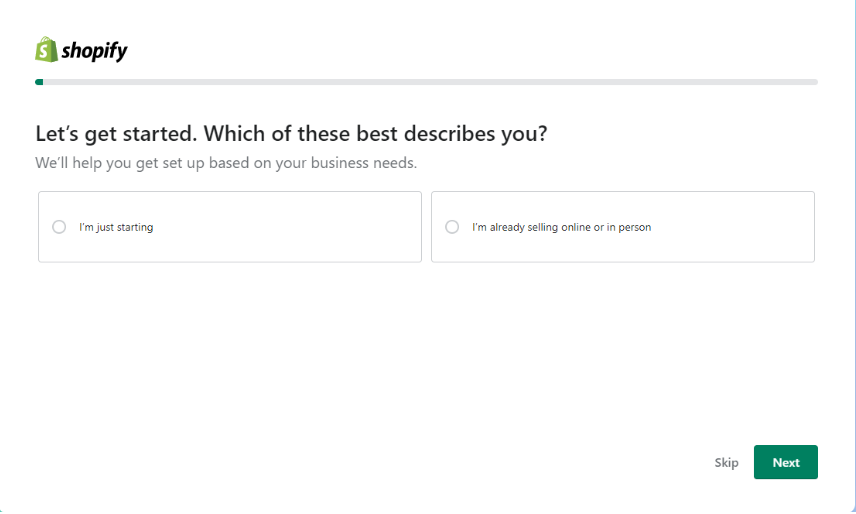 Step 4. Next, choose the place where you want to sell. You will get to choose five options.
Online store
Existing blog or website
Social media
Online marketplaces
In-person
You can select one or go with multiple options. After selecting, click on Next.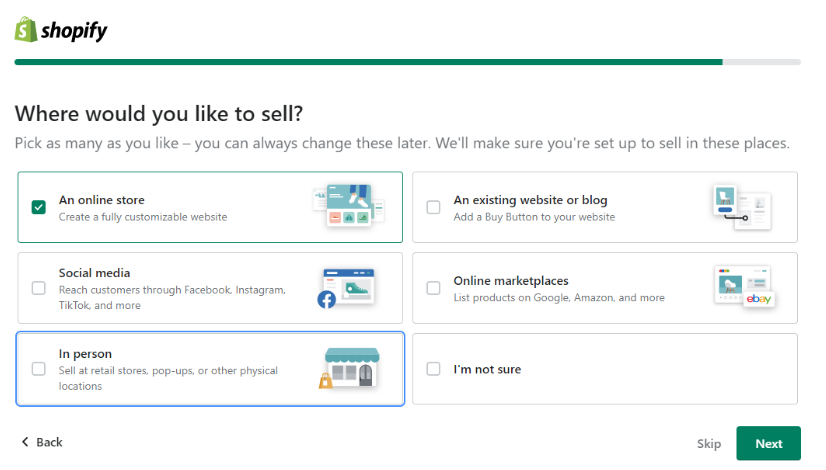 Step 5. Set up your store name and select your country. Then click on Next.
Step 6. Now, create a Shopify ID using your email address.
After creating Shopify ID, the system will take a few seconds to set up your online store according to your preferences.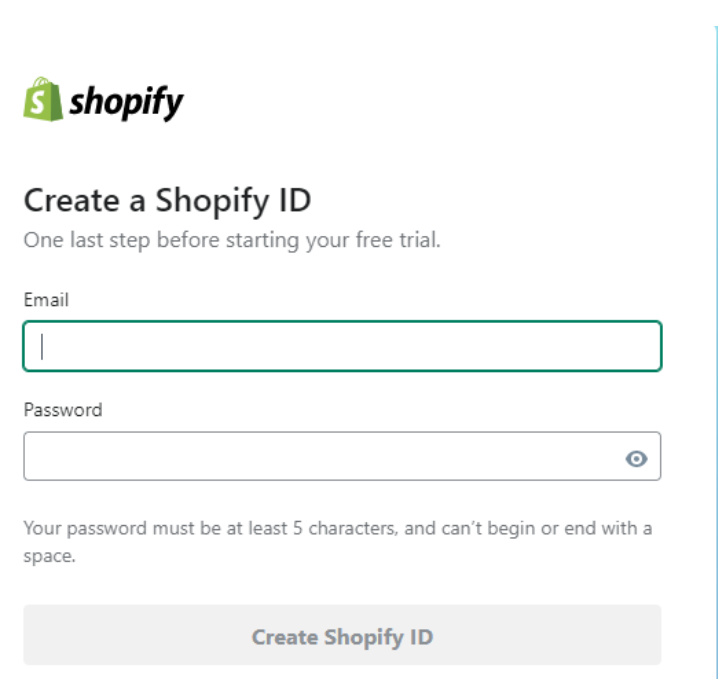 Step 7. Shopify will automatically give you a 3-day free trial of the Basic plan. But if you want the 3-month trial, click on the Pick A Plan option to upgrade your account. You will find this option on your storefront. 

Step 8. On the next page, you will have the option to claim one of the given offers.
If you want the 3-month offer, you can choose the Basic Shopify's monthly plan, which will cost you only $1/month.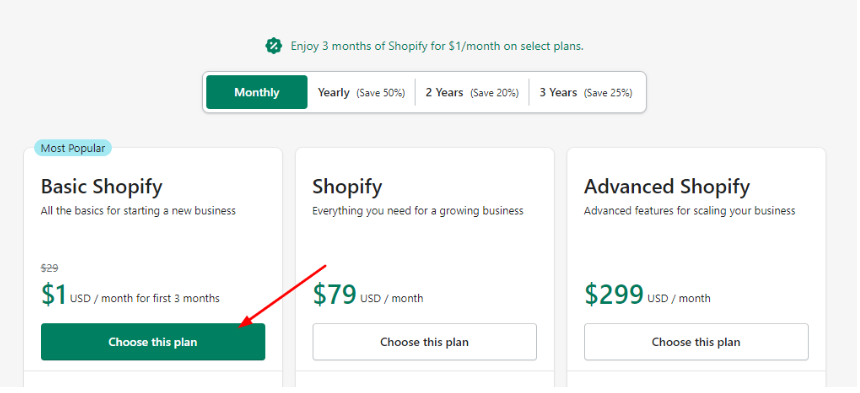 Or, if you want to claim the 50% discount on yearly plans, go to the Yearly section and choose your preferred Shopify plan to claim the discount offer.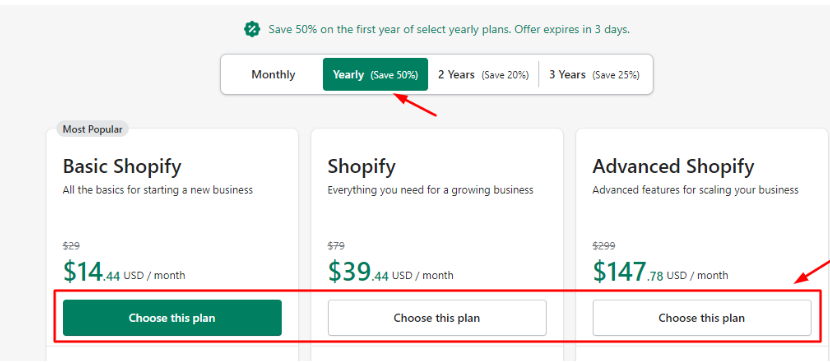 Step 9. After choosing your preferred offer, you will land on the billing page. Here, add your billing address and credit card details. Then, complete the payment to claim the selected offer.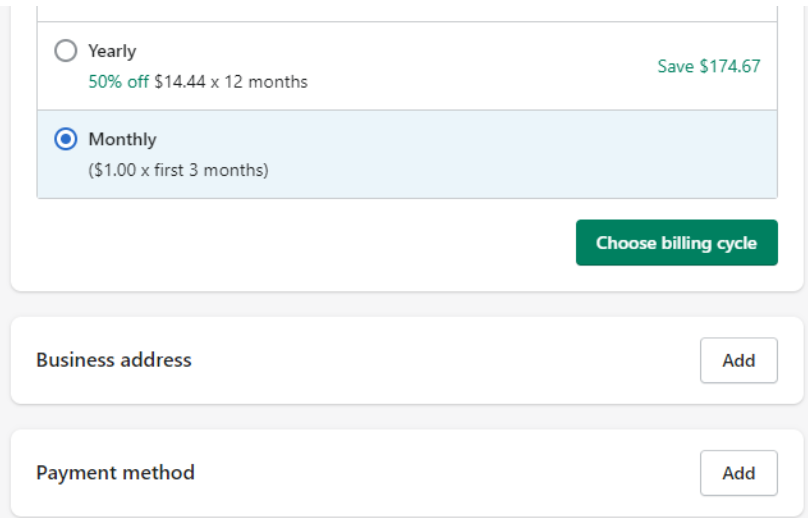 Once your payment is completed, you will successfully claim the ongoing offer.
Shopify Pricing Plans
Currently, Shopify offers three premium plans. Compare the plans and see which one suits your business.
Basic – $29/month
The Basic plan of Shopify offers you all the features and access to tools that you need to create a fully-fledged eCommerce store. The 3-month trial offer is available for this particular plan.
Unlimited products
Two user licenses
Four inventory locations
77% shipping discount
Basic reports
Shopify – $79/month
The Shopify plan is best for sellers who want professional reporting and additional staff accounts in order to grow their businesses.
All the Basic plan features
Five user licenses
Five inventory locations
88% shipping discount
Standard reports
Advanced – $299/month
The Advanced plan is the ultimate plan of Shopify best suited for professional sellers. With this plan, you will also get access to the profit calculator that will help you calculate shipping rates, taxes, and invoices.
All the Shopify plan features
15 user licenses
Eight inventory locations
Advanced reports
All plans come in a monthly, 1-year, 2-year, and 3-year format. You can choose your preferred format according to your budget and business needs.
Related Read:
Conclusion: Shopify Black Friday (2022)
Shopify is one the best platforms that offer advanced store-building and eCommerce features. Despite offering a range of premium features, it offers a free trial, occasional discounts, and Black Friday & Cyber Monday deals. This year's Shopify Black Friday sales are yet to come. But still, you can claim the 3-month trial at $1/month and exclusive 50% off on yearly plans.
If you are a beginner and want to try all the Shopify features, you can try the Basic Shopify plan for three months at a very low cost of $1 per month.