"Are you planning to start your e-commerce shop? Check out our detailed comparison of the two top online marketplaces. Shopify and Amazon together sell more than 75% of total online products. Let's get into details."
We all have witnessed the ongoing e-commerce revolution over the past decade. Thanks to the expansion of internet coverage, online shopping has become a new norm. More than 70% of people now prefer to buy products online rather than from walk-in stores. The primary reason is convenience and the one-stop e-shops for hundreds of product categories. According to a recent economic survey, as many as 2.12 billion people have made online purchases at least once in 2021.
The figure mentioned above proves that by selling your products online, you have billions of potential buyers to showcase your products to simply by listing them on a shopping website. This brings us to the question – Which one is the best platform to sell online? Over the year, two names amongst several others stand out – Amazon and Shopify. One is a worldwide marketplace, and the other lets you create your own store from scratch.
To give you a better idea about both, I have prepared a detailed comparison guide for you. In this article, I will talk about what each has to offer, what are their advantages, and which one is the right one for your business.
In this article, we will talk about
Common features of both platforms.
Key differences
The pricing information
What are their pros and cons
Which is more suitable for your business?
Shopify Vs Amazon: Head to Head
Shopify first came into existence in 2006 as an online snowboarding equipment store. The founder Tobias Lütke, a computer programmer himself, was unhappy with the current e-commerce options and decided to develop his own store. After a few months, the platform was relaunched at Shopify.
Currently, Shopify is amongst the top e-commerce companies in the world with expansion in over 175 countries and more than 1.7 million stores worldwide.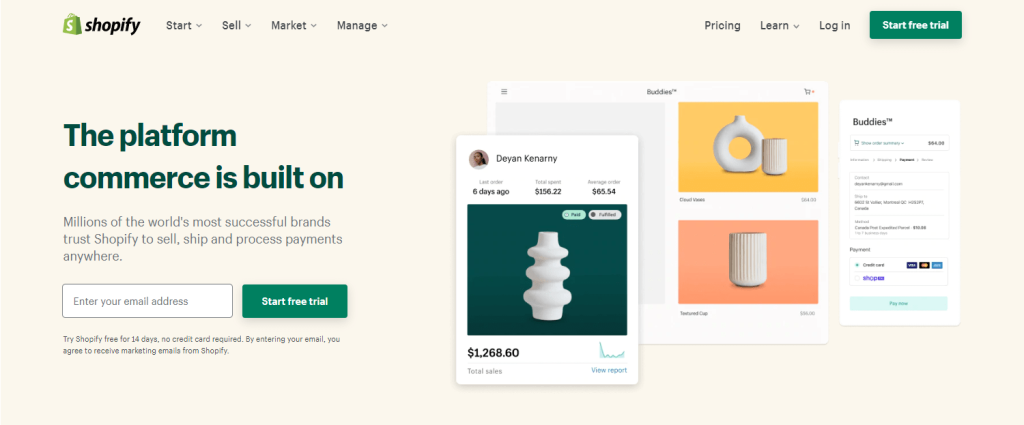 Shopify provides a platform to build an online store of your own. You get the designing tools and templates to create a stunning website and list your products. Additionally, you get a lot of marketing and sales tools to scale your business, run advertising campaigns, handle payments and transactions, and much more.
Here are some key attractions:
Pre-designed templates along with an easy drag & drop design tool allow you to create professional websites without needing any coding experience.
It supports hundreds of payment processors and payment gateways around the world.
Provides powerful sales and marketing tools such as inventory management, SEO, advertising, third-party integration, and much more.
You can sell your products on third-party social platforms such as TikTok, Facebook, Pinterest, etc.
A wide range of extensions and third-party applications are available on the Shopify app store that you can integrate into your e-store.
Amazon, contrastingly, is an online marketplace where you can sell your products alongside other sellers. The company was founded way back in July 1994 as an online book-selling platform but the founder Jeff Bezos soon realise the magnitude of the impact his company was going to have. Soon, he quit his job and started Amazon as a full-fledged online store with hundreds of product categories.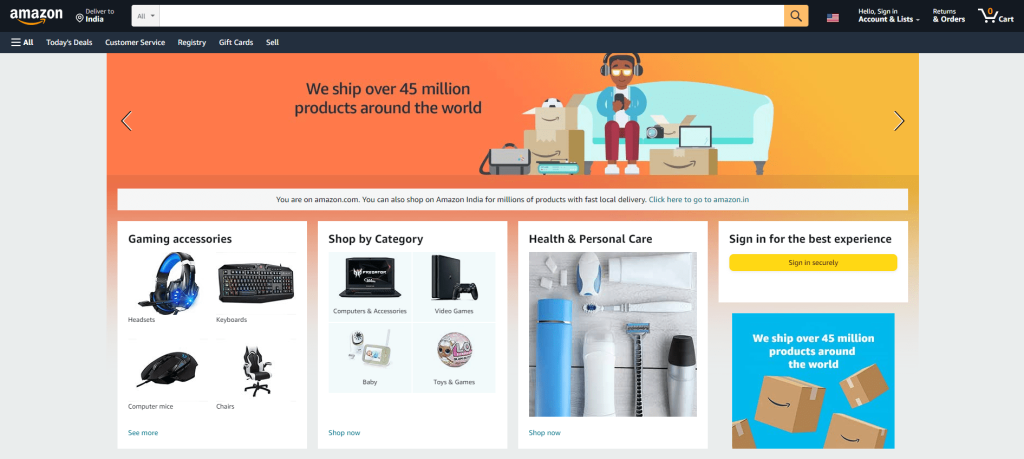 Currently, Amazon is by far the largest e-commerce company in the world. With hundreds of billions of revenue each year, the company has rewritten the history books and has become one of the most influential success stories in the modern era.
Amazon has probably the largest customer base in the world. By selling on Amazon, you have a higher chance of making a sale, compared to Shopify. Currently, there are more than 200 million unique visitors to Amazon's website every month.
You can use Amazon fulfillment services to pack and ship your products without needing to store the inventory.
With the Amazon FBA agreement, you can store your inventory at Amazon's warehouse.
It's extremely to set up an Amazon seller account and list your products. All you need is to have products to sell with a winning business strategy.
Attractive shipping charges, discounts, and offers for your customers.
Amazon has a highly skilled customer support system and a seller central for any kind of assistance.
The biggest feature of Amazon, in my opinion, is the brand association. Selling on Amazon is considered a reputed business these days. Also, the customers have trust in Amazon, meaning they will not hesitate from buying from you as well.
| | | |
| --- | --- | --- |
| Feature | Shopify | Amazon |
| Pricing | $29, &79, and $299/month | $0.99/item sold or $39.99/month |
| Specialization | Host your online store | Selling products online |
| Marketing Features | Google ads, SEO, Third-party integration, | Competitive pricing and Amazon advertisements |
| Customer Support | Live chat, email, and phone call support | Amazon seller central account |
| Transaction Charges | No charges for Shopify Payments, 0.5-2% on third-party payment gateways | Referral fee is applicable on each product, depending on the category |
| Design & Templates | Drag & Drop design tools and templates | No possibility to design on Amazon |
| Mobile Application | ✔ | ✔ |
Shopify Vs Amazon: The Benefits and Drawbacks
Let's see what each one has in store for the sellers.
Shopify, as I mention, is an e-commerce platform for hosting shopping websites. If you are thinking about starting your business or selling your products, you can start right away on Shopify.
Creating an e-store on Shopify is fairly simple. The platform provides comprehensive website builder tools along with hundreds of pre-designed templates. You can choose any of them according to your business type and brand style and customize them further and create a professional yet captivating website for your business.
Build Your Website As You Like
You can create a visually stunning e-commerce store and list your products how you like. There are hundreds of templates and customization options to load your website with advanced features such as a Buy button, showcasing your social media products on the homepage, add video advertisements, and much more. 
Accept Payments like No Other
In comparison to Amazon, Shopify supports a wider range of payment options, including some popular ones, such as Paypal and Amazon Pay itself. Apart from third-party payment gateways, there is Shopify's own payment processing system – Shopify Payments. There is no transaction fee applicable to this method. The transaction fee on third-party payment methods depends on the premium plan you purchase. Currently, it varies from 0.5% to 2 %/sale. 
Not Just Selling, But Marketing As Well
Apart from website designing, Shopify offers a bunch of other business and SEO tools to smoothly run and manage your online store. For example, there is tax estimation which automatically calculates the sales tax to be levied on the products depending on the geographical location of the buyer. You also get a cart recovery tool, third-party extensions for marketing, and customer service, etc, an inventory management system, an Invoice generator, and much more. 
In-Person Selling and POS
Shopify is one of the few e-commerce platforms that allow you to sell your products offline through Point-of-Sale software – Shopify POS.
Amazon, on the other hand, already has a well-designed marketplace. All you need to do is register as a seller, purchase a plan and sell the products through your storage(Amazon warehouse if you opt for an FBA agreement). In terms of customization, there is almost no option. The only thing you can do, in terms of customization, is to make your product listings differently with an attractive title, description, product images, details, and so on. Everything else is handled by the Amazon website development team.
More Traffic, More Chances to Sell
Amazon, being the largest place for worldwide shoppers, handles more than 200 million unique visitors every month. This roughly means that a quarter of Earth's population visits Amazon's website to find their favorite items and eventually buy them. By listing your products, you are advertising your products to millions of potential buyers, which itself increases the chance of making a sale. Yes, the competition is tough, but you have numerous opportunities. 
Easy Setup
It's very easy to start on Amazon. Register with a valid email address, provide the basic information such as contact details, address, and billing address, and you are good to go. You have to choose the seller plan and seller agreement, and you can start listing your products. Now, there is not much to customize except the product section, which you can get hold of pretty smoothly. 
Amazon Does Everything For You
With Amazon, you get the freedom to choose between various seller agreements. FBA, the most popular one, allows you to use Amazon fulfillment and storage services to hold and ship deliver products to the customers. All you are required to do is to ship your inventory to the Amazon warehouse. Of course, there is a monthly cost for FBA that includes storage and fulfillment fee which depends on the product category and space the inventory occupies in the warehouse. 
It's Amazon, After All…
The biggest advantage of selling on Amazon is that you get associated with one of the biggest and most reputed brands in the world. People have immense trust in Amazon's services, and according to them, they are buying from Amazon, not from you. This means, you automatically qualify as a reliable and honest seller with Amazon backing you all the way.
Shopify Vs Amazon: What Is Missing
Both Amazon and Shopify provide you with a great platform to start your own business and step inside the world of entrepreneurship. But there are areas where both could do a bit better. Let me highlight them for you:
Shopify
High Transaction Fees
Apart from the monthly premium plan, Shopify has several other costs that can eat up your profit, especially in the early days when you don't sell much. Also, the third-party transaction charges may overwhelm you. Yes, Shopify payments offer zero transaction fees but payment gateways like PayPal are known for high transaction fees, and for credit card payments, Shopify charges up to 2.9%, which is considerably higher, compared to Amazon.
Overall Cost of Selling
For beginners, Shopify may prove costly. Apart from the monthly subscription fees, there are additional expenses such as templates, third-party applications, and so on. There is a set of standard applications available for free but recently many app developers have stopped providing free integrations which may add up to the overall cost of using the platform.
Lengthy Process
On Amazon, you register, choose a seller plan and you are good to go, considering you already have the inventory prepared. On Shopify, the process is rather time-consuming as you need to build the website first, add products, specify shipping and payment details, and so on.
Also, on Shopify, you have to earn the buyers' respect and trust while on Amazon, it's a different story altogether. Customers rate Amazon very highly and every seller shares equal respect and trust from the get-go.
Amazon
Be Prepared For The Competition
Yes, there are greater opportunities on Amazon as there are millions of buyers. But, this also brings fierce competition. According to Amazon, there are almost 10 million sellers on Amazon at the moment and nearly 6000 new sellers register on Amazon every day. You will need extraordinary business strategies to stand a chance against these sellers. You will see unbelievable prices from some big vendors, sometimes impossible to compete with.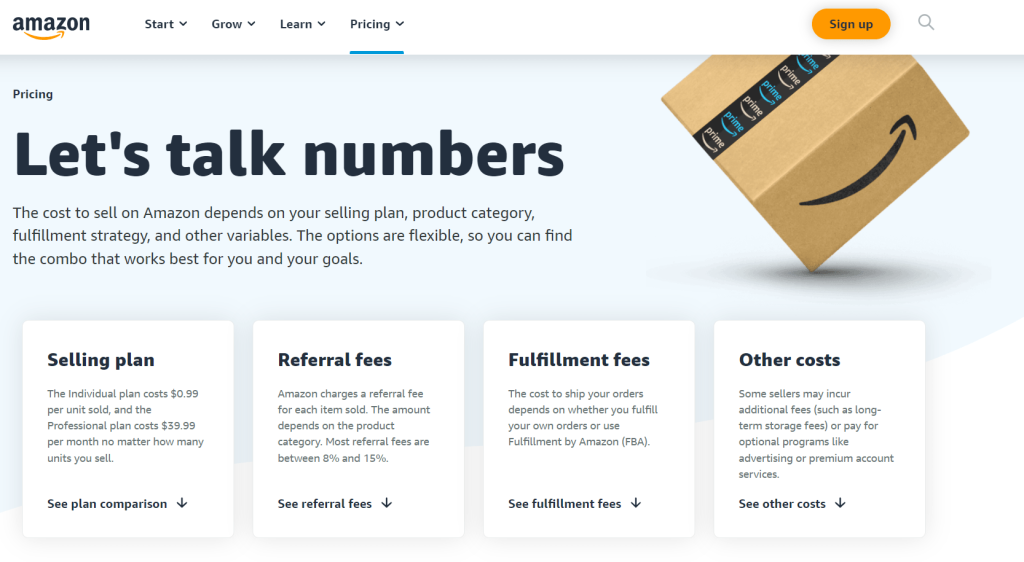 Struggle For The Profit
It's challenging to make a profit on Amazon, especially in the early days. There are too many costs to cover such as monthly fees (professional plan), FBA costs, Referral fees, and subscription fees
A Little Less Control
There is simply less control you have on your page as compared to Shopify. All your business is dependent on Amazon. Also, the payment options are limited which is not good news if you are planning to sell worldwide.
Shopify vs Amazon: Pros & Cons
Here are the benefits & drawbacks of selling on Shopify and Amazon.
Shopify Pros
If you want to create your own brand from scratch, it is best to create your online store on Shopify.
Shopify has better dropshipping features, which allow you to apply the dropship model on your online store.
You can easily use Shopify's in-built blogging features to create a blog along with your online store and indulge in content marketing.
Shopify allows you to list products on Amazon, and you can use the features of both platforms, but you will need a third-party app to do that.
You can find plenty of eCommerce tools for your online store on the Shopify app store.
Shopify Cons
You will need to pay for Shopify's subscription, and you may need to pay more for third-party apps from the Shopify app store.
You will need to spend on advertising and marketing to get traffic to your online store on Shopify.
Amazon Pros
Amazon has a huge audience, so you will always have customers to sell your products to.
Unlike Shopify, you don't need to create an online store on Amazon; you just need to list your products on the website.
It is to set up & start selling on Amazon.
You get the advantage of two search engines on Amazon: Amazon's own search engine and generic search engines like Google, Yahoo, Bing, etc.
You can choose Amazon FBA to manage your products' inventory, shipping, and packaging.
Amazon Cons
You can only sell physical products on Amazon.
Many sellers are selling the same products you are selling on Amazon.
Pricing Comparison
Let's have a look at the pricing offered by each platform:
Shopify has 3 plans for its users – Basic, Shopify, and Advanced. Here are the details: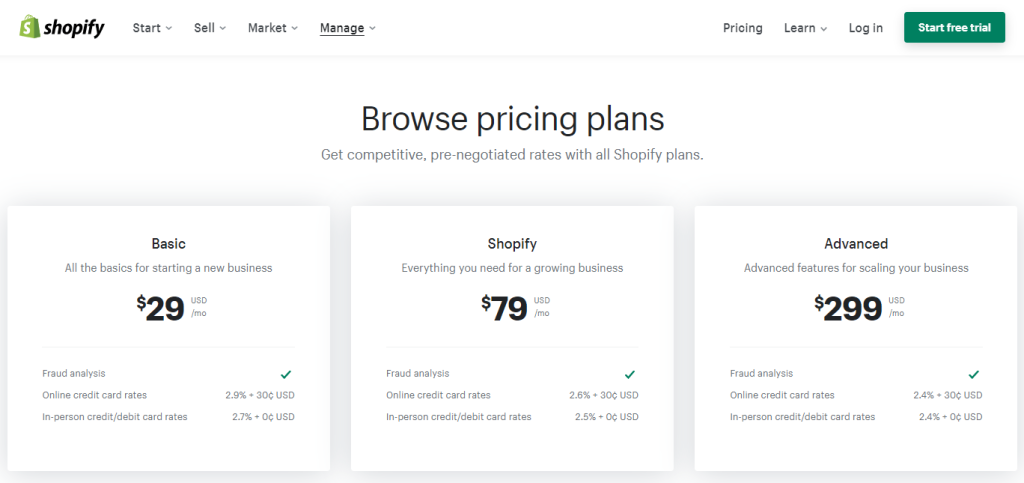 Shopify Plans
Basic $29/month
Shopify$79/month
Advanced$299/month
2 User Accounts
Up to 5 User Accounts
Up to 15 User accounts
Basic Reports Generator
Professional Reports
Custom Reporting
Up to 4 inventory spots
Up to 5 inventory spots
Up to 8 inventory spots
Shipping discounts up to 77%
Shipping discount of up to 88%
Shipping discount of up to 88%
Credit Card Charges
2.9% + 30¢
2.6% + 30¢
2.4% + 30¢
2.7% + 0¢
2.5% + 0¢
2.4% + 0¢
Amazon offers rather straightforward plans – Individual and Professional.
Individual Plan
This plan is rather suitable for beginners and entry-level businesses. There are no monthly charges to be paid, however, you are required to pay $0.99 for every sale you make. This plan is for the sellers who are not willing to commit to long-term investment on Amazon. But you lose some key features such as gift cards, promotional offers, inventory management tools, sales reports, and other premium seller features that you get with the professional account.
Professional Plan
If you're planning to launch a long-term venture on Amazon or sell more than 40 products a month, a professional plan would be more suitable for you in terms of cost-saving.
The professional plan will cost you $39.99/month and there are no extra charges to be paid for each sale. Also, you get access to the full suite of Amazon seller central features including inventory tools and professional reports.
In case you opt for an FBA agreement, you will have to pay the following fulfillment costs:
Standard Size Products – $0.83 – $2.40/cubic foot
Oversized Products – $0.53 to $1.20/cubic foot
Regardless of the seller plan you choose, there is an additional cost you will have to pay as a referral fee that varies from $2-$15 per order, depending on the item category.
Shopify Vs Amazon: Product Listing and Fulfillment
Shopify and Amazon are both powerful platforms, but their features and access to eCommerce tools are quite different from each other. Let's compare the crucial features of both platforms to check which one suits your business the best:
Product Listings
As I mentioned, Amazon is primarily a marketplace where sellers can list their products alongside other sellers. You do get a loyal customer base, but the competition level will be pretty high if you are selling a high-demand product. Over time, you have to keep optimizing your listing, or else your listing will not appear at the top of the search results.
On the other hand, Shopify is a complete eCommerce platform that allows businesses to create their own online store. Sellers get full control over the store and product listings with Shopify. Unlike Amazon, Shopify lets you customize your store and listing. However, you don't get an established customer base leverage like Amazon. You have to build your own credibility by optimizing your products and store to attract customers.
Fulfillment
Shopify recently started its own fulfillment network known as SFN (Shopify Fulfillment Network). Sellers can use the SFN service to store their inventory and fulfill orders. When a customer places an order on your Shopify store, SFN associates pick and pack your product and deliver it to the customer within the given timeframe (mostly in two days). However, the logistics network of SFN is not as extensive as Amazon FBA. Currently, the SFN service is only available for United States and Canada-based sellers.
Similarly, Amazon also has its own in-house fulfillment service, FBA (Fulfillment by Amazon). The platform has been providing assistance to Amazon sellers with this service for over 18 years. Throughout these years, Amazon kept expanding its network across the globe. And now, the FBA service is available worldwide, making it easier for any seller to get started with Amazon as quickly as possible. Sellers who don't want to use Amazon's fulfillment service are known as FBM (Fulfillment by Merchant) sellers. They handle all the aspects of fulfillment without the involvement of Amazon.
Payments & Transaction
When it comes to payment options, Shopify offers more than 100 payments payment gateways and processors including Amazon Pay, PayPal, etc. Of course, there is a transaction fee, applicable to all third-party payments. But it's always an advantage to have more options rather than not, particularly when you are selling on a global level.
The more payment options you offer, the more chances you have to make a sale, simply because the customers always prefer to use the payment method they trust beforehand.
But if you are not ready to give away your hard-earned profit margins into transaction fees, you can always opt for Shopify Payment Gateway which offers zero transaction fees. However, the disadvantage of using Shopify payments is that you will be able to sell only through Shopify but it's accepted on a worldwide level and has been praised for its security and reliability. The call is yours.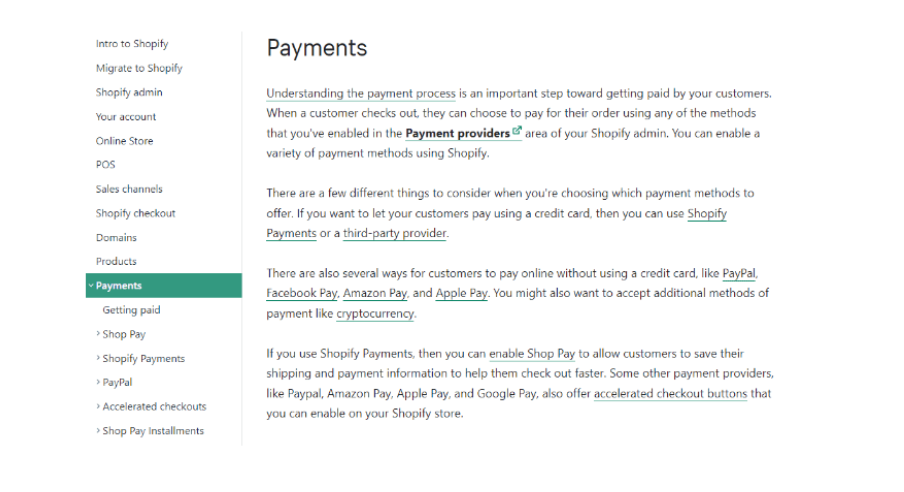 Although Amazon has limited payment options, its own payment gateway Amazon Pay is one of the most used and trusted payment methods in the USA and India with more markets in the pipeline. Amazon pay is accepted by many third-party websites as well. Apart from that, Amazon accepts all kinds of credit cards, debit cards, and online banking. One huge disadvantage is that there is no PayPal integration on Amazon which may throw off a few customers.
The other charges include referral fees, $0.99/sale (Individual seller plan), and fulfillment costs (Storage + Packaging + Shipping) which are determined by the size and category of the product.
Design & Customization

Shopify is like creating your own social media website where you can post your content however you want.
Creating a seller page on Amazon is no different than creating an account on the social media platform, meaning your page and posts will appear the same as anyone else.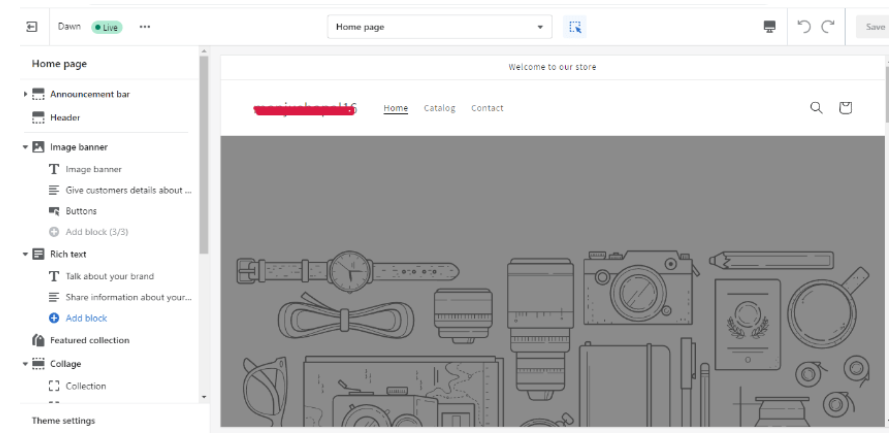 As I stated earlier, Shopify offers tonnes of design options that allow you to develop your store, matching your brand. There are hundreds of free and paid themes to choose from which have been designed exclusively for different types of businesses such as jewelry, pet supplies, stationery, household items, and much more. Currently. Shopify offers nearly 80 layouts including paid ones.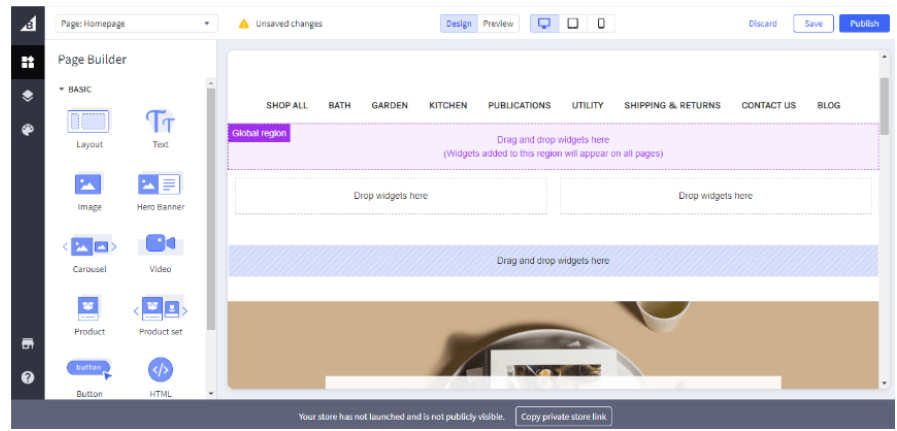 Also, it's extremely easy to develop the store, thanks to the drag & drop tool which gives you a lot of freedom in terms of designing, placing items on the page, etc. As a matter of fact, you can finish setting up your storefront in less than 2 hours on Shopify. There are easy shortcuts to revert the most recent action, delete an item, and navigate through the page. One thing to mention is that some paid themes may cost you as much as $200 but you get more refined editing features with them.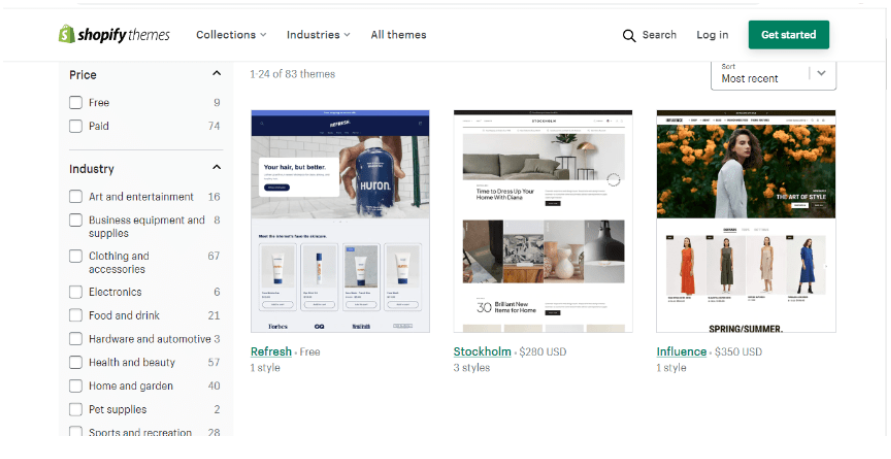 You can also add multiple elements on the homepage as well as internal pages such as a customer registration form, instant checkout button, product videos, product suggestions, social media information, and much more.
On Amazon, the emphasis is not as much on designing as it's on selling. It's a multi-brand marketplace where sellers around the world list their products and compete against each other. Yes, you get a seller page where you can put your business information and your product page where your products will be listed. You can add images, product descriptions, videos, etc but that's all you can do in the name of customization. Your product page will look no different than other sellers.
On Shopify, the business is based on the connection the customer may build with your store. On Amazon, it's highly unlikely that the customers will visit your page because it's simply insignificant. Yes, based on your service, they might want to purchase from you again, but that's a different dimension altogether.
Sales & Marketing
Both Shopify and Amazon are packed with different types of sales features. Shopify mostly relies on third-party integration but these apps come in very handy indeed. The platform also allows you to control and monitor the inventory through an alert system and based on the premium plan you purchase, you can manage up to 8 inventory locations.
Shopify also allows you to sell through different sales channels and social media platforms such as Amazon, Facebook, eBay, TikTok, etc. You can integrate several social accounts right into your Shopify store to showcase your products.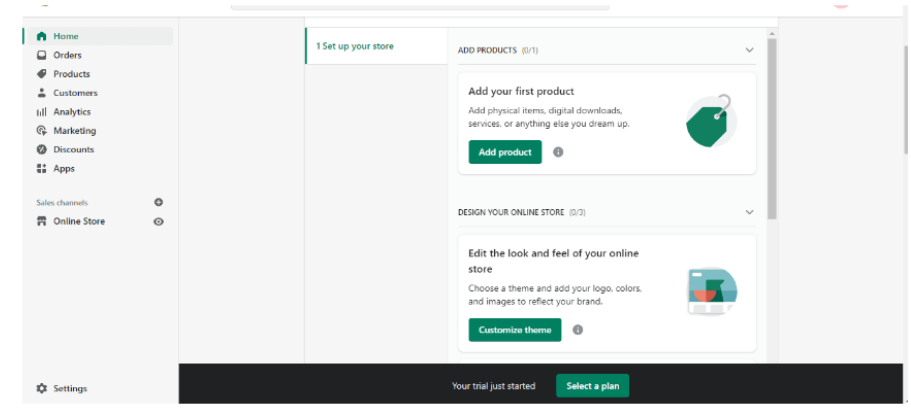 Then there are other SEO tools to boost your online visibility on the platform. With the help of third-party applications, you can launch a social media campaign, implement various marketing strategies, advertise your products on social media, etc. Shopify also integrates with email marketing solutions that keep all your customers' activity in check and target them according to their past behavior.
You can also bring e-commerce writing tools to Shopify to write professional product descriptions, engaging marketing emails, and reports. Shopify also notifies you about the customers who have left without purchasing anything but have added items to their cart so you can plan a marketing campaign for such customers using other third-party apps.
With Amazon, you can list your products and hope to be picked by the customers. However, the process is not as straightforward as it appears. Amazon allows you to sell nearly everything which is legal in your geographic location.
With a Professional seller account, you get access to premium inventory tools and monthly sales reports. and order reports so you can strike a balance between supply and demand.
The biggest advantage of Amazon is its seller agreements – FBA and FBM. FBA stands for Fulfilled By Amazon where all your orders will be packed and shipped by Amazon itself. In this agreement, the seller sends the inventory to the Amazon warehouse and Amazon takes care of fulfillment. There are FBA costs to be paid but under FBA, you are more likely to sell your items and build your reputation as a prominent Amazon Seller.
FBM refers to Fulfillment By Merchant. Here you can list your products on the Amazon website but you have to fulfill the order. This type of agreement is more suitable for businesses that already have a big staff and experience in the order fulfillment process.
Apart from that, Amazon allows you to use targeted ads within the website to highlight your products alongside your competitors. This increased your chances to be discovered by the customers.
Para 2 – What are the options at Amazon? Introduction to different seller agreements – FBA, FBM, etc.
Customer Service
When it comes to customer assistance, Shopify provides round-the-clock onsite service. You can also connect to the support staff through email and phone calls. The estimated response time is within 24 hours (working day).
According to our survey, we found the customer care executives to be attentive and helpful most of the time. There may be an occasional delay in response but in this case, you can opt for 24×7 live chat and get help immediately.
On Amazon, you can contact to support team through Seller Central page easily. Whether you have issues regarding transactions, refunds, seller agreements, or inventory, the staff is well-trained to handle all your queries. The response time is fantastic, as you would expect from a brand like Amazon.
Additionally, you can also reach out to the Amazon team through phone calls at any time of the day.
In my option, Amazon has a better customer care service than Shopify, simply because of the nature of service needed. If you are selling on Shopify, the customer cars won't disappoint you as well.
Related Read:
Shopify Vs Amazon: My Take
So, after such a long review, you must be wondering – But which one is the better? But to be honest, there is no one-word verdict to this comparison.
The answer is that both are excellent e-commerce platforms and provide enough opportunities to become successful e-commerce sellers. There are millions of customers visiting both platforms every month, which means there is no shortage of opportunities. Yes, Amazon has a bigger customer base, but the competition is stringent as well.
Shopify allows you to build your website, choose your design, add your products and sell on merit. Yes, you have to work hard to attract customers but the chances are higher that you would have faithful customers than you would have on Amazon. With Amazon, the story is different, you register, pay the subscription fee, and you are practically ready to sell.
Go for Shopify if you are looking to build a brand and want to have more control over your shopping website.
If you already have products to sell and good capital to start a business, pick Amazon. Yes, you need to have a winning product and a good marketing strategy to be able to compete with the millions of fellow sellers. You can also go for one of the FBA courses which unlock the dark secrets on how to become successful on Amazon.