Shopify vs Big Cartel—which is the best eCommerce platform for beginners? This is one of the most asked questions by online sellers. Don't worry, I'll help you answer this question. 
Shopify and Big Cartel are two well-known store builders in the eCommerce industry. Both platforms offer you a valuable set of tools and eCommerce features that help sellers create their own online stores to sell products and services. However, both are designed to serve different types of sellers, which is why there are certain differences that set them apart.
In the following post, I will share a detailed comparison between Shopify and Big Cartel. I will compare all the major features, including user-friendliness and prices. By the end of the article, you will be able to choose the best platform for your business. 
Let's get started.
Shopify vs Big Cartel: Quick Comparison
Here is a quick comparison between Shopify and Big Cartel:
| | | |
| --- | --- | --- |
| Feature | Shopify | Big Cartel |
| Price | $39 – $399/month | $9.99 – $29.99/month |
| Store Limit | Unlimited | Max 5 stores per account |
| Themes | 10+ free, 100+ paid | 10+ free, 30+ paid |
| Products | Unlimited | 500 products per store |
| Transaction Fees | 0.5-2.9% | No transaction fees |
| Sales Channels | Online, retail, social media | Online only |
| Apps & Integrations | Tons of apps available | Limited integrations |
| Abandoned Cart Recovery | Available as app | No built-in feature |
| Shipping | Discounted rates available | Third-party integration required |
| Scalability | Highly scalable with enterprise plan | Very limited scalability |
Shopify vs Big Cartel: In A Nutshell
Both Shopify and Big Cartel are great platforms for creating your own standalone storefronts. However, both platforms target different audiences, which makes them unique. But there are many other differences that set them apart. 
Shopify
Shopify is known as the biggest eCommerce giant in the market. Whether it is a small or enterprise-level business, Shopify offers solutions to any business type and size. Even with its basic plan, you will get all the features and tools that you need to create a standalone website and sell products online. You don't have to be very professional to set up and run a new online store.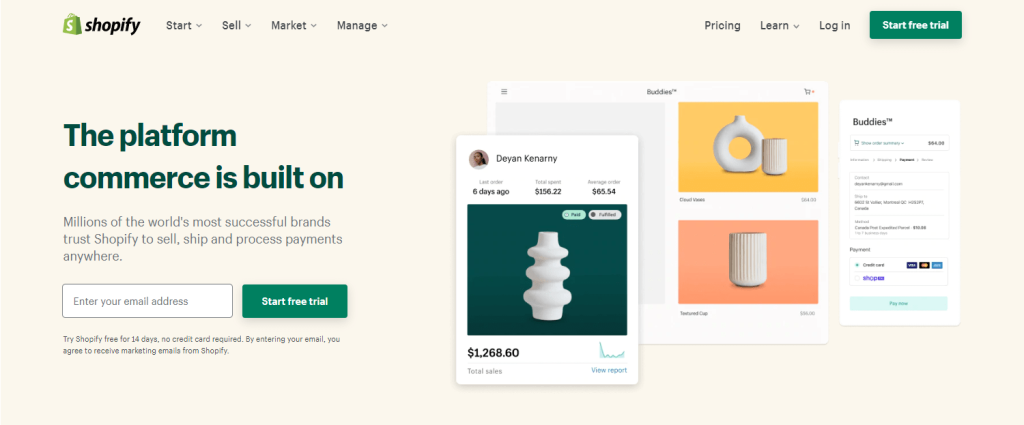 According to the stats, Shopify accounts for 7.83% of the eCommerce market. It is available in 175 countries and caters to over 1.9 million websites across the globe. With each plan, Shopify includes advanced features and unlimited bandwidth that helps merchants sell unlimited products with business scaling capabilities.
Big Cartel
Big Cartel is a unique eCommerce platform that offers solutions to independent artists and creators. This cloud-hosted platform caters to over 80,000 live websites. The best part about this platform is that it has a free plan that includes free hosting and themes for store design. The platforms include necessary eCommerce features, which are enough to create a standalone website.
Compared to Shopify, Big Cartel is a small company that only supports small businesses. That's why it only accounts for 0.1% of the eCommerce market. But still, creators and artists find it a reliable platform as it is less competitive compared to other platforms. In fact, Forbes crowned Big Cartel with the Small Giants award in 2018.
Shopify vs Big Cartel: Major Features Comparison
Shopify and Big cartel both offer a range of advanced features that help sellers create a standalone eCommerce website for their businesses. But which one is superior for exponential growth and brand exposure? Let's compare their similar features to find out.
1. Ease of Use
Shopify is a SaaS-based platform that comes with a wizard mode. That means you get onboarding assistance from the system. With its assistance, anyone can create an online store. But after creating the store, you need to pick a theme and customize the store on your own. Then, you have to add products, payment methods, and shipping options as well. You don't have to be tech-compliant in order to add every section in your store. But you will need a little help to make it professional.
On the other hand, creating a storefront on Big Cartel follows a straightforward process. As soon as you sign up, you will see a list that you will need to add to your store to make it look professional. Unlike Shopify, you will get real-time instructions from the system for each section. If you still need help regarding store creation or selling, you can check out its Help Center to find solutions.
Winner: Big Cartel
2. Design Themes & Templates
Currently, Shopify offers 114 professional-looking themes, of which 11 themes are free, and others are paid. Most themes are pre-customized according to specific niches. So you can pick a theme according to your business needs. Unfortunately, not every free theme will fit your business. In such cases, you have to go for a paid theme which can cost you a one-time fee of $180 to $350. You can also customize your theme to give your store a branded look. For that, you can use its template language, Liquid. It will not only help you customize a theme for your store but also let your load your store pages with dynamic content.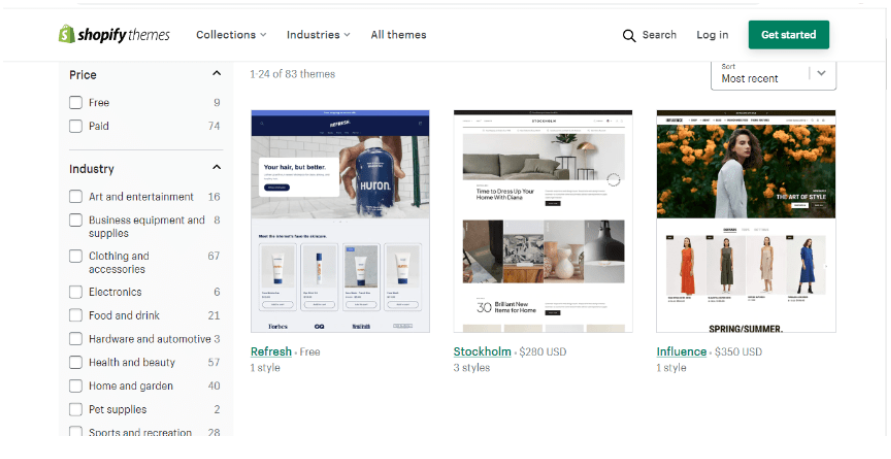 On the other hand, Big Cartel offers 18 aesthetic themes and templates for users, and all of them are free. These are simple and pre-customized for artists and creators. You can also customize it according to your business needs, but there are some limitations. Moreover, you need to subscribe to a paid plan in order to customize themes. However, you can flexibly switch to a new theme whenever you want.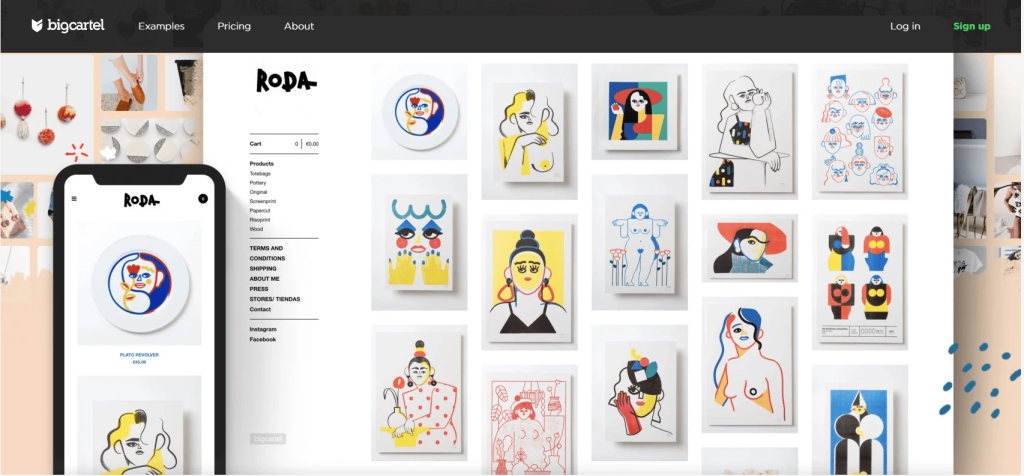 Winner: Shopify
3. eCommerce Features
As a complete eCommerce platform for online retailers, Shopify offers nearly all the features that you need to run and scale an online store. There are no limitations on selling products, so you can add as many products as you want. If you want to sell more than five types of products, you can use its bulk import feature to create multiple product listings.
You can always edit or update your product listings anytime. Apart from that, you get other advanced features like unlimited bandwidth, mobile POS, tracking, analytics, and many others. It also includes an abandoned cart recovery feature that allows sellers to remind their customers about the products in their cart. 
The platform of Big Cartel is designed with a user-friendly environment, but it is not enough for enterprise-level businesses. Sellers are supposed to list only one or two products in their stores because the company lacks bulk importation features. Regardless of how many products type you have in your store, you are only allowed to sell 500 products, but you have to subscribe to its highest plan.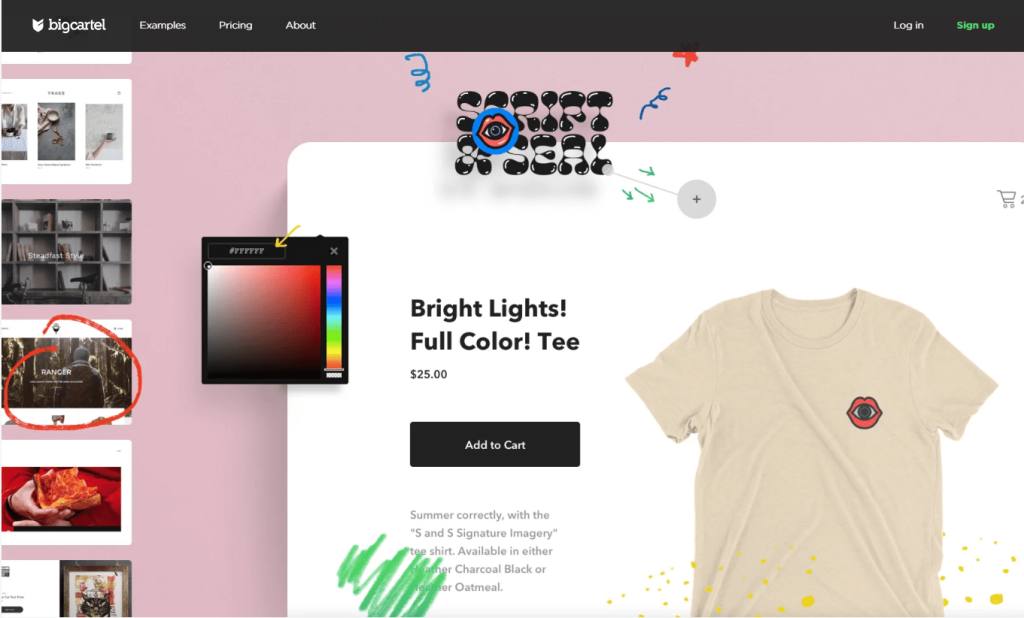 You do get features like analytics, real-time statistics, inventory tracking, shipment tracking, discounts, etc., but it lacks an abandoned cart recovery feature. That means if a shopper leaves your door after adding a product to the shopping cart, you won't be able to turn them into customers unless they return to complete the purchase.
Winner: Shopify
4. SEO & Marketing
Shopify includes great SEO features with all its plans. All the SEO features follow Google's CWV (Core Web Vitals) standards so you can make your website fast and responsive. While adding products, you can add a page title and meta description. It also includes a URL handle section that allows you to update or change the URL for a specific product. It helps shoppers reach a specific product page instead of the homepage. If internal SEO features are not enough, you can add third-party apps to unlock more features.
All the Big Cartel themes are structured with proper headers, valid markups, and clear navigation, which means you can do SEO practices right from editing your themes and adding products. It also lets you edit URL structures, but you won't get much control over your edited product URLs as you can't redirect them. Another biggest downside of Big Cartel is that you can't change meta descriptions for an existing product listing. That means you have to create a new listing all over again if you want to update or change meta descriptions.
Winner: Shopify
5. Dropshipping And Print On Demand Partners
If you want to create a customized dropshipping store for your business, there's no better option than Shopify. But first, you need to find a dropshipping supplier for your business so you can customize your store according to the products you are going to sell. You can also integrate third-party dropshipping apps and import products directly from the app. Similarly, you can add a POD dropshipping partner to your store and sell custom-designed products on your store. Shopify will send your customer's order to the third-party dropshipping app, and your supplier will fulfill the order for you. 
Unfortunately, Big Cartel doesn't support the dropshipping business since it is a platform for artists. However, you can still integrate print-on-demand apps such as Printful and Art of Where. POD software just works like dropshipping. But instead of dropshipping ready-made products, you can upload custom designs or artworks, and they will print and ship to your customers. 
Winner: Shopify
6. Payment Gateways
Shopify supports over 100 payment processors and gateways, including popular ones such as PayPal, Stripe, Google Pay, Apple Pay, Square, etc. However, it charges a hefty transaction or processing fee for each sale. But if you subscribe to a high-tiered plan, the percentage for these fees will drop a lot. You can avoid paying these charges if you use its in-house payment gateway, Shopify Payments.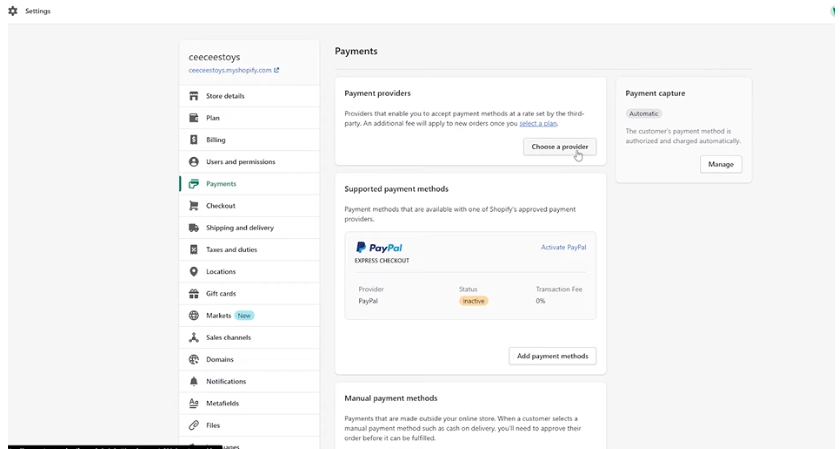 Big Cartel supports major payment gateways such as PayPal, Stripe, Apple Pay, and Venmo. But unlike Shopify, it doesn't impose any kind of transaction fees for every sale. However, if your customer pays you through third-party processors, you will need to pay a processing fee. The processing fee is different for every payment processor, so it depends on what your customers choose to pay.
Winner: Tie
7. Apps And Integrations
Shopify has its own app store where you can find over 6000 apps and plugins. Of this list, half are free, while paid apps range from $2.99 to $299 per month. May paid apps also offer a free trial, so you can try the app before integrating it into your store. The app store includes apps for various purposes, such as marketing, store management, wholesale, POS, accounting software, etc.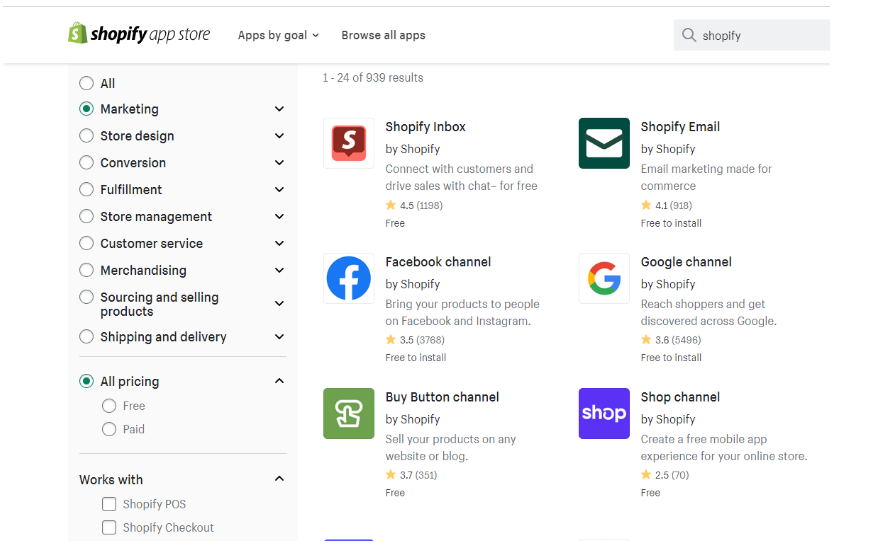 Big Cartel doesn't have a colossal app store like Shopify, but you can integrate over 50 apps for various purposes like marketing, store management, email campaigns, etc. If you want to add more apps to your store, you'll need to take help from Zapier. With this third-party vendor, you can integrate upto 1500 apps and plugins into your online store. 
Winner: Shopify
8. Customer Support
For Shopify, customer satisfaction is their top priority. That's why you can get help for your queries and issues in every way possible. Shopify offers 24/7 customer support service via email, live chat, phone, and forum. You can also join its social media communities to interact with professional sellers. Shopify's Help Center is a major advantage for a seller. Here, you can find almost every solution for your queries through articles, guides, and documentation.
According to customer reviews and testimonials, Big Cartel's customer support is very disappointing. The only supports you get from the company is via email and live chat. Email support is only available for business days. The live chat feature is automated so that you will get solutions to basic queries. It simply redirects you to email support if live chat can't find solutions to your problems.
Winner: Shopify
9. Pricing
Shopify tends to cater to any business size, that why it has a tier-based pricing structure. Currently, it offers five plans to its users starting from $5/month. The highest plan starts from $2K per month but offers customized solutions to enterprise-level businesses. For new users, Shopify offers a 3-day free trial. If it is not enough, you can subscribe to the Basic plan at $1/month for three months which is a pretty good deal for new users.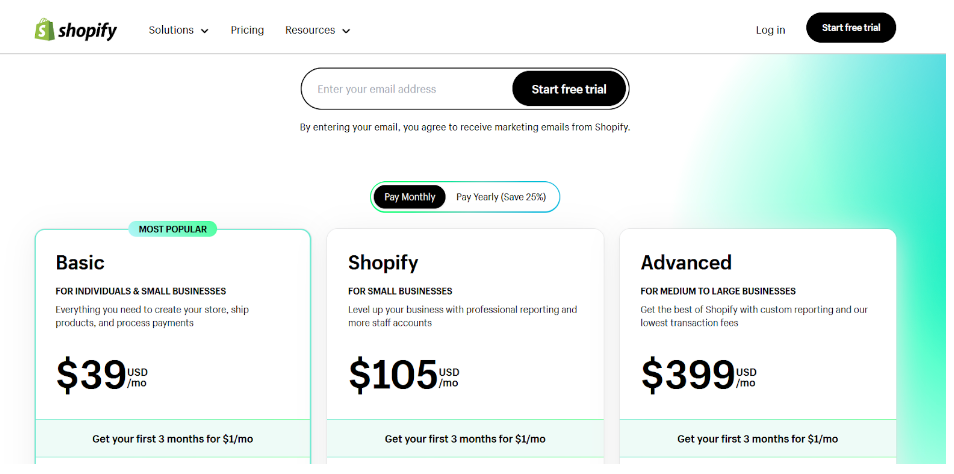 | | | |
| --- | --- | --- |
| Shopify Plans | Pricing | Key Features |
| Starter | $5/month | Sell on social platforms, basic reports, access to Start theme |
| Basic | $39/month | Online store, two staff accounts, SSL certificate, eCommerce features, unlimited products |
| Shopify | $105/month | All the Basic plan features, 5 staff accounts, standard reports, and automation features |
| Advanced | $399/month | All the Shopify plan features, 15 staff accounts, third-party shipping rates, advanced reports |
| Shopify Plus | $2000/month | All the Advanced plan features, customized solutions |
Big Cartel only offers three plans to its users, of which one is free, and two are paid plans. If you are new and want to sell online for the first time, you can go for the free plan. With this plan, you can sell five products per month. Once you start getting enough sales, you can upgrade to its premium plans to increase your monthly sales allowance. Still, with its biggest plan, you can only sell 500 products per month. So if you are looking for a bigger stage, you need to find an alternative.
| | | |
| --- | --- | --- |
| Big Cartel Plans | Pricing | Key Features |
| Free | $0 | 5 products/month, free themes, custom domain, basic analytics tools |
| Platinum | $9.99/month | 50 products/month, POS, bulk editing, sales tax autopilot, standard analytics tools |
| Diamond | $19.99/month | 500 products/month, all the Platinum plan features, advanced analytics |
Winner: Big Cartel
Shopify vs Big Cartel: Pros & Cons
Here are some pros and cons of Shopify and Big Cartel:
Shopify Pros:
Very scalable with a robust enterprise plan
Wide range of themes and customization ability
Numerous apps and integrations
Built-in discounting and abandoned cart recovery
Fulfillment and shipping capabilities
Point of sale options for retail
Shopify Cons:
Higher monthly cost
Additional fees like payment processing
Steeper learning curve
Big Cartel Pros:
Very easy to use and get started
No transaction fees or sales limits
Lower-cost basic plans
Quick setup with good themes included
Big Cartel Cons:
Very limited scalability
Constrained to online selling only
Limited design customization
Fewer apps and integrations
No built-in shipping or promotions
Shopify vs Big Cartel: How To Create An Online Store?
User-friendly interface and effortless online store creation are the first things you expect from an eCommerce platform. Luckily, both platforms are beginner-friendly, and anyone can start from scratch without any coding knowledge. Let's see how you can start with both platforms.
How To Create An eCommerce Store With Shopify?
Shopify offers a 3-day free trial to its users. New sellers can take a tour of Shopify and try its features. Let's see how you can create a fully responsive website with this platform.
Sign Up for a New Account: Start by creating a new Shopify account with your email address.
Name Your Store: Set a name for your store so Shopify can create a website URL.
Select a Theme: Now select a theme for your store and customize it according to your business needs.
Add Products: Soon, you will be redirected to your admin dashboard. The first thing you need to do is add products to your Shopify store.
Add Order Fulfillment Methods: Now add how you are going to ship products to your customers.
Add Payment Methods: Add your preferred payment gateways.
Launch Your Website: Once you are all set, publish your products and make your website live on the internet.
How To Create An eCommerce Store With Big Cartel?
Creating an online store with Big Cartel is easier than you think. You can start with its free plan if you are a new user and want to test its features. Let's see how you can create a store with Big Cartel.
Sign Up for the Free Plan: To create a new seller account on Big Cartel, you need to enter your email, set a password, and store name.
Verify Your Email: Big Cartel will ask you to verify your email address. Verify it, and you will be redirected to your storefront.
Design Your Shop: Pick a free theme from its theme store and customize your storefront according to your business.
Add Product: Create a product listing by adding a product title, description, images, and prices. Or you can import multiple products via CSV files.
Choose Payment Processors: Connect a payment processor to your store.
Add Shipping Methods and Rates: Now, add product shipping rates and fulfillment methods.
Launch Your Shop: After setting up your store, launch your store on the internet. Then market your products via social channels or blogs to create an audience.
Related Read:
Final Verdict: Shopify vs Big Cartel (2023)
Both Shopify and Big Cartel offer a professional yet no-coding platform for selling. But if you compare them side by side, Big Cartel doesn't stand a chance against Shopify. Big Cartel does count among the top renowned eCommerce platforms, but comparatively, it is a small company that mainly offers services to individual sellers and artists.
It includes basic tools and features that are good for beginners. This is not your ideal platform if you are looking for scalability and exponential growth. Shopify, on the other hand, is a complete eCommerce platform that offers all-in-one solutions to businesses regardless of their size.
Every Shopify plan includes advanced eCommerce tools and features that are enough to run a fully customized storefront. If you are looking for growth and scalability, consider starting out with Shopify. If you are a new user, you can try its Basic plan at $1/month for three months. And if you are an artist or creator who is slightly tight on budget, you can start Big Cartel.