Are you confused about choosing Shopify vs Etsy? Don't look further, you have just landed on the right page.
Shopify and Etsy are the two big names in the eCommerce industry. Both companies offer you a platform to sell products online. You will get the necessary eCommerce tools to manage and grow your business. Despite having the same eCommerce capabilities, there are so many factors that set them apart from each other.
In this post, I am going to share a detailed comparison between Shopify and Etsy. I have compared all the key factors that will help you decide which platform suits your business the best.
Let's get started.
Key Differences between Shopify and Etsy
Here are some of the key differences between Shopify and Etsy:
Purpose: Shopify is primarily an e-commerce platform that allows businesses to create their own online stores, while Etsy is a marketplace that connects buyers and sellers of handmade, vintage, and unique goods.
Types of products: Shopify allows businesses to sell a wide range of products, including physical and digital products, while Etsy specializes in handmade, vintage, and unique products.
Customization: Shopify provides more customization options, allowing businesses to create unique online stores with their own branding, domain name, and website design. Etsy, on the other hand, has limited customization options for sellers.
Fees: Shopify charges a monthly subscription fee and a transaction fee for each sale made on the platform. Etsy charges a listing fee, transaction fee, and payment processing fee for each sale made on the platform.
Audience: Shopify targets businesses of all sizes, while Etsy focuses on independent sellers and small businesses that sell handmade, vintage, and unique goods.
Marketing: Shopify provides marketing tools and resources to businesses to help them promote their online stores, while Etsy has built-in marketing features that allow sellers to promote their products within the platform.
Integration: Shopify integrates with a wide range of third-party apps and services, while Etsy has limited integration options.
Shopify vs Etsy: In A Nutshell
Here is a brief overview of both platforms.
Shopify
Shopify is a renowned eCommerce platform that offers hosted solutions to create fully-fledged online stores. It is ranked 4th among the top eCommerce platforms, powering 4 million live websites around the world. With Shopify, you can easily create and customize an online store and list your preferred products to sell in multiple places.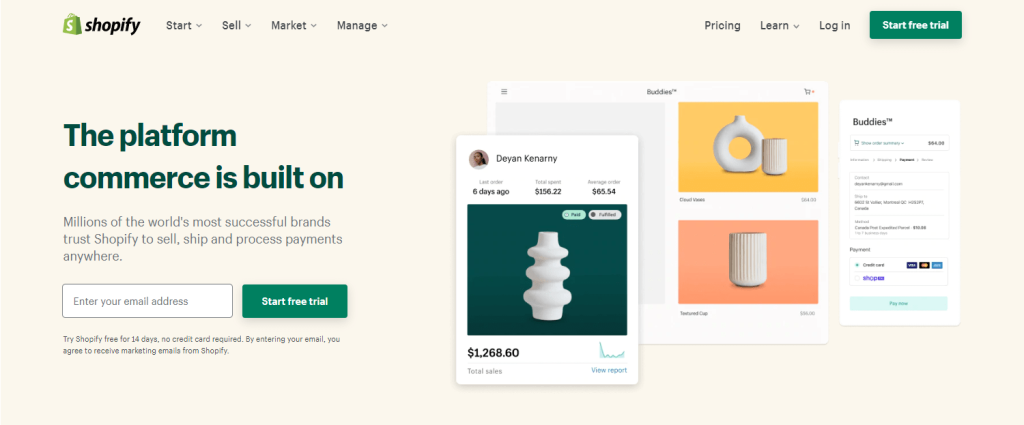 Shopify is packed with powerful eCommerce-centric and POS features that not just allow you to sell in multiple sales channels but also in physical stores. And you can manage both stores under one dashboard. The best part of using Shopify is that you don't need any kind of technical knowledge to create or run an online store.
Etsy
On the other hand, Etsy is a global marketplace (more like a private community) where people can sell/buy handmade goods, vintage items, art, and crafts. Creators, artists, and collectors from around the world can sign up and start their small businesses. In contrast, interested buyers and hobbyists can join this community to purchase their favorite artifacts and handmade goods.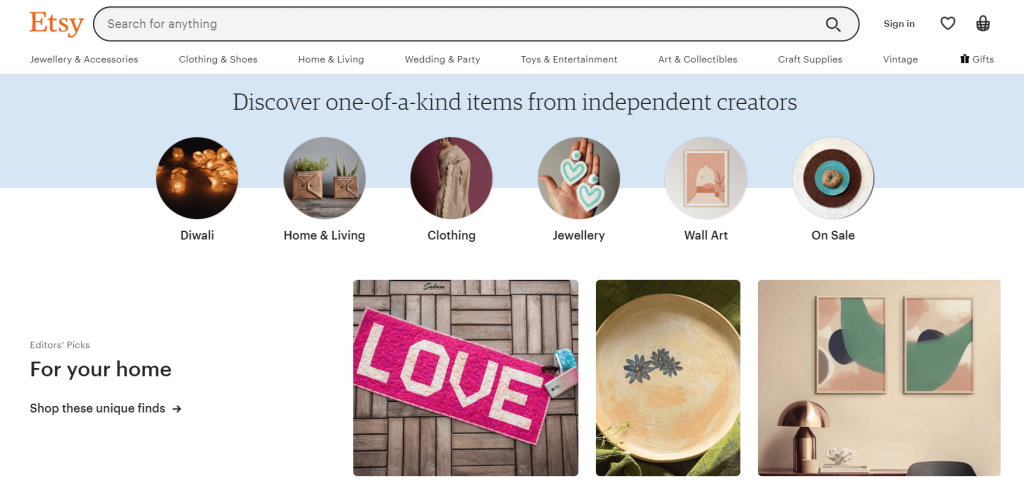 Unlike other eCommerce platforms, Etsy doesn't force to subscribe to a plan in order to create a standalone online store to sell custom goods. Like Shopify, you can create a store without any specific technical knowledge or skills. However, there are some restrictions regarding selling products that you need to follow after creating a store on Etsy. You will find out about it soon further in this article.
Shopify vs Etsy: Features Comparison
Here is a side-by-side comparison of similar features and services that Shopify and Etsy offer. 
1. Ease of Use
Shopify and Etsy are both designed in a way that anyone, whether you are a novice or a professional, can easily start selling on their respective platform. Both platforms provide onboarding assistance that simply helps you until you start selling products.
When you register as a seller on Shopify, the system asks for your store preferences and what types of products you are planning to sell. Then, the system automatically suggests appropriate design themes and other necessary functions that will help you further in your store creation. However, listing products and launching your store can take longer than you expect. But once your products are live in your store, you will start receiving orders, and you can fulfill orders accordingly. From product listing to store customization, you can do everything right from the Shopify dashboard.
With Etsy, things are even easier. You can just sign up and upload your product's details right away. Listing a product and its details is the most time-consuming process, as it requires detailed information for each product. But once you have listed a product, your store will be up and running within minutes. Overall, Etsy takes less time in the setup process and store launch.
Winner: Etsy
2. Design & Templates
Attractive website design is one of the crucial factors for an online store's success. No matter how good your products are, a sloppy store design can make a visitor look for an alternative. So, choosing a professional-looking theme is absolutely necessary. Let's see what both platforms have to offer to their users.
When it comes to design flexibility, Shopify has nearly endless options. Once you subscribe to a Shopify plan, you immediately get access to 100+ professional themes, of which 9 are completely free, and others are paid. You can find all these themes on the Shopify Theme Store. You can select an appropriate theme and customize it according to your product type or niche. The best part is that all the themes are mobile and SEO friendly, which is crucial to improving user experience. You can also switch themes whenever you want. However, a few themes require reformatting of your content.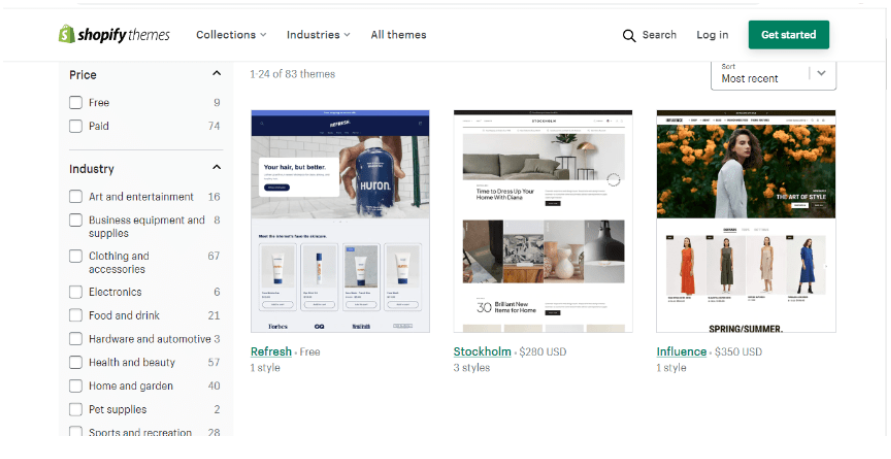 Etsy offers a limited customization ability to its users. Your store design starts when it comes to uploading your logo—and that's it. Once you create a seller account on Etsy, you get access to Shop Manager, where you can add banners, featured products, and your company and shop policies. Novice sellers may find it advantageous, but most entrepreneurs consider it a massive drawback. With Etsy, you have much ability to stand out from others, and neither can you add much of a branding touch to your products in your store. However, if you are creating a WordPress website using the Etsy plugin, you will unlock tons of themes and design options in a blink.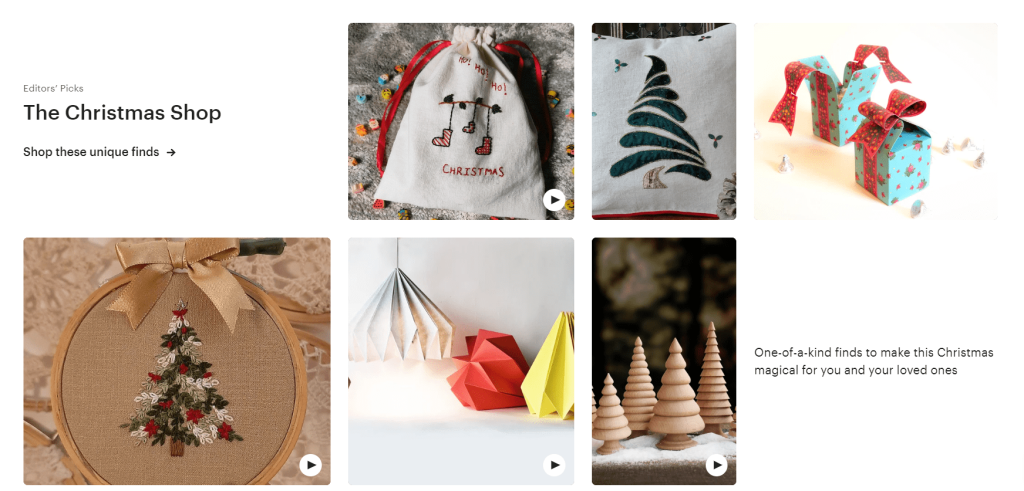 Winner: Shopify
3. Ecommerce Features
Design and other features are good, but if your platform has a poor set of eCommerce tools, your store will not grow as you expected—no matter how good your products are.
Shopify is quite serious with its business which is why the company offers all the eCommerce features you can think of. Even its basic plan offers you advanced features that many premium companies lack. Shopify offers some core features like unlimited bandwidth, unlimited products, shipment tracking, inventory tracking, bulk import, mobile POS, and so on. You also get access to the advanced feature "abandoned cart recovery" with all Shopify plans, which is something that every seller needs to grow their sales.
Etsy offers basic eCommerce features that are good but not good enough to take your store to a sky-high level. With its eCommerce tools, you can manage your online store and edit your listings with ease. However, it includes many advertising and marketing tools with its premium plan that helps you attract new customers to your store. And you can also use these tools to get exposure in your community.
Winner: Shopify
4. SEO
The best SEO practices boost your store's visibility and improve your product ranking in the search results.
When you start a business with Shopify, Google becomes your main search engine. Most Shopify sellers (over 92%) use their own domain to create their online store. Your potential customers will search for your products using the Google search engine. So you can optimize your product listing for specific search terms such as keywords and phrases. This way, your store will appear in the search results for those specific keywords. You can also set up PPC campaigns for such keywords to run ads across Google.
Etsy is already a marketplace like Amazon, so you don't have to optimize your store for Google searches. Etsy just works like any other marketplace, where it gets a lot of traffic on its own. So you need to optimize your listings for Etsy. Remember that shoppers on Etsy are loyal to its platform, not to a particular brand, as most of the products are handmade, not mass-produced. So make sure to optimize your listings according to your product type. It will help potential customers find your products with ease.
Winner: Etsy
5. Dropshipping
Dropshipping is a business model that lets you sell products without owning any inventory or worrying about shipping. In this model, you find a reliable supplier and forward the orders you get from your customers, and they deliver them to your customers.
With Shopify, you will get tons of opportunities to run a successful dropshipping business. There are more than 500 apps and plugin options available on the internet. You can connect a dropshipping supplier or print-on-demand partner to your store, and they will automatically receive customers' orders. After successful purchases, you receive a profit for acting as a middleman.
There are not many options dropshipping options on Esty, and there's a significant reason behind it. With a dropshipping business, you sell other's products to your customer. But Etsy only allows sellers to sell unique handmade or vintage products. However, you can integrate POD (print-on-demand) partners with your Etsy store and sell as many products as you want. Basically, A POD allows you to upload your unique artwork and design on white-label products such as clothing, mugs, phone cases, and other accessories, and they manufacture it according to the exact design. Printify, Printful, and Gooten are a few popular PODs that integrate with Etsy.
Winner: Tie
6. Apps & Integrations
Integrations and third-party apps increase your online store's performance and help you with many aspects, such as shipping, marketing, payment, etc. Third-party apps also allow you to add any feature or tool that a platform is missing.
Shopify is very diversified when it comes to offering third-party apps and plugins. Shopify has over 4000 apps in its App Store that you can install in your store for various purposes such as marketing, product research, payment, shipping, and many others. You can also add wholesale apps to your Shopify store to unlock wholesale features. Apart from Shopify App Store, you can find thousands of third-party apps that you can add via API integration.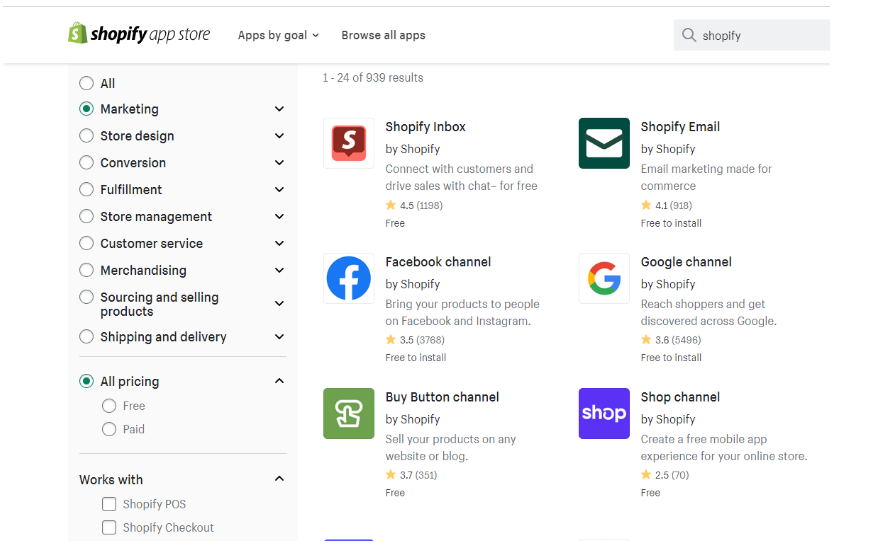 Etsy also allows you to integrate hundreds of apps into your store, but the numbers are way lesser than Shopify. You can find the integrations list from your Shop Manager. Here you can find popular integrations for different purposes. If you can't find your favorite app in this list, you can add third-party apps via API integration.
Winner: Shopify
7. Payment Options and Fees
Some platforms offer hefty additional charges in the name of transaction fees that are not mentioned anywhere on their website. But with Shopify and Etsy, everything is crystal clear. And they don't charge such scary charges.
Shopify allows you to choose from over 100 payment gateways, including big names like PayPal, Apple Pay, Google Pay, Amazon Pay, and many others. It also charges a processing fee of 2.4% for every transaction (which can vary according to the plans). It also offers an in-house payment gateway, Shopify Payments, that doesn't charge any transaction fees. It is also PCI compliant that offers guaranteed security of your customer's personal payment details.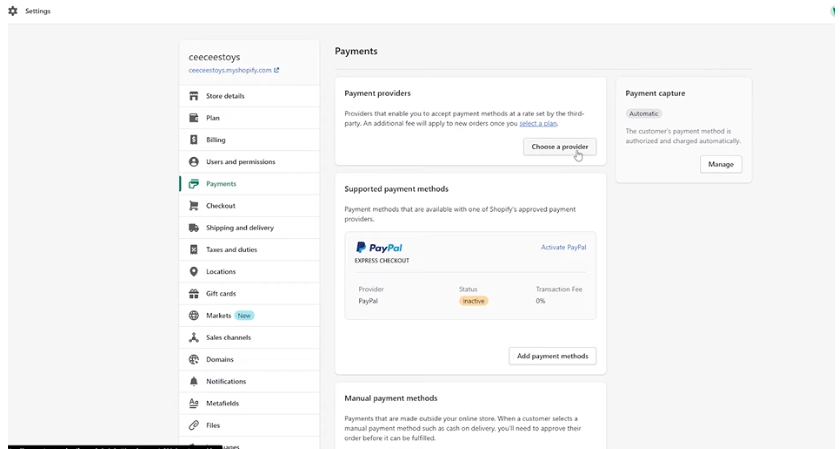 Like Shopify, Etsy also offers a wide range of payment gateways, such as Apple Pay, PayPal, Stripe, Venmo, and many others. All of its payments go through its in-house payment procession system, Etsy Payments. It provides security to customers' payment information. However, Etsy also charges a standard 6.5% transaction fee for each sale. It automatically deducts from your product's profit after every sale. You don't have to pay it upfront.
Winner: Shopify
8. Customer Support
Having decent customer service solves all your regular and technical queries quickly. Luckily, Shopify and Etsy both offer a range of customer support for their users.
Shopify offers customer support via email, live chat, and phone. You can contact Shopify's customer support staff 24/7. You can also find documentation and resources on the internet to solve basic queries.
Like Shopify, Etsy also offers every possible customer service via phone, email, and live chat. For basic queries, you can take support from Etsy Help. Here you can find articles, blogs, and documentation regarding technical and basic issues.
Winner: Tie
9. Pricing
Pricing plays an important role in deciding whether to choose a platform or not. If you compare Shopify and Etsy from a pricing perspective, you will find both platforms are quite different.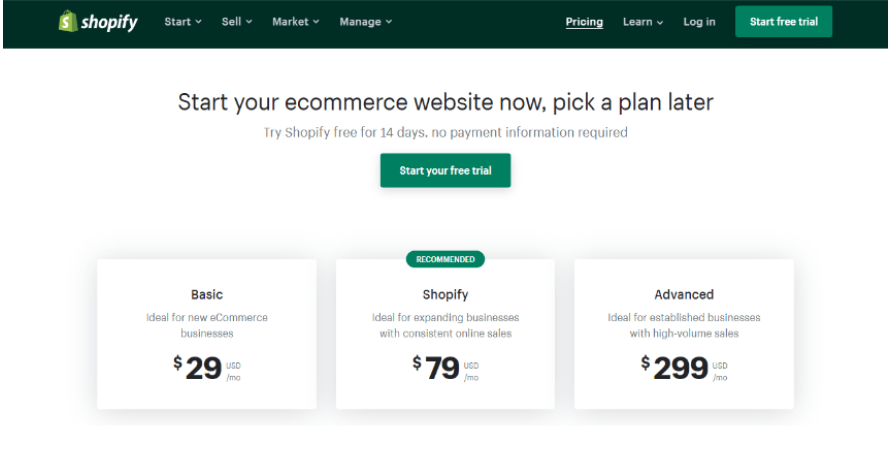 Shopify offers a range of pricing plans to its users. It offers a tier-based pricing plan that tends to serve every type of business size. There are five pricing plans on Shopify, but it mainly features three: Basic, Shopify, and Advanced. The other two plans are Starter and Shopify Plus. The Starter plan only allows you to sell on social channels, but you can't create a standalone website for your store. And Shopify Plus is the most expensive plan that offers custom solutions to larger businesses and industries.
| | | |
| --- | --- | --- |
| Plan | Price | Key Features |
| Basic | $29/month | eCommerce website, unlimited products, 2 user licenses, free SSL certificate, 24/7 support |
| Shopify | $79/month | Everything in the Basic plan, 5 user licenses, multi-channel selling, standard reports, shipping discounts |
| Advanced | $299/month | Everything in the Shopify plan, 15 user licenses, advanced reports, tax calculator, 88% shipping discount |
Etsy tends to cater to small businesses or a small group of artists. This is why there are not much of varieties of its pricing. It mainly offers a free plan that contains everything you need to run a business. It does offer a premium subscription that comes with some perks. But the majority of Etsy sellers use the free plan.
| | | |
| --- | --- | --- |
| Plan | Price | Key Features |
| Free | $0 | $0.20/per listing, basic eCommerce features, advertising tools |
| Etsy Plus | $10/month | Everything in the Free plan, 15 listings for free, $5 Etsy Ads credits, advanced eCommerce features |
Winner: Etsy
Shopify vs Etsy: How to Sell Products Online?
Opening a store and selling products on Shopify and Etsy is relatively easy, and you can do it without any technical skills. The best part is that store creation, and product listing are almost the same. Let's have a look at it.
Selling on Shopify
Here is a brief description of how to start your own online store on Shopify. You can also try its 3-day free trial to know the complete process of selling on its platform.
Create an Account: Create a new Shopify account using your valid email address.
Add a Domain: Enter a domain name so you can make your store exist on the internet.
Select a Theme: Choose a professional theme and customize it according to your business niche.
Create a Product Listing: To create a product listing, you can add product details, descriptions, images, and pricing. If you have multiple products to sell, you can import your product listings via CSV file to save time from adding them one by one.
Add Payment Gateways and Shipping Methods: After adding product listings, add how you are going to fulfill orders when you start receiving orders. So add payment gateways and shipping methods accordingly.
Start Selling: Once you are all set up, you can launch your store and market your products to grow your sale.
To improve your store's productivity, you can add necessary apps and plugins from Shopify App Store. You can read our extensive Shopify selling guide to know more about it.
Selling on Etsy
Selling on Etsy is comparatively easier than on Shopify. The only time-consuming process is listing a product. However, you can start your store for free.
Create an Account: Use your email address (or continue with Google, Facebook, or Apple ID) to create a new seller account on Etsy.
Set Up Shop Preferences: Tell about your business, country, and what language and currency you will prefer. Then give your shop a name.
Create a Product Listing: Create a listing by adding a product description, images, inventory details, shipping options, and pricing.
Set Payment Methods and Billing Options: After listing a product, add payment methods for customers and what billing option you will choose to pay for the listing.
Customize and Launch: After adding all the necessary details, you can customize your store by adding a banner, featured product, and other details. After that, you can launch your store on the Etsy community.
You might start your seller's journey on Etsy for free, but you need to pay $0.20 per listing and a 6.5% transaction fee on each sale. Read our comprehensive guide to know more about selling on Etsy.
Related Read:
Final Verdict: Shopify vs Etsy (2023)
Now you have come to the conclusion of this debate. Overall, Shopify is clearly winning in major aspects. But if you look closely, Shopify and Etsy are two different platforms catering to different audiences. Shopify is a complete eCommerce platform that allows you to create a standalone online website to sell various products.
On the other hand, Etsy is a marketplace cum community that mainly focuses on handmade and unique products. You can't create a separate website, but you can join this community and list your products for sale. Additionally, Etsy is less competitive and has its own established customers. Once you join, you will instantly get access to its established audience, which is something you won't get with Shopify.
In the end, it all depends on you. You can choose Shopify if you want to create your own online store. But if you are an artist or collector, consider choosing Etsy for your business.