Are you confused about choosing between Shopify and Shopify Plus? Clearly, there is not much information available regarding Shopify Plus. So it is obvious that anyone can get confused between Shopify and Shopify Plus.
Shopify is one of the biggest names among eCommerce platforms. Currently, Shopify is catering to over 1.75 million merchants around the globe. Thousands of merchants join every month to create their eCommerce store and sell products to generate a passive income source.
However, many merchants often face difficulties when it comes to choosing between regular Shopify plans and Shopify Plus. Certainly, they don't have an idea which Shopify plan suits their business the most. This is why knowing the exact differences between Shopify and Shopify Plus is necessary.
In this post, I will share a detailed comparison between Shopify and Shopify Plus, covering all the important aspects such as pricing, eCommerce features, customer support, etc. By the end of the article, you will have the exact idea of which one is your go-to option.
Let's get started.
Shopify vs Shopify Plus: Main Differences
Here are some of the key differences between Shopify and Shopify Plus.
The pricing of Shopify Plus starts from $2000 per month, and it increases from here, depending on your requirements. Shopify has three fixed plans, the basic plan for $29/mo, the Shopify plan for $79/mo, and the advanced plan for $299/mo.
The target audience for Shopify is small business owners and entrepreneurs, whereas Shopify Plus' target audience is businesses that are generating more than $1 million in a year and need to grow their business.
The customization options on Shopify are fairly limited, whereas Shopify plus offers features like Shopify POS, ERP & CRM Integration, Acumatica SAP, and Microsoft Dynamics.
You can use Shopify only one store with one account, whereas you can use one Shopify Plus account for ten different online stores.
Shopify gives you the option to translate your store into five different languages, whereas Shopify Plus allows you to change it into 25 different languages.
Shopify vs Shopify Plus: A Quick Overview
So, what is Shopify? What is Shopify Plus? Are they different platforms? These questions might be buzzing over your head with a lot of confusion.
First of all, Shopify and Shopify Plus are not two different platforms. They are just a part of Shopify's pricing plans. The first one is a set of regular plans designed for small & medium-sized businesses, while Shopify Plus offers tailored solutions to significantly large businesses. However, both share the same core functionalities and technology under the same dashboard.
Shopify Overview
In a nutshell, Shopify's regular plans provide you with everything you need to start and grow your business. Here are some of the key features of the regular Shopify plans.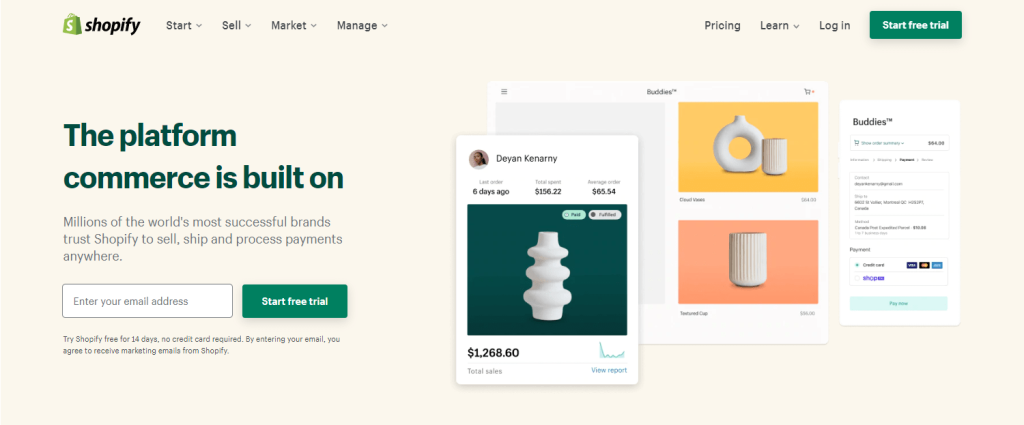 An online store that's easy to set up and customize
A built-in shopping cart and checkout process
Unlimited products and storage
A wide range of payment options, including credit cards, PayPal, and Apple Pay
Fraud protection
24/7 support from Shopify experts
Shopify Plus Overview
On the other hand, Shopify Plus comes with a bunch of powerful features that are perfect for larger businesses. With Shopify Plus,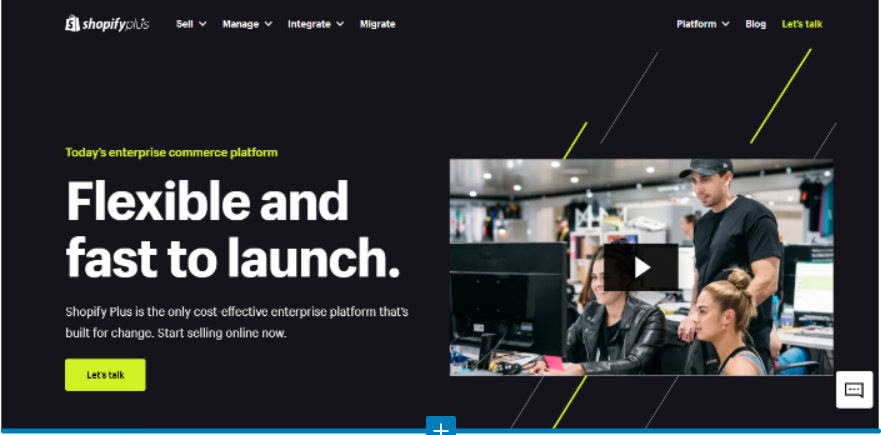 You get all the features that are included in Shopify's regular plan.
You get unlimited storage, which is perfect for businesses that are seeing a lot of growth.
You get unlimited bandwidth, which is great for businesses that are experiencing a lot of traffic.
You get exclusive access to Shopify's app store, which includes apps from some of the top developers in the world. This is a great way to add more functionality to your store and really customize your shopping experience.
You get access to Shopify's world-class customer support team. No matter what you need, they're there to help.
Shopify vs Shopify Plus: A Head-To-Head Comparison
Now, you already know that Shopify and Shopify Plus are two sides of the same coin. But still, there are a lot of differences between these two platforms you are unaware of. So let's compare both thoroughly so you can decide which one suits your business the most.
Shopify vs Shopify Plus: Plans and Pricing
There is no doubt the pricing structure differs from each other as both caters to different audiences. So let's compare the pricing plans and their value for money.
Shopify Pricing
Currently, Shopify offers three different packages in its regular pricing model.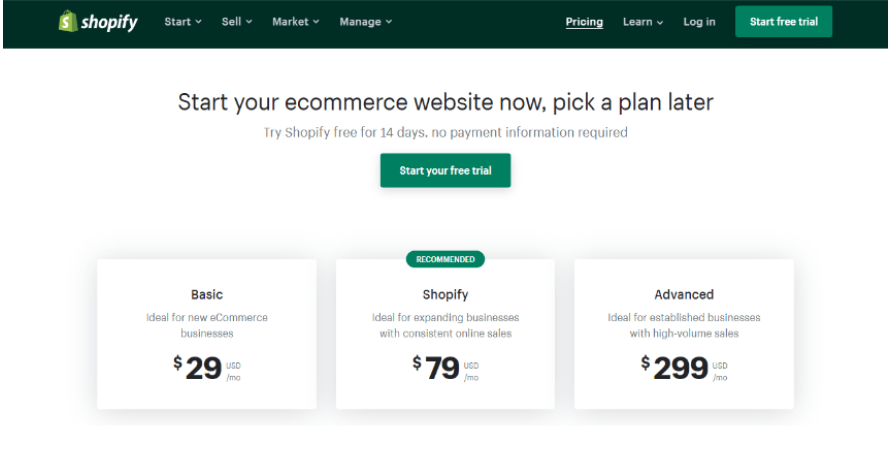 Basic Shopify: $29/month
The Basic plan of Shopify contains all the necessary features and access you need to start an eCommerce business. Basically, all the features that a beginner needs.
Shopify: $79/month
This is the most popular plan of Shopify as it offers a few advanced features you need to jump-start your existing business.
Advanced Shopify: $299/month
The Advanced Shopify plan is a great option for medium-sized businesses with 15-20 staff members. It also has advanced analytics and reports features, including all the features of the Shopify plan.
All the Shopify plans consist of advanced features such as unlimited product selling, gift cards, abandoned cart recovery, market domains, multi-lingual selling, subfolders, Point of Sale (POS), reports, and many more.
However, the more expensive plan has additional access and features. Like, the Basic plan has only two staff account access and basic analytics features, while the Advanced plan offers access to 15 members with standard analytics features.
Transaction Fees of Regular Shopify Plans
Shopify imposes hectic additional charges for using additional payment gateways and processors. With an increased plan, your transaction fees also get reduced by a few decimal points.
Basic: 2.9% + $0.30
Shopify: 2.6% + $0.30
Advanced: 2.4% + $0.30
You can avoid paying these additional charges if you simply use Shopify Payments as your payment provider.
Shopify Plus Pricing
Guessing the price of Shopify Plus is quite complex as it can vary according to customers' needs. But still, I will give you an idea of how it can cost businesses with different needs.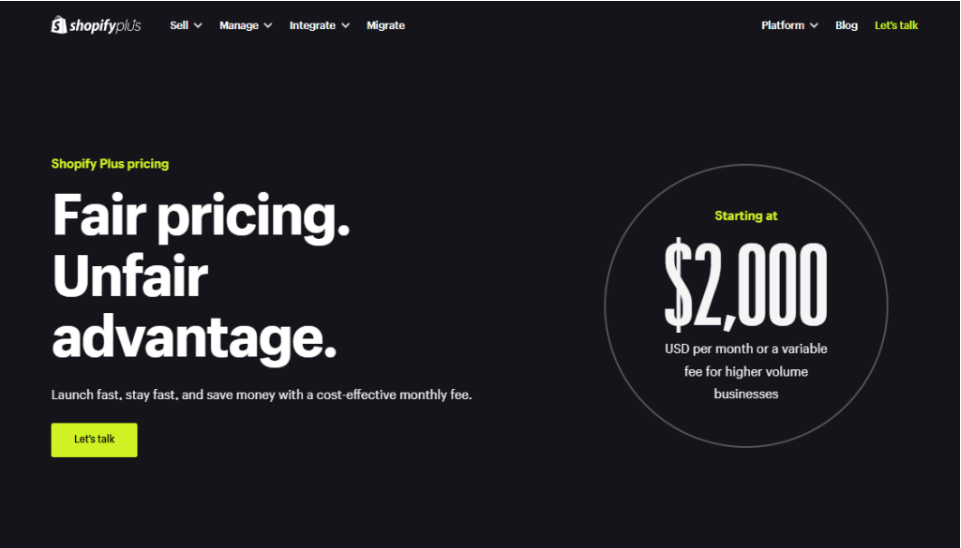 License Fee: $2,000/month
The license fee of Shopify Plus starts from 2K per month, but once you hit $1 million in monthly sales, it will start increasing. The pricing or license fee can increase up to $40K per month once you start getting around $16 million in monthly sales.
Shopify Plus Apps: Ranges between $0 to $500
To go along with Shopify Plus's advanced features, you might need to install pricey applications to your account. However, the pricing of apps can differ according to their worth.
Customized Website: $3K to $100K
Shopify Plus also offers pre-built sites like Shopify. Still, since larger businesses might need a tailored website aligned with their brand's look, prices of licenses can increase up to $100K according to the services Shopify Plus provides.
As a result, you can say that Shopify Plus's pricing can range approximately between $2K to $100K. However, this is just an estimation of how it can charge a particular business according to its needs. You can always contact experts on the website to negotiate the exact prices for your business.
Transaction Fees of Shopify Plus
Shopify Plus imposes almost the same transaction charges for using credit cards.
For US-based merchants, it is 2.5% + $0.30 per transaction. And it can increase to 3.15% + $0.30 for international merchants.
Like Shopify, you can also use Shopify Payments with Shopify Plus to avoid paying these transaction fees unless you reside in Australia, Sweden, and Belgium.
Winner: Shopify has a reasonable pricing structure. Shopify Plus is not for you unless your business is enterprise-level.
Shopify vs Shopify Plus: Ease of Use
Shopify is famous for providing a top-notch user interface and navigation system to its users. Let's see which one is much easier to use between these two.
Ease of Use of Shopify
Shopify's all regular plans are beginner-friendly. Regardless of what Shopify plan you choose, it is just a matter of time before you start making your website up and running.
However, customizing themes for your store can be a bit of a stress for those who aren't that tech-savvy. It won't be an issue for merchants with some coding experience. But if you are not one of those, you might need to take the help of an expert.
Ease of Use of Shopify Plus
Shopify Plus is also intuitive and super easy to use. The best part is that you will have the guidance of your personal account manager, who will help you from setting up the store to selling products.
Unlike Shopify, you will receive help for any kind of common or technical issues you face.
Winner: Shopify Plus is the winner of this section, as it offers personalized solutions at every step of your selling journey. Shopify is also simply the best option for non-technical users.
Shopify vs Shopify Plus: Selling Features
Luckily, both Shopify and Shopify Plus are filled with exceptional eCommerce features that will help you grow and scale your online store. However, Shopify Plus has a few more in its bucket apart from all the Shopify features. Let's look at what they have to offer.
Shopify's Ecommerce Features
Shopify offers a wide range of top-notched eCommerce features to its customers. I will discuss some of them below.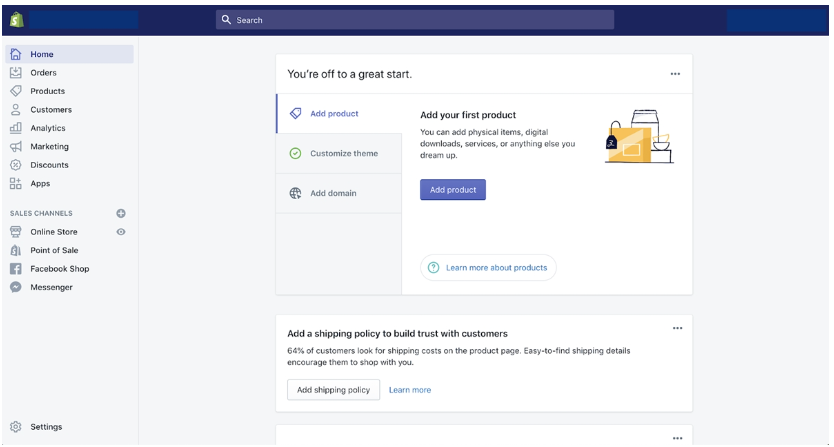 Multi-channel Selling: First, let's talk about multi-channel selling. This feature allows you to integrate other online selling channels, such as Amazon, eBay, social networks, etc., into your store. It helps you create a better customer base.
Product Management: Shopify offers a variety of product management tools that help you maintain your product stock, sell, and update.
Abandoned Cart Recovery: This feature is offered by Shopify with its very basic plan. You need to pay a monthly charge in order to use this feature, but it helps you retain almost 50% of your customers. However, Shopify Plus offers this feature for free.
Multi-currency Selling: Shopify supports a wide range of currencies from all around the world. It automatically converts a specific currency according to the customers' region. This feature boost conversion rate and customer experience.
Analytics and Reporting: Shopify offers a decent set of reporting and analytics tools that help you keep tabs on your business performance.
However, these features can be different for each Shopify plan. The Basic and Shopify plans only offer real-time analysis, while you get more in-depth reports with the Advanced plan.
POS: Shopify POS app will allow you to manage product inventory, custom employees, reporting, etc. The feature comes for free with the Shopify and Advanced plans. But in order to unlock it on the Basic plan, you need to pay $29/month.
Shopify Plus's Ecommerce Features
Now, let's see what Shopify Plus has to offer.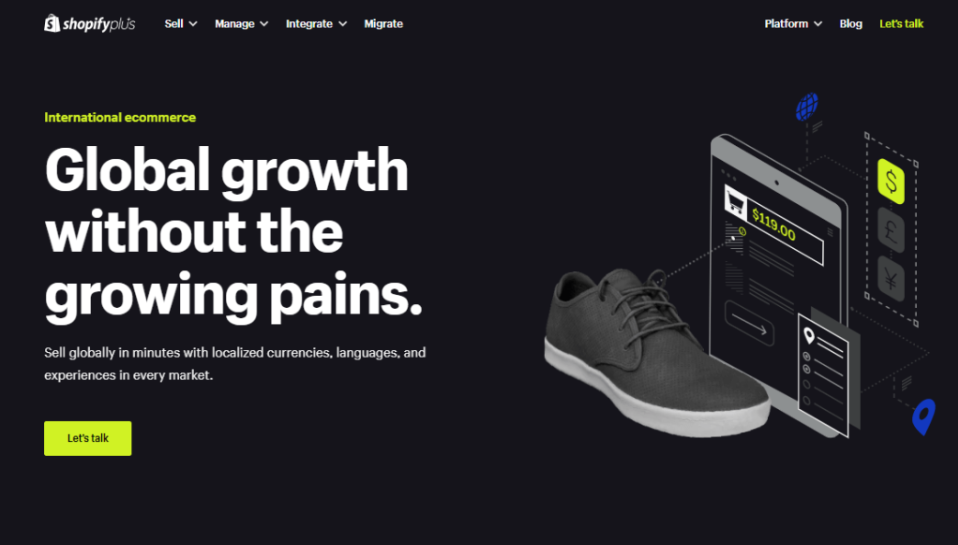 Unlimited Staff Accounts: Shopify Plus offers unlimited staff accounts to its customers. Only Shopify's Advanced plan allows you to add unlimited accounts to your online store. It allows you to streamline teamwork. Plus, you will have more control over the employees' activities.
Additionally, Shopify Plus offers 200TB of storage with unlimited bandwidth. Even if you are getting a million orders per second, your store server won't get overloaded with this much bandwidth and capacity.
Wholesale Channel: With the Wholesaler Channel option, you will be able to set a separate and password-protected store-front within your store. Wholesalers can use this extension to sell and manage their products. The extension will offer similar products at a lower price. So, it can be profitable for both shop owners and shoppers.
Customizable Checkout: With Shopify Plus, you will have more control over your brand as it offers advanced customization options for the checkout page. You can also personalize the checkout page according to your potential customer's behavior.
Access to POS Pro: Shopify Plus provides you with a special version of Shopify Point Of Sale called Shopify POS Pro, which integrates all the basic POS features, such as retail staff management, customized receipts, unlimited POS staff, delivery, in-app analytics, and daily sales reports.
With Shopify Plus, you are free to allow access and custom roles to unlimited staff members. It will help you manage your store more easily.
Exclusive Channels and Apps: With Shopify Plus, you will be able to integrate some exclusive tools and applications that are only accessible to Plus members only. For instance–
Launchpad is a scheduling app that effectively helps you schedule your inventory management and product stocking. Shopify Flow app helps you automate most of the functionalities and workflow. You can invite visitors and potential customers to your Shopify store with Bulk Account Inviter. 
Script editor allows you to add personal experience to your regular customers' carts. With the Shopify Expansion feature, you can also handle up to nine store expansions to promote your products globally.
Merchant Success Program: This program will help you create a clear roadmap to success on Shopify. It will also provide the necessary training and support you need to reach the top.
Other Integrations: Shopify Plus offers you advanced API access that allows integrating apps with logistics support, marketing, and conversions.
Shopify Plus Academy: Shopify Plus give you access to the exclusive Shopify Plus Academy that offers resources and materials to learn the best eCommerce practices.
Apart from that, you will also get all the access and features you are getting with the regular Shopify plans.
Winner: Shopify Plus is the winner of this section without any second thoughts. It offers way more features and access that will help you make seven to eight figures.
Shopify vs Shopify Plus: Designs and Templates
With more aesthetic themes and designs on your plate, you can easily give your website a professional touch and a great visiting experience for your customers. Let's see who is more versatile than the other.
Shopify
Shopify offers more than 90 professional-looking themes to merchants, including both free and paid. The paid version of themes ranges between $50 to $180.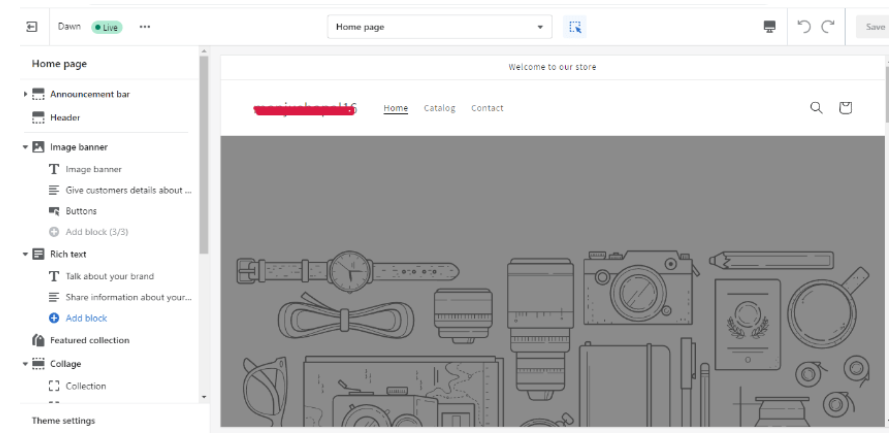 All the themes are mobile responsive and come with advanced design options. But with the regular plans of Shopify, you will need some coding knowledge in order to customize these themes.
Shopify Plus
The quantity of the themes on Shopify is the same, but you will get some additional access, such as Shopify Liquid and Custom Checkout Page.
Shopify Liquid, designed by Shopify itself, is a special template design language. With this editor, you can customize your chosen theme to a whole new level. However, you can leave the customization part to your personal account manager, something you won't get with the regular Shopify plans.
Winner: Despite offering the same number of themes, Shopify Plus is the winner as it offers you additional access and customization.
Shopify vs Shopify Plus: Support Services
Shopify is known for providing world-class customer support to its users. But it can differ according to the plan you choose.
Shopify's Customer Support
Compared to other eCommerce platforms, Shopify offers its customers the best variety of solutions. If you face technical or common issues, you can contact Shopify's support staff using live chat, emails, and phone calls.
Shopify's community forums and comprehensive documentation also help you find answers to common questions.
Shopify Plus's Customer Services
Since Shopify Plus is mainly designed to cater to industry-level businesses, you will receive premium support from the Shopify team. The dedicated account manager will take care of your technical and troubleshooting issues.
You will also get help from a Merchant Success Manager throughout your selling journey so you can expand your brand's name globally.
Winner: Having a personal manager that solves all your store's issues can be a real deal. So Shopify Plus wins the round as it offers premium and personalized support.
When to Switch to Shopify Plus?
Shopify is perfect for small businesses and entrepreneurs who are just starting out. It's easy to use and offers a wide range of features, which makes it a great option for first-time store owners. However, as your business grows and needs scaling, you can switch to Shopify Plus, as it has enterprise-level features and tools.
Switching to Shopify Plus gives you access to omnichannel sales features that will help your business expand internationally.
Related Read:
Conclusion: Shopify vs Shopify Plus (2023)
Now, you have come to the end of this debate. Shopify Plus is undoubtedly the winner of this comparison, as it offers many advanced features, exclusive apps, unlimited access, and personalized guidance.
Nevertheless, Shopify is the more affordable option. It's great for small businesses and start-ups, and it's perfect for stores that are just getting started. Shopify Plus is more expensive, but it's geared toward larger businesses and offers more features and benefits.
Both plans allow you to create a custom store, add products, manage orders, and track sales. But Shopify Plus also offers advanced features like built-in SEO, abandoned cart recovery, and one-click shipping. So if you're looking for a platform that offers more power and flexibility, then Shopify Plus is definitely the way to go.