As an ecommerce entrepreneur researching online store platforms, I'm often debating – is Shopify or Weebly better suited for building my store? Shopify is the popular market leader but are Weebly's website-building roots and integrated store features a viable challenger?
There is no doubt that Shopify dominates the eCommerce industry with a market share of 19% across the globe. Weebly also demonstrates its strong presence in the market, with 50 million users around the world. But both target different markets and audiences. And that's not the only difference.
In this detailed Shopify vs Weebly comparison, I'll assess the core strengths and weaknesses of each based on hands-on experience as both an online merchant and website builder.
Let's get started.
Shopify vs Weebly: Quick Comparison
Here is a quick comparison between Shopify and Weebly.
| | | |
| --- | --- | --- |
| Feature | Shopify | Weebly |
| Cost | $39 – $399/month | $0 – $29/month |
| Transaction fees | 0 to 2.9%, depending on the plans | 3% transaction fees |
| Store limits | Unlimited stores | One store per account |
| Themes | Thousands of free and paid themes | Around 30 themes |
| Customization | Advanced customization capabilities | Some CSS/HTML editing |
| Abandoned cart recovery | Available as app | No built-in feature |
| Shipping | Discounted rates through Shopify | Third-party integrations |
| POS options | Shopify POS app available | No POS capabilities |
| Apps and integrations | Robust third-party app ecosystem | Limited integrations |
| Customer support | 24/7 support via live chat, email, phone | Email and knowledge base support |
Shopify vs Weebly: A Brief Overview
Shopify and Weebly are two sides of the same coin. They seem to be two different platforms, but they are somehow related to the eCommerce industry. Let's see how they are similar to each other by knowing them first.
Shopify Overview
Shopify is familiar to everyone. It sat among the top three eCommerce platforms, and there's a certain reason behind it. From small to enterprise-level businesses, Shopify caters to over 1.87 million online stores in 175 countries and regions. Regardless of the business size, it offers an advanced suite of eCommerce features and tools you need to run a standalone online store.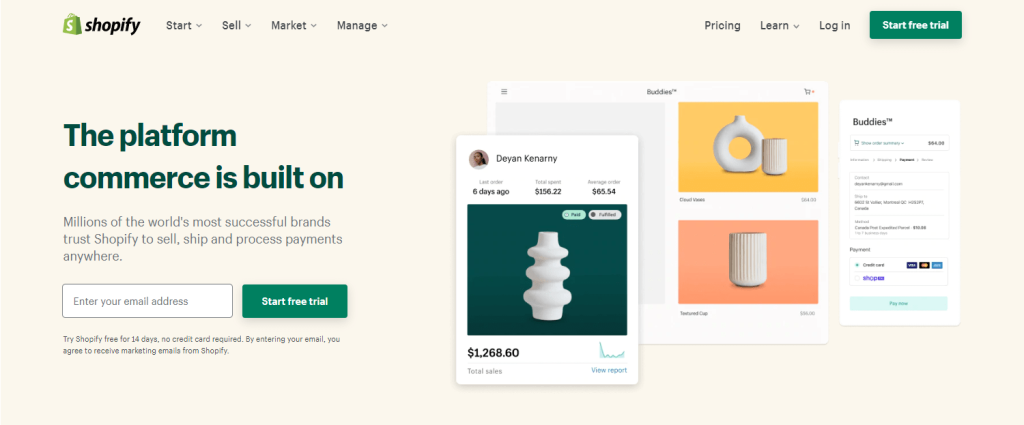 With Shopify, you get access to thousands of apps that you can integrate with your store to increase its performance. You can integrate multiple sales channels and marketplaces to sell on various platforms at the same time. If you don't want to take a fuss about inventory or shipping, you can install a dropshipping or print-on-demand app for your store. This way, you can sell on Shopify, and your supplier will take care of complete order fulfillment. 
Weebly Overview
Weebly is a freemium website-building, web-hosting, and online store-creation platform. It is designed to serve freelancers, businesses, individuals, and non-profits. Currently, over 50 million websites across the globe are powered by Weebly, which shows why it is popular among top website builders.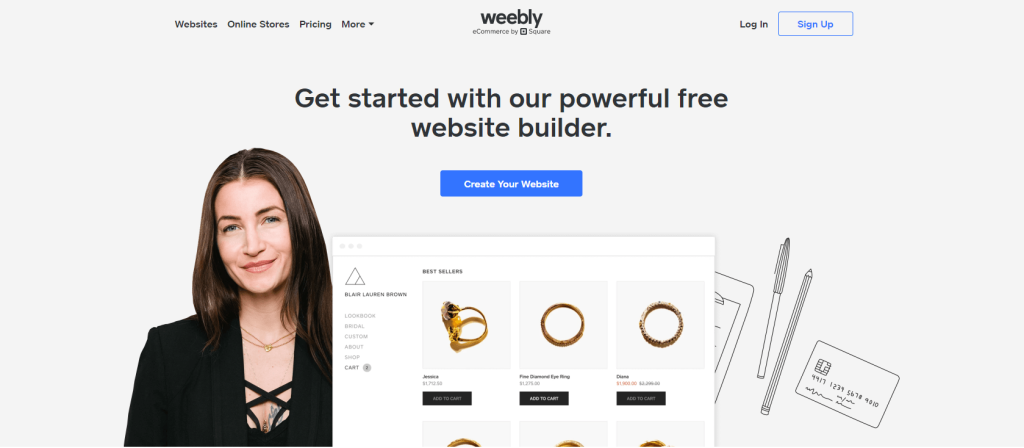 Weebly is recently acquired by Square Online. That's why all of its eCommerce features are powered by Square. You will get Weebly services for free if you buy any Square product or suite of business tools. Weebly is a great platform for beginners, even if they want a website for business or want to create a standalone online store to sell products. You can start with a free plan, and you will get a free SSL certificate, free themes, and basic commerce features along with it.
Shopify vs Weebly: Major Features Comparison
Now, let's compare the similar features of both platforms and see who excels in each section.
Ease of Use
When you sign up with a Shopify plan for the first time, you get assistance from the system on your onboarding. From creating an online store to adding a product listing, it will help throughout your selling journey. First, it will guide you in designing your store. For that, you can pick a free or paid theme and customize your store to give it a professional look. You can use its drag-and-drop editor to add banners, headers, and footers. To increase your business's stability, you can integrate apps and plugins. Like if you want to start a dropshipping business, you can add apps like Printful, Syncee, and Spocket.
For Weebly, you can pick a free plan to create a website. If you want to create an online store with the free plan, purchase a domain first or add an existing one. The platform also offers onboarding assistance that helps you throughout the process—from choosing a theme to customizing your store. Since the platform believes in simplicity, it has a user-friendly drag-and-drop editor and customization tools to help you build the front and backend. However, you will not find advanced options such as multichannel selling and email marketing unless you purchase an expensive plan.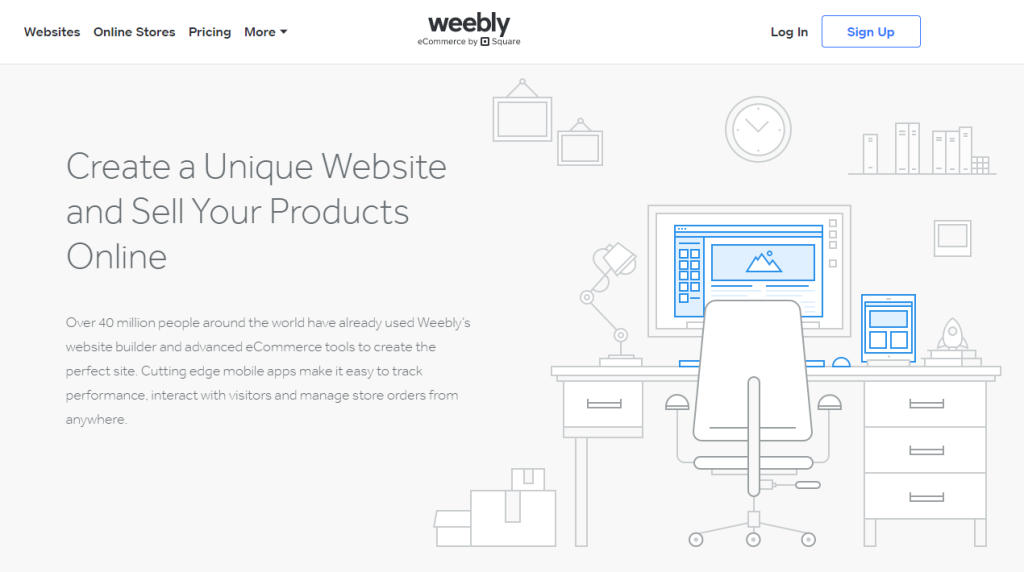 Winner: Shopify
Design And Templates
With Shopify, you can get over 114 themes to its users. Of all the themes, 11 are free, and the remaining themes are paid. Paid themes start at $180, while the expensive ones cost $350 for a lifetime. All the themes are professionally designed for various niches. You can choose a theme and customize it according to your business requirements. Shopify offers an intuitive drag-and-drop editor that allows you to customize your store to its finest end. After customizing a theme, you can preview your store to see the changes you have made.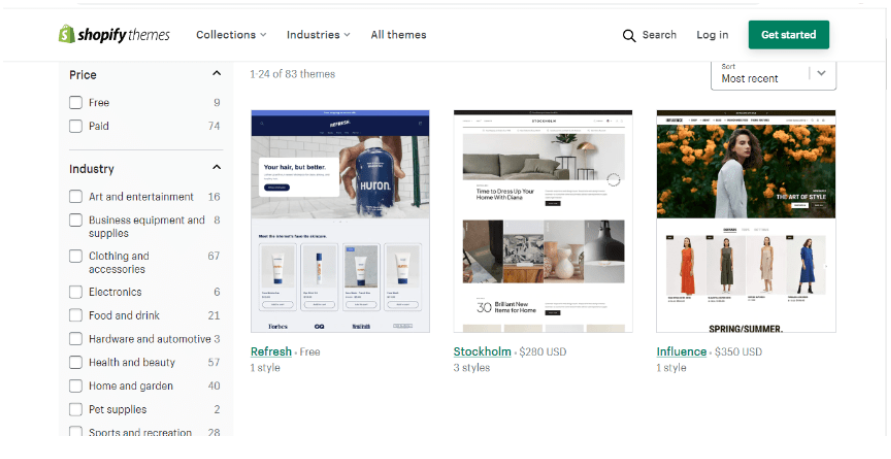 Weebly offers over 70 themes to its users. All of them are free and divided into different niches. You get a WYSIWYG editor no matter what theme you choose to customize your store. That means whatever you customize in your store, you can see the changes in real-time. All the themes are neatly designed, so you can just choose a theme and use its drag-and-drop editor to customize your store. However, all the themes are not mobile-friendly, which is a significant disadvantage of using Weebly.

Winner: Tie
eCommerce Features
As you know, Shopify is completely lean towards providing the best solutions for online stores. So it makes sure their sellers get the best eCommerce features to run their online stores. All the features are enough for scalability regardless of the business size. With each plan, you can add and sell unlimited products without getting worried about the site slowing down. Basic plans offer tracking, mobile POS, multichannel integrations, dropshipping add-ons, etc. Premium plans include additional advanced features such as abandoned cart recovery and standard reporting.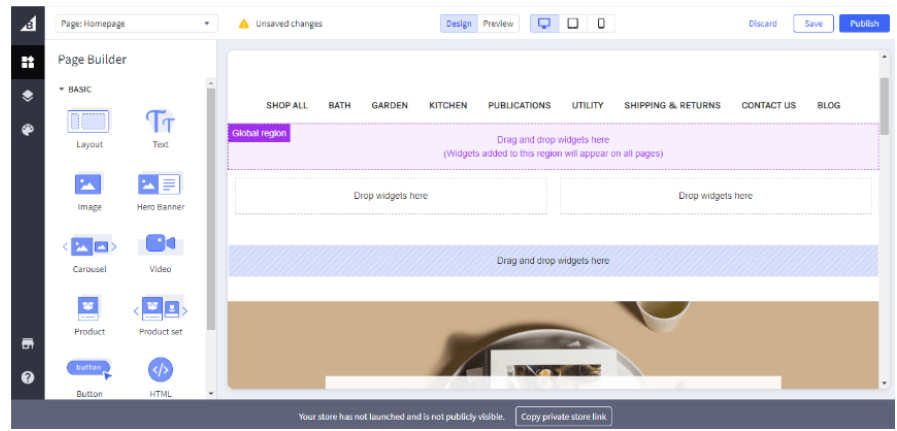 Compared to Shopify, Weebly is a completely different platform. It is mainly a website builder that offers feasible eCommerce features so you can run an online website with ease. That's why Weebly tries to make selling easy and simple. If you want to sell in both online and physical stores, you have to integrate Square's POS (point of sale) system. Since it is only meant for small businesses, you will not find enough room for scalability and growth. If you want to run a significantly large online business, consider choosing Shopify.
Winner: Shopify
Hosting Solutions
Shopify doesn't offer separate hosting services. Instead, it includes hosting services with all its plans. Compared to full-time web-hosting services, you might not get the same level of robust features, but it is still on point. With its web hosting services, you get fast-loading pages and unmetered bandwidth. That means your online store will be capable of handling sudden traffic.
Weebly also includes hosting services with all its website building and online store plans. It offers shared hosting even with its free plan. Many low-cost hosting providers include Weebly for free due to its availability and value for money. However, you will get limited storage with its cheap plan. For unlimited storage, you need to subscribe to the Starter plan at least.
Winner: Weebly
Marketing Features and SEO
With Shopify, you get built-in SEO features that follow Google's Core Web Vitals standards. You can do SEO practices while adding products to your store. You can add a page title and meta description and change the URL for marketing purposes. Sellers mostly rely on third-party apps for marketing, as basic SEO will not be enough for product exposure. There are over 1,300 apps in the App Store for marketing and SEO. 
On the other hand, Weebly offers exceptional blogging tools, marketing, and SEO features with all its plans, even with the free ones. It also includes built-in SEO tools. It is comprehensive but also beginner-friendly. You will find useful SEO guides in the dashboard that will help you with keyword and listing optimization. It is also necessary for improving product and website ranking.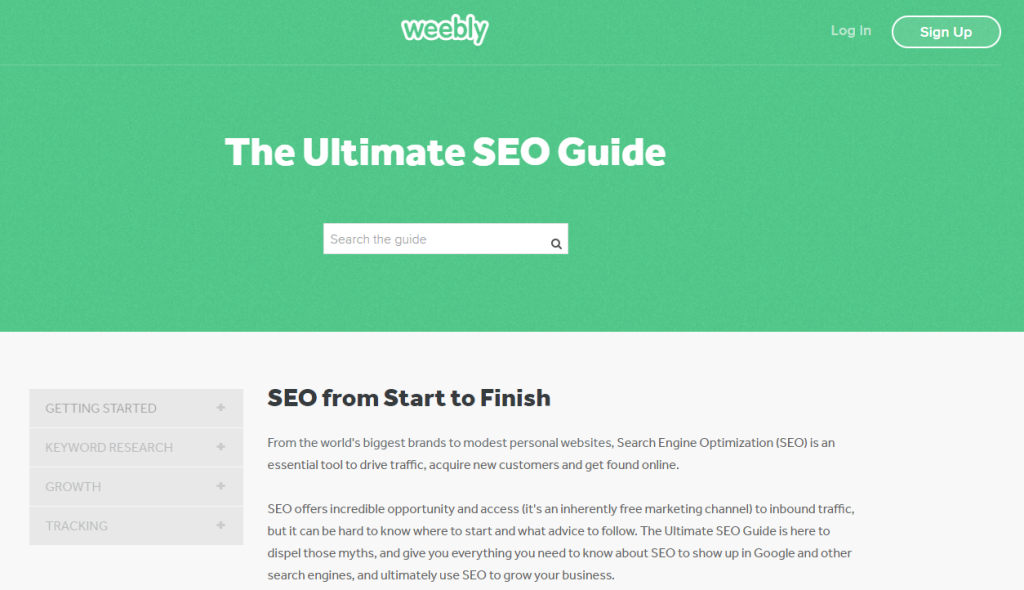 Winner: Weebly
Performance and Security
Since Shopify mainly focuses on eCommerce stores and selling, performance and security are their top priorities. The platform is certified L1 PCI DSS compliant, which means all stores that are powered by Shopify will be getting top-notch security measures. Apart from that, each Shopify plan includes an SSL certificate that ensures payment and password security from cyber attacks. When it comes to performance, it totally depends on your website design and the theme you have selected. If you add compressed images and videos to your website, you will definitely get a fast page loading speed.
With each Weebly plan, you automatically activate an SSL certificate for your store. It protects you and your customer's password and payment details. The same goes for website security. Weebly implements industry-specific security measures that protect your website from DDoS and cyber attacks. However, in terms of website and page loading speed, Weebly is a low performer. You need to add a lot of images, videos, and resources to create a fully-furnished website with Weebly, which causes its slow speed.
Winner: Tie
Apps and Integrations
If you want to install third-party apps to increase your store's performance and capabilities, Shopify offers you its own App Store, where over 6000 apps are listed for various purposes. Around 3000 apps are completely free, while paid apps cost ranges between $2.99 to $499 per month. Almost all the paid apps offer a limited free trial, so sellers can try its features before investing in the app.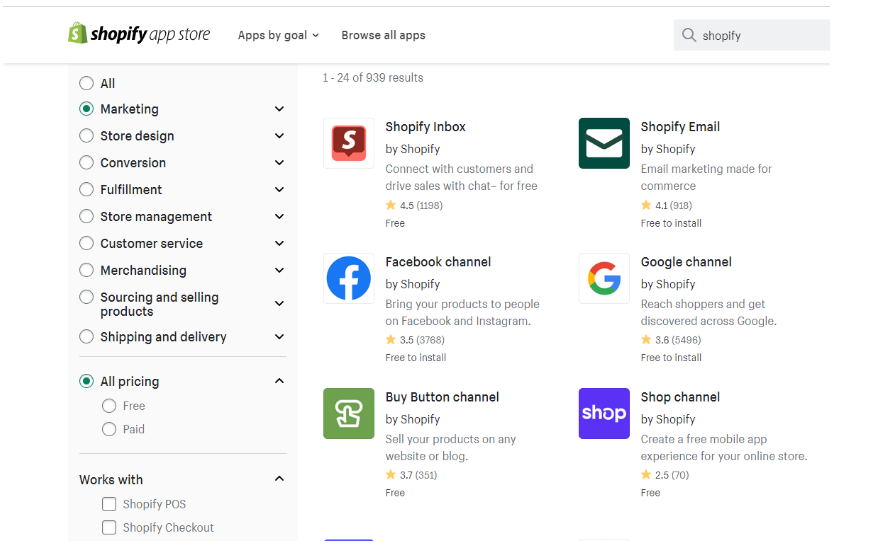 Weebly also has its own App Center, where you can find a well-stocked gallery of 400 applications. Sixty apps are free of cost, while others range between $3 to $300 per month. You can filter apps according to new, popular, and high-rated ones to find eCommerce, marketing, communication, SEO, and social apps. Most of its paid apps also offer a free trial, so you can take a trial before purchasing it.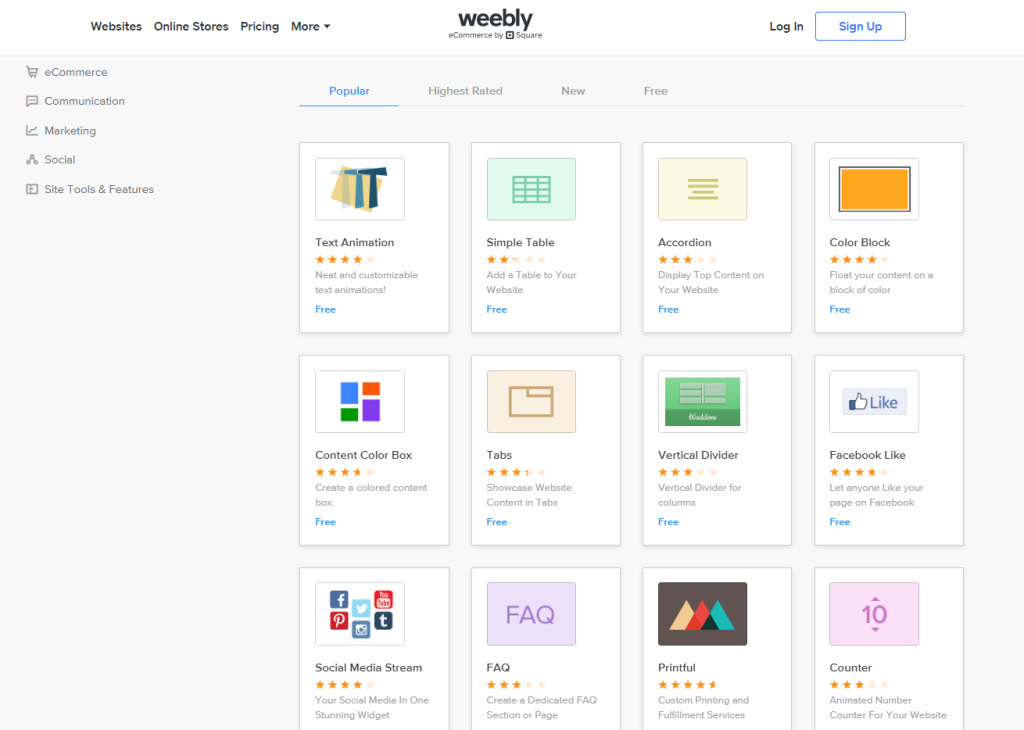 Winner: Shopify
Payment Gateways
Shopify has partnered with 100+ popular payment gateways and processors, including Stripe, PayPal, Apple Pay, Google Pay, etc. All payment processors accept 10+ international currencies. For each sale, Shopify charges a fixed processing fee for credit card payments and a transaction fee for accepting payments through third-party processors. You can set up all types of payments for both online and physical stores. If you want to avoid paying these charges, go for Shopify Payments, which is Shopify's in-house payment processor. Unfortunately, this option is not available in all countries.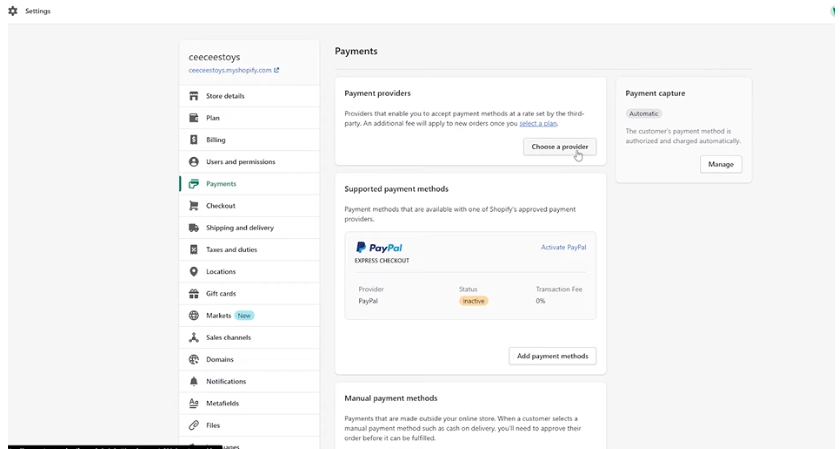 Weebly, on the other hand, only supports a few payment gateways, such as Square, PayPal, and Stripe. If you are using the free plan, it charges transaction fees for each website you create. Weebly's transaction fees depend on the plan you choose. If you are on a business plan, you don't have to pay any transaction fee for website creation or selling products.
Winner: Shopify
Customer Support
Customer satisfaction is one of the top priorities of Shopify, which is why they offer enterprise-level customer support to their users. You will get 24/7 support via phone, live chat, email, social media, and the help center. For Shopify Plus users, the company offers specialist support that helps throughout store setup to sell products. Shopify also recommends you install the Rewind app at the beginning. The app helps you recover your store and settings if something goes wrong.
Weebly also offers customer support through email, phone, live chat, community forums, and social media. But the phone and live chat supports are only available for a fixed time on business days. However, if you need any urgent help regarding setting up an online store or creating a website, you can find guides and articles in the help center. Furthermore, customer support options are limited for cheaper plans. That means you can't receive direct help from a staff executive—you have to rely on free resources.
Winner: Shopify
Pricing
Shopify mainly focuses on hosting online stores for sellers. That's why all the plans are related to eCommerce. With Shopify, you get five tier-based plans that range between $5 to $2000 per month. Sellers can also subscribe to one-, two-, and three-year plans at lucrative discounts. The platform doesn't offer any free plan, but you can get a 3-day free trial on your favorite plan. New sellers can also purchase the Basic plan at $1/month for three months. This is enough time for a small business to kick-start its business in the market.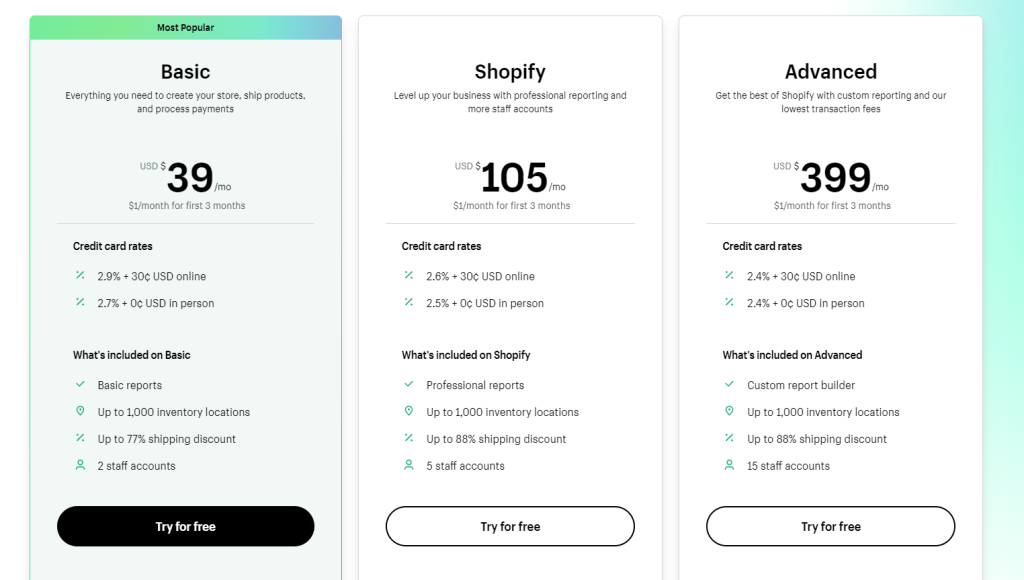 | Shopify Plans | Pricing | Key Features |
| --- | --- | --- |
| Starter | $5/month | Sell on social platforms, access to Start theme, basic reports |
| Basic | $39/month | Online store, 2 staff accounts, an SSL certificate, unlimited products, eCommerce features |
| Shopify | $105/month | Basic plan features included, 5 staff accounts, automation features, standard reports |
| Advanced | $399/month | Shopify plan features included, 15 staff accounts, advanced reports, third-party shipping rates, discounts on shipping |
| Shopify Plus | $2000/month | Advanced plan features included, specialist support, customized solutions |
Weebly offers a range of budget-friendly plans to its users. The plans are categorized into two parts: websites and online stores. It mainly focuses on website building. So those who only want to create a website for business or other purposes will get three paid plans to choose from. However, if you want to create an online store, you will need a domain name. For that, you have to at least go for the Pro plan. Otherwise, you need to purchase a custom domain from a third-party provider for cheaper plans.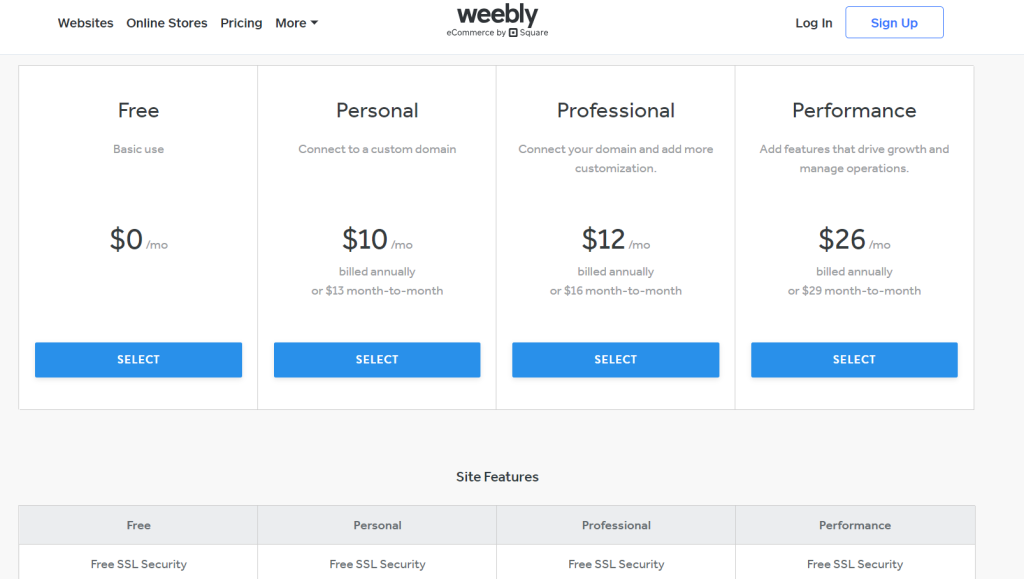 | | | |
| --- | --- | --- |
| Weebly Plans | Pricing (Paid Annually) | Key Features |
| Free | $0 | Free SSL certificate, 500MB storage, SEO, basic customer support, lead capture |
| Personal | $13/month | Free plan features included, custom domain |
| Professional | $16/month | Connect plan features included, unlimited storage, remove Weebly branding and ads, site search, basic eCommerce features & reports |
| Performance | $29/month | Pro plan features included, Google Ads ($100 credits), inventory management, coupon codes, shipping calculator |
Winner: Weebly
Shopify vs Weebly: Pros & Cons
No platform is completely perfect. Every platform has its own advantages and drawbacks, and so do Shopify and Weebly. Let's have a look at them.
Pros of Shopify
Enterprise-level eCommerce features
Free domain and hosting with each plan
Powerful inventory system
Extensive App Store with thousands of apps
Options for scalability and growth
Solutions for small, medium, and large-sized businesses
24/7 customer support via email, live chat, phone, and help center
Cons of Shopify
Hefty transaction and processing fee
Expensive paid themes
Pros of Weebly
A suitable platform for small businesses
eCommerce features for online stores
Simple and stylish themes
A well-stocked App Center
Helpful SEO guides 
Affordable plans 
Cons of Weebly
Themes aren't optimized for mobile
Limited customization
Related Read:
Final Verdict: Shopify vs Weebly (2023)
Now you have come to a conclusion after a long debate. Both platforms are ideal for beginners since you don't need any kind of coding experience in order to create a standalone website for business. But comparatively, Weebly tends to cater to only small businesses and entrepreneurs, while Shopify provides solutions to every business regardless of their size. Shopify plans and eCommerce friendly, whereas Weebly is leaner towards website building. Overall, Shopify is the winner of this comparison. 
However, it all depends on your budget and business needs. If you are only looking to sell products online, Shopify is the right choice. But if you want to create a website for blogging with an additional touch of eCommerce side, Weebly is the way to go. So which one do you choose? Let me know in the comments.