Are you looking for a dropshipping platform for your eCommerce store? Then what's a better option than Spocket?
Dropshipping business is one of the hottest business models at the current time. In this model, you can resell products online without needing to maintain inventory or ship them to customers' doorstep by yourself. You can find a reliable dropshipping supplier, and they will do the heavy lifting for you while you focus on generating sales. Integrations like Spocket can save you time finding those suppliers.
Most Shopify and WooCommerce store owners use Spocket to find branded products and reliable suppliers for their dropshipping business. Spocket offers one of the best profit margins to both sellers and suppliers, which makes it a great platform to start dropshipping.
In this post, I will feature the Spocket review covering all the features and pricing structures, so you decide if this platform is a good fit for your eCommerce store.
Let's get started.
What Is Spocket?
Spocket is a popular dropshipping marketplace catering to 60,000 entrepreneurs and eCommerce sellers. The company aims to eliminate the fear of losing sales due to out-of-stock products by giving an attractive discount on overstocked items.
Spocket associates with suppliers, manufacturers, retailers, and wholesalers around the world, so you can easily interact with them to buy items and resell them on your eCommerce store.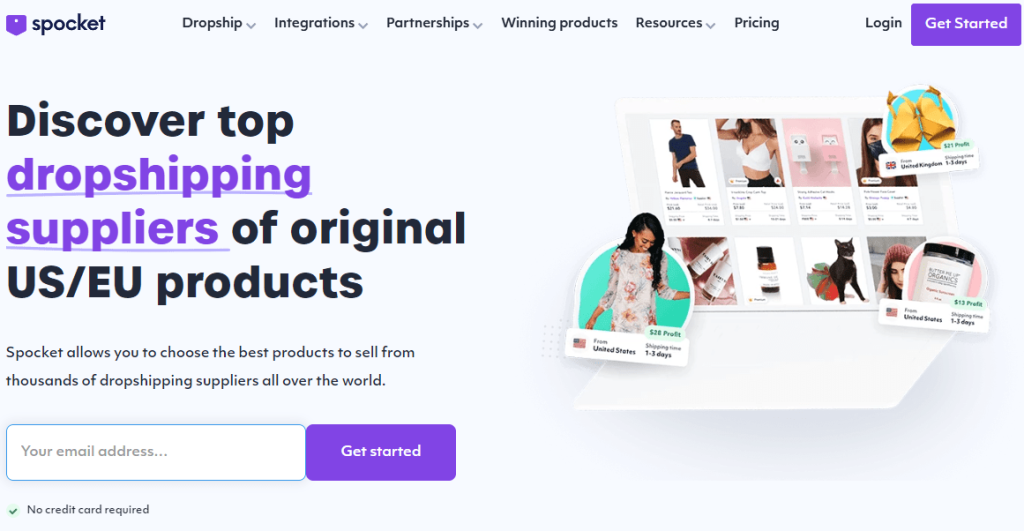 Spocket has a colossal marketplace with an inventory of thousands of unique and premium products. Here you can find products in different categories or search for a specific supplier within your region to negotiate your order purchases and prices.
You can also order sample items from various suppliers to check the quality of the products. Once you are satisfied, you are good to publish the product on your online store. 
Who is Spocket For?
Spocket is a platform that is well-known for catering to dropshippers who value high-quality products, fast shipping, and a competitive edge. The platform has a vast range of products and suppliers, making it an ideal choice for various types of dropshippers.
Spocket can be used by:
Complete Beginners: If you're a beginner in the dropshipping industry, Spocket is a great platform to start with. Its user-friendly interface makes it easy to find high-quality products at competitive prices from a network of reputable suppliers. Furthermore, Spocket offers educational resources such as webinars, guides, and articles that are specifically tailored for new dropshippers.
Seasoned Dropshippers: For experienced dropshippers who want to grow their business and build their brand, Spocket is a valuable platform. Its extensive product catalog provides opportunities to expand product lines, attract more customers, and increase revenue. Additionally, Spocket's fast shipping times can enhance customer satisfaction and encourage loyalty.
US and EU Dropshippers: US and EU-based dropshippers can also benefit significantly from Spocket's services. With suppliers located in these regions, Spocket ensures that customers receive better products, returns, and customer service. Moreover, because the products are already in the same region as the customers, shipping costs and time are reduced.
Individuals Looking for an Alternative: Dropshippers who are looking for an alternative to their current supplier can consider Spocket as a viable option. The platform provides a seamless and reliable experience and offers access to a diverse range of high-quality products from reputable suppliers.
How Does Spocket Work?
Spocket just works like any typical dropshipping platform. It integrates with top eCommerce platforms so that online store owners from respective eCommerce platforms can find ready-made products to resell.
You don't have to manage an inventory to store the products typically. You can simply find suppliers of respective products, and they will take care of product sourcing and delivering the products to your customer's doorstep. All you have to do is pick products from Spocket and promote them to your online store.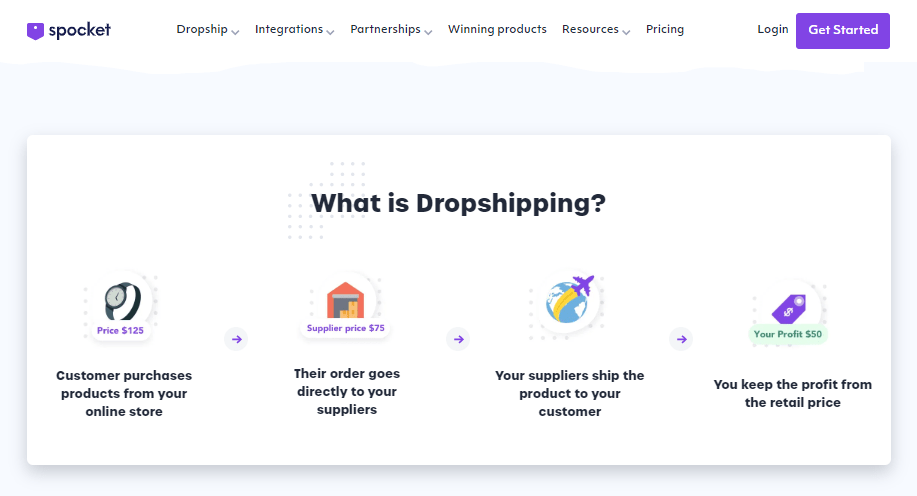 When a customer orders from your store, you forward the order to the supplier, who will handle the order fulfillment process. This way, you create a revenue stream for being a middleman and generate a decent profit margin without actually storing or shipping products.
Key Features of Spocket
Here's an overview of all the major features that Spocket offers.
Products
Spocket features product categories as unique or premium on its platform.
Unique products are those items that are not officially certified. Basically, these products are a result of lazy listing by the new suppliers.
Premium products, on the other hand, are listed by leading suppliers. These items come with a BSR tag (best sellers rank) and are discounted handsomely. You can get up to 60% discount on bulk orders on some products.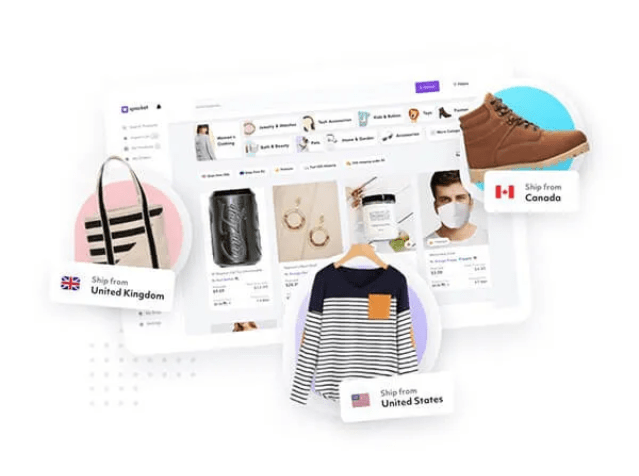 Mainly, there are 18 product categories on Spocket. Some merchandise that doesn't come under unique or premium product categories eventually gets banned.
With Spocket, you can sell a maximum of 10,000 products at a given time. You will be able to raise this cap once you manage to get up to 500 orders.
Catalog
The catalog of Spocket features more than one million products, and the majority of the products are allied to original merchandise from Europe and the US. Despite featuring a small number of suppliers, the catalog has an impressive figure of products.
You can search for a product using Spocket's intuitive search box. Here you can filter your search by price, keyword, destination, and shipping origin. You can also search for top suppliers, premium products, and best sellers in various regions.
Suppliers
Spocket has a network of over 2,000 suppliers across different regions. It doesn't charge any setup fees or collect commissions on revenues from the suppliers.
Spocket only demands suppliers set the pricing of their products at least 25% less than their standard pricing. This way, online retailers will have room to set reasonable markups reselling those products.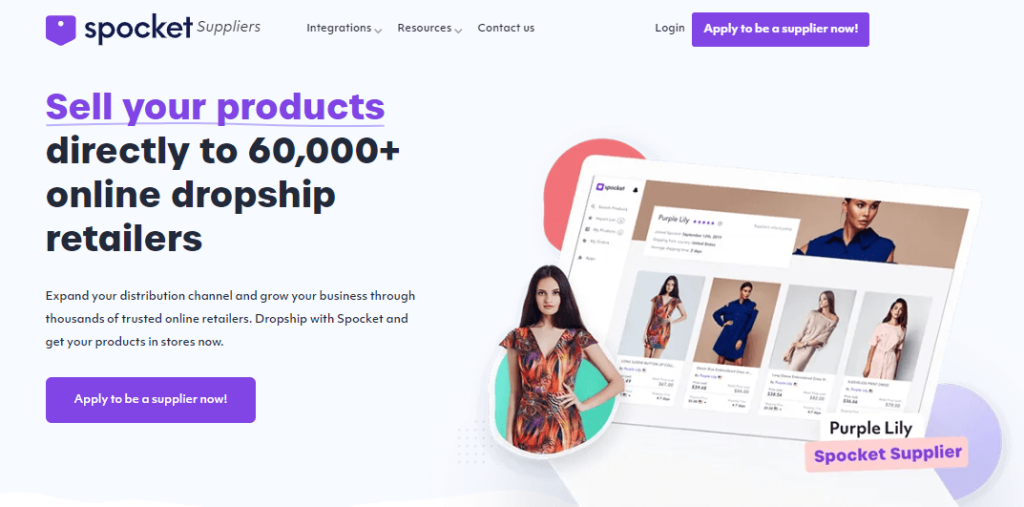 More than 80% of the suppliers of Spocket reside in either Europe or the US. To make it more accessible across different regions, Spocket offers partnerships from anywhere across the globe. Luckily, you can also integrate Spocket with Alibaba, where you can discover 150K suppliers in China. This way, you can cover a significant part of Asia for dropshipping.
Product Sourcing
In a dropshipping business, you don't necessarily have to source products unless you need to manage inventory for your physical stores. You can contact suppliers to stock products if you are a local citizen residing in the US or Europe.
You can use Spocket's Direct Supplier Messaging feature to chat with suppliers directly. Not all suppliers choose to interact with sellers directly on Spocket. But those who are open to chat will respond to your message within 24 hours. In order to use the messaging feature, you need to pay an additional $5.99 a month.
Few suppliers offer you to build branded invoices. Use this opportunity to promote your business under your brand name. On the order packages, they let you place your logo, contact number, email address, and personalized message.
Inventory
Well, you don't need to manage an inventory with a dropshipping business. If we talk about suppliers' inventory, Spocket only works with those suppliers who are fully transparent with their inventory for their featured products.
On Spocket, you can see all the products' inventory and how many products are left in stock. It updates the inventory in real time so you can quickly pick the products before they run out of supply. Spocket automatically removes a supplier's listings if they discontinue listing products for a long time.
Cross-Platform Software
Spocket is initially a web-based app, so you will only need a browser (Chrome or Firefox) to use its features. You don't need to download or install a desktop app in order to access Spocket's catalog. You will just need a decent internet connection, and you can access it right from your store's dashboard.
Spocket also offers a fully functional Android and iOS app. Now, you can import products directly from your smart devices to complete orders for your online store.
Shipping Times
Spocket does not mandate a certain shipping time besides listed products, but the suppliers who list products do. Spocket has maintained its reputation by not mentioning the shipping times, as it can negatively impact the company if orders aren't shipped within the given time.
However, the company directs suppliers to process the orders within the specified timeframes they designated during the application. If they fail to ship orders within time repeatedly, they will get removed instantly.
Shipping Charges
Just like shipping time, shipping charges are also controlled by suppliers on Spocket. However, Spocket has set some standards for suppliers. Suppliers can't set prices higher than their own retail sites, and they have to offer a minimum 25% discount for store owners.
Importing
On Spocket, you can import only a single product at a time. Each item comes with different shipping rates and returns policy, so the company wants store owners to review all the details before launching it.
You can list various products after importing items one by one. You can also optimize your listing using keywords, descriptions, and tags.
Integrations
Currently, Spocket only integrates with 11 eCommerce platforms and marketplaces. Here is the list: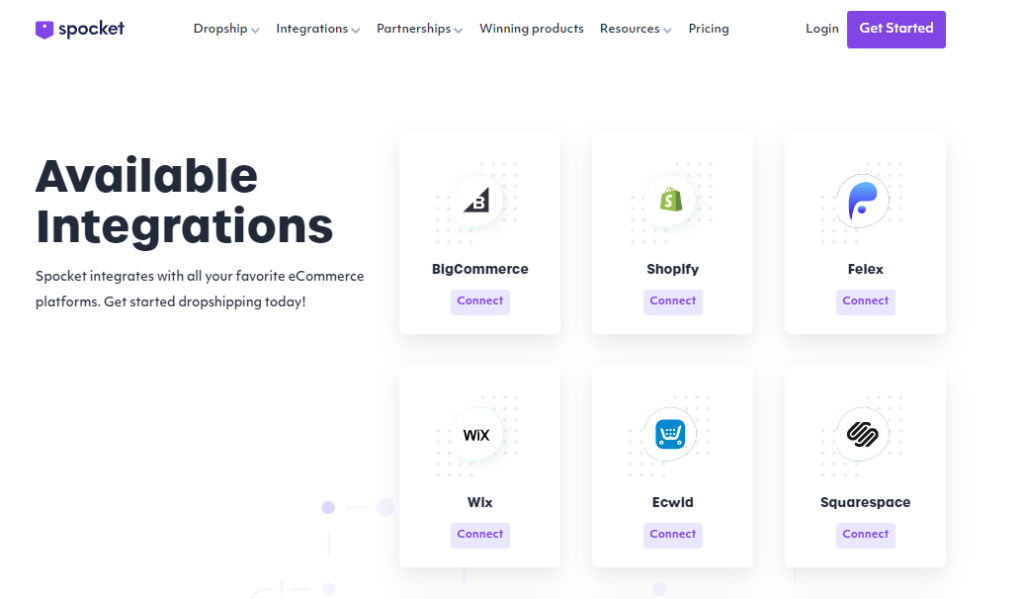 Shopify
Squarespace
WooCommerce
BigCommerce
Wix
Ecwid
Felex
Square
Alibaba
AliExpress
eBay
However, you can increase this list if you own a store on Zyro, and you can also support local brand channels.
Return Policies
Spocket allows suppliers to go with three return policies: 30 days return, 15 days return, and no return.
The first two policies are a money-back guarantee that consumers receive refunds in case of returning products due to some reason. However, you are free to set rules for returns. In order to take advantage of return policies, customers need to bear some extra shipping charges. Usually, they will receive a 100% refund within 3-5 business days.
Bulk Checkout
Usually, you can order only one item at a time and pay the supplier for that particular product. But if you are using the Unicorn plan, you can take advantage of the bulk checkout feature to complete multiple orders at the same time. If you receive multiple orders, bulk checkout will drastically boost your sales.
Customer Support
Spocket offers customer support services 24/7 via email and live chat. However, if you face common issues, such as connecting Spocket to your store, you can take help from the help center. Here you can find super helpful articles, blogs, and documentation regarding common issues.
If you still don't find answers to your issues, you can take a screenshot of the issue and talk in live chat or attach it to your email address to get help from Spocket's technical experts. However, email responses can take some time if you catch them on a super busy day.
How To Get Started with Spocket?
The good thing is that Spocket directly integrates with WooCommerce and Shopify stores without much effort. Let's see how you can get started with Spocket.
1. Connect Your Store
Regardless of what eCommerce store you use to sell your store, you can find the Spocket app in their app store. Like if you are a Shopify store owner, you need to head over to its App Store and use the search box to search the app. Click the Add App button when you find the Spocket app from the search results. This process will induce you to enter your store login info.
After filling in your login details, your store will be linked to the Spocket app successfully. Now, you can start looking inside Spocket's catalog to find the best product within your niche.
2. Take a Quick Tour
Now, you can access the Spocket app right from your store's dashboard. When you start the app for the first time, it will take you to its product catalog, where you can find products for your online store and suppliers who will source them and deliver them to your customer's doorstep for you.
3. Select Products to Sell
You can browse randomly to Spocket's catalog to find a product to sell. Or, if you're running an online store under a particular niche, you can use its search box to look for:
Products by prices
Product categories
Location-based products
Premium products (available with the Pro, Empire, and Unicorn plans)
Suppliers
4. Import Products
Once you have selected a product for your business, you can add it to your store by importing the list.
After adding products to the import list, you view and evaluate every product before launching it on your online store. You can even modify the product details individually. You can click on "Push to Store" once you are ready to publish products to your eCommerce store.
Spocket Pricing Plans
Currently, Spocket offers five pricing structures to its users, of which four are premium and one is free. Let's know more about pricing.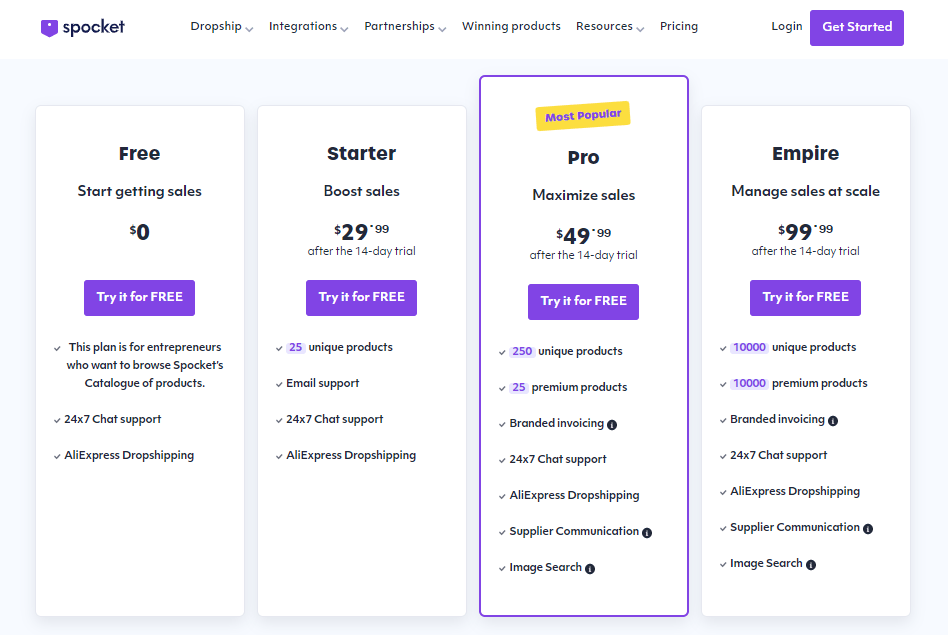 Free – $0
This plan is for beginners who just want to browse Spocket's product catalog. However, this plan offers limited access to its features.
24/7 live chat
AliExpress dropshipping
Starter – $29.99/month
All features included in the free plan
Email support
Access to 25 unique products
Pro – $49.99/month or $288/year
All features included in the Starter plan
25 premium products
250 unique products
Supplier communication
Branded invoicing
Image search
Empire – $99.99/month or $684/year
All features included in the Pro plan
10000 premium products
10000 unique products
Unicorn – $299/month or $948/year
All features included in the Empire plan
Product requests
Supplier sourcing
Bulk checkout
All the premium plans come with a 14-day free trial. You can just select a plan and use all its features without entering your credit card details. If you like the plan, you can pay for the chosen plan. Or, if you don't, cancel the plan anytime within the free trial.
How to Become a Spocket Supplier?
Fortunately, Spocket is also open for suppliers. If you're US-based or reside in Europe, you will require the following documents to qualify for Spocket:
Live CSV feed
Proof of your business
You'll need to offer a discounted price to Spocket users
An average time frame of product's shipping
A flat shipping rate (for both local and international)
Once you agree to the terms and conditions of Spocket, you can register as a supplier for free.
Note: Spocket keeps your funds from the customers and distributes them to the respective suppliers each Friday.
Spocket Review: Pros & Cons
With a single Spocket subscription, you will receive a ton of advantages, but there's always something missing. Let's have a look at the Advantages and disadvantages.
Pros
Spocket integrates with popular eCommerce platforms
Shows inventory updates in real-time
Import products in one click
Track orders in real time
Offers order fulfillment automation
Ability to automate pricing process
Open for both online store owners and dropshipping suppliers
Cons
eCommerce integrations are limited
Not many international suppliers in the team
No custom packaging options
Related Read:
Conclusion: Spocket Review (2023)
Spocket is undoubtedly a one-stop hub for eCommerce store owners looking for a dropshipping business. With this app, you can instantly import products and start selling them without much effort.
Spocket is always looking forward to helping sellers who are looking for growth. Even if you are low on budget, you can get started with Spocket without bearing maintenance and inventory charges. On the plus side, it is open for suppliers and eCommerce store owners.
FAQs
Is there a free trial available on Spocket?
Yes, Spocket offers a 14-day free trial on all their plans. You can try the features of Spocket before buying a subscription, and you won't need to give your credit card details to use the free trial.
Does Spocket offer refunds?
No, Spocket does not offer refunds that's why they offer a free plan and a 14-day free trial so you can use all the tools of Spocket before purchasing any subscription.
How many eCommerce platforms Spocket integrates with?
Sprocket integrates with many eCommerce platforms, such as BigCommerce, Ecwid, Shopify, Wix, WooCommerce, Felex, AliExpress, Squarespace, and so on.
Which Spocket plans are the best for me?
If you are a complete beginner, then you should get started with the free plan of Spocket. To boost your sales, you can choose the starter plan. To maximize your sales to the next level, the pro plan will be best for you, and if you want to manage sales on a scale, then the Empire plan is a great option for you.
Can I connect Spocket with multiple online stores in one account?
No, you can connect Spocket with multiple online stores. You can use one store on one account for any other store, you will need another subscription to Spocket.