Worried about the actual cost of building a website using Squarespace? If yes, this guide will tell you everything you need to know about Squarespace pricing in 2023.
We will explain the plans offered by Squarespace in detail and highlight the key features offered in the particular plans.
This guide will assist you in making the right decision and choosing the perfect Squarespace plan according to your needs. So without further ado, let's get started.
What Is Squarespace?
Building a website from scratch can be quite confusing if you are using an advanced CMS such as WordPress. Buying a domain, managing the hosting, and building a website can be a daunting task for beginners. This is where all-in-one website-building platforms such as Squarespace come into the picture. 
Squarespace provides individuals and businesses with easy-to-use tools to create professional websites without extensive technical knowledge.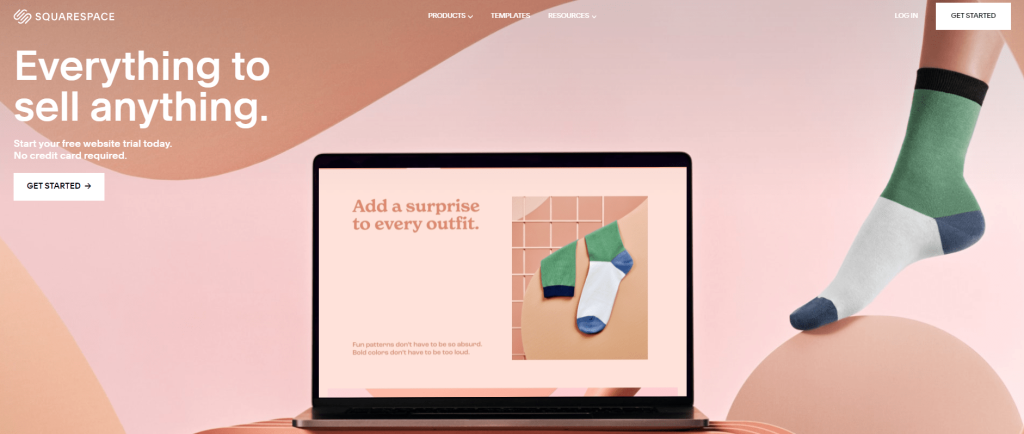 It offers a wide range of customizable templates for e-commerce, blogging, and other easy-use cases for building websites. It also provides the user with domain registration and hosting services.
Squarespace Pricing: Detailed Breakdown
Here is a detailed breakdown of Squarespace pricing, highlighting the key features of different plans offered by the platform.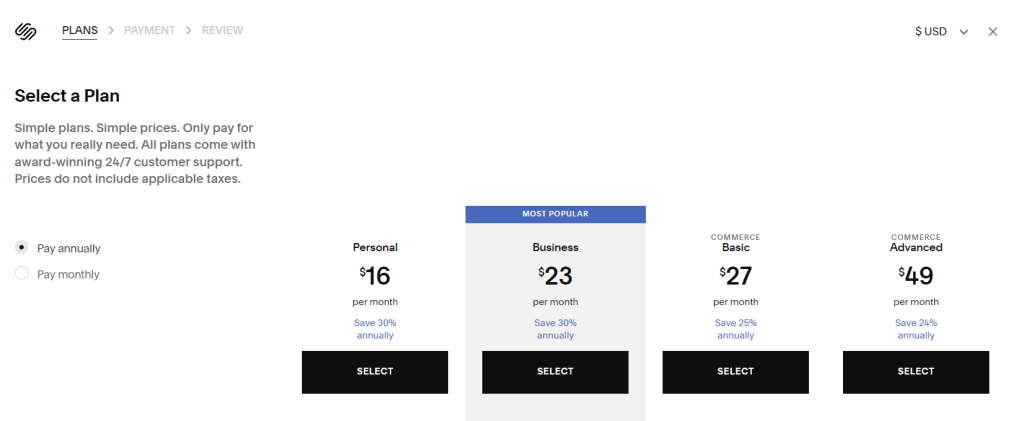 Squarespace Personal Plan -$16/Month
The Personal plan from Squarespace is perfect for individuals who want to build a stylish and functional website. With unlimited bandwidth, ample storage, a free custom domain, SSL security, and 24/7 support, it offers all the essential features.
This plan allows for two contributors, making it ideal for collaborations or small teams. You'll also have access to website metrics and mobile-optimized sites, ensuring a seamless user experience.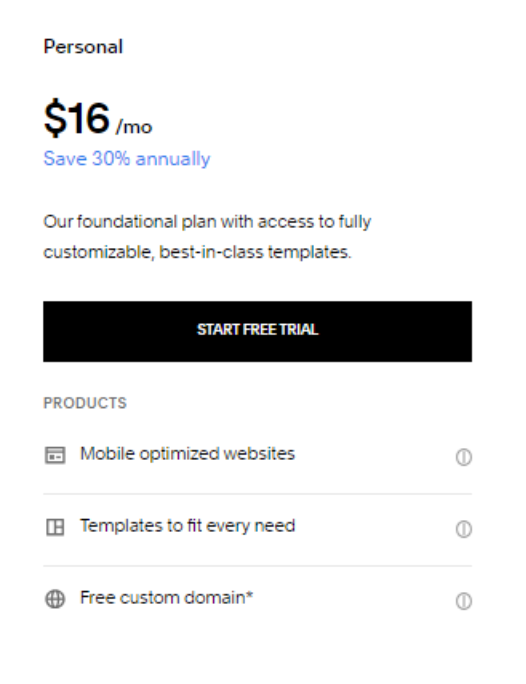 However, it's important to note that the Personal plan doesn't include advanced e-commerce features, which may limit its suitability for those looking to sell products online.
Key Features
Unlimited bandwidth and storage
Free custom domain
SSL security
Two contributors
Website metrics
Cons
Limited to two contributors
No advanced e-commerce functionality
Squarespace Business Plan -$23/Month
Designed with small businesses and entrepreneurs in mind, the Business plan provides a comprehensive suite of advanced tools to enhance your online presence. It includes everything from the Personal plan and steps it up with a host of high-functionality features. 
With Squarespace's business plan, you can enjoy unlimited contributors, dig into advanced website metrics, and communicate professionally with an email service from Google.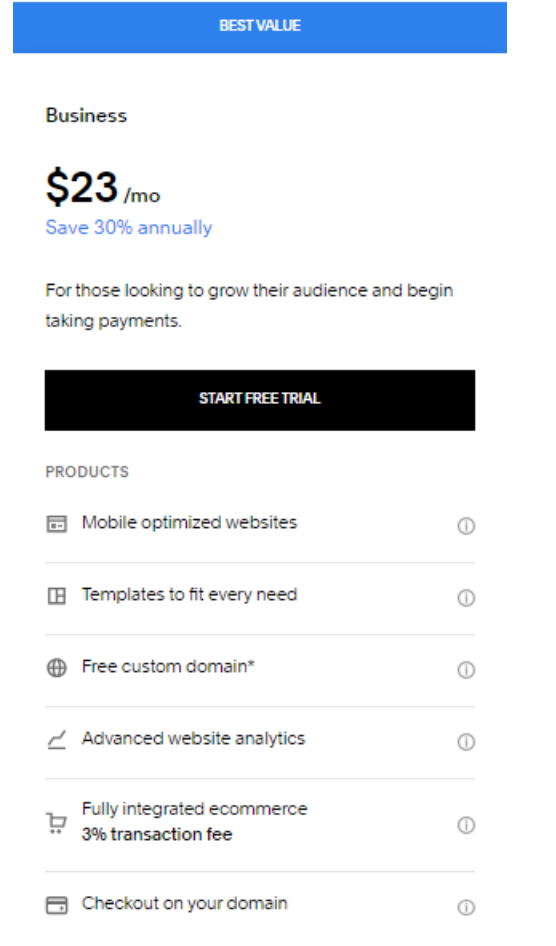 To jump-start your marketing efforts, it even offers new users a $500 Google Ads credit. However, it must be noted that all sales through the Business plan are subject to a 3% transaction fee.
This makes the plan more suited to businesses making occasional product sales rather than regular online stores.
Key Features
Unlimited contributors
Advanced website metrics
Professional email from Google
$500 Google Ads credit
Promotional pop-ups
Cons
3% transaction fee on sales
Limited access to advanced e-commerce features
Squarespace Basic Commerce Plan -$27.Month
Designed for full-scale online stores, the Basic Commerce plan offers all Business plan features and adds specialized e-commerce tools. It lets you sell unlimited products without transaction fees and offers gift cards, powerful commerce metrics, and mobile-optimized checkout.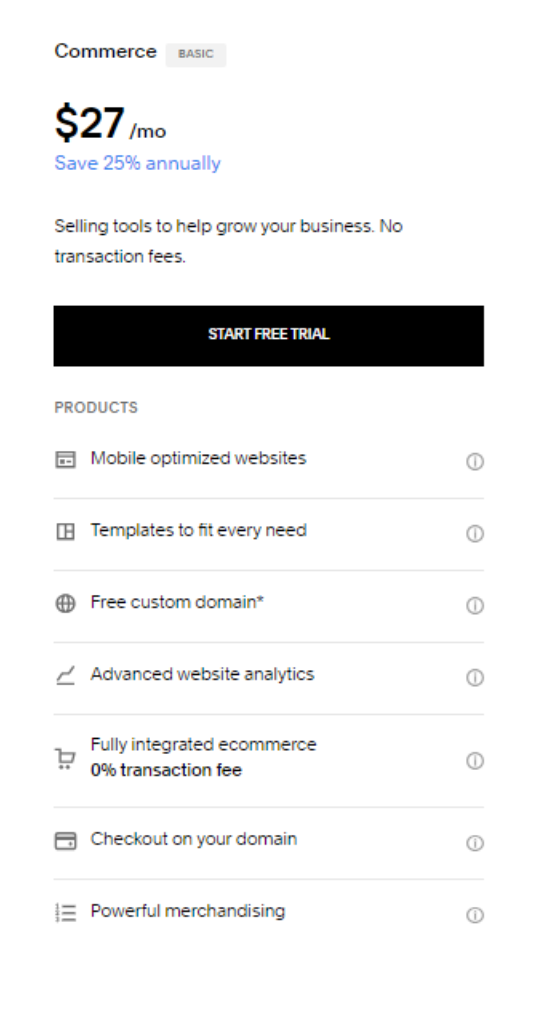 Squarespace's Commerce plan's integrated accounting and customer accounts streamline your operations and product listing. In this plan, you can also list your products on Instagram and increase the visibility of your website. However, it doesn't provide advanced shipping options and certain marketing tools.
Key Features
Sell unlimited products
No transaction fees
Gift cards
Powerful commerce metrics
Mobile-optimized checkout
Cons
Limited availability of advanced shipping options
Some marketing tools not included
Squarespace Advanced Commerce Plan -$49/month
The Advanced Commerce plan is Squarespace's top-tier offering, enhancing the Basic Commerce plan with additional sales-boosting features. It provides subscriptions, abandoned cart recovery, advanced shipping, flexible discounts, and Orders API access for sophisticated e-commerce needs.
These tools foster customer engagement and enrich the online shopping experience. However, compared to dedicated platforms, its higher price point and potential limits on marketing tools are worth considering.
Key Features
All features of the Basic Commerce plan
Subscriptions
Abandoned cart auto-recovery
Advanced shipping options
Flexible discounts
Cons
Higher price point compared to other plans
Limited availability of certain marketing tools
Also Read: Check our working Squarespace promo code and get upto 50% Off here.
Comparison Table Of Squarespace Pricing Plans
Here is a detailed comparison table of Squarespace pricing plans. This highlights the difference between the plans offered by Squarespace. However, if you have very specific needs, you can also request customized plans from Squarespace.
| | | | | |
| --- | --- | --- | --- | --- |
| Features | Personal | Business | Basic Commerce | Advanced Commerce |
| Pricing | $16 per month | $23 per month | $27 per month | $49 per month |
| Mobile-Friendly Sites | Yes | Yes | Yes | Yes |
| Versatile Templates | Yes | Yes | Yes | Yes |
| Complimentary Domain | Yes | Yes | Yes | Yes |
| Detailed Site Analytics | No | Yes | Yes | Yes |
| E-commerce Integration | No | Yes | Yes | Yes |
| No Transaction Fees | No | Yes | Yes | Yes |
| Domain-Based Checkout | No | Yes | Yes | Yes |
| Effective Merchandising | No | No | Yes | Yes |
| Advanced Shipping | No | No | No | Yes |
| Flexible Discounts | No | No | No | Yes |
| Subscription Sales | No | No | No | Yes |
Which Squarespace Plan Is Right For You?
Choosing the right Squarespace plan depends on your unique needs. Here is a breakdown of the plans that can help you pick the best Squarespace.
Personal Plan: Perfect for individuals or hobbyists looking to create a simple website or blog. For example, a personal blog or portfolio site.
Business Plan: Ideal for small businesses or solo entrepreneurs who need more advanced features and analytics but have limited e-commerce needs. For example, a local bakery that wants to showcase its products and occasionally sell merchandise.
Basic Commerce Plan: Suited for businesses that are primarily focused on online sales and need more advanced e-commerce tools. For example, a small online clothing store.
Advanced Commerce Plan: Designed for larger online stores that require comprehensive e-commerce tools and features. For example, a large online retailer with a wide range of products and high sales volume.
Related Read:
Wrapping Up! Squarespace Pricing (2023)
Squarespace is a platform that can streamline your experience of building a website. It can make it much easier for you to customize your website and make it as interactive as possible.
Even though Squarespace offers everything in a single package, its price is fairly justifiable, especially for personal plans. But if you are looking out to use Squarespace for commercial use, it ensures that its higher-paid plans provide you with everything you need to build a scalable website.
FAQs On Squarespace
Which is the best Squarespace plan for a personal blog?
For a personal blog, the best Squarespace plan would be the Personal plan at $16 per month. It offers essential features, beautiful templates, and 24/7 customer support without unnecessary extras.
Is Squarespace free to use?
Squarespace is not completely free to use. While they offer a 14-day free trial to explore their features, after that period, you will need to select and subscribe to one of their paid plans to continue using their services.
Is Squarespace worth the money?
Absolutely! In 2023, we've found that it takes a lot of work to beat the value offered by Squarespace. It has fantastic features, and even its most affordable plan provides unlimited storage and bandwidth.
How can you cancel a Squarespace Subscription?
Log in to your Squarespace account
Navigate to the Account & Billing section
Select the subscription you want to cancel
Click on "Cancel Subscription" and confirm
Remember to double-check and ensure that your subscription has been successfully canceled after completing these steps.
Is there a discount available on Squarespace?
Yes, by choosing the annual billing option, you can potentially reduce expenses and enjoy a discounted rate compared to paying on a monthly basis.
Latest posts by Shally Rose
(see all)