Teachable is undoubtedly one of the most popular course builders you can find on the internet. It offers incredibly flexible features to create courses, bundles, and memberships. The built-in marketing and eCommerce features make promoting and selling those courses extremely easy.
Teachable is indeed one of the top choices of experts and instructors. But if you are looking for all-in-one solutions such as community forums, LMS, or training to scale your business, you might want to look for an alternative.
In this post, I am going to list the top 9 Teachable alternatives for entrepreneurs and course creation creators. I have also included the key features, drawbacks, and starting price, so you easily compare all the platforms before investing your money.
Let's get started.
| | | | |
| --- | --- | --- | --- |
| Sr. No. | Teachable Alternatives | Starting Price | Key Feature |
| 1. | Podia | $39/month | The best all-in-one platform |
| 2. | Teachery | $49/month | Best platform for beginners |
| 3. | Learnyst | $49/month | Offers best security features |
| 4. | Thinkific | $49/month | Best for larger student enrollment |
| 5. | Skillshare | $0 | Best for creative-type sellers |
| 6. | LearnWorlds | $29/month | Best for large teams |
| 7. | Kajabi | $149/month | Offers the best marketing features |
| 8. | LearnDash | $199/year | Ideal platform for WordPress |
| 9. | Udemy | $0 | Best in revenue sharing |
9+ Best Teachable Alternatives (2022)
Here's my list of Teachable alternatives for course creators.
1. Podia
Podia might be a new platform in the market, but it has quickly established itself as a decorated course creation platform and has become one of the best Teachable alternatives. It is an all-in-one platform for creators where they can create a website and sell online courses, digital downloads, coaching, memberships, communities, and webinars.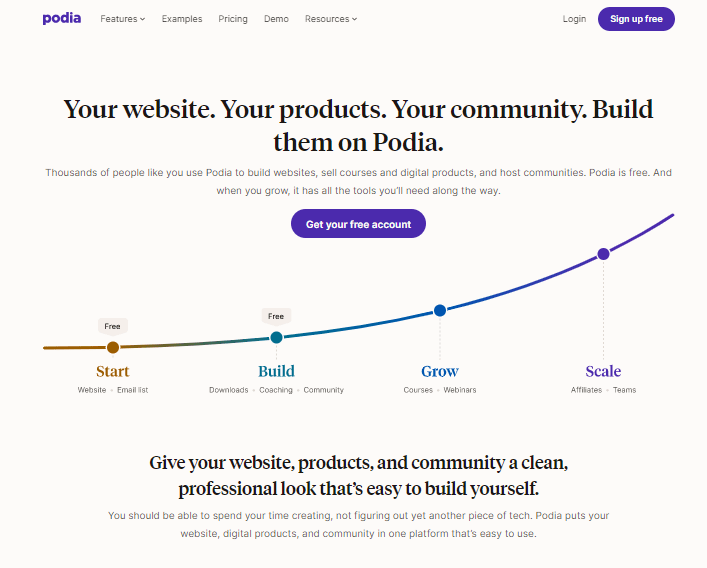 With Podia, you can create a wide range of content under one digital storefront. Podia also stands out from Teachable in terms of marketing and live-chat features, a crucial aspect of connecting with your audience.
Like Teachable, it offers affordable plans to its users. It also has a free plan that lets you use all its features for free and charges just 8% transaction fees, whereas Teachable's free plan charges 10%+$1 as transaction fees. However, both platforms allow you to create unlimited courses.
Key Features of Podia
Simple and intuitive user interface
Eye-catching course player
The live-chat feature increases brand interactions
Membership features for better student engagement
Free site migration included
No transaction fees
User-centric customer support
Drawbacks
No quizzes or certificates
No website building features
Starting Price: $39/month
2. Teachery
Teachery is known for being one of the best course creation platforms for beginners. The platform prioritizes such features that don't need you to be tech savvy to use. There is no limitation on creating a course. And you can also have as many students as you want.
Teachery gives you complete control over its course style editor, so you are free to add the tiniest details to your course, such as buttons, sub-lesson colors, background colors, borders, etc. You can customize it thoroughly to make it feel exactly how your brand should look. However, Teachery is a complete white-label platform, so they don't have a library of customized courses.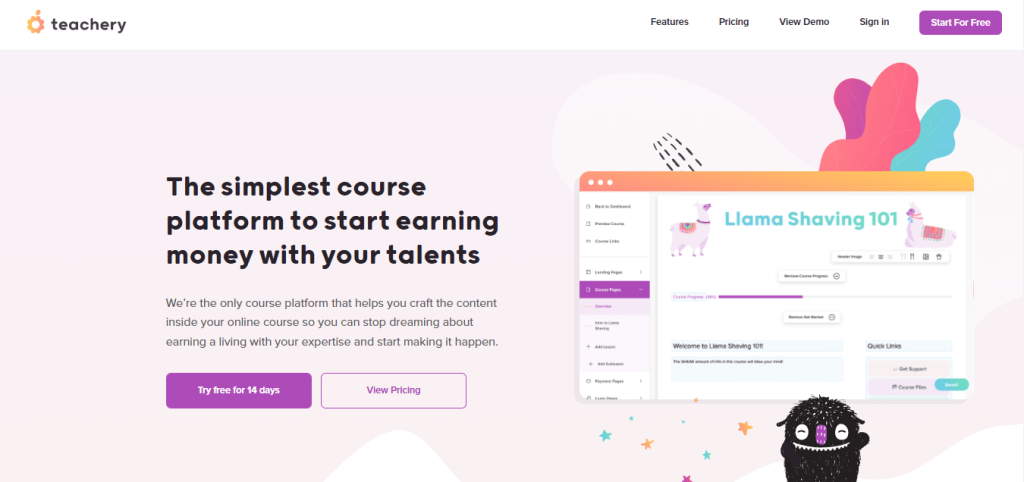 Unlike Teachable, Teachery doesn't charge any transaction fees with any of its plans. However, it doesn't have a mobile app, so that you won't have access to your account remotely. Teachery also won't let you create quizzes for your students.
Key Features of Teachery
Unlimited courses, students, and lessons
Intuitive course editor
Allows you to create course bundles and memberships
White-label course creation platform
Create landing pages and sales pages to promote your courses
Email marketing integrations
14-day free trial
Drawbacks
No mobile app
Offers only two standard templates for course creation
Starting Price: $49/month
3. Learnyst
If you're looking for a course creation platform that offers the best security features, there is no better option than Learnyst. The platform features an elegant interface with plenty of branding options. Using Learnyst's user-friendly system, you can create online courses and bundles, create mock tests and customize website templates to give your website the most delicate look.
The intuitive course player comes with various media options that allow you to create lessons in text, video, and audio formats. Apart from that, you get Zapier integration that allows you to add applications for different purposes.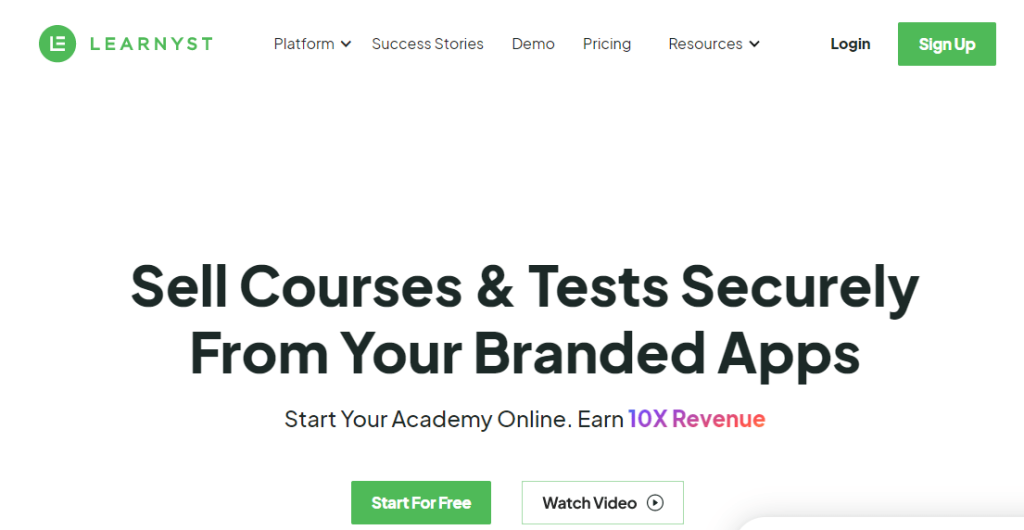 Another unique feature of Learnyst is its custom-designed app. With its premium plan, you will be able to create a custom app where you can add all courses and essentials of your institution for enrolled students. And also, there are no transaction fees.
Key Features of Learnyst
Industry-level security measures
Screen capture restrictions
A plethora of integrations via Zapier
No transaction fees
DRM encryption prevents users from downloading content illegally
Email updates and analysis
Custom mobile app
Drawbacks
Steep learning curve
Expensive add-ons
Starting Price: $49/month
4. Thinkific
If you are running an institute with a large number of students, Thinkific is the first platform that comes to mind. The well-known LMS platform is packed with powerful features such as community forums, personalized assignments, and advanced quizzes.
Apart from usual course creation features, Thinkific overlaps Teachable by offering text quizzes, PDFs, and eBooks. It also allows you to drop your content over time so you can build a custom site for your institution or education brand. The platform charges no transaction fees, and its free plan gives you the liberty to host a decent amount of courses.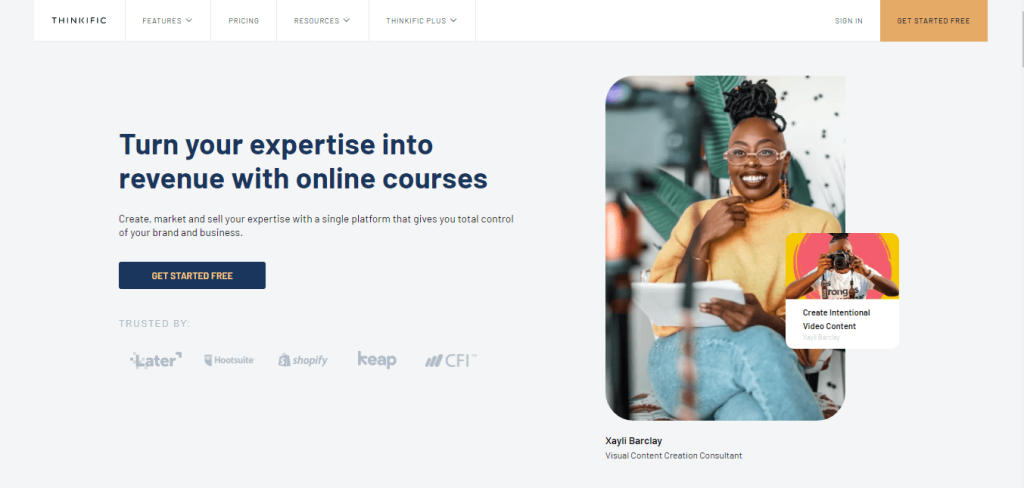 In terms of the user interface, Thinkific and Teachable are pretty much the same. However, Thikific lacks crucial features like funnel builder and email marketing.
Key Features of Thinkific
It supports both small and large institutions
Course compliance features with decent security measures
A standalone community for better student engagement
Powerful website and landing page builder
No transaction fees
A free forever plan is included
Fast and easy payouts
Drawbacks
No live chat support
Limited checkout options
Starting Price: $49/month
As the name says, Skillshare is a unique platform for the creative type of course creators. It is an online learning and course creation platform that allows selling courses in various fields. Rather than traditional lectures, the platform focuses on collaborative culture, which makes it the top choice for instructors and tutors who want more interactions with their students.
Skillshare runs its platform on a revenue-sharing business model allowing users to create a non-ending revenue stream. Skillshare supports many categories such as video, animation, graphic design, illustration, freelance, fine arts, and many more as a platform for creative individuals.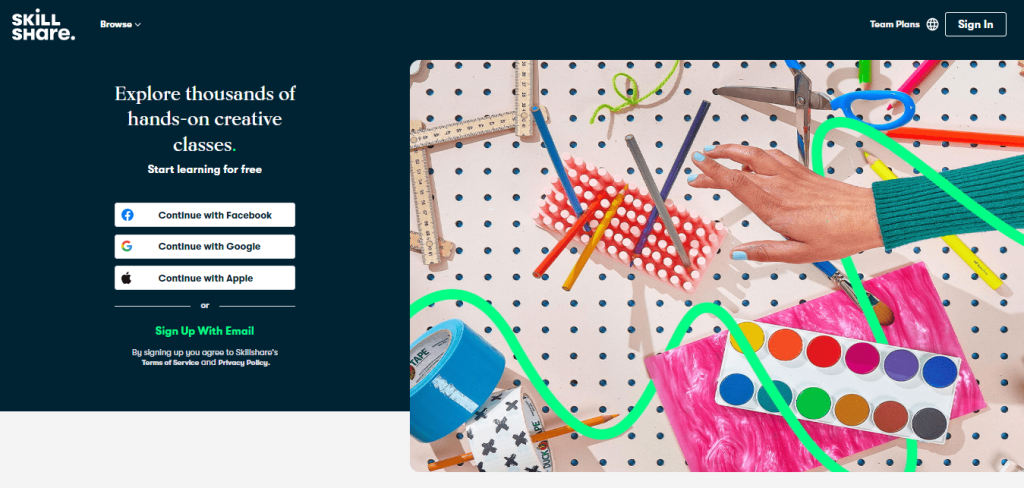 You may find a massive list for course creation, but you have to follow strict guidelines. You have to stay within the rules when using topics like illustration, photography, and graphic design. Apart from that, it is an excellent Teachable alternative that lets you set up your website without worrying about promotion or marketing.
Key Features of Skillshare
Access to a vast Skillshare audience
Built for creative type instructors
No technical knowledge required
Revenue sharing platform
Free to use – no subscription required
Video tutorials for editing support
Multiple opportunities for both teachers and students
Drawbacks
Video-based courses only
Several restrictions with topics
Pricing: $0
6. LearnWorlds
LearnWorlds is a great platform for larger businesses and teams. It is a robust course creation platform with LMS features. The platform is suitable for both advanced and entry-level instructors. Now, educators can increase their experience by combining the power of LMS and modern eCommerce features.
LearnWorlds offers white-label services, so it is fully customizable. You can use its convenient solutions to educate students and train your own employees as well. It offers you collaboration features and an uptime guarantee. The custom-based service of LearnWorlds provides you with a team of specialists who take responsibility for handling your entire course content.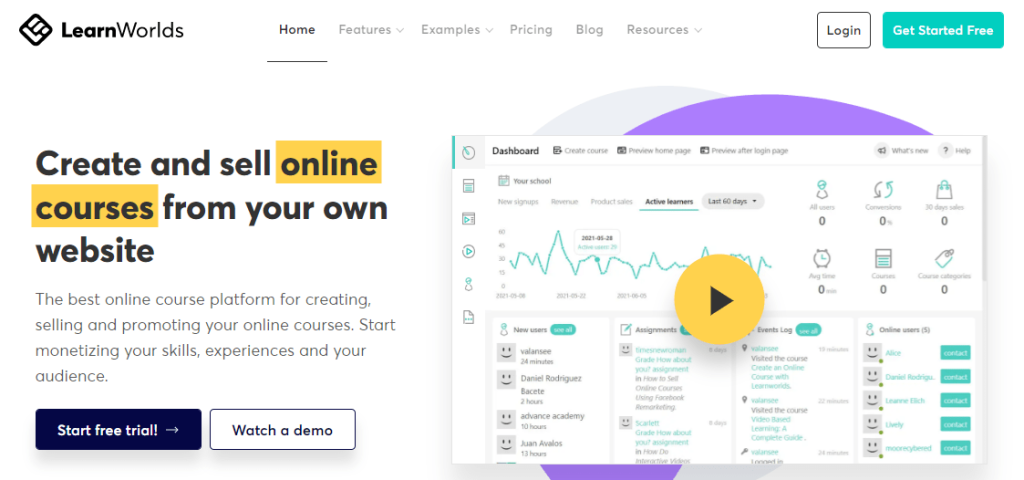 The significant difference between Teachable and LearnWorlds is their quality of services. Teachable is suitable for simple learners and instructors, while LearnWorlds excels in learning and marketing experience by offering a sophisticated system.
Key Features of LearnWorlds
Offers best white-label solutions
99.9% uptime guarantee
Custom services for large teams
Streamline your workflow with custom user roles
Data-driven reports and insights
Fully functional mobile app
30-day risk-free trial
Drawbacks
Charges a $5 fee per course with the Starter plan
Steep learning curve due to complex features
Starting Price: $29/month
7. Kajabi
Kajabi is known for offering genuine, all-in-one solutions to course creators. With this platform, you can create various types of courses and bundles and run memberships. Basically, it is a complex Teachable alternative that comes with the best built-in marketing features.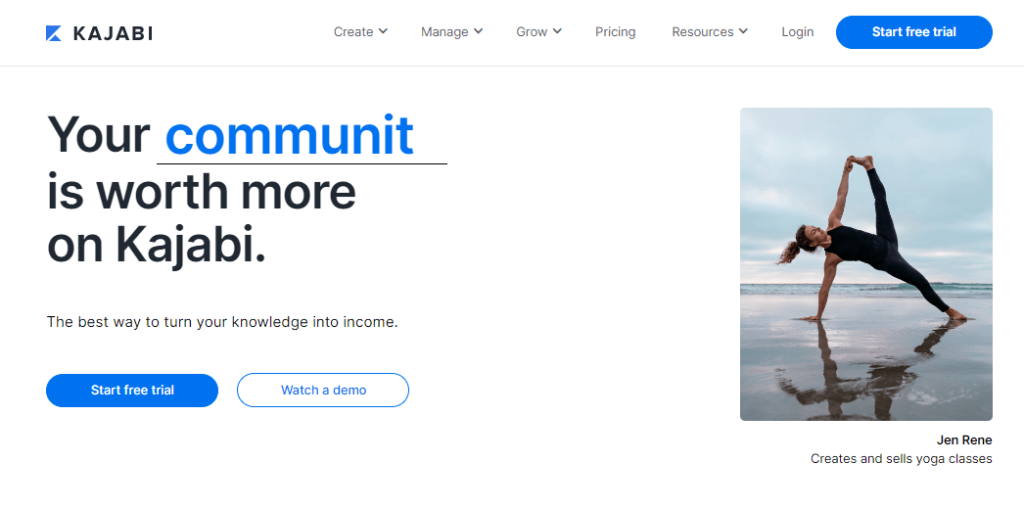 Sales and marketing tools are what make Kajabi different from others. With a single Kajabi subscription, you get access to email campaigns, weekly updates, pipeline builder, etc. The marketing landing pages of Kajabi are optimized to sell exclusive windows or create email waitlists for purchase.
Compared to other platforms, Kajabi is the most expensive platform and comes with several limitations making it difficult for beginners and entrepreneurs to start with.
Key Features of Kajabi
All-in-one solution for various course creation
The best in-built marketing solutions
Customizable themes
Website and blog functionality
High-converting sales funnels
Fully responsive mobile app
No transaction fees
Drawbacks
Plans are pretty expensive
Limitations in course creation
Starting Price: $149/month
8. LearnDash
LearnDash is a unique Teachable alternative that allows WordPress users to integrate it into their website. With LearnDash, you will be able to create online courses on hosted websites on WordPress. LearnDash also enables you to create drip content and multi-level courses for enrolled students.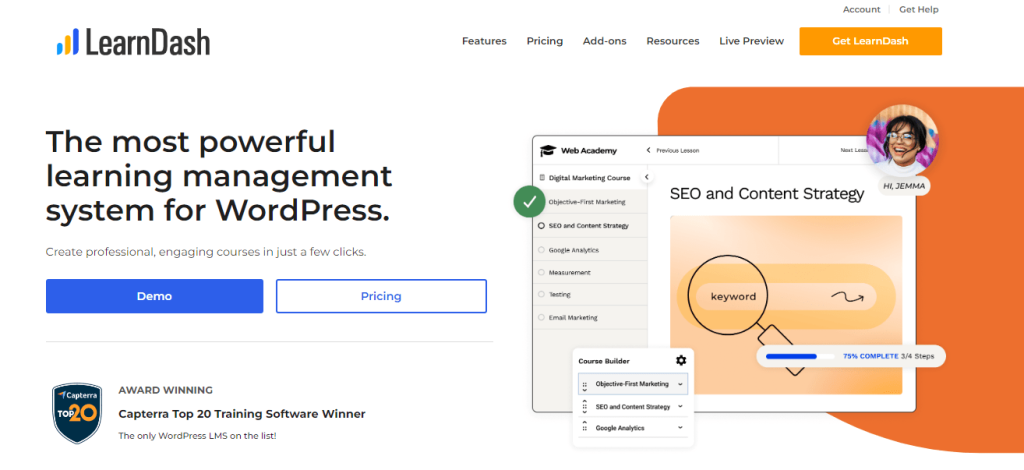 Thanks to WordPress's open nature, LearnDash offers you flexibility with a course creation module. Within this environment, you are free to create a custom LMS (Learning Management System) for your students and yourself.
LearnDash is one of those websites that offers a legitimate certificate after completion of the course. You can also integrate add-ons and third-party applications to customize your website to the finest ends.
Key Features of LearnDash
Offers onboarding wizard for beginners
Flexible course creation modules
Access to a plethora of plugins
Access to sales funnels and marketing tools
Certificate, quizzes, and badges included
Course protection and drip-feed lessons
15-day money-back guarantee
Drawbacks
Technical knowledge required
Limited customer support
Starting Price: $199/year and $29/month (for LearnDash Cloud)
9. Udemy
Like Skillshare, Udemy is also a revenue-sharing course creation platform, but it offers much better commissions and quick payouts. The platform features a different approach to online learning than Teachable. Udemy provides access to a pre-existing community and marketplace, so you don't necessarily have to roam around marketing your products.
Udemy is a great platform for beginners who have just started their businesses. Because you will list your content on an active community that is more likely to find customers instantly. Udemy is free for course creators, and you will be selling your courses under its brand, so you'll be able to drive attention to your online presence, but you will have to share half of the revenue with the company.

Unlike other course creation platforms, it is less restrictive, which means you can offer downloadable files to your members. The only downside is its revenue sharing. If you sell courses through your links, you will keep 97% of the revenue, or if you trade under their name, you will only get 37% which is a significant amount to give up. This is the main reason why I am putting it last on this list.
Key Features of Udemy
Access to a huge pre-existing marketplace
Best for beginners and freelancers
No monthly fees or additional costs
No technical knowledge required
A user-friendly course-creation module
Video feedback options
No marketing required
Drawbacks
Features are extremely limited
No control over branding
Pricing: $0
Conclusion: Best Teachable Alternatives (2022)
This is my best-handpicked list of Teachable alternatives, which is a mixed list for various purposes. Teachable is one of the best online learning and course creation platforms, but it lacks features in many aspects, which makes it only a feasible option. It also charges hefty transaction fees with free and paid plans, which can be a massive cut in your revenue stream. You can find many other cost-effective options for your institution or business in this list.
Podia and Thinkific are my top recommendations if you are looking for an all-in-one solution at similar pricing structures as Teachable. However, the list contains many other options for different perspectives and businesses. So, it is up to you which one to go with.