With the rising popularity of online shopping, many eCommerce platforms and marketplaces came into existence in the past few years. In this competitive era, two budget-friendly online marketplaces also joined the forces – Temu and Wish.
Wish was established a long time ago, while Temu stormed the shopping industry in 2022. However, both platforms offer an array of product selections and huge discounts on products which makes it a promising platform to source products for reselling. 
In this article, I will compare both Temu and Wish side by side. Read on to discover which of these shopping platforms delivers the optimal combination of low cost, good product quality, and customer service. 
Let's get started.
Temu vs Wish: Quick Comparison
Before diving into an in-depth analysis, here is a quick overview of the key similarities and differences between Temu and Wish:
Origins: Both Temu and Wish source most of their products from China and act as intermediaries between sellers and buyers.
Customer Base: Since Temu started last year, they have a customer base of 100 million buyers. Wish is serving since 2010 with a sturdy customer base of 600 million.
Product range: Temu and Wish offer an extensive range of affordable products across categories like fashion, home, electronics, and more. However, Temu seems to have a wider selection.
Prices: Known for rock bottom prices, with discounts up to 90% off. Temu tends to offer lower prices overall. You can also get exclusive discounts on first purchases and occasions on Wish as well.
Shipping: Temu takes 1 to 4 weeks to ship orders, while Wish offers faster shipping solutions. On Temu, you can also get your products shipped faster at an additional cost.
Returns: Temu has a more generous 90-day return window compared to Wish's 30 days.
Product quality: Quality can be hit or miss on both, but Temu appears to have better quality control.
Temu vs Wish: In A Nutshell
Let's know about the history of both platforms.
Temu Overview
Launched in September 2022, Temu is an online marketplace owned by Chinese commerce giant PDD Holdings. It soon gained popularity in the US market by offering rock-bottom prices on a wide range of products.
Temu sources goods directly from Chinese manufacturers and passes on the savings to consumers. It aims to provide an enjoyable user experience via its well-designed interface.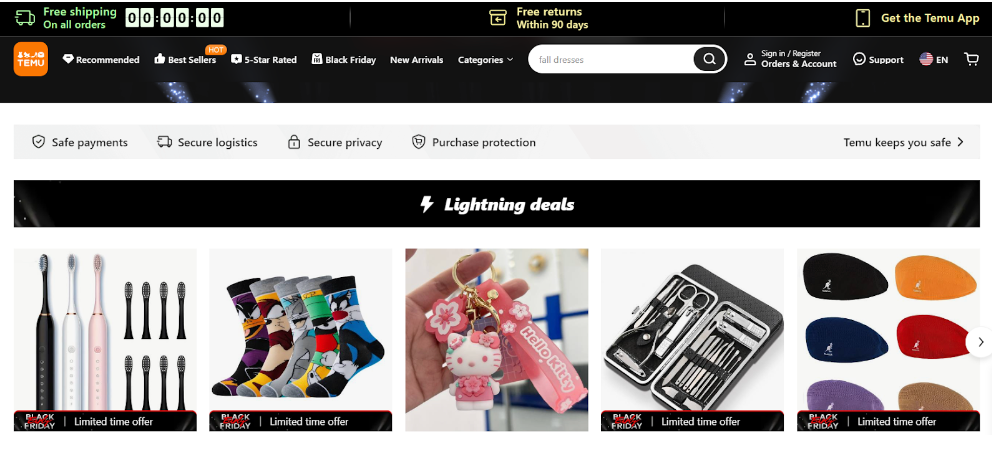 Despite accusations of poor-quality merchandise and spammy ads, Temu has won over many bargain shoppers. In a span of a year, the platform surpassed over 100 million users, making it one of the fastest-growing marketplaces in the US.
Read the complete Temu review to know every single detail of this shopping platform.
Wish Overview
Operating since 2010, Wish is one of the pioneers in the budget online shopping space. It connects more than 600 million buyers to merchants in China and other countries where manufacturing costs are low.
The platform offers deep discounts by cutting out middlemen and shipping directly from warehouses. Customers can get a steep discount of 80-90% on various sales. New users can also get a special discount of 15% on their first orders.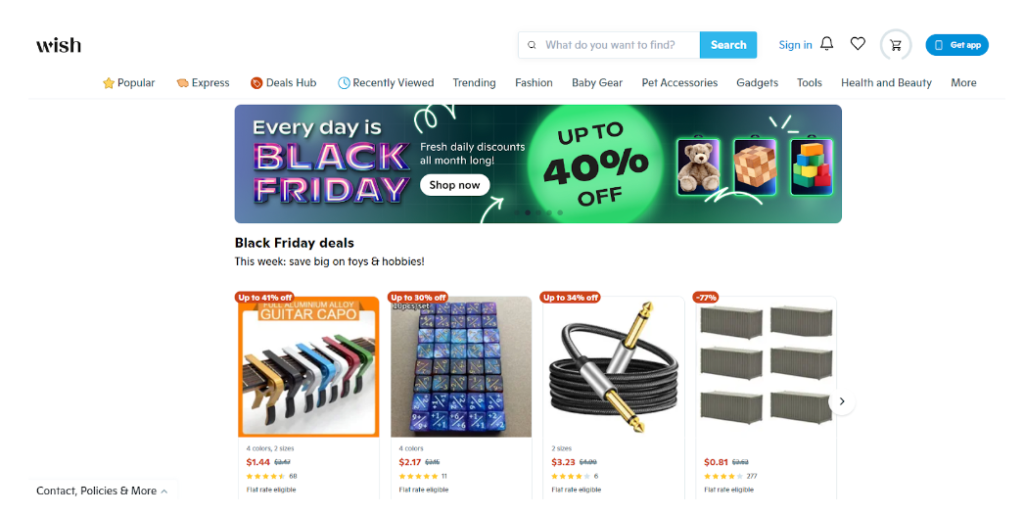 However, Wish has received some backlash regarding shipping times, fees, and product quality. But it still remains popular, especially among Gen Z and millennials looking for good deals.
Temu vs Wish: Features Comparison
Now let's dive deeper into comparing Temu and Wish across some key features:
1. Ease Of Use
Temu has a clean, modern-looking interface that makes browsing intuitive. Products are organized into categories with eye-catching photos. The homepage and product pages are uncluttered. Useful filters allow for narrowing down searches effectively.
Wish has a more basic interface. Products seem randomly grouped rather than sorted into clear categories. The homepage can feel overwhelming, with items displayed in a never-ending grid. Finding specific products involves scrolling extensively or using the search bar.
Winner: Temu offers a smoother, less cluttered shopping experience through better product organization, attractive visuals, and smart search filters.
2. Product Range
Both Temu and Wish offer an incredibly vast range of products – from clothing to electronics, home items, accessories, and more. However, Temu's catalog spans over 100 million items across more defined categories, exceeding Wish's product selection.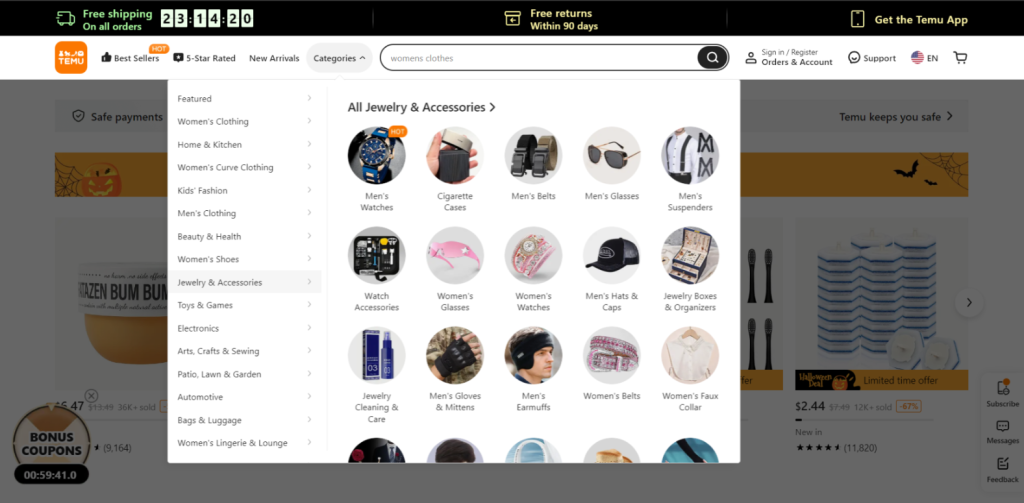 For instance, Temu has a wider assortment of niche items like automotive accessories that are harder to come by on Wish. Those looking for greater variety and one-stop shopping are better served by Temu.
Winner: Temu provides a larger selection of products, while Wish's selection can feel repetitive, with multiple sellers offering similar items.
3. Product Quality
Assessing product quality on marketplaces like Temu and Wish can be tricky, given the multitude of sellers. However, Temu seems to have better quality control based on customer reviews praising items ordered.
Wish reviews are more mixed when it comes to product quality – there are numerous complaints of receiving defective, flimsy, or knockoff products. Temu's advantage likely comes from having a more robust vetting process for sellers.
The only best thing about both platforms is most of the sellers are vetted through a strict process. So, you can check their profile before purchasing a bulk order.
Winner: Temu offers a greater probability of receiving satisfactory quality items compared to the higher risk on Wish.
4. Pricing
Both platforms promote themselves as offering the lowest prices, but Temu manages to undercut Wish on pricing for many identical items.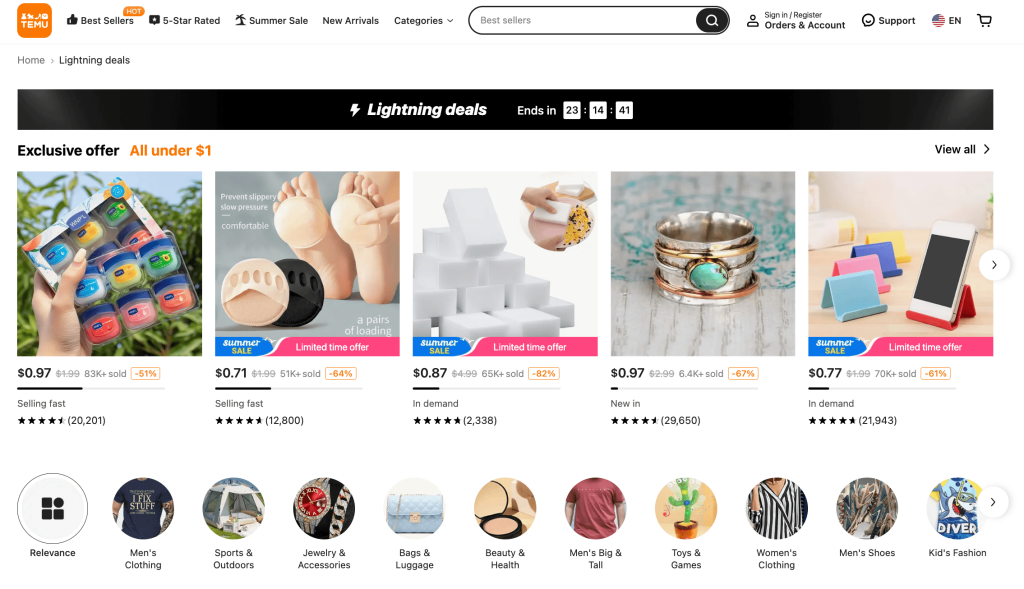 For example, a trendy phone case costs $5.99 on Wish versus just $3.14 on Temu. Lower overheads and direct Chinese supply chains give Temu room to offer greater discounts.
Winner: Temu consistently delivers the rock-bottom prices it advertises, beating out Wish.
5. Shipping
Shipping on Temu takes around 1 to 4 weeks, depending on the location. You can also opt for faster shipping options by spending additional bucks. On the other hand, Wish's shipping depends on the listed product and chosen shipping method.
Temu also provides more shipping transparency with accurate delivery estimates and tracking information for every order. Wish shipments can feel like a black box with no tracking provided in most cases.
Winner: Tied. Temu offers more transparent shipping from domestic warehouses, while Wish's shipping can be hit or miss. Luckily both offer customized solutions for faster shi[[ing.
6. Payment Methods
Both Temu and Wish accept major credit cards, PayPal, Apple Pay, and Google Pay. Temu additionally supports payment through Cash App, Klarna, Afterpay, and Affirm – allowing greater flexibility to pay in installments.
Winner: Tie
7. Discount & Sales Events
Temu provides steeper sitewide discounts for holidays along with daily flash sales and free shipping offers. New users get $20 off their first order without minimum spend.
Wish also has holiday sales and promotions but discounts capped at 15% off for new shoppers. Its everyday pricing isn't as low as Temu's. On top of that, Temu is offering pre Black Friday sale where you can get wholesale products at cut-rate prices starting from $0.39.
Winner: Temu offers better discounting and sales events overall compared to Wish.
8. Returns
Temu has a generous 90-day return policy with the ability to initiate returns online, print a prepaid label, and get refunds in as little as 5 days.
Wish offers returns within 30 days, but the process has to be initiated by contacting customer service, and it can take up to a month to get refunds.
Winner: Temu has a hassle-free return process compared to Wish's complicated and slower system.
9. Customer Service
Wish provides very minimal customer service through email only. Response times are slow at 1-2 days from the support team. Mostly, they rely on live chat, but human response can take time.
Temu offers customer service through live chat, phone, and email. Users report much quicker and more satisfying responses compared to Wish.
Winner: Temu delivers vastly superior customer support across more channels, while Wish mostly relies on a chat system.
Pros & Cons of Temu and Wish
When purchasing from marketplaces like Temu and Wish, it is important to know their pros and cons. Let's take a look at them:
Pros of Temu:
Millions of product selection
Super low prices
Faster shipping solutions with warehouses across the US
90-day return policy
Free shipping options
Exclusive sales events on various occasions
Cons of Temu:
Quality control issues reported
Some fraudulent sellers and counterfeit items
Pros of Wish:
Huge product categories 
Discounts on occasions and first-time buyers
User reward systems for members
Catered recommendations based on your browsing history
Wholesale pricing
Cons of Wish:
High prices compared to Temu
Poor return policy and customer service
More On Temu:
Final Verdict: Which One Is Better?
In the battle between these two budget-friendly marketplaces, Temu proves to be the winner in most aspects that consumers care about.
While Wish used to dominate the online bargain shopping space, Temu now surpasses it when considering pricing, product selection, shipping speed, quality, and customer experience.
However, Wish still occupies a niche with its treasure-hunt shopping experience and quick finds. As long as expectations are managed regarding ship times and inconsistent quality, Wish can be the choice for deal-focused shoppers who aren't in a hurry.
But for most mainstream consumers looking to save money on reliable quality purchases, Temu is currently the better bet thanks to its user-friendly platform, broader catalog, and enhanced customer protections.
Latest posts by Shally Rose
(see all)