Have you ever dreamed of starting an affiliate website but don't know where to start? Luckily, there are hundreds of platforms that can provide you necessary tools and resources to create a professional affiliate website. And Wealthy Affiliate is one of them!
Wealthy Affiliate is an all-in-one platform and training program that helps individuals build a successful online business. The course helps you learn the basics of making money online through affiliate marketing.
After spending hours researching, I discovered some unknown facts about this training program. So, I have done an unbiased review of the Wealthy Affiliate Program. The review includes all the information you need to know about the Wealthy Affiliate program.
So, let's dive right into this review.
What Exactly Is Affiliate Marketing?
In simple words, affiliate marketing is the process of promoting other businesses' products or services in return for a fixed commission for each sale. When you visit a website, you see a heading marked as "sponsored post" or "affiliate link" sometimes. These headings indicate that this post contains affiliate links, and if you make a purchase through this link, the affiliate will earn a commission for successful sales.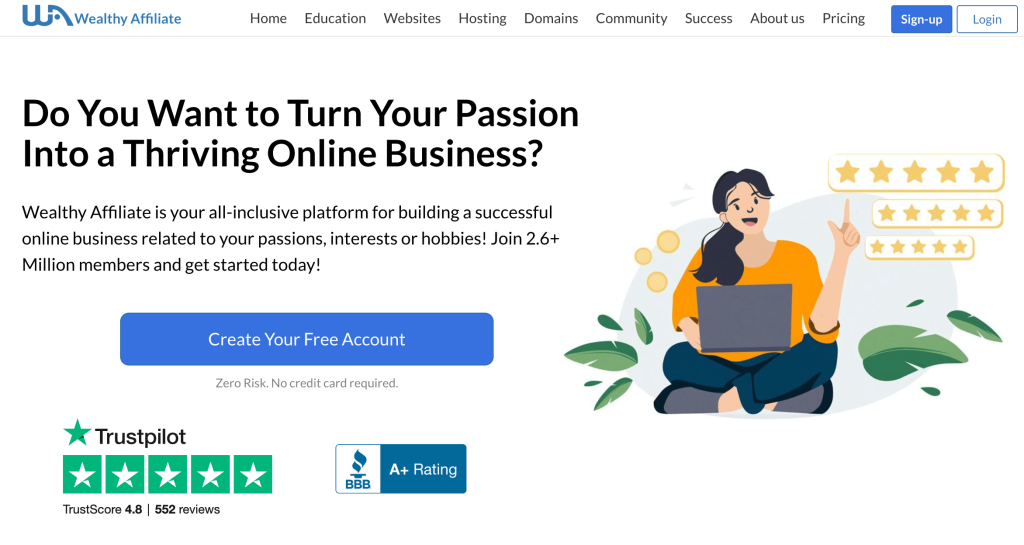 When you start an affiliate website, your first instinct is to find an affiliate network or program from where you can find affiliate links to promote their products. You can look for affiliate networks or individual companies that match your niche. If you find their commissions or offers appealing, you can register and choose the affiliate programs to promote on your website.
However, this whole process is more challenging than you think. But with Wealthy Affiliate, you learn all the basics of affiliate marketing and how to earn money with affiliate programs like a pro. But that's not it, you will get more than that.
What Is a Wealthy Affiliate?
Wealthy Affiliate is one of the most popular affiliate marketing courses that you can find on the internet. Apart from training and course, you will get a comprehensive set of tools and resources you need to create and grow a successful online business.
Started in 2005 by Carson Lim and Kyle Loudon with the intention of showing the world how to make easy money online, now more than 1.5 million students are enrolled in this course from across 195 countries. Essentially, WA is a community of like-minded individuals who are all working towards a common goal—to build an online business that helps them earn passive income.
WA's training program is the main center of attraction. Once you enroll in the course, you will get access to a step-by-step training program that covers all the aspects of online business, from choosing a niche to building a website, creating content, and driving traffic to your site. Additionally, the course will also help you search high-demand affiliate programs with commission affiliate links.
How Does Wealthy Affiliate Work?
The Wealthy Affiliate course follows a simple structure. After signing up for the course, you get access to the course and other tools. Then, you can follow these steps to get the most out of the Wealthy Affiliate: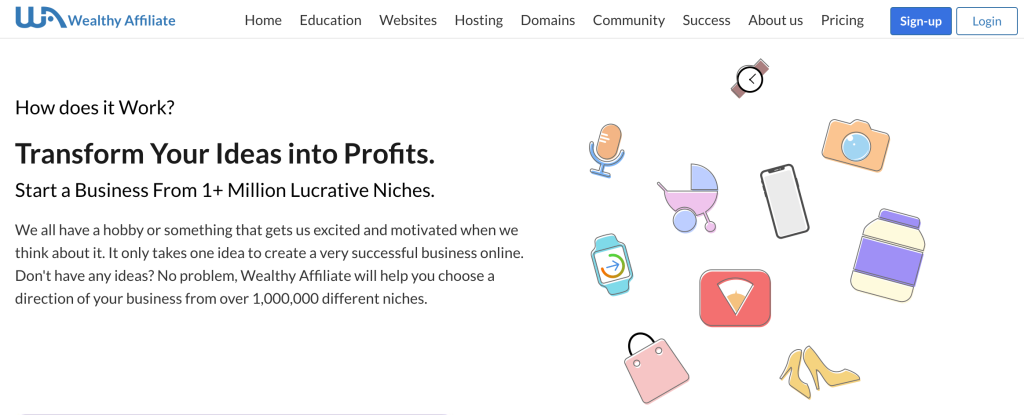 1. Choose an Interest: The first thing you need to do is pick a niche that matches your interest. This is the most crucial thing, as affiliate marketing runs on specific niches. For example, if you are interested in gaming, you can promote gaming products very easily rather than other products.
2. Build a Website: Once you choose your area of interest, WA will help you build a fully functional affiliate website based on your niche. Having your own website is important if you want to make money with affiliate marketing, as it is going to be the foundation of your business.
3. Attract Visitors: After creating your own website, the first thing you need to do is attract visitors to your website. Post your niche-related articles and blogs on your website and make an audience. WA will help you find keywords that you can use in your post and SEO to target your audience.
4. Promote and Make Money: Once your website starts getting frequent visitors, it is time to sign up for affiliate programs. You don't need to pay any kind of fee to join affiliate programs. Just sign up and pick a product or service's affiliate link and promote it on your website.
Each sale made through your link will get a commission according to the affiliate company's rate list. The goal of Wealthy Affiliate is to provide the right education and support to newbies so they can get started with affiliate marketing as soon as possible.
What Does Wealthy Affiliate Offer?
Now, let's have a look at the features and tools that Wealthy Affiliate offer to their users:
Website Builder and Hosting
Whether you subscribe to WA's free plan or paid plan, you will get access to a website builder and hosting service that allows you to create and host your website without any technical skills or knowledge.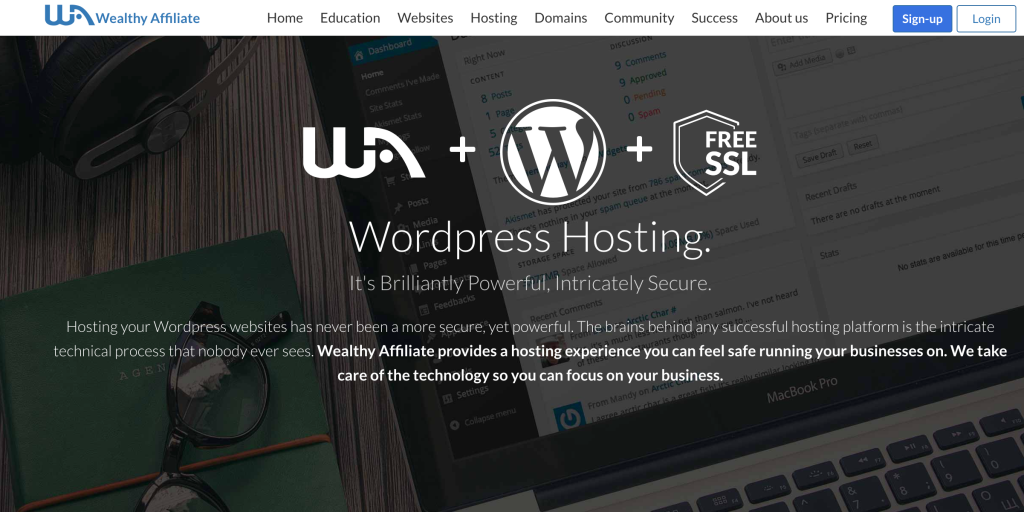 You will also get to choose from hundreds of templates and designs so you can build your website according to your business needs. The hosting service is fast and reliable, which ensures that your website is always up and running.
Domain Registration
WA also includes a domain registration service with its plans, allowing you to choose and register a domain name for your website. This service is included in the platform's premium membership, which we will discuss later in the article.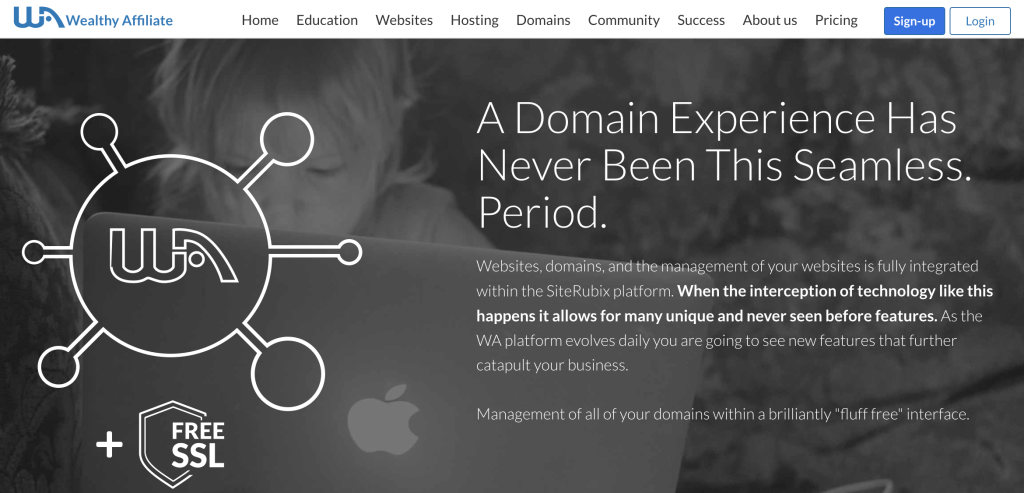 Affiliate Training
The main focus of Wealthy Affiliate is its training program known as Affiliate Bootcamp. It is a 10-chapter crash course that includes all about affiliate marketing. The course starts from the basics, so even beginners with no affiliate knowledge can start from scratch.
Keyword Research Tool
The platform also offers a keyword research tool that can help you find profitable keywords and niches for your online business. The tool allows you to search for keywords based on various criteria, such as search volume, relevancy, and competition.
Content Creation Tools
Once you build a fully-fledged website for affiliate marketing, you will need to start adding content, such as articles, blogs, reviews, and case studies, to your website. It can be a hectic task for anyone if you are a newbie.
Luckily, WA includes a range of content-creation tools that allows you to create high-quality content. You can also create video content and social media post using its tools.
Traffic Generation Tools
The most frustrating part of affiliate marketing is traffic generation. If you have done everything right, but your website doesn't generate traffic as you expected, you will not be able to make a single penny. But thanks to WA's traffic generation tools that help you drive traffic to your website.
The platform includes social media sharing, SEO tools, and email marketing tools, so you don't need to integrate expensive plugins to drive traffic to your website.
How To Make Money with Wealthy Affiliate?
The Wealthy Affiliate training program doesn't focus on a singular motive. Instead, it teaches you to make money in different ways. Here are the best three ways to make money using Wealthy Affiliate:
By Creating An Online Business
The first method of making money with the Wealthy Affiliate is obviously by creating your own website and running an online business. WA will help you create a website where you can promote products via affiliate links.
You can create a niche website or online store to sell or promote physical/digital products. This is the most viable option for making a stable revenue stream with Wealthy Affiliate. However, this method will require patience and time before your business starts making any income.
Via Wealthy Affiliate Referral Program
If you don't want to take stress finding an affiliate program to earn commissions, you can use the company's Referral Program to make a handsome income every month. Wealthy Affiliate's Referral Program works just like any other referral program. All you have to do is sign up for the program and invite new members to join Wealthy Affiliate. With every successful joining, you will earn a decent commission from the company.
The commission for new joinings via WA's referral program is different for free and premium memberships. If a person completes the registration for a free plan using your referral, you will earn $1 for every successful joining. You will make $8 for the same process, but the person must sign up for a premium plan.
By Creating Tutorials Or Training Videos On Wealthy Affiliate
The third feasible way to make online income with Wealthy Affiliate is by creating tutorials or training on the platform. The goal of Wealthy Affiliate is to provide its members create successful online businesses with decent earning sources. With so many different earning options available in the market, it is hard for WA to give solutions for every member with different business goals.
That's why Wealthy Affiliate offers monetary incentives to existing members who are willing to help new members with training or tutorials to meet their business goals. However, there are no fixed commission or incentive details on the website, as it totally depends on how many views or visits your tutorials gained over time.
Sneak Peek Into The Wealthy Affiliate Members Area
Now, you are curious about what WA's members' area looks like and what tools access you will get after subscribing. Here is a glimpse of Wealthy Affiliate's premium membership:
1. Online Entrepreneur Certification
This is the WA's main training program which contains 5 phases and over 50 lessons. With this program, you will learn the basics of affiliate marketing and how to create a website from scratch. The course follows a progressive structure. You will move to the next structure as soon as you complete the current lesson and specific tasks.
It is important to take this course seriously, and you can't fail this course by any means. If you fail this course, you might have to start all over again, and it will waste your time and potential income.
2. Affiliate Bootcamp
This is the second part of the WA training program. This module has 7 phases and 70 lessons that will teach you how to take your online business to the next level. Here you will also learn how you can use different marketing and advertising methods, such as SMM, PPC, and email marketing, to increase traffic on your website.
You can also access bonus content if you want to make online money using other methods.
3. Live Webinars
Every week, Wealthy Affiliate hosts live webinars covering a range of subjects related to different business models. The webinar is hosted by one of the platform's successful members, who also share secret strategies with newcomers so they imply them in their businesses.
These webinars are broadcasted live, so the platform already informs members of the exact time of the webinar. If you don't want to miss these crucial webinars, make sure you schedule before the live telecast.
4. Site Rubix
Wealthy Affiliate's website builder is powered by Site Rubix, which is a robust website builder. Site Rubix provides you with a reliable hosting service that hosts your website on powerful servers. This way, you don't have to look for third-party hosting services for hosting services.
Site Rubix also offers over 3000+ aesthetic templates, so you will not run out of options no matter what your niche is. The best part of Site Rubix is that you don't require any kind of technical or coding skills to build your website.
5. Wealthy Affiliate Community
With WA's premium membership, you will get access to its private community. It is one of the world's largest communities where you can interact with successful business owners from all around the world.
Here you can ask about your doubts and troubleshooting issues. The community will come up with valuable solutions so you don't have to wander around for your queries.
Pricing Plans Of Wealthy Affiliate Program
Currently, Wealthy Affiliate offers three plans to its users. You can choose according to your budget and business needs. Let's have a look at it: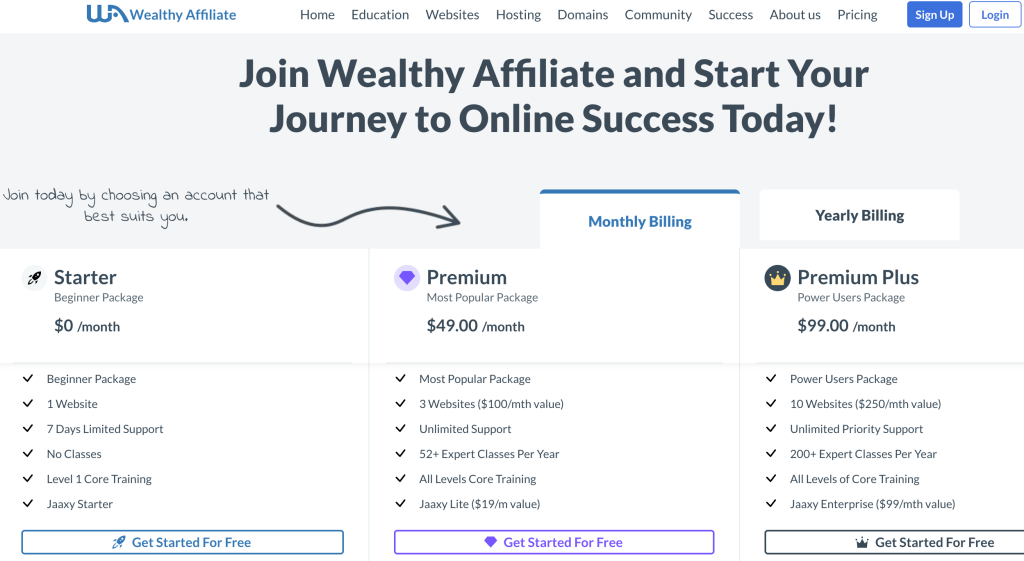 1. Free – $0
The free membership of Wealthy Affiliate offers you access to basic features, such as level 1 training and website building features. However, some features are very limited or not available, such as the keyword research tool and the hosting services.
2. Premium – $49/month
WA's Premium membership provides access to all the features and tools, including the keyword research tool, domain registration, and hosting services. The premium plan also provides full access to its training program, live webinars, and training sessions.
3. Premium Plus – $99/month
This is the ultimate plan of the Wealthy Affiliate that provides you advanced access to the tool and hosting packages worth $250 each month. Apart from that, the plan will help you get up to 1 million visits per month, which will help you increase the traffic and conversion rate of your website.
Unfortunately, the platform's premium packages have no money-back guarantee or free trial. If you are unsure about its services, try the free plan before investing in the premium one.
Is Wealthy Affiliate An MLM Scheme?
There's a huge misconception going on in the market about Wealthy Affiliate and its services. People say the company is running an MLM (Multi-level Marketing) scheme, which is undisclosed on its website. An MLM or pyramid scheme is a marketing strategy that creates a funnel or chain where the top of the chain receives a part of membership costs when new recruits join via referral.
Luckily, all these misconceptions are just rumors, and the company doesn't promote such types of marketing or pyramid scheme. However, the company does provide 2X commission to its premium members when they refer WA to new members and they subscribe to the free or premium plans. But it is nowhere related to such scammy schemes.
Related Read:
Final Verdict: Is It Worth The Hype?
Overall, Wealthy Affiliate is a decent platform that provides a well-managed training program for affiliate marketing. However, it is not the best option on the internet. But watching its affordability and service, it is a viable option for beginners with a low budget. Additionally, you will get community support and traffic booster tools that will help your business grow and increase your revenue streams.
So, whether you are a newbie or a professional, Wealthy Affiliate will help you build an attractive website from scratch. Once you complete the training program, the platform will provide you with resources and tools related to affiliate marketing, so you don't have to wander around finding affiliate programs on your own.
Latest posts by Shally Rose
(see all)