As the biggest online retailer in the world, Amazon offers products in almost every category. Amazon offers various opportunities for both shoppers and sellers. Whether you are a seller or a shopper, you must have noticed a department "Amazon Renewed" on Amazon.
Amazon recently started a new program, Amazon Renewed, where new and existing sellers can join to start a whole new business venture. But what exactly is Amazon Renewed? Whether you are a seller or a shopper, this question might be bothering you.
In this post, I will talk about the Amazon Renewed program. I have also included a step-by-step guide for sellers who want to join this program.
Let's get started.
What Is A Renewed Product?
Renewed products are high-quality and like-new items that are either open-box, preowned, or refurbished.
New: Well, new products means they are new and have never been used by anyone. However, it may not have the original packaging or may be missing a few accessories that you usually get along with the product.
Open-Box: Open-box products are mostly purchased products whose packaging has been opened and returned for some reason. Such products are considered new as the shopper didn't use or damage them before returning them.
Preowned: As the name suggests, preowned products are already used by someone else, and now it is up for sale as the owner no longer wants to use them. Technically, it refers to second-hand items. It can be good, but you can't exactly consider it new.
Refurbished: Refurbished are typically used items that are checked, repaired, and restored as new products. Refurbished items are thoroughly tested for function and quality. If necessary, the company replaces old parts with new ones so it can meet the standard of the original new product.
What Does Renewed Mean On Amazon?
Amazon Renewed is an exclusive Amazon program that allows merchants to sell open-box, preowned, and refurbished products at a discounted rate. Amazon thoroughly checks and restores the products' quality to make sure they look and work like new.
If you want to qualify as an Amazon Renewed seller, you have to meet a certain performance bar of Amazon. And your products will be tested and certified before they go for sale on Amazon Renewed. Qualified third-party sellers can also apply for Amazon Renewed program. These suppliers are either specialized refurbishers or manufacturers.
Whether a certified refurbisher gives a clean chit to a product or not, Amazon's qualified inspection team runs a full diagnostic test before listing it on the marketplace. This way, Amazon can ensure their shoppers get a genuine product in proper working condition.
Where To Find Renewed Items On Amazon?
Amazon Renewed is a core part of the Amazon marketplace. It has a separate department on the platform. If you are a shopper and looking for renewed products on Amazon, you can click here or find it by typing "Amazon Renewed" in the search box. Sellers can also check out this page to see what kinds of products other sellers are selling.
On Amazon Renewed, you can find four types of products:
Premium Condition: These products show no sign of dent or cosmetic damage from a distance of 12 inches. When a customer uses it, the batteries must have a capacity of over 90% as the new product. The buyer gets a one-year satisfaction guarantee.
Excellent Condition: These products have the same quality as the premium products, but the battery and satisfaction guarantee is not the same. When a customer uses it, the batteries must have a capacity of over 80% as the new product. The buyer gets a 90-day of satisfaction guarantee.
Good Condition: These products are used products that are up for resale on Amazon. These products show minor dents or cosmetic damage from a distance of 12 inches. When a customer uses it, the batteries must have a capacity of over 80% as the new product. The product is backed by 90 day of Amazon Renewed guarantee.
Acceptable Condition: Such products have been used by an owner for a very long time, that's why scratches are clearly visible from a distance of 12 inches or more. The battery conditions are still good. And the buyer will get a 90-day satisfaction guarantee.
How To Join Amazon Renewed Program?
Basically, joining to Amazon Renewed program requires three crucial steps. And even if you followed all the steps, you will need approval from Amazon before you start selling on Amazon Renewed. Let's have a look at those steps.
Step 1. Register for Amazon Seller Central
Before you apply for Amazon Renewed, you need to become an Amazon seller. To do that, you can create a seller account from Amazon Seller Central.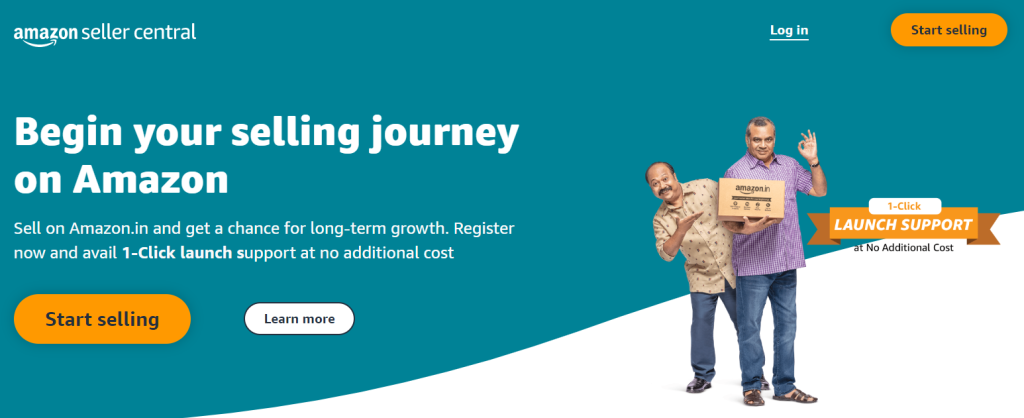 First, you can sign up with a valid email address. Then, you can choose a selling plan according to how many units you are planning to sell in a month. After that, you will need to submit a few documents in order to validate your registration as a seller:
Your name, your business's legal name, and your business address
Contact information
A government ID for identity verification
Bank account details
Business Entity
Tax information (such as Federal Tax ID or SSN)
Once your account is set up, you can choose Amazon FBA to leverage seamless order fulfillment services. You can also become a member of the Amazon Brand Registry to take advantage of a variety of tools like A+ Content, Enhanced Brand Content, etc.
Step 2. Meet the Requirements for Amazon Renewed
Once you have created an account on Amazon Seller Central, you can proceed to the next step.
In this step, your business needs to meet the requirements for Amazon Renewed program. Here are the requirements for the program:
1. Program Policy Agreement: You will need to agree to Amazon Renewed's terms & conditions and Quality Policy.
2. Procurement Invoices: You will need to provide invoices according to your business occupation.
For Manufacturers: If you are a manufacturer, you will need to provide proof of trademark ownership (such as a registration document).
For Reseller/Distributor: If you are a reseller or distributor, you will need to share invoices of a total value of $50K (minimum) of purchases within 90 days of the Amazon Renewed application. You must clearly mention your product's name in the invoices. You can hide the number of units from the invoices if you want. If you are going to list Apple refurbished or preowned products, the total value of purchases will increase to $2.5 million.
3. Warranty Provider Details: You will need to provide at least six months of seller warranty on all your listed products.
If the products you have listed are supported by the brand's warranty, you will need to provide proof that the brand will cover the warranty for the products you sell.
If you are tied up with a third-party warranty provider, you can also submit proof of the partnership.
4. Product Images: You will need to share pictures of:
Products (front view)
All four sides from the top to bottom
The product with the turned-on screen
Product boxes
Shipping boxes
5. If you are already selling on Amazon, your ODR (Order Defect Rate) must be less than 0.8% for 60 days of trailing.
Note: All your listed products will be backed by a 90-day guarantee from Amazon Renewed Guarantee. And your third-party company or product's brand will be accounted for all the claims that Amazon Renewed Guarantee provides to your customers.
Step 3. Apply for Amazon Renewed Program
Once you have all the required documents that meet certain criteria and a seller account on Amazon, you can begin the process of applying for the Amazon Renewed program.
You can apply from the Amazon Renewed seller page and click on the Apply Now button.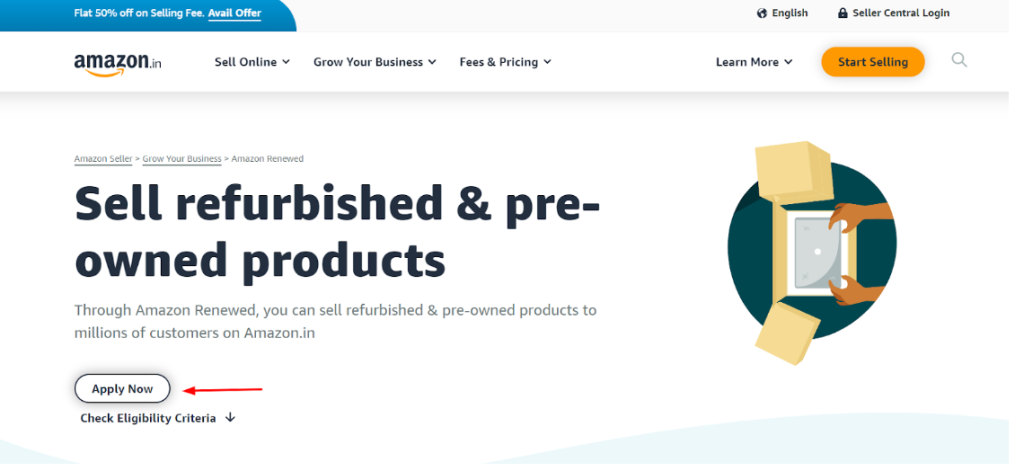 After clicking, the system will ask you to submit all the required documents and business information you have collected before. After submitting the application, the Amazon team will approve your request within ten business days.
Once approved, you can create your product listing and set prices for renewed products. Then finally you can sell products and make money.
Pros & Cons of Amazon Renewed
Amazon Renewed has its own benefits and drawbacks. Let's have a close look at those facts.
Pros
Customers can find their favorite products at a huge discounted rate.
All the renewed products are backed by Amazon Renewed Guarantee.
Since entry on Amazon Renewed requires high standards and an adequate amount of capital investment, sellers find this place less competitive than the regular marketplace.
Amazon Renewed has its own loyal customer base.
Customers can find a various range of product types in different conditions, such as new, excellent, and good.
Shoppers can find branded and new-like products that meet all the company standards.
Cons
Because of Amazon Renewed's strict policy, not every seller can join this program.
Sellers can only sell in selected categories.
Chances for product returns are higher than usual.
Related Read:
Conclusion: What Does Renewed Mean On Amazon
Amazon Renewed is an amazing program for both sellers and shoppers. Shoppers can get their favorite gadgets and items at huge discounts, while sellers can open a new revenue stream to increase their sales and income.
If you want to become an Amazon Renewed seller, you can start collecting renewed items as open-box and preowned. You can also find products in working condition and partner with a certified refurbisher to turn them into high-quality refurbished products. Customers generally look for branded products on Amazon Renewed page, so make sure to list products from a well-known company. If you are looking forward to going down this road, the guide mentioned above will help you throughout your journey.
Latest posts by Shally Rose
(see all)