As an Amazon seller, you must have heard terms and abbreviations like FBA, FBM, ASIN, SKU, UPC, etc. FNSKU is one of them, which confuses sellers. What is FNSKU? How to get an FNSKU? These questions always bother new sellers all the time.
In this article, I will talk about FNSKU and why it is important for Amazon sellers. I have also included how you can create an FNSKU as an Amazon seller.
Let's get started.
What Is An FNSKU?
FNSKU, or Fulfillment Network Stock Keeping Unit, is a unique identifier used by Amazon to track and manage inventory within its fulfillment centers. It is a 10-digit alphanumeric code assigned to every product that is sold on Amazon. Every FNSKU is unique and specific to every product and seller. It is typically printed on a barcode label placed on the product packaging before it is shipped to Amazon for fulfillment and storage. 
FNSKU is also used in conjunction with other identifiers, including ASIN (Amazon Standard Identification Number), EAN (European Article Number), and UPC (Universal Product Code). It ensures accurate inventory management and tracking. While ASIN, EAN, and UPC are unique identifiers for a specific product, the FNSKU is unique to a particular product and its seller.
Why Is FNSKU Important?
An FNSKU is a crucial component of Amazon's order fulfillment process. Without an FNSKU, Amazon won't be able to track and manage inventory accurately, which would result in delayed or incorrect shipping to customers. By assigning a unique FNSKU, Amazon is able to track inventory levels with accuracy and make sure that the right product is shipped to the right customer without delay.
Apart from its role in managing inventory, FNSKU also helps sellers win the Buy Box. The Buy Box is a section on a particular Amazon product page where customers can add the item to their shopping cart. When multiple sellers offer a similar product, Amazon's algorithm determines which seller's offer should appear in the Buy Box.
FNSKU is one of the factors that the Amazon algorithm considers while selecting a product for the Buy Box. So it is important for sellers to assign a unique FNSKU on their specific products. If a seller uses a shared FNSKU on their product, they are less likely to win the Buy Box, as Amazon can't guarantee that the seller has full control over the inventory they are selling.
How Is FNSKU Used In The Amazon Fulfillment Process?
The use of FNSKU in Amazon's fulfillment process is simple and very straightforward. An Amazon seller creates a new product listing before sending their inventory to FBA fulfillment centers. Amazon assigns a unique ASIN number to the product during the listing creation process. And then, the seller has options to either use the ASIN as the product identifier or create a new FNSKU.
If the seller chooses the ASIN as the product's identifier, Amazon will generate an FNSKU for the seller so they can use it on their product packaging. However, if the seller decides to create a new FNSKU for their product, they must ensure that the FNSKU is unique to their inventory. Regardless of the option they choose to generate FNSKU, they must print the FNSKU on a barcode label and attach it to their products' packaging before shipping them to the Amazon fulfillment center.
Once the seller's products arrive at the FBA fulfillment center, Amazon scans the FNSKU barcode to identify the products before adding them to the seller's inventory. As their inventory moves through the fulfillment process (as in storage, picking, packing, and shipping), FNSKU is used to track the inventory. As soon as Amazon receives an order for the seller's product, they use the FNSKU to identify the correct product and ship it to the relevant customer.
Difference Between FNSKU And ASIN
For new sellers, it is very confusing when it comes to differentiating between FNSKU and ASIN. Every product has a specific ASIN number, which helps people identify the product. When you open a product detail page, you will find a unique ASIN like the following image.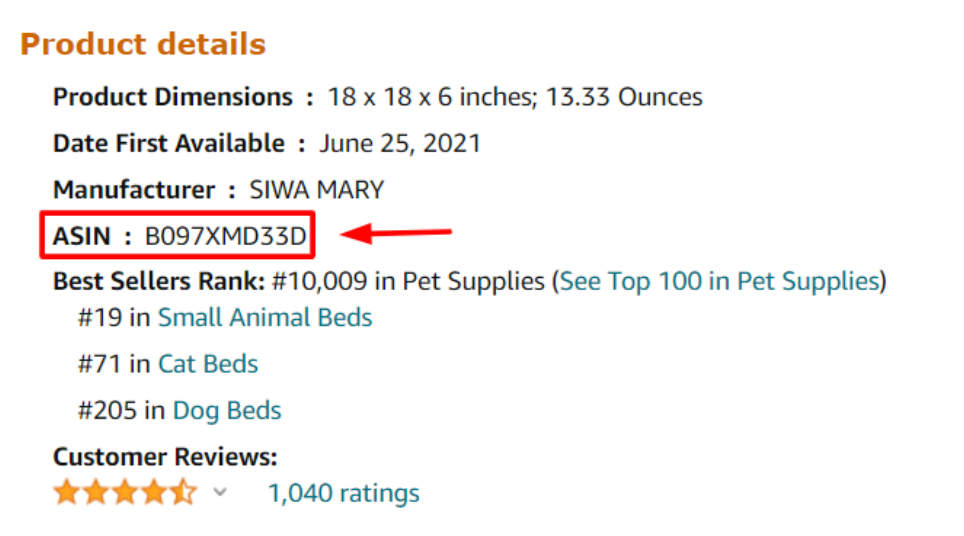 The main difference between an FNSKU and ASIN is that the FNSKU is a seller-specific barcode, while the ASIN is a product-specific alphanumeric code. The FNSKU not only identifies the seller but also carries the details of the product, like the ASIN. On the other hand, ASIN only identifies the product.
How To Create An FNSKU?
Creating an FNSKU for your might seem like a difficult process at first, but in reality, it is a very straightforward process. In fact, you can create an FNSKU within your Amazon Seller Central account. Follow the simple steps to create an FNSKU for your inventory: 
Step 1. Log into your Seller Central account and navigate to the Manage Inventory tab.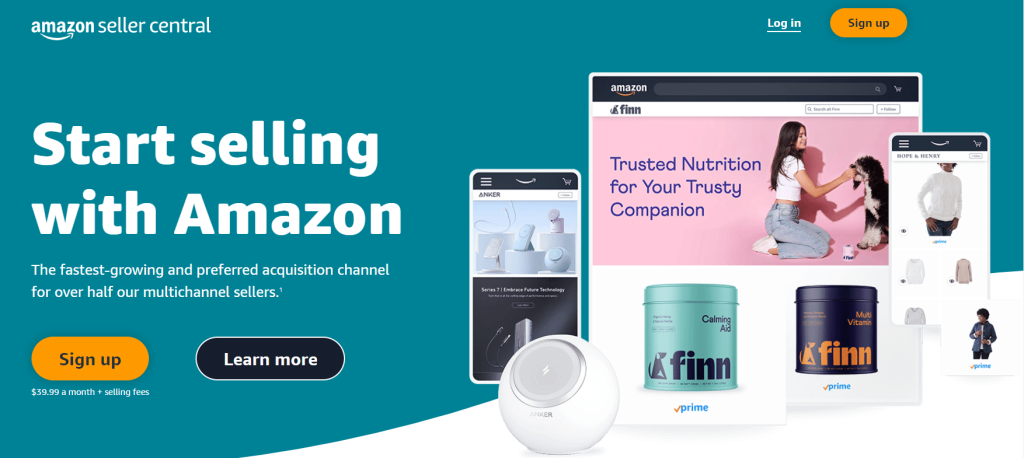 Step 2. Find the product for which you want to create the FNSKU and click on the Edit button next to the product name.
Step 3. In this section, you will find a Print Item Labels option. Click on it.
Step 4. By clicking this option, Amazon will offer multiple options to create identifiers. But your purpose is to create an FNSKU, so select "Create a new FNSKU" from the drop-down menu.
Soon, Amazon will generate a unique FNSKU for your new product listing. Now, you can print the barcode and label it on your packaging before shipping your inventory to Amazon.
If you have an existing listing and want to create a new FNSKU for the same product, follow these steps.
Step 1. Log into your Seller Central account and navigate to the Manage Inventory. And then, find the existing listing for which you want to create the new FNSKU and click the Edit button next to the product name.
Step 2. Go to the Product ID section and select Use SKU from the drop-down menu.
Step 3. Copy the SKU number of your product (or you can enter a new SKU) and paste it into the relevant box.
Step 4. After entering the SKU, click on the Save & Finish option.
Amazon will generate a new FNSKU for your product listing based on the SKU number you have entered.
Related Read:
Conclusion
Overall, FNSKU is a critical component of the Amazon fulfillment process. It also plays a role in protecting sellers' property rights. Amazon requires the sellers to have legal rights over the products they are selling on Amazon. By generating an FNSKU for their products, you are showing your control over the inventory to Amazon. It also helps Amazon in preventing counterfeit products from being sold on the platform.
Sellers can also track inventory levels using a unique FNSKU, which eventually helps them make an informed decision in forecasting inventory replenishment. So having FNSKU on every product listing prevents you from being out-of-stock, and you never experience negative customer feedback or lose sales ranking.
Latest posts by Shally Rose
(see all)