As an ecommerce entrepreneur trying to choose between platforms, I'm constantly debating – whether should I build my online store using Shopify or is Wix's expanding ecommerce capabilities are a viable Shopify alternative nowadays?
While Shopify remains the popular leader, how does Wix, with its broader website builder toolset, truly compare to running an online business?
Having built and managed demo stores extensively using both Wix and Shopify, I'm ready to compare them head-to-head across essential ecommerce criteria like cost, themes, scalability, and critical store features.
In this unbiased Wix vs Shopify guide, I'll evaluate their respective strengths and weaknesses based on firsthand experience with both platforms as a merchant.
Let's dig in to see how Wix and Shopify stack up against each other for ecommerce!
Wix vs Shopify: Quick Comparison (2023)
Here is a quick comparison between Shopify and Wix:
| | | |
| --- | --- | --- |
| FEATURES | SHOPIFY | WIX |
| Free Custom Domain | ✔ | On yearly Subscription |
| Checkout On Own Domain | ✔ | ✔ |
| Unlimited Products Sale | ✔ | ✔ |
| Abandoned Cart Recovery | ✔ | ✔ |
| E-commerce Analytics | ✔ | ✔ |
| Customer Registration | ✔ | ✔ |
| Discount Coupons | ✔ | ✔ |
| Digital Goods Size Limit | Up to 5 GB | 1 GB |
| Tax Estimation | Automatic | In Pro and VIP plans |
| Transaction Fee | ✖ | 0.5% to 2% |
| Dropshipping | ✔ | In Pro and VIP plans |
| Trial Period | 14 days | 14 days |
| Free Subscription | ✖ | ✔ |
| Monthly Price | $14-$49 | $29-$299 |
Wix: An Overview
Wix is primarily a web development organization that provides tools and services to create HTML websites. The company was founded in 2006 in Israel and provides services in almost 190 countries. The platform provides simple drag-drop tools to create websites for online shopping, community forums, contact forms, social media, and several other web services.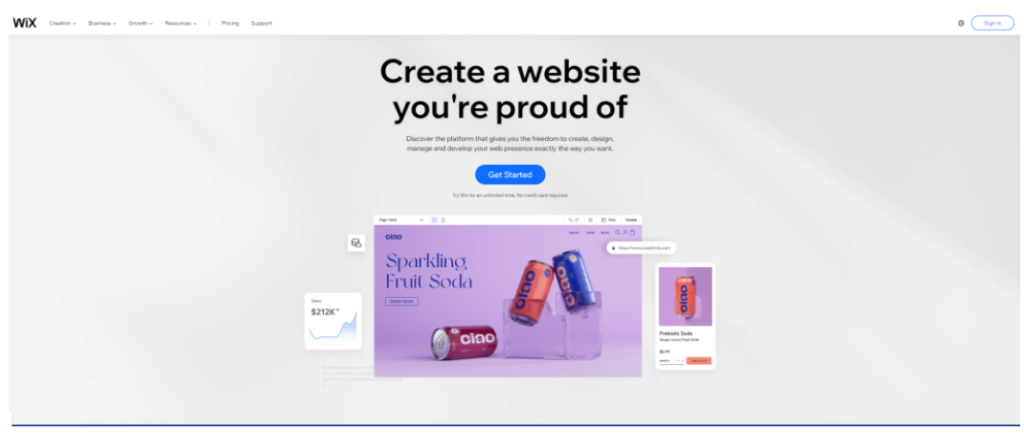 Apart from the headquarters in Tel Aviv, they have multiple offices in India, Poland, Brazil, Germany, Canada, etc. As of now, Wix has over 200 million subscribers using their website-building assistance to create e-commerce shops, service stores, booking websites, restaurant pages, and much more. 
Mentioned below are some key features of Wix:
It uses simple drag-and-drop tools for website building. You can easily create attractive websites of your choice without needing any programming skills.
If you are a beginner, don't worry. You get hundreds of templates to start with.
It's one of the most affordable website creation platforms on the internet. (Starting at just $16/month).
There is zero transaction fee for selling on Wix.
Wix offers a rich support system. There are multiple guides for building a website from scratch, 24*7 online assistance, live chats, and much more.
 
Shopify: An Overview
Shopify can be seen as the main competitor for Wix. This Canadian online platform mainly provides a one-stop solution for all e-commerce activities such as selling, advertising, shipping, customer relations, payments, and so on. Similar to Wix, sellers can create their websites, mobile sites, and applications using simple web tools.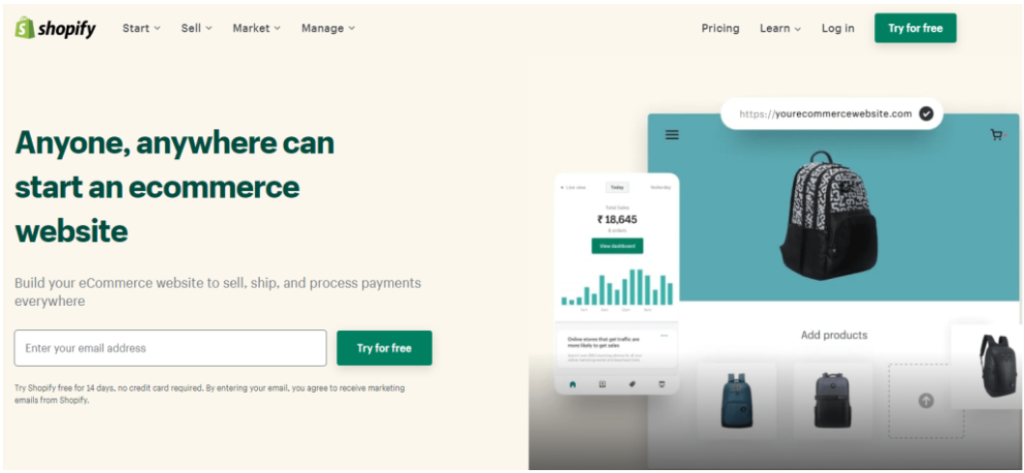 Starting back in 2006, the company grew exponentially, both in terms of customers and sellers. Currently, Shopify is providing its service in more than 180 countries and has over 1.5 million active websites. Shopify is more suitable for large-scale businesses where you can get several advanced tools for marketing, customer engagement, payment, taxation, and so on.
Let's have a look at some key features of Shopify:
Shopify allows you to sell your products on multiple platforms, including Facebook, TikTok, Amazon, and much more.
More than 100 payment gateways and third-party payment options.
A wide library of third-party applications and extensions for your e-commerce store.
Hundreds of pre-designed templates to choose from.
Inventory management, powerful SEO tools, marketing, and advertising tools make it perfect for large-scale businesses.
Wix vs Shopify: Ease Of Use
Choosing between Wix and Shopify, the big question is – Which one is easier to use?
As I stated earlier, both platforms provide the facilities to create websites without any coding skills. But there are some key differences when it comes to the flexibility of both.
For example, if you are looking for a user-friendly platform to create a small business website, Wix is a perfect option for you. It has all the features you need to design your website and sell the products. But the platform was not primarily created for that. Yes, there are some e-commerce features available, but not enough to run a full-fledged online store.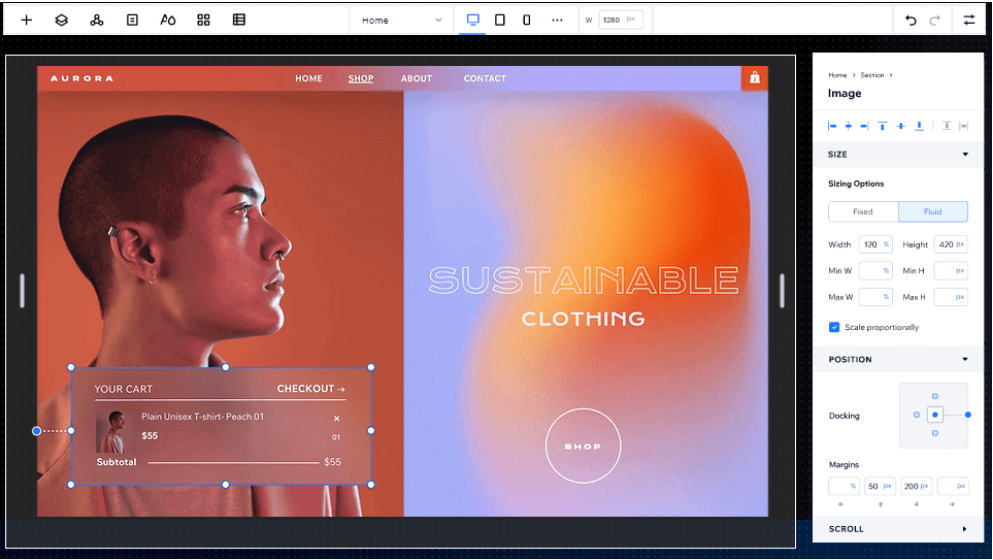 Wix is good at creating pages such as Contact Us, About Us, Product lists, and so on. Of course, you don't need hours of coding and designing to create a professional-looking webpage for your website.
Shopify, on the other hand, is solely focused on hosting e-commerce stores. Apart from the hundreds of website templates and designs, there are dedicated tools for shipping, payment, returns, dropshipping, advertising, and SEO. creating the website is as easy as it is on Wix, but it's just an extra suite of e-commerce tools that puts Shopify a little ahead of the other ones.
As far as ease of use is concerned, both platforms are easy to navigate through. As I mentioned, there are simple drag-drop tools that help you create stunning websites without writing thousands of lines of code.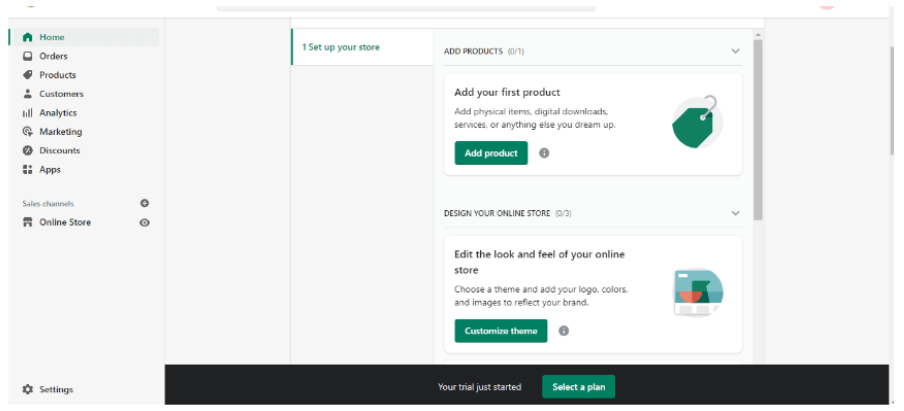 So the bottom line is if you are planning to create a business website where you can showcase and sell some products and services, Wix is the one for you. It has user-friendly tools that allow you to create highly professional website content.
Shopify is a better option for those who are planning to step into online business. It allows you to create a complete online store where you can sell products and services through several sales channels. You also get a full suite of e-commerce tools such as SEO, advertising, product promotion, etc, for scaling your business 
Wix vs Shopify: Benefits and Disadvantages
Which platform has more advantages? Should you go with the affordable Wix or you are better off with Shopify? Let's put them into comparison.
For brand-conscious sellers, Wix is an excellent place to start with. It has a reasonable price and is extremely easy to create your webpage on. If you own a small business such as a clothing store, hotel, restaurant, travel agency, etc, Wix is the right platform to build your website on. It has a wide range of design tools available to create an elegant and intuitive business website without much technical interference.
Shopify is tailored to host large-scale business websites. Similar to Wix, it has a comprehensive suite of tools to design your website but it also provides additional features to increase your sales, brand promotion, collecting payment, taxes, and advertising. Yes, it is a bit more expensive compared to Wix, but you definitely get what you pay for.
Take a look at this table to find out where each one excels.
| | | |
| --- | --- | --- |
| Features | Wix | Shopify |
| Pricing | Cheaper to start with. Includes a free plan. ✔ | Premium plans are costlier. 3-day free trial |
| Design Features | Customizable 800+ templates✔ | Helps you design multibrand e-shop |
| Marketing & Advertising | Includes blogs to promote products | SEO and social media marketing✔ |
| Ease of Use | Very easy to create and design your store✔ | Designing is easy but there is a learning curve |
| Payment and Taxation | Offers basic payment and tax services | 100+ payment gateways, automatic taxation✔ |
| Inventory Features | Very limited inventory tools | Comprehensive Inventory management✔ |
| Customer Support | Onsite support, phone, email, and forum✔ | Round-the-clock call and chat support |
| Shipping Options | Needs third-party apps for global shipping | More advanced tools for international parcels✔ |
| SEO | Nearly no SEO tools except blog marketing | Powerful SEO features to promote your store✔ |
| Apps Integration | Limited e-commerce -related applications | Huge app store, e-commerce integration✔ |
** ✔ highlights the winner in the competition.
Wix vs Shopify: Pricing Comparison
Here is a brief overview of Wix and Shopify Pricing Plans:
Wix Pricing Plans
Here we have explained all four pricing plans of Wix: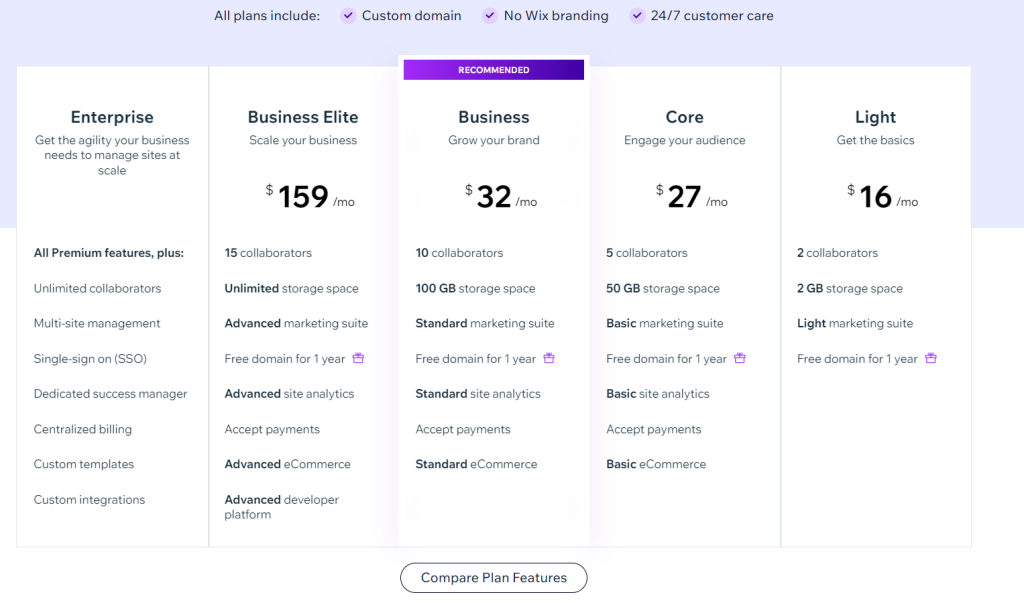 1. Light Plan ($16/month)
Free domain for one year
2 Users
Light Marketing Suite
2 GB Storage Space
2. Core Plan ($27/month)
All the features of the Light plan
5 Users
Basic Marketing Suite
Basic eCommerce Features
Basic Site Analytics
50 GB Storage Space
3. Business Plan ($32/month)
All the features of the Core plan
10 Users
Standard eCommerce Features
Accept Payments
Standard Marketing Suite
Standard Site Analytics
100 GB Storage Space
4. Business Elite Plan ($159/month)
All the features of the Business plan
Advanced Developer Platform
Unlimited Storage Space
Advanced eCommerce Features
Advanced Marketing Suite
Advanced Site Analytics
Shopify Pricing Plans
Shopify has 3 plans –  Basic, Shopify, and Advanced.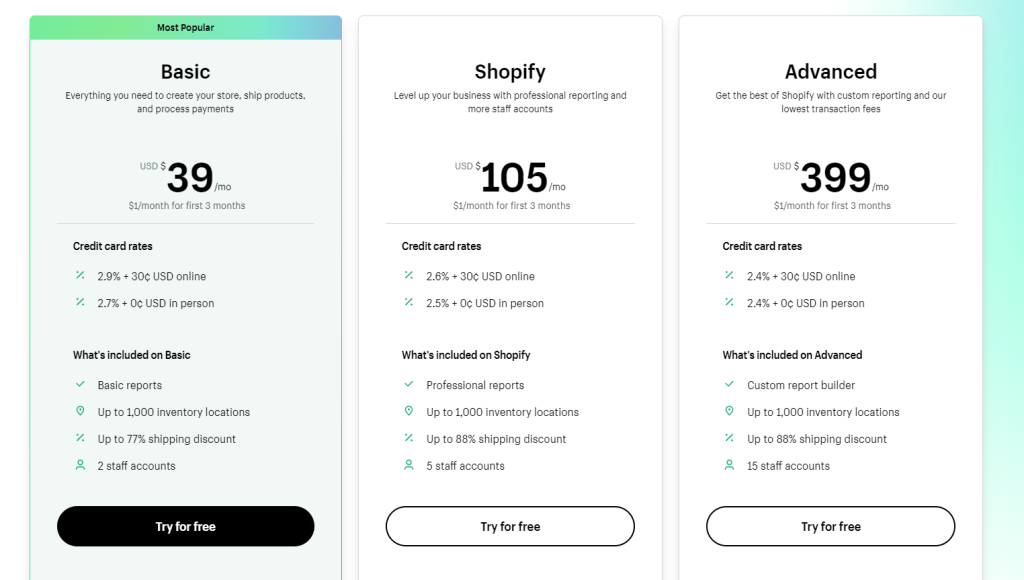 1. Basic Plan ($39/month or $29/month, billed yearly)
Online store with unlimited products
2 members login
Up to 4 assigned inventory locations
Free SSL, abandoned cart recovery, discount codes, and gift cards.
Customer grouping and marketing custom emails
Up to 77% discount on shipping
2% fee on third-party transactions
2. Shopify Plan ($105/month or $79/month, billed yearly)
Everything in the basic plan
Automated e-commerce tasks
Up to 5 inventory locations and 5 user logins
Shipping discounts up to 88%
1% third-party transaction fee
3. Advanced Plan ($399/month or $299/month, billed yearly)
Everything in Basic and Shopify plans
15 staff account logins and up to 8 inventory locations
Advanced reports and third-party shipping rates estimation
0.5% third-party transaction fee
Import duty and taxed estimation
Wix vs Shopify: Designing and Customization
Both Wix and Shopify have enough tools to create a professional and stunning website for your business.
Wix has a total of 800 templates, however, not all of them are designed for an e-commerce store. You have different styles for brand-exclusive stores such as jewelry, clothing, pet supplies, etc. Furthermore, you get templates for specific pages for your website including a contact page, an About Us page, a Welcome page, etc. One disadvantage, however, is that you can't edit the theme once your website is live.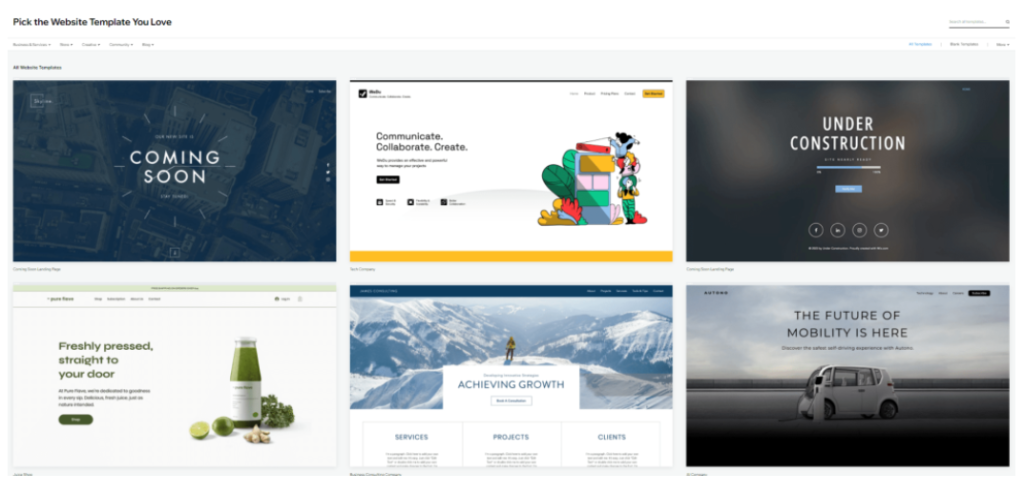 Customizing Wix themes is extremely easy and doesn't take more than an hour. According to our specialists who have tested both platforms, it takes less than 1 day to get a website live on Wix. When it comes to smartphone compatibility, Wix templates are perfectly optimized for mobile phones and will look as good as they do on a computer.
Similarly, Shopify has some advanced designing tools that can get your store ready in less than 2 hours, depending on the number of products you add. There are approximately 80 templates, designed for various niches such as gadgets, apparel, home supplies, stationary, and much more.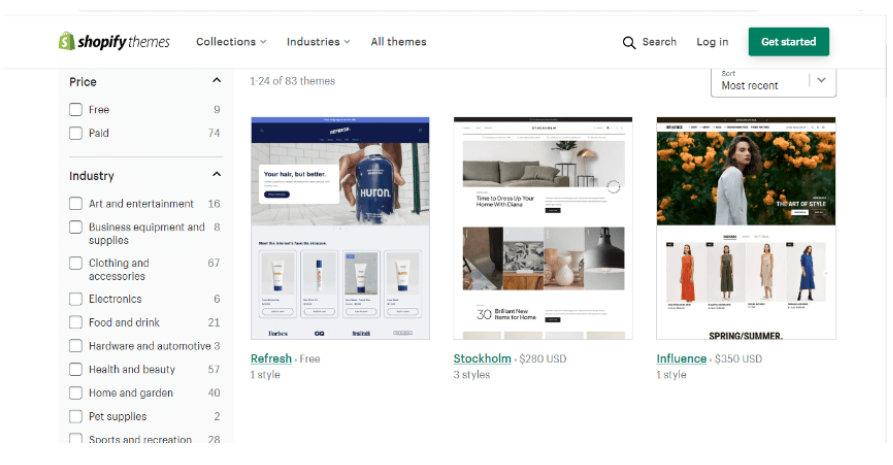 Mind you, not all the themes on Shopify are free. Some of them may even cost up to $200. In hindsight, you get more advanced editing features with paid templates, compared to free ones so take it as an investment for your e-store.
Our experts found that it was easier to set up and design the store on Wix rather than Shopify. It has more templates than Shopify with many free-of-cost ones.
Wix vs Shopify: SEO, Inventory, and Shipping
From the SEO perspective, Shopify is a clear winner. Since it's more inclined toward a complete c-commerce service, you get a bunch of SEO tools and app integrations.
You can sell and advertise your products on multiple channels and highlight your social media posts on your store to get better exposure for your products. You can add video adverts, Buy now pages to check out within your store, customer subscription forms, and much more.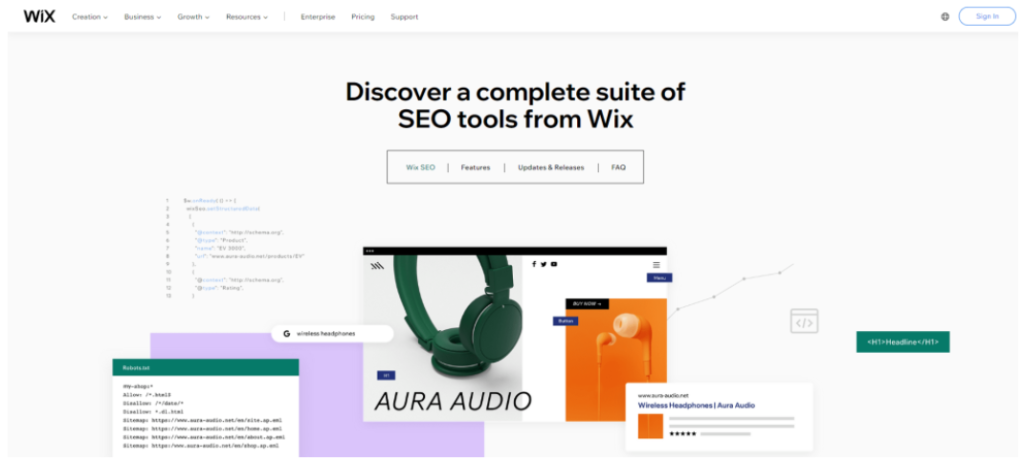 Wix, on the other hand, is more suitable for a single-brand store with limited products and services. Although, it gives tough competition to Shopify in terms of marketing features. It has better email campaigning, excellent blog marketing service, and good enough SEO features for a small business website.
Shopify is a clear frontrunner when it comes to inventory and shipping. You can list more products than on Wix. You also get inventory reports, supplier information, and inventory management tools to manage your stocks. Based on your inventory levels, you can estimate your revenue, expenses, and net profit.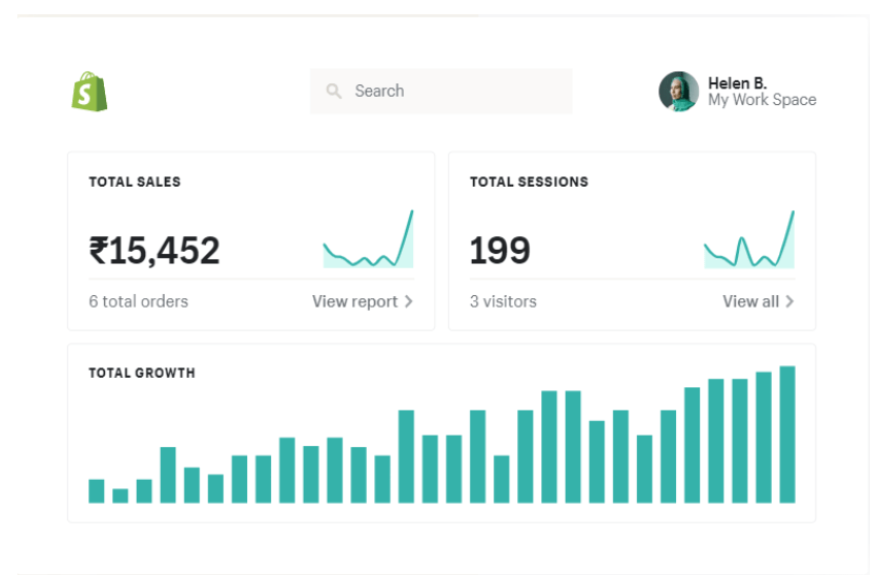 Wix offers limited inventory services, and you mostly rely on third-party applications for revenue reports and inventory management. 
Wix has good shipping assistance features as long as it's not an international one. Yes, you can track the parcels, introduce tax rules, and multiple payment options, but still, you heavily depend on third-party app integration for the most part. features.
Shopify has an enormous shipping network on its own. You get competitive shipping costs that are up to 88% less than the standard rates. You can print your shipping labels, and organize local pick-ups, as well as complex international deliveries. 
Wix vs Shopify: How to Start Selling?
Creating an online platform on Wix and Shopify doesn't take much effort. The store-creation module might differ, but the signup and registration process are almost the same. Let's see what it's like to sell on both platforms.
Creating an Online Store with Wix
Wix is an all-in-one platform that provides solutions to different types of businesses, including eCommerce ones. So it is important to choose the right path. Let's see how you can create an eCommerce website with Wix.
Step 1. Go to the official Wix website and choose the eCommerce Website option from the Business menu.
Step 2. On the next page, tap on Create Your Store to start the process of online store creation.
Step 3. Enter your email address and password, and click on Sign Up.
Step 4. Then, the system will ask you a few questions regarding your business. First, it will ask you which type of website you are making. Select the online store and proceed further.
Step 5. On the next page, set a website name and choose what actions you want to add to your store, such as blog, community, bundles, etc.
Step 6. After selecting your preferences, the system will take a few seconds to customize your store and redirect you to the dashboard. Here, you can choose a template to customize your store manually. Or you can select the ADI editor option to design your storefront according to your preferences.
Step 7. Now, you can start adding the products you want to sell. You can add products one by one manually, or you can upload CSV files of your products to save time. Then, you can update your listing manually according to your target audience and demand.
You can choose a Wix eCommerce plan according to your business needs. You can cancel your subscription within 14 days of purchase if you don't get any results with Wix services.
Creating an Online Store with Shopify
Compared to Wix, creating an eCommerce website with Shopify is much easier and more straightforward. Shopify offers a 3-day free trial on every plan, so you can start with your preferred plan.
Step 1. Open the official website of Shopify and select the preferred plan from the pricing page for a 3-day free trial.
Step 2. Create a new Shopify account using your email address and password.
Step 3. Next, the system will ask a few questions regarding your business so they can provide tailored solutions for your online store. However, it is totally optional, so you can skip it.
Step 4. Set a store name and add your business address and region.
Step 5. Select a professional theme that suits your business and customize it using drag and drop editor. You can make changes according to your needs and brand.
Step 6. Now, you can start adding products to your store. You can create a catalog and add multiple variants, so you don't have to create duplicate listings. You can also add products via a CSV file.
Step 7. Select a payment gateway and shipping method, and you are good to go. If you want to add more features, you check out Shopify App Store and add applications to your store.
Once the free trial ends, you will need to purchase a plan. If you want to extend your trial period, you can subscribe to Shopify's Basic plan at $1/month with the three-month offer. For just three dollars, you can try Shopify's eCommerce features and services for 90 days.
Wix vs Shopify: Pros & Cons
Here are the benefits & drawbacks of using Wix and Shopify.
Wix Pros
Wix has a free plan which you can use as long as you want.
The eCommerce plans of Wix are more affordable than Shopify.
You won't have to pay any transaction fees when you use a third-party payment gateway.
Wix offers many more templates in different niches than Shopify.
You can translate your websites into many languages on Wix, but Shopify does not have that many languages.
Wix Cons
Wix's templates are not fully responsive.
Users can not checkout in multiple currencies on Wix.
Shopify Pros
Shopify offers better SEO functionalities than Wix.
You can integrate your online store with many third-party apps using the Shopify app store.
You get an abandoned cart recovery feature in every plan of Shopify.
It is easy to switch templates on Shopify in comparison to Wix.
Shopify integrates with many third-party payment processors.
Shopify Cons
You will have to pay transaction fees when using a third-party payment processor.
You have to pay additionally to get a premium Shopify theme.
Related Read:
The Bottom Line: Wix vs Shopify (2023)
That's all in this comparison guide. Wix and Shopify both do what they are designed to do in the best possible way. The choice largely depends on your business venture. While Wix is more suitable for brand-exclusive business stores, Shopify provides you with numerous features to set up your own e-commerce store in no time.
However there are some common grounds on which we have analyzed both platforms and found that Shopify offers much more flexibility and features when it comes to building an online shopping website. Yes, Wix has some advantages when it comes to designing the store, customer care service, marketing features, etc, but it's simply made for small businesses.
Go with Shopify if you are starting on a big level with more capital. It also has better sales and analytics tools compared to Wix.
Wix makes a perfect platform for the newbies who are starting on a smaller level and need more control with the design and creativity.