There number of E-Commerce platforms available in the market. Choosing the best platform for your business can be difficult. To help you with this, I have come up with a comparison of the two best E-Commerce platforms, WooCommerce and Shopify. Both WooCommerce and Shopify have established eCommerce platforms. Even though both WooCommerce and Shopify's purpose of working is the same, their features are quite different.
Shopify is a subscription-based E-Commerce platform. It allows people to set up their online store within a few steps. You don't require any sort of technical knowledge to use Shopify.
WooCommerce is a free WordPress plugin wherein you need to host your domain. It comes with an umpteen number of customization options. WooCommerce requires some sort of technical knowledge to operate.
When looking at statistics of Shopify and WooCommerce market shares in the E-Commerce industry. There are 24 million e-commerce websites and WooCommerce shares 28.24 percent, whereas Shopify shares 11.3 percent. So now, if you are confused about choosing between the two best platforms. The article provides you with a clear idea of both E-Commerce platforms.
Here is a detailed explanation of the features of WooCommerce and Shopify
Comparison Table (can be used as infographics in the middle of the blog)
| | | |
| --- | --- | --- |
| Particulars | Shopify | WooCommerce |
| Ease of use | Easy | Technical knowledge required. |
| Pricing | Reasonable pricing with more features | Needs to spend extra for features. |
| Features | More | Need to use extensions for more features. |
| Customization | Ready to use Templates are available for Customization. | Technical knowledge is required for Customization |
| Suitable for Dropshipping? | Shopify basic plan comes for $29 | WooCommerce Dropshipping can be covered for $10 |
| Support | 24*7 support via Email, Live chat, and PhoneCall support | Support via live chat and Email |
| Marketing apps | Available | available |
| Integrations | Shopify includes Social media integrations | WooCommerce is best for all types of integrations |
| Payment options and Transaction fee | 2.9% + $0.30 per transaction | 2.9% + $0.30transaction (1% extra for cards outside the US) |
WooCommerce vs Shopify: Key Differences
Here are the key differences between WooCommerce and Shopify.
WooCommerce is a completely free eCommerce platform, and you can use it on your WordPress website for free, whereas Shopify offers a 3-day free trial to all their new users.
With Shopify, you will need to choose a subscription plan, whereas, with WooCommerce, you will need to buy a domain and purchase a hosting plan for your website, which will cost more than Shopify's subscription.
You can use WooCommerce online only, whereas Shopify allows you to use it online and offline with its POS (Point Of Sale) feature.
WordPress is an open-source platform where you can make any changes on your website using your coding experience, whereas Shopify is a closed platform, allowing you to use its in-built features only.
WooCommerce allows you to accept payments through more than 80 payment gateways, whereas on Shopify, you can use Shopify's official payment gateways, and if you are using any third-party payment gateways, then you will need to pay transaction charges.
Ease of Use: Which One Excels?
When E-Commerce platforms are easy to use and hassle-free, consumers have a positive experience. Among WooCommerce and Shopify, which is more user-friendly? Let's find out below.
Shopify is a beginner-friendly application with a 3-day free trial. The best thing is you can set up your Shopify store within 30 minutes. It is a ready-to-use eCommerce platform that can be created with the simple steps below: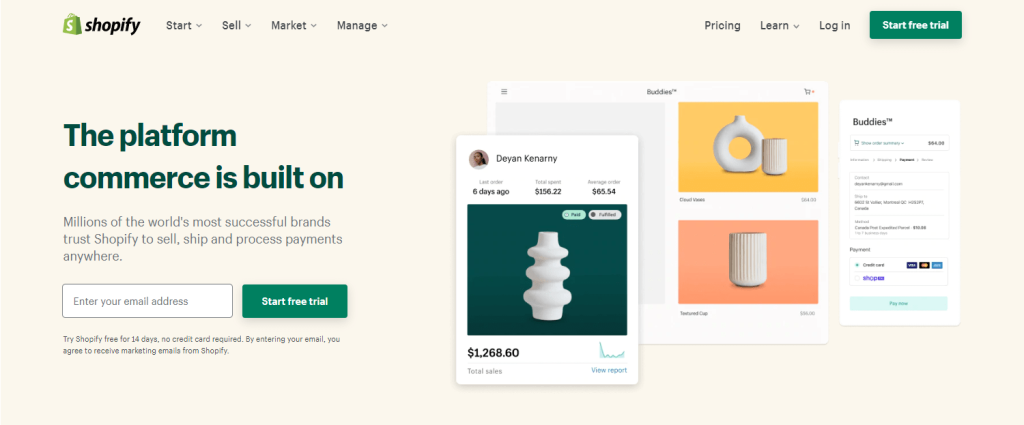 Create a Shopify account.
Choose a free or paid theme. Customize your store according to your business niche and requirement.
Add the products you want to sell in your store. It involves the simple step of adding the product name along with the necessary information.
The next step in creating your store is configuring a few settings such as payment gateways, shipping zones, shipping rates, etc.
You can design a Shopify website with free as well as paid themes available within the website. Your online store is ready to sell products now!
Marketing is a must-have strategy for increasing sales. Shopify has thousands of marketing applications to help consumers use them proficiently.
Shopify has an easy-to-use interface that helps users use it without any coding knowledge. It allows you to create your online store within 30 minutes and you can design your store according to the requirements.
WooCommerce is an open-source platform and quite hard to use for someone who is not into technical stuff. To create a WooCommerce store, the below steps need to be followed: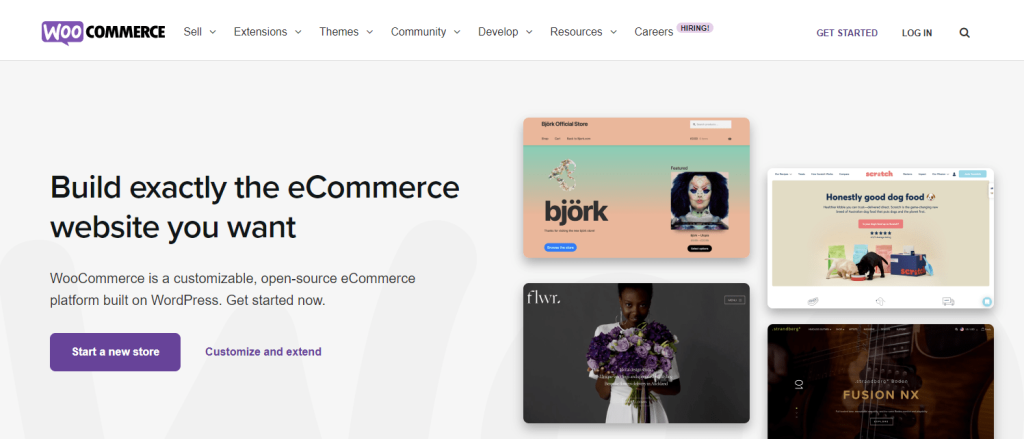 WordPress should be installed on the domain where you're going to use WooCommerce.
You should choose a hosting plan for your domain with any of the hosting providers like BlueHost, Wp Engine, Kinsta, etc.
Purchase and Register your domain name.
Choose from a wide range of free and paid themes to design your store.
To add extra functionalities to your stores like Payment gateway, Shipping process, and Subscription feature, You should install a separate plugin for each feature that costs additional charges.
Verdict: From the above explanation it is clear that when it comes to ease of use, Shopify wins the game. Because the Shopify website can be created within a few steps in less than 30min. Whereas in WooComerce needs some sort of technical knowledge to build the online store with multiple steps.
Pricing- The Pricing Battle
Pricing is the most important consideration when launching an online marketplace because each company has its unique website budget. Let's see which platform shines out when it comes to pricing.
Shopify works based on subscription plans wherein the plans can be chosen according to your requirements. Each plan of Shopify includes all the basic essentials required for opening an online store. Shopify also comes with a 3-day free trial. The essential features that Shopify includes are Shipping support, a Payment Gateway, and any other feature required for your E-Commerce store. There are five types of subscription plans available in Shopify given below: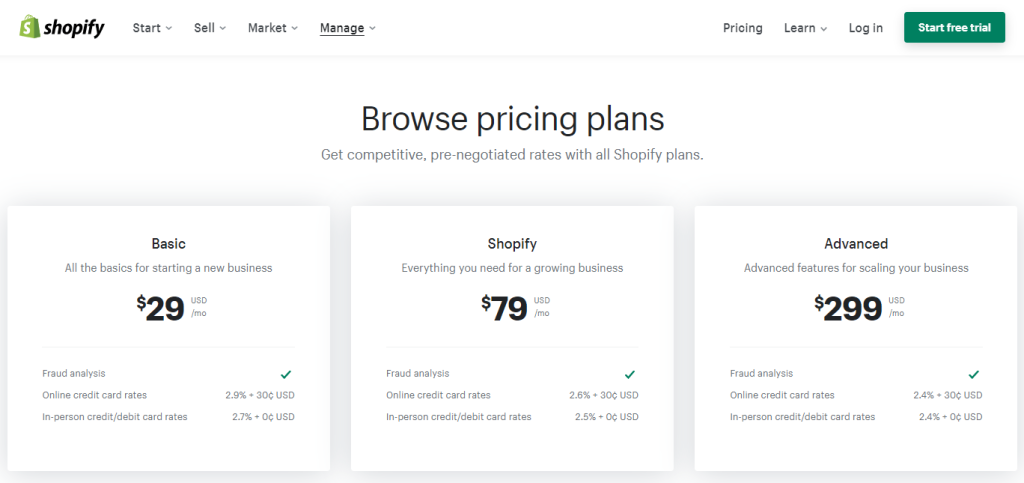 | | | |
| --- | --- | --- |
| S.no | Shopify Plans | Pricing |
| 1 | Basic plan | $29 per month |
| 2 | Shopify | $79 per month |
| 3 | Advanced plan | $299 per month |
| 4 | Shopify lite | $9 per month |
| 5 | Shopify Plus | $2000 per month |
WooCommerce has a multistep process to successfully establish the WooCommerce store with different types of pricing that varies according to your requirements.
The first stage of your WooCommerce store is to select the hosting plan for your store wherein the pricing varies from $4 per month to $5,000 depending on the size.
After successfully choosing the host, you need to register your domain wherein the pricing can be around 15 per year.
To design the WooCommerce store, you can choose free or paid themes available which may cost you $0-100 per year.
Besides these charges, some of the essentials needed for a WooCommerce store are a Shipping extension, Payment gateway
You start a free WooCommerce store with basic functionalities for $10-$20. If you want to build a fully-fledged WooCommerce store It costs you around $1000
Verdict: If you want to establish your online store on a budget, WooCommerce is the platform to use. You can customize your pricing based on the features you want. Therefore WooCommerce is the winner of this section. There is an exclusive 90-day trial offer that allows you to try any Shopify plans at just $1/month.
Which Platform Offers the Best Features?
The features are the major concern when creating an E-Commerce store. It's crucial in a variety of fields, including sales, marketing, and customer service. Let's take a look at which platform has the most useful features.
Shopify has a lot of inbuilt features which are necessary to run an E-Commerce store. The features are as follows: Unlimited products, Staff accounts, 24/7 support, Manual order creation, Shopify Analytics, Unlimited contacts, 256-bits SSL Certification Etc
Some of the cool features that Shopify offers are Abandoned Checkouts, customize Orders, checking order History, Discount Offers, Shopify POS application, customizing a theme, and Search Engine Optimization. Shopify has a Fast Loading website Speed and Smartphone Friendly interface.
| | | |
| --- | --- | --- |
| Features | Shopify | WooCommerce |
| Shipping | Yes | Yes(with Paid plugin) |
| Payment Gateway | Yes | Yes(with Paid plugin) |
| Unlimited products | Yes | Yes |
| 24*7 Customer Support | Yes | NO |
| Free Themes | Yes | Yes |
| SSL Certification | Yes | Yes |
| Point of sale(POS) | Yes | Yes(with paid plugin) |
| Smartphone Friendly interface | Yes | NO |
| Analytics | Yes | Yes |
| Marketing solutions | Yes | Yes |
| Customization | No | Yes |
| Currency Converter | Yes(with paid app) | Yes(with paid plugin) |
| Language translator | Yes(with paid app) | Yes(with paid plugin) |
| Product reviews | Yes(with paid app) | Yes |
WooCommerce is the best option for customized E-Commerce stores. You can build your dream website with several free and paid themes available. WooCommerce can implement complicated business models with different types of plugins available, some of them are WooCommerce Bookings, Language translator, Currency converter, Product addons, and many more.
WooCommerce has some cool features like displaying related products to customers, Coupons, highlighting important or featured products, and showing recently viewed pages.
In WooCommerce, you can list unlimited products, list the reviews of products with verified owner titles, and make the best use of the blogs section.
Verdict: Shopify has a wide variety of inbuilt features that are most necessary for the online store. In this section, I will consider Shopify as the best platform for features
Which One is the Most Customizable?
Customization is a prerequisite for E-Commerce companies when creating an online business with sophisticated ideas. Let's take a look at each platform and see which one offers the most customizing options.
In Shopify it is quite difficult to customize the store, you need to undergo multiple procedures for customizing the Shopify themes in the Shopify store. Theme customization services will be provided by freelance Shopify developers in which they will undergo processes such as
Getting access to the store> Installing Shopify CLI and authenticate> Download Shopify Theme which should be customized> Make the necessary changes> Preview> Approval from store owner> Publish updated theme.
Shopify customization is not preferred by store owners due to the complications like reduces loading speed, difficulty to launch campaigns, and difficulty to manage updated versions.
When it comes to customization, WooCommerce is the best platform to customize your store. It has huge options for customization which include free themes and paid themes.
You can use Storefront Theme customization to customize the design of the website without even coding. In WooCommerce you can customize every part of the store according to your taste and business requirement. The store customization includes the editing layout of the products, Creating a landscape and portrait view, customizing the home page of the store to suit the phone view, Check out page, etc. Some of the effective plugins to customize the WooCommerce store are WooBuilder, Elementar, and Storefront Blocks plugins, and WooCommerce Storefront themes are handy
Verdict: Taking into account all of the capabilities listed above, I believe WooCommerce is the greatest platform for personalizing websites.
Which Platform is Most Suitable for Dropshipping?
Dropshipping is a business model that is utilized by those who want to start a business with less time, money, and effort.
Shopify provides you the ready-to-use platform for dropshipping you just need to add products to your store through dropshipping apps with some settings according to your dropshipping store You can use Shopify's basic plan for drop shipping which costs you $29 per month.
WooCommerce is a free plugin available in WordPress. In order to build a dropshipping store, you should add a dropshipping extension like WooDropship to import products to the store, which also comes with the free plan. The only cost associated WooCommerce dropshipping is you need to host your website which starts from $10 per month and is considered a better option for drop shipping when compared to other platforms.
Verdict: As you may know, people on a tight budget prefer dropshipping. So WooCommerce is the ideal option for a cost-effective dropshipping store.
Customer Support: Which One is better?
Customer service is the most important factor in determining a product's success. Let's see who wins when it comes to offering dedicated customer service.
Shopify provides 24*7 customer support via chat, email, or phone. You can also ask your queries regarding customization or any kind of third-party apps in Shopify Community, Facebook groups, and Reddit groups
WooCommerce provides support for their product-related queries through email and live chat. WooCommerce has communities and forums which can help people to ask product-related technical queries related to the platform.
Verdict: Shopify is the greatest platform for customer service since they respond to customer inquiries 24 hours a day, 7 days a week via chat, email, or phone.
Which Platform comes out on top for Marketing?
Marketing is a must-have element in E-Commerce platforms, so let's examine which platforms win in this category.
Shopify has a wide range of Marketing features like Shopify-Facebook Integration, Retargeting Ads, Push notifications, Emails, etc that help to market your products and increase sales of your store.
They also have marketing apps including Candy Rack, Referral Candy, Smile.io Rewards, Omnisend, and much more.
WooCommerce also has extensions for marketing processes like Beeketing for WooCommerce, WooCommerce Instagram, Automatewoo, MailChimp, AffiliateWP, Remarkety, YoastSEO for WooCommerce and many more.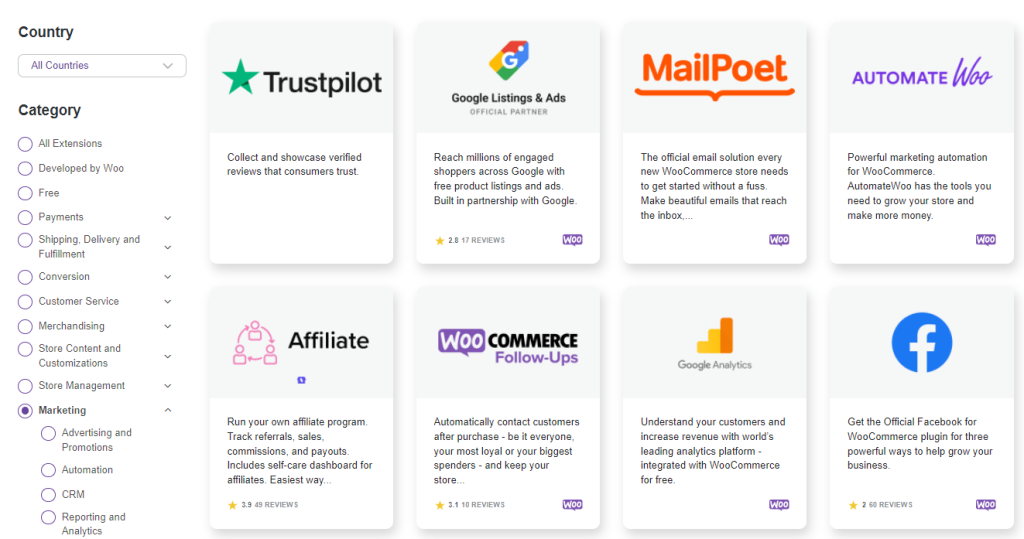 WooCommerce is the best option for Search Engine Optimization and it has a blogs feature that helps to attract customers with relevant content through blogs
Verdict: When comparing WooCommerce vs Shopify for marketing apps, Shopify has a larger selection of marketing apps for each function, ensuring that businesses don't fall behind in any aspect of marketing.
Which platform integrates the most effectively?
Integration is the most significant component in E-Commerce because it becomes difficult to conduct manual work as the business scales up. It is necessary to make a wise decision to select a platform that integrates with a variety of other platforms.
Shopify has a wide range of apps for each and every functionality and most of them are paid apps that you can use to automate your working process. In Shopify, you can integrate your store with Amazon, eBay, Facebook, and Pinterest which helps you to gain attention on social media.
WooCommerce has a wide range of powerful Integration options like AutomateWoo, Klaviyo, Mail Chimp, Zapier, etc. WooCommerce stands out for integration and automation because it has free extensions to integrate with the store which makes your tasks easy.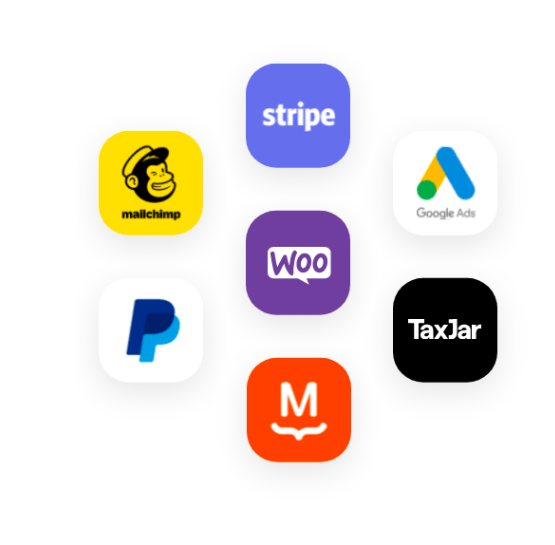 Verdict: Both Shopify and WooCommerce have a large number of third-party apps that interface directly with the store. Shopify provides fewer choices for integrations with third-party apps compared to WooCommerce. In WooCommerce, you can modify and combine any marketing tool with your online store, this is my pick for the greatest platform for integration.
Which is best for Payment Options & Transaction fees?
Payment alternatives and transaction fees are most necessary to consider before choosing any platform. Let's take a look at each platform separately.
Shopify has a wide range of payment gateway options like a Credit card, PayPal, Stripe, WorldPay, Facebook Pay, Amazon Pay, and Apple Pay. The transaction fee associated with Shopify is 2.9% + $0.30 per transaction for Shopify payments. The transaction which is done using other payment gateways will be charged 2 percent of each transaction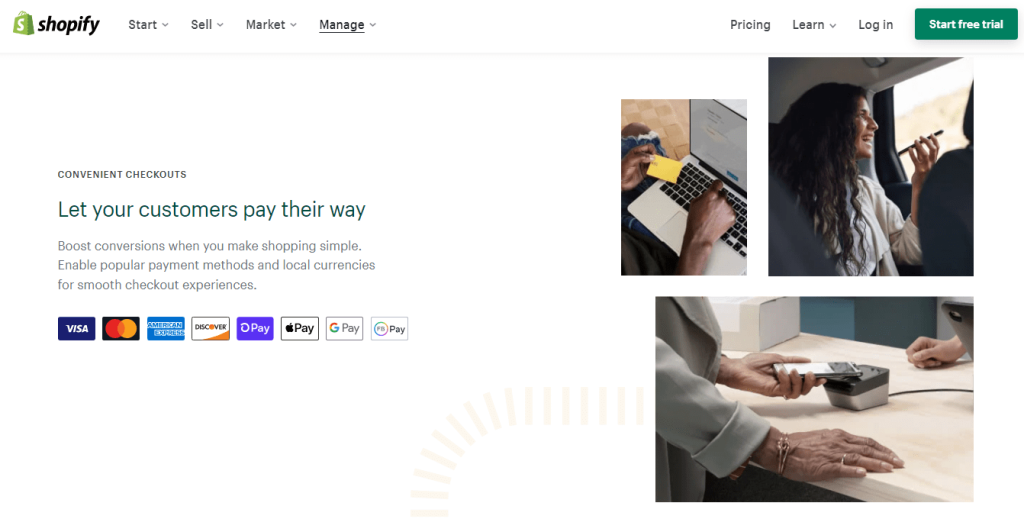 WooCommerce payment options include WooComerce payments, PayPal, Stripe, Afterpay, Amazon Pay, Square, Payfast, WooCommerce deposits, etc.
WooCommerce charges a transaction fee of 2.9% + $0.30 per transaction for the credit cards issued in the US and for the cards outside the US will be charged 1percentage extra
Verdict: Although there are not many differences in transaction fees levied by both platforms, both have a number of payment gateways. In this part, both platforms will occupy the same space.
Which Platform is better for Scalability?
When you run an online store, you need tons of resources and support to scale as your business grows. You have to set new goals and face new challenges, which can be a bit of an issue if you don't get help and support from your eCommerce platform. Both Shopify and WooCommerce are able to handle a large number of orders and traffic, but they are not the same.
Shopify has its own hosting servers, so you don't have to worry about scalability, performance, and security. Once your sales start snowballing, you can just upgrade to a bigger plan. A bigger Shopify plan is structured to handle growing businesses, including backups, updates, downtimes, and security. However, upgrading to a bigger plan can hurt your wallet very badly, as a bigger one costs two-three times more than the previous one.
On the other hand, WooCommerce is self-hosted. That means you have to take responsibility for maintaining backups, updates, and security. Basically, WooCommerce is an open-source platform, so you have to purchase hosting from third-party hosting providers. Since all WooCommerce websites are built on WordPress, you get full control over your website maintenance. But you might have to purchase hosting from trusted providers if you want to handle high-traffic and growing orders.
Verdict: Shopify is a great choice for sellers if they want scalability. Shopify plans are able to handle the sudden traffic of growing businesses. But with WooCommerce, you have to rely on your hosting provider, so it can be hit or miss.
WooCommerce vs Shopify: Pros & Cons
Here are the benefits & drawbacks of WooCommerce and Shopify.
WooCommerce Pros
You will get complete control over customization on your website with WooCommerce.
You can benefit from WordPress's huge community.
WordPress has thousands of plugins that you can use to enhance the capability of your website.
You can easily configure WooCommerce on WordPress.
The WooCommerce plugin is free of cost.
WooCommerce Cons
The pricing of premium plugins can be expensive, which will ultimately increase the total cost of creating your store with WooCommerce.
You need to manage hosting, security, and almost everything with WooCommerce.
Shopify Pros
The pricing of Shopify is pre-determined and affordable.
Shopify offers an app store where you can find thousands of apps.
Shopify offers plenty of free & paid themes.
You can launch your online store with Shopify within a few minutes.
Shopify Cons
With Shopify, you get very little control over your online store.
Shopify does not offer a lot of customization features.
Conclusion: WooCommerce vs Shopify (2023)
This is our detailed comparison between the two well-known E-Commerce platforms WooCommerce and Shopify. Both platforms provide a good experience when used according to requirements. The E-Commerce platform should be chosen according to the niche of the business, size of the business, features you need, and your budget.
If you want to start a simple online business with less budget Shopify is the best option because you will find all necessary functionalities within the platform.
Suppose your business idea is complex and needs more customizations, I would recommend you WooCommerce, It is the best platform for you. I hope my detailed comparison of Shopify and Woocomerce helped you figure out which is best for your business.