Want to become an Amazon Influencer? Don't look further, you have just landed in the right place.
Nowadays, Influencer Marketing has become a trend to drive sales with the help of creators from social media platforms. Famous brands like Nike, Puma, McDonald's, and many others are promoting their top products through famous influencers, athletes, and celebrities with the most followers on social networks.
Recently, Amazon launched a special Influencer Program where creators from various social media platforms join every day and earn thousands every month by promoting products. If you have a significant number of followers, you can join this program as well. No membership or upfront cost is required. 
In this post, I will share a step-by-step guide that will help you become an Amazon Influencer. I have also included what categories you choose to promote products on your favorite social media platforms.
Let's get started.
About Amazon Influencer Program
Amazon Influencers is a part of the Amazon Affiliate Program (Amazon Associates) that helps content creators, bloggers, and publishers monetize their content through sales. Associates can use their link-building skills to direct their audience to millions of Amazon products as recommendations. In return, you receive a fixed commission on successful purchases through your affiliate links. 
Amazon Influencers Program is a little bit different from Amazon Associates. It is a special program for content creators on various social media platforms such as Facebook, Instagram, YouTube, and TikTok. Amazon Affiliates can simply get an affiliate URL and link it with their blogs, articles, and posts to receive commissions. At the same time, Amazon Influencers can create their own storefront from where followers can purchase items.
With this program, Influencers can receive a larger chunk compared to small affiliate commissions. So if you have a decent number of followers on social networks, this program is definitely for you.
Requirements for the Amazon Influencer Program
Amazon Influencer Program accepts applications from all types of content creators & influencers. You need to attach your social accounts with your storefront so they can evaluate whether you are qualified for this program or not. Here are the requirements for the Amazon Influencer Program:
An active account on Facebook, Instagram, Facebook, or TikTok
A decent number of subscribers or followers (At least 20K)
Adequate engagement metrics on your social account(s)
Amazon has set up criteria for authorization as they only want to work with people who can drive sales through engagement. An influencer with a fair amount of followers will know how to turn followers into customers through high-quality content. So it would make sense to have these requirements before applying for the program.
How to Become an Amazon Influencer?
If you consider yourself suitable for the Amazon Influencer program as your social accounts are fulfilling the requirements, you can follow these steps to create an Amazon store.
Step 1. Create an Amazon Account
In order to become an Amazon Influencer, you need to create an Amazon account.
Visit the Amazon Influencers page and click Sign Up to start the process.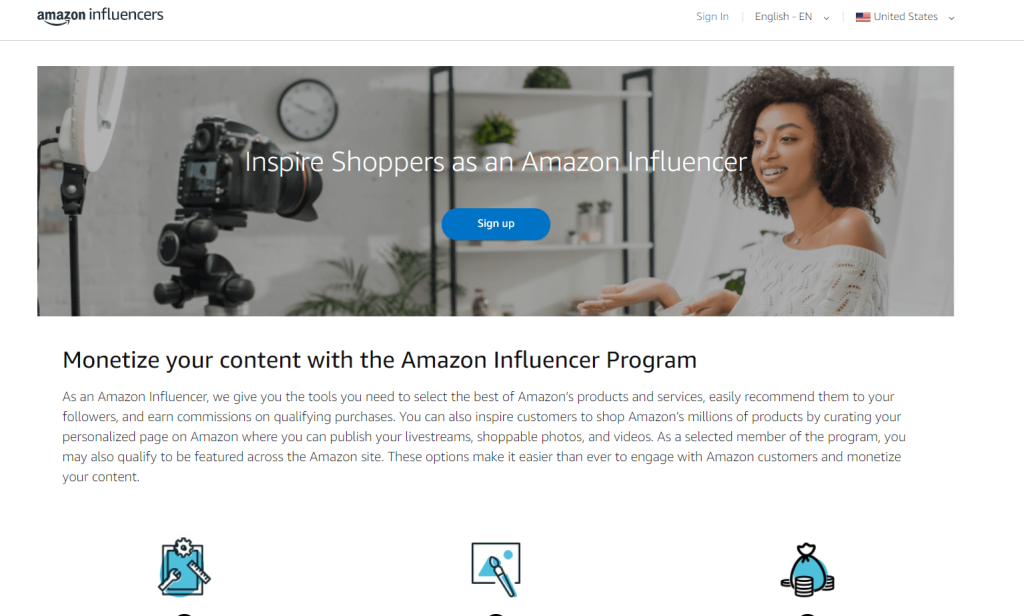 On the next page, you will get to choose from two options: Create a new account and use an existing customer account. If you already have an account that you use to shop on Amazon, you can use that particular account to create your Amazon influencer account. You can still access your shopping history, lists, reviews, and other content you have made through the customer account.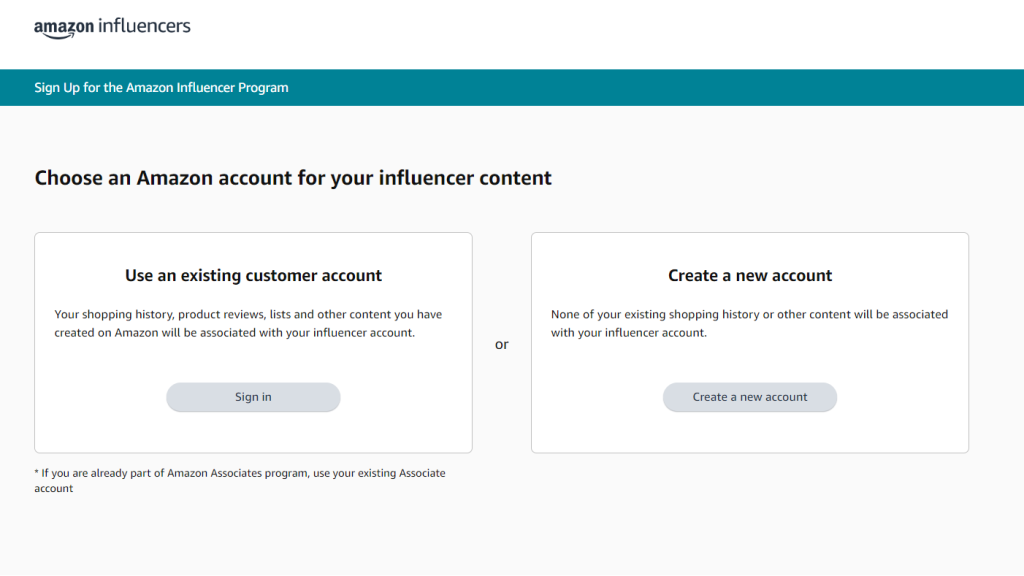 Or you can create a new account from scratch for the Amazon Influencer Program. Select the option and fill in your name, email address, and password to create a new one.
Step 2. Sign up for the Amazon Influencer Program 
After logging into your new or existing account, you need to apply for the Amazon Influencer Program. Here you will see four social media platform options: Instagram, YouTube, TikTok, and Facebook.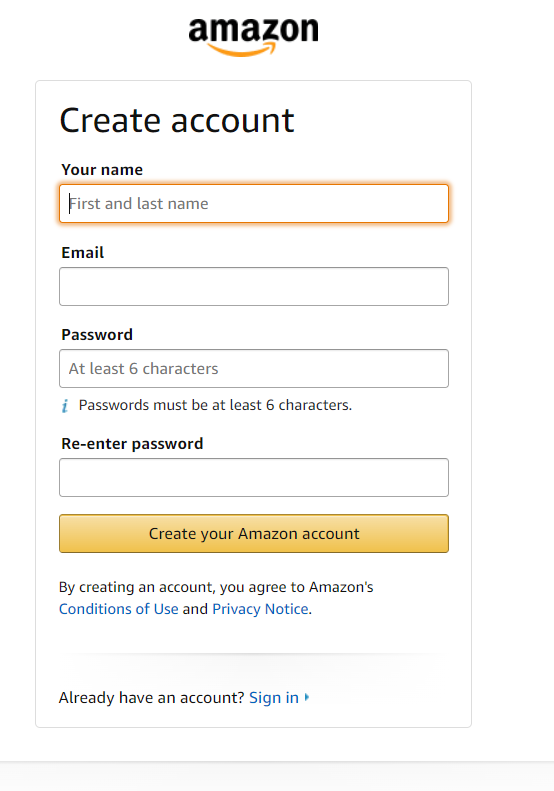 Select the one with the most followers or subscribers and sign up for the program. (You might need to log in to your social media account as well)
Once signed up for the program, you need to fill up an application form. And you will need
Information about the social account that you have selected
A visible profile picture
Your social handle name
Header image (optional)
Character bio (min 350 words)
Usernames or URLs of all other social profiles
Your Address
While selecting the social profile for the Amazon Influencer Program, make sure to select the one profile with the most engaging audience, as it will give more chances of success for this program. 
Step 3. Create Your Storefront
Influencers will get access to a specific Amazon storefront which will be a lot better than a standard Amazon Associates account. Being a member of the Brand Registry on Amazon, you can create a store to promote brands that you are interested in.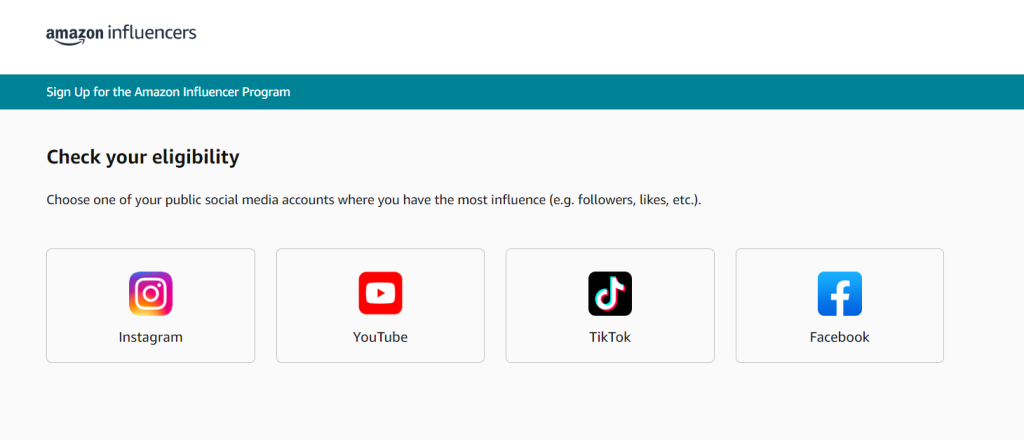 It would be great to promote products that you normally use in your daily life or portray the content you post. Upload content using the same product to become more transparent with your audience, and add links to the comments section so they can easily reach your Amazon storefront.
You don't have to go through a lot of customization to create your storefront. These types of stores have simple and minimal designs, and you can easily list chosen products.
Step 4. Fill Up Your Storefront
This seller account is different from the usual Amazon Seller account. You don't actually have to stock up on products in an inventory. You can just choose products from qualified product categories for the Associate's Program and list them on your storefront. Make sure to choose products that define your content type or brand.
If you are quite famous among Influencers, brands will automatically contact you to promote their products. As if you are a professional chef who posts unique recipes on various social platforms, various kitchenware and spice brands will reach out to your social handle and ask you to promote products under their brand name. According to your social media profile, Amazon will also recommend a few related brands.
Step 5. Promote Products Through Your Content
Once you have listed products with their links, it is time to promote them.
Every social media creator has a different way of approaching their audiences. Some like to post long videos and tutorials, while others create short videos using Instagram Reels or YouTube Shorts. If brands reach out to you, you can add the tag "Includes Paid Promotions" so your audience can easily understand where to find the product link.
Make sure you are not completely trying to market or advertise products or brands, as it can leave a negative impact on your audience. Instead of marketing products, smartly indulge the product with your regular content and show your audience why you are using it and how good it is. This way, your audience will be encouraged to buy the same brand from your link, and you will get a handsome commission in return with a little effort. 
Product Categories and Their Advertising Rates
Amazon Influencer Program comes with a lot of opportunities and earning ways, but that doesn't mean you promote anything that doesn't even fit your lifestyle or content type. Choosing the right product for promotion will add some value to your social career and vice versa. Here's a list of categories that you can select to find products for promotion.
Product Categories You Can Choose to Promote
| | |
| --- | --- |
| Product Categories | Fixed Commission Rates |
| Kitchenware, Housewares & Appliances | 9% |
| Furniture, DIY Tools & Outdoors | 9% |
| Pantry, Grocery | 8% |
| Baby, Home Appliances | 6% |
| Sports, Automotive | 6% |
| Electronics, Computers & Accessories | 5% |
| Video Games, Large Appliances, Movies, Music & Software | 5% |
| Luggage & Bags, Watches, Shoes & Apparel | 5% |
| Books, Pet Products & Toys | 5% |
| Personal Care & Beauty Products | 5% |
| Gourmet, Kindle Books & Jewelry (Excluding Gold & Silver Coins) | 5% |
| Mobile Accessories, Televisions & Musical Instruments | 4% |
| Bicycles & Gym Equipment | 2.5% |
| Data Storage Devices | 2% |
| Smartphones | 1% |
| Silver & Gold Coins | 0.2% |
Excluded Products for the Amazon Influencer Program
Flight Bookings
Video Game Consoles
Gift Cards
Prime Membership
Hardware
Apple products
Few smartphones of OnePlus, Realme, Redmi, and Mi
Amazon Bounty Program
The Bounty Program is a special program that you can join to earn extra income by referring to Amazon membership, subscriptions, and services from your website. The best part about the Amazon Influencer Program is that you don't have to create another account to join the Bounty Program. You can join from your existing Influencer account and earn a fixed advertising fee whenever someone signs up for a service/subscription using your referral.
How to Join the Bounty Program
Log into your Amazon Influencer Account
Hit on the Bounty Program button
Select a bounty program from the list that defines your brand
Click the Get Link or Get Banner option and paste it to your social bio or website
Eligible Services for Bounty Program
Prime Paid Membership (Mobile and Web version)
Amazon Business
Audible Paid Membership (Free Trial)
Prime Music
Kindle Unlimited
Amazon Pantry
Note: If you choose a bounty, you can't directly promote them through your content or posts. Instead, put the bounty on your storefront's banner or links within your bio.
How Much Can You Earn with the Amazon Influencer Program?
Watching the current market trend and popularity of social media among the young generation, the number of Amazon influencers is increasing day by day. Now, the program has become a stable source of income for many.
Let's talk about the earning potential of the Amazon Influencer Program. It depends on several factors, such as engagement rate, number of followers, and, most importantly, the product you are promoting. Your commission will mainly depend on the product. Typically, influencers can earn between 1-10% commission on qualifying purchases made through their links. The more you sell your product, the more you can earn.
When it comes to the bounty program, here's what you can expect:
$10 for every Audible Plus membership registration
$5 for successful Drop Text Alerts sign-up
$3 for a successful Amazon Baby Registry (Minimum one product added to the cart)
$2 for a successful Amazon Prime Video free trial
These amounts may look small, but when you promote these services to a larger audience, you will have the potential to earn up to tens of thousands of dollars every month. All you have to do is dedicatedly create content related to the product you are promoting.
Why should you choose the Amazon Influencer Program?
In this digital era, Influencer Marketing has become a full-time venture that is expected to reach a $17 billion milestone by the end of the year. Thousands of influencers are making a decent amount of money just by promoting products through their content.
Nowadays, people like to follow their favorite creator's footprints by imitating their lifestyles. So giving them the right product suggestions can add a little fortune to your earnings. You can earn up to $1,500-$2,000 a month using the right product for the program.
Choosing the product also depends on your earnings. The commission rates vary from 0.2% to 9%, depending on the category. You can choose a high-commission product, but if it is not related to your content, you might not get the sales you expected. But, if you choose the right category, even if it has a low commission rate, your earnings might be less, but it will be streamlined. So it is worth giving a try, and you won't be charged any upfront or any other costs. 
Here are some pro tips for becoming an influencer on Amazon:
Create video reviews showcasing you authentically testing and demonstrating products. High-quality, enthusiastic reviews build trust.
Focus on your niche so you establish authority on specific products. Target areas where you have expertise.
Be an early adopter of new products and brands to rack up helpful first reviews as they launch.
Use affiliate links in your Amazon storefront and other channels to provide purchase opportunities.
Engage actively in discussions and communities related to your niche to build connections.
Promote your Amazon reviews via other social media channels to gain visibility with overlapping audiences.
Collaborate with complementary influencers for cross-promotional opportunities.
Consistently deliver reviews over time – it takes regular high-quality content to gain a steady following.
Avoid overly promoting products; offer honest assessments mentioning pros and cons.
Take high-resolution photos and videos that show products clearly and attractively.
Building authority as an influencer takes time. Consistency, early discovery, and community connections combined with quality content in a specific niche build reach and impact over time.
Conclusion: How To Become An Amazon Influencer
The Influencer Market is thriving in the eCommerce industry. Thousands of content creators join social platforms every day, trying to get exposure and attention from brands just for this sole cause. If you are lucky enough to have a decent number of followers and subscribers who are engaged with your daily content, you can try the Amazon Influencer Program to earn extra income just by doing a little promotion. 
It is completely free of cost as you are not actually listing products or holding an inventory for selling. However, your application needs to be qualified by the Amazon team before you list products for promotion. This stepwise guide will help you join the Amazon Influencer Program without much effort.