Dropshipping is one of the best business models for sellers who are beginners and don't have a big budget to start. You don't need to own a product or inventory to get started.
If you're a beginner, t-shirt selling is the most common option when starting dropshipping. Usually, dropshipping business requires you to contact third-party suppliers who manage your inventory and order fulfillment.
But what if I tell you there are tons of dropshipping companies that not only manufacture t-shirts on demand but also ship them globally. That's exactly what I am going to talk about in this article.
Printify — #1 T-shirt Dropshipping Company
Create & Sell custom t-shirts hassle-free with Printify.
Get Started with Prinitify for FREE.
I will feature a handpicked list of 12 best t-shirt dropshipping companies in this post. I have also included their core features and their average production & shipping costs. 
Let's get started.
Top 12 T-shirt Dropshipping Companies: In A Nutshell (2023)
| | | |
| --- | --- | --- |
| S.No. | Dropshipping Company | Minimum Printing Cost |
| 1. | Printify | $7.09 |
| 2. | Yoycol | $3.3 |
| 3. | Printful | $8.95 |
| 4. | Shirtee | €7.56 |
| 5. | Merchize | $5.7 |
| 6. | AOP+ | $9.99 |
| 7. | EPROLO | $8.30 |
| 8. | Contrado | $32 |
| 9. | HugePOD | $4.50 |
| 10. | TeeSpring | Free |
| 11. | Print Aura | $12 |
| 12. | CustomCat | $9.58 |
Here's the list of the best t-shirt dropshipping companies you can find on the internet.
1. Printify
Printify is one of the most recognizable dropshipping companies in the world. It is a print-on-demand company that prints 600+ items along with t-shirts. It has one of the biggest logistics networks covering 100 locations globally.
There is no upfront cost for signing up with the platform. After signing up, they also provide you with a few design tools that you can use to create and upload custom designs and artwork.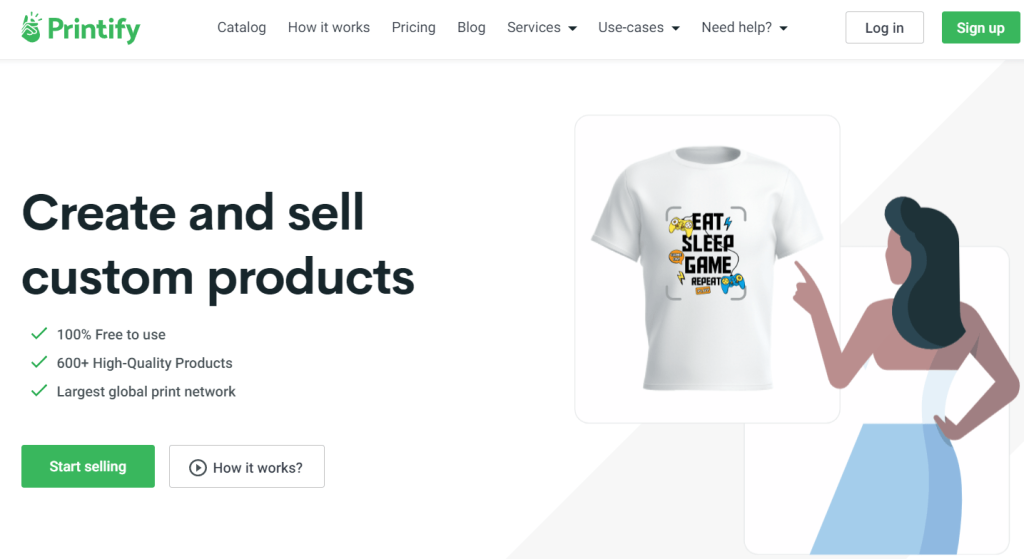 Printify also owns 90 manufacturing facilities over the globe, and you get to choose your production facility after comparing the shipping cost and average shipping time. You are also free to set your prices based on your preferences. Printify also integrates with major e-commerce platforms allowing you to promote and sell products.
Features
Worldwide delivery within 15 days
600+ products catalog
Free design tools
No order minimums 
20% additional discount with a premium subscription 
Accepts orders in bulk
T-shirt Printing Cost: Starts at $7.09
Shipping Cost: Starts at $4
Integrates with: Shopify, eBay, Etsy, PrestaShop, BigCommerce, Wix, Squarespace, and API
---
2. Yoycol
Yoycol is a China-based on-demand printing & dropshipping company. Yoycol offers more than 900 products for print-on-demand, including a wide range of clothing. The company produces and ships 15K+ items every day, reaching the mark of 1.8 million products every year.
Yoycol offers a free Mockup Generator tool that lets you create designs in 3D. There are 1000+ free designs available that you can use to design t-shirts, hoodies, mugs, cups, crocs, etc.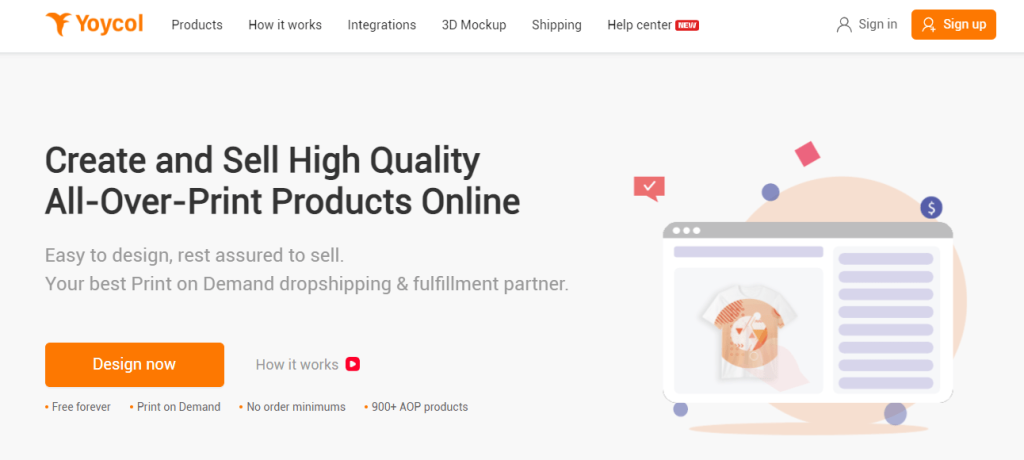 If you sign up with Yoycol for the first time, you can get coupons worth $150. All you have to do is complete registration and promote a POD product on your storefront. The production and shipping costs are comparable so that you can choose accordingly.
Features
900+ products catalog
Global delivery within 3 to 30 days (according to the region)
$150 worth of welcome bonuses
Free Mockup Generator with advanced 3D designs
No order minimums
2% to 5% additional discount after reaching a certain sales threshold
T-shirt Printing Cost: Starts at $3.3
Shipping Cost: Ranges between $0.90 to $24.90
Integrates with: Shopify and WooCommerce, Etsy, and BigCommerce.
---
3. Printful
Printful is a well-known dropshipping company that prints t-shirts on demand. The company is catering to over 390K customers worldwide. Apart from t-shirts, they offer a wide range of premium products, including clothing, mugs, backpacks, stickers, posters, flip flops, etc.
Printful is known for accepting integration with almost every major e-commerce platform, marketplace, sales channel, and API. With a Printful premium subscription, you will get advanced tools such as Custom Design Maker, Background Removal, Keyword Scout, and many more.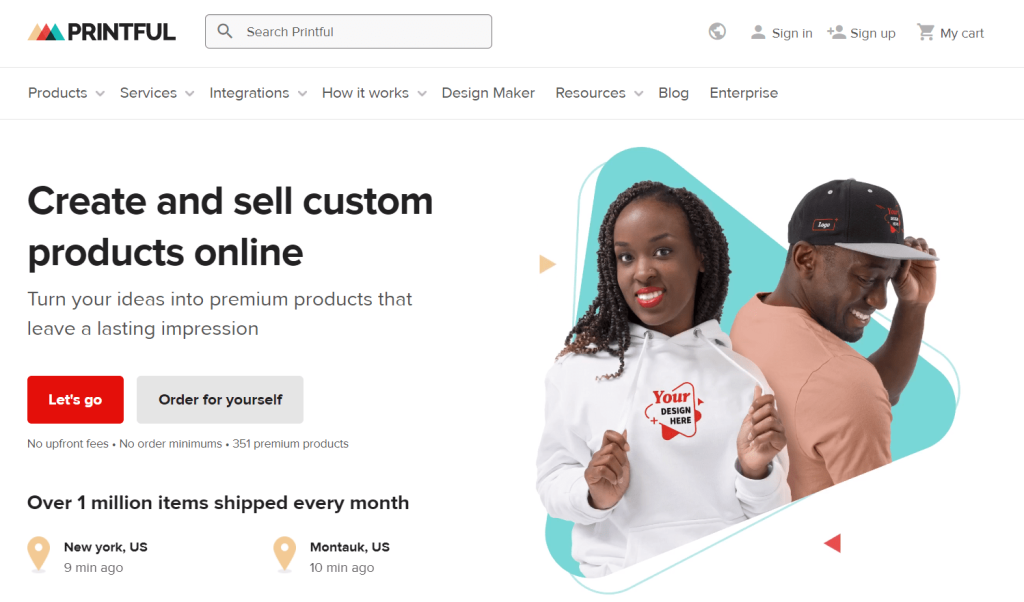 There are 480+ free customizable designs available for digital creators. Printful also offers free shipping for manual orders over $400. However, Printful is not entirely free. After a 14-day trial, you must upgrade to one of their premium plans.
Features
350+ products catalog
Global shipping within two weeks
No order minimums
Branding options available
Custom packaging
Exclusive 30% additional discount after reaching a certain threshold
T-shirt Printing Cost: Starts at $8.95
Shipping Cost: Starts at $3.99
Integrates with: 26+ major e-commerce platforms, marketplaces, and sales channels
---
4. Shirtee
Shirtee is a unique dropshipping company that only prints t-shirts and shirts on demand. The Germany-based company manufactures the best quality t-shirts for private-label and white-label dropshipping.
Shirtee lets you sell on-demand t-shirts under your brand and design. You can print your logo on their white label products and choose a custom packaging from various options.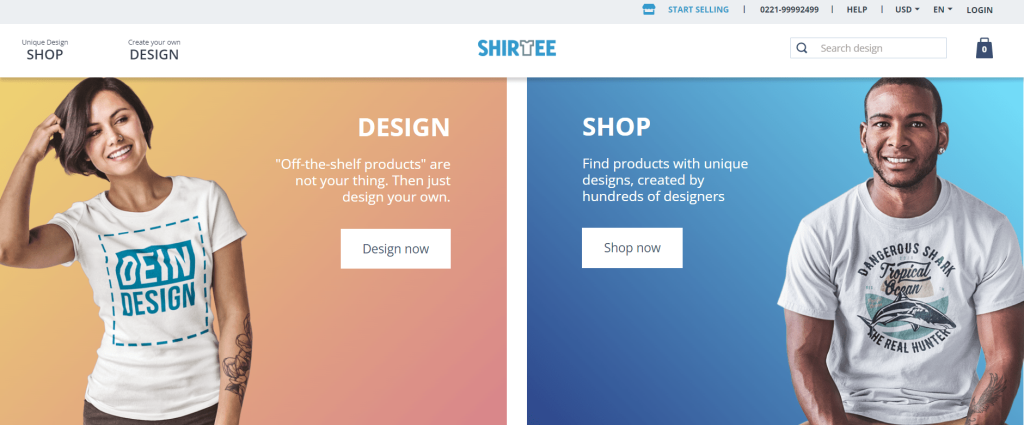 Apart from online selling, you can order custom-designed shirts and t-shirts in bulk to sell in local stores. Like other famous companies, it lets you choose a suitable region with reasonable shipping prices.
Features
Branding options with private labeling
Global shipping within 2 to 15 days
Easy return-management system
No order minimums
Nature-friendly fabrics
Custom packaging
T-shirt Printing Cost: Starts at €7.56
Shipping Cost: Start at €4.16
Integrates with: Etsy, Shopify, Wix, Rakuten, PretaShop, etc.
---
5. Merchize
Merchize is one of the fastest t-shirt dropshipping companies. The company is located in Vietnam that uses cutting-edge AI technology and UV printers to print products.
Merchize offers 150+ on-demand product options with an in-house manufacturing facility. That means your customers will receive the best quality products. The company is transparent with its production and shipping times so that you can compare and choose your preferred region.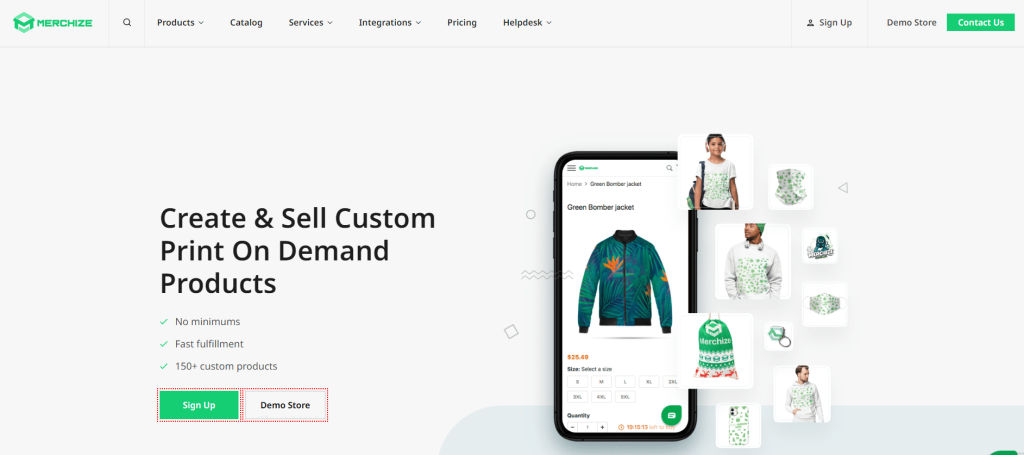 With a Merchize premium subscription, you will get advanced tools to set up your storefront—including SEO-friendly and powerful marketing tools. They have a local and global sellers community where you can interact with experts and professional sellers to learn something new.
Features
Global shipping within three weeks
Advanced storefront management tools
150+ products catalog
No order minimums
20% discount on sample products
Transparent production and shipping times
T-shirt Printing Cost: Starts at $5.7
Shipping Cost: Start at $1.99
Integrates with: Shopify, Amazon, Etsy, eBay, WooCommerce, and custom API.
---
6. AOP+
Like Merchize, AOP+ also offers an in-house manufacturing facility and is transparent with its production time. The company initially started as a local t-shirt stall in the UK. But now, it has become a reliable POD dropshipping company catering to over 1,000 merchants around the globe.
The company offers an excellent platform for artists and designers. You won't get an in-built design tool, but you can upload your creativity for on-demand printing. The platform offers you the best quality while keeping its fabrics organic and vegan-friendly.

AOP+ provides flexible branding options to their merchants, including white labeling, custom packaging, postal slips, etc. Since their production is entirely in-house, you get consistency with the product's quality.
Features
120+ products catalog
Flexible branding solutions
No order minimums
Global shipping within two weeks
Nature-friendly products
In-house manufacturing
T-shirt Printing Cost: Starts at $9.99
Shipping Cost: Start at $1.99
Integrates with: Shopify and Etsy (more options coming in 2023)
---
7. EPROLO
EPROLO is a one-stop dropshipping company located in China. What makes it different from others is that it allows you to sell thousands of ready-made t-shirts instantly in 100+ niches.
Talking about POD dropshipping, EPROLO offers 400+ products to choose from. They have manufacturing facilities in the USA, Australia, and China. Custom products printed in the USA and Australia are only shipped within their respective regions, while products manufactured in China are shipped all over the world.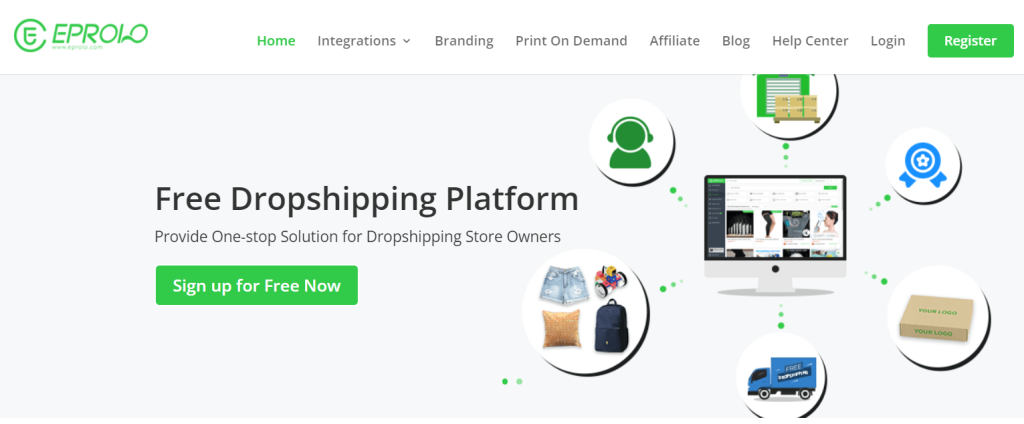 EPROLO has a free forever subscription plan that comes with many great designs and options. But if you want to include your branding over your products, you can join their paid membership which allows you to add customized labels, scotch tape, hangtag, and many more.
Features
Global shipping within 2-3 weeks
400+ handpicked products to choose from
Branding options with membership
No order minimums
Access to thousands of products within 100+ niches
24/7 customer support
T-shirt Printing Cost: Starts at $8.30
Shipping Cost: Start at $7
Integrates with: Shopify, eBay, WooCommerce, Shoplazza, SHOPLINE, etc
---
8. Contrado
Contrado is a London-based t-shirt dropshipping company that makes quality products on demand. The company encourages creative artists and designers to sell artworks and designs so they can earn a decent income without any investment.
Contrado has an in-house production facility in London, so all the products are handcrafted inside the facility. Their production cost is slightly high because they don't compromise their quality.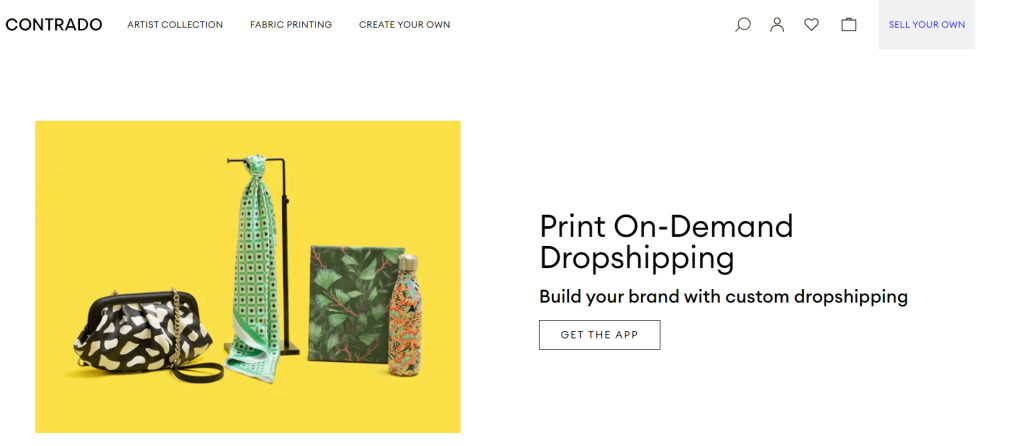 The company offers royalty-free branding solutions from production to packaging. You can add your brand's logo, label, dispatch notes, or thank-you message on your products. Contrado also offers an exclusive student discount for creative students. However, the discount is only available for US and Canadian students.
Features
450+ products catalog
Global shipping within 2-3 weeks
Order production within 1-3 days
Royalty-free branding options
Exclusive discount on bulk orders
Complete in-house production
T-shirt Printing Cost: Starts at $32
Shipping Cost: Start at $9.75
Integrates with: Shopify
---
9. HugePOD
HugePOD is a certified t-shirt dropshipping company that manufactures 100% biobased products on-demand. Founded in China, the company has manufacturing facilities in Dubai, New York, San Francisco, and Los Angeles.
The company is popular for offering a variety of embroidery and printing techniques to their merchants. Having networks in various regions gives sellers a slight advantage. Compared to other companies, HugePOD's production cost is 50% less.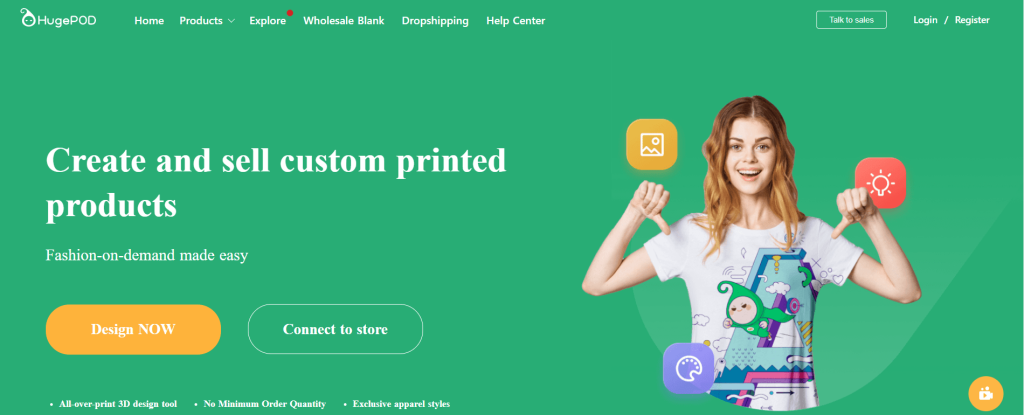 In 2021, the company started an appreciative initiative where they pledged to use only nature-friendly recycled materials for packaging. They use non-hazardous machines and inks to print designs on t-shirts.
Features
Environment-friendly production
Up to 10% discount on bulk orders
Global Blind Dropshipping within 2-3 days
Free-to-use design library
Flexible branding options
No order minimums
T-shirt Printing Cost: Starts at $4.50
Shipping Cost: Start at $4.2
Integrates with: Shopify, ShopLine, WooCommerce, Shoplazza, and Squarespace
---
10. TeeSpring (Spring)
TeeSpring (now known as Spring) is another print-on-demand website that sells customizable items, including t-shirts. You can sell hoodies, mugs, leggings, home decorations, and a lot of stuff on TeeSpring. They have also introduced an Instagram checkout option where someone can directly buy their products from Instagram. They have reduced the number of steps a customer has to go through to complete a purchase which results in increasing the conversion rates.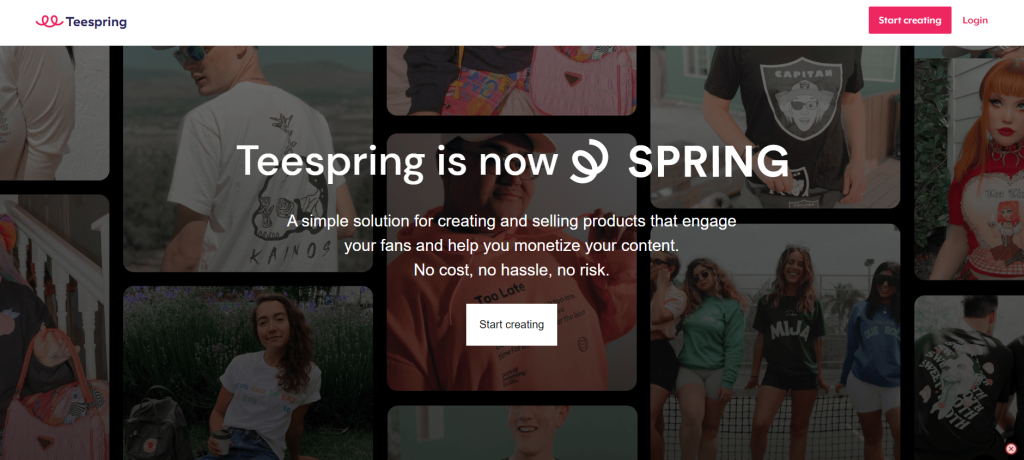 This is the best platform to sell t-shirts of your brand if you are an influencer because it integrates with Instagram, YouTube, Twitch, and many other platforms. You can also easily create mockups on this platform. It allows you to use its design tools to virtual design your items, and you can see them in real-time virtually.
Features
Featured collections of creators
Order in bulk
Create your items and sell them on social media
Analytics dashboard
Spring Launched tool to help you create your products
Sell on TeeSpring marketplace
T-Shirt Printing Cost: Completely free of cost; it only charges when you make a sale.
Shipping Cost: Basic shipping charges
Integrates With: Twitch, Instagram, YouTube, LinkTree, Stream Alerts, and Discord
---
11. Print Aura
Print Aura is one of the famous print-on-demand services that provides white-label and customized T-shirt printing fulfillment solutions for dropshipping businesses. Like other PODs, the platform allows users to design different types of T-shirts and other apparel with their graphics and artwork. The platform is dedicated to shipping their products within a given time frame so their users can offer exceptional customer service to their customers.
Print Aura offers an in-built mock generator that allows users to create unique designs for T-shirts without any special equipment or software. With Print Aura, you can print your designs on various types of apparel for men, women, and children, in different sizes, styles, and variations. There are no MOQs, so customers can order their desired quantities without any limitations.
Features
100 types of different products for selections
Easy-to-use mock generator
White-label products for custom printing
No order minimums
Integrates with popular eCommerce platforms and marketplaces
Cut-rate prices and fast shipping options
T-shirt Printing Cost: Starts at $12
Shipping Cost: Starts at $5
Integrates with: Shopify, WooCommerce, Magento, Etsy, and Storenvy
---
12. CustomCat
CustomCat is another great tool for dropshipping that helps you create next-generation Tees, Sweatshirts, Activewear, and Hoodies. With CustomCat, you can build your brand around with custom products and use its fulfillment services to reach customers on time. It has one of the largest catalogs that includes over 550 products. You can create your designs on these products using its design tool and sell them on your online store.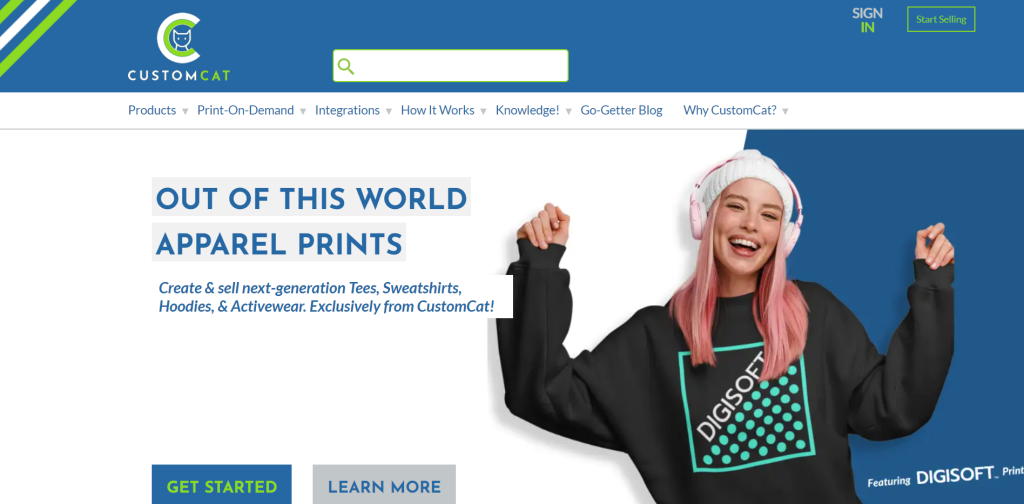 It takes around 2-3 days for products to get shipped from a CustomCat warehouse. There are no minimum order requirements, so you can easily place orders with CustomCat as soon as you receive orders in your store, and the fulfillment will be taken care of by CustomCat. This platform uses embroidery technology that allows you to create more professional-looking designs.
Features
Fulfillment takes around 2-3 days 
No minimum order requirements
Over 550 products from the catalog to choose from
Create professional-looking designs
Connect CustomCat with your eCommerce platform
Volume discounts for high-volume sellers
T-shirt Printing Cost: Starts at $9.58
Shipping Cost: $4.99
Integrates With: Shopify, Etsy, BigCommerce, WooCommerce, and CustomCAT API
---
Related Read:
Conclusion: Which is The T-Shirt Dropshipping Company?
Print-on-demand and dropshipping are unmatchable combinations for a novice merchant. But, you can also expect a high level of competition while doing dropshipping business.
If you're going to start with t-shirt selling, these are the best options in my opinion. However, there is no shortage of dropshipping companies. In the end, your choice depends on other essential factors such as production cost, shipping cost, a wide range of products, and, most importantly, your profit margin.