When it comes to selling products online, SamCart vs Shopify are the two names that come to mind first. And why not? Both platforms offer a unique set of features and various ways to sell physical or digital products. 
SamCart and Shopify are two renowned eCommerce platforms in the market that offer advanced yet user-friendly tools to create an online store to sell products. Despite some similarities, there are a number of differences that set them apart. This is the main reason why both platforms target different audiences. As a beginner, you might be wondering about those differences. Don't worry; you will find out about them in the following article.
In this post, I will compare SamCart and Shopify features and tools side by side. I have also included their stand-out features to clarify what kind of audiences both platforms target. 
So without further ado, let's dive right into the post.
SamCart vs Shopify: In A Nutshell
Before comparing both platforms' features, let's know about SamCart and Shopify first.
SamCart Overview
Founded in 2012, SamCart is a single-page shopping cart solution for sellers and entrepreneurs who want to sell individual products online. It allows sellers to create a web-based checkout platform where they can host a product and accept customers' orders. SamCart is not like those traditional eCommerce platforms. It is quite new and innovative on its own. Currently, SamCart is trusted by 35,000 creators and entrepreneurs.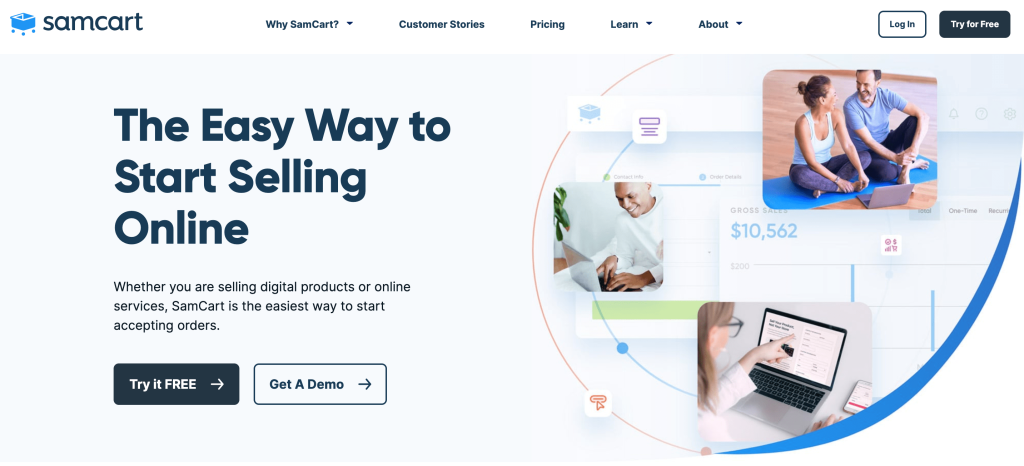 SamCart offers a system that helps you set up a sales funnel that follows a pattern to convert a visitor into a customer. You can add crucial components to your sales funnel to create order bumps, downsells, and upsells. The platform also offers services to create landing pages, membership websites, webinars, and squeeze pages. To check if your sales funnel is effective or not, you can run an A/B test. You won't get this Sandbox environment anywhere else. 
Shopify Overview
Shopify is a complete eCommerce platform that offers industry-specific features to sellers so they can create a standalone website for their business. Whether you own a small business or an enterprise-level business, you will get solutions for your online business from Shopify. The platform's all-in-one capability is the reason why 1.88 million sellers from 175 countries trust its commerce services.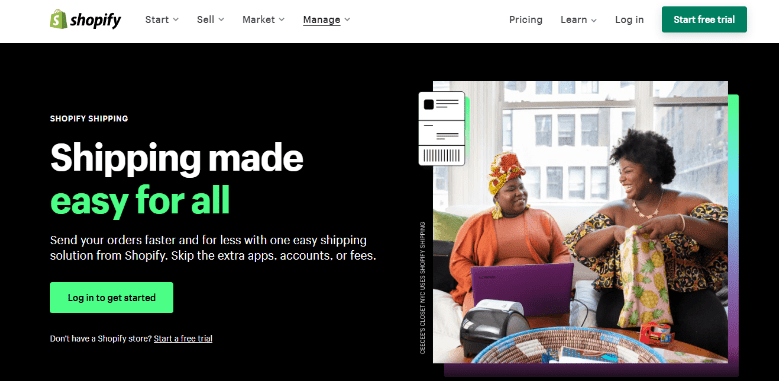 Apart from exceptional features, Shopify provides free access to a huge library of apps and add-ons. With these add-ons, you can increase your selling capabilities and expand your business to international audiences. If you don't have much capital investment to start your own business, you can go with dropshipping or print-on-demand (POD) business. Luckily, Shopify integrates with popular dropshipping and POD suppliers, which makes it easier for you to start.
Key Differences Between SamCart And Shopify
With SamCart, you can create an aesthetic checkout page to sell physical or digital products. At the same time, Shopify allows you to create a fully-featured storefront to sell any type of product online.
SamCart doesn't provide hosting to build a storefront on its store, while Shopify offers in-built hosting with all its plans, so you don't have to buy from a third-party source.
SamCart is best suited for small businesses or individuals who want to sell one or two products. On the other hand, Shopify offers solutions to any type of business with no product limitations, regardless of their size.
SamCart offers flexible and advanced sales funnel capabilities, while Shopify's cart design is not as advanced or high-converting as SamCart. 
SamCart doesn't charge any transaction or procession fee for the card or online payments. In contrast, Shopify charges a transaction fee according to the seller's subscribed plan (unless they use Shopify Payments as their payment processor).
SamCart vs Shopify: Major Features Comparison
Here is a comparison of all the major features you expect from SamCart and Shopify.
1. Ease of Use
As soon as users purchase a plan, they get access to a simple dashboard from where they can build and manage their pages and sales funnels. First, they can pick a theme and use the drag-and-drop builder to create their page. They can customize the theme according to their business model or product.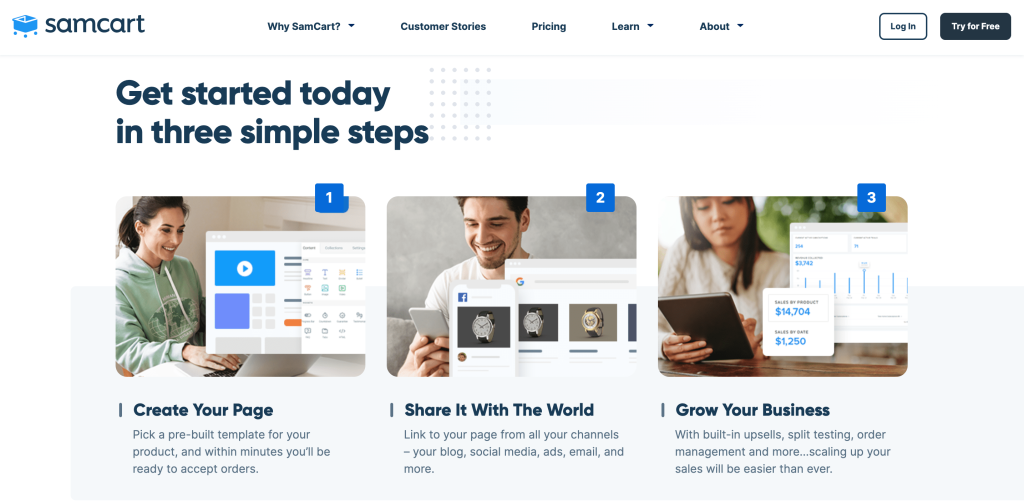 After setting up the store, SamCart sellers can sell unlimited products. Managing products will be easier if you list only one or two products in your store. Because SamCart doesn't really host a storefront for users. However, you can sell digital products and courses in a membership model.
Shopify's popularity lies in its simplicity. The platform offers various options for storefronts and access to advanced features for sellers. Yet, it is so user-friendly that anyone can start from scratch without any technical skills required.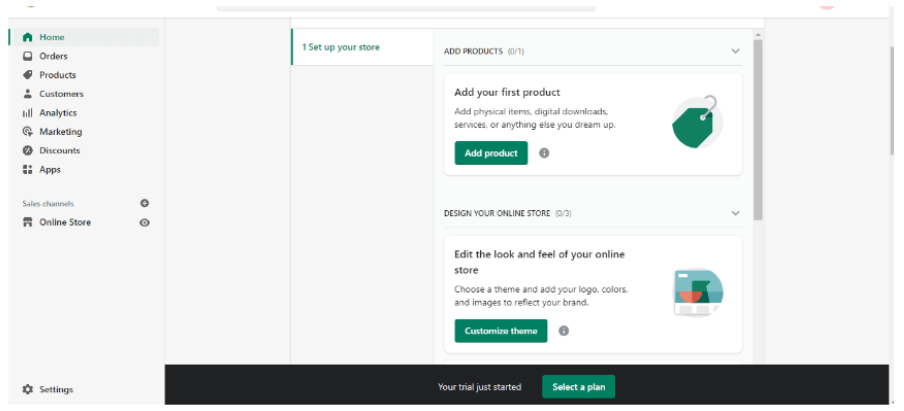 As soon as you sign up for a plan, the Shopify system assists you with your onboarding. They will help you set up your store, from picking up a theme to listing a product to your store. You can pick a free or paid theme and customize it as per your business requirements. Like SamCart, you will also get a drag-and-drop editor with Shopify, which makes the customization process effortless. After adding products, you can install necessary apps from the App Store to increase your store's performance. 
Winner: Tie
2. Web Design and Templates
SamCart is a simple eCommerce platform for entrepreneurs and creators, but you can find a number of mobile-responsive and professionally designed templates. For example, you can choose a theme or funnel template to create a single-page website to sell digital products.
You can use the same theme to sell physical products. You can also find a variety of checkout templates to create checkout pages. The themes are user-friendly and make customers' checkout process simple and quick.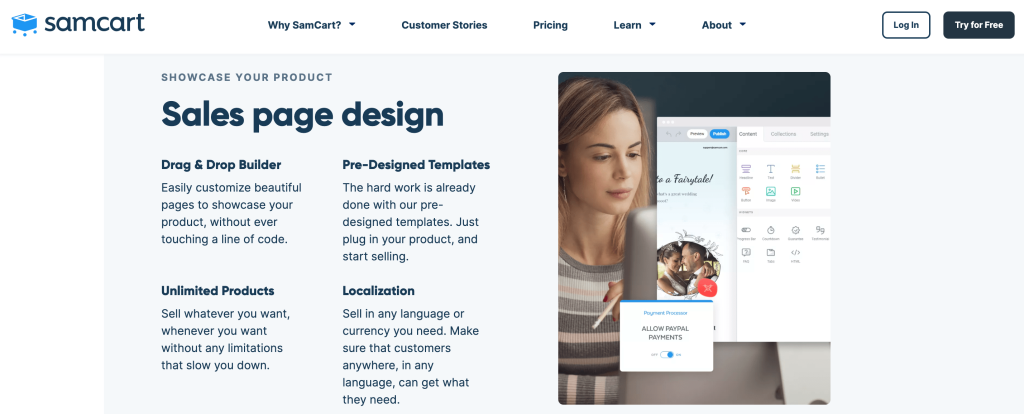 Shopify, on the other hand, offers over 114 pre-designed templates. Some of them are free, and over 100 themes are paid, which range between $180 to $350. All the themes are modern and professionally designed for websites of all types and sizes.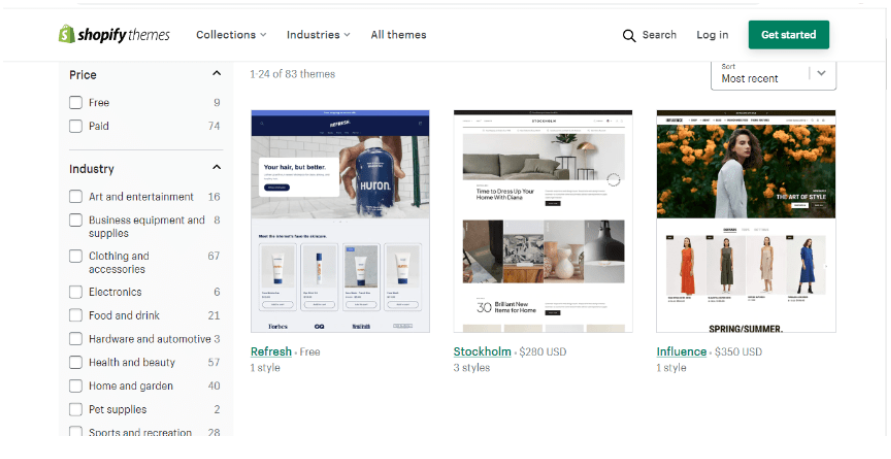 You can customize all the themes according to your website. However, you won't get much customization with the free themes. And Shopify doesn't offer any separate templates for checkout pages—you have to customize them according to the themes you have chosen.
Winner: SamCart
3. eCommerce Features
SamCart looks like a simple tool for sales funnels and checkout pages, but it offers an array of eCommerce features. These features are simply compatible with physical and digital products, so you can easily sell any type of product. You can even sell subscription-based services or courses using its features.
SamCart also offers a top-notch A/B (split) testing feature that allows you to create variations for your checkout pages. This feature helps you forecast what variant will help with conversions the best. SamCart is used by affiliate marketers and creators very often, so they can also find in-built marketing features.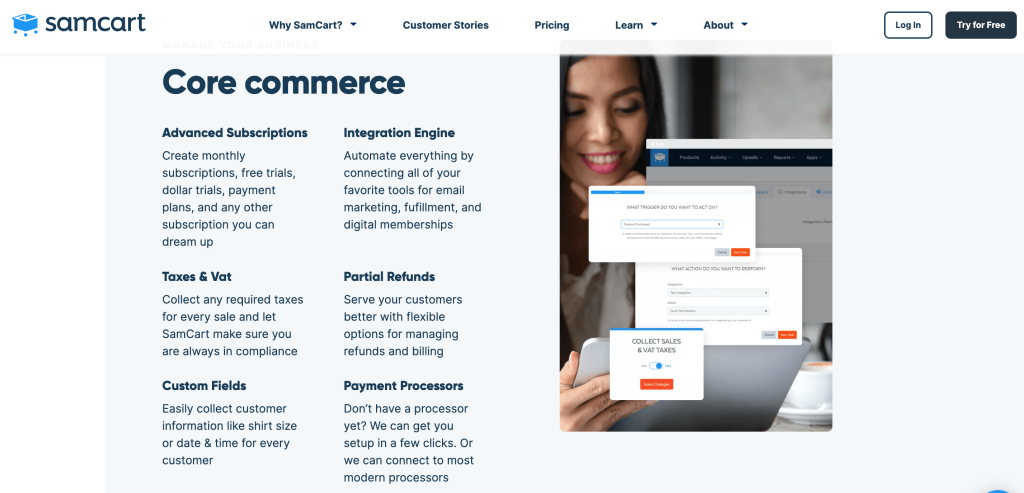 As earlier, I stated Shopify is one of the complete eCommerce platforms, and I meant that. It also means you can expect all the core functionalities and features as any other eCommerce platform. With every Shopify plan, you can list unlimited products in your store and sell them without any limitations.
Its product management feature helps you manage any type of inventory, whether you sell physical or digital products. However, if you want to sell subscription-based services or courses, you won't get any feature for this purpose by default. You may have to pay additional charges to your developer to unlock this feature. Apart from that, you will get other advanced features such as multichannel integrations, product tracking, dropshipping, mobile POS, etc.
Winner: Shopify
4. Sales Funnels
Creating sales funnels for single-page checkout is the only thing where SamCart excels. SamCart allows you to create different types of funnels, such as one-click upsell, down-sell, and micro sales funnel. However, these sales funnels are basic and won't be that effective, so you might have to integrate other apps in order to create a complete sales funnel. 

You can also create an eye-catching sales funnel with Shopify. But unlike SamCart, you won't get straightforward options to create a sales funnel. You can create landing pages similar to sales funnels from the Pages option. This is the only thing you will get with default features. There are other options available such as email marketing and social marketing, that you can use instead of a sales funnel. These are much more effective and will help you increase your conversion rate.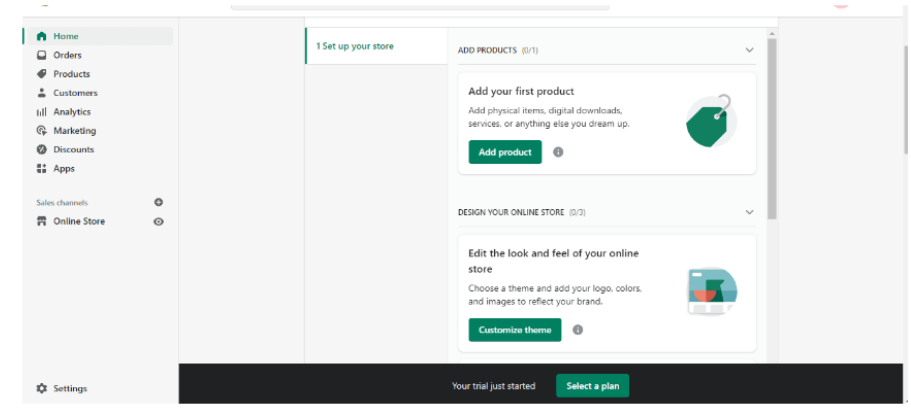 Winner: Tie
5. Affiliate Program Management
SamCart offers a built-in affiliate center where you can set up affiliate programs or run an affiliate website to promote products. On top of that, you will get affiliate programs for free with any selected plan, which means you don't have to pay additionally.
Affiliate management software can cost up to $50 to $2,000 per month, and you will save a lot of money by choosing SamCart. With this platform, you can customize your commission rates by creating tiers for affiliates. Affiliates can also use the internal chat feature to contact you or your team so you can make a deal with them.
Shopify doesn't include any affiliate-related features or tools with its plans. However, you can find a number of affiliate marketing and management apps in the Shopify App Store. You can install a responsive app if you want to run an affiliate program on your Shopify store. Affersion, Shoutout, GoAffPro, and LeadDyno are some of the top affiliate program apps you can find in the Shopify App Store.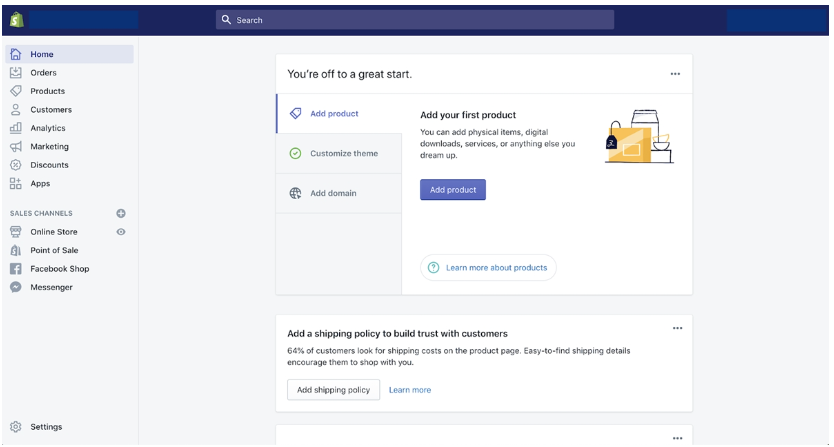 Winner: SamCart
6. Payment Processors
SamCart only supports a few payment processors, such as PayPal, Stripe, Authorize.net, and Braintree. It also supports digital wallets such as Google Pay and Apple Pay. Digital payment processors help you enable fast and secure checkout via mobile.
Since these processors use a card tokenization system, you can ensure the security of customers' bank and card details. You can integrate Braintree, which allows you to accept card payments from your customers. The best part about using SamCart is that they don't charge any transaction or processing fees for payments.
Shopify, on the other hand, integrates with over 100+ payment processors and gateways such as PayPal, Skrill, Stripe, World Pay, Amazon Pay, Google Pay, Authorize.net, etc. However, Shopify imposes a fixed transaction fee for payments, depending on your subscription plan. Shopify also offers a solution to this problem.
You can use Shopify Payments, which is Shopify's in-house payment processor. Shopify Payments allows you to set your preferred payment processors. Unfortunately, this service is only available in a few countries. 
Winner: Shopify
7. Apps & Integrations
SamCart's plans offer integrations with 120+ applications and plugins. Users can install available apps with one click and use that specific app's features without any learning curve. If you can't find your app, you can use its custom API feature to integrate your preferred app into your SamCart store.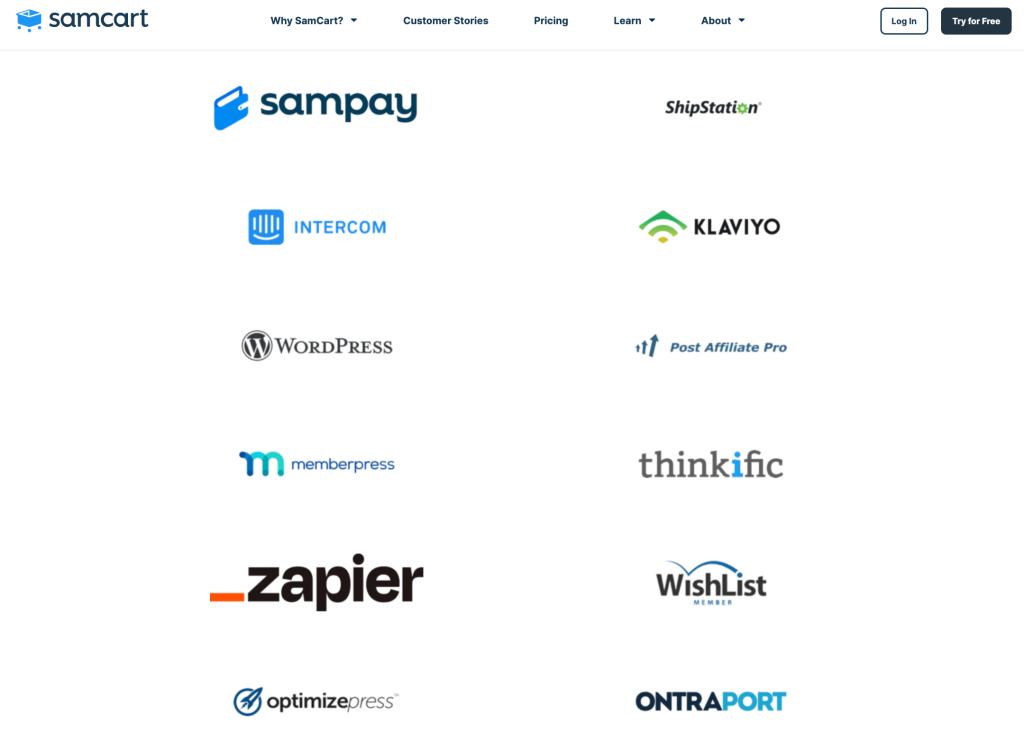 However, you will need to purchase its Scale plan to unlock the custom API feature. But the Scale plan is quite expensive for some users. So instead of purchasing the Scale plan, you can use an automation app, Integrately, which allows SamCart users to install over 1000+ apps. The app is much cheaper than Zapier and flexibly supports many eCommerce platforms.
When it comes to integrations, no eCommerce platform comes near Shopify. The software offers over 6,000 apps for different purposes. Over 2,700 apps are free, while 3,300 apps are paid, ranging between $10 to $299 per month.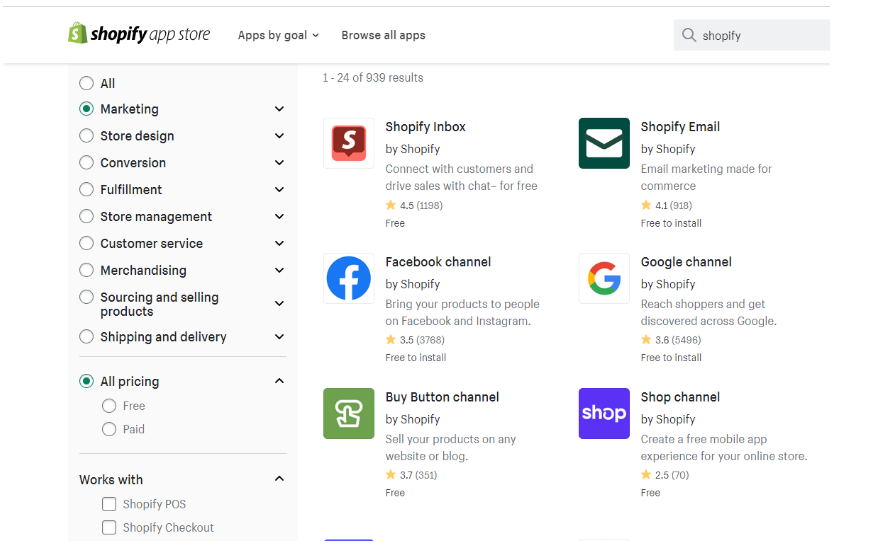 You can find all these apps on its own App Store. Here you can find a search box with a filter option that allows you to filter apps according to category and price. Most paid apps offer a limited free trial, so you can test the app before buying it.
Winner: Shopify
8. Customer Support
SamCart knows how to keep its customers retained. This is why the platform offers support via email, phone, live chat, blog, and training section. Sellers can also check out its Knowledge Base, which is a collection of answers and solutions to problems that sellers face.
The support team is very responsive. The team responds to customer queries within hours. Grow and Scale plan users can also take advantage of one-on-one expert support, which you won't get with other platforms often.
Shopify is not far behind from SamCart in terms of customer support. They offer almost every type of support, such as live chat, phone, email, and documentation. For self-help, you can check out its help center, where you can find articles and blogs related to various queries.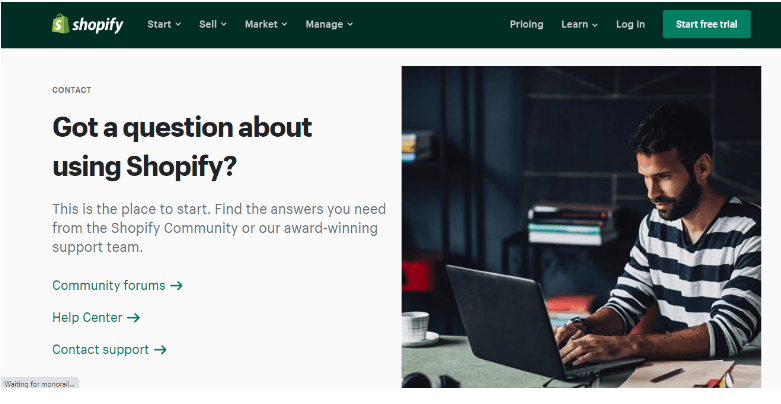 Winner: Tie
9. Pricing
SamCart offers three tier-based plans to its users. The cheapest plan starts at $59/month. All the plans include the necessary eCommerce features that you need to create a one-page website or create a sales funnel.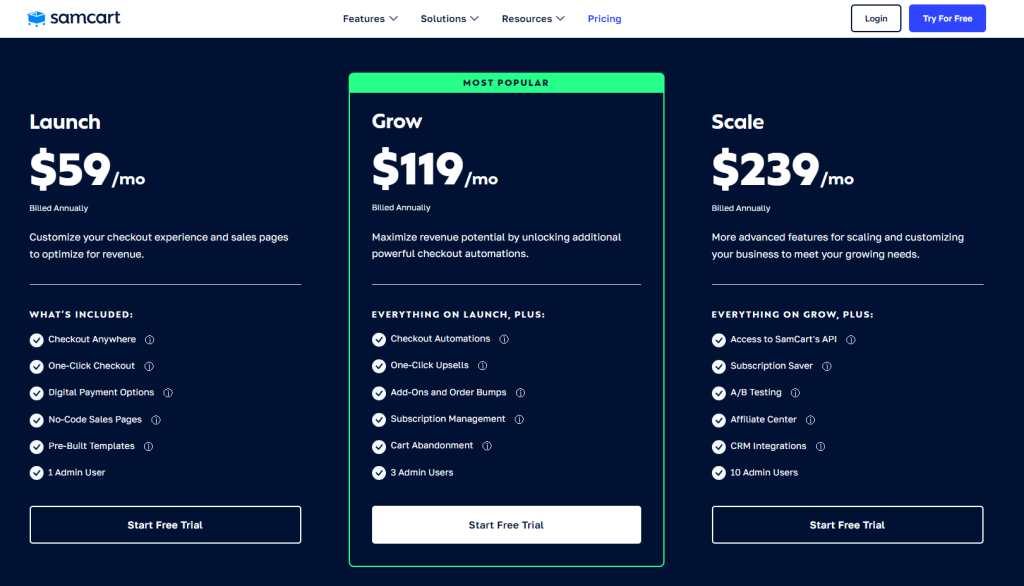 | | | |
| --- | --- | --- |
| SamCart Plans | Pricing | Key Features |
| Launch | $79/month | Single-user license, standard integrations, virtual onboarding webinars, access to CreatorU, and billing options |
| Grow | $159/month | Launch plan features, three admin users, enhanced integrations, one-on-one expert support, and accelerator packages (for profit, insights, marketing, and conversion) |
| Scale | $319/month | Grow plan features, ten admin users, custom API & CRM integrations, dedicated customer support, and an advanced growth package |
All the SamCart plans are available in monthly and yearly formats. Switching to a yearly plan gives you a flat 33% discount. And all the plans come with a 7-day free trial, so you can pick and check your preferred plan before buying it.
Shopify is dedicated to offering a place to every type of business or enterprise. This is why they offer five plans to their users. The cheapest plan of Shopify starts at $5 per month, which allows creators or individuals to sell on the social media marketplace.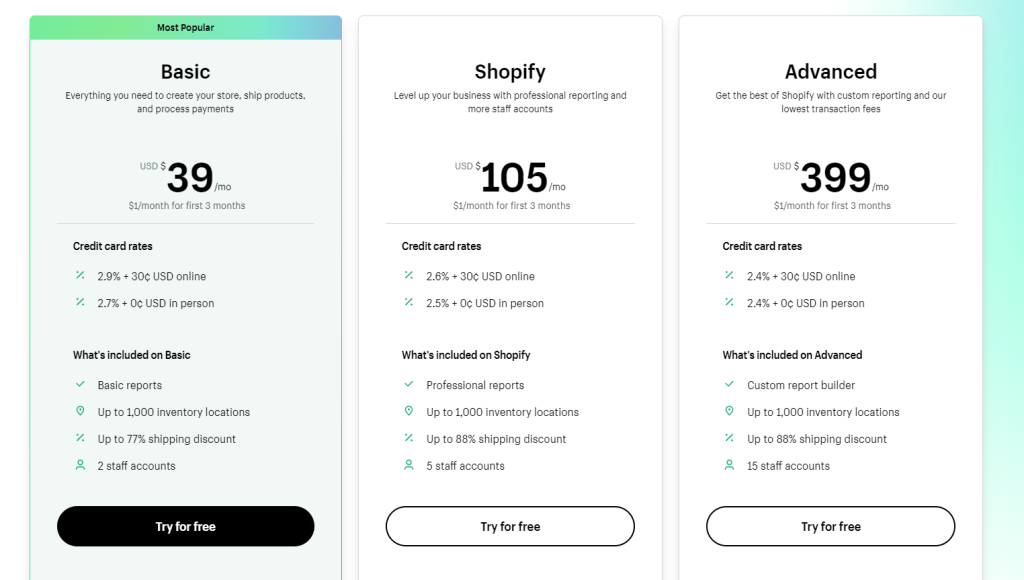 | Shopify Plans | Pricing | Key Features |
| --- | --- | --- |
| Starter | $5/month | Sell on social platforms, basic reports, and access to the Start theme |
| Basic | $39/month | Online store, unlimited products, 2 staff accounts, eCommerce features, and an SSL certificate |
| Shopify | $105/month | Basic plan features, automation features, 5 staff accounts, and standard reports |
| Advanced | $399/month | Shopify plan features, discounts on shipping, 15 staff accounts, third-party shipping charges, and advanced reports |
| Shopify Plus | $2K/month | Advanced plan features, customized solutions, and specialist support |
All the plans are available in monthly, 1-year, 2-year, and 3-year formats. Yearly plans offer you lucrative discounts when paid upfront. You will also get a 3-day free trial on your preferred plan. Beginners will get an exclusive $1/month offer for the Basic plan for 3 months.
Winner: Shopify
SamCart vs Shopify: Pros & Cons
Here are the pros & cons of Shopify and SamCart:
SamCart Pros:
Specialized in maximizing conversions through checkout pages
Streamlined checkouts to reduce abandonment
Built-in upsells, downsells, order bumps
Seamless integration with payment processors
Easy-to-use drag-and-drop checkout builder
Abandoned cart recovery capabilities
SamCart Cons:
Limited capabilities beyond checkout pages
Additional transaction fees beyond the monthly cost
Less control compared to owning the full platform
Shopify Pros:
All-in-one platform including storefront, payment processing, shipping
Everything needed to start an ecommerce business
Abundant app ecosystem and customization capabilities
Own data and can migrate platforms
Integrated shopping cart, product listings, and inventory
Shopify Cons:
Higher monthly subscription costs
Additional fees for bandwidth and payment processing
Less specialized around maximizing conversions
It can become costly as the business scales
Related Read:
Final Verdict: SamCart vs Shopify (2023)
After reading all the aspects now, you know Shopify is the ultimate winner of this debate. SamCart and Shopify are powerful platforms that offer legit and reliable services to their users, but you can't weigh them on the same page. Shopify completely leans toward commerce by offering web hosting, CMS, website building, design, and eCommerce tools.
On the other hand, SamCart is a smart application with all the necessary features to build and manage sales funnels. This simple application is one of the first choices of affiliate marketers and creators who simply want to convert a shopper into a customer.
However, both platforms are PCI-compliant and follow certain security measures and protocols so that you can ensure customers' card and personal information security. So, choosing one of them will clearly depend on your needs. If you want to create a fully-fledged online store, go for Shopify. Or, if you want to create a single-page checkout or sales funnel, SamCart can be your way to go. So which one do you choose? Let us know in the comments.