Are you looking for a working Printify coupon? Look no further because we have got all the details here.
Printify is a distinguished print-on-demand company that integrates with major eCommerce platforms and marketplaces for dropshipping sellers. The company offers a range of high-quality products that you can choose to have printed with your designs and artwork. The company also owns one of the largest global networks, so you can choose your nearest region for business to make the best profit margins.
Printify offers discounts and coupons on various occasions and sales, such as Black Friday, Cyber Monday, and Christmas. You can use such codes to get a free Premium subscription or discount on printed orders.
In this post, we will list the available coupon codes you can use to claim different Printify offers.
Available Printify Coupon (2023)
Printify coupons are promotional offers offered by Printify in the form of store credit or a free Printify Premium subscription.
Unfortunately, no active Printify coupon is available on this website or anywhere else. You can wait for the Black Friday and Cyber Monday deals to show up with exclusive deals on monthly and yearly Printify plans.
Luckily, Printify offers a flat 14% OFF on the Premium plan if you purchase it yearly. With the yearly subscription, you will also get up to a 20% discount on bulk orders of any product.
How to Claim a Printify Coupon?
Once you have a working coupon code, you can follow these steps to claim a free Printify Premium subscription.
Step 1. Visit the official Printify website or click here to reach the page directly.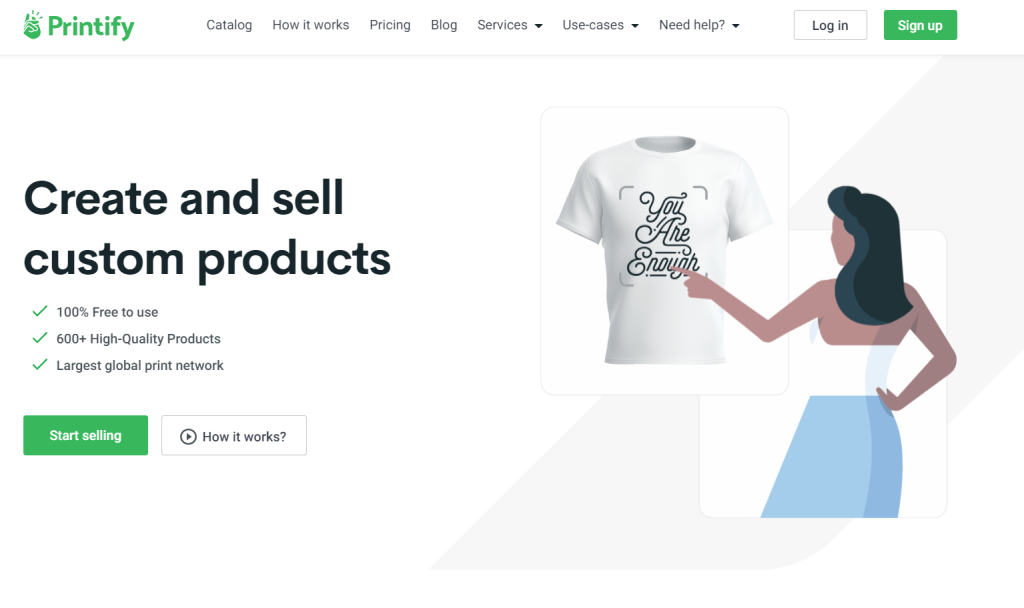 Step 2. In order to apply a coupon code, you need to open a Printify store. So click on the Sign Up button to create an account for free.
Step 3. Enter your email address and create a password to create your Printify store. After signing up with your email, you can personalize your store by selecting your preferred action for your store.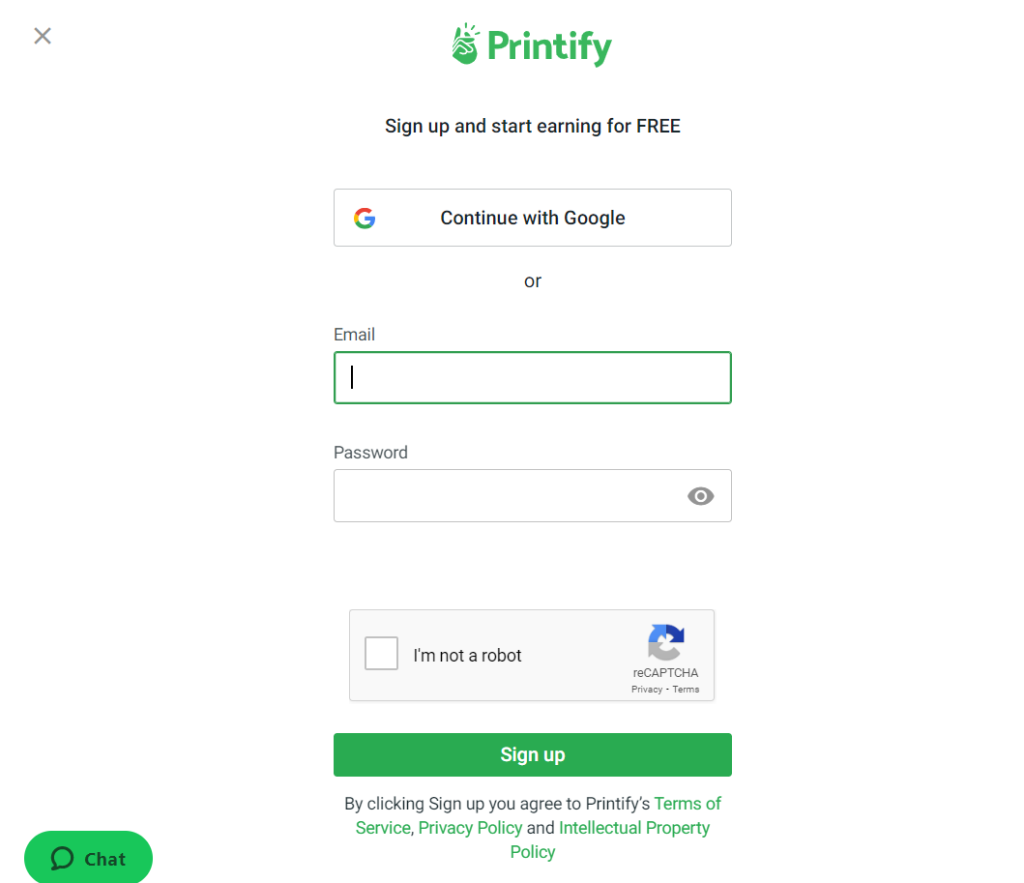 Step 4. After personalizing your account, you will land on your Printify store, where you can select a white-label product to design with your artwork. Before starting your journey on Printify, let's make it premium by applying your coupon code. Click on the profile icon from the top right corner and go to the Payments section.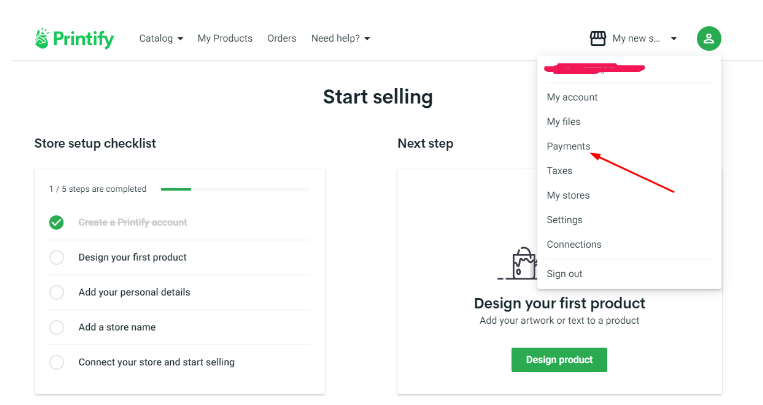 Step 5. Scroll down on this page and find the Coupons option. Click on the Add Coupon and paste the coupon you have copied, and click on Add.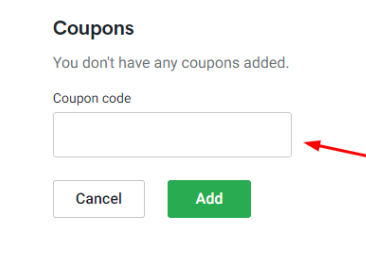 After applying the coupon, the Printify Premium subscription will get active. And right above the Coupons option, you will see the subscription validity. This is how you can use an active Printify coupon to upgrade your free subscription to a Premium without using your card details.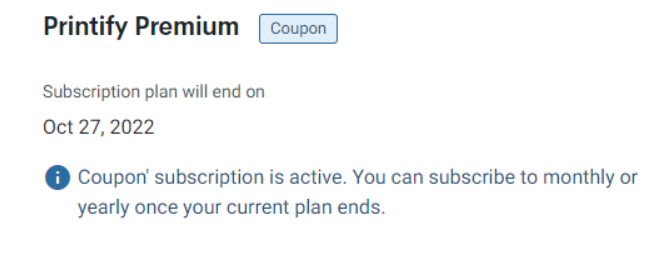 Note: You can use the free premium account for 30 days. After that, you need to subscribe to the Premium plan using your card details. Or you can continue using the free plan with limited access to the features.
Who is Printify For?
Printify flexibly integrates with major eCommerce platforms such as Shopify, BigCommerce, eBay, Etsy, Wix, and many others. So its services can be used by pretty much any eCommerce business. Let's see who can use Printify;
eCommerce Businesses: If you are running an eCommerce store, you can integrate the Printify app with your store. You can upload your business designs to various products and promote the designed products in your store. Printify will products with your design and deliver them to your customers whenever they receive orders through your store. With Printify, you will be able to offer dozens of products designed with custom artwork and illustrations.
Designers and Artists: Printify is basically made for artists or graphic designers. If you are one of them, you can start a print-on-demand business with Printify without any selling experience required. All you need to do is create an online store or website to sell products. Then, you can integrate Printify and promote your designed products.
As a Side Venture: If you are not doing anything productive in your spare time, you are wasting free money. Printify is an excellent platform where you can earn passive income without much effort. And don't worry if you don't have design skills. The platform offers a user-friendly mockup generator that allows you to design with pre-made clipart and images. You can simply drag and drop designs on white-label products and make them attractive.
Dropshipping Alternative: Dropshipping and POD (print on demand) business models almost run on the same structure. In dropshipping, you must find a reliable supplier of your product that will fulfill your orders. But you don't have control over the quality, brand, and fulfillment. With POD, you can design high-quality white-label products with your artwork and graphics. You can also order samples to check their quality. Moreover, you can create your own brand and sell printed products under your brand.
Printify Pricing Plans
Printify offers three plans to their users, of which one is free, and two are paid plans.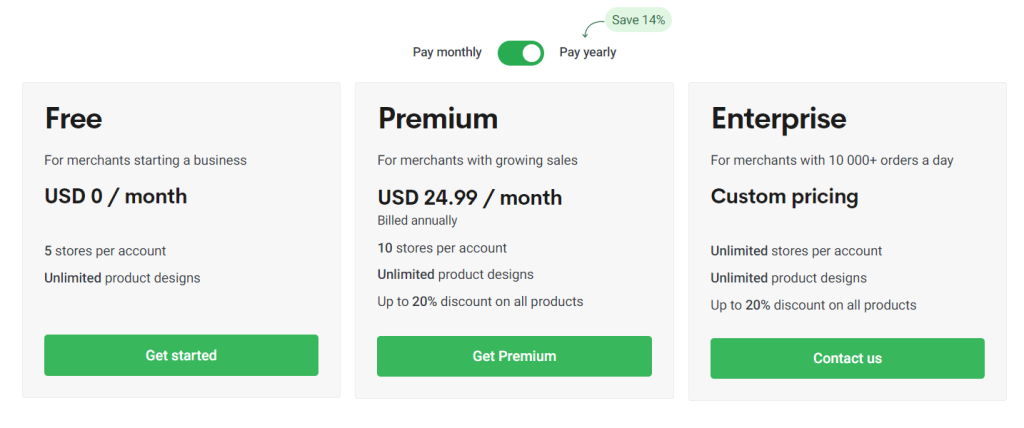 Free – $0
If you have just started a dropshipping business on an eCommerce platform and want to know how things work on Printify, you can start with a free subscription. The free plan contains all the features you need to run a dropshipping business.
Here's what you get with a free plan:
Five stores can be integrated
Unlimited product designs
Integrates with nine eCommerce platforms, including Shopify, Etsy, Wix, WooCommerce, BigCommerce, etc.
Mockup generator
24/7 merchant support
Manual order creation
Access to the help center
Premium – $29/month
The Premium plan is the best solution for growing businesses and dropshipping sellers. You can upgrade to the Premium plan once you start getting enough sales on your eCommerce store. You can purchase it at a regular price monthly or subscribe to an annual plan at $24.99/month (billed annually).
Here's what you get with the Premium plan:
All the Free plan features
Ten stores per account
20% discount on all featured items
Premium customer support
Enterprise – Custom Pricing
The Enterprise plan is best suited for businesses or merchants who are getting up to 10,000 orders a day. With this plan, you will get personalized solutions for your store and access to advanced features.
Here's what you get with the Enterprise plan:
All the Premium plan features
20% discount on all featured products
Custom API integration
Early access to upcoming new features
Branded customer support
Dedicated account manager
Related Read:
Conclusion: Printify Coupon (2023)
This is all we have got on the Printify coupon. Printify offers over 600 white-label products that you can choose to design with your artwork. The company uses eco-friendly fabrics and the best quality materials to manufacture its products. This is why the company is trusted by more than 500,000 merchants and eCommerce store owners.
If you have just started your dropshipping business, you can use active Printify coupons to claim your Premium subscription and get access to the advanced features without paying a single penny.
FAQs
Can I use Printify for free?
Yes, you can Printify for free and as long as you want. In its free plan, you can use your Printify account for up to 5 different online stores and create unlimited product designs.
How much maximum discount can I get on Printify?
Right now, Printify is offering 14% off on their annual version of the premium plan, and in this plan, you can get up to 20% off on the products you will buy from Printify suppliers.
Which eCommerce platforms does Printify support?
Printify supports Shopify, Squarespace, WooCommerce, Etsy, BigCommerce, PrestaShop, Wix, and eBay. You can sell on any of these platforms with Printify.
How much profit can I make with Printify?
Profits completely depend on how much retail price you're putting on the products in your online store. It will be best if you maintain a minimum of 40% profit margin.
How many stores can I have with a Printify premium subscription?
With the Printify premium subscription, you can use your Printify account on up to 10 different online stores, and if you choose an enterprise plan, then there is no limit on the number of stores you can Printify to.