Are you looking for the best Alibaba alternatives to source products for your business? Look no further, I have got a few suggestions for you.
Alibaba is undoubtedly the biggest wholesale product-importing website. It is also the world's fastest-expanding eCommerce marketplace. Alibaba probably comes to mind first whenever you think of sourcing products from China. The company is easily accessible to both suppliers and buyers.
There are a lot of Chinese trading companies and suppliers available out there that you can consider sourcing products from them at much cheaper rates.
In this post, I will list the 11 best Alibaba alternatives. Go through the complete post to find the best supplier for your business.
Top 11 Alibaba Alternatives: In A Nutshell (2023)
| | | |
| --- | --- | --- |
| S.No. | Alibaba Alternative | Best Feature |
| 1. | AliExpress | A huge selection of 100 million products |
| 2. | Global Sources | High-quality product selections in various categories |
| 3. | DHgate | Unique buyer protection program and mediation services |
| 4. | Chinabrands | High-quality products at a discounted rate |
| 5. | Taobao | Extremely low prices compared to other platforms |
| 6. | Made-in-China | Offers suppliers' trade assurance guarantee |
| 7. | 1688.com | 30% cheaper products prices than Alibaba |
| 8. | LightInTheBox | Offers huge deals and discounts on various occasions |
| 9. | JD.com | A huge directory of verified and vetted suppliers |
| 10. | EC21 | Offers a wide range of products in electronics, machinery, and textiles |
| 11. | eWorldTrade | Huge Supplier directory and requests for quotes |
Here is the list of the best Alibaba alternatives to source Chinese products at competitive rates.
1. AliExpress
AliExpress is China's biggest eCommerce retail giant owned by Alibaba Group. The platform is a B2C (Business-to-consumer) website which is why it is serving individual buyers. The platform is known for offering an extensive product selection. Here, you can find millions of products with thousands of varieties in each category. However, the price per item is usually higher than on Alibaba. But there are no order limitations which makes it ideal for any business size.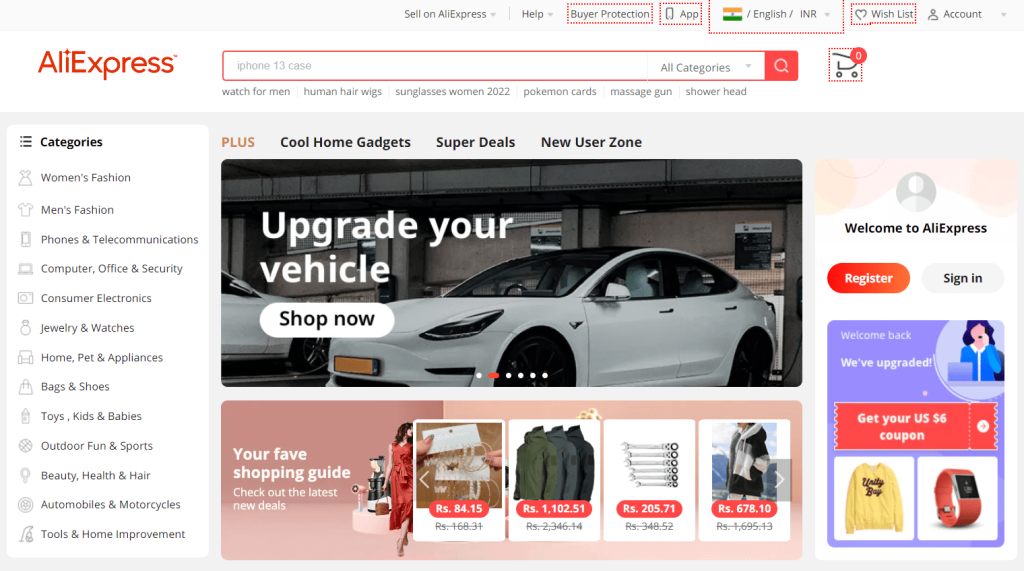 AliExpress has thousands of suppliers around the world who source Chinese products for dropshipping sellers. However, you can't trust every supplier you find on the platform since not all carry a verification badge with them. There are numerous reported incidents of suppliers shipping counterfeit products to buyers. For such situations, AliExpress offers a Buyer Protection program that helps buyers get their money back. 
Key Features of AliExpress
More than 100 million products to choose from
No order minimums
15 to 45 days global shipping times
Supports more than 18 languages
Buyer protection program
Similar product categories to Alibaba
Drawbacks
Higher price per item
No directory of suppliers
Bonus: We have also created a list of the best alternatives to AliExpress for you to check out here.
2. Global Sources
Global Sources is one of the oldest wholesale suppliers in the world, with 45 years of experience in international trading. It is a B2B platform that serves both online and offline buyers. The company offers an online directory of thousands of verified suppliers, similar to Alibaba. The company mainly focuses on businesses that promote trade through online marketplaces, trade shows, and magazines.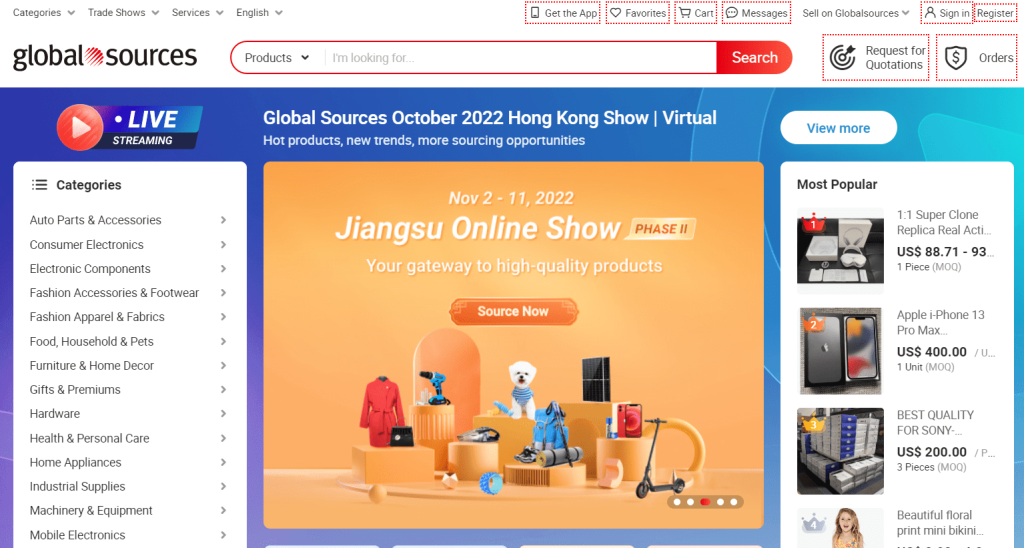 The quality of suppliers on Global Sources is what makes it stand out from other platforms. Compared to Alibaba, the suppliers of Global sources are much more experienced in the export market, so they understand your needs better. That is why they ask about your purchase volumes and the company's background while dealing. On Global Sources, you will find real manufacturers instead of mediators or trading companies. And it also has an extensive pan-Asia focus than Alibaba, so you are likely to have a better user experience.
Key Features of Global Sources
High-quality products in various categories
Experienced and verified suppliers' directory
Branded items in fashion, electronics, accessories, gifts, etc.
7 to 18 days global shipping time
Profit margin calculator
Trusted by top eCommerce retailers
Drawbacks
A smaller supplier selection than Alibaba
It needs authentication of your before you get quotations from suppliers
3. DHgate
DHgate is an online B2B trading platform that mainly focuses on wholesale orders for small businesses. The company offers much cheaper pricing options to help budget-friendly eCommerce sellers. DHgate usually has clear MOQs on their product listings. And for a few high-value products, you can just order one. With DHGate, you will get access to over 2 million suppliers and wholesalers. Since more than 90% of the suppliers are Chinese, you get competitive prices for different brands.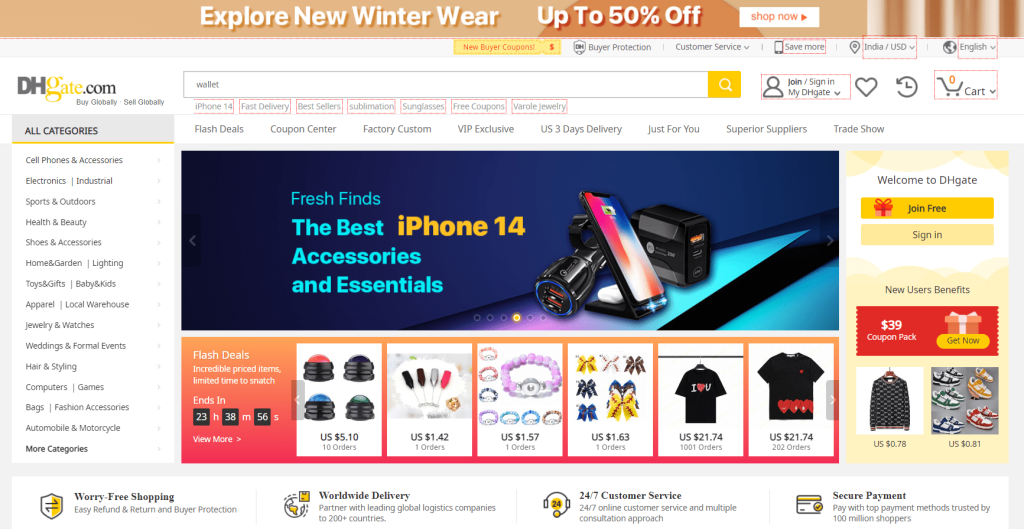 Compared to other platforms, DHgate's suppliers list their prices as 60% lesser on wholesale items, so you get better profit margins after reselling. DHgate has multiple physical stores known as DTCs (Digital Trend Centers) that are located in various regions. Here, you can inspect most of the listed products in person to check the product quality.
Key Features of DHgate
More than 32 million products
Cheaper prices than other suppliers
Buyer Protection Program and mediation services
Real-time stats of items in stock
Digital Trend Centers in the US, Europe, Australia, etc.
Flexible return and refund policies
Drawbacks
Harder to set up a long-term relationship with suppliers and manufacturers
Dealing with middleman
4. Chinabrands
Chinabrands is one of the largest B2B dropshipping suppliers in China and a subsidiary of Global Sources. The company has a vast network of supply chains and shipping options which is used by both Chinese and international buyers. The company offers a range of local and high-quality products at a cheaper range. Compared to other platforms, you will get 20% less cut-rate prices.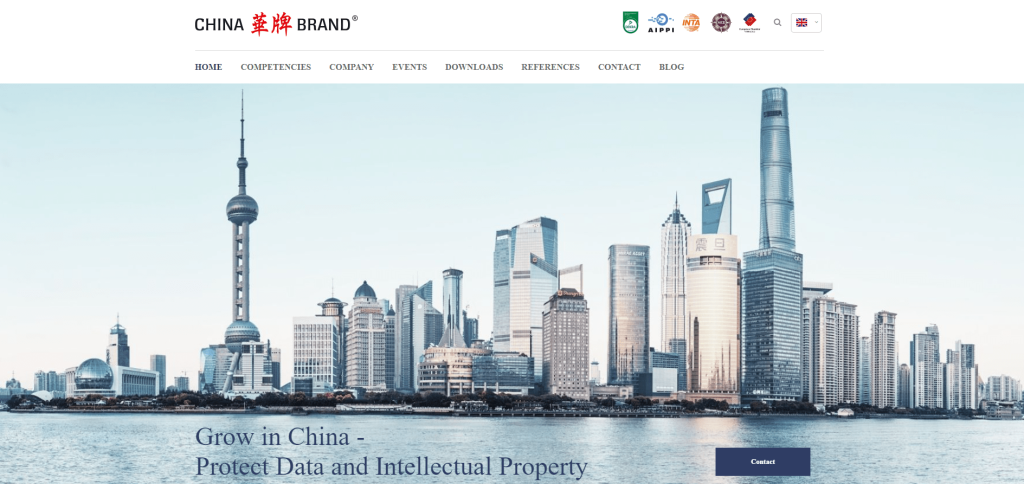 Chinabrands own multiple warehouses across the globe, including Hong Kong, the USA, the UK, Europe, and Russia. With its comprehensive logistics services, you get the ability to approach customers in 170+ countries. There is no MOQ on the platform, so both small and large businesses can purchase their desired number of units. The company also maintains a high-quality standard since all the listed items undergo a strict quality check process.
Key Features of Chinabrands
More than 300K wholesale products in 19+ categories
High-quality products at a discounted rate
A wider logistics network
15 to 30 days global shipping
Supports integration with 12 major eCommerce platforms and marketplaces
Flash sales and deals on various occasions
Drawbacks
Fewer payment options
Poor product descriptions
5. Taobao
Taobao is an online trading and eCommerce platform established by the former CEO of Alibaba, Jack Ma. The company runs on a C2C (Consumer to Consumer) business model, which is why its entire website is in the Chinese language. It is like a Chinese version of eBay but with more fixed-price and fewer auction suppliers. The company has now started focusing on exporting domestic Chinese products to international buyers.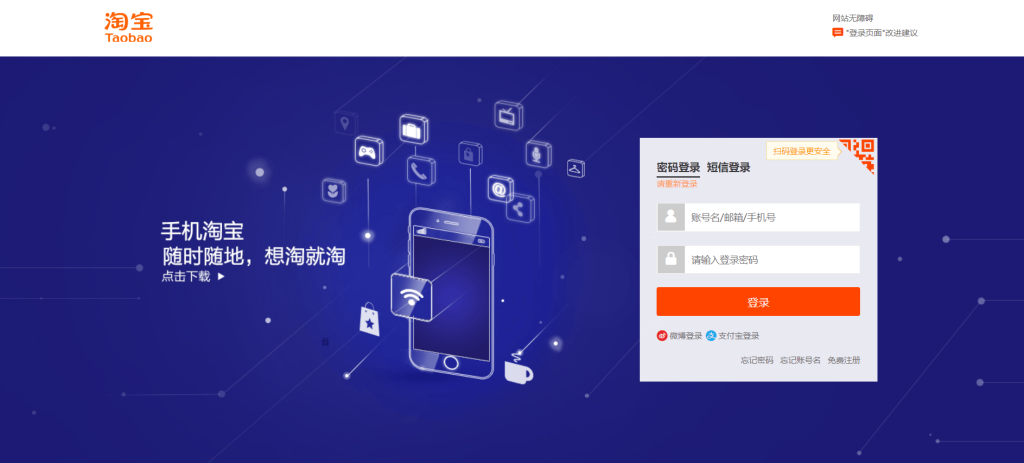 On Taobao, local eCommerce and dropshipping sellers can find products in kitchenware, clothing, bags, sports, and many others. Apart from that, you can also find insurance options and airplane tickets in a cheaper range. Here, you can also discover unique products and custom-made products. Taobao also offers discounts, sales, and vouchers from time to time.
Key Features of Taobao
A wide range of categories and product types
Extremely low prices compared to other Chinese suppliers
Fast shipping options
15 days return policy
Customer support via phone and email
Fully functional mobile app
Drawbacks
No language support except for Chinese
Product quality is questionable
6. Made-in-China
Made-in-China is one of the leading eCommerce and international trading platforms in China. Established in 1998, the company offers products in more than 3800 categories. However, the company mainly focuses on exporting construction and industrial products. It offers a huge directory of suppliers in various industries, including metallurgy, mining, agriculture, mineral, and many others.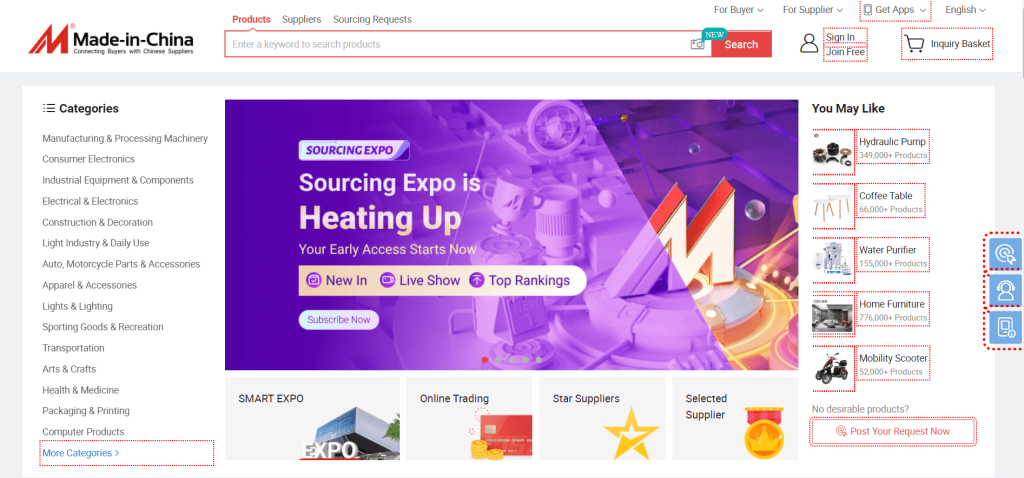 Made-in-China is a B2B platform that links Chinese suppliers to global markets and international buyers. There are a few similarities between Made-in-China and Alibaba, such as both offer product quality protection (pre-shipment), on-time shipment protection, email lists for advertising and sale packages, and live chat facilities. However, the general MOQ of Made-in-China is above 500 items, so it is not a great option for smaller merchants and eCommerce sellers.
Key Features of Made-in-China
Features a huge range of industrial and machinery equipment
Suppliers' trade assurance guarantee
Reliable and fast payment gateways
Great customer support services
Buyer protection program (at additional costs)
Dropshipping options available
Drawbacks
High minimum order quantities
Communication difficulties
7. 1688.com
1688.com is another subsidiary of Alibaba Group that is an online hub for B2B businesses, companies, and manufacturers. Wholesale items on 1688 are almost 30% cheaper than other trading platforms in China because the company encourages manufacturers and wholesalers to supply their products directly to their buyers. Still, 80% of the suppliers on the platform are Chinese, which is why they mainly focus on local and domestic markets.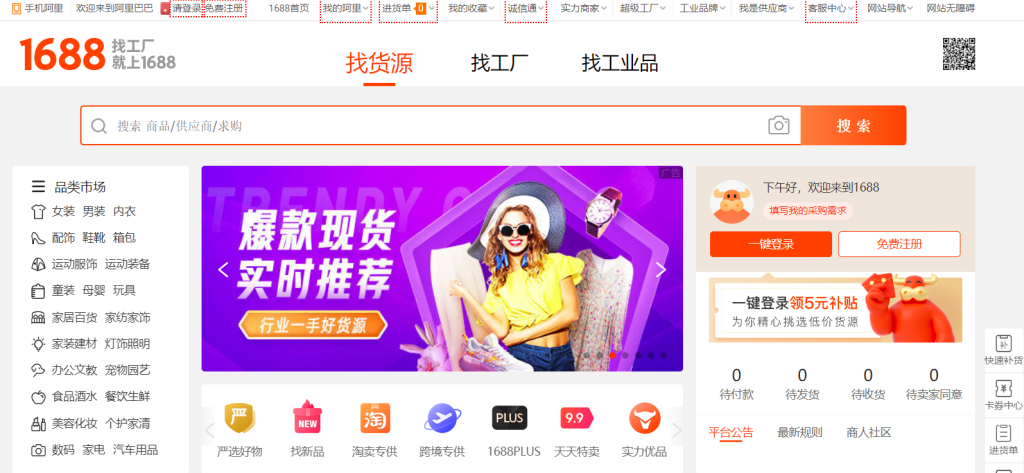 Apart from local products, you can also explore high-quality products at very reasonable prices. The company offers a variety of shipping options, including domestic and standard shipments. However, browsing products on 1688 can be complicated since the entire website is in the Chinese language. And every supplier you find on the platform might not be interested in international trading since most of them don't have export licenses.
Key Features of 1688
Huge variety of products in different categories
Quality products available at cut-rate prices
Low minimum order quantities
Extremely responsive suppliers and sellers
Buyer protection program
30% cheaper prices than Alibaba
Drawbacks
No language support except for Chinese
Supports only local payment gateways
8. LightInTheBox
LightInTheBox is another China-based trading and wholesale platform that features a range of trending items in unique categories such as jewelry, boutique, apparel, etc. The platform focuses on providing high-quality products other than traditional Chinese products, which is why prices are a bit higher than other platforms. Unlike other Chinese suppliers, it features its website in English. Moreover, it supports 20 other languages, such as Spanish, French, Italian, etc.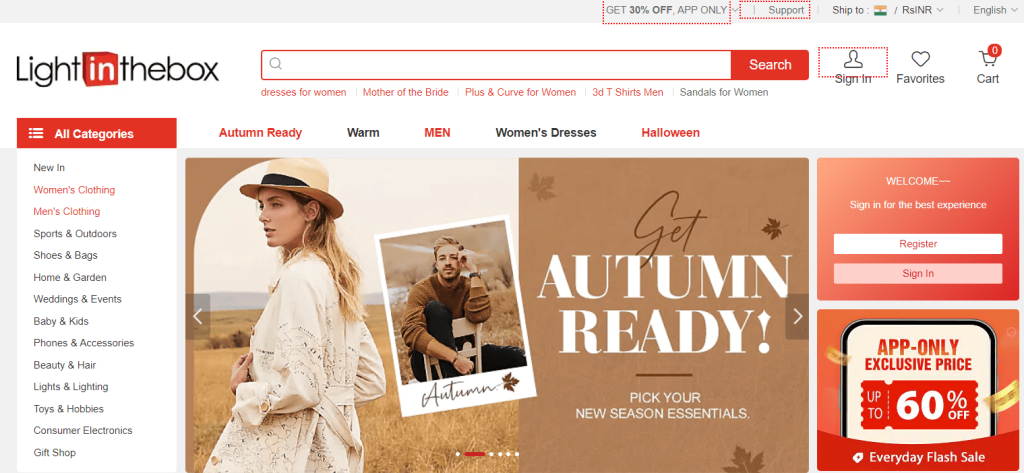 Apart from trading features, you will find exceptional dropshipping features for merchants involved in drop shipping. However, the dropshipping model in the platform tends to serve only independent sellers and small businesses. You will find various Standard (10 to 20 days) and Express (4 to 7 days) shipping options. Local buyers can take advantage of fast and free shipping options.
Key Features of LightInTheBox
Millions of high-quality products in hundreds of varieties
Flexible shipping options
Supports 20+ global languages
Low minimum order quantities
Holiday-themed products
Flash sales and discounts on various occasions
Drawbacks
Prices are 60% higher than other Chinese suppliers
Higher shipping charges for global shipment
9. JD.com
Headquartered in Beijing, JD.com (Jiandong Mall) is one of the biggest competitors of Alibaba. It initially started as an electronics & accessories store but now became one of the most reliable eCommerce companies in China. The company runs on a B2C business model but also has a touch for the wholesale zone. So you can easily be able to purchase items in bulk at cut-rate per-item pricing.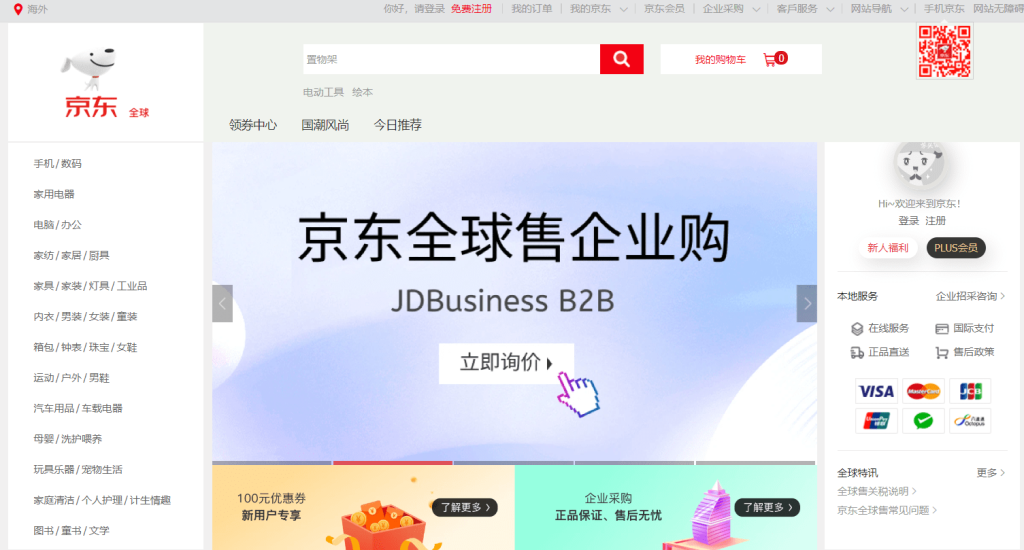 JD.com is almost four times higher than the PE (Price to Earnings) ratio of Alibaba. In spite of this huge margin, the revenue growth of both platforms is similar. The website is completely in the Chinese language, but you can use your browser's translator to explore their products. In terms of product variations, JD is more diversified, and it has also built a solid connection with Chinese authorities to bring more value to its suppliers, wholesalers, manufacturers, and buyers as well.
Key Features of JD.com
Huge product selection options
Offers warehousing and global shipping solutions
Directory of verified suppliers
No order minimums
High-profit margins
Seasonal sales and discounts
Drawbacks
The website is completely in the Chinese language
Longer shipping times
10. EC21
EC21, established in South Korea, is an online B2B platform. The platform is ranked among the top 10 B2B platforms in the world. The platform connects buyers and sellers from around the world, providing a wide range of unique products and services in various categories like electronics, textiles, machinery, and chemicals. Like Alibaba, the global market also has over 2.5 million buyers worldwide and more than 5 million visits per month.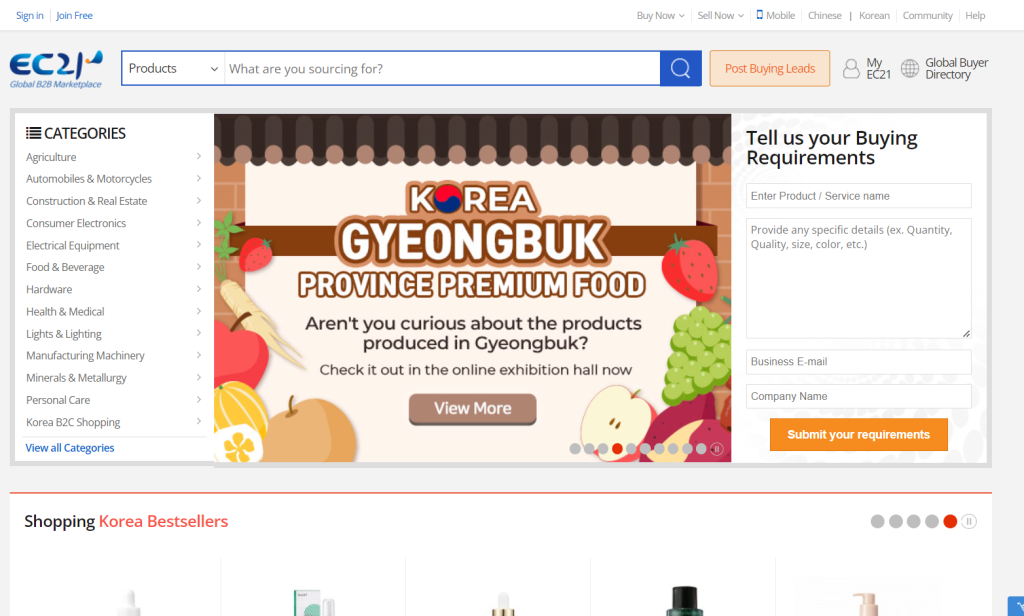 EC21 offers a user-friendly interface and tools for businesses to create and manage their profiles, post product listings, and communicate with potential buyers. Buyers can also make a profile and post their buying leads to receiving offers and quotes from suppliers or manufacturers. The platform also provides features such as a secure payment system, buyer protection, and shipping assistance to facilitate transactions between buyers and sellers.
Key Features of EC21
A huge range of products in various categories
User-friendly interface and tools
Create profiles as a buyer, supplier, or manufacturer and post your requirements
Multi-language support and global reach
Online trade shows and exhibitions to showcase products and connect with buyers
No order minimum requirements
Drawbacks
Limited supplier verification process
Lower number of products and suppliers compared to Alibaba
11. eWorldTrade
eWorldTrade is an online B2B marketplace connecting buyers with manufacturers and suppliers globally. Like Alibaba, it caters to companies engaged in wholesale trade and acts as an intermediary platform.
Some key differences from Alibaba include a focus on small and midsize suppliers rather than predominantly large vendors. Listing fees are lower than Alibaba, enabling smaller players. The site also emphasizes a user vetting system to verify authenticity through documentation.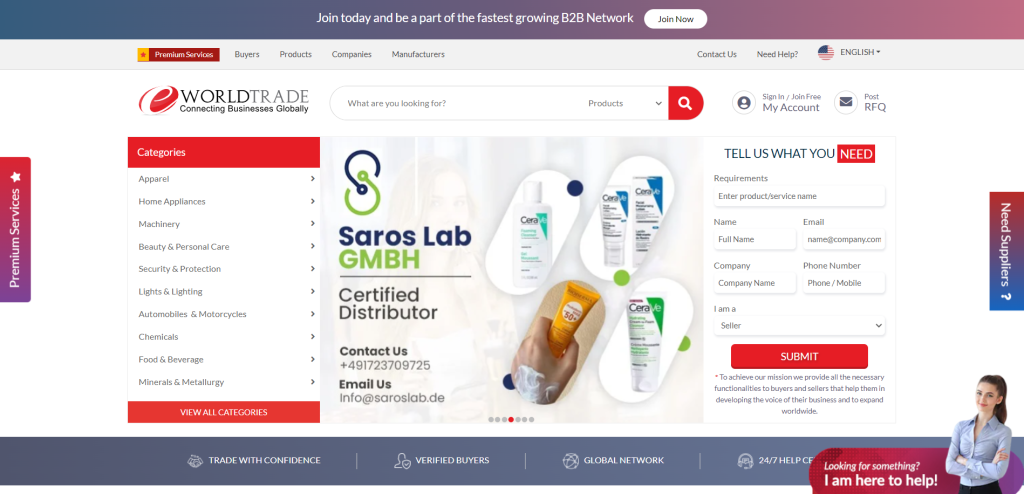 For buyers, eWorldTrade provides a simplified supplier discovery process with intelligent recommendations based on search history and purchases. Quotes can be requested from multiple vendors at once. The site also offers escrow payment services to provide enhanced buyer protection.
Key Features of eWorldTrade
Supplier discovery and requests for quotes
Buyer verification processes for authenticity
Escrow services for secure payments
Integrated shipping quotes and logistics
Online trade document exchange
Marketplace mobile apps for iOS and Android
Drawbacks
Less brand recognition than leading players
Fewer search filters to refine results
Conclusion: Best Alibaba Alternatives (2023)
This is my handpicked list of the best Alibaba alternatives. Alibaba still dominates the list as being powerful among all. And a few of them are already a subsidiary of Alibaba Group. The only downside of Alibaba is its unreliable distributors and suppliers that can make you look for an alternative.
The list contains the best Chinese suppliers from where you can source products in numbers or wholesale at much cheaper rates. You can also look for upcoming trade shows, referrals, or factory visits to source products without the need for any third-party supplier. If you go for a specific platform, make sure they offer a directory of their verified suppliers so you can easily find and compare their products' prices and varieties.