Whether you're running an online eCommerce store or a physical retail store, purchasing products in bulk from a wholesale supplier saves you a lot of money. Purchasing in bulk also saves your store from being out of stock.
There are millions of wholesale vendors and suppliers in the world, but finding reliable ones can be challenging. Luckily there are many trusted wholesale websites available on the internet that offer you a directory of top verified suppliers and wholesalers.
In this post, you will find the nine best wholesale websites that feature the best products in various categories, along with a directory of verified suppliers.
10+ Best Wholesale Websites In 2023
Here's my list of the best wholesale websites for both online and physical store owners.
1. Costco Wholesale:
Costco Wholesale is a US-based multinational corporation. The company operates a chain of big box retail stores, and as of 2020, it was the world's third-largest retailer. Costco is known for its bulk food and grocery services. But in actuality, it offers a vast range of different products and services, even insurance. Costco contains everything you need at a cut-rate price.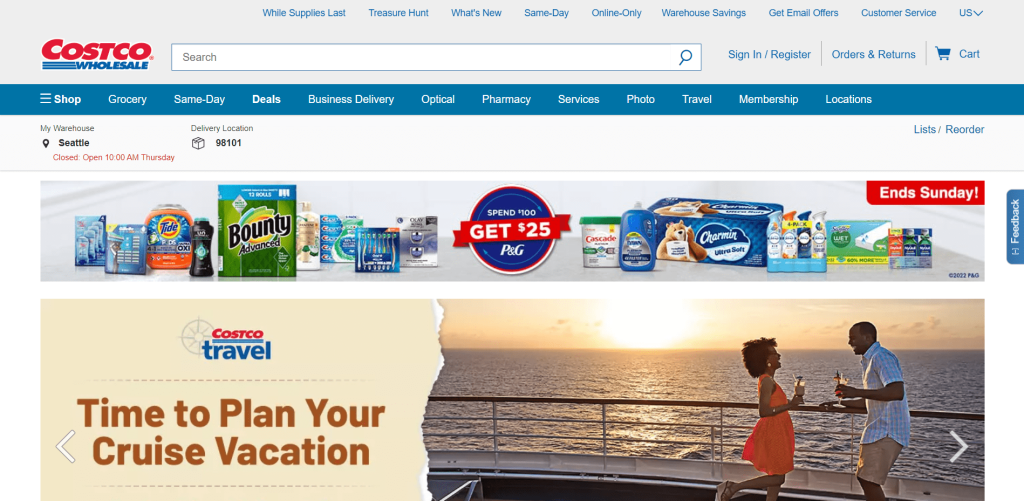 Fast shipping is Costco's other valuable service that online merchants and eCommerce store owners adore. With Costco, customers are likely to receive orders within two days, sometimes the same day. Not only for sellers, but the company also allows shoppers to buy items in bulk. The Costco Business Center focuses on business orders, covering small to medium-sized companies.
Key Features
Top-quality regional and national brands
Private label and white label services
10%-25% discount on bulk purchases
1-2 day delivery time
Offers solutions for any business size
2. eBay:
eBay is undoubtedly one of the most popular wholesalers in the world. At first, you might think of it as an auction website, but in reality, it is an excellent platform to buy products in bulk at discounted prices. eBay is the biggest online retailer in the US, offering refurbished items at reasonable prices and a warranty.

Talking about eBay's product categories, you can find products in fashion, electronics, sporting goods, collectible arts, motors, etc. It offers an affordable pricing range and delivers high-quality items. You can search for the products using keywords in the search box. Everything listed on eBay might not be available in bulk, so ordering several units of those products can be pricey for you. Looking for wholesale products in the clothing, electronics, and jewelry categories would be best.
Key Features
Millions of branded and refurbished products
Advanced search options
Low shipping rates
Shipping guide with each product
Discount on bulk purchases
3. Alibaba:
When it comes to a wholesaler market, the list would be incomplete without Alibaba. It is a Chinese dropshipping and wholesale marketplace that offers large quantities of items at the lowest price. With Alibaba, you can negotiate directly with suppliers and manufacturers. Currently, there are 8 million active suppliers working with Alibaba.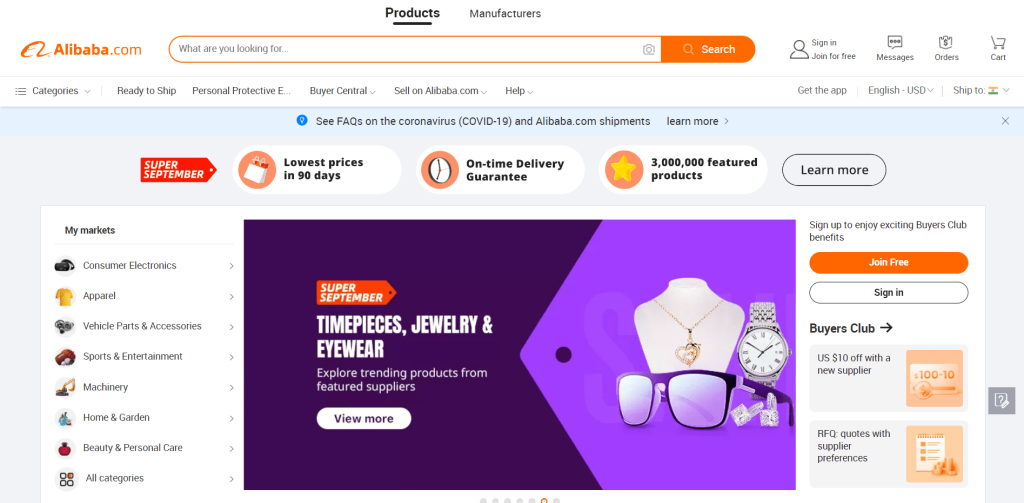 Since there are various products and suppliers available on the platform, buyers must do their research before placing an order. You can find a trustworthy supplier by going through their transaction level, rating, reviews, and response rate. You can source products from various categories. You can even give instructions to customize your items according to your business to provide it with your brand's touch. Alibaba is available in 190+ countries, making it a true industry giant.
Key Features
Huge range of products at flexible pricing.
Access to a directory of 8 million suppliers, manufacturers, and wholesalers
Trusted by millions of eCommerce retailers and buyers
White-label and private-label solutions
Advanced search options
4. The Wholesaler UK:
The Wholesaler is one of the most reliable and trusted wholesale directories in the UK. Despite having a small network of UK-based sellers, it features wholesale products in every major category. From fashion to jewelry, homeware, accessories, and electronics, you can find products and suppliers for your business.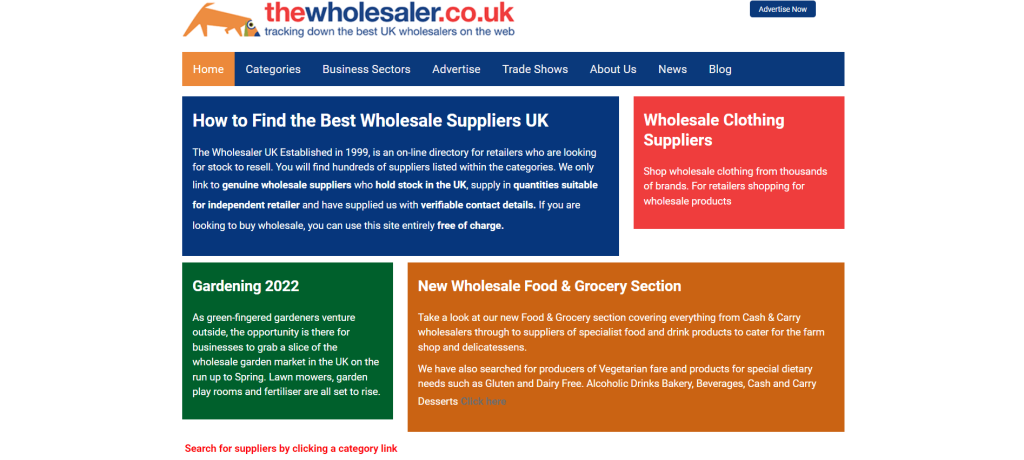 The platform offers a simple and user-friendly interface that lets you seamlessly browse various categories. It enables you to see the product inventory in real time so you can order a certain number of products. You can leverage its bulk-discount offer by ordering products wholesale.
Reliable and fully vetted suppliers and wholesalers
Browse products in 50+ categories
Supplier details with contacting method
Business Sector for large business orders
Offers exclusive deals
5. DHgate:
DHgate is another China-based wholesale company that offers wholesale solutions to both small and large online stores. Thousands of wholesale suppliers list their items on DHgate, creating a marketplace that offers tens of millions of products in various categories. You can find top suppliers by evaluating their positive reviews. They assure you of fast shipping and decent discounts on bulk purchases.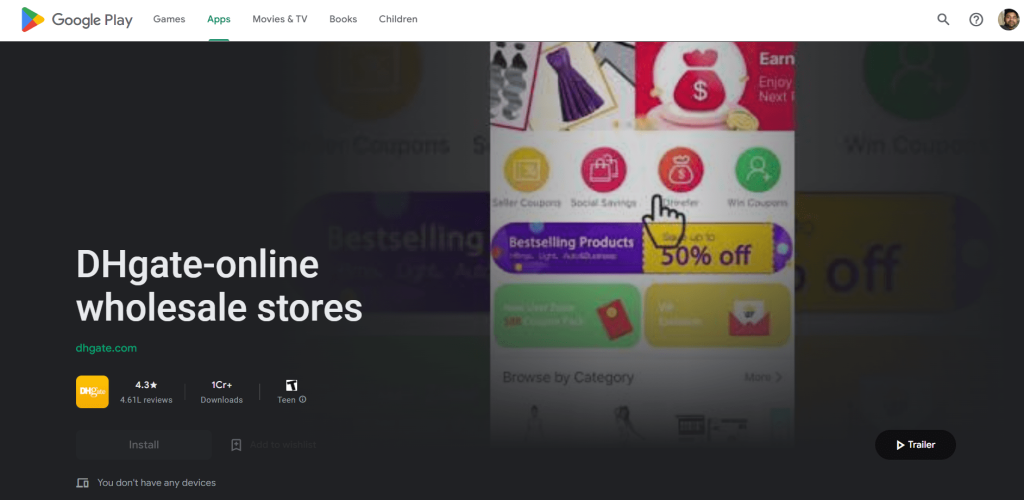 Apart from that, there is no MOQ (Minimum Order Quantity) required for buyers in order to purchase from this website. It allows budget-friendly buyers to buy individual quantities. Factory-direct prices with high-quality products are the main reason why more than 31 million global shoppers and merchants trust DHgate.
Key Features
Over 32 million low-cost products
Get access to 2 million China-based manufacturers and wholesalers
A unique buyer protection program
Local wholesalers with warehouses in the UK, US, and Europe
Offers flash deals and promotions frequently
6. Global Sources:
Global Sources is an excellent platform with millions of wholesale products and reliable suppliers. It is not just a wholesale company, but it is also a trade show facilitator and sourcing service provider. It features a B2B marketplace that connects 1.5 million global buyers with trusted suppliers in Asia. Top Amazon sellers buy products in bulk from Global Sources as it offers high-quality products and fast shipping options.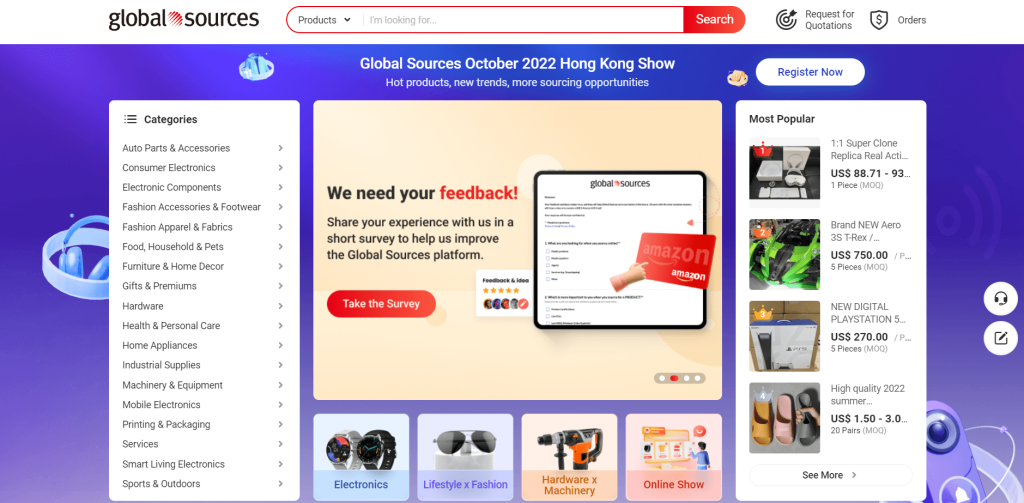 The company also hosts various trade shows in Hong Kong, including one of the world's biggest electronics and mobile export sourcing shows. On Global Sources, finding products with reliable suppliers is an easy task. Verified suppliers carry a verification badge (verified by the company) on their product pages that shows a mark of trust. You can contact them directly to negotiate shipping, discount, and payment methods. However, you can also search products by categories like fashion, home decor, toys, kitchenware, etc.
Key Features
Advanced filters for product search
A vast directory of verified suppliers
Freight cost and margin calculator
Trusted by leading eCommerce retailers
40+ years of experience
7. Alanic Clothing:
Alanic Clothing is a one-stop hub of the best fashion and apparel products. Headquartered in California, Beverly Hills, and the US, Alanic Clothing features a vast range of clothing products with trusted wholesale suppliers. Apart from featuring a wholesale clothing marketplace online, the company itself is a wholesaler for physical store owners and retailers.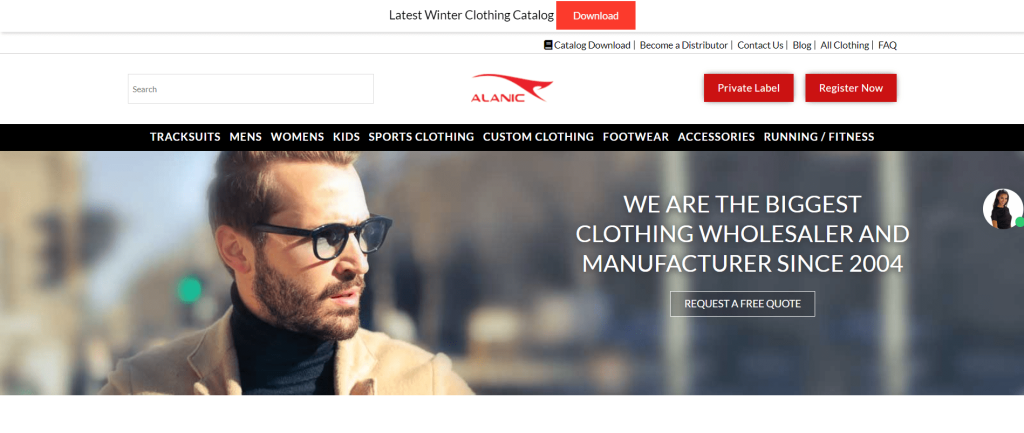 Alanic Clothing offers a huge range of clothing items, such as t-shirts, leggings, jeans, sportswear, etc., for men, women, and children. Ordering products in bulk from Alanic Clothing will give exclusive discounts. The company also offers white-label and custom branding solutions, which gives you an excellent opportunity to promote your brand. Orders above $50 are eligible for free shipping.
Key Features
A huge range of premium clothing products
White-label and custom branding solutions
"Request for Quotation" process
Free shipping options
Patterned with top brands
8. Super Delivery:
If you are looking forward to buying Japanese wholesale products, Super Delivery is one of the best websites you can find in the market. The website features almost 500K products with no order limitations. You can create an account for free and browse products in various categories such as apparel, furniture, kitchenware, shoes, and many more.

Super Delivery features estimated shipping time, shipping method, and delivery partner with each product they list on a product page. The website also offers free consultations for orders worth $5,000 or above. This feature is also available if you order multiple products from different suppliers. Super Delivery also provides container transportation for large orders so you can avoid paying cross-border shipment costs.
Key Features
Offers personalized solutions for both beginners and professional buyers
Advanced search filters for product search
High-quality Japanese products
Refunds on missed deliveries and damages
Various shipping method
9. Worldwide Brands:
Worldwide Brands is a premium directory of over 16 million products established 20 years ago. It offers more than 8000 reliable suppliers and wholesalers across the world. Each supplier goes through a strict verification process before being listed on the platform. The Worldwide Brands team attends various trade shows to find legitimate and trusted wholesalers. And before listing them in its directory, they visit wholesalers' warehouses for quality inspection.

Worldwide Brands launch new products and suppliers every week. You can search for your favorite products using its smart filter, or you can sort your search by keyword, brand name, supplier location, etc. They also offer a fully functional mobile app that allows you to browse products anywhere. There are no order limitations – you can order as much as you want to get an exclusive discount.
Key Features
Over 16 million products directory
More than 8000 suppliers and wholesalers partnered with the company
No middleman commission or charges
One-time subscription fee
High-quality products
10. SaleHoo
SaleHoo is one of the best wholesale websites, founded in 2005 by Mark Ling and Simon Slade. They have more than 8K pre-vetted vendors and suppliers all over the world and around 2.5 million products for you to choose from. SaleHoo acts as a platform and wholesale website simultaneously. You can use its advanced search feature to explore new market trends and find the best sellers for the products you want to buy as wholesale.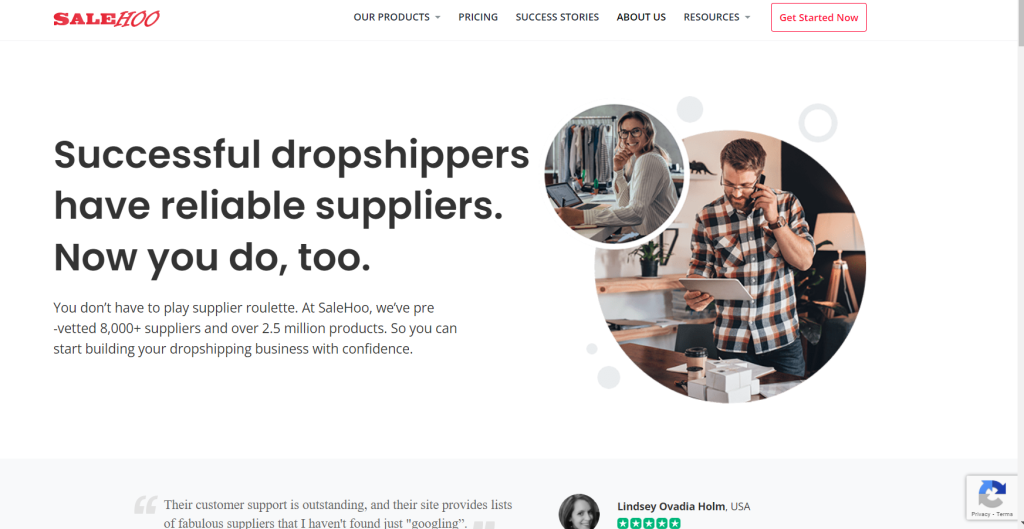 You can find the best dropshipping and wholesale suppliers in the SaleHoo directory, use the service of SaleHoo dropship, or learn to improve your dropshipping or wholesale business from the SaleHoo Educate platform. SaleHoo has already helped over 137K+ business owners to find high-quality products and trustworthy suppliers. You also get world-class customer support services where you can connect with support executive one-on-one via live chat, phone, email, or Facebook.
Key Features
Over 8000 dropshipping and wholesale suppliers
Find best-selling products from each category
Explore new markets & niches using the advanced search feature
Get lifetime access to the SaleHoo directory at just $127
Import high-profit products with SaleHoo dropship
Related Read:
Conclusion: Best Wholesale Websites (2023)
Wholesale shopping can be fun and rewarding as well if you have the right suppliers by your side. And what's better than wholesale websites to find the best ones for your business? In this list, you can find global, US-based, UK-based, Chinese, and Japanese wholesale websites that feature the best suppliers. Most of them offer fast global and regional shipping at affordable shipping rates. You will also find some exclusive deals or discounts on each website featured with branded and premium products.