Are you looking for a comprehensive product research tool for your dropshipping business? You've come to the right place.
Any kind of online business is trickier than it appears from the outside. We've heard so many stories about ordinary sellers turning their fortune just by selling their products on various online platforms such as Amazon, eBay, Shopify, etc. The success is, however, not that straightforward.
Dropshipping, in particular, is the easiest way for small entrepreneurs and beginners to step into the e-commerce business. If you are lacking resources or don't have enough capital to start with, maybe dropshipping is the way to go. Here, you are not required to purchase and stock a huge amount of inventory. Instead, you purchase the products from the supplier/manufacturer directly and fulfill the order.
But, just because you are not holding the inventory, doesn't mean that you could sell anything. You still have to choose the right product based on the current market demand, profit margin, etc. Yes, dropshipping product research may not be as extensive as, for example, the Amazon Product research, but there are still a lot of factors to consider before choosing the right product for your business.
You could go around various e-commerce platforms, and product research guides and do this manually, but that obviously requires a lot of your time and effort. That's why using a dropshipping product research tool is a smart idea to save the valuable time that you can allocate to other financial activities related to your business.
In this article, I am going to talk about some of the best dropshipping product research tools you could find on the market in 2023. All the reviews are inspired by the feedback of hundreds of dropshippers and their real-life experience. 
Let's get going.
Why Use A Product Research Tool?
The key to surviving in any online trade is to have a winning product to sell. A product that helps you survive at least till the initial phase of your business. Whether you are involved with a conventional online selling platform such as Amazon, or simply dropshipping the products on Shopify, AliExpress, etc, you have to have a product that can generate a decent profit margin for you to build a foundation upon.
Dropshipping is relatively easier to start but there is a huge competition to face. Also, the level of competition is second to none since there are millions of vendors trying to establish themselves in the e-commerce arena.
As I mentioned in the beginning, manual product research is going to eat up a lot of your time and the chances of blunder will be very high. A product that appears juicy may turn out to be a disaster if you overlook or misinterpret even small details such as the seasonal performance of the item.
A dropshipping product research tool, on the other hand, automates the process of product research and makes it smart, quick, and more efficient. . It's a tool that gathers information regarding each product listed on various dropshipping websites.
You can find out what products are currently trending, what are the competitive prices, what is the status of availability, and so on. Some good research tools will give you detailed insights about the competition the product brings to you, the most lucrative niches, the sales history of the product, and much more.
Here are some key features of a dropshipping product research tool:
Provides you with valuable product details and helps you choose the right product for your business.

Gathers the product data from various e-commerce platforms to give you a better idea about the price and competition

Helps you track the financial activities of your dropshipping business such as expenses, profit margins, net income, and so on.

Fully automates the product research process and saves you a lot of time and labor.
Dropshipping Product Research Tool: What To Look For?
Agreed. Compared to the one with the mainstream selling method, dropshipping product research is not that intricate. There are fewer parameters to consider and a relatively smaller analysis is required. The main reason behind the difference is that since you are not investing a large chunk in the inventory, you can afford to fire the bullet in the dark. In other words, the risk level is much lower in Dropshipping compared to direct selling methods for example on Amazon or eBay.
However, you can't ignore the importance of a winning product. And to find a perfect product for your dropshipping product, you need a suitable product research tool. But what are the parameters you should consider before choosing the research tool? Let's have a look:
Are you looking for a free product research tool? Or a tool that offers a free account for a limited period?

Does your budget allow you to spend money on a product research tool?

Are you willing to spend time analyzing the product data extracted by the tool or do you just want the few best products?

Are you willing to study complex data points and detailed research?

Do you want a tool with multiple filters and parameters to help you make the adjustments based on your business requirements?
Best Dropshipping Product Research Tools: Quick Comparison (2023)
| | | | | |
| --- | --- | --- | --- | --- |
| S. | Tool Name | Starting Price | Suitable Platform | Top Feature |
| 1 | Sell The Trend | $39/month | Universal | The Nexus Product Finder |
| 2 | Thieve | Free, $15/month | AliExpress | Product Inspiration |
| 3 | AliShark | $20/month | AliExpress | Extensive Product Filtering |
| 4 | FindNiche | $9/month | AliExpress, Shopify | Top Dropshippers Finder |
| 5 | Asify | Free | AliExpress, Shopify | Quick Competitive Analysis |
| 6 | AliExpress Dropship | Free | AliExpress | Find AliExpress Suppliers |
| 7 | Dropship Spy | Free, $19/month | Social Sites, AliExp | Ready Winning Products |
| 8 | Ecomhunt | Free, $39/month | Shopify, AliExp, FB | Find Best Products Every Day |
| 9 | Niche Scraper | Free, $49/month | Ali Express, Shopify | Product Scraper/ Handpicked |
| 10 | Commerce Inspector | Free, $49/month | Shopify | Stores' Data Analysis |
| 11 | Intelligynce | $39/month | AliExp, eBay, Shopify | Keyword Analysis/Generator |
| 12 | Pexda | $29.95/month | Universal | Winning Products Daily |
| 13 | Dropship.io | $29/month | Universal | Discover Products With Potential |
I assist you further, I have prepared a compilation of some of the best research tools for dropshipping.
Each tool has been selected based on certain criteria:
The USP of the research tool, its main feature

The pros and cons of each tool

The pricing details, offers, and discounts

Market-specific research tools
1. Sell The Trend – Best Overall
Let's start with the best of all – Sell The Trend. Every drop shipper will tell you that they/ve used Sell The Trend at least once in their dropshipping career.
It's a product research tool with complex subtools and algorithms that helps you find the most lucrative products in the market. You can easily locate the top trending products in various niches. The tool extracts the data directly from AliExpress, Shopify, and Amazon.
You can find various data points regarding any particular product such as price history, search volume, order history, product description, profit margin, and much more. You can also set the parameters to find the product that would suit your business requirements the most.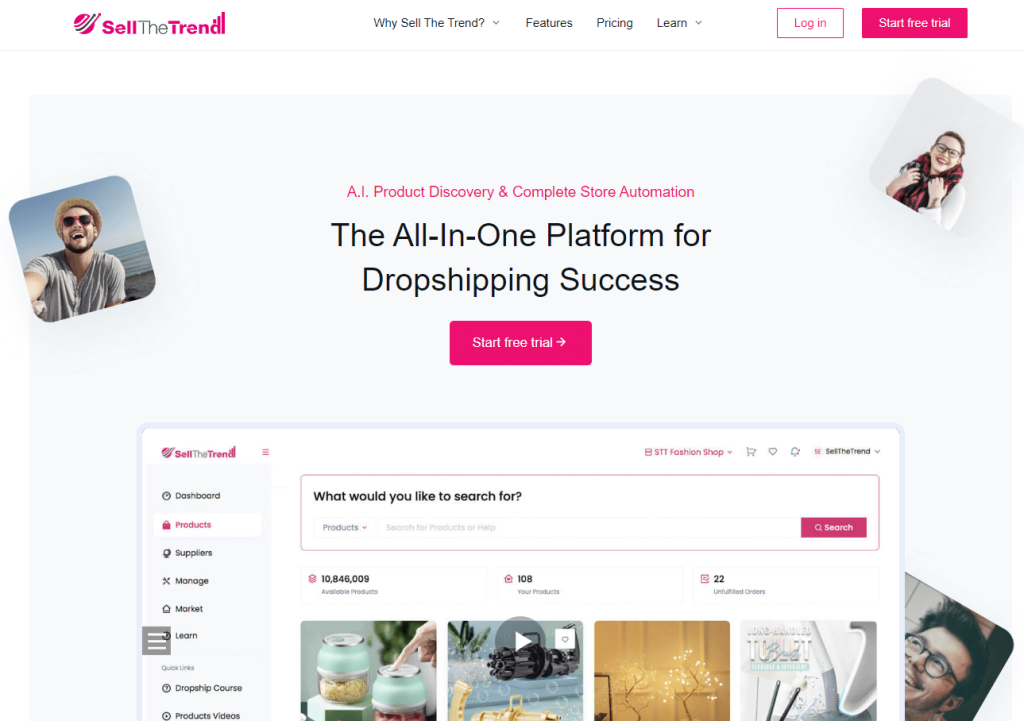 Yes, the ample amount of data may overwhelm you, especially if you are a beginner but once you get hold of the tools, it would only take a few minutes to find the winning products for your dropshipping store.
Apart from finding the best products, you can also get inspiration for Facebook Ads, Shopify Ads, and much more.
Pricing Detail
Sell The Trends comes with a 7-day free trial so you can get familiar with the tools before you purchase the premium plan.
The monthly subscription will cost you $39/month. There is 2 months of free usage if you decide to purchase a yearly plan.
Pros
The Nexus Hot tool helps you find the most demanding products from various online platforms instantly.

Easy to locate dropshipping products from the dashboard.

You can find product details such as current rating, dropshipping stores selling the same product, number of suppliers, selling price, profit margin, etc.

Easy to access the product history including the number of sales, pricing, and search volume
Cons
There are a lot of data points to study which can create confusion in the beginning.

The price can be too high for beginners.

2. Thieve – Get The Best Inspiration
If you are just setting up your dropshipping store and have no clue about what to sell, Thieve can help you out. Although the tool is exclusively for AliExpress, the data is still valuable and can be used to find the winning products across the platforms.
It's a good platform not only for product research but to find product inspiration for your business. The best thing about Thieve is that if you are just looking for product inspiration, you can use the free version of the tool.
As far as product research is concerned, it takes a few minutes to find the top-trending products on AliExpress. Moreover, you can use various filters to narrow down your search to find exactly what suits your business.
You can filter the products based on category, price, number of sales, shipping origin, shipping type, etc.
Price
Thieve comes in 3 subscription plans. Apart from the free plan, Dropship and Pro are priced at $15/month and $49/month respectively.
Dropship is the most popular plan with all the premium research features you would need to conduct powerful product research. Additionally, there is a discount of up to 20% if you buy a yearly plan.
Pros
The newly added Google Chrome extension helps you find the best suppliers for a product.

Multiple filtering options to perform deep product research to dig exactly what you are looking for.

A perfect tool to get inspiration and ideas for the products.
Cons
No trial period for premium plans.

The product research is limited to AliExpress.
3. AliShark – An AliExpress Exclusive
AliShark is another popular dropshipping product research tool that allows you to grab fruitful opportunities in a matter of a few minutes.
If you are looking for extensive product research, AliShark has all the necessary filters available. The product data is updated hourly, so you can see the real-time product's performance. This reduces the chances of errors up to 90%.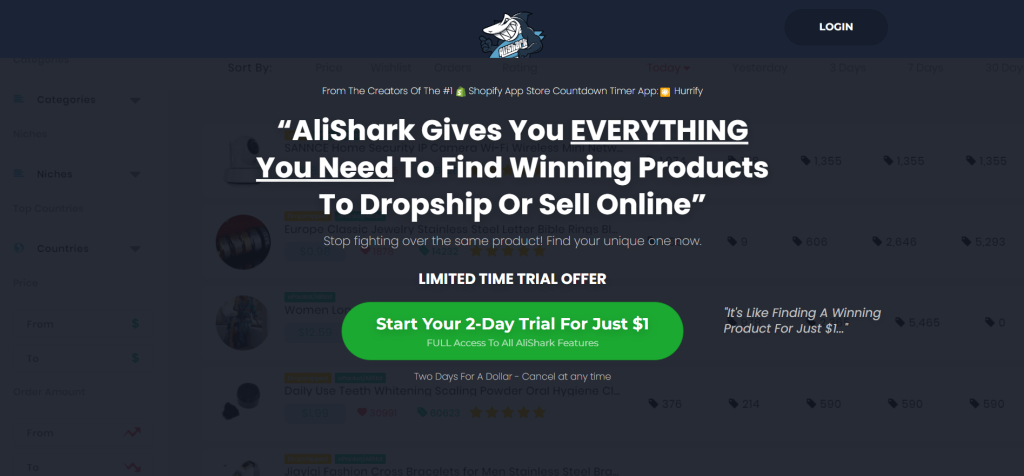 You can find out almost everything about a product such as the number of orders, price, reviews, sales performance, top markets (countries), and top dropshippers for the product. On AliShark, there is 2-6 months of sales history available for every product which helps you make a better judgment on whether or not to add the item to your dropshipping store.
Also, if you are sizing up the competition, you can find other platforms where the product is listed as well as the top sellers for it.
Price
There is no free trial available for Alishark, however, you can purchase a 2-day trial for just $1. After that, you have to pay $20/month to continue using the services.
Pros
Let you know about the top niches where you can find the winning products.

A variety of filters to discover the best and most profitable products to sell.

Almost free trial available ($1 for 2 days)
Cons
No automated search results. You have to find everything by yourself based on the data.

More suitable for AliExpress only
4. FindNiche – For Shopify Dropshippers
FindNiche is one of the most popular product finder tools available in the market these days. Since 2018, almost a quarter-million sellers from various platforms have been using the platform to find the hidden top-performing products for dropshipping.
It has one of the largest databases of over 100 million products and more than 3 million stores on different e-commerce platforms. Whether you are dropshipping on Ali or Shopify, FindNiche helps you find the best performing products along with valuable data such as the top dropshippers for the product, the highest-selling markets, and so on.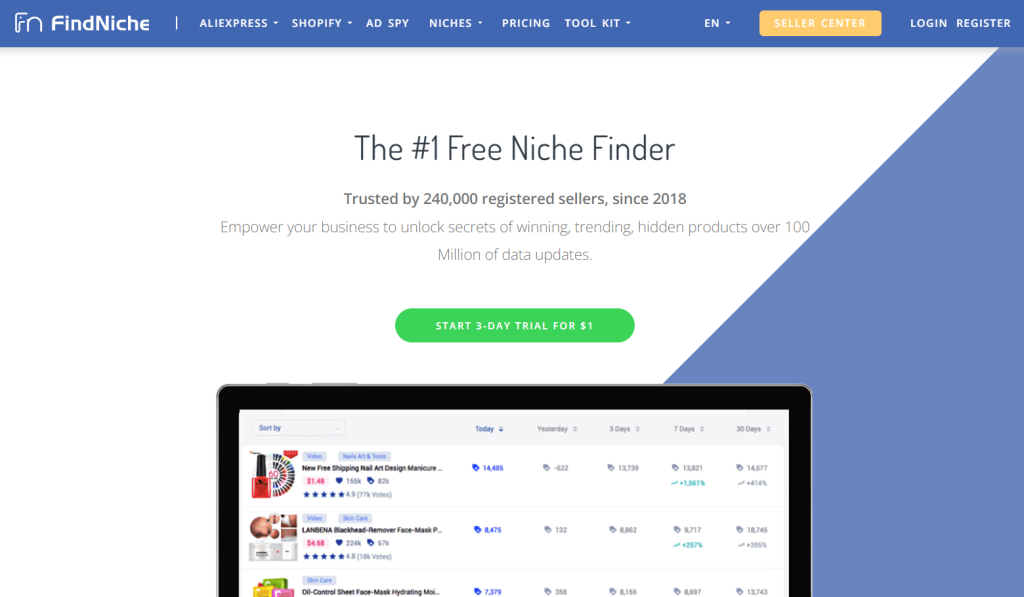 Competitor tracking helps you keep an eye on your competitors' store, their products, and relative prices.
You can analyze current trends for any product based on their search volume, number of orders/wishlists, sales trends, etc. As a Shopify seller, you can locate your competitors' stores by keywords or domain name.
For your convenience, FindNiche's smart algorithms find the top 20 products from a niche with the lowest competition.
Price
There is a basic plan available at just $9/month where you can find the product ideas for AliExpress. You can also perform 20 product researches every day.
Elite and Premium Plans come at $59/month and $99/month respectively. You can also get a VIP account at $199-$499 based on your business requirements.
Elite and Premium plans are available for a 3-day free trial at just $1.
Pros
Large product database of over 100 million

Perfect for AliExpress and Shopify both

Facebook, Youtube, and Instagram Ad Spy

Find the list of top dropshippers on Shopify
Cons
Relatively expensive premium plans

Steep learning curve
5. Asify – The Best Free Product Research
Asify is a free Google Chrome extension that makes your product research quick and convenient.
While browsing through the products on Ali, you can use the Asify extension to find out key details such as everyday sales, top buyer countries, and top sellers for the product. Additionally, you can access the product sales history for up to 15-30 days which includes the price, search volume, and the number of times the item has been ordered or added to the wishlist.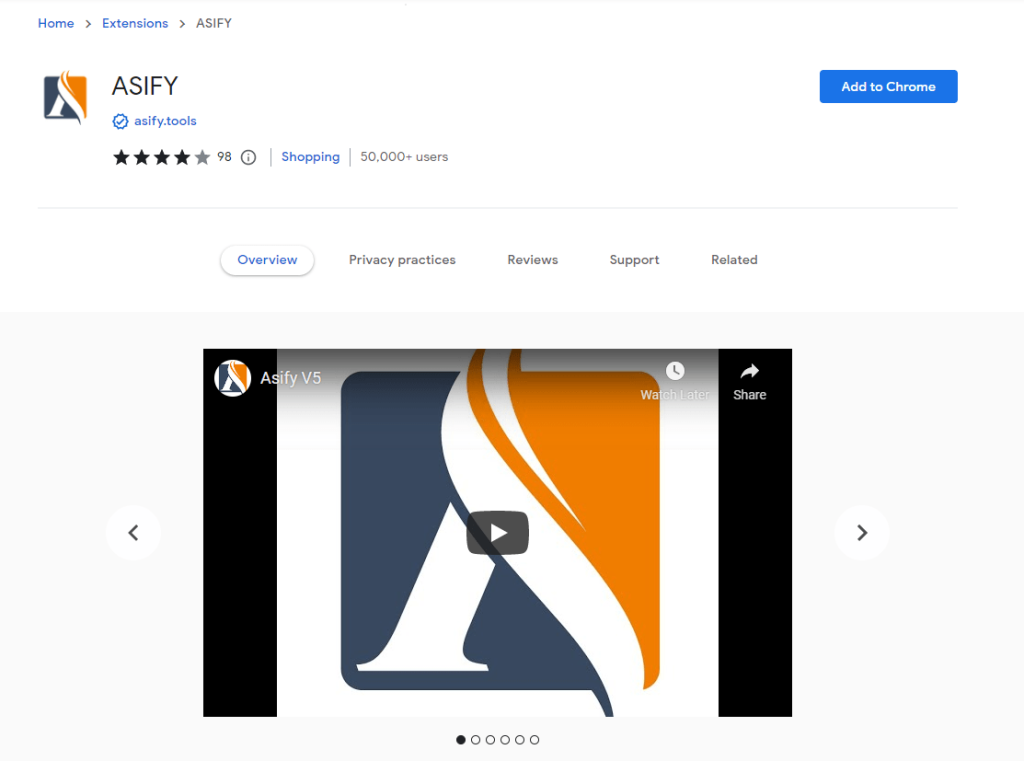 Similar to Sell The Trend, there are various filters available such as product price, order processing time, shipping country, number of orders, and much more. You can also find suppliers for a particular product, along with their prices and shipping costs.
There is a profitability calculator that estimates the expected profit margin of a product based on the given selling price.
Price
Here comes the best bit. The Asify extension is absolutely free.
Pros
Easy to install and use while browsing through products on AliExpress

Product research history is available (last 200 searches)

Supplier search
Cons
Questionable data accuracy at times

Limited product research-related tools
6. AliExpress Dropshipping Center
If you are dropshipping on AliExpress, it's probably the best product research tool you can get.
It features various search tools to help you find product ideas, top niches to sell products from, and your top competitors. There are various ways to find products such as Hot selling products, search by Image, and sponsored products.
The hot Selling products tab shows you the top-performing products from various niches. You can further refine your search using the filters such as shipping duration, price, shipping destination, shipping from, estimated delivery time, and so on.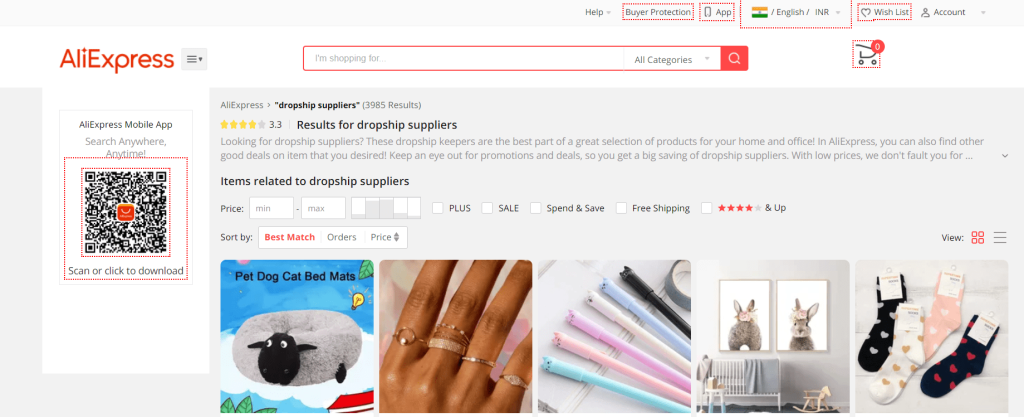 The search by Image feature allows you to find the product simply by uploading the product image. All you have to do is upload a picture of an item and it shows you all the related products along with the number of orders, price, and product rating.
Sponsored Products shows you the products that dropshippers have paid for to be listed on the website.
You can also find out the product performance over a long period through the product analysis tool.
Pricing Detail
AliExpress dropshipping center is completely free whether you are using AliExpress to sell your products or not.
Pros
No monthly subscription

Find Sponsored products and their prices to find out whether it's worth paying AliExpress to list your products.

Search the products by image
Cons
It's only useful if you are using AliExpress for dropshipping
7. Dropship Spy
The next one on the list is Dropship Spy, another popular Product research tool for dropshippers. It helps you find the top-selling products from AliExpress as well as from popular social platforms such as Facebook, Tik Tok, and Instagram.
YOu can also get detailed insights for any AliExpress product such as current and past sales figures, profit margins, bestsellers for the product, and much more. Not only that, you can also find the top sellers of a product on Amazon and eBay along with the keywords from different markets (countries).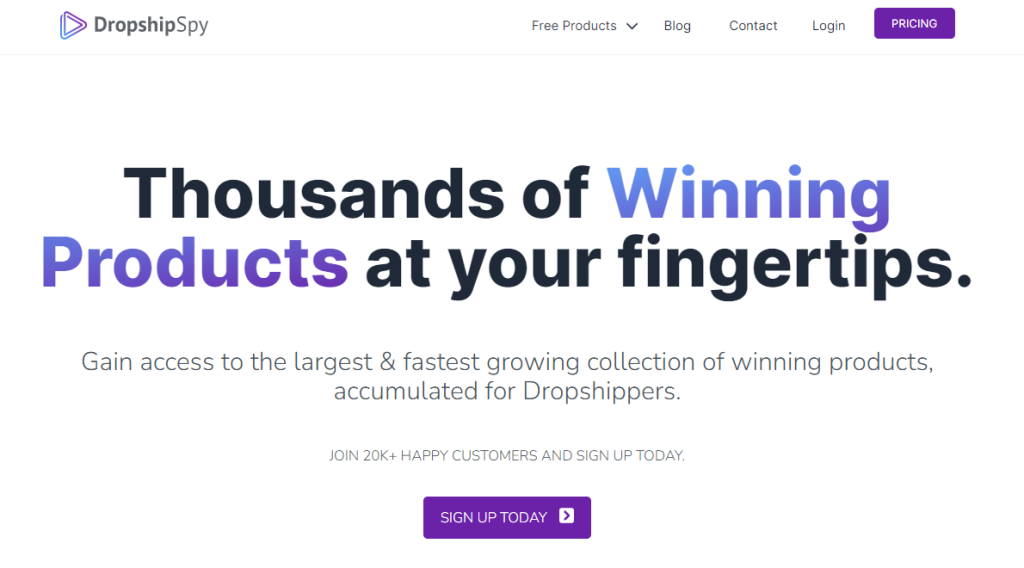 To decide whether or not a product is worth your time and money, there is historical sales data available for each product that includes weekly sales analysis, price trends, and profit analysis.
Moreover, you can connect with the top suppliers for the products, download product reviews from various platforms, contact social media influencers, and calculate the profitability of any product.
Pricing
Currently, Dropship Spy has 2 plans – Hobby and Pro.
The hobby plan is just to see the winning products but if you want to perform detailed product research, you can get the Pro plan at $19/month or $150/year.
Pros
A comprehensive dropshipping kit with various product research and analysis tools.

Easy to connect to find top suppliers

Find social media influencers to advertise your products.
Cons
Hand-picked products may not always be the best-performing ones.

No trial period for the premium plan
8. Ecomhunt
Ecomhunt is similar to Dropship spy and emphasizes hand-picked products more. They update the list of best-selling products on the platform every single day along with some key data points such as selling price, product rating, etc.
If you are a newbie in dropshipping and wondering what product category to choose, Ecomhunt can help you big time. If you want to know the performance of the product on different platforms, you can find the sales analysis from eBay and AliExpress.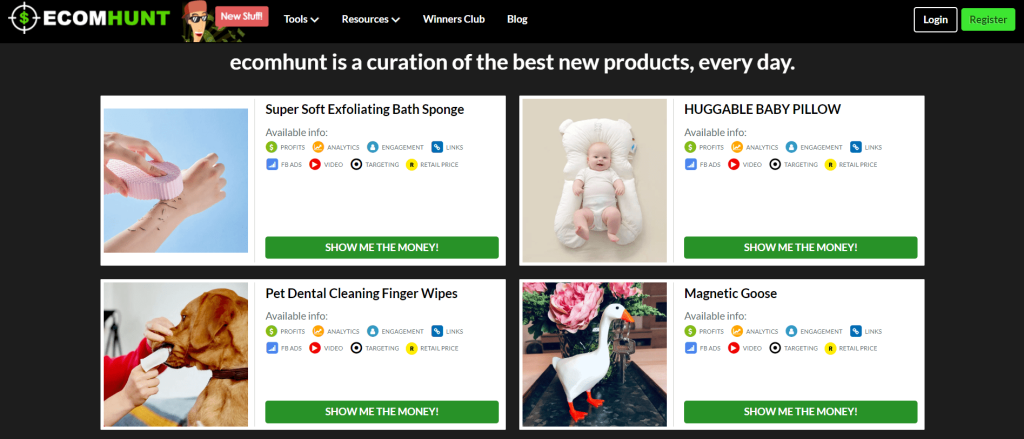 Apart from the hand-picked products, you can check the selling price, production cost, and expected profit margin for the product. Moreover, you can find the number of stores that are dropshipping the same product.
Further, you can read product reviews, estimated CPA, Facebook engagement analysis, and information about the top seller. My personal favorite feature of Ecomhunt is that they show a list of top influencers from the same niche.
Price
Ecomhunt has 4 plans – Free, Basic, Pro, and Suite.
The free plan included limited access to the product database and 10 live trending product information. The basic plan comes at $29/month and gives you full access to the product database.
Pro and Suite Plans cost $49 and $69 respectively and give you more free hand on the research and analysis tools with an extended number of everyday searches.
9. Niche Scraper
Niche Scrapper is a beginner-friendly product research tool in terms of both – economic and ease of use. The powerful product finder can help you track the low-hanging fruits on AliExpress and Shopify both. Similar to Ecomhunt, there is a list of winning products every day to help you find some product ideas on daily basis.
The main attraction of this product research tool is its robust product scraper tool that brings you the most selling product on AliExpress/Shopify. You can also filter the results based on different parameters such as the number of orders, selling price, competition score, product growth over a week, etc.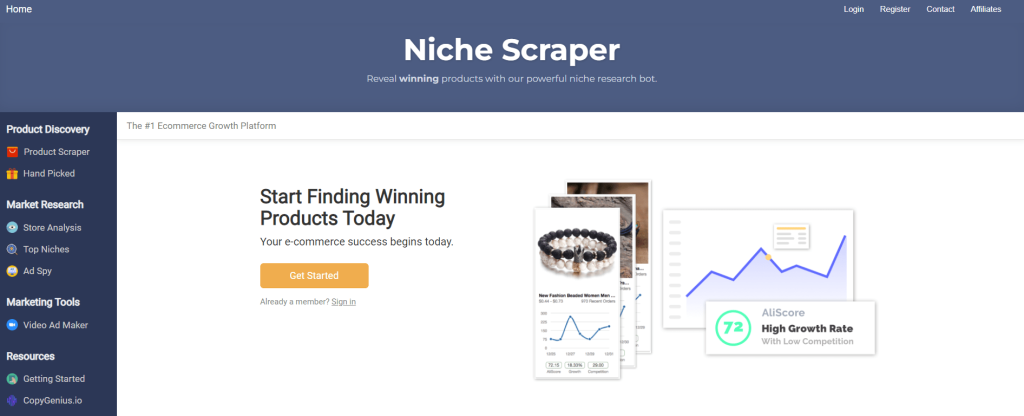 If you are dropshipping on Shopify, things get even more interesting for you, As a Shopify user, you can simply use the dropshipping filter to find the products only from the dropshippers rather than all the sellers.
Pricing
Of course, there is a free plan where you get the winning product ideas with a delay of 3 days.
However, the Pro Plan is priced at $49/month and gives you full access to all the research and tracking tools. Yes, the price is a bit on the higher side, especially for beginners but there is a discount on the given price usually and you can get the Niche Scraper for as low as $13/month.
Pros
Unlimited free account with limited functionality.

Easy-to-use interface, perfect for beginners

Power Product Scraper tool to find the winning products.
Cons
Not enough sales data

High price without discount
10. Commerce Inspector
The Commerce Inspector is a one-stop solution for dropshippers where they can hunt down the best products to sell, gather product data, locate successful ads, and get the latest sales trends.
Through the Commerce Inspector Chrome extension, you can find the monthly sales figures for any product, the ads that are generating the traffic, monthly search volume, and much more.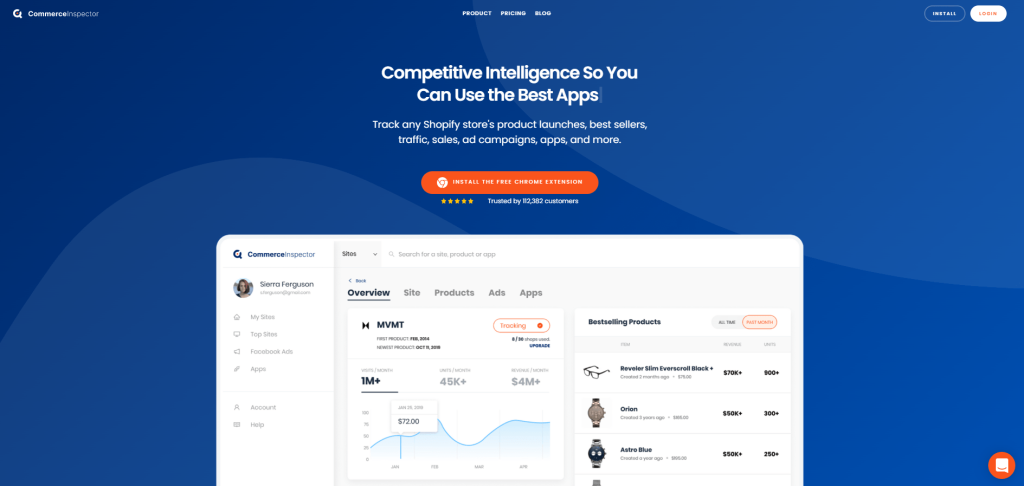 If you are not into deep product research, you can simply check the Trends section to find out ready-to-sell winning products along with their price, the number of units sold, and total revenue.
Coming to the best part of the tool – The competitive analysis. Commerce Inspector is probably the best tool to spy on your competitors, top dropshippers, and successful brands. There is sales data available from over 800k premium brands as well as from the top dropshippers. You can individually check each brand, their traffic, the units sold, and ads.
Pricing Detail
You can download the Commerce Inspector's chrome extension for free with limited access to the product and sales data.
For more serious research, you can grab any of the 4 premium plans from the company – Start, Grow, Scale, and Conquer.
Start – Priced at $29.month/$348/year and provides you unlimited data from up to 3 stores.
If you want to spy on more stores, you can purchase Grow or Scale plans at $59 and $149 respectively.
If you are an established dropshipper, you can get the highest plan where you can access the data from all the stores at a price of $299/month.
Pros
A perfect tool for competitive analysis

1-3 ready-to-sell winning product suggestions every day

Free Google Chrome extension
Cons
Premium plans are a bit more expensive than the competitors

Beginners may struggle to get hold of all the tools and features.

11. Intelligynce
The last one on the list is a great product research tool that probably dad the highest number of data points to study. SO if you are into extensive product research, Intelligynce is the right tool for you.
It features 3 unique ways to find the top products – AliExpress Search Engine, Bing search, and custom inputs. To find the top-ranking products on Ali, all you have to do is type the keyphrase related to the product or niche you are looking for and set the parameters such as shipping/destination country, price, paid/free shipping, and much more.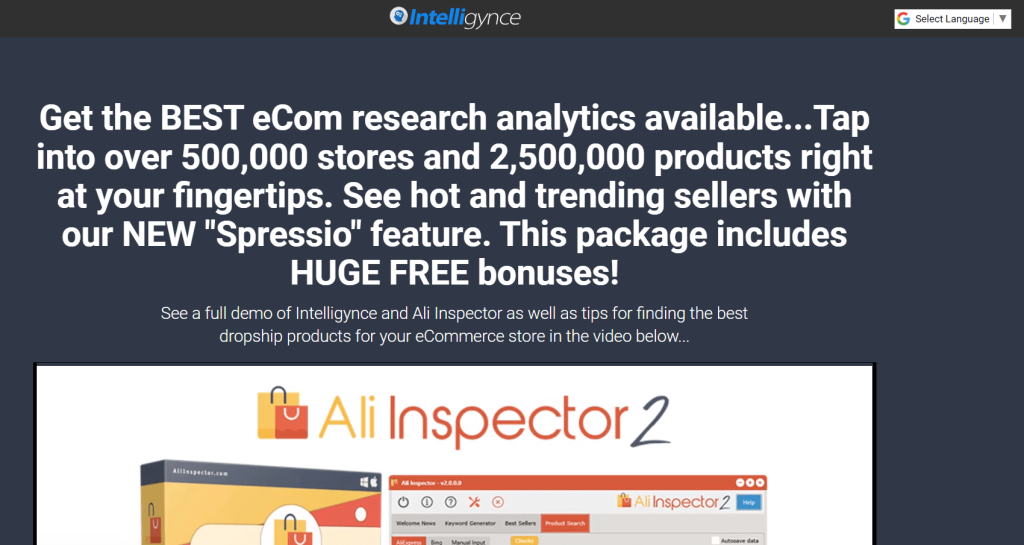 The process is a lot simpler for Bing and manual search. To find the products related to your keyword on Bing, you just need to type the keyword, the input the number of big search pages you want to consider. You can also select the destination country and find the best products.
In manual search, you simply take the link of an AliExpress product and search for the products.
There are as many as 33 data points for every product, the highest of all. For every product research, you can see product ID, shipping country, selling price, estimated monthly revenue, supplier for the product, keywords, top sellers, and much much more,
Pricing Detail
Currently, the Premium plan of Intelligynce is priced at $39/month or $79 for a whole year. There is also a lifetime subscription available at $99.
Pros
One of the most detailed product analyses.

Keyword generator tool

Affordable lifetime subscription

Cons
The amount of data can be overwhelming to beginners

Accuracy is somewhat compromised for some searches
12. Pexda
Pexa is another great product research tool for dropshipping. The best part about Pexda is that they offer you six new products to try in your store every day. You can find winning products for your store, and don't waste your time and money on bad ones.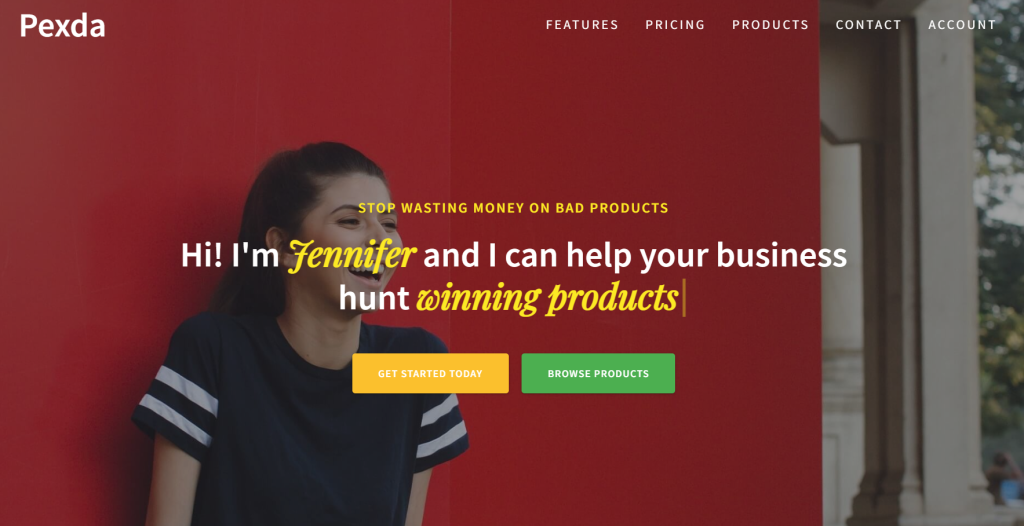 Pexda also offers Facebook Ads campaign copies, specifically those which are working for them and their current users. You can also discover hot products before they go viral, and you could be the very first store to sell a product that recently came into demand. There are also a few market segments you may not have tapped into or even know about it; Pexda helps you discover them.
Pexda also has a Chrome Extension that can give you auto-hunt options, AliExpress targeting suggestions, and incredible support without even visiting the website.
Pricing
Pexda has three pricing options: Standard, Premium, and Ultimate.
You can use the features of the Standard plan for 14 days at just $1.95, and after that, you will need to pay $29.95/mo. The premium plan costs $49.95/mo, and the ultimate plan costs $199.95/mo.
Pexda is also offering a 50% discount on all these plans, but this sale won't be available for long.
Pros
Get new winning products every day
Facebook Ad copies for your inspiration
Discover hot products before they go viral
Cons
It does not offer any user guide to use the tool
It will not provide products up to your expectation
13. Dropship.io
If you are searching for a dropshipping product research tool that is beginner-friendly and easy to use, then Dropship.io is the right option for you. The interface of this tool is smooth and easy to navigate, and you can easily find winning dropshipping products.
In its product database, you can find products from almost every category you can think of, and it also shows you the daily sales of every product. You can also analyze other dropshipping stores that are selling a product and how much revenue they are making every day.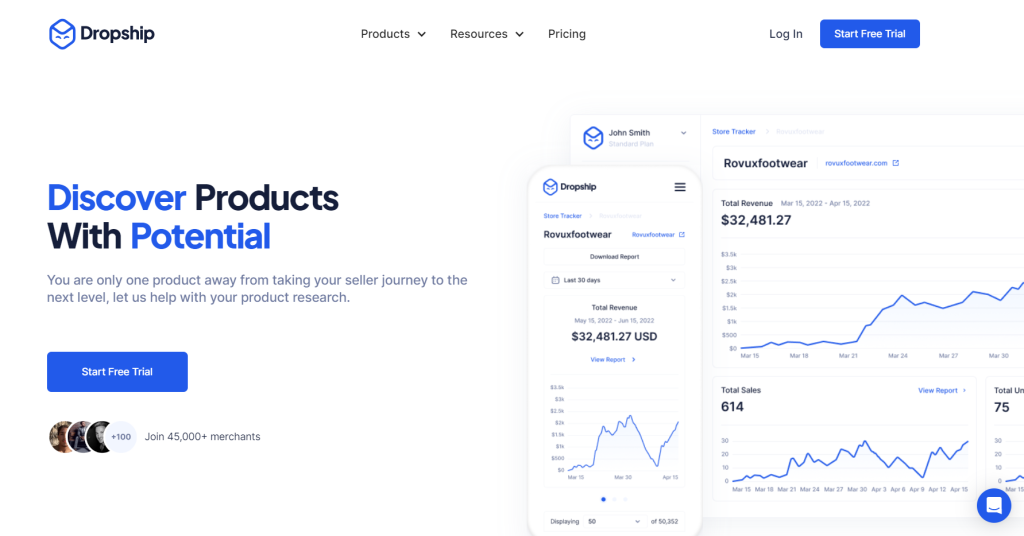 It has advanced filters that you can use to find better product opportunities for your dropshipping store. You can analyze all the data in real time, which will help you find the right product for your business. It also shows you the best-selling products in each category when you open a category in the product database.
They also have a feature that sends product suggestions with potential every week, and it is called Portfolio. Their specialists find these products based on their sales, growth, and future projections.
Pricing Detail
Dropship.io comes with three pricing options: Basic, Standard, and Premium.
The Basic plan costs $29/mo or $228/year, the standard costs $49/mo or $348/year, and the premium plan costs $79/mo or $588/year.
You can also try any one of these plans with a 7-day free trial.
Pros
Advanced filters to help you find the best products
Get product suggestions weekly on your dashboard
Track the progress of multiple stores at once
Cons
It is hard to find the best supplier for the product you want to use
The pricing of Dropship.io is a bit expensive compared to other tools on this list
Related Read:
Dropshipping Product Research Tool: Is It Worth Investing In 2023?
That's all in this guide. Dropshipping or not, product research is a key process in any online trading business. Things change quickly in the e-commerce market and it's important to stay up-to-date with the price fluctuations, market trends, competitors' strategies, etc. A good product research tool takes care of all these factors and eliminates all the guesswork from the equation.
If you are a beginner and looking for a quick way to find the winning products, the Asify chrome extension will do the job for you.
For more detailed product research and analysis, get a premium version of Intelligence.

My personal pick from the list, without a double, would be Sell The Trends. It's a perfectly balanced product research tool for dropshippers with an intuitive user interface and great product suggestions.
Hope this guide will help you pick the right tool for you. Just analyze your requirements, use the trial version of 1-2 tools and make an informed decision.